Best MMA and Boxing Phone Cases Reviewed
When you're a fan of the fight or are a fighter yourself, it's central to your sense of identity. It's not something that you simply leave in the ring and forget about the rest of the time. It's something you carry with you day in, day out, without fail. It would make sense then that you would want to have avenues to express your passion for your sport. When you're out and about during the day, you're carrying your passion with you, so it would make sense that you would want some kind of visual marker to signify to others that the sport forms such a major part of your life. Not only that, but accessories and the like also give you a chance to display your individuality and personality. Marking something as yours allows you to take pride in owning it and feel more comfortable.
Another great benefit of owning fighting-related paraphernalia is that it can signal to other fans that you have similar interests. This allows you to connect with like-minded people out in the world and strike up friendships you may not have otherwise been able to cultivate. Being able to connect with other fans is a huge plus to owning fighting-related merchandise. It allows you to have the opportunity to be able to strike up conversations you may not have otherwise started, and connect with people you otherwise might not have met due to your shared passions.
Featured Recommendations
Muay Thai

Our rating
Slim fit
Glossy finish
Price:

See Here
Khabib Champion

Our rating
Fits 7 Models
Poly-carbonate Plastic
Price:

See Here
Supreme

Our rating
Ultra-soft
Embossed
Price:

See Here
… And a great opportunity to display your love of the fight is through the protective casing of your phone. Everyone has a device, and thus it's a practical necessity that everyone needs a protective covering for that device. Considering that everyone should have one, it can serve as a great opportunity to not only display your own individual personality but also your passion for the sport you love. There is also the flip side of this fact: that without a protective casing, there is an imminent danger to your device. If it falls, the screen can shatter, the internal components can get scrambled, and it may end up damaged beyond repair. So you can kill two birds with one stone by getting a protective casing and finding one with a unique design that speaks to your aesthetic.
10 Best MMA and Boxing Phone Cases
1. Muay Thai
This product is brought to you by the company jjphonecase. True to the name, jjphonecase is a company the specializes in accessories for your electronic devices, especially for cellular devices. Their products have many colors, fits, and shapes available to fit many different models of cellular devices. This product is an excellent addition to their product line, with many strong features. It fits two distinct models of cellular device and is both lightweight as well as impact resistant.
Expand to see more
Slim Fit
Cellular devices are getting larger and larger as the years go on, whether from larger screens to packing more computing power. However, one thing that you don't want is to add any more bulk to your electronics than absolutely necessary. Protective shells that add too much bulk just aren't worth it; however, this
slim-fit model
most definitely is.
Glossy Finish
Many times you'll receive a product that is dull, boring, and simply fails to make an impression. Even the brightest color scheme can fall flat if the finish is dull and matte. This product not only has a bright and vibrant color scheme but a glossy, eye-catching finish that gives it a lustrous pop that can't be ignored.
Cost and Value
This product falls onto the high end of the price range when compared to the other items that we've included on our list. It takes the place of the third most expensive product, yet that price packs a lot of value. As they say, high quality comes with a price. This product not only gives a strong impact-resistant shell but has an eye-catching design that is printed on a sleek and slim-fitting protective shell.
Glossy finish
Slim fit
Lightweight
2 model compatible
Impact resistance
2. Khabib Champion
This product is brought to you by a company called MYMERCHCASE. MYMERCHASE is a company that sells individualized skins for electronics, especially in the cellular device niche. Their focus is selling products in
the digital marketplace
, with the largest part of their efforts supporting the development of bright and vibrant protective skins for various shapes, models, and sizes of device. This product has many great features, such as the fact that it is sustainably produced with eco-friendly water-based inks. Additionally, there is customer service support available twenty-four hours a day, seven days a week.
Expand to see more
Fits 7 Models
One of the most disappointing things when it comes to shopping for products like this is when you find a skin that you absolutely love, only to find that it doesn't fit your cell model. However, you won't have that problem with this device. This little number fits seven different models, both Android, iOS, and others. No matter your model, there's a skin for you.

Poly-carbonate Plastic
The main job of a product such as this is to protect the device that it encloses. If it can't do that, it's not worth its salt. But how do you know that it can do what it proclaims to do? This product advertises the polycarbonate plastic it is comprised of. What this means is that this material is strong and durable, as well as being heat, bend, and scratch-resistant.

Cost and Value
This product falls onto the low end of the price range when it is compared to the other items that we've included on our list. Despite its low price, it has many strong features in addition to its eye-catching design. The poly-carbonate plastic means that it is extremely durable and resistant to scratches, bending, and heat damage. And should you experience any issues, the readily available customer support will help you through.
7 models
Poly-carbonate plastic
Eco water-based inks
24-7 customer support
Heat, bend, scratch resistant
3. Supreme
This product is brought to you by a company called Kplvet. Kplvet is an organization that sells electronics and electronics accessories to the general public in the online marketplace. Not restricted to only
cellular accessories
, their line includes products such as karaoke microphones and personal electronic fans. This product is an excellent example of their inventory and has several notable features. It has precision cutouts so that you can easily reach all of your ports and buttons. It is both anti-scratch and anti-slip, and finally, this product comes from a company with quick-responding and helpful customer service agents.
Expand to see more
Ultra-soft
Sometimes when you purchase a case, you think that it has to be hard and sharp-edged. When one thinks of strong materials, traditionally one thinks of hard materials that are unpleasant to touch. This product completely turns that notion on its head. It is made from an ultra-soft material that is both extremely protective and extremely pleasant to hold in your hand.

Embossed
Sometimes a design comes across as flat and two-dimensional. These designs not only fail to catch the eye but also are unengaging and boring. When looking for a spicy and exciting design for your next protective shell, you may find yourself looking at a product such as this, which features an embossed exterior. Embossing gives the product a more three-dimensional and textured look and feel.

Cost and Value
This product falls onto the far low end of the price range when compared to the other items we've assembled on our list. It is by far the least expensive item included here and has many great features in addition to its low price. It is embossed, giving it an engaging look and texture, and is also extremely pleasant to hold due to its ultra-soft exterior.
Ultra-soft
Embossed
Precise cutouts
Quick-response customer service
Anti-scratch, anti-slip
4. MIP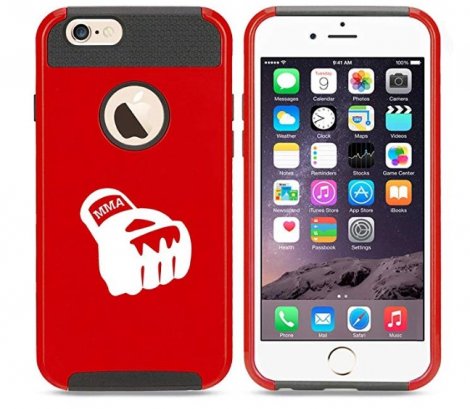 This product is brought to you by a company called MIP. MIP is a company that specializes in
small-sized products
for use around the home and workplace. Their diverse and eclectic product line sports such items as screwdrivers, iPod covers, water bottles, embossed wine glasses, and various kinds of tools. This product is a strong addition to their inventory and has numerous strong features such as the easy-on installation process, which simply involves sliding the cover onto the device.
Expand to see more
2-Piece Case
This product consists of two parts. First is the hard outer plastic shell that protects the device from any obvious damages, such as getting scratched by keys or other hazards. Second is the soft inner layer of the case, which absorbs shocks and prevents damage to the internal mechanisms of the device. This combined system adds up to one winning product.

Camera Hole Cutout
When it comes to cellular covers, some attempt to protect the camera lenses on the back of the device with a thin plastic screen. The problem with these screens is that they not only smudge easily, but they obfuscate the view of the camera. This leads to lower-quality pictures and smeared images. This product has a cutout for the camera so you can avoid this annoying scenario.

Cost and Value
This product falls on the low end of the price range when it is compared to the other items that we've included on our list. It has many great features that make it difficult to pass up, though--including its camera cutouts, easy-on installation, and two-layer protection system. For all these features, you pay only one low price.
2-piece
Hard plastic shell
Shock-absorbent inner layer
Camera hole cutout
Slide-on installation
5. Rosewood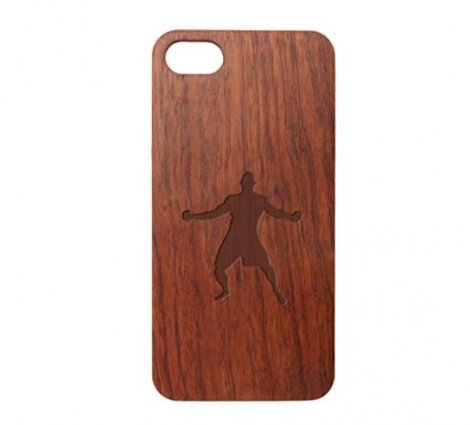 This product is manufactured and sold by a company called NDZ Performance. NDZ Performance is a company that has targeted the specialty engraving market. They provide many engraved products, from knife handles and keychains to cellular covers and many others. This product has proven to be an excellent example of their product line, demonstrating their commitment to high quality and excellence. This product sports a unique design and an easy slide-on installation without any fussing or headaches.
Expand to see more
Rosewood Coloration
Most of the products on this list look very much like the plastics upon which they are printed. With those products, what you see is what you get. However, this product takes a different route when it comes to its aesthetics. This is the only product on the list with this particular wooden aesthetic. Get all of the benefits of this striking natural texture with all of the protection modern technology can offer.

Reinforced Rubber
Sometimes cellular shells are just pretty to look at and don't do much in the way of protection. For people who drop their device, they're just plain out of luck. This product is designed to not only look great but to also offer you the protective capacity of reinforced rubber. Rubber, with its natural springiness and resilience, is an excellent material to defend your device.

Cost and Value
This product falls onto the higher end of the price range when it is compared to the other items we've assembled on our list. It takes the title as the second most expensive item included here. However, that elevated price doesn't seem quite so bad when you consider what you're getting for your money. This product has a unique aesthetic that can't be matched by any other item listed here.
Rosewood color
1000+ high resolution
Laser-engraved
Reinforced rubber
Easy-slide
6. Put Your Gloves On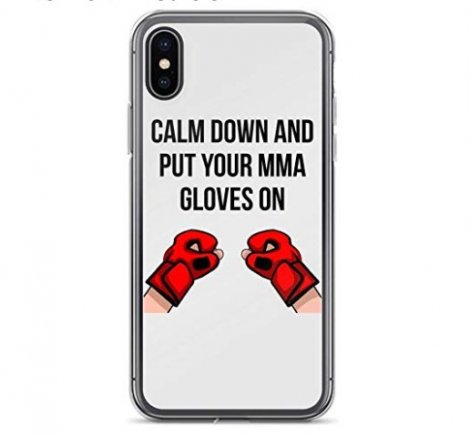 This product is made and sold by the company called 407Case. This company specializes in protective devices and sleeves for electronics of several different varieties, though with a focus on the cellular kind. This company has many products with vibrant and intriguing designs that both draw the eye and protect your device. You can be sure that this company's products will both do the job and look great doing it. This product has many strong features that represent this company's line, such as its vibrant design and see-through sides.
Expand to see more
.5mm Raised Bezel
One of the most delicate and breakable parts of any cellular device is the screen. If a protective covering doesn't shield the screen, it's not much good. This product has taken this part of the device into account and sports a raised bezel. This design feature not only adds to the visual quality of the product but also serves to help protect the screen.

Hybrid Thermoplastic
There are many materials from which a product these days can be made. Some companies go for low-quality materials that break easily and aren't able to do their job. This product is made from a high-quality hybrid thermoplastic. Put simply, this means that this material is tried and true when it comes to protecting your device from scratches, drops, and small amounts of moisture.

Cost and Value
This product falls onto the high end of the price range when compared to the other items we've included on our list. It is by far the most expensive product listed here. However, it is also one of the most visually dynamic, being one of the only cases that sport see-through sides. Despite the see-through sides, its ability to protect is unquestioned, with hybrid thermoplastic and a raised bezel, you can't go wrong.
Hybrid thermoplastic
Colorful design
Polyeurethane sides
.5mm raised bezel
See-through
7. Muhammad Ali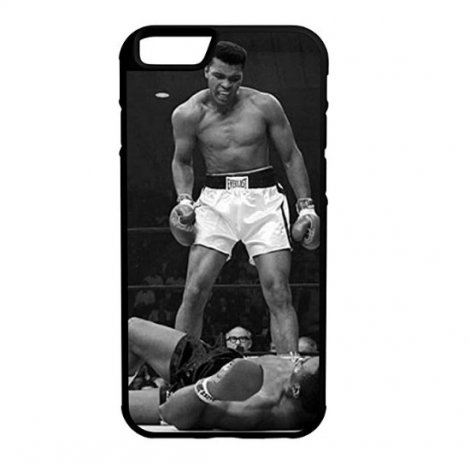 This product is brought to you by a company called 407case. This company specializes in protective skins and coverings for electronics, especially cellular devices. Their designs range from text-based sayings and slogans to the purely visual. This company's designs range from the patriotic, including flags of various nationalities, to the iconic and the downright artsy. This product is a great example of their visually dynamic ethos and has several great features, such as the easy access to buttons and precision cutouts for easy access to all ports.
Expand to see more
Hybrid Rubber Casing
What's better than one kind of strong, durable material to protect your electronic device from the elements and mishaps of life? Well, how about two strong, durable materials? This product is made from a unique fusion of materials, which come together to form a hybrid rubber case that can prevent damage to your device as a result of drops or falls.

Iconic Fight Scene
This product features a unique and striking image. One of the most famous scenes from Ali's career--and indeed, perhaps in all of boxing history--graces the back of this protective covering. Any true fan is sure to recognize this image when you pull out your device, allowing you to demonstrate your fandom and passion for the sport.

Cost and Value
This product falls onto the low end of the price range when compared to the other items we've included on our list. That low price doesn't mean this product is low on quality, though. It has many top-shelf features for a bargain cost, such as its hybrid casing technology and iconic fight scene image. It is truly a unique product, and for this low price, you'd regret passing by.
Hybrid rubber case
US Seller
Easy-access buttons
Open Ports
Iconic fight
8. Stay Strong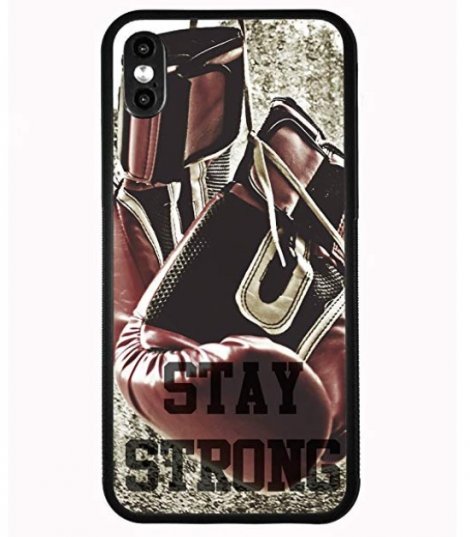 This product is brought to you by a company called Atomic Market. Atomic Market specializes in a variety of different novelty items. Their product line includes, but is not limited to, mugs monogrammed with various witticisms, electronics repair kits, mouse pads printed with catchy phrases, and various kinds of cables and cords. This product is a welcome addition to their inventory and has many strong aspects, such as the fact that it has a supremely slim fit, and open eans easy access to all ports and buttons.
Expand to see more
Fits New Models
An extremely frustrating part of shopping around for a new device covering is searching for and finding the perfect one, only to discover that it only fits outdated models. This can be a disheartening experience for those with cutting-edge tech. However, this product fits new models, ensuring that you'll have a product you love and a covering that fits.

Raised Lip
Glass shatters, cracks, and breaks. That is simply the nature of the material. However, that doesn't mean that you should resign yourself to a cracked screen. This product has a raised lip around the border of the front to give an extra layer of protection to the front of your electronic device. This raised lip prevents scratches and also helps in the event of a drop.

Cost and Value
This product falls into the low to middle part of the price range when compared to the other products we've included on our list. That middling price doesn't mean that you're getting a product of middling quality, though. With its raised lip and ability to fit new models, this slim-fit product is a strong contender and is worthy of your consideration.
Rubber sides
Fits new models
Raised lip
Slim fit
Open ports and buttons
No included screen protector
9. Ali Underwater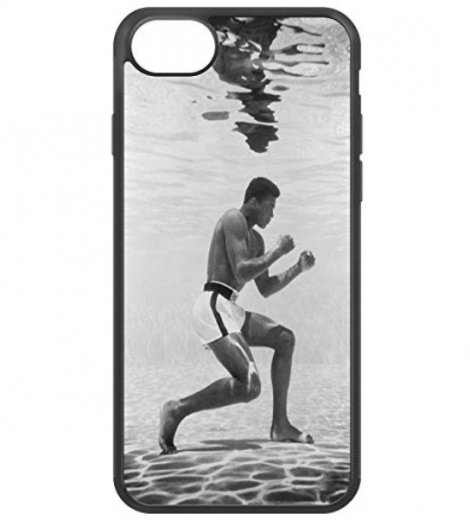 This product is brought to you by a company called 407case. You may recognize this company from a few other products of theirs that have been included on this list. Their high-quality and visually stunning products make them a lead contender in the electronics protection marketplace, which is one of the main reasons several of their products have been featured here. This item is an excellent example of this and is made with hybrid rubber technology for superior protection.
Expand to see more
Easy-Remove
Sometimes you need access to the inner workings of your phone, or to gain access to some part that is underneath the covering. However, some protective shells are difficult to remove once they've been put on. Luckily for you, this product is both easy-on and easy-off, though it remains secure once it has been put in place.

Dynamic Graphic
This product features a strong visual component, as well as a unique photographic composition. This is easily one of the most stunning and artistic photographic coverings that have been included in our list. This product occupies the intersection where the boxing fan and the artist appreciatior can meet.

Cost and Value
This product falls onto the low end of the price range when it is compared to the other items that we've included on our list. Though it has a low price, it has a high value. The dynamic visuals alone make it stand out from the crowd, but this product isn't just a pretty face. It has a protective capacity that holds its own against the top-shelf contenders on this list.
iPhone7
Hybrid rubber
Dynamic graphic
Tracking included
Easy-remove
10. Eat Sleep Repeat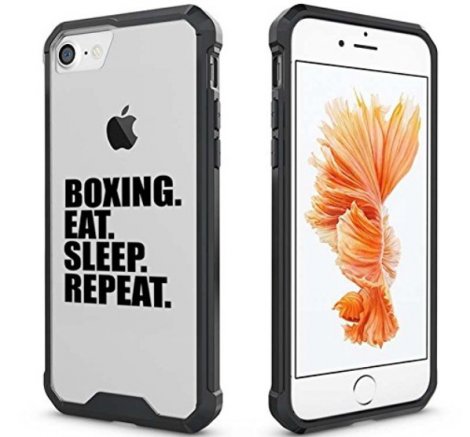 This product is brought to you by a company called Daylor. Daylor is a company that sells a wide medley of products. Their diverse inventory contains, but is not limited to, novelty stethoscopes, monogrammed knives, novelty wine glasses, stainless steel cigar tube flasks, and electronic device coverings of all shapes, sizes, colors, and designs. This product is a fitting example of their inventory as it fits over twenty different models of cellular device and has a shock-absorbing TPU border.
Expand to see more
Clear Cover
Though this device sports a clear cover, that doesn't mean that it is skimping on the protection. Far from it, this uniquely designed case has a shock-absorbing TPU border that helps to combat even the severest falls. The clear case also gives it a visually appealing design that stands out from the crowd.

Simple Design
Sometimes it's the simplest designs that speak the loudest. This product may not have any colorful images or graphics, but the simple text says everything it needs to. For the truly devoted practitioner or fan of the sport, it can truly seem that all they do is box, eat, sleep, and repeat.

Cost and Value
This product falls into the low to mid part of the price range when it is compared to the other products that we've included on our list. Its minimalistic design can appeal to those who prefer an understated aesthetic, and its functionality is also through the roof. It not only has a shock-absorbing TPU border but also precision cutouts for easy access to all buttons and ports.
Slide-on installation
Clear cover
Shock-absorbing
TPU border
Precision cutouts
Whether you've just acquired a new cellular device or are looking to get a new protective casing for a device you already own, there are many different varieties out there. In any circumstance, anyone who has a device needs a protective casing for that device. Otherwise, you're one simple drop away from having to spend hundreds and hundreds of dollars to replace it. Those casings also provide a unique opportunity for you to display your personality and passions while also providing a much-needed function. Depending on your priorities, there is a slew of options available in a huge rainbow of designs. You've been armed with the very best information we could assemble so that you can make your purchases with confidence.
Criteria for Evaluating
The Best MMA and Boxing Phone Cases
Construction
Materials: The most common materials that these products are made from is rubber, silicone, plastics, and hybrid materials that combine some aspect of all of the above. Rubber cases tend to give the product a bit of a bounce so that they are less likely to shatter when they experience an impact. Silicone is moisture-resistant and tends to shed water. Plastics are by far the most common materials from which these casings are made, and are by far the most affordable options. Many companies blend these materials to get the benefits of each.
Water resistance: Some products are designed to be moisture-resistant. This does not mean that they are completely waterproof. If you drop your device in a lake, it is almost certainly going to short out. However, if you purchase a moisture-proofed casing, it may be able to repel small amounts of water. They do this by employing materials that are not porous, and thus don't absorb water, such as silicone.
Shock-proofing: Shock-proof refers to the covering being able to protect the enclosed device from drops from a significant height. The "shock" that is referred to occurs when the cellular device strikes the ground. These coverings are usually made of some kind of rubberized material, giving them a slight bounce. This prevents the insides from getting jarred as it strikes the ground. The most common material used in coverings is Thermoplastic Polyurethane, which is an extremely durable material that is made from a mix of soft silicone and hard plastic.
Aesthetics
Coloration: One of the first things you notice about a product before you purchase it is the coloration. Whether it's in a subdued color or a more vibrant hue, it's sure to be one of the first things to stand out to you. It makes sense, then, that you would want to keep a sharp on the coloring of the product before you purchase it. Look at all of the color options, as oftentimes there will be multiple choices available. Finally, ensure that you are looking at all pictures of the product that are listed, to ensure you actually know what it looks like. Otherwise, you may receive a product of a different color than you expect.
Design: The other aspect of the casing that you'll want to keep an eye on is the design. Whereas color talks about the hue or hues of the product, the design refers to the was and shapes in which those colors are combined and placed. Many a bold pattern exists on the internet, and you want to make sure that you're purchasing something you won't get sick of looking at after two weeks. Another thing to keep in mind is the wording or images on the casing. You may be able to find a product that is emblazoned with an image of your favorite fighter, or one that has a motto that resonates with you.
Covers versus Cutouts
Cutouts: The simplest way that products such as these allow access to your buttons and ports is through cutouts. Cutouts refer to parts of the covering being removed (literally "cut out") in order to allow you to access features such as the power button and volume controls. This also allows you to plug headphones into the audio jack, and to charge your device through the charging port. The downside of casings with cutouts is that they offer incomplete protection against things such as drops and moisture.
Covers: The alternative is casings that cover the device from head to toe, including the buttons. These usually have raise silicone or rubberized materials that go over the place where the button is on the side of the device. You are able to push the button through the rubberized material. The plus of this kind of coverage is that it offers more complete protection in the case of drops or liquid spills. The downside is that people oftentimes have difficulty pressing the buttons after the rubberized material gets stiff with age, and may stick.
Frequently Asked Questions
Q: What's the difference between TPU and regular plastic?
A: TPU stands for thermoplastic polyurethane. This is a class of plastic that is treated with heat and has a superior level of resistance to oil, grease, and abrasion. Additionally, these plastics also tend to be more elastic and have a higher degree of transparency
Q: How do I know if the casing is waterproof?
A: In short, if a case advertises that it is water resistant, it is. If it doesn't mention any degree of moisture proofing, then it isn't. However, even if a case advertises that it's waterproof, it likely has less proofing than you think it does. While it might stand up to a light drizzle or getting splashed, it probably won't be able to handle a dunking.
Q: How do I install it into my device?
A: Most devices have a fairly simple mechanism for getting the device into and out of the cast. There are two main ways. First is the simple slide-on method. This is as easy as it sounds. The covering simply slides onto the device and then sits securely. The second way is a snap-on case. This usually applies for two-piece cases.
Q: How do I know I'm ordering the right casing to cover my model of phone?
A: The models that the case will fit are usually listed right on the seller's page. Make sure that before you click the purchase button, you've selected the right make and model for your device.
Q: What exactly does "shock-proof" mean?
A: Shock-proof is a term that is used by companies that have some kind of rubberized element to their casing. This means that instead of getting the full impact of hitting the ground, it will have a slight bounce to it. This is designed to prevent shattering and breaking.