Best MMA Gloves
It seems like nearly every branch of martial arts has its own specialty glove. Outsiders to the various martial arts styles might think that the gloves are almost entirely interchangeable, but in most cases they are wrong. The gloves designed for mixed martial arts are highly specialized to their particular branch despite their deceptively simple appearance. All MMA gloves are fingerless and contain some sort of padding. The best MMA gloves are contoured to give the wearer as much support as possible when delivering a strike without restricting their movement when the wearer needs to transition into a grapple. Some have even suggested that this versatility was designed into the gloves to encourage a wider range of hand and arm strikes during matches so that there would be more variety for the viewers.
Featured Recommendations
RDX MMA Gloves

Our rating
Moisture-Wicking Lining
Open palm Design
Price:

See Here
Suten MMA Gloves

Our rating
Closed Cell Foam
Supportive Wrist Strap
Price:

See Here
Cheerwing Half-Finger

Our rating
Perforated Palms
Supportive Wrist Strap
Price:

See Here
MMA gloves are all designed along similar lines with variations in padding, wrist protection, and other traits that seem small but have a large impact on the gloves' usability. Despite these small variations, all MMA gloves have short finger sheaths that allow the wearer to get a better grip during grappling moves, wrist protection to prevent bone breakage in the fine bones of the hands and wrist, and are typically very tight-fitting.
10 Best MMA Gloves
1. RDX MMA Gloves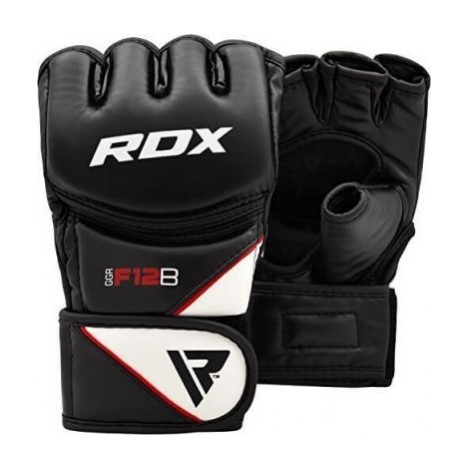 RDX is a company that has built their entire reputation on their quality martial arts supplies. They do not specialize in any one particular branch of martial arts, though many of their products are best suited for boxers and MMA fighters. Their MMA gloves are another excellent offering, boasting a high approval rating from customers and featuring an adjustable wrist strap, moisture-wicking lining, curved knuckle padding, and an open-palm design. All of these features come together in a pair of gloves that offer relative comfort and safety for the wearer and their opponent.
Expand to see more
Moisture Wicking Lining
Damp palms are uncomfortable at the best of times. They can become a liability during MMA matches and many martial arts supply companies have taken steps to combat this. RDX took two steps, the first of which was to construct their gloves with a moisture-wicking lining. Such linings help to keep the wearer's hands dry but also require more frequent washing to prevent odor and bacteria build up.

Open-Palm Design
RDX's second attempt to solve the issue of damp palms was to create a glove with an open-palm design. This design bares the palm almost completely, allowing the wearer to dry it on their shorts while simultaneously allowing for increased airflow to reach the wearer's hands.

Cost and Value
RDX's products are generally affordable but their MMA gloves are sold at a higher price point than average. They are among the most expensive gloves on this list, though their price is still within reason when the moisture-wicking lining, open-palm design, and high-grade knuckle padding are taken into account. They will require more care than gloves that do not feature moisture-wicking lining and the fit might be a little loose because of the open-palm design. An adjustable wrist strap allows the wearer to accommodate for some of the loose fit, depending on personal preference.
Moisture Wicking Lining
Curved Knuckle Padding
Open Palm Design
Superior Protection
2. Suten MMA Gloves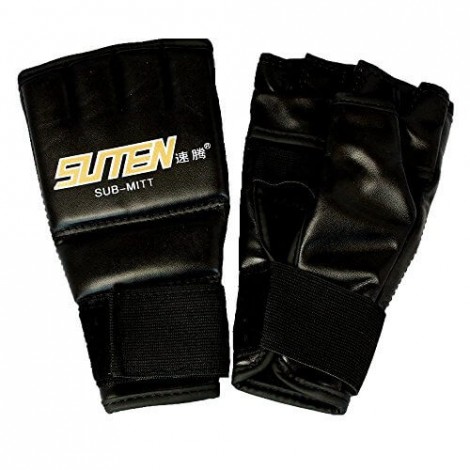 Suten, which also goes by the company name Suten, is a relatively small company with only a few products on offer. The products all have relatively positive reviews and incredible prices, which may make the relatively unknown status of the company a little bit less of a gamble for some buyers. Their MMA gloves are constructed with closed-cell Durafoam and contoured fingers as well as an adjustable and supportive wrist strap for additional wrist protection.
Expand to see more
Supportive Wrist Strap
Those who do not participate in martial arts may be surprised to find that wrists are among the most commonly injured portions of a martial artist's body. This is particularly common among boxers and MMA fighters, both of whom rely heavily on strike and wrist blocks during their matches. Suten's adjustable wrist strap provides extra stability to the fragile bones at the point where the wrist and hand meet to help keep the wearer safe and in the fight.

Closed-Cell Durafoam Padding
Closed-Cell foam is most often found in aquatic supplies but it is also ideal for martial arts supplies. It is an ideal material because it does not absorb moisture as quickly as open-cell foam and is more structurally stable to give the wearer more protection for the same weight in foam.

Cost and Value
Suten's prices are incredibly hard to beat. This is the most affordable pair on our list, but that low cost comes with a trade-off. Though these gloves feature closed-cell padding, many reviews mention that the padding is insufficient in many areas and may leave the wearer feeling under-protected.
Supportive Wrist Strap
Contoured Design
Closed-Cell Durafoam Padding
Thick Secure Closure System
3. Cheerwing Half-Finger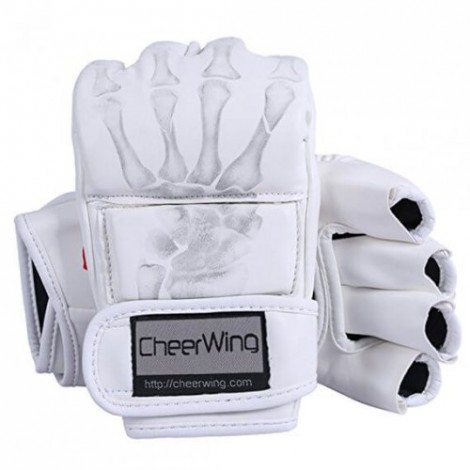 Cheerwing is unique among the companies on this list because they are not a dedicated martial arts supply company. They offer products from drones to RC car parts and martial arts supplies. One could best describe them as a company dedicated to providing people with quality products that support their hobbies. Their MMA gloves certainly fit this description as they are both affordable and made of quality materials with attention to the details that make them both comfortable and safe.
Expand to see more
Supportive Wrist Strap
Wrist injuries are an unfortunately common injury among martial artists. This is especially true in martial arts styles like MMA and boxing, both of which rely heavily on hand strikes and wrist blocks. Cheerwing's gloves are designed with a supportive wrist strap that will, hopefully, help reduce the amount of strain and injury to the wearer's wrists.

Breathable Perforated Palm
MMA glove designers have taken many different tracks to address the problem of damp and overheated hands during MMA bouts. Cheerwing's chosen method is to construct their gloves with perforated palms. This allows more air to reach the wearer's palms but does not change the fit of the glove like an open-palmed design would.

Cost and Value
These gloves are very nearly the least expensive gloves on our list. They are not the absolutely least expensive but they are very close and are generally more widely approved of than the least expensive pair overall and for this reason, they have earned the title of Best Value. The supportive wrist strap and perforated palms provide safety and comfort while the low price tag makes them affordable to nearly any consumer.
Supportive Wrist Strap
Breathable Perforated Palms
Synthetic Leather Construction
Easy to Care For
4. RDX Gel-Mitt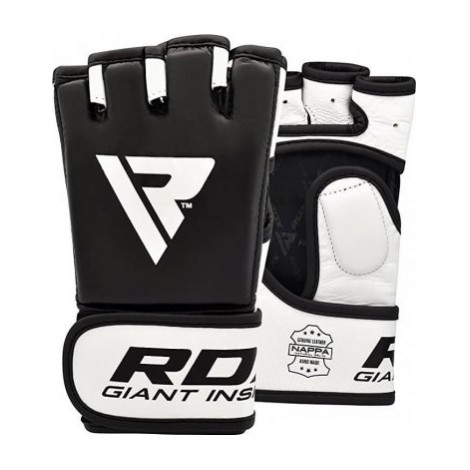 RDX is a company that has built their entire reputation on their quality martial arts supplies. They do not specialize in any one particular branch of martial arts, though many of their products are best suited for boxers and MMA fighters. Their products often include innovative design features such as their combination of foam and gel padding. They often mix these novel traits with more traditional ones, such as cowhide exteriors for a classic look that hides potentially game-changing features.
Expand to see more
Cowhide Exterior
Few materials could be considered as traditional in the sports equipment market than leather. This is particularly true for cowhide leather, especially in the American market. RDX stuck with tradition when they crafted their gel mitt MMA gloves and used genuine cowhide leather for the exterior material. Genuine leather requires a little more love and care than its synthetic counterpart, but it also has a lifespan and suppleness that no synthetic can match.

Foam and Gel Combination Padding
MMA gloves are typically padded with foam, though the type and density vary from company to company and from glove to glove. RDX took a slightly different approach when they crafted their MMA mitts, as is probably evident from their name. These MMA gloves feature a combination of foam and gel padding. This not only changes the type of padding but the density and weight distribution of the padding as well.

Cost and Value
These are not the most expensive gloves on our list but they do come close. RDX's reputation for quality may justify the price tag to most people while the novel combination of foam and gel padding will draw still more buyers. There is a drawback to be considered, however, and that is the company's strong recommendation that these gloves not be used for bag work, likely due to concern for the gel padding.
Cowhide Exterior
Combination Gel & Foam Padding
Open-Hand Design
Flexible Fit
Easy On Easy Off
5. Sanabul Hybrid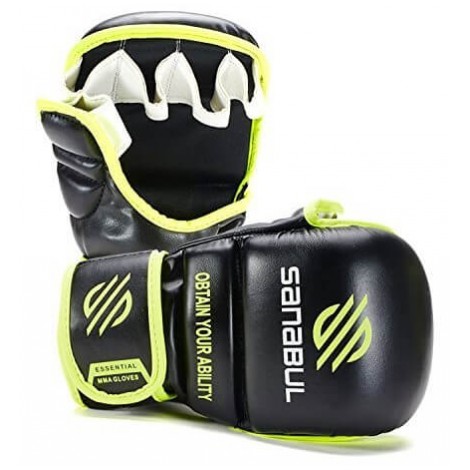 Sanabul, like most of the companies featured on this list, is a company whose inventory is built around martial artists. This particular company focuses almost exclusively on boxing and MMA, however. They even go so far as to have a dedicated MMA collection. THeir Hybrid MMA gloves are part of this collection and they really exemplify the quality of Sanabul's products. Leather construction, DuraFoam padding, and a hook-and-loop closure system make this glove an incredible bargain, even for a company with a reputation for affordability.
Expand to see more
Leather Construction
No matter which branch of martial arts a person owns, leather is bound to be found somewhere. It is one of the most traditional materials for sports equipment and martial arts equipment in particular. Sanabul builds on this tradition with their hybrid MMA gloves, borrowing the flexibility of the leather to make it easier for their gloves to adapt to both boxing and MMA work.

Durafoam Padding
Durafoam might not sound all too familiar but it is almost certainly something that you have already come across. It is simply a brand name for a very common type of memory foam. It allows the glove to take on many of the contours of the wearer's hand, personalizing each glove to the person who wears it most often.

Cost and Value
Sanabul has a reputation for affordability and their Hybrid MMA gloves do not disappoint. They designed these gloves to work for boxing practice or MMA matches, featured memory foam padding and genuine leather exterior construction, and they packaged this all up for one of the lowest prices on our list. One might assume that a hybrid glove would come with a variety of complaints but they seemed to be few and far between. The most common complaint seemed to be stiff finger sheaths, which would easily be remedied by regular use and proper leather care practices.
Leather Construction
Durafoam Padding
Hook and Loop Closure
Excellent Protection
Comfortable Fit
6. ZooBoo MMA Mitts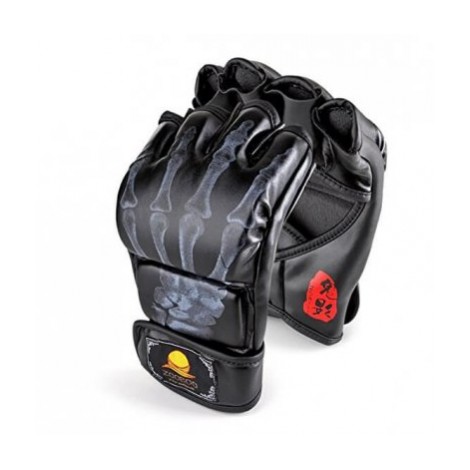 ZooBoo might not sound like the name of a company that sells to serious martial artists. But their products run the range from uniforms to performance props to practice tools that most of the companies on this list simply do not offer. Their MMA gloves are almost iconic of the brand, combining the features necessary to create a quality MMA glove with an almost theatrical appearance designed to appeal to those who like the flashier side of martial arts.
Expand to see more
12-Month Warranty
ZooBoo's MA gloves come with one of the most unique features to be found among sporting and martial arts equipment. It comes with a warranty. And this is no short-term warranty but a twelve-month warranty that covers all the standard uses these gloves may face. They might not be a well-known company, but they know their market and they know their products.

Perforated Palms
One of the biggest factors affecting MMA glove design today is the quest to keep fighters' hands cool during matches. The solution to this issue has taken many forms and ZooBoo's chosen form is palm perforations. Their gloves feature a pattern of small holes that go all the way through the palm of the glove with the hope that they will let heat and moisture escape during matches and practice.

Cost and Value
ZooBoo may not have snagged the "Best Value" title for this list, but they most certainly came close. Their gloves are affordable, much like everything else they sell, and they do not seem to sacrifice quality to lower costs. The worst thing that has been said about these gloves is that the sizes tend to run small, but that is easily remedied by going up a size or two when purchasing the gloves.
12-Month Warranty
Perforated Palms for Cool Hands
Synthetic Leather Construction
Easy On Easy Off
Lightweight
7. Venum Challenger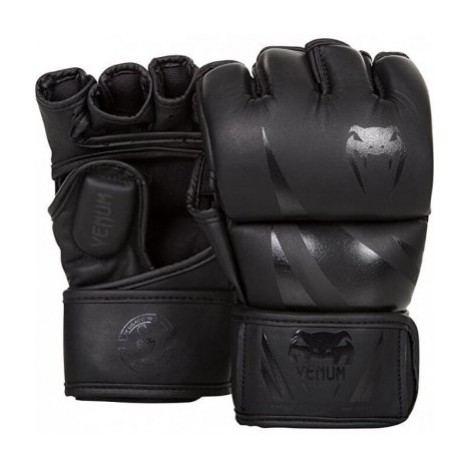 Venum makes frequent appearance on Fighting Report lists and frequent readers would likely be more surprised to see the company left off than to see it included. They are a company dedicated almost solely to strike-heavy branches of martial arts such as boxing and MMA. Their products make come with a higher price tag than many of the other companies listed, but fans of the brand will attest that their high-density seam stitching, built-in wrist support, and layered protective foam are all worth the cost.
Expand to see more
Seamed with High-Density Thread
When martial arts equipment tears or "blows out", the damage rarely occurs in the body of the object. The damage is most often found along the seams because the seams, particularly when talking about gloves. Normal seams are relatively weak compared to the body of the construction material and must do a great deal of moving to keep the form of the wearer's hand. Venum's designers do an excellent job of addressing this weakness by stitching their seams in a high-density thread that can withstand a great deal more strain than normal thread before it breaks.

Designed for Wrist Support
Venum is a company that values safety as much as they value quality or style and their MMA gloves are an excellent example of their dedication to safety. Not only do the gloves feature layered protective foam but they have a built-in wrist support feature that lends support to the easily broken bones of the wrist.

Cost and Value
Venum's gloves run the midline of this list's price range and even come close to snagging the questionable distinction of most expensive. Their quality makes up for the price tag, however. Their high-density seam thread alone almost makes the price tag worth it and the other features are additional frosting on the cake.
High-Density Thread
Layered Protective Foam
Designed for Wrist Support
Quite Breathable
Very flexible
8. Anthem Athletics Predator
Anthem Athletics is another company that makes frequent appearances on Fighting Report lists. They aren't the flashiest company out there, but what they lack in bedazzling they more than compensate for in quality. Their products are routinely given high reviews. The Predator MMA gloves are an excellent example of their quality work with their high-grain leather construction, triple high-density protective foam, and open-palm styling.
Expand to see more
Genuine High-Grain Leather Construction
A common misconception about leather is that all leather is on the same level. Or, if they do differ, they only differ from animal to animal. And both assumptions are wrong. The quality of leather varies wildly depending on where on the animal it is taken from, what level the leather was cured of, and how it was cured. Anthem Athletics chose to use high-grain leather for their MMA gloves which gives them a smoother finish than many other forms of leather. It is also more durable and supple, extending the product's life, so long as they are properly cared for.

Triple High-Density Protective Foam
Anthem Athletics is a company that values safety as much as they value quality. Their MMA gloves feature triple high-density protective foam to keep the small bones of the hand from taking too much damage during matches or practice.

Cost and Value
Anthem Athletics is a very affordable company, though their prices are a little bit higher than the best value choices on this list. Their price tag becomes even more affordable when the high-grain leather construction, triple-density foam, and open-palm design are taken into consideration. The largest downside to the gloves is the company's recommendation that that gloves not be used for direct strikes.
Genuine High-Grain Leather

Open Palm = Cool Hands

High-Density Protective Foam

Exceptional Durability
9. Combat Sports Max Strike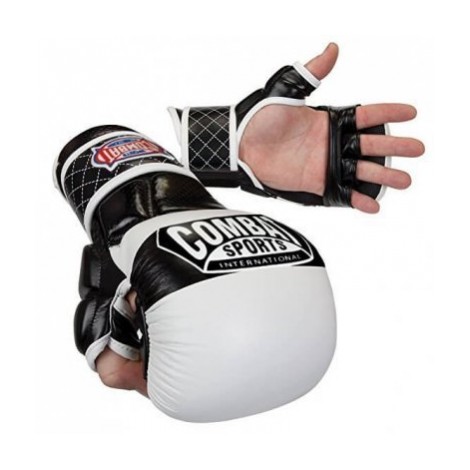 Combat Sports is not a company for the novice or occasional martial artist. Their products are routinely the most expensive on any list where they appear. A quick look at their products shows a line with consistently high ratings, every star well-earned. Their Max Strike MMA gloves are another link in this chain of quality. They were designed with an ergonomic fit, hinged knuckles, and a supportive wrap-around wrist strap.
Expand to see more
Hinged Knuckles
Anthem Athletics came up with something completely original when they designed their MMA gloves with hinged knuckles. This feature allows anyone wearing the gloves to obtain a better range of motion than they would with traditional gloves.

Supportive Wrist Strap
Martial arts carries a fair amount of inherent risk. Some of those risks are more common, such as damage or strain to the fine bones of the wrist. Anthem Athletics' designers are well aware of this risk and wanted to minimize it. This led to the inclusion of a wrap-around wrist strap to add support to the wearer's wrist.

Cost and Value
Anthem Athletics holds the questionable distinction of having the highest price tag on the list, at least of the high-end of the product's price range. That being said, the company's reputation for quality makes the price tag much more understandable, as do the built-in features. There isn't even a consistent complaint to point to, other than the company's higher-than-average prices.
Ergonomic Fit
Hinged Knuckles
Supportive Wrist Strap
Easy On Easy Off
Simple to Care For
10. Brace Master MMA Gloves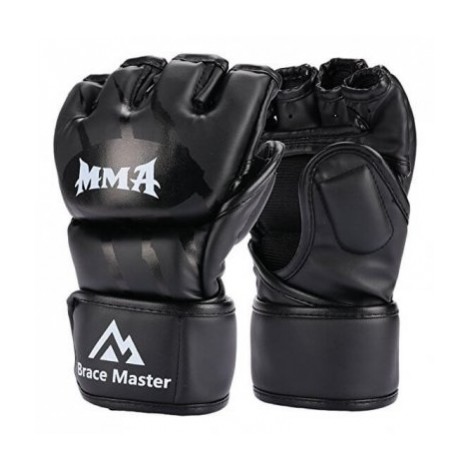 The nature of Brace Master's inventory might be clear from the company name. They specialize in posture aids, brace wraps, and martial arts gloves that are intended to give support to extra support to the fine bones of the wearer's hands. Their MMA gloves take this support to another level, however. They combine their focus on support with a moisture-wicking lining, high-grade seam thread, and durable synthetic leather construction. The end result is an excellent piece of equipment at an incredibly affordable price.
Expand to see more
Moisture-Wicking Lining
Many people underestimate the effort that goes into martial arts practice. They don't anticipate the kind of heat it generates or the way that heat impacts the practitioner's hands. The designers for Brace Master are clearly aware of this issue, however. They designed their MMA gloves a moisture-wicking lining. This lining absorbs moisture before it can cause discomfort or odor.

High-Grade Seam Thread
Seams are the weakest point of any piece of martial arts equipment. They often give out well before the glove would otherwise have to be replaced. Brace Master's designers clearly wanted to avoid this issue and chose to do so by using a high-density thread for the seams of their gloves. This choice allows the gloves to maintain a longer lifespan than gloves seamed in standard density thread and will keep their wearer in the fight a little bit longer.

Cost and Value
One might expect Brace Master to be among the more expensive brands. But they are surprisingly affordable, nearly the most affordable on this list. Their products receive almost exclusively high reviews and, if the construction of their MMA gloves is any indication, the ratings are well-deserved. They are an excellent value for fighters looking for a little more support in their gloves.
Moisture Wicking Lining
High-Quality Construction
Seamed in High-Grade Thread
Breathable
Comfortable Fit
The gloves on this list may be open-palmed or designed as a solid piece, ventilated or unventilated. Their padding may be foam or a gel and foam combination. But the one thing they all have in common is that they are among the best MMA gloves on the market today. They are available at a range of prices and there is a glove on this list to fit nearly any budget.
Criteria for Evaluating the Best MMA Gloves
Materials
Leather –
Leather is the most traditional material for martial arts gloves, regardless of the specific branch, the gloves are intended for. Roughly half the gloves on the market today are still made of leather and it isn't just tradition that keeps this material in high demand. Leather has an incredibly long life expectancy when it is properly cared for. The materials' flexibility allows it to bend and shape to the user's hand while also allowing the glove to take a fair amount of use before the leather cracks or tears. Even cracks and tears are reparable so long as you can get your hands on a leather patch kit.

Leather gloves do require a bit more care than their synthetic counterparts and are usually found at slightly higher price points. The investment, both in terms of money and time, is well worth the reward of long-lasting gloves that will adapt to fit your hand and almost exclusively your hand over time.

Synthetic Leather –
Synthetic leather is the only other material commonly used to produce MMA gloves. Many people still cringe away from this material but its quality has grown by leaps and bounds since it first hit the market. Some synthetic leathers are of such a high-quality that it is difficult to tell them apart from mid-grade genuine leather. And although leather may be more traditional than synthetic leather, this more modern material has several useful traits that have contributed to its rise in popularity.

While cheap synthetic leathers have the reputation of quickly flaking or cracking, the mid-grade and high-grade synthetic leathers on this list are flexible, durable, and require none of the cleaning and conditioning that is recommended for genuine leather products. They last longer than cheaper synthetic leathers but not as long as well-cared-for genuine leather, which is a trade-off that consumers must be aware of.

Moisture-Wicking Lining –
Any fighter will tell you about the discomfort that comes from damp palms during a fight. The discomfort can get worse, however, if the constant moisture within the glove causes itching and other issues. There have been several alterations to the design of MMA gloves in an attempt to combat this issue, the least obvious of which is the inclusion of a moisture-wicking lining within the gloves. These linings are often made of extremely absorbent fabrics that draw in sweat before it can cause discomfort. The trade-off in this is that the gloves must be washed fairly regularly to keep bacteria and odor from building up within the lining of the glove.
Palm Features
Open-Palm Construction –
Another common design feature intended to fight damp palms and hot hands are the open-palmed MMA glove. Critics of the design style say that it negatively affects the fit of the glove on the wearer's hand. Most gloves with an open-palmed design account for this, however. They often feature adjustable wrist straps and particularly snug finger sheaths to make sure the glove stays in the proper position while the palm is exposed to allow air flow to the hands.
Perforated Palms –
A similar idea to the open-palm design is the idea of perforating the palm to allow for air flow without sacrificing the fit of a whole-glove design. They allow less air in than the open-palm design but maintain the traditional look and fit of the whole-hand glove.
Mesh Ventilation Panels –
Mesh ventilation panels have become commonplace among many styles of martial arts gloves. MMA gloves tend to favor ventilation panels at the palms opposed to the side of the gloves or across the back. This placement keeps the palms cool at a level similar to gloves with an open-palm design without sacrificing any of the fit. Ventilation panels do not always flex in the same way as the glove's main construction material, which some users feel has a negative effect on the glove's usability.
Safety Features
Basic Padding –
MMA gloves are, at their core, safety devices. They are designed to protect the fine bones of the hand inside the glove as well as whatever surface – or person – is being hit. A glove's padding is the first line of defense for both people involved in a match, earning it the top position on this list of safety features.

Basic padding is usually one layer or foam, the thickness of which will vary based on the brand of the glove, the type of foam it is, and the location of the padding within the glove. Gloves with basic padding are most often recommended for training instead of actual matches because they generally provide less protection than other kinds of padding. There is a trade-off to this reduced protection, however, and it is the lighter weight of gloves with basic padding.

Triple-Layer Padding –
Triple-layer padding is, as one would expect, exactly what the name implies. Several gloves on this list were constructed with three layers of padding within the glove, which has its benefits and drawbacks. Fans of triple-layer padding laud its increased protection for both the wearer and their opponent. Critics complain that triple-layer padding is less flexible and heavier than thinner padding options, making the gloves more cumbersome.
Gel and Foam Combination Padding –
A few companies have embraced padding options that diverge from the customary use of foam. When they branch out, it is almost exclusively into a combination of foam and gel padding. Gel padding is more shock-absorbant than foam padding which means that it provides more protection per unit than foam. It also has more density, which can affect weight distribution for better or for worse.
Supportive Wrist Straps –
The fine bones of the wrist are some of the most easily damaged during martial arts. Wrist wraps are the most common pieces of equipment that are used to avoid this damage, but hand wraps are often too bulky to fit underneath standard MMA gloves. Many equipment companies take this into account and design their gloves with supportive wrist straps. These often take the form of bands that wrap at least one full time. They often close with portions of hook and loop material and can also be used to adjust the fit of the glove.
Frequently Asked Questions
Q: Can I wear my hand wraps under my MMA gloves?
A: Generally speaking, no. Most MMA gloves are too tight to fit hand wraps underneath and some MMA circles even ban the practice because it can affect the outcome of a match. If you are really determined to wear your hand wraps with your gloves, check the rules of whatever organization you work through and consider buying a larger size. They will be loose on the fingers, however.
Q: Are all MMA gloves the same?
A: No, there are several types of MMA gloves. Some are hybrid, designed for work with both boxing and MMA exercises while others are practice gloves and yet others are intended for use in MMA matches
Q: Do leather gloves require special care?
A: Yes, leather gloves require a few extra care steps than synthetic gloves do. If a buyer intends to keep their gloves for any real length of time, the leather must be cleaned an conditioned every few months. Any excess fluid must be wiped off as soon as practice or a match ends, and they cannot be run through a dryer or other harsh cleaning machine.
Q: Are these MMA gloves for youths?
A: No, none of the gloves on this list are intended to fit youths. A few of the gloves may come in youth sizes or the companies may offer youth variations. But this list is geared for adult MMA practitioners.
Sources:
https://en.wikipedia.org/wiki/MMA_gloves
https://www.quora.com/What-is-the-difference-between-the-boxing-gloves-and-the-MMA-gloves