Best MMA Gloves Reviewed & Rated
last updated:
Jan 17, 2020
It seems like nearly every branch of martial arts has its own specialty glove. Outsiders to the various martial arts styles might think that the gloves are almost entirely interchangeable, but in most cases they are wrong. The gloves designed for mixed martial arts are highly specialized to their particular branch despite their deceptively simple appearance. All MMA gloves are fingerless and contain some sort of padding.
The best MMA gloves are contoured to give the wearer as much support as possible when delivering a strike without restricting their movement when the wearer needs to transition into a grapple. Some have even suggested that this versatility was designed into the gloves to encourage a wider range of hand and arm strikes. So let's get into the list!
In a Hurry? The test winner after 4 hrs of research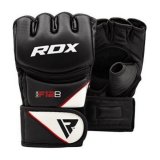 RDX MMA Gloves
Why is it better?
Moisture Wicking Lining
Curved Knuckle Padding
Open Palm Design
Superior Protection
In a
Hurry? Editors choice: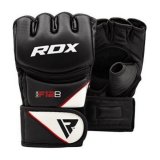 Test Winner: RDX MMA Gloves
Materials
Features
Protection
Size
Weight
By Default
Criteria Used for Evaluation
Materials
Leather
Leather is the most traditional material for martial arts gloves, regardless of the specific branch, the gloves are intended for. Roughly half the gloves on the market today are still made of leather and it isn't just tradition that keeps this material in high demand. Leather has an incredibly long life expectancy when it is properly cared for.
The materials' flexibility allows it to bend and shape to the user's hand while also allowing the glove to take a fair amount of use before the leather cracks or tears. Even cracks and tears are reparable so long as you can get your hands on a leather patch kit. Leather gloves do require a bit more care than their synthetic counterparts and are usually found at slightly higher price points. The investment, both in terms of money and time, is well worth the reward of long-lasting gloves that will adapt to fit your hand and almost exclusively your hand over time.
Synthetic Leather
Synthetic leather is the only other material commonly used to produce MMA gloves. Many people still cringe away from this material but its quality has grown by leaps and bounds since it first hit the market. Some synthetic leathers are of such a high-quality that it is difficult to tell them apart from mid-grade genuine leather. And although leather may be more traditional than synthetic leather, this more modern material has several useful traits that have contributed to its rise in popularity.
While cheap synthetic leathers have the reputation of quickly flaking or cracking, the mid-grade and high-grade synthetic leathers on this list are flexible, durable, and require none of the cleaning and conditioning that is recommended for genuine leather products. They last longer than cheaper synthetic leathers but not as long as well-cared-for genuine leather, which is a trade-off that consumers must be aware of.
Moisture-Wicking Lining
Any fighter will tell you about the discomfort that comes from damp palms during a fight. The discomfort can get worse, however, if the constant moisture within the glove causes itching and other issues. There have been several alterations to the design of MMA gloves in an attempt to combat this issue, the least obvious of which is the inclusion of a moisture-wicking lining within the gloves.
These linings are often made of extremely absorbent fabrics that draw in sweat before it can cause discomfort. The trade-off in this is that the gloves must be washed fairly regularly to keep bacteria and odor from building up within the lining of the glove.
Features
Palm Features
Open-Palm Construction
Another common design feature intended to fight damp palms and hot hands are the open-palmed MMA glove. Critics of the design style say that it negatively affects the fit of the glove on the wearer's hand. Most gloves with an open-palmed design account for this, however. They often feature adjustable wrist straps and particularly snug finger sheaths to make sure the glove stays in the proper position while the palm is exposed to allow airflow to the hands.
Perforated Palms
A similar idea to the open-palm design is the idea of perforating the palm to allow for airflow without sacrificing the fit of a whole-glove design. They allow less air in than the open-palm design but maintain the traditional look and fit of the whole-hand glove.
Mesh Ventilation Panels
Mesh ventilation panels have become commonplace among many styles of martial arts gloves. MMA gloves tend to favor ventilation panels at the palms opposed to the side of the gloves or across the back. This placement keeps the palms cool at a level similar to gloves with an open-palm design without sacrificing any of the fit. Ventilation panels do not always flex in the same way as the glove's main construction material, which some users feel has a negative effect on the glove's usability.
Protection
Safety Features
Basic Padding
MMA gloves are, at their core, safety devices. They are designed to protect the fine bones of the hand inside the glove as well as whatever surface - or person - is being hit. A glove's padding is the first line of defense for both people involved in a match, earning it the top position on this list of safety features. Basic padding is usually one layer of foam, the thickness of which will vary based on the brand of the glove, the type of foam it is, and the location of the padding within the glove.
Gloves with basic padding are most often recommended for training instead of actual matches because they generally provide less protection than other kinds of padding. There is a trade-off to this reduced protection, however, and it is the lighter weight of gloves with basic padding.
Triple-Layer Padding
Triple-layer padding is, as one would expect, exactly what the name implies. Several gloves on this list were constructed with three layers of padding within the glove, which has its benefits and drawbacks. Fans of triple-layer padding laud its increased protection for both the wearer and their opponent. Critics complain that triple-layer padding is less flexible and heavier than thinner padding options, making the gloves more cumbersome.
Gel and Foam Combination Padding
A few companies have embraced padding options that diverge from the customary use of foam. When they branch out, it is almost exclusively into a combination of foam and gel padding. Gel padding is more shock-absorbent than foam padding which means that it provides more protection per unit than foam. It also has more density, which can affect weight distribution for better or for worse.
Supportive Wrist Straps
The fine bones of the wrist are some of the most easily damaged during martial arts. Wrist wraps are the most common pieces of equipment that are used to avoid this damage, but hand wraps are often too bulky to fit underneath standard MMA gloves. Many equipment companies take this into account and design their gloves with supportive wrist straps. These often take the form of bands that wrap at least one full time. They often close with portions of hook and loop material and can also be used to adjust the fit of the glove.
Size
Like all products, there are size charts that you need to follow. Before shopping for MMA gloves, you will need to take measurements so that you know the size of gloves to get. Measuring around your knuckles, the four fingers, not including the thumb and then around the wrist will allow you to get accurate sizes.
The sizing chart is as follows:
Small: 6.5-7.5"
Medium: 7.5-8"
Large: 8-9"
X-Large: 9-10"


Most of the sizes charts are uniform across all brands. So if you measure your hands and you are a specific size, you should be the same size as every brand of MMA gloves available on the market.
Wrist wraps are common for under gloves. Another thing to think about is the size of the wrist wrap that you will be wearing if any. If you plan on wearing one of these wraps, you will need to consider the increase in size when it comes to your hand, combined with the wrap. Always plan to go up by one size in gloves, if you plan on wearing wrist wraps. If you do not, the product won't fit and will be too tight. Gloves that are too tight will affect your performance and the safety of your hands during practice or competitions.
Weight
When considering gloves for MMA, you must also consider the weight of the product. The different types of gloves have different weights as they are used for different types of MMA movement. There are regular bag ones, sparring, competition, and hybrid gloves. The reason that you should consider the weight of this piece of equipment is so that you can plan on how it is going to affect your performance. You simply cannot use a heavy bag glove for competition sparring! Below you will find a chart that will list the weight of each type of glove that you can use in MMA.
Ring/Fight: 4-6 Oz
Hybrid: 7-10 Oz
Sparring (Boxing): 14 -16 Oz
Sparring (MMA): 7-10 OZ
Bag Mits: 10, 12, 14, & 16 Oz.


When it comes to bag gloves, you will shop based on your weight. That is why there are several options for weight in this specific product.
Expert Interviews & Opinions
Most Important Criteria
(According to our experts opinion)
Experts Opinion
Editors Opinion
Users Opinion
By Default
Competition and Gloves - What you should know!
If you are looking to compete, the gloves that you choose have to be approved by the commission and weigh between 4 and 6 ounces. No more or no less!
Why are gloves required in MMA fighting?
Safety is and should always be first in any type of sporting activity, especially fighting! The reason fighters are required to wear gloves during fights is mainly for the protection of the hands! Some of the most fragile bones in your body are located in your hands! Gloves also protect hard blows to the face.
Other Factors to Consider
Versatility
MMA Glove Type
When considering MMA, there are several different disciplines and workouts within the sport. With the differences in the sport comes different types of equipment. These specific gloves were introduced mainly for protection. Below, you can read about the different types available.
Competition Gloves
The professional fighters typically wear a glove that is 4 ounces whereas the amateurs wear the 6-ounce option. The reason amateurs go with the heavier version is that they will gain more protection in the ring, to their hands. As time goes on, amateurs learn to hit in different ways so that they can move to a lighter option. Competition options cannot be lighter than 4-ounces nor heavier than 6-ounces.
Sparring Gloves
With sparring comes lots of punching and speed hits. Protection is key when you are sparring with a partner or just a bag. All sparring options are 7 ounces. The 7-ounce weight comes from the materials that protect your knuckles. More protection is needed with sparring, especially when sparring with a partner.
Training/Grappling/Hybrid Gloves
Training is key for any sport when considering going to a competition. With training comes equipment and that is where the grappling gloves come in to play. These were designed as a wraparound wrist glove with finger placements so that you have more stability and movement. The stability in the wrap-around wrist allows you to train hard while keeping protected.
Frequently Asked Questions
q:

Can I wear my hand wraps under my MMA gloves?

a:

Generally speaking, no. Most MMA gloves are too tight to fit hand wraps underneath and some MMA circles even ban the practice because it can affect the outcome of a match. If you are really determined to wear your hand wraps with your gloves, check the rules of whatever organization you work through and consider buying a larger size. They will be loose on the fingers, however.
q:

Are all MMA gloves the same?

a:

No, there are several types of MMA gloves. Some are hybrid, designed for work with both boxing and MMA exercises while others are practice gloves and yet others are intended for use in MMA matches.
q:

Do leather gloves require special care?

a:

Yes, leather gloves require a few extra care steps than synthetic gloves do. If a buyer intends to keep their gloves for any real length of time, the leather must be cleaned and conditioned every few months. Any excess fluid must be wiped off as soon as practice or a match ends, and they cannot be run through a dryer or other harsh cleaning machine.
q:

Are these MMA gloves for youths?

a:

No, none of the gloves on this list are intended to fit youths. A few of the gloves may be mma kids gloves or the companies may offer youth variations. But this list is geared for adult MMA practitioners.
Subscribe to our Newsletter