MMA Kids Gloves Reviewed and Rated
last updated:
Jan 17, 2020
Mixed martial arts, better known as MMA, grows in popularity every year. This bone-crunching, joint bending, hardcore sport allows martial arts enthusiasts from all walks to fight against each other. There are very few rules and the intense shows that ensue draw crowds by the millions.
As MMA becomes more popular there has been an increase in the desire to start this one of a kind sport, by the younger generations. Keeping your kids safe when they try this new venture is of the utmost importance. While there are many aspects to consider including footwear, shorts, gloves, headgear, and mouth guards, let's start with the gloves.
In a Hurry? The test winner after 4 hrs of research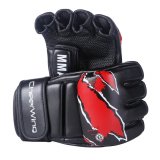 Cheerwing Sparring Gloves
Why is it better?
Good with Bags and Partners

Excellent Finger Manipulation

Superior Wrist Support

Stand Up to Frequent Use

No Extra Wraps Needed

Easy to Clean
In a
Hurry? Editors choice: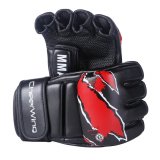 Test Winner: Cheerwing Sparring Gloves
Comfort
Protection
Shock Absorption
By Default
Criteria Used for Evaluation
Comfort
Wrist pain and breaks are unfortunately a common problem in the world of mixed martial arts. Wrapping your wrists correctly and making sure your gloves give them support and impact protection from hits and kicks will keep your child protected and comfortable throughout their MMA journey.
When people fall they tend to try and catch themselves. What does this do? Adds pressure and impact to the joint. This can lead to serious injuries and major time away from the martial art of your choice. Bracing the wrist and padding it can help you avoid these types of injuries that happen during takedowns.
Not only will correct wrist padding keep your child safe in their adventure towards mixed martial arts mastery, but they will also help keep the gloves in place. Sliding gloves can cause many problems not only for the wearer but also for their opponent or practice partner. When your kids MMA gloves slide around you are leaving their hands vulnerable to unforeseen injuries due to unintentional contact.
Protection
In the description of many of the kids MMA gloves within this guide, we discuss protection. This is because it is one of the biggest things on parent's minds when they hear their child start talking about joining mixed martial arts classes. Not only are we concerned about the safety of our own but we also worry about the safety of other people's children.
It is important to keep in mind, more padding does not necessarily mean more protection. The fingers, hands, and wrists need to be able to move naturally, which helps to prevent injury. In addition, protecting each part individually does make for better overall kids MMA gloves. Single piece construction does offer advanced support and excellent impact distribution but can inhibit movement.
Let's take a few minutes and look at the key areas of protection to make sure your fighter can continue to participate and advance in their skill set. It is important to note that a discussion with your child's trainer may help lead you to the best pair of kids MMA gloves for what they will be practicing on a weekly basis.
Shock Absorption
Helping to absorb impact and distribute it evenly is part of the reason you need superior padding in the back of the hand. Kids MMA gloves need to protect and cushion the hand from repetitive striking. The bones in the back of the hand are close to the surface of the skin and small which makes them exceptionally susceptible to fractures and breaks.
Finding a pair of kids MMA gloves that offer a broken pad increases flexibility and comfort. It allows your fighter's hands to move naturally and maintain a comfortable position. Keeping comfort is part of overall protection. If you find you are dealing with uncomfortable hands it could do with stiff foam that is not well sectioned within their gloves.
Expert Interviews & Opinions
Most Important Criteria
(According to our experts opinion)
Experts Opinion
Editors Opinion
Users Opinion
By Default
Durability in MMA Gloves
Depending upon the use of your gloves, it is said that they should be replaced every 6 months, if you are using your gloves 4 times a week, consistently.
Other Factors to Consider
Protection
Bare knuckles will lead to skin break down. This can lead to infection and a ton of time spent away from training. Not only will you have to worry about skin break down if not wearing the proper kids MMA gloves, but you will also need to worry about joint and bone health. Punching causes a lot of impacts and can cause fractures or full-on breaks within the hand. It will also cause a lot of problems for the opponent including bruising and broken bones. Keeping everyone safe starts with great padding in the knuckles.
Frequently Asked Questions
q:

What is the difference between kids boxing gloves and kids MMA gloves?

a:

An excellent question and honestly the one we hear more often than any other. There are several differences between standard kids boxing gloves and MMA gloves. While there are benefits to both, different activities involved in MMA will require a true MMA glove. Let's take a minute and look at the key differences.
q:

How do I know what size to order when purchasing kids MMA gloves?

a:

The fit of kids MMA gloves is essential in their performance. Ill-fitting gloves can lead to pain, discomfort, and injury. Measuring for most MMA gloves is the same. You want to measure around the hand just under the knuckles. You want to measure the dominant hand as it usually does most of the work. It is important to note that not all manufacturers do things the same way and while this is the most common measuring method, checking the exact specs of the kids MMA gloves you are purchasing can save you time and money.
q:

Does my child need to wear wrist wraps in addition to their MMA gloves?

a:

The answer to this question is difficult. Depending on the days' training situation you may or may not need to add wrist wraps to keep your child comfortable and protected. Some gloves offer superior wrist padding and protection while others fall short. If your child is complaining of wrist pain adding wrist wraps may give them the extra protection needed.

Wrist wrapping helps maintain the alignment of joints and can be very beneficial if you take a kick or punch to the wrist. They will decrease pain and possible injury while helping stabilize the joint. During light sparring or training you may not have the need to wrap your child's wrists, however, during heavy bag or tournament time, you may find it will make the overall experience more enjoyable and less painful.
q:

Does the weight of a mixed martial arts glove really matter in performance?

a:

Yes, the weight of your gloves can play a big role in overall performance. Like running shoes, the lighter the better. Keeping kids MMA gloves light will increase speed and power. It also helps with muscle fatigue.

While a couple of ounces may not seem like very much, during intense and long training hours those couple ounces can really take their toll. More weight causes more drag and makes your fighter work harder.

If your child is currently wearing heavy gloves they may build muscle faster and when sizing down you will show a major increase in speed. One of the problems here is that they will also get used to what the extra padding feels like and this may cause a major shock when striking their first blow in lighter gloves. Practicing in the same gloves that you will wear for the competition will help the wearer to know what to expect and how their gloves will perform.
q:

Is there a difference in MMA and UFC gloves?

a:

The simple answer to this question is no. MMA stands for mixed martial arts and UFC stands for Ultimate Fighting Championship. UFC is an organization of athletes in the mixed martial arts category. The most commonly known organization in the USA, UFC is synonymous with MMA. It's as the old saying goes, All UFC is MMA but not all MMA is UFC.
Subscribe to our Newsletter