Best MMA Shin Guards Reviewed & Rated
Mixed Martial Arts has taken the world by storm. Participating in these type of hard-hitting, impact sports can not only put you in peak physical condition it can also lead you to a life of discipline and focus. Whether training in the gym or at home you need to keep yourself protected. Investing in a quality set of MMA Shin Guards will keep your legs in top condition and help you avoid serious injury. Equally as important, if working with a sparring partner you need to make sure they are protected as well.
Protective gear for training and tournaments has come a long way over the years. No matter if you love Boxing, Wrestling, Muay Thai, Judo, or Jui Jitsu keeping everyone protected will ensure your training continues and everyone's skill can continue to grow. Depending on your focus you may require different types of gear. From Head and Mouth Guards to Belly Pads, keeping yourself protected should always be the main focus.
Featured Recommendations
Fairtex Competition

Our rating
Handmade Quality
Price:

See Here
Twins Special Classic

Our rating
Most Trusted Brand
Price:

See Here
Meister Elastic

Our rating
Superior Comfort
Price:

See Here
There is quite a range of options when it comes to Shin Guards. We looked over materials and the way each set protects to ensure it would keep you safe and in top form for continued learning. When learning how to strike with your legs you may make many mistakes at the beginning. This can lead to bruises, broken toes, or other bones. As your skill grows so will your power and not protecting your legs can have you headed down the same path as someone with less experience. We have done the research for you and here is what we have come up with to keep you training and competing so you can become the best of your ability.
10 Best MMA Shin Guards
1. Fairtex Competition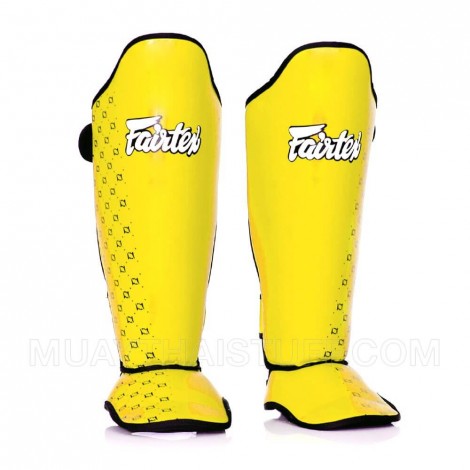 Recently Fairtex has upgraded the Competition Shin and Instep guards. They are more durable, with sleeker lines, a better fit, and an amazing feel. In addition, they are lightweight and will keep both you and your sparring partner completely protected. It is important to note, these are handmade which increases the overall quality and durability of the product.
Expand to see more
Extended Instep
When practicing, the need for protection makes sense, especially in vulnerable areas of the body. Our instep is quite fragile and the extended instep protection ensures this spot is fully guarded. Breaking a foot can lead to a lot of time away from what you love, hence this being a feature we appreciate from Fairtex.

No Metal and No Rough Edges
When your protective gear uses metal closures you may cause injury to your partner or even to yourself. Fairtex has integrated a hook and loop pull strap and removed the need for metal fixtures. On top of this, they have also streamlined them to remove any rough edges that may scratch or cause physical harm to the wearer or their partner.

Cost and Value
Falling into the upper level of our price range you really get a great value when you make room in your budget for these shin guards. The durable synthetic leather and attention to detail throughout the entire product will ensure they can stand up to consistent abuse for a long time. They fit comfortably and offer excellent protection.
Stay Put Fit
Dual Protection
3 Layer Foam Padding
Sturdy Coverage
Lightweight
2. Twins Special Classic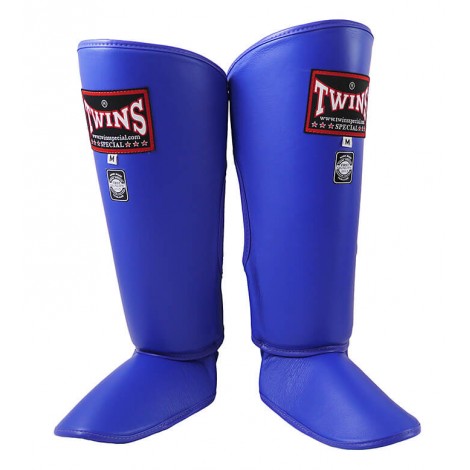 Twins is a brand that is trusted by beginners all the way to the pros. They have offered some of the best options in not only protective gear but in training equipment as well. The Twins Special Classic shin guards are made of 100% Leather making them more durable than many others in today's market. They also feature double Velcro straps for a comfortable stay-put fit that is also easy to put on and take off.
Expand to see more
Durability
Superior craftsmanship is seen throughout the design of these shin guards. The genuine leather is very durable and will last through punishing blow after punishing blow. In addition, the stitching is top quality and will hold up with no problem through rigorous training. You won't have to worry about your seams bursting in the middle of a training session.

Full Instep Protection
The elastic strap that secures the foot padding is small. This means the padding wraps further around the foot to fully protect your instep. There are many vulnerable bones in this area of the foot and ensuring protection will keep you practicing harder to ensure you meet and hopefully exceed your goals.

Cost and Value
Twins brand is known for their superior products and while not the most costly MMA shin guards in our guide they are pretty close. They will not be affordable for all budgets but they will keep you protected at a maximum level. The excellent durability will keep these in your use for a long time which does help when looking at the cost.
Excellent Foot Coverage
Superior Durability
Stable Fit
Great for Beginners to Advanced
Withstand Intense Kicks
3. Meister Elastic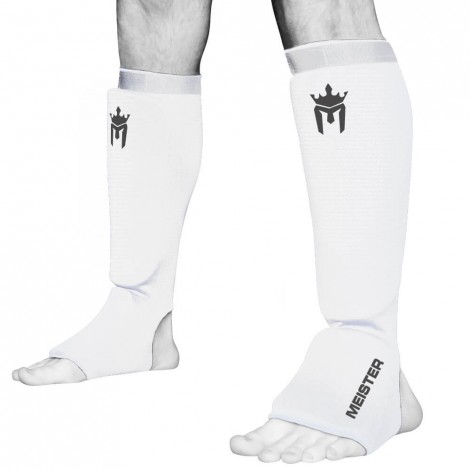 This affordable option by Meister is a bit different than what we have looked at so far. These shin guards are fully elastic and simple to pull on and off. Meister has included a hook and loop strapping closure at the top of the guard to ensure they stay comfortably in place. They are lightweight and will protect your shins as well as your foot and instep.
Expand to see more
Fit
The fit of this option is good on several different levels. The elastic sock-like sleeve fits a variety of leg widths easily. More importantly, as you break them in the foam will mold to your specific leg. This offers superior protection the feels as if it was made just for you.

Hook and Loop Top Guard
Anyone who has worn this style of shin guard has probably had to fight to keep them up. It is frustrating to have to keep stopping to pull up your protective equipment. The addition of a top strap allows you to secure the fit. You won't have to worry about the annoyance of stopping frequently and will get the superior comfort found in this type of shin guard.

Cost and Value
When working with a strict budget, these are going to be your best option. Made from durable and quality materials, they will last you a decent amount of time. Carrying the lowest price tag will allow them to fit easily into any budget and help keep yourself protected during training.
Non-Restrictive
Exceptional Cost
Excellent Fit
Most Comfortable
Secure
4. Venum Elite Standup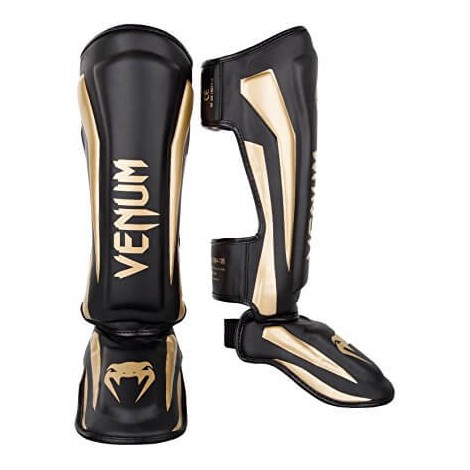 Venum shows up on this list more than once due to their superior performance in durable high-quality fighting gear. The Elite Standup Shin guards are made of Skintex Leather for a great feel, exceptional durability, and ultimate protection that you can't find anywhere else. You also get excellent coverage with high-density foam for better overall protection.
Expand to see more
Large Velcro Straps
When it comes to fit the two large Velcro straps on this option by Venum won't let you down. They secure your guards in place but also allow great flexibility. Due to their design, you won't have to worry about them scratching your legs, or about constantly readjusting them.

Shock Absorption
The lightweight and slim build of these may make you question their toughness. However, the high-density foam is will protect your shins and your feet equally. Through tough training, you will be able to rely on the shock absorbing and impact distributing ability of the foam SkinTex combination.

Cost and Value
Full, unrestricted range of motion paired with superior protection costs more than any other in our guide. The advanced technology and durable use add to the overall value. While they may be difficult for some to afford if you can make room for them they will stand the test of time and use.
Protects Whole Leg
Excellent for Heavy Kicks
Top Quality Material & Protection
Unrestricted Movement
Not Bulky
5. Venum Kontact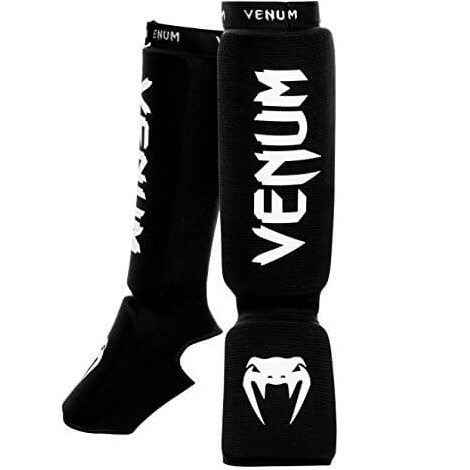 The second option by Venum, the Kontact is quite a bit different. It has a high-quality cotton build that is exceptionally comfortable. In addition, you won't have to worry about it sliding down due to the added Velcro closure. They are reinforced at the highest impact areas to ensure ultimate protection where you need it most.
Expand to see more
High Impact Reinforcement
Kicking and low strikes tend to put pressure and shock on specific areas, such as the shin bone and the tops of the feet. Repetitive striking practices can wear those areas out the fastest. This option is reinforced to ensure they continue to keep you protected through endless hours of training and sparring.

Washable
Training is sweaty work and with sweat comes odor. Many shin guards are difficult to wash or you have to use some soapy solution to keep them fresh. The Kontact can be thrown in the washer on a gentle cycle and air dried with no problems at all. This greatly reduces unpleasant odors and help to keep it simple.

Cost and Value
This simple yet durable protection by Venum is surprisingly one of the most affordable options on the list. Excellent protection and a simple, secure design are what is offered and by a name trusted by fighters everywhere. Pretty much all budgets will be able to handle the cost and their value is outstanding.
Good With Heavy Bags
Great Fit
Secure Closure
Excellent Foot Coverage
Not Too Thick
6. Hayabusa Ikusa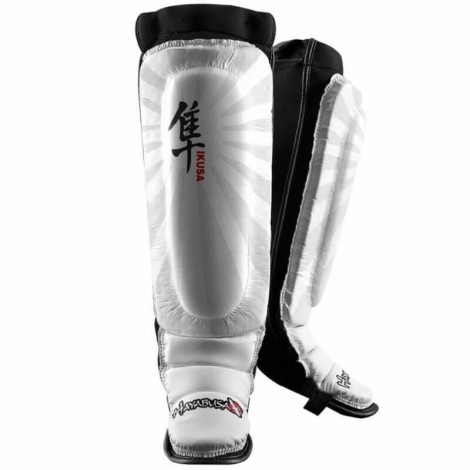 Hayabusa is another powerhouse in the world of MMA gear and protective equipment. Their long standing reputation is upheld in the Hayabusa Ikusa shin guards. They offer exceptional breathability. Lightweight with a great range of motion you don't have to compromise protection to get a natural well-moving feel. They offer a great striking surface as well as amazing impact absorption.
Expand to see more
Neoprene Backing
When it comes to above average breathability the Hayabusa Ikusa has what you need. The Neoprene backing helps wick moisture away from the surface of the skin which aids in overall skin integrity. The Neoprene backing provides better breathability. It dries quickly and will keep you cool and comfortable.

Ergonomic Design
The build of these shin guards makes them great for striking and striking against. They protect you in all areas. They mold to your legs and will keep everyone involved. The design also makes them more comfortable as they really do conform to your legs.

Cost and Value
Sitting in the top middle these shin guards won't be easy to absorb in all budget situations. You will get a secure fit and great comfort when wearing them. The design will accommodate a variety of shapes and sizes comfortably. If you cross disciplines they will do you well in all varieties making their overall value improve even more.
Barely Feel Heavy Impact
Unobtrusive Feel
Secure Closure
No Slip
Very Breathable
Longer to Take On & Off
Bit Bulky
7. RDX Guard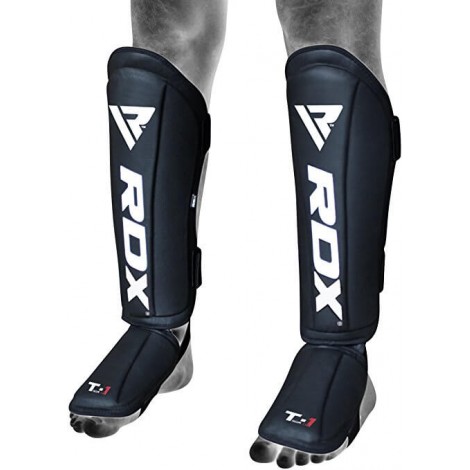 RDX has really come into their own as a trusted brand of MMA fighters. The RDX Guard uses a gel shock absorption material that does an excellent job of keeping you comfortable and protected. They use a zero slip hook and loop closure and due to the gel construction really conform to your legs. The covering is Cowhide leather which, with proper care, will go the distance as you hone your skills in any and every discipline.
Expand to see more
No Denting or Deformity
Some of the problems commonly seen in foam padding are that over time they lose their shape. With the integration of gel, you won't see this happen. When it comes to overall durability and comfortable non-pitted shin guards you will find that gel is superior.

Cowhide Leather
These guards are all about long use. If properly cared for Cowhide Leather will last for years. You do this with some simple conditioning to make sure the Leather stays hydrated. It will be able to stand up to the hardest hits and come back for more.

Cost and Value
RDX gives us an option that is unique and innovative. It falls right in the middle of our price range and will be a great value to anyone that is into MMA for the long haul. Buying durable products, in the end, saves you time and money. If you aren't sure you will stick with it you may not want to make this investment but if you do, you won't be disappointed.
Top Durability
Comfortable & Easy Adjustment
Excellent Construction
Superior Shock Absorption
8. Sanabul Essential Hybrid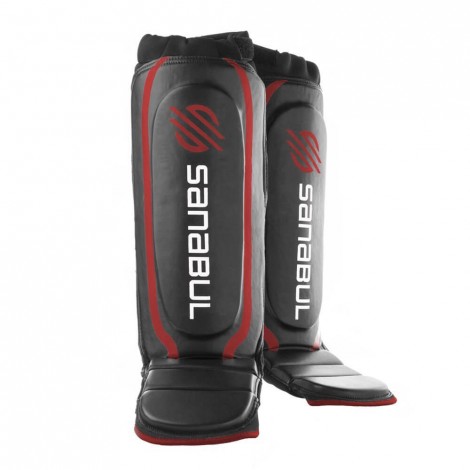 Sanabul's Essential Hybrid shin guards transition seamlessly between your favorite types of Martial Arts. They offer a slide on style that is simple and secure. In addition, there is excellent coverage to your shin as well as your instep and foot. You won't have to choose between comfort and protection when wearing these because of their flexibility and the good range of motion while wearing them.
Expand to see more
Zero Readjustment
Not only do you get a snug fit with the Neoprene sleeve but you also have two security straps. Sanabul knows the frustration of tugging on your shin guards and has added a strap at the middle and at the top to ensure they stay where you put them. No more worry of sliding protection leading to injury when you decide to trust the Sanabul brand.

Triple Stitching
Throughout the entire design, you will find triple stitching. What does this mean for you? Better durability and longer wear for extended time. Oftentimes you will find weak areas near the straps but with this type of reinforcement that will no longer be a worry.

Cost and Value
The cost of this option falls in the middle of our price point. It is important to note, they are affordable for most budgets. They offer a secure and comfortable fit while maintaining good breathability. The design is smart and structured for great protection where you need it most, this adds to their overall value.
Articulated Padding
Little Movement
Wide Size Variety
Great Price
Durable Design
10. Hayabusa T3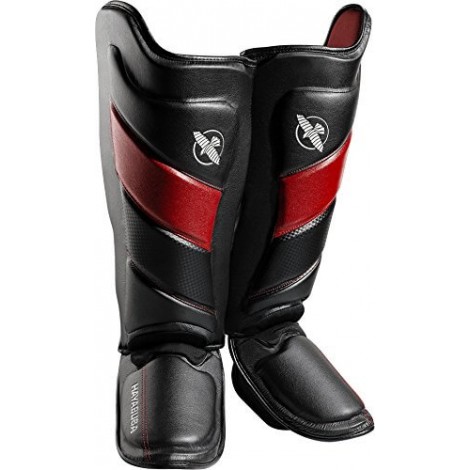 Hayabusa like Venum holds two spots in our guide. This is because of their amazing products that will stand tough through countless rounds of abuse. When wearing these your lower legs, knees, and feet will all be protected. Their exceptional coverage will help ensure you don't sustain any serious injuries while sparring. Their overall fit is aided by an inner silicone grip. They are lightweight, flexible, well-fitting, and durable.
Expand to see more
Open Back
Hot gear makes something sweaty even worse. The open back on this pair of shin guards allows your legs to breath without compromising fit. Secure straps keep them in place while air is able to flow freely, which helps keep you cooler and more comfortable.

Contour Design
Not only around the leg and foot but also at the knee you will find an amazing fit. This contour shapes well to your body and allows ample space for making and receiving blows. Protecting yourself is key and a strike to the knee could put you out of commission for a long time, try these and be truly protected.

Cost and Value
As with most Hayabusa products, this one comes with a pretty hefty price tag. Not all budgets will be able to easily absorb their cost. You will receive a set of guards that can withstand serious use and abuse. Alongside that, they offer a great fit and shock absorption that will allow you to train as often as possible without the repercussions of pain, soreness, and bruises.
Take Heavy Kicks Easily
Close Attention to Detail
Easy to Adjust
Simple to Care For
Advanced Protection
Regardless of your chosen style, keeping yourself and your sparring partner protected is a number one goal. Inferior equipment can and will lead to painful bruising and possibly serious injuries. While there are many other options on today's market the ones you have just seen are in the top of their class when it comes to durability, comfort, flexibility, and overall protection. Finding the perfect protective equipment does not have to be difficult, we have done the research now all you need to do is make the choice.
Criteria for Evaluating the Best MMA Shin Guards
Impact Absorption
When you're buying protective gear, naturally, you want it to be awesome at absorbing and distributing impact. This will keep your skin free from bruising and help your bones stay far away from breaking. There are a variety of foams and gels found within shin guards.
Depending on your level of skill will depend on the amount of protection you need. If you find yourself in a beginner's Muay Thai class once in a while less padding will be ok. On the other hand, if you are serious about martial arts and sparring and training become part of your daily routine than more protection will be required. This is especially important as your skill and power start to increase and you start landing devastating blows.
Single Layer Coated Foam – 
Single layer coated foam is truly for beginners and exceptionally light sparring. It is usually coated in Polyurethane and quite durable. You will get some shock absorption but it will not stand against heavy strikes.
Double Layer Coated Foam – 
Giving more protection than a single layer this is a good starting option for those that naturally have a bit more striking power. Heavy hitting beginners will find better shock absorption and distribution to accommodate their higher strength. You will need to pay attention to durability as there can be some common ripping spots on this type of protective gear.
Synthetic Leather Covered Foam – 
Synthetic Leather is fairly durable and it is simple to care for. You simply wipe it down with an antimicrobial and you are good to go. This type of leather does not breath as well as others but will withstand pretty tough abuse. You will find single, double, and even triple layer foam wrapped in this type of leather. Each additional layer of padding will protect that much more and be able to handle more shock and impact during tough training.
Genuine Leather Covered Foam – 
Leather is by far the most durable covering material and helps with overall impact absorption. Used in the finest products available it does require more care and oftentimes more expensive. Heavy hitters and more advanced fighters will typically want

t

o go towards leather goods because of the durability they offer.
Covered Gel – 
Gel offers some of the finest impact absorption and won't lose its shape after taking constant abuse. The problem with gel is the overall durability of it. It can be more difficult to care for and if seems rip it can lead to a complete replacement of your shin guards.
Closure
The type of closure not only impacts the fit of your shin guards it also impacts the overall functionality and protection they offer you. If you find your protection slipping around because of bad closure systems or improper fit with no adjustability you may sustain a variety of injuries that will put you out for extended periods of time.
While the type of closure varies from brand to brand there are common trends that you will see. To say which is better is impossible as everyone is shaped a bit differently and what works for your sparring partner may not work so well for you.  Let's take a moment and look at different closure types and who they work best for and who should probably avoid them.
Cotton or Neoprene Sleeve – 
While arguably the most comfortable and flexible Cotton and Neoprene sleeves can be difficult to keep up. They hug the leg like a sock and the padding is typically stitched into it on the areas that require the most protection. This type of fit may lead to excessive movement and make you more prone to injury due to slipping pads. If you want to find a better fit with the same flexibility look at options like the Meister Elastic Shin Guards that offer a strap at the top for security. Some even offer dual straps for a supremely secure fit.
Velcro Strapping Systems – 
You will find a large variety of Velcro strapping systems within the subject of shin guards. Some are hook and loop style closures which make for easy adjustment without removing your MMA gloves. They are usually quite durable and as long as they offer a good design the Velcro will not scratch your legs. Double and triple stitching can help ensure this. Be careful of exposed sharp edges or thin strips of Velcro. These can lead to unnecessary injury.
Frequently Asked Questions
Q: How do I keep my shin guards clean?
A: This will all depend on what material your shin guards are made of and you will want to double check the manufacturer's recommendations. It is usually quite simple.  If your protection is made of dipped foam, has a synthetic leather outer, or is made of some sort of Vinyl or synthetic blend you will be safe to clean with simple soap and water or a spray antibacterial. When dealing with Leather you need to be more careful or you could cause staining or damage to it. Special Leather cleaners and conditioners can be used to keep your gear in top shape and performing for years to come.
Q: Do I need to wear shin guards when I am training at home?
A:  Depending on the type of training you are doing at home it can be critical that you indeed wear protection. Muay Thai and Kickboxing are the perfect examples. If working on your kicks and low strikes with a heavy bag you will most certainly need to keep your legs and feet protected. Spending the day working on fist strikes may not require you to protect your legs but be careful as in the heat of a great combination an ill-placed unprotected strike could leave you in a very bad way.
Q: The Velcro closure of my favorite shin guards is wearing out, is there anything I can do to prolong its life?
A: Yes, there is actually a pretty simple fix. If you are a stranger to a needle and thread you will want to find someone who isn't. You can purchase some new Velcro and cut it to the appropriate size. Once doing this, stitch it over the old worn pieces and you will have a long-lasting fix. Be careful of sharp edges, trimming correctly will help you avoid scratches.
Q: Does it matter which shin guard I wear on either side?
A:  With some brands, it will matter and with others not so much. Many brands put a label on each one specifying right from left. Others you can tell simply by looking at the placement of the padding. If you are still unsure check out some reviews or forums for better insight into the specifics for the brand you are wearing.
Sources