Best MMA Shin Guards Reviewed & Rated
last updated:
Mar 31, 2020
Mixed Martial Arts has taken the world by storm. Participating in these type of hard-hitting, impact sports can not only put you in peak physical condition it can also lead you to a life of discipline and focus. Whether training in the gym or at home you need to keep yourself protected. Investing in a quality set of MMA Shin Guards will keep your legs in top condition and help you avoid serious injury. Equally as important, if working with a sparring partner you need to make sure they are protected as well.
In a Hurry? The test winner after 4 hrs of research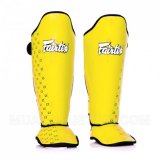 Fairtex Competition
Why is it better?
Stay Put Fit
Dual Protection
3 Layer Foam Padding
Sturdy Coverage
Lightweight
In a
Hurry? Editors choice: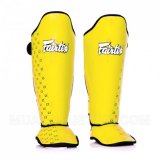 Test Winner: Fairtex Competition
Shock Absorption
Overall Fit
By Default
Criteria Used for Evaluation
Shock Absorption
When you're buying protective gear, naturally, you want it to be awesome at absorbing and distributing impact. This will keep your skin free from bruising and help your bones stay far away from breaking. There are a variety of foams and gels found within shin guards.
Depending on your level of skill will depend on the amount of protection you need. If you find yourself in a beginner's Muay Thai class once in a while less padding will be ok. On the other hand, if you are serious about martial arts and sparring and training become part of your daily routine than more protection will be required. This is especially important as your skill and power start to increase and you start landing devastating blows.
Single Layer Coated Foam – Single layer coated foam is truly for beginners and exceptionally light sparring. It is usually coated in Polyurethane and quite durable. You will get some shock absorption but it will not stand against heavy strikes.
Double Layer Coated Foam – Giving more protection than a single layer this is a good starting option for those that naturally have a bit more striking power. Heavy hitting beginners will find better shock absorption and distribution to accommodate their higher strength. You will need to pay attention to durability as there can be some common ripping spots on this type of protective gear.
Synthetic Leather Covered Foam – Synthetic Leather is fairly durable and it is simple to care for. You simply wipe it down with an antimicrobial and you are good to go. This type of leather does not breath as well as others but will withstand pretty tough abuse. You will find single, double, and even triple layer foam wrapped in this type of leather. Each additional layer of padding will protect that much more and be able to handle more shock and impact during tough training.
Genuine Leather Covered Foam – Leather is by far the most durable covering material and helps with overall impact absorption. Used in the finest products available it does require more care and oftentimes more expensive. Heavy hitters and more advanced fighters will typically want to go towards leather goods because of the durability they offer.
Covered Gel – Gel offers some of the finest impact absorption and won't lose its shape after taking constant abuse. The problem with gel is the overall durability of it. It can be more difficult to care for and if seems rip it can lead to a complete replacement of your shin guards.
Overall Fit
The type of closure not only impacts the fit of your shin guards it also impacts the overall functionality and protection they offer you. If you find your protection slipping around because of bad closure systems or improper fit with no adjustability you may sustain a variety of injuries that will put you out for extended periods of time.
While the type of closure varies from brand to brand there are common trends that you will see. To say which is better is impossible as everyone is shaped a bit differently and what works for your sparring partner may not work so well for you. Let's take a moment and look at different closure types and who they work best for and who should probably avoid them.
Cotton or Neoprene Sleeve – While arguably the most comfortable and flexible Cotton and Neoprene sleeves can be difficult to keep up. They hug the leg like a sock and the padding is typically stitched into it on the areas that require the most protection. This type of fit may lead to excessive movement and make you more prone to injury due to slipping pads. If you want to find a better fit with the same flexibility look at options like the Meister Elastic Shin Guards that offer a strap at the top for security. Some even offer dual straps for a supremely secure fit.
Velcro Strapping Systems – You will find a large variety of Velcro strapping systems within the subject of shin guards. Some are hook and loop style closures which make for easy adjustment without removing your MMA gloves. They are usually quite durable and as long as they offer a good design the Velcro will not scratch your legs. Double and triple stitching can help ensure this. Be careful of exposed sharp edges or thin strips of Velcro. These can lead to unnecessary injury.
Other Factors to Consider
Bottom Line
Regardless of your chosen style, keeping yourself and your sparring partner protected is a number one goal. Inferior equipment can and will lead to painful bruising and possibly serious injuries. While there are many other options on today's market the ones you have just seen are in the top of their class when it comes to durability, comfort, flexibility, and overall protection. Finding the perfect protective equipment does not have to be difficult, we have done the research now all you need to do is make the choice.
Frequently Asked Questions
q:

How do I keep my shin guards clean?

a:

This will all depend on what material your shin guards are made of and you will want to double check the manufacturer's recommendations. It is usually quite simple. If your protection is made of dipped foam, has a synthetic leather outer, or is made of some sort of vinyl or synthetic blend you will be safe to clean with simple soap and water or a spray antibacterial.

When dealing with Leather you need to be more careful or you could cause staining or damage to it. Special Leather cleaners and conditioners can be used to keep your gear in top shape and performing for years to come.
q:

Do I need to wear shin guards when I am training at home?

a:

Depending on the type of training you are doing at home it can be critical that you indeed wear protection. Muay Thai and Kickboxing are the perfect examples. If working on your kicks and low strikes with a heavy bag you will most certainly need to keep your legs and feet protected.

Spending the day working on fist strikes may not require you to protect your legs but be careful as in the heat of a great combination an ill-placed unprotected strike could leave you in a very bad way.
q:

The Velcro closure of my favorite shin guards is wearing out, is there anything I can do to prolong its life?

a:

Yes, there is actually a pretty simple fix. If you are a stranger to a needle and thread you will want to find someone who isn't. You can purchase some new Velcro and cut it to the appropriate size. Once doing this, stitch it over the old worn pieces and you will have a long-lasting fix. Be careful of sharp edges, trimming correctly will help you avoid scratches.
q:

Does it matter which shin guard I wear on either side?

a:

With some brands, it will matter and with others not so much. Many brands put a label on each one specifying right from left. Others you can tell simply by looking at the placement of the padding. If you are still unsure check out some reviews or forums for better insight into the specifics for the brand you are wearing.
Subscribe to our Newsletter