Best Moisture Wicking Shirts Reviewed
last updated:
Apr 02, 2020
Sweat can sometimes be a little bit of a problem in more ways than one.
Working up a good sweat means that you are pushing your body to its limits to get in tip-top fighting shape. It's your body's way of naturally cooling itself down to prevent overheating, it can cause quite a few problems. Moisture-wicking shirts are designed to tame these problems.
Clothes that trap sweat increases the risk of uncomfortable chafing, it can make your hotter. It may actually make you smell worse- and no one wants to be the smelly guy at the gym! Unless you plan to train in your birthday suit, you need clothes that will wick sweat away from your body.
In this guide, we have listed some of our favorite styles and designs of best moisture wicking shirts to keep you cool and comfortable, no matter how hard you train.
In a Hurry? The test winner after 22 hrs of research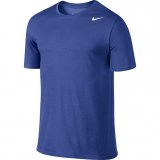 NIKE Dri-FIT
Why is it better?
Many colors
Classic design
DRI-fit tech
In a
Hurry? Editors choice: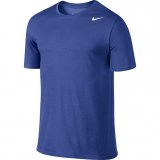 Test Winner: NIKE Dri-FIT
2
Researched Sources
930
Reviews Considered
22
Hours Researching
10
Products Evaluated
Materials
Comfort
Fit
Features
Brand
By Default
Our Top Picks for Best Moisture Wicking Shirts
Criteria Used for Evaluation
Materials
The materials used to determine how well it will wick sweat away from your body.
While cotton may incredibly comfortable, it isn't ideal for wicking sweat away from your body and keeping you cool when the heat is on. To keep dry, you need materials that are not very porous and are also very lightweight.
Polyester is your best bet for wicking away moisture. That's why we were drawn to products that were made from 100 percent polyester. Polyester is not very porous, so it works great at drawing sweat away from your skin and evaporates quickly along the surface.
If you love your cotton, there are some designs out there that use a polyester and cotton blend. In most instances, the cotton blend is generally under 40 percent, and 60 percent or more is made from polyester. The inclusion of cotton makes the shirt softer and has a little bit more stretch to it to enhance your full range of motion.
Moisture-wicking shirts from Nike often use a blend of cotton and polyester, but they reinforce their materials with a blend of their DRI-Fit tech to ensure that your sweat will not absorb into the cotton material.
One of the best features of polyester is that it is incredibly easy to wash. Simply toss it into the washing machine, and lay it out to dry. It isn't ideal to place these shirts into the dryer because they may shrink or take on a different shape. The good news, however, is that if you simply hang them up to dry they will dry incredibly quickly. This makes them a great option to take along with you while camping or on the go without access to washing machines.
Comfort
Above all else, we wanted to make sure that we selected designs that were comfortable.
Everyone knows that if it doesn't make you feel comfortable and confident, it will sink to the bottom of the pile of workout shirts that you reach for. No one has a good day at the gym when wearing clothes they don't feel good wearing.
There were a few design features that can make them a little more comfortable than other designs out there on the market.
First of all, the placement of the seams is an important thing to consider. No one likes bulky seams that are itchy, especially when moving around when fighting in the ring or simply going for a jog on the treadmill.
Raglan sleeves are something that really helps improve your full range of motion in the arms. If you like to lift weights or train with a lot of arm movement such as jump roping, raglan sleeves are something you may want to consider.
While most shirts attach sleeves at the armpits, raglan shirts attach the sleeves at the neckline. This keeps your arms unencumbered, and enhances your full range of motion.
The materials used are another factor to consider when you want something that is comfortable. Blends that use cotton are far more comfortable and move right along with you as you move. Keep in mind, however, that cotton blends tend to be a little heavier than designs that are made from 100 percent polyester.
Fit
Finding the right fit is half the battle when looking for your new favorite shirt.
Everyone has that one shirt that they get a little bit excited to see at the top of a clean laundry basket. Workouts just seem to go a little bit better wearing your favorite workout shirt. The reason it has climbed the ranks to your number one spot is most likely because it fits perfectly.
Finding the right fit can prove to be a little challenging. We wanted to make sure that we selected products that offered a wide range of sizes as well as include a sizing chart that makes it easier to find the perfect size.
Another thing that we looked at was how many users found it to fit them exactly as expected. Ideally, we wanted close to 90 percent of previous users to find that it fit them exactly as they thought it would fit them. As a general rule, we never select products that fall under 70 percent when it comes to expected fit.
Often, when that number falls under 70 percent, it means that the sizing it's uniform across the board. That means that even if you take detailed measurements and fit a shirt that fits right inside your body type, it still may not fit when you receive it.
When taking your measurements to find a size that is right for you, be sure to not just stop at your torso. Chest, waist, and arm measurements are a good indicator of how loosely or tight it will fit your body.
Features
Additional features can not only help you get the most out of your workouts, but it can also help keep you safe.
We wanted to select designs that brought a little something more to the table other than a cool and dry body. Below, we have listed some of the extra features that we wanted to ensure that we included.
Reflective material: Sometimes, you just cannot break away for a run until after the sun has gone down. In those instances, you want to ensure that your clothing will allow you to be seen while pounding the sidewalk after dark.
Some brands simply add a reflective flair to the logo, while others add reflective materials right into the seams. If reflective accents aren't your jam, another option is to buy bright and neon colors work just as well.
UPV fabric: If you like to spend time outdoors hiking trails or running, it's important to keep the skin off your back. There are a few benefits from opting for clothing with a UPV factor.
First of all, it protects your skin from UVA and UVB rays. This means you can stay out in the sun all day long without the need for sunscreen (although we do suggest selecting a great sunscreen for the parts of your body that isn't covered!).
When you wear something that filters out UVA and UVA rays, it also reflects a lot of the heat as well. If you want to stay cool and dry under an oppressive summer sun, selecting UPV fabric is a great choice.
Brand
There is a reason some of these brands have been around for decades!
We wanted to make sure that we selected brands that users have come to rely upon them for their superb quality over the years. Below, we went into a little bit of detail about some of the heavy-hitting brands out there, and the reason why they are worth the little extra cost.
Nike: Nike was founded in 1964, and it was originally known as Blue Ribbon Sports. They got their start making shoes for track meets but quickly moved on to other types of gear for a myriad of sports and training.
In the instance of their shirts and pants, they use a patented DRI-Fit tech that is blended into the fabric of all of their clothing. Nike DRI-Fit also uses moisture mapping on their clothing. THis means that in areas where you sweat in excess (such as your armpits) there are higher concentrations of their DRI-Fit materials to keep you cool and dry.
Under Armour: Under Armour was founded fairly recently in comparison to some of the other brands out there, but they have quickly earned their place in the pack. What makes them worth noting on our list is that they were founded because they wanted to solve the specific problem of sweating.
They were founded by a football player from the University of Maryland that hated peeling off sweat-soaked cotton t-shirts after the end of every game. He wanted to craft a line of gear that wicks moisture away from the body while still being lightweight and comfortable. For this reason, they have landed towards the top of our list!
There are a few lesser-known brands, such as Russell Athletic and Neleus that may not carry the same brand clout as some of the heavy-hitters, but they are still worth a look. We made sure to do our research on each and every brand selected for our list to ensure that they are passionate about quality clothing.
Expert Interviews & Opinions
Most Important Criteria
(According to our experts opinion)
Experts Opinion
Editors Opinion
Users Opinion
By Default
The Humble T-Shirt
It may seem like the t-shirt has existed since the dawn of time, but it isn't as old as you think. It was originally invented by 19th-century laborers that cut their jumpsuits in half in order to stay cool. The very first manufactured t-shirt didn't hit the market until the very end of the 1800s.
Powerful Polyester
Polyester is a material that can do it all. It is affordable, it wicks away sweat, and it provides a comfortable fit. However, like every superhero, it isn't without its weakness. Be sure that you avoid the dryer at all costs! High heat makes polyester shrink up! If you are unsure about size, it's always better to go a bit bigger because you know you can shrink it in the dryer if you need to.
Raglan Sleeves
Need a lot of natural movement in your arms? Raglan sleeves are great due to the fact that they remove the seams that can pull at your shoulders. Sleeveless shirts are great for freeing up movement, but shirts with raglan sleeves are the next best thing!
Other Factors to Consider
Bottom Line
Staying cool, comfortable, and dry is the key to a great workout. Moisture-wicking shirts are designed to remove the sweat off of your skin and let it evaporate off of the nonporous surface. Everyone knows that the best workouts often come when you are wearing clothing that fits great and is comfortable.
If you are constantly on the road and need something that is easy to wash and dry when you don't have access to any facilities, lightweight clothing such as those found on our list can be a real lifesaver. They're lightweight, comfortable, and a cinch to clean.
Our most important piece of advice that we can give is to make sure that you get something that fits you the way that you want. They do not need to fit tightly like compression shirts in order to be effective. While compression shirts work to keep muscles warm and engaged, moisture-wicking shirts are made to keep you cool and comfortable as you bop around the ring.
Frequently Asked Questions
q:

Why do I need to wear moisture wicking shirts?

a:

Staying cool and comfortable is a great way to get the most out of each and every workout. If you want to stay cool and dry, you need to wear fabrics that work to wick sweat away from your body. When you wear fabrics such as cotton, trapped moisture increases the risk of chafing, and can make you smell pretty ripe.

To avoid being the smelliest person at the gym, you need to wear moisture-wicking fabrics such as polyester that remove sweat from your skin and allow it to evaporate on the surface.

Moisture-wicking shirts are also a great way to stay cool to prevent you from overheating when training out in the oppressive sun in the middle of summer. Plus, most of the UV protection that allows you to stay outside all day without worrying about sun damage or a painful sunburn!
q:

Do they need to fit tightly

a:

Unlike compression shirts that need to really hug your skin, you are free to wear these shirts as tight or as loosely as you like! The key here is to stay as comfortable as possible. In fact, there are some brands out there on the market that are designed to fit loosely in the torso so you feel confident no matter what.

In fact, if you need to really enhance your full range of motion while boxing for fighting, lightweight and loose shirts will be your best option. However, at the end of the day, the size that you select all boils down to a matter of personal preference.
q:

Are they easy to clean?

a:

Absolutely! One of our favorite features of these styles of shirts is that they are really easy to toss into the washing machine for quick cleaning. The downside to these options is that it isn't ideal to throw them into the dryer.

Due to the fact that they are made from polyester, a trip into the dryer will change the shape or even shrink your garment. To dry, simple hang them in a well-ventilated area to dry completely.

Polyester isn't porous, so it will not hang on to the water for long. When you hang it up to dry, it may only take a few hours to dry completely. This makes it the perfect shirt to take with you camping or on the road when you don't have access to washing facilities.
q:

Can I layer them under other gear?

a:

Yes, you can. In fact, this is one of the most beneficial ways to use these shirts. If you are simply going for a jog in the middle of summer, it is perfect to wear on its own to keep you cool. However, can you wear it in the winter to keep you warm?

The best way to use these shirts in the winter is to wear them layered under a great sweatshirt or a jacket, and it will actually work to keep you warmer! The last thing that you want when training in cold climates is to wear wet clothes. By equipping yourself with moisture-wicking shirts will keep sweat from making your clothes damp. If your clothes are dry, you will stay warm.
q:

How many do I need?

a:

As many as your heart's content! We feel that once you find a size and cut that works for your body type, you should go all-in on that brand. To determine how many you need, take into consideration two things: how often you work out and how often you do laundry.

If you wash laundry once every week, we suggest selecting buying as many shirts for as many times you workout per week. If you wash laundry once every two weeks, you need to buy twice as many.

Some will tell you that you don't need to wash your shirts after every workout, but they are very wrong. Clothes you wear while sweating are breeding grounds for various types of nasty bacteria. To keep things on the up-and-up, it's best to give them a good wash after every use!
q:

What's the difference between a compression shirt and moisture wicking shirts?

a:

While these two shirts may have similar styles and shapes, there is a big difference between the two. Compression shirts are ideal for weight training because it compresses your muscles and increases the amount of blood sent to them. Increased blood means better performance. They can come times be a little uncomfortable, and don't support a full range of motion.

For those that need to be nimble and agile on their feet, loose-fitting moisture-wicking shirts are your best option. They have a loose and easy fit, wick sweat away from your body, and help keep you cool.
Subscribe to our Newsletter