Best Mouthguards & Teeth Protectors Reviewed
last updated:
Jan 10, 2020
Wearing a mouthguard is important as it comes with a plethora of benefits, one of the biggest being that it prevents injuries. The most common injury for people engaging in sports or dangerous activities is always related to the teeth and jaws. Most of the injuries include chipped teeth, loose teeth, or teeth that are completely snapped off. However, many people do not realize that when your teeth are hit it could also injure your brain.
Apart from being hit on the head, being hit in an upward motion can also cause a serious concussion. These usually happen when there is a bump or sharp rapid movement to the brain. A perfect example would be if you were hit with an uppercut. It's important to have the best possible protection available. Searching fort he best mouthguards is a good place to start.
In a Hurry? The test winner after 4 hrs of research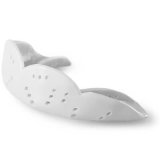 SISU Aero 1.6mm
Why is it better?
Comfortable

Breathable

Easy to maintain

Extra strong

Flexible
In a
Hurry? Editors choice: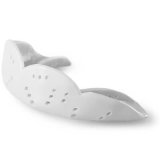 Test Winner: SISU Aero 1.6mm
Protection
Comfort
Materials
By Default
10 Best Mouthguards for Boxing
Criteria Used for Evaluation
Versatility
The Different Types Of Mouthguards
One of the most important things is to understand the many types of teeth protectors there are. They are separated mainly into three categories: Over the counter, boil and bite, and custom made. Each one has its own benefits and disadvantages.
1. Over the Counter
If you are looking to save some money, over the counter product is going to be the least expensive. They are usually made out of rubber or plastic and are made to fit the average sizes of people. The sizing is determined by the calculation of what a certain individual may be sized at a specific time. These sorts of teeth shields are meant to be worn for no contact training or if you are grinding your teeth when you sleep at night. They are not recommended for when you are going to be hit or come into contact and need more protection. This is because these cannot be molded and are very rigid.
2. Boil and Bite
The most common type that many athletes use is known as the "boil and bite." This is a popular kind because the cost can range from quite low to very expensive depending on what you are looking for. This type of model is made with a thin and flexible type of plastic that is designed to absorb more shock from a big impact. They are meant to be able to meet the needs of most people and can be customized. As mentioned in the name, these teeth protectors can be placed into boiling water and softened. When it is softened, place it in your mouth and bite down for a minute.
This will allow the plastic to harden around your teeth and will basically take a snapshot of your bite. Once the plastic hardens, you now have an option that will be able to protect your teeth better. There are many people that have complained that it is really hard to put a hot piece of plastic in your mouth. As a result, some of the newer models feature a softer lining inside that is made with gel.
This is to mitigate the need to place it into hot, boiling water as the gel is designed to soften even with warm water. An additional benefit of these boils is that they can also be trimmed down to match the exact length of your teeth. Prior to being molded, these guards will have a much longer U shape as the manufacturers expect that you will cut it down. If the initial guard is too long, you can trim it down with a pair of scissors before you start the molding process. Once your teeth snapshot has been captured, you can look on the inside of your guard and see if further trimming is necessary.
3. Custom Made
A custom-fit is going to cost you a lot of money, however, they are worth it as they will give you the ultimate protection you need. These often require you to go and have them specifically created by a dental professional. The benefit of these is that they are highly customizable. Apart from protecting every tooth you have, there is also an option to choose how thick you want it to be.
Depending on the needs of your sport and based on your bite, you can even customize and have certain parts of the teeth protector be thicker or thinner. Although they have a hefty price tag, these teeth shields will allow the most comfort when using it and will offer additional protection to your jaw. The plastic will hug each tooth and remove all loose areas that may occur, thus preventing any movement of the guard itself. The downfall is that because these are made by dentists, they will not be able to be remolded once it is created.
Protection
A mouthguard should do what is expected of it, which is to protect your teeth.
While the thickness depends on the brand you choose, it is imperative that you know what will protect your mouth the most. If you are very concerned about damaging your teeth and want to take all the necessary steps to avoid it, then you may consider purchasing one that also comes with a lip protector.
There are quite a variety of teeth protectors that also come with a thicker piece of plastic that is meant to stay on the outside of your lips to protect them from being split or bruised. Essentially the part that protects your teeth will be inside your mouth and there will be a piece that protrudes out, similar to what a baby pacifier will look like. While it may look a little ridiculous, these offer you the most protection from injury.
Although lip protectors are great, many people do not like the idea of having so much on there face and settle on just purchasing the teeth shield. While it is a common misconception that having a piece of plastic or rubber will immediately protect your teeth, it is not true. This is because there are different areas of your mouth that can be considered as impact zones. These are usually the first areas to receive shock and damage. If the plastic is not thick enough in that area, the chances of injury are still just as high.
For a basic teeth protector, a recommended thickness for the frontal area to be at least two millimeters. For higher impact zones such as the molars, it is recommended that you purchase something as thick as four millimeters. In the perfect world, it will have the front teeth protected with a thin material that will thicken as it goes towards your molars. However, this is not something many manufacturers do.
Most mouthguards hover around the two to the three-millimeter area and are a consistent thickness throughout. If you are using this protector for sports, it is important to consider the level of difficulty you play in. Something that has less contact may not need a tooth shield as thick as someone that is professionally engaging in combat sports.
Comfort
Having a mouthguard that is comfortable is essentially important as you may need to keep it in for a while.
Wearing something that does not fit properly or does not feel natural will leave you focused on that particular point. It will prevent you from failing to perform your duties and may leave you annoyed and irritated.
Despite wearing one of these things, you will most likely need to drink, speak, and breathe as well. Having a teeth protector that may impede things will be a nuisance. Prior to purchasing, consider the sporting position you may play. An example would be if you were in a leadership role on your team. If you tend to be more vocal, it is recommended that you purchase a thinner model.
While it may not offer you the most protection, it will allow you to be able to get your point across when it matters. It will also allow for easy access to drink water and not require you to remove it prior to doing so. There are many teeth shields out there that are thinner but also fit your teeth snugly.
Many sports require the use of protective boxing gear such as helmets. Sports like hockey and football take it up a notch and require a full frontal face shield. If you are playing a sport similar to that, it is recommended that you look for a teeth protector that has a thin front but a thick end. This is because your frontal teeth will already be protected by the cage and have a lesser chance of impact. Having a thinner front will also help breathe and drink water easier.
Your molars in the back may be subjected to a sideways grinding especially when you receive a hit. Hits from the sides tend to throw your jaw into a state it usually is not in. A common reaction for people is to chomp downwards. When that happens, it can crack or chip the teeth you use to chew your food. As a result, it is important to invest in something that can protect your molars.
Materials
There are many different types of molding available out on the market. Some teeth protectors will not allow any molding at all. Despite many teeth shields allowing molding, there are also many ways to do so.
Plastic
Some teeth protectors are made of a specific type of plastic that can be molded at home. As long as they are heated up, they can be molded to meet your specific needs. These can be more difficult to mold as the plastic used can be very stiff and rigid. They may also require you to repeat your molding multiple times to get it right.
To mitigate this issue, some manufacturers have added a thin lining of plastic on the inside of the teeth protector. This was designed in a way so that the inside plastic was softer than the outer lining, thus allowing for easier molding. While it made the molding more convenient, it changes the integrity of the teeth protector. Over a long period of use, the inner lining would separate from the actual hard plastic. Once the lining separates, it will render the entire product useless.
Gel
One of the newest products on the market is the gel. Some of the newer model teeth shields have an inner lining that is made of gel. The gel softens easily and is more accurate in capturing the way your teeth bite.
While it makes for a more convenient way to create a good mold, there are also reports that over time you are required to remold the product. This is because over time your body heat softens the gel mold and it loses the capture it had initially taken of your bite.
Expert Interviews & Opinions
Most Important Criteria
(According to our experts opinion)
Experts Opinion
Editors Opinion
Users Opinion
By Default
Make sure the fit is perfect!
A mouthguard that fits loosely and rattles around in your mouth will undoubtedly do more damage rather than helping to prevent it.
Other Factors to Consider
Features
Apart from being uncomfortable, many people opt not to use one because they are easy to lose. It is a small item that people constantly misplace. To prevent people from losing their items, most manufacturers have included mouthguard cases for their teeth protector.
While you may not think a case is very important, there are aspects that need to be considered prior to purchasing one. In the ideal world, a teeth protector should be sterilized after every use. This is to prevent any unwanted bacteria or germs from forming or staying from an improper clean. However, most people cannot be bothered to sterilize it each time and will settle for simply rinsing it with water and a little soap.
If it is not dried properly and simply popped into the carrying case, then you might as well not bother cleaning it. Having a wet teeth protector inside a little plastic box with moisture will give the perfect environment for fungi and other bacteria to grow. If the moisture is absorbed into the carrying case, it creates an ideal environment for these germs to live. This means every time you take out or put in your teeth protector, regardless of how clean it is the germs are already inside.
A recommendation would be to look for a carrying case that can ventilate and prevent the spread of bacteria and germs. A ventilated carrying case means that even if your teeth protector is still slightly damp, the air will be able to make it into the case to dry it off. Having the ability for air to move around within the case will keep the case and the teeth protector free from harmful germs.
Frequently Asked Questions
q:

Can My Child Use A  mouthguard?

a:

Anyone at any age can use one of these as long as there is a need.
q:

Can I Use One To Protect My Teeth When I Sleep?

a:

Although most of these products are recommended for people interested in playing a sport, these can also be used to prevent you from grinding your teeth when you sleep.
q:

How Can I Maintain mine?

a:

Many people simply run it underwater. It is recommended that you put a little dish soap on a toothbrush and run it gently over the inside to get all the ridges and bumps throughout the plastic clean. Some people have also invested in a small UV light that kills all the bacteria.
q:

Can I Still Use one If I Have Braces?

a:

The answer is yes! Although you cannot purchase any teeth protector, there is one's specificity designed to allow for people wearing braces to use.
q:

Can I Put It In My Dishwasher?

a:

It is not recommended to put one of these in your dishwasher. When the cycle is running, the water inside can become extremely hot and potentially cause the mold to change and you may be required to remold your teeth imprint afterward.
Subscribe to our Newsletter