Best Mouthguards & Teeth Protectors Reviewed
last updated:
Jan 10, 2020
Wearing a mouthguard is important as it comes with a plethora of benefits, one of the biggest being that it prevents injuries. The most common injury for people engaging in sports or dangerous activities is always related to the teeth and jaws. Most of the injuries include chipped teeth, loose teeth, or teeth that are completely snapped off. However, many people do not realize that when your teeth are hit it could also injure your brain.
Apart from being hit on the head, being hit in an upward motion can also cause a serious concussion. These usually happen when there is a bump or sharp rapid movement to the brain. A perfect example would be if you were hit with an uppercut. It's important to have the best possible protection available. Searching fort he best mouthguards is a good place to start.
In a Hurry? The test winner after 4 hrs of research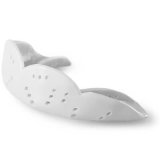 SISU Aero 1.6mm
Why is it better?
Comfortable

Breathable

Easy to maintain

Extra strong

Flexible
In a
Hurry? Editors choice: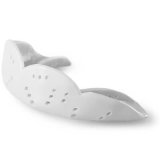 Test Winner: SISU Aero 1.6mm
Protection
Comfort
Materials
By Default
10 Best Mouthguards for Boxing
Comfortable

Breathable

Easy to maintain

Extra strong

Flexible
The SISU brand has created a product that is better than what most competitors are selling. One of the biggest selling points of this is that is super slim. There is no other model on the market that can beat it when it comes to ergonomics and design. Construction of such a slim product means that athletes using it can speak and drink comfortably while wearing it. It is also less of an impediment in your mouth and allows you to breathe without feeling like there is something blocking the way.
Read more
Crinkle Zones
When it comes to design, most are only thinking about protecting your pearly whites. If you are coming away from your sports competitions with cracks and chips in your teeth, it is safe to say your teeth shield is not working. The SISU Aero 1.6mm has upped it a notch and created a product that will not only protect your teeth but also your gums. The top of this is designed with large bumps that resemble a cloud so that it has more surface area to absorb any impacts that may be made. Being able to absorb the shock is good as it protects your gum line and gum bone from any serious injuries.
Fortification
This teeth shield is created with an interesting design that no other competitor has implemented yet, which is perforated holes throughout the plastic. Common belief has people thinking that a model should be a solid piece of plastic or protection that will be thick enough to block all hits in the mouth area. However, having perforated holes in the product actually makes it stronger. This is simply due to science. The act of having small little puncture holes in the teeth shield allows any energy that is absorbed from the impact of a hit to dissipate. If the plastic is fully molded with nowhere to release the energy it may simply crack or break, thus requiring you to purchase a new one. Having the perforation throughout the entire teeth shield gives it more flexibility and elasticity, allowing it to absorb the impact and dissolve the energy in a safe way.
Cost and Value
The SISU Aero 1.6mm is more expensive compared to other competitors, but it is absolutely top of the line. This product is not only going to protect your teeth, but it is also incredibly comfortable to wear. With the ability to soften the plastic and mold it to your needs, it is guaranteed to be the perfect fit. The small holes throughout will also allow you to breathe better and be able to wear it long before it becomes too much. It is easy to maintain and keep it clean, thus becoming a great addition to your protective gear.
Dual layer

Resilient

Carrying case

Easy to maintain

Customizable
The Venum brand is well known in the world of combat sports. They have a wide range of gear available for people that are looking to take up a type of fighting. They are an incredibly popular brand as their protective equipment is known to work. The Venum Challenger is no different. It comes with many added benefits that most competitors do not offer. This particular product is fully customizable and also comes with a carrying case to ensure it stays hygienic and is less easy to lose.
Read more
High Density Rubber
The Venum Challenger is made to be taller than most mouthpieces. While that may run the risk of being uncomfortable, it is done so as to ensure it protects the area where the gums and teeth meet. It is dangerous for it to not cover such a vulnerable area as that is where injuries can occur. The product itself is made from a rubber that is more dense, allowing it to absorb more impact and offer more protection. Unlike many other manufacturers, this product was created with a significantly stiffer type of plastic that has a slight lip that folds outwards, allowing for early absorption of an impact before it reaches the entire teeth shield.
Gel Mold
One of the biggest pet peeves for anyone that uses one is when it doesn't fit. An ill-fitting item is extremely uncomfortable and does not perform when you need it to. There is also a chance the teeth shield will cause you injury before you actually use it in a sports match. The improper fit can bruise or cut your gums and also cause you teeth pain as they are not fitting where it needs to. As a result, most manufacturers have to come up with a system that allows a user to personalize and completely remold the product to fit their needs. The Venum Challenger has mitigated this problem by using a soft gel on the inside of their product. This gel softens when it is heated up, allowing users to fit it properly in their mouth and make it to the specific shape they need.
Cost and Value
This is a product that comes onto the market at a relatively affordable price range. It has a dual guard that is not only a great benefit but is also essentially gives you two for the price of one. Having a softer inner layer allows you to mold it to what you need, while the outer stiff layer gives you protection in any circumstance. This is a great value product as it will deliver the protection you need while ensuring you are not uncomfortable wearing it, thus allowing you to focus on what you're doing. The overall amount you pay is much less than what this product has to offer. It is suitable for youths and adults that wish to participate in a sport or martial arts.
3

. Shock Doctor Double Braces
Moldable

Ventilated

Ultimate protection

Suitable for braces

Easy to clean
The Shock Doctor brand is a leader in protective equipment. Whether it is jocks and groin protectors or combat sports gear, they have it all. They are a very popular and trusted brand when it comes to looking for something that is durable and really does what it says it will. They are also an innovative brand that is always looking to manufacture items using new technology. It is no surprise that the Shock Doctor brand was able to recognize the need for products for people with braces and create such a wonderful product. The Shock Doctor Double Braces Strapless has all the attributes you may need and will not break the bank.
Read more
Made for Braces
Throughout the years there has been an increase in the number of people that need to wear braces. Having the metal pieces inside your mouth is uncomfortable enough and is often the reason why cuts occur already. For people that engage in different sports, having braces can be extremely dangerous even a slight impact could potentially slice a lip open. This is why it is imperative that they invest in some sort of protective gear. Unfortunately, braces will not fit the normal teeth shields. This is why the Shock Doctor brand created one specifically to meet this niche market. This product is a one-piece item that protects both the top and bottom of your teeth. They act as a shield to completely cover all the metal in your mouth. This means that when a hit is delivered, the plastic will act as a barrier that prevents the metal from going directly into your skin and leaving you with a bloody injury.
Ventilation
With such a large item in your mouth, it is important that there is a way for you to breathe. Many people that wear teeth shields have a primary complaint of feeling like they're unable to breathe once they put one on. This is simply because we are not used to having such a large item in our mouth and also because the plastic does not ventilate, it slows down the airflow. To prevent people from feeling faint from lack of air, the Shock Doctor Double Braces Strapless has large channels that are open and free of obstruction. These were constructed in hopes so that there is a quicker and larger area for air to circulate within your mouth, thus eliminating the feeling of suffocation.
Cost and Value
The Shock Doctor Double Braces Strapless is a very inexpensive item that provides a lot of value. Simply put, because it protects both the top and bottom teeth, you are purchasing two teeth protectors for the price of less a one. It allows you to breathe comfortably while being protected and ensures that you can continue playing your sport. This product is designed to change and adapt to your teeth after every adjustment you make to your braces. While they are one of the few options for people that wear braces on the market, they are also the best and most popular product out there.
4

. Shock Doctor Max Airflow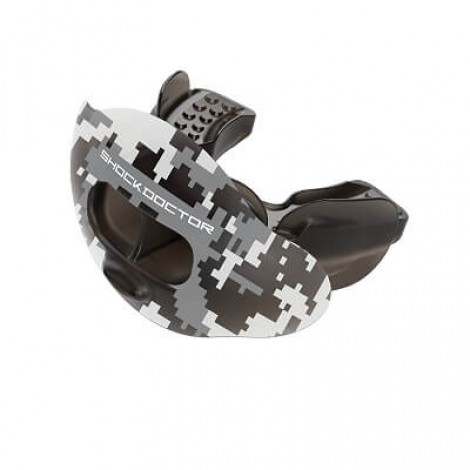 Tough

Innovative design

Easy to clean

Flexible

Breathable
Shock Doctor is an undisputed champion when it comes to creating a trustworthy product. Their brand name is known to be innovative and their products are used by professional athletes around the world. They are a popular brand as they do not overcharge you while giving you top-grade quality products. The Shock Doctor Max Airflow is no different. This is a comfortable way to protect your teeth and also uses a silicone material that is easy to maintain. The material used for this is also flexible enough that it bends and contorts to your needs while maintaining its ability to absorb the shock of an impact.
Read more
Max Airflow
When you are doing a high-intensity sport, your heart tends to speed up and the need for oxygen increases. Not being able to breathe will result in the potential to faint. To prevent this from happening during a crucial time, the Shock Doctor Max Airflow is constructed with a large area for air to flow. Right in the middle of the teeth protector, there is a large open area that works as a tube, allowing you to almost completely breathe through it. This breathing channel acts as a straw and allows you to use a slight sucking motion to bring in large amounts of air while keeping your teeth protected. To prevent the air channel from collapsing and rendering your model useless, the Shock Doctor brand has built-in a column to support the channel and hold it open, thus improving the integrity.
Downbite Impact
When it comes to impacts and hits, many people automatically think about the damage is done directly to the front of their teeth area. However, most people neglect the down or upward bite hits. These hits often come from an athlete falling and impacting their chin, or from elbows and punches going upwards. Despite what most people think, these are actually much more damaging than directions of impact. This is because downside impacts have a chance to jar your brain and cause concussions and can simultaneously crack and shatter multiple teeth at once. Despite it completely covering your top teeth, the bottom part of the plastic where you chew tends to become thin. The Shock Doctor Max Airflow has an extra beam that protects your incisor teeth from clashing and hitting your lower teeth during a, particularly hard impact.
Cost and Value
Depending on what you are looking for, this product comes in a wide range of prices. The most basic model is relatively affordable while there are more expensive ones if you are looking for something top of the line. Overall, this is a great product as it does not only protect your teeth but also serves as a lip cover that can protect your lips. Unfortunately, our lips are very fragile and prone to getting hurt easily if we take any hits to the mouth area. If you are looking to become serious about your sport, this is a great product to invest in as it will last you a long time and comes from a trustworthy source.
Comfortable bite

Supple

Strong

Unprecedented design

Easy to preserve
It is always great to hear when the SISU brand comes out with new models of their protective gear. This is because it usually means that the model will be even better than the previous models. The SISU Max 2.4mm comes designed with a much wider bite pad, giving you more area to mold and allowing your teeth to rest comfortably inside. It has also included rounded edges to prevent the tough plastic from rubbing against your gums or cutting the insides of your mouth. This product is a great way to protect your teeth while maintaining your ability to drink, speak, and breathe.
Read more
Impact distribution
One of the most frustrating things that can happen to your teeth protector is that it breaks or snaps. While it means it has done its job and protected your teeth, it also means you'll have to spend more money on purchasing a new one. In the ideal world, the perfect combination would be to have a product that protects and does not break. The SISU Max 2.4mm is the product we have all been hoping for. Unlike other similar products that protect your teeth, this one is softer and allows for much better impact absorption. The plastic is flexible enough that when a hit is delivered, the energy of the impact is absorbed and distributed throughout the entire item. The thin and flexible plastic starts a vibration motion that peters out a lot of the energy at the main area of attack. Those vibration motions dissipate the energy and whatever is left, is spread out among the rest of it, allowing your product to last longer and through more hits.
Bite Pad
When you first buy a teeth protector and try it on, you'll realize they are incredibly uncomfortable. This is because you have not molded it to the shape and structure of your mouth. The plastic on the end is also significantly longer than what your mouth can hold, this is to allow for people to trim it to the exact length they want. The SISU Max 2.4mm has taken it a step further to include a bite pad. This pad is a thin layer built within that makes it softer and easier to mold when you first use it. Simply place it into hot water to soften the plastic and pop it into your mouth and bite down. The softer bite pad will make the molding a more pleasant and comfortable experience.
Cost and Value
A SISU Max 2.4mm is more expensive in comparison to all the competing brands but it is worth every penny invested. The amount of technology that goes into one of these products is incomparable to any other brand or model. In order to make something that is comfortable and that people will want to use, the SISU brand has taken the time to research and develop a product that is thirty percent thinner than average on the market. The built-in technology is designed specifically to distribute the force of an impact so that it lowers the severity of your injury and also keeps it working for longer periods of time.
6

. Redline Sportswear Custom Fit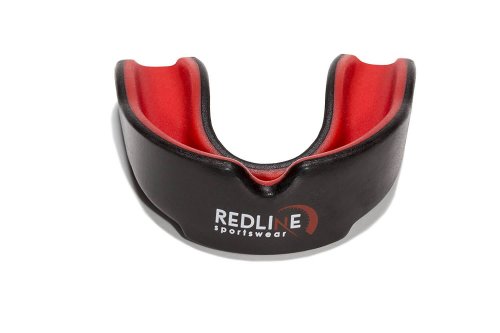 Convenient

Variety of colors

Customizable

Comfortable

Affordable
Despite what people may assume, a teeth protector is something that people like to personalize. Being able to mold the shape to fit your teeth is important because it will allow you to comfortably use your protective gear for a longer period of time. However, there are people that would feel that customizing would include the color of the product. The Redline Sportswear Custom Fit comes in a variety of colors, allowing you to choose the one you feel looks best. It also includes a protective case that also has a carabiner clip attached, allowing you to easily transport your teeth protector.
Read more
Vented Case
Having good protective equipment for your teeth is important, but being able to carry them around is just as important. As this is something you are putting in your mouth, it is important to keep it clean. While most protective equipment is made of a durable type of plastic that you can easily clean, it is paramount that you clean it after every use. An unclean one can have a lot of bacteria, mold, and viruses hanging out on it. To prevent you from ingesting something that can make you sick, it is recommended to give you protective gear a good scrub down. While the item itself is clean, it's imperative that you make sure you're putting it into something that is also clean to carry it around. No amount of cleaning will make up for the fact if your case has bacteria. The Redline Sportswear Custom Fit comes with a vented case, ensuring that air can flow through the carrier. This prevents bacteria and mold from building up if there is any moisture. The flow of air will keep the inside of the case and your teeth protector dry.
Extra Protection
When a product does not protect your teeth, they can become very damaged. The Redline Sportswear Custom Fit has taken many steps to ensure their protective equipment will do its job. Instead of being made of one layer, this product is made of two layers of durable plastic that can absorb a lot more shock. They have also worked with dentists to find the places where people tend to wear down most and reinforced those areas with an additional layer of plastic. There is a bit of inevitable grinding that happens when you wear a teeth protector and having these reinforced areas will ensure that yours lasts longer than normal.
Cost and Value
This is an extremely affordable product that is worth investing in. Due to the low price point, it will also allow beginners looking to buy basic protective gear to consider the Redline Sportswear Custom Fit. It has all the properties of a good teeth protector such as being thick, durable, and able to protect when the time comes. An added benefit is that it is made of a plastic that can be warmed up to easily be molded to the way your teeth are structured. It also has a longer tail in comparison to other products which makes sure it will cover all your teeth even if you have a longer jawline.
7

. Teeth Armour Professional
BPA and Latex Free

No extra dyes

Comfortable

Extra cushioning

Easy to maintain
Although this is a relatively unknown brand, it still has its followers. Compared to many products on the market, this one markets itself quite different than others. Most manufacturers place heavy emphasis on how the teeth protector can protect you and how comfortable it is. However, the Teeth Armour Professional Sport places its emphasis on how safe it is. This product contains no extra colors and is completely clear to prevent you from ingesting harmful dyes. It is also made with flexible plastic so that it can give you a tight fit around your teeth and gum to prevent it from wobbling.
Read more
Cushioned Base
There are many reasons why people may grind on their teeth shield. One of the main reasons is simply out of nervousness. When you are in a more intense situation, your brain will chew subconsciously because it feels something in the mouth. Another reason is that people are fidgeting because they are bored or need to think of a new plan to attack. Regardless of the reason, a teeth protector being ground on will fail. Over time, the bottom will become thinner and thinner as the material wears away. To increase the lifespan of their gear, Teeth Armour Professional Sports has added extra cushioning to their product. Most manufacturers add it on the inside to allow for extra comfort, however, the Teeth Armour brand has chosen to cushion the outside. Having the extra cushioning means that even the most prolific grinders will have more material to go through before needed to buy a new one.
Safe to use
Most people do not think about whether a teeth protector is safe to use or not. Quite a few people would buy it, pop it in their mouth and go. However, there are many products out there that may not have been tested properly or are known to cause a reaction when mixed with saliva. The Teeth Armour Professional Sports is a completely safe and tested product. It has received all the approvals from the appropriate authorities and has passed all the required tests. In order to be more natural, this product is completely uncolored thus eliminating the chance of you ingesting a harmful chemical. It is also BPA and latex-free, thus allowing people with allergies to use it safely.
Cost and Value
The Teeth Armour brand developed a product that is affordable to everyone. People that are looking to start a sport or want to buy something basic can consider investing in one of these. The Teeth Armour Professional Sports are purchased in packs of two, allowing you to have access to another in the event you misplace one. They are suitable for all ages as the back can easily be trimmed down to fit the smallest of jaws. It is also made from a plastic that is easy to mold and can be remolded if you do it incorrectly the first time. This product is designed to be used by all types of sports and will provide the ultimate comfort and protection.
Gel frame

Ultimate protection

Breathability

Durable

Reliable
Venum is a favored brand as it is incredibly good at shock dispersion. Most of their products are designed to absorb a large amount of shock and distribute it to strong areas of your body. The front teeth are the most fragile area in the mouth and tend to get damaged easily. The Venum Predator will absorb the energy from a hit and scatter it all the way to a stronger part of your body, which is your jawline. Being able to do that means that both you and the teeth protector will be required to take less damage and therefore, be able to perform longer and better.
Read more
Custom Fit
Having an uncomfortable teeth shield is just as unsafe as not wearing one. While you easily assume and are aware of the risks of not using one, there are many people who do not know the surprising facts about using one that does not fit. One of the biggest problems you face while wearing one an improperly molded is your teeth may break. The incorrect molding means that you'll be forcing your teeth into awkward positions while you wear your teeth protector, which leads to higher tension in the teeth as they are not in their natural positioning. This tension could be what breaks or snaps a tooth when you are hit. Because of the awkward position or pulling your teeth are facing, it may not be able to absorb the lightest of force. Since the force as nowhere to go, it will take the path of least resistance. The Venum Predator uses a soft gel inside, allowing you to mold and remold until it properly fits the inside of your mouth.
Breathability
Many people do not enjoy wearing one simply because they're not used to having something constantly in their mouths. While it protects their teeth from damage, they may also feel like something is stopping them from breathing properly. To decrease the number of discomfort people may feel, the Venum Predator has created little nubs on the very bottom. These nubs have large gaps between them, but the idea is to slightly elevate your top teeth so that there is some spacing between the two sets of teeth. The nubs will allow you to feel like you are still clamping down hard, but the gaps between the nubs will allow air to filter through. The additional airflow to your brain will allow you to stay alert and increase your endurance in the sport you are playing.
Cost and Value
This product has an average price point compared to other brands. However, this product will give you more value than any price you could have paid for it. The patented gel technology not only gives extra cushioning to your teeth but will also make molding the protective gear much easier. The uneven layering will be able to disperse some of the energy absorbed in the shock and redistribute so that not one area takes the full force of the hit. It is also designed for allowing for more breathing room to prevent the feeling of suffocation and also to increase your performance. Overall, this product is suitable for both youths and adults to use and will come in very handy in whatever sport you choose.
Affordable

Technologically advanced

Chew resistant

Can be remolded

Locking system
The XCELER8 Mouthguard is designed with a host of patented technology. This product is part of the PRO-TEC series by XCELER8, which is a product that is resistant to being broken down by chewing. It is also completely customizable to fit whatever size mouth you need it to do and is also BPA, PVC, and Latex-free. It also uses a MAX-SHIELD technology that gives the product an additional air-infused layer surrounding the outside to be able to deal with the pressure and stress of the impact.
Read more
Airpads
Airpads are exactly what the name implies. They are pads that have been designed for this protector to allow for air to flow through. During the construction process of the product, there were calculated notches cut into the plastic at the bottom. These notches became channels for air to flow through allowing users to breathe more comfortably. The way the XCELER8 brand designed these channels were right to coincide specifically with certain bottom teeth, to create an interlocking system of teeth and plastic which ultimately protects both top and bottom set of teeth when the mouth is closed. The air pockets ultimately lock the user's teeth in place, ensuring that the product is in the right place to take a big hit.
Protection
While there is an expectation for a teeth protectors to protect the user's teeth, different brands offer different levels of protection. The XCELER8 works to give you better protection than any other brand. Despite it looking like one complete piece, this product has a transparent layer on the outside that allows for extra absorption on a particularly hard hit. This layer is able to disperse the shock and prevent the energy of the impact from reaching the core of the teeth protector where is teeth are, allowing your teeth to take the least damage possible.
Cost and Value
The XCELER8 is popular amongst youths and young adults as they come in an array of four colors. These colors are quite eye-catching and easily stands out from the bunch. The colors may also come in handy if you have multiple people in the family that require them. It can be used as a separating factor so that your family members do not use another person's teeth protector by mistake. Overall the price of this product is very affordable and has great value if you buy multiple.
Soft plastic

Remoldable

Ergonomic

Easy to maintain

Durable
Oral Mart is a popular brand amongst people that do not want to break the bank. They are known for their reliable products that are cost-efficient. Each one comes with a hygienic carrying case that will allow you to reduce the chances of having bacteria gather on your protector. It is also a safe and non-toxic product that can be used for children. This is a highly customizable product that not only molds into your teeth but also has a long plastic end that can be trimmed down to fit the exact size of your jaw.
Read more
Remoldable
The worst thing that could happen after you purchase a teeth protector is to find out that it can only be molded once. There are products out there where the plastic is designed to only withstand one heating. When this happens, you are stuck with a piece of useless plastic. An incorrectly fitted teeth shield can pose more risks than if you did not wear one. Oral Mart is specifically designed with this problem in mind. The inner layer is made of a soft plastic that can be molded multiple times. It can be very difficult to correctly mold your teeth protector on the first try and your bite may not be right. It is even more difficult if you are trying to help someone else mold it as you cannot feel how they are biting down on the plastic. The Oral Mart brand wanted to give users peace of mind, that if they don't get it right on the first try they can try again.
Durable
Most teeth and gum damage happens at the point of impact. When a hit is delivered, the point of impact is the first place it connects to your mouth area. This area will be the epicenter and have the most damage whether it be bruising or broken enamel. To prevent this, Oral Mart is created using a type of plastic that is dense. Having the extra density means it can take in a lot more of the energy from an impact before it actually damages your teeth. This particular product also has the ability to feather out the energy and spread it throughout the entire product, allowing the point of contact to be less and prevent you from a more serious injury.
Cost and Value
If you are in the market for an entry-level and basic product, the Oral Mart is the one for you. It is suitable for all ages and sizes and is very affordable. The price point is low enough that you will not shed tears when one is lost or needs replacing. This product has many durable properties that even competitors cannot beat. This product has been tested against many other products and has excelled above them. They are also approved by the proper authorities and classified as safe to use.
Criteria Used for Evaluation
Versatility
The Different Types Of Mouthguards
One of the most important things is to understand the many types of teeth protectors there are. They are separated mainly into three categories: Over the counter, boil and bite, and custom made. Each one has its own benefits and disadvantages.
1. Over the Counter
If you are looking to save some money, over the counter product is going to be the least expensive. They are usually made out of rubber or plastic and are made to fit the average sizes of people. The sizing is determined by the calculation of what a certain individual may be sized at a specific time. These sorts of teeth shields are meant to be worn for no contact training or if you are grinding your teeth when you sleep at night. They are not recommended for when you are going to be hit or come into contact and need more protection. This is because these cannot be molded and are very rigid.
2. Boil and Bite
The most common type that many athletes use is known as the "boil and bite." This is a popular kind because the cost can range from quite low to very expensive depending on what you are looking for. This type of model is made with a thin and flexible type of plastic that is designed to absorb more shock from a big impact. They are meant to be able to meet the needs of most people and can be customized. As mentioned in the name, these teeth protectors can be placed into boiling water and softened. When it is softened, place it in your mouth and bite down for a minute.
This will allow the plastic to harden around your teeth and will basically take a snapshot of your bite. Once the plastic hardens, you now have an option that will be able to protect your teeth better. There are many people that have complained that it is really hard to put a hot piece of plastic in your mouth. As a result, some of the newer models feature a softer lining inside that is made with gel.
This is to mitigate the need to place it into hot, boiling water as the gel is designed to soften even with warm water. An additional benefit of these boils is that they can also be trimmed down to match the exact length of your teeth. Prior to being molded, these guards will have a much longer U shape as the manufacturers expect that you will cut it down. If the initial guard is too long, you can trim it down with a pair of scissors before you start the molding process. Once your teeth snapshot has been captured, you can look on the inside of your guard and see if further trimming is necessary.
3. Custom Made
A custom-fit is going to cost you a lot of money, however, they are worth it as they will give you the ultimate protection you need. These often require you to go and have them specifically created by a dental professional. The benefit of these is that they are highly customizable. Apart from protecting every tooth you have, there is also an option to choose how thick you want it to be.
Depending on the needs of your sport and based on your bite, you can even customize and have certain parts of the teeth protector be thicker or thinner. Although they have a hefty price tag, these teeth shields will allow the most comfort when using it and will offer additional protection to your jaw. The plastic will hug each tooth and remove all loose areas that may occur, thus preventing any movement of the guard itself. The downfall is that because these are made by dentists, they will not be able to be remolded once it is created.
Protection
A mouthguard should do what is expected of it, which is to protect your teeth.
While the thickness depends on the brand you choose, it is imperative that you know what will protect your mouth the most. If you are very concerned about damaging your teeth and want to take all the necessary steps to avoid it, then you may consider purchasing one that also comes with a lip protector.
There are quite a variety of teeth protectors that also come with a thicker piece of plastic that is meant to stay on the outside of your lips to protect them from being split or bruised. Essentially the part that protects your teeth will be inside your mouth and there will be a piece that protrudes out, similar to what a baby pacifier will look like. While it may look a little ridiculous, these offer you the most protection from injury.
Although lip protectors are great, many people do not like the idea of having so much on there face and settle on just purchasing the teeth shield. While it is a common misconception that having a piece of plastic or rubber will immediately protect your teeth, it is not true. This is because there are different areas of your mouth that can be considered as impact zones. These are usually the first areas to receive shock and damage. If the plastic is not thick enough in that area, the chances of injury are still just as high.
For a basic teeth protector, a recommended thickness for the frontal area to be at least two millimeters. For higher impact zones such as the molars, it is recommended that you purchase something as thick as four millimeters. In the perfect world, it will have the front teeth protected with a thin material that will thicken as it goes towards your molars. However, this is not something many manufacturers do.
Most mouthguards hover around the two to the three-millimeter area and are a consistent thickness throughout. If you are using this protector for sports, it is important to consider the level of difficulty you play in. Something that has less contact may not need a tooth shield as thick as someone that is professionally engaging in combat sports.
Comfort
Having a mouthguard that is comfortable is essentially important as you may need to keep it in for a while.
Wearing something that does not fit properly or does not feel natural will leave you focused on that particular point. It will prevent you from failing to perform your duties and may leave you annoyed and irritated.
Despite wearing one of these things, you will most likely need to drink, speak, and breathe as well. Having a teeth protector that may impede things will be a nuisance. Prior to purchasing, consider the sporting position you may play. An example would be if you were in a leadership role on your team. If you tend to be more vocal, it is recommended that you purchase a thinner model.
While it may not offer you the most protection, it will allow you to be able to get your point across when it matters. It will also allow for easy access to drink water and not require you to remove it prior to doing so. There are many teeth shields out there that are thinner but also fit your teeth snugly.
Many sports require the use of protective boxing gear such as helmets. Sports like hockey and football take it up a notch and require a full frontal face shield. If you are playing a sport similar to that, it is recommended that you look for a teeth protector that has a thin front but a thick end. This is because your frontal teeth will already be protected by the cage and have a lesser chance of impact. Having a thinner front will also help breathe and drink water easier.
Your molars in the back may be subjected to a sideways grinding especially when you receive a hit. Hits from the sides tend to throw your jaw into a state it usually is not in. A common reaction for people is to chomp downwards. When that happens, it can crack or chip the teeth you use to chew your food. As a result, it is important to invest in something that can protect your molars.
Materials
There are many different types of molding available out on the market. Some teeth protectors will not allow any molding at all. Despite many teeth shields allowing molding, there are also many ways to do so.
Plastic
Some teeth protectors are made of a specific type of plastic that can be molded at home. As long as they are heated up, they can be molded to meet your specific needs. These can be more difficult to mold as the plastic used can be very stiff and rigid. They may also require you to repeat your molding multiple times to get it right.
To mitigate this issue, some manufacturers have added a thin lining of plastic on the inside of the teeth protector. This was designed in a way so that the inside plastic was softer than the outer lining, thus allowing for easier molding. While it made the molding more convenient, it changes the integrity of the teeth protector. Over a long period of use, the inner lining would separate from the actual hard plastic. Once the lining separates, it will render the entire product useless.
Gel
One of the newest products on the market is the gel. Some of the newer model teeth shields have an inner lining that is made of gel. The gel softens easily and is more accurate in capturing the way your teeth bite.
While it makes for a more convenient way to create a good mold, there are also reports that over time you are required to remold the product. This is because over time your body heat softens the gel mold and it loses the capture it had initially taken of your bite.
Expert Interviews & Opinions
Most Important Criteria
(According to our experts opinion)
Experts Opinion
Editors Opinion
Users Opinion
By Default
Make sure the fit is perfect!
A mouthguard that fits loosely and rattles around in your mouth will undoubtedly do more damage rather than helping to prevent it.
Other Factors to Consider
Features
Apart from being uncomfortable, many people opt not to use one because they are easy to lose. It is a small item that people constantly misplace. To prevent people from losing their items, most manufacturers have included mouthguard cases for their teeth protector.
While you may not think a case is very important, there are aspects that need to be considered prior to purchasing one. In the ideal world, a teeth protector should be sterilized after every use. This is to prevent any unwanted bacteria or germs from forming or staying from an improper clean. However, most people cannot be bothered to sterilize it each time and will settle for simply rinsing it with water and a little soap.
If it is not dried properly and simply popped into the carrying case, then you might as well not bother cleaning it. Having a wet teeth protector inside a little plastic box with moisture will give the perfect environment for fungi and other bacteria to grow. If the moisture is absorbed into the carrying case, it creates an ideal environment for these germs to live. This means every time you take out or put in your teeth protector, regardless of how clean it is the germs are already inside.
A recommendation would be to look for a carrying case that can ventilate and prevent the spread of bacteria and germs. A ventilated carrying case means that even if your teeth protector is still slightly damp, the air will be able to make it into the case to dry it off. Having the ability for air to move around within the case will keep the case and the teeth protector free from harmful germs.
Frequently Asked Questions
q:

Can My Child Use A  mouthguard?

a:

Anyone at any age can use one of these as long as there is a need.
q:

Can I Use One To Protect My Teeth When I Sleep?

a:

Although most of these products are recommended for people interested in playing a sport, these can also be used to prevent you from grinding your teeth when you sleep.
q:

How Can I Maintain mine?

a:

Many people simply run it underwater. It is recommended that you put a little dish soap on a toothbrush and run it gently over the inside to get all the ridges and bumps throughout the plastic clean. Some people have also invested in a small UV light that kills all the bacteria.
q:

Can I Still Use one If I Have Braces?

a:

The answer is yes! Although you cannot purchase any teeth protector, there is one's specificity designed to allow for people wearing braces to use.
q:

Can I Put It In My Dishwasher?

a:

It is not recommended to put one of these in your dishwasher. When the cycle is running, the water inside can become extremely hot and potentially cause the mold to change and you may be required to remold your teeth imprint afterward.
Subscribe to our Newsletter