Best Muay Thai Gloves Reviewed and Tested in 2019
Muay Thai is an ancient martial art that is still largely practiced today. It is commonly referred to as the "art of eight limbs" as it relies on strikes with one's fists, elbows, knees, and shins. Those aspiring to train in MMA are likely to learn the fundamentals of the martial art, as it is both effective and versatile. However, regardless of what discipline you train under, you are going to need proper body protection. Considering that almost every martial art relies on fist strikes, you are going to want to start looking at hand protection.
Fist protection is among the essential necessities in any martial art. Whether you are training or competing, gloves should offer precision, protection, and longevity to your hands. A lot of variables go into what decides the glove that is right for you individually. Size, and weight, as well as material and even the price, can make or literally break your performance.
Featured Recommendations
Fairtex Sparring

Our rating
Exceptional Quality
Price:

See Here
Twins Special

Our rating
Hand Crafted
Price:

See Here
Sanabul Essential

Our rating
Extremley Durable
Price:

See Here
Gloves of improper size and weight can quickly result in an injury that prevents training or performing. Those who train frequently are going to want durable gloves that last a good amount of time. However, better materials often drive up the cost, as cheaper materials tend not to hold up as well. The number of variables that meet each individual fighters glove preference are many, creating a market for gloves with a staggering number of shapes and sizes.
10 Best Muay Thai Gloves
1. Fairtex Sparring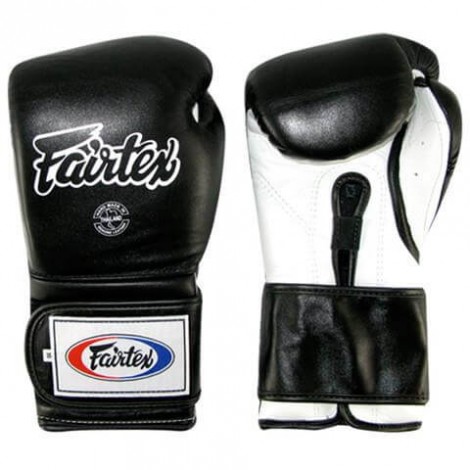 Fairtex was founded in Bangkok Thailand, in 1971. The company claims to have greatly helped keep the youth off the streets by training them in Muay Thai. 30 years of experience in the field of martial arts has enabled the company to develop quality defense gear that not only protects its practitioners, but the gloves themselves will survive the wear for years.
Expand to see more
Lightweight and Durable
Fairtex gloves are masterfully handcrafted in Thailand with high-quality materials. The company uses its very own three-layer foam padding, providing excellent shock disbursement as well as solid protection to both yourself and your opponents. The foam also makes the gloves lighter than other brands and less bulky. The outside is made of genuine leather which greatly assists the longevity of the gloves. The stitching shows little, to no signs of wear even after years of regular use.

Handcrafted In Thailand
These gloves are handcrafted in Thailand, where the company was founded. Do not let that make you doubt the gloves craftsmanship. These gloves appear to be expertly crafted, as though it were by a machine. Additionally, the longevity the handcrafted Muay Thai gloves offer, make it all the more impressive.

Cost and Value
High-quality materials make for a better quality glove. With Fairtex, you get what you pay for. This particular glove is of the priciest on the guide but boasts superior quality. These gloves will last you for years to come.
Leather Build

Great longevity

Light and comfortable

Quality justifies cost
2. Twins Special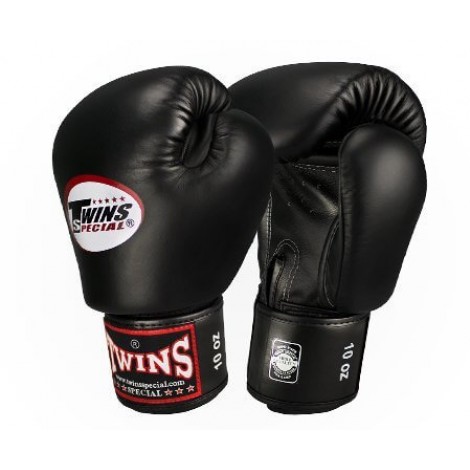 Twins is currently the leading brand name in Muay Thai fight gear. Having Been around for nearly 60 years, their time in the martial arts field has yielded constantly improving, high-quality products, earning them awards on top of very high esteem. As such, Twins products are currently the only gear accepted into Lumpini Stadium, Thailand's National Muay Thai stadium. The Thai government has even deemed the factory to be a safe workplace!
Expand to see more
Leading Brand Name
Twins Special Ltd. is internationally known for its high-quality products. They are trusted by professionals and beginners alike. Even Those who prefer other brands tend to give credit to Twins with having great protective gear.

Virtually Odorless
Martial artists sweat. They know too well how bad your sweat can make protective gear smell. Protective gear typically requires routine cleaning to remove the odor-causing bacteria left by sweating. Twins Special is known for remaining odorless under heavy use but still require routine cleaning.

Cost and Value
Twins Special is made with Genuine leather which will help their durability. Superior padding makes the gloves feel like pillows, providing great hand protection. They also come in a vast selection of colors and aesthetic designs. High-Quality materials and factory craftsmanship make these Muay Thai gloves in the pricier range, but with Twins, you get what you pay for.
High Quality Materials

Trusted Brand 

Very Comfortable

Odorless
Factory defects more common
3. Sanabul Essential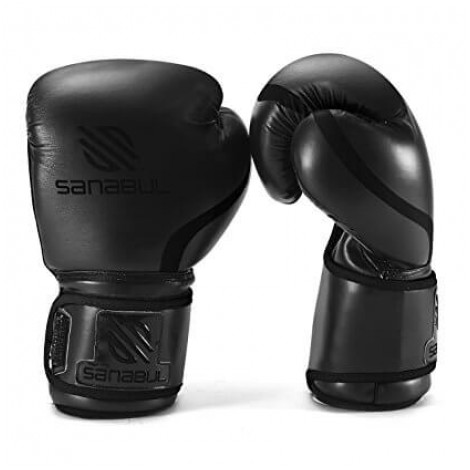 Sanabul is dedicated to the creation of an affordable but high-quality product. They promise not only to continuously research and develop better gear but to additionally keep the gear at a low cost. Thus, Sanabul brings what is considered to be a hybrid glove to the table.
Expand to see more
Quality Material
The Sanabul Essential is made of quality materials, granting it some longevity. The back and the thumb of the glove is made of genuine leather, making it easier to clean. The padding is made of a GEL infused foam, granting decent hand protection.

Mesh Palms
Uncommon to standard hand protection, Sanabul Essential gloves have elastic mesh all along the palms. The mesh provides great breathing for your hands while using the gloves. Great hand breathing not only means less sweating in the glove but also means less odor in the glove after use.

Cost and Value
Being the best value on our list, this glove is a great choice for anyone on a budget. The low cost also makes a great choice for somebody who is just starting out a martial art. Additionally, practitioners who prefer a larger glove collection can benefit from these Muay Gloves gloves as well, as switching out any brand of gloves periodically can increase their lifespan.
Quality materials
Low Cost
Breathable Palms
Great For Beginners
4. Venum Elite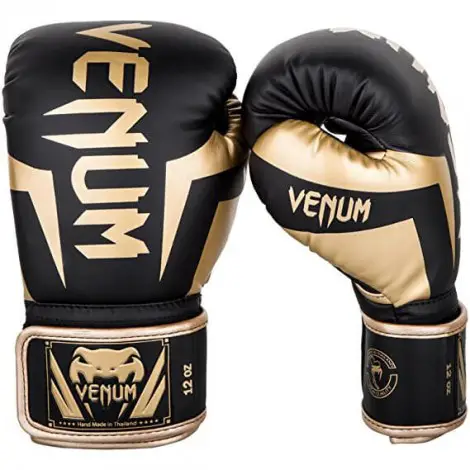 Also from Thailand, Venum was founded in 2006. They have been noted as having sponsored a number of professional UFC Fighters, the most notable being Wanderlei Silva. Better known for boxing gear, they also endeavor in Muay Thai products.
Expand to see more
Hand crafted High Quality
The Venum Elite is handcrafted in Thailand. Thailand is the home of Muay Thai which can be a credit to the company's knowledge of what is best recommended in the art. The glove itself is made of high-quality synthetic leather and makes use of a special triple layered foam for physical protection. Expect to get a few years of use out of these durable and well crafted Muay Thai gloves.

Synthetic Leather
Use of synthetic leather can appeal to larger crowds. Those who are Vegan can rest assured they are getting a quality product without compromising their standards. Specially made by Venum, the synthetic leather production guarantees the durability and longevity of the gloves.

Cost and Value
The Venum Elite are in the mid-price range on the list. Despite its use of synthetic material, the quality and longevity still hold up fairly well. The cost is worth the quality, especially if you prefer not to use leather.
Good Craftsmanship

Vegan friendly

Durable

Great padding
5. RDX Ego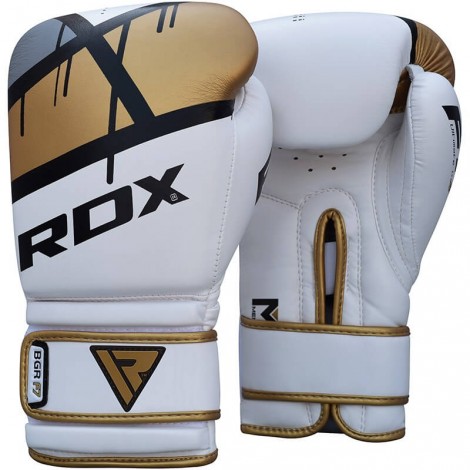 RDX was founded in Britain in 1999. The brand has garnered great notability as well as increased its production from a smaller operation to having a hand in world trade, all in a short time. They plan on making products for a great many different martial arts and combat.
Expand to see more
Advanced Technology
RDX brings the Ego to the table of protective gear. Made durable by Maya Hide synthetic leather, this glove can withstand the wear it was made for. The padding is an RDX original, The gloves Quadro-Dome Technology is lined with Tri-slab Shell-Shock gel into a triple padding guarantees superior knuckle protection.

Ventilation
An S.P.P based palm design of the Ego contains a sweat-wicking mesh. This mesh absorbs moisture to keep the skin dry during training and performing. Mesh also gives the Muay Thai gloves great ventilation for breathing.

Cost and Value
The Ego sits on the low - mid-range of price. For its more affordable cost, you end up with a good quality glove. Low cost is always a great place for a beginner on a budget to start. The gloves are also loved by a number of professionals.
Synthetic and Durable

Low cost

Great Ventilation

Vegan Friendly
Synthetic leather less durable
6. Elite Sports Standard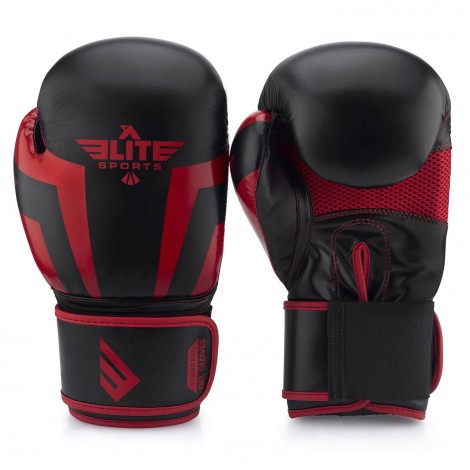 Elite Sports claims to have been founded to bridge a gap in the market of fighting gear. Aiming primarily for low-cost product, while maintaining high quality, they have made a name for themselves among the number of companies in this market.
Expand to see more
Build
The Elite Sports Standard is made of Maya Hide Leather, synthetic leather with polyurethane made to resemble real leather without having to use animal hide. Another great choice for vegans on a budget or plan on using them for light bag training.

Decent Ventilation
3D Cooling palm Mesh provides the glove with proper ventilation. Additionally, the glove is with lined with antimicrobial and antifungal material, preventing the growth of odors and fungus, from sweat.

Cost and Value
These gloves are one of the most affordable on the list. Great for youths, beginners, and light training. The product quality is also great considering the cost. These Muay Thai gloves are a great place to start if you're thinking about getting into a martial art

Vegan friendly

Good quality

Low cost

Great Ventilation
7. Anthem Athletics Stormbringer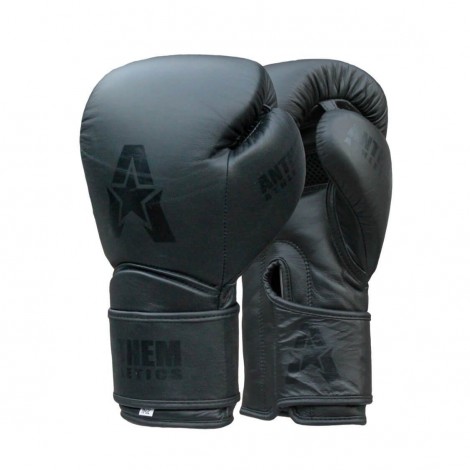 Anthem Athletics was founded in 2015. They aim to bring high-quality products to martial arts for less than the competition. Accepting no endorsements, they believe their products should speak for themselves. Under that logic, they are doing fine as they have only been in the market for a short time and already are making a name for themselves.
Expand to see more
High Quality Leather
The Stormbringer is made with premium buffalo leather. Buffalo leather is typically considered to be more durable than standard cowhide, due to differences in processing. Thus, resulting in a glove with high quality material. The glove will undoubtedly last you a long time.

Solid Padding and Ventilation
The glove uses a PU infused foam throughout the glove for its padding. Additionally, it is thought of to be lighter and more cushioned than other brands. The inside of the gloves are lined with a sweat wicking lining, as its method of ventilation.

Cost And Value
The Stormbringer is a glove whos quality ranks up there with high end competition, but at a fraction of the cost. Thus, is Anthem Athletics goal in business. Paying a little more can get you a little more quality.
Premium Buffalo Leather

Durable and Light

Affordable Quality

Very Padded
8. Fairtex Microfibre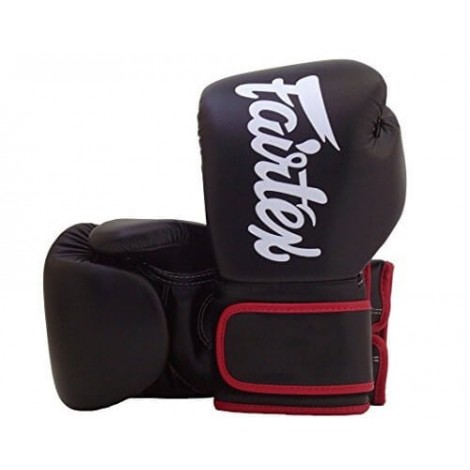 Fairtex makes the list again, but this time with an all new but seemingly improved product. The Microfibre is based on their standard design, with some replacements and added features. Anyone who liked the original but found it to be a little lackluster may want to take a look at these gloves.
Expand to see more
Microfibre
Fairtex replaces it is well-known leather build, for microfibre. Microfibre makes the glove lighter than others who use leather. The removal of leather also removes the odor caused by leather's degradation. Also, microfibre is incredibly breathable, providing great glove ventilation. A great choice for serious Vegan competitors.

Wrist and Palm Protection
Fairtex based this glove off of its original design, but with some variations. The cuff was padded and extended for improved wrist protection. The palm was also padded for better overall hand protection.

Cost and Value
At a higher cost, you get a higher quality product. The gloves are for those with the money to spend and need high-quality gloves to meet high standards.
Microfibre doesn't compromise durability

Great ventilation

Improved protection

Quality Justifies cost
9. Venum Contender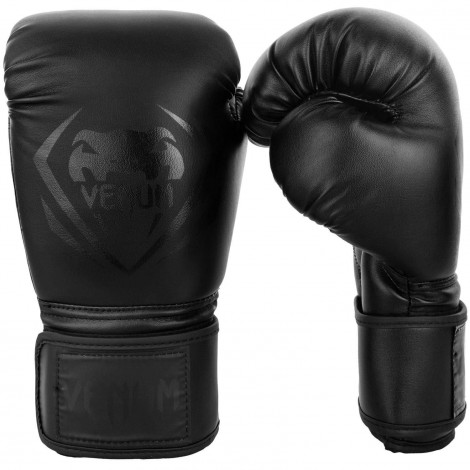 Venum makes the list again with a more affordable glove aimed more for sparring and training. Those only looking to stay in shape or not very interested in a martial art can benefit greatly from this model.
Expand to see more
Made for Training
Venum takes it Elite glove and simplifies it to make a quality glove fit for primarily fitness training and light boxing. The removal of the added support lowers the price but also limits the potential. The company itself suggests it be used only for light training and fitness.

Adequate Padding
The Contender uses Venum's multi-layered foam padding. Thus, making this glove rather durable for its intended use. Its large Velcro strap provides additional wrist support. This is great for those with thinner wrists.

Cost and Value
The Contender is a glove Venum made to appeal to the less involved fitness crowd. At a fraction of the Elites price and materials used, people end up with a glove that is great quality. However, the quality and longevity depend on light use.
Affordable

Great for training

Adequate protection

Great for Beginners
10. Venum Challenger 2.0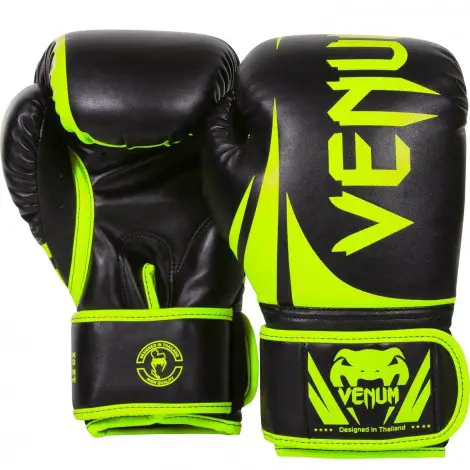 Venum makes the list for a third time with a glove intended for beginners and professionals alike. Those who are ready to take a more serious approach to martial arts can find worth in the Challenger 2.0.
Expand to see more
Venum Quality
These gloves use Venum's PU leather which provides its durability. Additionally, its multi-layered foam padding provides its hand protection. This model has an added elastic band for better fitting.

For the aspiring fighter
With slightly better quality and craftsmanship than the Contender, Challenger 2.0 offers a glove to those who want to get more serious about martial arts. Its improved materials allow for harder usage and training, allowing one to hone their techniques with these.

Cost and Value
The Challenger 2.0 is of better quality and thus, is a little more costly than the Contender. Intended for the intermediate practitioner of martial arts. Still can be a great choice for a beginner or light trainer.
Intermediate level training

Affordable

Vegan friendly

Great for Beginners
Finding a glove that suits all of your individual needs is among the most important aspects of martial arts training. Most need a glove that protects their hands as well as their wallets. Like shoes, getting the wrong glove can almost assure injury. Additionally, paying top dollar for something you can not use can be a literal pain. Choosing your gear by making better informed decisions can be invaluable.
Criteria for Evaluating the Best Muay Thai Glove
Materials
Knowing what materials your gloves will be made of can allow you to make a great number of informed choices. The materials that go into a glove can be either many or few. The padding of the glove will always be a separate material from the outside. Even the inside of the glove, as well as the material used to keep the gloves on your hands, are all different material from the other. Some gloves feature unique functions, which can mean additional materials used on the glove. Materials will determine the quality, the performance, as well as the overall cost of the glove. Knowing your intended workout or training regimen can help you make informed choices in materials as well.
Leather –


Leather tends to hold up better under hard use than other widely used substitutes. Leather also requires certain measures of maintenance to ensure their longevity. Additionally, there are a number of athletes, fitness buffs, and practitioners of martial arts that are Vegan. Vegans, abstaining from any animal byproduct, would rather have a glove that did not use leather. Many gloves are made without the use of leather, with some businesses advertising accordingly to appeal to that very crowd.

Synthetic Leather –


Maya Hide Leather and Skintex are both a high-quality synthetic leather known as PU leather.  PU leather is a leather imitation using polyurethane in its creation. Maya Hide has other materials, like cotton, added to it for further durability. However, Not only does the material not cost as much as actual leather, it is not as durable as it either. They require less special maintenance, like cleaning and sanitation. Additionally, they tend to be less odorous than leather.

Padding –


Most companies will claim to use a signature triple layer foam process for their padding. In short, they lay down three layers of a polyurethane-based foam that dries and forms the soft padding of the gloves. When considering the proper padding, what determines what is best for you will be less of what its made of, but where the padding is added and how much is there. Too much can make for a bulky or weighted glove, while too little can cause injury to yourself or a sparring partner.

Ventilation –


Knowing how a glove vents, can determine what glove you may need. Most gloves have a form of ventilation. From simple holes punched into the leather palm, to the palm being made up entirely of a breathable material, ventilation is another multifaceted aspect of Muay Thai gloves. Some may only have need of a glove with great breathing. However, some may even need additional methods aimed to reduce sweating.

Mesh –
While some gloves have holes punched into the palm of the glove, others will use other techniques for sweat reduction and hand breathing. Therefore, a sweat-wicking mesh can be implemented on the palm or can line the inside of the glove itself. It additionally allows for better breathing.
Intended Use
A lot of factors go into what determines your actual fitness regime. Some are only interested in using punching bags for cardio. This kind of exercise is very light in matters of glove wear and tear in comparison to those who are training in a martial art. Therefore, a high end and extremely durable glove might be a little too high in price for all that the light user intended it for. On the flip side, a committed martial arts practitioner would likely burn quickly through low priced gloves, aimed for a light fitness trainer, spending more money on multiple pairs, when they could have saved more money by spending a little more on something that lasts longer.
Expert Martial Artist –


Those who are serious about Muay Thai, or other martial arts training will likely be doing a fair amount of fist striking and general training. However, the varying levels of skill can also factor into the best glove for you. Professional and highly skilled fighters train regularly, and also compete regularly, therefore having need of a high-quality glove. These will be among the pricier of the gloves, but spending a little bit more on a glove can prevent one from having to spend even more money on replacing worn out gloves.

Beginner Martial Artist –


Those just starting out in a martial art have a lot to learn. Finding a glove that works for a beginner will be a thing of trial and error. Starting off with low-cost gloves is a great way for the novice to get a feel for their own preference. Additionally, starting this way can avoid overpaying for a glove that doesn't serve your needs, which can further avoid the frustration of returning the gloves for a replacement, if any at all. Also, if for any reason that one might decide that martial arts just aren't for them, the low cost of the gloves will not make them too big of a loss.

Self Defense Training –
One might wonder if there is even a difference in martial arts and self-defense. The answer is surprising, yes, there is. Self-defense training consists of primarily women and is geared more toward fighting back in a moment of mugging or general offensive confrontation. It does involve some striking, and most classes will require you to wear gloves. However, striking isn't too big of a focus in it but is a focus either way. Therefore, as a beginner or light trainer, low-end gloves that cost less would not be a bad choice. Lower end gloves will hold up very well for all the use you will get out of them.
Fitness Training  –
This crowd simply wants to stay fit. This can involve all manners of workouts aimed at tone and cardio. Those who prefer a punching bag in their workout also have need of hand protection. Although fitness buffs will likely strike significantly less than a martial arts practitioner, they can still injure their hands on a bag just as easily on anything else. Fortunately, a glove with a lower cost and material quality may still last a great amount of time for the light fighter.
These factors are of the key things to consider when choosing a glove that best suits your needs. Getting any of these features confused or incorrect can lead to some complications. Again, not only can you strain or break your hand, but you can also do the same to your wallet. Ideally, you want a glove that best meets your physical and monetary needs. Taking the time to read up on things you are unsure about as well as your options can improve the time it takes to search. While this list cannot answer every question you might have, it can lend some insight into the entire ordeal and likely benefit anyone looking for a new or replacement glove.
Frequently Asked Questions
Q: Are Muay Thai Gloves ok to use for other martial arts?
A: Yes. You will even find that most gloves are advertised for different disciplines of martial art. You are not restricted to using Muay Thai gloves for strictly Muay Thai. However, only certain kinds of gloves are allowed into tournaments.

Q: Do gloves come in different sizes?
A: Yes. Sizes are usually represented by what weight they are in ounces. These can range from 8 oz to 20 oz. Some vendors even offer a youth sized glove, for the young fighter. In a lot of cases, you'll want to go with a low weight for a youth.

Q: Does weight really matter all that much?
A: Absolutely. Getting gloves that are too light for your build and power can result in injuring yourself and your partner. Gloves that are too heavy can wear you out much faster, resulting in short training sessions and loss of progress. Correct weight is among the most important aspects of martial art protection.

Q: How do I know what weight is best for me?
A: Size charts are available online. Also, a fitness or martial arts trainer can assist you with that. The gym you train at will likely have gloves that you can use to get a feel for. It may take some trial and error at first. You want your gloves to be snug on your hand. Neither too tight or loose.

Q: Can I find gloves on a small budget?
A: Yes. Some companies pride themselves on their low prices. However, some gloves can be, and likely are low cost for a number of reasons. Some may have poor quality material or are crafted poorly. However, some low-cost gloves can be built well considering the low cost, in which case you end up with a cheap glove that holds up very well for your agenda.

Q: Do the materials used in a glove affect how they are washed and sanitized?
A: Yes. Some leathers will require additional maintenance to ensure the longevity and durability of the glove. Meanwhile, synthetic leathers do not require much outside of a wipe down with soap and water. All gloves require the insides to be sanitized to prevent odors and even fungal growth from the sweat left in the glove form your hands.

Q: Do they make gloves that do not use animal hide or other animal byproducts?
A: They do. Vegans can rest assured that their dietary choices will not necessarily prevent them from martial arts training. Some gloves use a synthetic leather composition under names like PU leather, Skintex leather, Maya Hide Leather, etc. Having prior knowledge on which leather does and does not use animal byproduct in its base can help in choosing a good glove for you. However, be aware that some synthetic leathers do not commonly take the wear and tear that gloves made of real leather are capable of holding together under.
Sources