Best Muscle Roller Sticks for Pain Relief While Healing Reviewed
last updated:
Dec 03, 2019
Treating yourself with something that can provide you with a lot of relief and enjoyment after you have strained your muscles during training is the best thing that you can do for your body and for your mind. These products provide you with the advantage of not having to spend your time and money on expensive masseuses in order to stop your muscles from hurting.
Now you can do it yourself in the comfort of your home, or have your significant other do it for you. They are great at easing and relieving muscle pain that you are all too familiar with. They can improve blood flow to the affected area which promotes and quickens the process of healing.
In a Hurry? The test winner after 3 hrs of research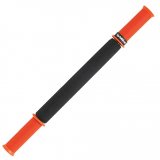 Tiger Tail
Why is it better?
Bright color
Foam roller
Comfortable hold
Does not slip
Relieves muscle tension
Improves recovery time
Portable
Three size options
In a
Hurry? Editors choice: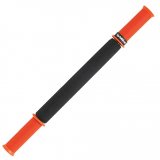 Test Winner: Tiger Tail
5
Researched Sources
9875
Reviews Considered
3
Hours Researching
10
Products Evaluated
Effectiveness
Ease of Use
Durability
Value
Comfort
By Default
Top 10 Picks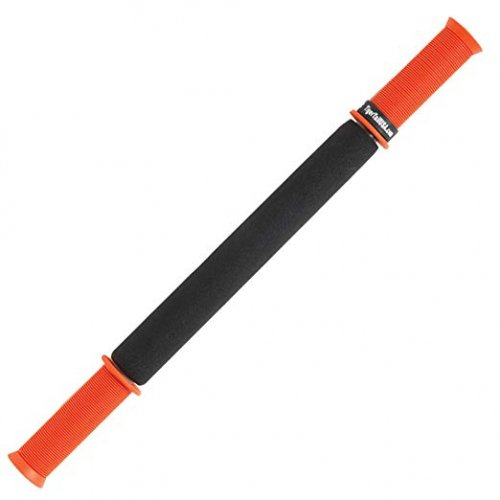 Bright color
Foam roller
Comfortable hold
Does not slip
Relieves muscle tension
Improves recovery time
Portable
Three size options
Tiger Tail is a company that makes and distributes tools for muscle recovery and relaxation. Their products are recommended by doctors, chiropractors, physical therapists, and athletic trainers. This roller stick is used by both professional and amateur athletes and it just may be the best one on the market right now. Your muscles will never feel so good as they do while using this massager. It is comfortable to hold and comes in bright orange colored handles with the black roller which looks great and works even better.
Read more
The stick is 18 inches long and is easily portable and can be carried anywhere with you. It is compact and light and will fit perfectly in your gym bag so that you can have it with you at all times. It is like having your own personal massage therapist. You can get a deep massage anywhere and anytime and relax your muscles before the big game or competition.
The roller itself is lined with foam which makes it comfortable and it will not leave bruises on your legs if your skin is too sensitive. It is easy to use, but more importantly, it is very easy to hold. It features a handle at each side which provides a non-slip grip for safe holding. This awesome product works by providing pressure on your sore muscles and breaks down any knots that may appear. The pressure is consistent and works quickly to reduce and relieve muscle tension and soreness and can even reduce recovery time.
Thanks to its foam roller it will not hurt your skin or leave any marks and bruises even if it is used on bare skin. It reduces muscle pain and will help them relax and relieve any stress that has built up during training. You will feel much better after only a few uses and will certainly notice the difference. You can choose between three different lengths and find the one that fits you the best. With all of these great benefits that it provides, no wonder this product is the leader on the market!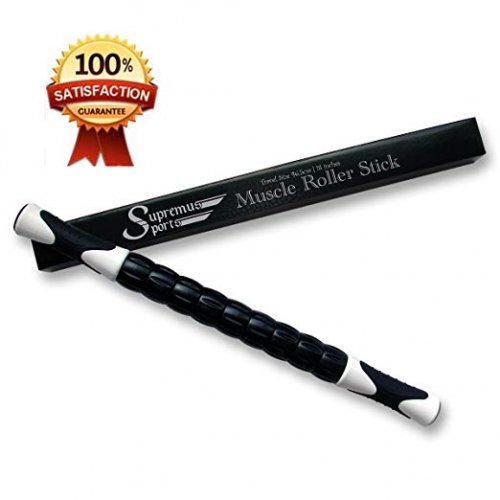 Great design
Does not slip
Compact
Easy to transport
Can be used anywhere
Durable and sturdy
Improves circulation
Highly affordable
Money-back guarantee
May make squeaking noises
This awesome and multipurpose product can be used on any part of your body that needs a good massage, such as your legs, arms, neck or feet. It is made of durable and sturdy material which guarantees that it can be used for a long time. Compact and easy to carry and pack, it is perfect for travels or to be carried in a gym bag. It is not heavy and you may not even notice that it is there until you need it. These rollers are approved and recommended by doctors and physical therapists.
Read more
Rather than paying for a massage and spending your time going to a therapist, now you can do it in your own home and your own time, and for much less money. This amazing and helpful product is made and designed for athletes and those who aspire to become one. It can help with your muscle pain and tension, promote circulation to the affected area and enable you to get back on your feet much quicker than if you let nature take its course. Using your muscles and straining them on a regular basis can take its toll over time. That is why it is recommended to use this whenever you need it.
The product is compact, durable and sturdy and can withstand a lot of pressure you put on it. The handles are made in a way that is comfortable and easy to hold and do not slip from your hands. There is a 2-millimeter gap between the individual rollers to stop it from pulling on your hair which makes it comfortable for both men and women. You can use it before a workout, to prepare your muscles and warm them up, and after, to break any knots and to relieve pain. Use it at home, gym, outdoors, anywhere you want because there is no limit to the possibilities. Just let it work for you and you will feel amazing results very quickly.
3

. Fitness Answered Training Products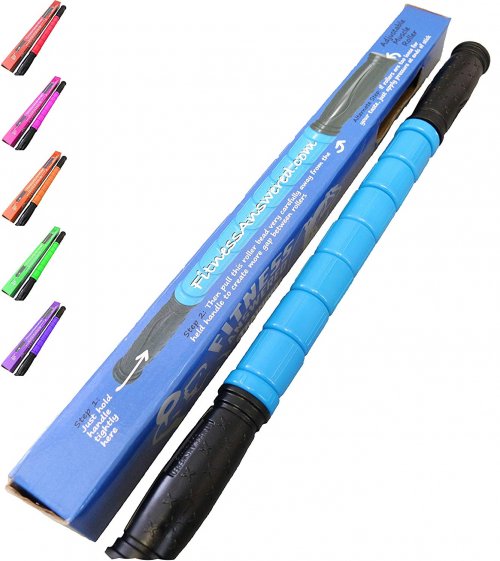 Stainless steel core
Improves circulation
Six color options
Comfortable grip
No squeaking sounds
Durable
Money-back guarantee
A bit expensive
May stop rolling during use
This great company is specialized in making exercise equipment for your home gym and they also make products that help with muscle relaxation before and after a workout. This massager can be used on any part of your body with ease. Made of sturdy plastic, it will not bend or break if you apply a lot of pressure on it. The only limit is your pain threshold. Some personal trainers recommend using it instead of warming up so that you do not pull a muscle before you even began training.
Read more
The stick itself is made of thick and quality plastic and has a stainless steel core, with handles on the sides which provide a comfortable grip. It can be easily used on your legs, arms, back and anywhere you feel that you need it. By rolling your muscles you basically force fresh blood to flow into the area and help your tissue and muscles heal quicker in the process and be sore for a shorter period of time.
Available in six bright colors, it is a great thing to have and use every day. The company guarantees that you will be satisfied and that it will not produce any squeaking sounds, get stuck or break. If you are not satisfied with the product you can always return it and get all of your money back. The price may be a bit high but it sure is worth every penny.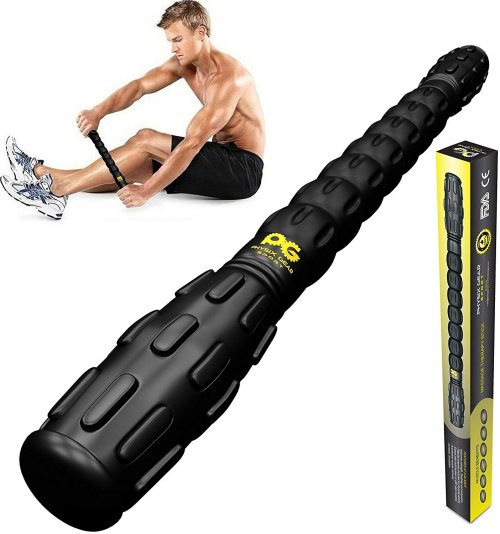 Very durable
Quality materials
Comfortable
Numerous health benefits
Four color options
Highly affordable
No squeaking
Non-slip grip
Molded handles
May pinch leg hair
Rollers get stuck
This product does not only feel great but it also looks awesome. It comes in four colors and you can choose which one you like the best. It has so many benefits for your body that we do not even know where to start. It has a nearly unbreakable stainless steel core, molded handles, and thermoplastic rollers which are of high quality and are guaranteed not to squeak annoyingly while you are trying to enjoy your massage.
Read more
This product is made from high-quality materials which guarantee that it will be able to last for a long time. It might just be the last muscle roller that you will ever have to buy! Apart from its amazing durability and great looks, it also does wonders for your body. By using it regularly you are giving your muscles a new lease on life. It is able to relieve tension and pain that build up during high-intensity exercises and workouts, increases blood circulation to the area for faster healing and can even improve your muscular range of motion.
Safe to use every day or a couple of times a day if needed, it can have a deep reach into your muscle tissue and decrease the build-up of lactic acid and in doing so prevent spasms and cramps from occurring. You can carry it with you at all times and use it before an exercise, to warm your muscles up and prepare them, and after, to soothe already aching ones and relieve tension from them.
By releasing tension from your body, it will help you fall asleep easier without tossing and turning. You will feel refreshed and rejuvenated just by simply rolling this up and down your body for a short time every day. The benefits that you will see will astound you. At a reasonable price, you can get a great and quality product which can make your life so much easier and save you a lot of time and money in the process, as it will eliminate the need to visit a therapist as often as before.
5

. Elite Sportz Equipment
Durable
Sturdy
Comfortable grip
Does not pull on hairs
Affordable
Compact
Prevents cramps
Relieves stress and tension
Four color options
This mini roller may just be what you need in your life. It is very light and compact which allows you to carry it anywhere with you and have it at all times because you really never know when you might need it. It comes in four bright colors: purple, red, neon green and simple gray. The company stands behind the quality and effectiveness of its product and guarantees your money back if for some reason it does not live up to your standards. With nothing to lose, we recommend that you try it and see and feel its amazing effects yourself.
Read more
During use, it will target sore muscles and get rid of any tightness, tension, and cramps very easily and efficiently. You will feel lighter and better after only five minutes of using it. As the blood circulation improves the muscles release tension and the muscles need a shorter time to repair themselves. The stick allows you to apply as much pressure as you can handle and need without bending and breaking easily because it is stiff and sturdy so the pressure is distributed evenly across its entire surface.
There are many ways that this product can be used: on your legs, feet, calves, arms, neck, and back, in one word, anywhere that you may need it. The rollers are very comfortable and will not hurt your skin. There is a small gap between each roller which ensures that your hairs will not get pulled and make you uncomfortable. The handles are easy to hold and will not slip from your hands no matter what. It will stop your muscles from knotting and alleviate pain, stress, and tension. Able to be used before and after a workout, this product will provide you with a bunch of benefits that you will be able to feel instantly.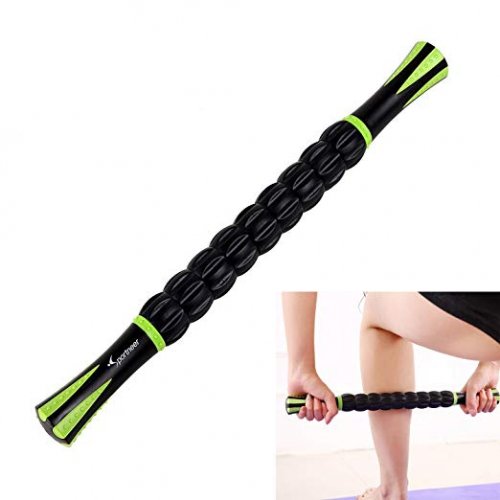 Industrial strength materials
Steel core
Safe and easy grip
81 pressure points
Deep tissue massage
FDA approved
Multifunctional
May pull hair
Plastic is too hard
If you are an athlete or just enjoy doing sports for your own health and enjoyment then you are already familiar with cramps and sore and painful muscles. You may pay a lot of money over time for massages to try and ease the pain and be prepared for the next day. With this product, you will not need to go anywhere anymore. You can use it in the comfort of your home while sitting back and relaxing. It was made to provide almost instant relief and keep your tired muscles strong, relaxed and pain-free. It is very easy to handle and comfortable to hold. Now there will be nothing standing between you and your favorite sport or activity.
Read more
The rod is made from reinforced steel, which gives the product great durability and endurance. You can apply as much pressure as you need and it will not bend or break. There are nine independent rollers placed over the core which spin together to provide relief to the entire area Each of the rollers has nine trigger points that are used to reach deeper into the muscle. That means that the entire roller consists of whopping 81 trigger points! We already said that it is easy to handle, but not why. This is made possible by handles which have a great design and fit easily into the palm of your hand without being uncomfortable or bruising them. They are stationary and will not move, which enables you to have better control over it.
With it, you can massage your back, neck, arms, legs, and feet, as well as any part of your body that you can reach and that needs tending to. In return, it will provide you with much-needed relaxation, stress and tension relief and improved circulation for better and faster muscle regeneration. Thanks to its industrial strength materials, the roller is able to last you a long time and make your life much easier. You will feel lighter and ready to tackle any obstacle. The price is amazing and very affordable. The best part is that it is FDA approved which only affirms its quality and effectiveness.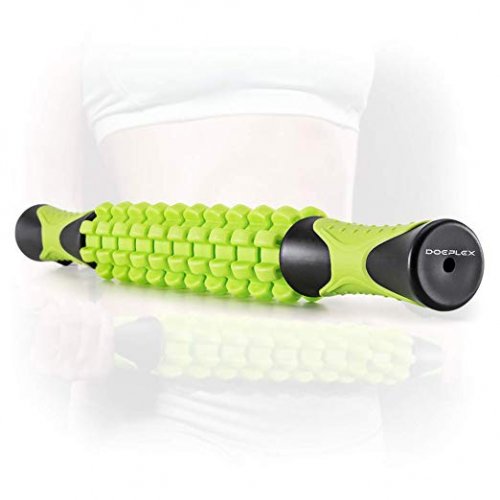 Freely spinning rollers
Fights cellulite
Improves circulation
Easy to use
Easily portable
Unique design
Ergonomic design
Highly affordable
This one is unlike many similar products on the market. It has a unique design and a bright green color which makes it stand out from the crowd. It is ergonomic which allows easy use and hold and compact so that you can take it anywhere. Only 17 inches in length, it is perfect for packing in your gym bag or luggage and take it with you on travels and competitions.
Read more
This product works by providing you with a deep tissue massage thanks to numerous trigger and pressure points on its rollers. It can reach deep into your muscle and break any knots, tension, and stress, increase the circulation of blood to the area, which promotes faster muscle regeneration, alleviates cramps, increase your flexibility and prevent further injury. It can be used before an activity instead of a regular warm up and after, to alleviate the effects of an intense workout.
It is safe and can be used by men, women and even children. Apart from all these amazing benefits we have counted, it can also help you fight cellulite by rolling it over the affected area of the skin. It is easy and fun to do and will provide you with great results. At a very good price, you can treat yourself and your loved ones to something that will immensely improve your athletic performance.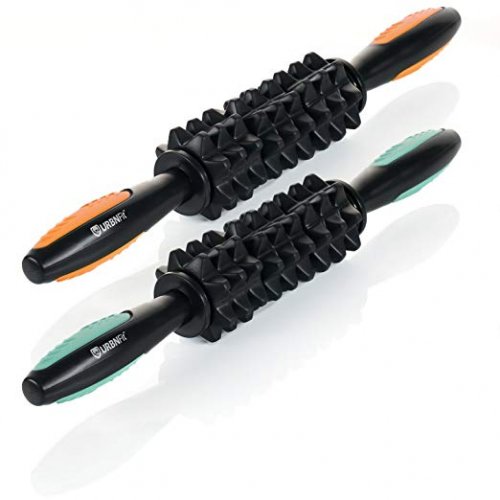 Great design
Two color options
Steel core
Improves circulation
Promotes recovery
Free workout guide included
Comfortable handles
Affordable
This cute little product looks a bit like a cool rolling pin. It comes in two pretty colors, but the majority of its surface is black which makes it look even cooler. It is recommended by personal trainers and physical therapists, so not does it look cool but it also has a great effect on your body. It is intended for people from all walks of life, be it weightlifters, yoga enthusiasts, or average gym goers. There is no limit to using this product as it is perfectly safe for everyday use.
Read more
It can help you increase your recovery time after a workout and be prepared to do it again as soon as possible thanks to its ability to improve circulation, which helps tissue to regenerate and heal much faster, and its ability to provide you with a deep-tissue massage that can reach deep into your muscles and get rid of knots and prevent the build-up of lactic acid, reduces stiffness and restores motion.
Thanks to being only 16 inches long, it is lightweight and portable. You can take it with you anywhere and always be prepared. The roller is made using high-quality materials. Its core is a rod made of steel which is why it will not get damaged during use or transport. It consists of three individual rollers and comfortable and non-slip handles that are easy to hold and comfortable for your hands.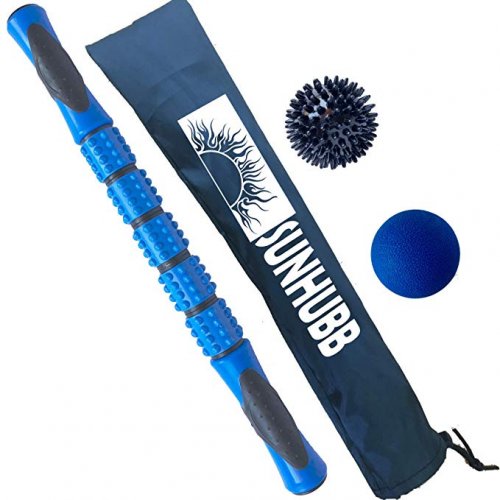 Great price
Bag for easy transport
Two massage balls
Increases mobility
Alleviates pain
Great for a warm-up
30-day money-back guarantee
Hard plastic
Rollers may get stuck
This one is not just a roller stick. It is a full body massage athletic kit. It consists of a roller, one spiky ball, and a lacrosse ball, and all that comes in a convenient and easily portable soft bag. The package includes everything you need to provide yourself with a proper massage.
Read more
The two balls included in the package serve for easily massaging a particular spot. The spiky one will be more effective for a deeper pain because the spikes will be able to reach deep inside your skin and provide pressure on a single spot, and the smoothe one is great for relaxation and to alleviate a less intense pain. The roller itself is made of sturdy and hard plastic. Each one has little spikes all over its surface which allow you to dig deep into your skin and muscle and improve circulation, relieve pain and tension that has built up. It is easy to hold thanks to the rubber grips on the handle.
The stick is on the smaller side which makes it perfect for carrying around with you. All of these products can be used as a form of a warm-up before your training, to keep your muscles healthy and prepared for what is coming next. They are also recommended to be used after, to break up any knots and keep your muscles stress, tension, and pain-free. With your body relaxed you will be able to sleep like a baby and have an upper hand over anyone who does not use these products.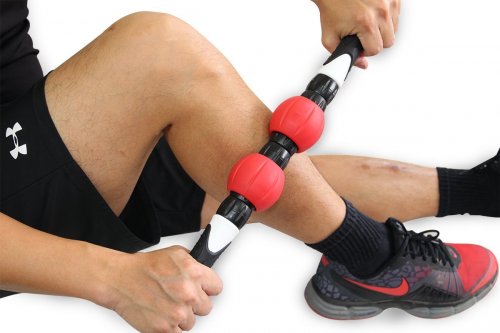 Adjustable rings
Fits any part of body
Portable
Myofascial release
This premium roller stick is a bit different from the other ones. Instead of having only small rollers across the entire pole, this one has two large ball-shaped ones on top of the smaller ones which can be taken off and put back on. The small rollers provide you with a deep tissue massage while the balls or rings can be used to move around the stick and create the most comfortable massaging surface for a body part of your choice. They can be adjusted to fit your leg, foot, calf or neck, basically, any part that needs taking care of, and make the stick so much easier to use.
Read more
Made for everyone who spends their day being active and whose muscles are sore at the end of the day, this device will ease the pain in your muscles and allow you to return and do your best the next day and every day after that. Giving yourself a massage has never been easier. Simply grip the handles firmly and roll it across any part of your body that feels sore and tense and you will feel the benefits almost instantly.
Able to improve your circulation and help your muscles repair themselves quickly, this product is a godsend for all of us who are too lazy to visit a massage therapist but need one desperately. It is 17 inches long which makes it easy to pack and carry with you. The price may be a bit higher than the price of some other products but this one has the added benefit of the adjustable rings which make it much easier to handle and use.
Criteria Used for Evaluation
Effectiveness
Effectiveness of products such as these is reflected in their ability to provide a proper massage and relieve you of your muscle pain while providing comfort and relaxation. The same product might not have the same effect or work for everyone, since we all have different needs when it comes to something like this.
The most important thing you can do is know what you need and try to find a product that fits that description, and then you can enjoy all the benefits it will provide for you. If it works as intended you will feel almost instant relief and will feel great in the morning. Your athletic performance will be better because your muscles will be refreshed, free of pain and tension and you may even feel more flexible.
Ease of Use
How easy it is to use something like this may just be one of its most important aspects. It may make or break your decision to keep using it if the handling is difficult and you will end up more stressed than you were before.
The product will be easier to use if it provides a firm grip for your hands. The handles need to be comfortable and padded with rubber so that they do not slip even if your palms become sweaty. That will help you have better control over your stick and put as much pressure as you need on the affected area of your body.
The product also needs to have rollers which are easily turned so that they do not hurt your skin or pull your hair if they get stuck in one position. It is preferable that its core is made of some sort of strong and durable material, such as steel, so that it does not bend or break during use.
If you pay attention to all of these aspects you will be able to easily find something that is of good quality and easy to handle.
Durability
The durability of any product like this depends on the materials used to make them, their quality, but also on the way and frequency of use. You can get the best product on the market but if it is not used properly it will show signs of wear and tear and eventually break or stop being effective.
Most of these products are made from steel and hard plastic. The steel rod inside is nearly impossible to bend or break so it should last for a long time and endure all the pressure that you can provide.
The plastic rollers may be somewhat less durable, simply because of the nature of the material, but will surely last longer than those made of foam. Keep in mind that you should not sacrifice your comfort for durability. If a foam roller feels better against your skin than hard materials, by all means, choose that one, and if you handle it properly and do not abuse it, it should have a long and helpful life.
Value
The value of a product does not have to reflect its price and vice versa. Instead, it is determined by the quality of the materials that were used and the level of craftsmanship and engineering that went into its making. Some may have a higher value than others simply because it works best for you and suits your needs.
Comfort
While making our list we made sure to pick only the products that are easy and comfortable to use while providing you with the intended effect. The comfort of it reflects in the sturdiness and feel against your bare skin. If you read the product descriptions you may have noticed that some of the rollers can occasionally pull your hairs during use, which is certainly not comfortable. If you are a man, stay away from things like this because you will certainly not be able to relax properly and may give up using the product quickly.
Make your own schedule!
While using these products you will be able to give yourself a proper massage without the need of anyone's help. You can do it in your own home and on your own time, without having to leave your comfort zone.
Make a smart investment
When choosing a product do not be afraid to pay a little more in order to receive a lot. By investing in something like this you will be able to save a lot of money in the long run and get a lot more in return.
Other Factors to Consider
Bottom Line
These types of products are amazingly helpful when it comes to tending to your muscles on your entire body. They may not look like much, but they sure do provide a lot. Since you are physically active you need something to take the edge off after a hard workout, training or sparring session and relieve all that built up tension from your body. These products do an amazing job of providing just that.
Other than that, they will help you relieve pain, break up the knots, improve circulation to the area and speed up the regeneration and recovery process. They can be used on your entire body with great success. In the morning you will feel much better and lighter after using them for a short time in the comfort of your home.
For a small investment, you can make sure that your muscles are healthy and always prepared for another training session. This can give you a great advantage over others who do not use them and you will always have an upper hand because you are well rested and your muscles are more flexible and healthy.
Frequently Asked Questions
q:

How are they supposed to be used?

a:

It is fairly easy to use these products. Just grab it by the handles and make sure that you get a good and tight grip, and simply use the stick to roll up and down over the area that you wish to use it on.
q:

How can I clean it?

a:

There is no need to clean it thoroughly since it is not something that will easily get dirty. If you wish to do so you can simply get a wet cloth and wipe it down, or just run it under some warm water and leave it somewhere to dry.
q:

Should I get a longer or shorter one?

a:

That depends on whether you plan on taking it somewhere with you, in which case you should always choose a smaller size, and also on the way you plan to use it. If you wish to use it on your back and entire body we recommend getting the longer one because it will be much more comfortable and easier to hold and manage.
q:

Will it hurt and leave marks on my skin?

a:

Normally it should not hurt you at all or provide any damage to your skin. If your skin is very sensitive we recommend that you get a foam roller to make sure that you will be comfortable while using it. If not, then just watch out that the rollers are far apart enough in order not to pull the hair on your legs. Other than that you should be safe.
q:

Does it bend?

a:

None of the product on our list can bend. Most of them have a steel rod as their core so that they are not flexible and there is no fear that you might break them easily.
q:

What to do if the rollers get stuck?

a:

The rollers are bound to get stuck in place one time or another. If that happens to you simply stop using it and use your fingers to move it around. It should be as good as new with just a little bit of wiggling.
q:

How long does it have to be used to have an effect?

a:

That depends on the condition of your body and muscles. If you wish to treat acute pain or have had medical problems than you should first consult with your doctor before using it. If you are overall healthy and just want something to help you with sore muscles then you will be able to feel the difference after using it for only five minutes.
Subscribe to our Newsletter