Best Nike T-Shirts Reviewed
last updated:
Jan 20, 2020
There is no better piece of gear than the humble t-shirt. It's lightweight and versatile, and it is made to keep you cool and dry.
Nike t-shirts are a perfect addition to add to your growing collection of workout gear. You might not think that there could possibly be a lot of styles of basic t-shirts, but you would be very wrong! Nike's line of t-shirts accommodates those that need something light and airy for sparring, t-shirts to keep them dry, and even some options made to keep you warm when the temperature drops. Plus, they always come in a wide range of styles as well as colors so that you can work out in style.
In this guide, we have compiled a list of some of our favorite Nike t-shirts out there on the market to round out your carefully crafted personal line or workout clothing.
In a Hurry? The test winner after 8 hrs of research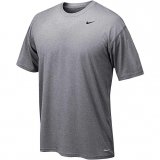 Nike Legend
Why is it better?
Flatlock seams
Mesh armpits
Slight compression
In a
Hurry? Editors choice: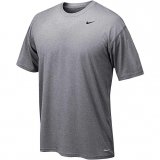 Test Winner: Nike Legend
2
Researched Sources
860
Reviews Considered
8
Hours Researching
10
Products Evaluated
Materials
Breathability
Fit
Style
Size
By Default
Criteria Used for Evaluation
Materials
The materials used dictate how well it will keep you cool and dry, as well as how easily it washes.
We wanted to select tees that are composed of a few different materials to give you a few options. Below, we have listed the materials used and the reasons you may want to select them for your workout or casual needs.
Polyester: If you are fast-moving and sweat a lot, polyester is the way to go. Many of the Nike products on the market either use a blend of polyester or 100 percent polyester. This material isn't porous, which means that it will not absorb all of your sweat into the material and hold it against your skin.
Most of the polyester Mike users in infused with their DRI-Fit tech that not only wicks moisture away from your skin but it also dries very quickly.
Cotton: When it comes to workout gear, cotton typically just sits on the bench. While cotton may absorb sweat and hold it against your skin when things get hot and sweaty, there are a few instances where it may be ideal over polyester.
If you are engaging in a low impact workout where you may not be sweating all that much, cotton is one of your most comfortable options. For things like yoga, stretching, grocery shopping, weight lifting, or hiking, cotton may be perfect for keeping you comfortable.
Spandex: Spandex lives in the same category as polyester, with just a few key differences. Similarly to polyester, spandex is nonporous and wicks away sweat from your body. Spandex is typically found in a small percentage in garments that fight tightly, and can even provide a small amount of compression.
Breathability
We wanted to ensure that we selected products that were light, airy, and breathable so that you won't overheat when things start to get intense.
Different types of materials, as well as variances in the fabric, improve how breathable the fabric is when you workout. Below, we have broken down the breathability factor of the different fabrics in Nike's line.
Polyester isn't considered to be very breathable, but it works well at wicking moisture away from your skin. If you are simply looking for something for a casual and comfortable day out on a hike or camping, polyester isn't very comfortable.
Some users find polyester to be a little itchy when worn against the skin, and may not be the best option for a casual day. This fabric is nonporous which is great for wicking away sweat from your skin and staying dry, but it is a little less than comfortable.
If you are looking for comfort and breathability above all else, cotton is the way to go. Cotton is one of the most comfortable materials out there on the market, and it feels great against the skin. Plus, you can toss it into the washer and dryer without worrying about it shrinking with subsequent washes.
Cotton is a porous fabric, which means that air can enter and escape through its fibers. While this is great for your skin, it also means that it also traps water and sweat. If you are working out and get a little too sweaty, the fabric holds onto the sweat and increases the chances of rubbing and chafing.
Many of the designs in the Nike line include mesh fabric in the armpits and the back to promote breathability. By including these vents in polyester options, you can receive all of the benefits of polyester without feeling like your skin cannot breathe.
Overall, if you need a shirt for casual activities that you won't sweat too much, cotton is your best option. If you are turning up the intensity at the gym, polyester blends are the way to go. They may not be very breathable, but they help wick away sweat and moisture.
Fit
Finding the right fit is the key to finding the perfect gear for your most intense training sessions.
Some athletes like shirts that fit a little loose, while others opt for designs that fit just a little bit tighter like a second skin. Luckily, Nike offers designs that are perfect for those that like it loose or those that like it tight.
Styles like that of the Pro Fitted option fits on your skin like a glove. Tighter designs are typically composed of polyester with a touch of spandex woven into the fabric (usually 10 percent or lower). Wearing tighter designs not only say in place as your train, but they have a few other benefits as well.
Tighter designs that are made from polyester and spandex also have the benefit of slight compression. Compression is great because it squeezes your muscles warm to prevent muscle strain. This slight compression also works great at a base layer to keep you warm when the temperatures plunge outside.
Looser options are ideal for maximizing your movement. When the fabric fits loosely on your body, you won't feel constricted from slight compression. Engaging in activities such as fighting, plyometrics, and anything that involves quick movements can benefit from the use of a loose-fitting shirt.
Style
As with all Nike products, style is something that all of the t-shirts we selected for this list have in spades.
Even though it is simply a t-shirt, we wanted to ensure that we selected styles that stand out from the rest of the pack.
The logo is something that every Nike products include in some way or another. For those that want something that is a little more modest, there are some options on our list that only place a small logo on the top corner of the chest, and some only include it in a small place on the back or the lower corner of the shirt.
There are also options that offer the logo in big, bold accents that run across the entire front of the shirt. Other options, like the 'Just Do It.' option use classic Nike campaign slogan to offer up a retro look that is quite different from many of the modern designs.
Color options were something else that we took into consideration. All of the styles that we selected are offered in the basic black, white and heather gray designs. We also wanted to select options that came in bright and fun colors that added a pop of color to your workout gear wardrobe!
The good news about selecting a shirt from Nike is that you never have to worry about wearing something that is considered to be out of style. Each design in this line has a sleek and modern look that is simple and sporty.
Size
Whether you are packing on the muscles or you're lean and mean, we wanted to find shorts for all shapes of athletes.
Finding the right size shirt can sometimes feel like an impossible task, especially when you are shopping online.
When considering a style, we looked at the sizing option that's offered. We preferred sizing options to include petite options as well as big and tall options as well. The inclusion of a sizing chart helps you better gauge which size will be perfect for your body type.
From what we have gathered from many of the products in this line of Nike t-shirts, many of them tend to run just a little small. If you find that you are between sizes, it is better to go with a size slightly larger. Plus, if you don't want your shirts to fit too tight, it is always better to go up one size.
It is always important to consult the provided sizing chart with each and every design. Be sure to take accurate measurements, and that also includes your arms as well. By using the sizing chart as well as going up a size if you are unsure, you are sure to get the right size the first time.
Expert Interviews & Opinions
Most Important Criteria
(According to our experts opinion)
Experts Opinion
Editors Opinion
Users Opinion
By Default
Flatlock Seams
Who knew something so simple could make such a big difference? When you are moving around a lot, things like itchy tags or stiff seams feel can really pull your focus from the task at hand. Flatlock seams sew the inside seams to the inside of the garment to prevent them from irritating your skin.
Blue Ribbon Sports
Did you know that Nike wasn't always Nike? From 1964-1978, the Nike founder operated under the brand name Blue Ribbon Sports. It wasn't until the introduction of the classic Nike shoe in 1978 that the Blue Ribbon Sports changed to Nike. The name Nike comes from the Greek goddess of victory, which makes it a perfect addition to your workout gear!
Dri-Fit
What makes Nike products stand out from the rest is that their fabrics are infused with DRI-fit technology. This material works by wicking away moisture from your skin and allowing it to quickly evaporate on the surface of the shirt. What's great about Dri-Fit is that it is something that you will only find in Nike gear. This fabric not only keeps your skin dry but your shirt dry as well!
Other Factors to Consider
Bottom Line
To get the most out of each and every training session, you need to wear the right clothes. You likely spared no expense when it comes to your boxing gloves, so why would you cut corners when it comes to your training clothes?
From their humble beginnings selling gear out of the back of a car, Nike has grown to be one of the leading brands of sportswear and equipment. When you walk into the gym wearing clothing with the patented Nike swoosh, everyone knows you are serious not only about your training but also the clothes that you wear.
Wearing a classic tee from Nike means that you are wearing something that is always going to be in style. The materials that they use for their products are of great quality and will wash up well with subsequent washes. Plus, they are the only company on the market to infuse their fabric with Dri-Fit technology to keep you cool and comfortable.
Whether you are sparring with a partner, jogging along the trails, or simply running to the grocery store for protein bars, the humble t-shirt is one of the best pieces of clothing to keep in your closet.
Frequently Asked Questions
q:

What makes Nike T-shirts so special?

a:

Nike was founded in 1964 setting sportswear out of the back of a car at track and field meets. Today, they are one of the most recognized and respected brands in their field. If you want to fill your closet with the best workout clothing you can get your hands on, Nike is the way to go.

Nike crafts its products with high-quality materials that work to wick away sweat from your body and keep you cool and comfortable. Whether you need something for a casual hike, running errands for the day, or for your next high-intensity kickboxing class, there is a t-shirt that fits your needs perfectly.
q:

What is DRI-Fit technology?

a:

We talked a lot about the garments on our list being composed of fabrics infused with DRI-Fit technology. So, what exactly is Dri-Fit? For starters, it is something that can only be found in Nike products. It is their proprietary tech that keeps you cool and dry as you workout.

DRI-Fit is a special type of microfiber polyester that moves sweat away from your skin and places it onto the fabric. The lightweight and easy fabric evaporate the sweat on the surface quickly so your skin stays dry, and your shirt stays dry as well.
q:

Can it help keep me warm in cold weather?

a:

Certain materials are actually designed to keep you warmer in the winter! If you need a good base layer to wear under your sweatshirts, stretchy and nonporous materials such as polyester or spandex are great. To keep yourself warm, you need to ensure that your base layer doesn't become wet with sweat.

Cotton isn't great for wicking away sweat. It is important that if you want to stay warm in the wintertime, you need to keep sweat away from your skin. We suggest layering your clothing with a great sweatshirt or jacket. Also, a warm hat is another great way to keep yourself warm in cool weather.
q:

What type of tee do I need if I sweat a lot?

a:

If you find that you are dripping with sweat at the of your workout, you may want to select a tee that is designed to help wick away moisture. There are two things to keep in mind if you want to stay dry- the material used as well as specific design features.

The materials you want to keep your skin dry is polyester or spandex. These materials are lightweight and nonporous and quickly absorb on the surface so that you don't end up with wet clothing.

The next thing you want to consider is meshed vents in areas that sweat the most. Many Nike T-shirts have standard mesh vents in the armpits, and others even have mesh vents along the upper back as well to promote superior air circulation.
q:

Can I throw them in the washing machine?

a:

There are some types of garments and gear that you can get away with not washing. Fighting gloves, sweatshirts, and headgear can go a few rounds without the need to be washed. Shirts, on the other hand, need to be washed after each and every workout.

All the tee on the Nike line is a cinch to toss into the washing machine for a quick wash at the end of your workout. We suggest that you wash them in warm water with gentle detergent, and skip the dryer when you can.

Most fabrics such as polyester and cotton may shrink a little when tossed into the dryer, but only slightly. If you find that your shirt fits you perfectly and don't want that fit to change, air drying is the way to go. The good thing is that since they are so thin and lightweight, it will not take them very long to dry!
q:

How can I ensure that I buy the right size?

a:

Before you take the plunge, consider how you like to wear your shirts. While some athletes like loose-fitting clothing that hangs off of their skin, others light tight-fitting shirts that feel like a second skin. Shirts in the Nike line fall into those two specific categories.

If you like tight-fitting options, we suggest styles like the Nike Pro Fitted option. This option fits tightly on the skin by using materials such as spandex and nylon. For tight-fitting designs, it is important that you select the exact right size. Be sure to take accurate measurements of your frame and use those measurements on their detailed sizing chart.

If you like options that fit a little looser, we suggest styles that utilize more cotton in their blends than polyester. Keep in mind that products that use cotton will hold on to sweat and are a little heavier than 100 percent polyester models.
Subscribe to our Newsletter