Best Numbing Cream Reviewed
last updated:
Dec 03, 2019
When training for a fight, or just spending a little bit of time at the gym on a daily basis, your skin and muscles take quite a beating. Whether it is sore knuckles from landing blows or a sore nose from taking a punch, using an effective numbing cream can ease your pain a little bit.
What we love most about using cream like this is that it is typically made from natural ingredients that work quickly and effectively on the surface of your skin to ease the pain. There is no need to take any pills, and it works almost instantly. Most formulas contain lidocaine that works by blocking pain receptors on the surface of the skin.
In this guide, we have compiled a list of some of our very favorite numbing creams so that something as simple as pain will not hold you back!
In a Hurry? The test winner after 7 hrs of research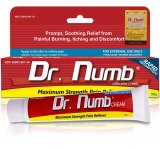 Dr. Numb
Why is it better?
Trusted brand
No oily feel
In a
Hurry? Editors choice: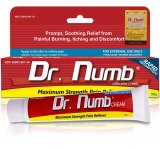 Test Winner: Dr. Numb
2
Researched Sources
920
Reviews Considered
7
Hours Researching
10
Products Evaluated
Materials
Effectiveness
Application
Features
Side Effects
By Default
Top 10 Numbing Cream Picks
Criteria Used for Evaluation
Materials
The very first thing that we looked at for each and every tube or tub was the active ingredient.
What we found during our research is that most brands opt for the same numbing agent across the board. In some instances, there were some companies that opted for a more natural approach to numbing.
Lidocaine was the active ingredient that was found in most options currently out there on the market. However, the amount of lidocaine varied from brand to brand. The highest level of lidocaine that we found was 5%. If you want to buy lidocaine over the counter, 5% is the highest that you can get without the need of a prescription.
If you don't need something that is super powerful because you don't like a burning or tingling feeling, you may want to opt for a 4% option. With 4%, you can still get a moderate level of numbing relief, but it will just be a little milder.
If you don't like the idea of place a chemical compound onto your skin, there are more natural options out there on the market. Menthol, for instance, offers users a natural way to numb the nerve endings that send pain signals to your brain. It works much in the same way as lidocaine.
The only downside to menthol, however, is that it has a very potent and distinct smell. When applying menthol to your skin, you may have a method ghost following you around- even after you shower!
The good news here is that when shopping for numbing cream, you won't become paralyzed in indecision when comparing different ingredients. You will simply need to make one decision: lidocaine or menthol.
Differences in the various options out there on the market often lie in simple things such as application, thickness, beneficial inactive ingredients, and odor.
Effectiveness
Above all else, you want it to be effective.
Pain is something that is hard to shake, and it is hard to keep your head in the ring when your brain is busy alerting you to pain on your skin! That's why we wanted to make sure that we selected brands that were not only easy on the skin but were also considered to be incredibly effective.
The very first thing that we looked at was the active ingredient in each and every formula. The most potent formulas are those that contain lidocaine as their active ingredient. We tried to stick with formulas that have between 4-5% lidocaine in each and every bottle.
The highest amount of lidocaine that is offered over the counter is 5%. If you want anything over 5%, you will need to seek out a prescription from your doctor.
Another thing that we took into consideration was that previous users had to say about each product. We combed through hundreds of user reviews to get a general picture of how well each option performed. If we found that an overwhelming number of users didn't feel that each product worked effectively, we moved on to another brand.
Side Effects
When it comes to any type of medicine, side effects are something to take into consideration.
Even though it is simply applied topically still means that side effects can occur. The good news here is that most side effects are considered to be mild and will go away if you simply stop using the product.
Possible side effects are more prone to occurring when you use products that are made from lidocaine, which is a little harsher than menthol. Many of the side effects that can occur may be unpleasant, but they are not life-threatening.
One of the most common side effects of the use of lidocaine is a red rash developing at the application site. If this occurs, simply stop the use of the product. Other side effects include swelling at the application size as well as red or purple spots.
These symptoms generally will go away after you stop using the product. However, if you find that your symptoms continue to get worse even after you stop using the product, you may want to consult your doctor.
Some of the more serious side effects are considered to be extremely rare, but they have been known to happen on occasion. Some of the more serious side effects include symptoms such as headache, nausea, constipation, and low blood pressure. Everyone's body is different and reacts to medications differently.
We suggest placing a small sample on your skin to seek how your body will react before placing it on larger areas. If you find that you don't have a reaction, it is safe to use elsewhere. If you find that you do have a reaction to lidocaine, it may be in your best interest to try out a menthol option.
Application
No one likes to wear thick, gloopy lotion.
We searched for formulas that were made to feel comfortable on your skin. There were a few things that we took into consideration to make sure that you could get a clean and even coat on your skin and not on your clothes!
One of the best options to ensure an even coat was to select a formula that was water-based. Oil-based formulas often feel slick and oily on your skin, and never quite get absorbed. This means that the solution only sits on the top of your skin, so that the moment you rub up against anything, the cream will rub right off! On the flip side, if the formula is too dry is can often feel cakey and uncomfortable, and leaves little white flakes everywhere you go.
That's why waterbased formulas are the way to go. These options absorb right into your skin to reduce the risk of flaking or rubbing off in places that you don't want it to rub off. Be sure to read what previous users have had to say as well about how well the formula glides onto your skin and stays there as well!
Features
A few key features really make some products stand out from the rest.
We have broken down some of our favorite features found in some of the products out there on the market and the reason you may want to give them a try.
Vitamin E: When treating your muscles, it's also important to treat your skin as well. An infusion of vitamin E into the blend promotes healing of your skin and also helps to promote skin health and reduce inflammation.
Aloe Vera: Products that contain aloe vera means that it will be very kind to your skin! Aloe is one of the best natural ingredients that you can put on your skin. It moisturizes as well as heals at the same time. Products that use aloe typically feel better when placed on the skin, and absorb a little quicker.
Applicator: Applicators can be beneficial because they keep your hands clean and dry. It requires a little bit of rubbing to ensure that the cream is completely absorbed, and when you use your hands it means that your palms become numb as well.
Sure, you could invest in a pair of glove for easy application, but many products come with an applicator included. These rounded applicators ensure that you not only keep your hands clean, but you can also create an even coat on the affected surface of your skin.
Expert Interviews & Opinions
Most Important Criteria
(According to our experts opinion)
Experts Opinion
Editors Opinion
Users Opinion
By Default
The Largest Organ
The skin is the body's largest organ. The average adult carries around about 8 pounds of skin that measure to be about 22 square feet! Unlike other organs that are protected by skin, fat, and bone, your skin vulnerable to burns, cuts, and discomfort. That's why keeping topical pain solutions such as numbing cream at your disposal in a medicine cabinet is always a good idea!
A New You Every 27 Days
The skin is pretty amazing, and can completely regenerate itself in about 27 days. This means that it can heal and repair most burns, cuts, and scraps relatively fast. The general rule of thumb is that you do not need to see a doctor as long as your injury doesn't get worse over time. If you notice that your skin or muscles are getting worse as time goes on, it may be time to make an appointment with your doctor!
Possible Side Effects
It is important to know the possible side effects that can occur. While sensations such as burning and tingling per perfectly normal, there are some other sensations that aren't so normal. Size effects such as hive, redness, and swelling have been known to occur in some users. While these side effects are not life-threatening, we recommend that you stop using numbing creams and opt more natural formulas such as menthol.
Other Factors to Consider
Bottom Line
Pain is an everyday fact of life, but it doesn't have to be. Keeping a tub or a tube of numbing cream in your medicine cabinet is a great way to squash annoying pain on the surface or your skin or muscles in its tracks.
What makes this option great is that it works quickly and effectively within seconds of use. Many OTC pills can take a long time to get to work inside of your system and can have some pretty bad side effects when used over a long period of time.
What makes this option great is that there are typically no side effects, and the side effects that can occur are generally mild.
Taking a hit is inevitable when fighting, but it doesn't mean that you have to be in pain for the remainder of the day! Keeping a tube of numbing cream in your gym bag is a great way to combat pain on sight so you won't have your mind distracted by pain.
Frequently Asked Questions
q:

Why do I need numbing cream?

a:

When you train hard, your skin sometimes pays the price. It's hard to focus on the task at hand when you are in pain, and numbing cream acts to counteract the pain so that you can focus.

These creams are applied topically right at the source of the problem and get to work almost immediately. OTC pain pills such as NSAIDs often take anywhere from 30-60 minutes to get to work and have some unwanted side effects when used over long periods of time. These topical solutions sit on the top of your skin and won't be absorbed into the bloodstream.
q:

How does it work?

a:

Pain occurs when your nerve endings send signals to your brain that you have become injured. The biological reason for this is so that you will make efforts to ease the source of the pain. In the case of minor injuries that will heal on their own, pain is simply an annoyance.

Lidocaine works by numbing the nerve endings to block the neurotransmitters from telling your brain that you are in pain. This numbing method doesn't last as long as over the counter NSAIDs and will need to be reapplied every 1-4 hours (depending on the brand).
q:

Can it help my sore muscles?

a:

Yes! The most common use for the numbing cream is to soothe topical maladies, but it can actually penetrate deeper to give your sore muscles a little bit of relief as well.

Mant users that suffer from chronic pain from arthritis have been proven to find relief when using even smaller OTC doses of lidocaine. If your muscles ache from a brutal training session and you need to get back to the mat as soon as possible, topical lidocaine or menthol can bring you immediate relief!

Also, if you suffer from chronic lower back pain, rubbing some numbing cream on your tired back at the end of a long day can bring you enough relief that will help you get a good night's sleep.
q:

Is it safe to use?

a:

Like with anything that you put on your skin, there is the potential of side effects. Some users that have notoriously sensitive skin may want to try using it on s small area on their body to see if it has a reaction. Possible side effects are rare but are typically rather mild.

Some of the most common side effects to lidocaine include a rash at the application site, skin irritation, red or purple spots at the place of application. If you notice any of these symptoms, you may want to try a more natural solution such as menthol.
q:

Is menthol effective?

a:

Menthol works much in the same way as lidocaine, but it is derived from natural sources. The source of menthol is derived from any number of natural sources that include peppermint, corn mint, or other sources of mint. It provides a cooling sensation to the skin that can be incredibly beneficial to burns or other similar sources of irritation.

When it comes to effectiveness, it is considered to be just a little less effective than lidocaine. Plus, it often is accompanied by a very strong menthol scent that some users do not like.
q:

How often will I need to apply it?

a:

For most options, this needs to be something you need to apply once every few hours. Just like any numbing agent, it only works for so long before wearing off. On the weaker end of the spectrum, it needs to be applied once every hour, and on the higher end, it needs to be applied every 3-4 hours.

It is important to note that there is a limit to how many times a day you should apply. For most, it can only be applied about 4 times per day. It is important that you don't gove over the recommended dosage because irritation can occur if you do.
q:

Can I use it for anything else?

a:

One thing that we discovered is that this type of cream has a lot of various uses that don't just stop at muscle pain and burns. Many users apply a thick layer right before going in for a myriad of procedures such as tattoos or dermabrasion.

If you need to have any type of procedure that involves the top layer of your skin, numbing the problem area before heading into your appoint can help mitigate a lot of the pain from the procedure!
q:

Can I get it wet while wearing it?

a:

Unlike sunscreen, lidocaine washes off once it gets wet. This means that it f you want to stay numb for hours at a time, the affected area cannot get wet. Activities such as showering, swimming, and sweating are if off-limits if you want it to be as effective as possible.

However, there are some ways to work around this particular problem. Some users found that applying a layer of numbing cream and then wrapping it in a waterproof seal such as sean wrap is a great way to workout at the gym without pain. While this method is great for the gym and, it is not ideal for swimming or showering.
Subscribe to our Newsletter