Best Nunchucks & Nunchakus Reviewed for Training
last updated:
Apr 28, 2020
There are quite a few martial arts that have one level of focus or another on the use of weaponry. There some schools that use only one weapon, such as Kendo or Iaido. Kendo uses only a katana or the wooden variant known as a Bokken. Meanwhile, Iaido does not have a focus on sparring and uses real swords, showing only the art of handling the blade. Martial arts such as Karate, Escrima, and Hapkido are known to use a variety of weapons on top of their unarmed focus, with weapons ranging from throwing weapons, nunchaku, and even bo staffs. Our experts at Fighting Report tested, reviewed, and rated 10 of the best nunchucks on the market so you can make an easy choice by reading our reviews of top products.
In a Hurry? The test winner after 4 hrs of research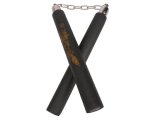 Sensei David Practice
Why is it better?
Safe for Training
Instructional Videos
Child Safe
Affordable
In a
Hurry? Editors choice: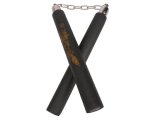 Test Winner: Sensei David Practice
Materials
Speed
Use
By Default
10 Best Nunchucks for Training Reviews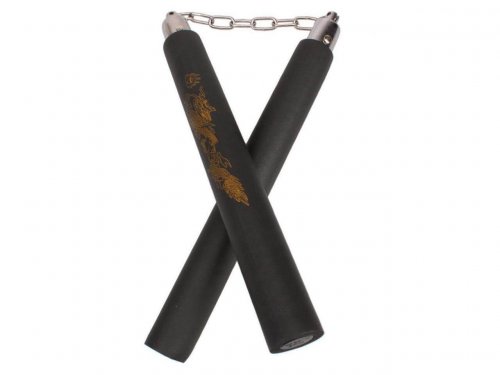 Safe for Training
Instructional Videos
Child Safe
Affordable
Sensei David is a third-degree black belt in Karate and an internet personality. Having mastered Karate, he went on to establish his own gym taking on a number of students under his tutelage. He also offers some gear for those wanting to train in Karate and typically includes with each purpose instructions to his youtube channel. His videos go in-depth about the techniques required to use whatever weapon or item purchased. His nunchucks are of no exception.
Read more
Safety
Authentic wooden or metal nunchaku can be extremely dangerous, even lethal. Like most online options, Sensei David offers a safe training variant of the weapons. Made of plastic sticks encased in foam and sleeved with rubber, these weapons are safe for offensive, defensive, and speed and agility training. The chain is metallic, so its best advised that only kids who can show a level of responsibility should use them.
Instructional Videos
Included with each nunchaku purchase from Sensei David are directions for online instructions. These videos go over some of the important aspects of nunchaku, such as safety and the do's and do not's of training. He also covers proper techniques, all over the span of several videos, maximizing your understanding of an otherwise dangerous weapon.
Cost and Value
The training weapons make our editors choice slot on our buyer's guide. The training weapons quality is not only in the materials but more in its craft. Not only a good choice for beginners but for children as well. Additional value is in the instructional videos made by an actual Karate Sensei.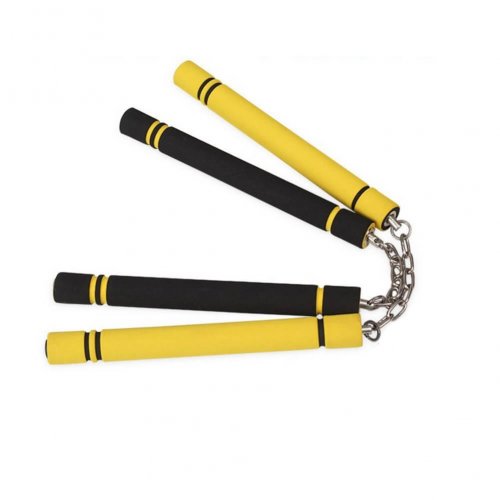 Stainless Steel Chain
Rubber Core
Foam Grip
Great for Kids
Jaswass is an online storefront with an interesting mix of items. Having some crafts, kids puzzles, and various rubber band guns, they also have some training nunchucks thrown into the mix. These professional nunchucks are advertised for kids, but also make for a great set to practice martial arts with.
Read more
Rubber Core
These nunchakus are made up of safe and low-cost materials. The sticks are a rubber core covered in a soft, elastic foam making for a safe and noncostly training option. The foam also serves as the grip of the stick, giving a comfortable but firm hold on the weapons. The rubber makes the sticks less rigid but can add to the weight of them, making for a more realistic training session than others.
Stainless Steel Chain
The sticks are attached to each other by a length of stainless steel chain. Stainless steel is a household metal for particularly its resistance to rusting and its ease of production. This chain will not only hold up against the elements but will not break during use, which can cause a rogue stick to fly unpredictably through the air. Ultimately the chain works by preventing injury to someone or damaging a valuable item.
Cost and Value
These training nunchucks fall in the low-end cost of the buyer's guide pricing scale. Not only are they made up of low-cost material, but they are also of simple and safe construction. Despite being a bit shorter than most standard-sized nunchaku, this makes it an even greater gift for aspiring youth.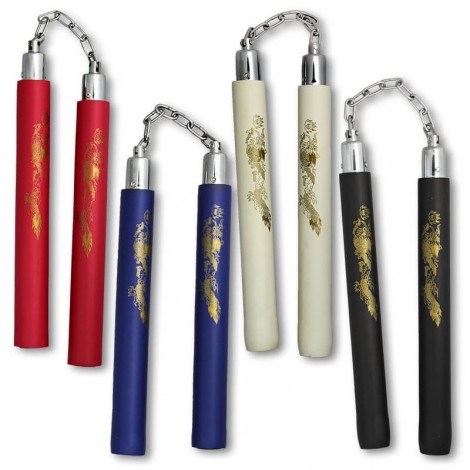 Affordable
Multiple Uses
Color Choice
Child Safe
Goldenvaluable is an online vendor along the lines of a thrift shop. Selling all kinds of odds and ends like crafts, flashy pen sets, and seashells, they have a little bit of everything. Included in their vast inventory is a set of practice nunchucks. Aimed at the beginner with the purpose of safety this set is an affordable option for multiple purposes.
Read more
Safe for Training
This set of training sticks can be used for a variety of purposes. Being made of the typical foam encased plastic core, these make for a great offensive and defensive practice tool, keeping you and your sparring partner safe. Their affordability makes them an acceptable cosplay item as well!
Speed and Agility
Not only are they great for defensive training, but they also make for a great tool to improve your speed and agility. Speed and agility are important aspects of martial arts, and Karate is of no exception. Nunchucks are often used in martial art for less self-defense and more for improving reaction and execution times. These sticks lightness demand more control and will surely help improve that very thing.
Cost and Value
These pairs of beginner nunchucks are the best value on our guide. Being the most affordable item in a group of already affordable items is a particular bargain. Adding into the mix its multi-purpose uses such as martial arts training and cosplay increase its value greatly for all the more it is priced at.
Scaled Down
Kid Safe
Affordable
Rope Cord
Jaswass, the online vendor, makes our list again with a very similar offer as before. However, this entry has a couple of distinct differences. Instead of using a metal chain in their weapons design, they have swapped it out, substituting metal for a rope of sorts. It is also intended for the younger crowd of fighter.
Read more
Rope Cord
Most nunchucks use a metal type of chain as a connecting device. In this set, Jaswass took out the one material that restricts certain age groups from using their other model. By using rope, practitioners of any age can use them for practice and play without anyone worrying about most kinds of damage.
Intended for Children
Most nunchaku sticks are around 12 - 13 inches in length. However, this scaled-down variant measures at about 9.8 inches in length. This size makes it most suitable for youth, hence the swapping of the chain in favor of the rope. The standard length will be too long for smaller hands, and the scaling down from the norm remedies that problem.
Cost and Value
The Jaswass Rope variant sits on the low end of the pricing scale. Being on the low end of pricing makes it affordable even for the trainer with a tight budget. Intended for the young fighter, parents need not worry about the safety of their children or their belongings. A worry-free, great value.
5

. KidsHobby Martial Arts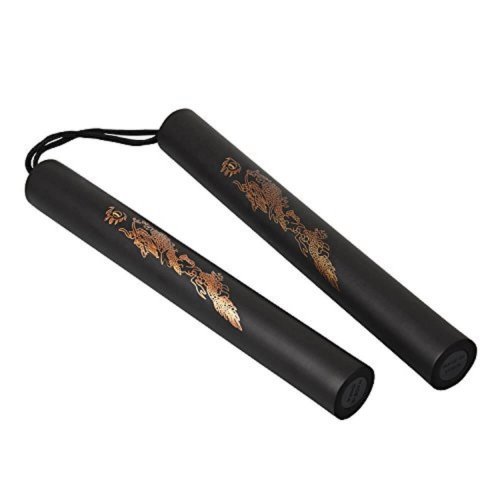 Child Safe
Affordable
Rope Cord
Great for Cosplay
KidsHobby is an online vendor whose inventory is child oriented. Consisting of puzzles, books, and youth martial arts training gear options, they have a little bit of everything for kids hobbies. Among their martial arts selection is a safe and affordable nunchaku option for the young aspiring Karate master.
Read more
Soft Foam Stick
This child-oriented nunchaku is completely safe. The sticks are made out of a plastic core, covered in a thick wall of soft foam. Connecting the sticks is a cloth rope, instead of the typical metal chain making it even safer for children. The scaled-down size makes it suited only for children, however, this makes it an even more assured choice from a parent's perspective.
Great for Training
Not only do these authentic nunchucks make a great child-friendly toy, but they are also suitable youths martial arts weapons for training. The soft nature of the sticks allows youth to improve not only their offense and defense but reflexes as well. Additionally, the removal of the chain ensures the kids won't be injuring each other on a regular basis.
Cost and Value
KidsHobby offers an extremely affordable pair of nunchucks for the youth of any age. If you are a parent with a young one in a martial art, this is a good selection for you and your kids alike. It will most assuredly keep them safe in the gym and at home as it also makes a great toy. Spending a little to save a lot of money, in the long run, is a value best considered.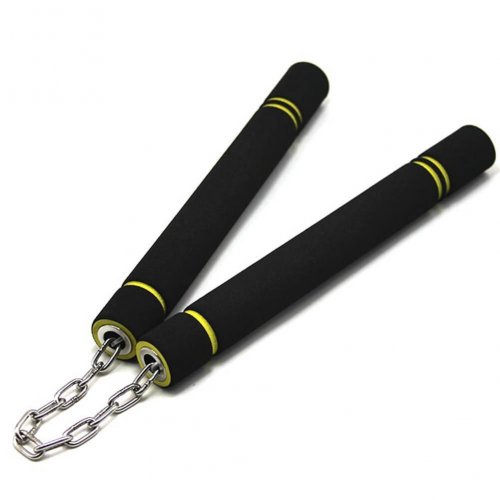 Steel Chain
Soft Foam
Plastic Core
Safe
HIJK is another online vendor with a thrift store type of storefront. They basically sell odds and ends that follow no particular theme. In their seemingly random inventory, they have a set of nunchucks. For both regular practitioners and beginners, this set of nunchucks are another safe training variant.
Read more
Foam Grip
These set of nunchaku have a foam outer layer that doubles as its grip. Most training nunchucks have a kind of rubber-like finish that could result in slipping. However, this foam is unfinished and keeps a porous surface, that not only increases grip but also decreases hand sweat.
Metal Chain
The chain connecting the sticks is made of stainless steel. Favoring durability over complete and total safety, this item is better suited for adults and teens. Its durability prevents any unwanted breaking. Stainless steel is not only durable, but it is also rust-resistant, preventing the metal from becoming unsafe and unsightly.
Cost and Value
This item sits in the mid-range on our pricing scale. It uses some better quality materials in its design, like a stainless steel chain, and its soft foam also doubles as a grip and even further serves to make the sticks look nice. It's an affordable set even for a beginner on budget despite having to shell out a couple of extra bucks for its quality.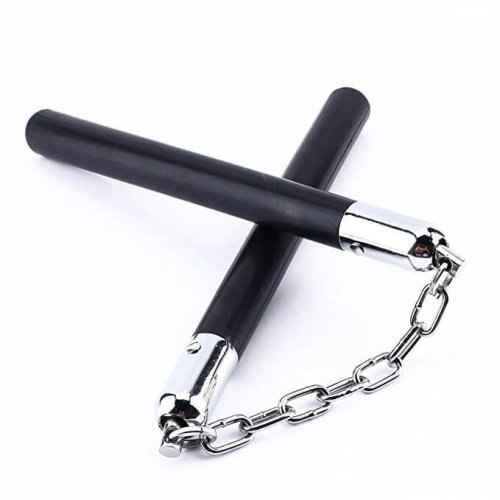 Solid Rubber
Steel Chain
Durable
Realistic
Studyset is another online vendor that sells mostly apparel on its online store. They also have a hand in dealing with accessories such as watches and even latex Halloween masks. Chosen from their selection is a set of rubber nunchaku. A unique feature on our list, these best practice nunchucks are another affordable training option.
Read more
Solid rubber
The sticks of the nunchuck are made completely out of rubber. Rubber is cheap and easy to make in large quantities, which undoubtedly denotes its low cost. The rubber is flexible, allowing you to bend the stick in half without breaking it or sacrificing its original form. Rubber is also training safe, albeit a lesser safe option than foam.
Durable
Not only is rubber cheap and safe, but rubber is also durable. Rubber will hold up much longer against bag training when working on your strikes than its foam counterpart will. Linked together by a steel chain, the rubber sticks are not the only durable material present on these weapons.
Cost and Value
Studyset is among the pricier options, sitting in the high end of the pricing range. However, do not let that turn you away. Despite having landed there on the scale, it is still an affordable option for someone on even the tightest of budgets. Additionally, the materials make this the most durable option on our list as well. For spending more, you get a higher quality value.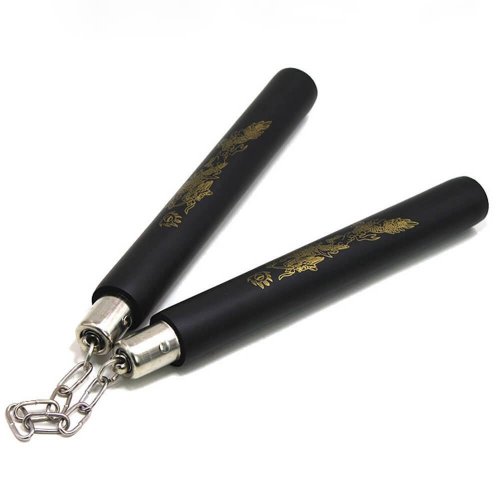 Carrying Bag
Safe
Affordable
Great for Beginners
A-Parts, like most of the other vendors on this list, is a thrift store-like vendor. Offering a great range of inventory from diving masks, temporary tattoos, and even training nunchucks, this thrift store also seems to not have a particular theme to their stock. Their nunchaku is not particularly unique, but it does come with an additional and useful bonus, a carrying bag.
Read more
Safe for All
A-Parts sells your typical nunchaku. Its constructed out of safe and cheap materials such as plastic, foam, and rubber as a thin surface coating. Its stainless steel chain will prevent any unwanted random breakings to cause a stick flying in any random way. This reduces broken belongings and unnecessary injury.
Carry Bag
This offer comes with a simple carrying bag. Its drawstring design is simple but effective, keeping your nunchucks safe and in the bag, and also makes it easy to carry. The material is fine enough for the likes of a blunt object, making it perfect when used for nunchaku. Included without affecting the cost, this is a great feature of this selection.
Cost and Value
Despite not being all that different from the other options on the list, this one of the cheaper options. These are fine practice nunchucks for beginners and some older children, so the price is great for that alone. However, factoring the inclusion of the carrying bag for free, and this offers value increases greatly.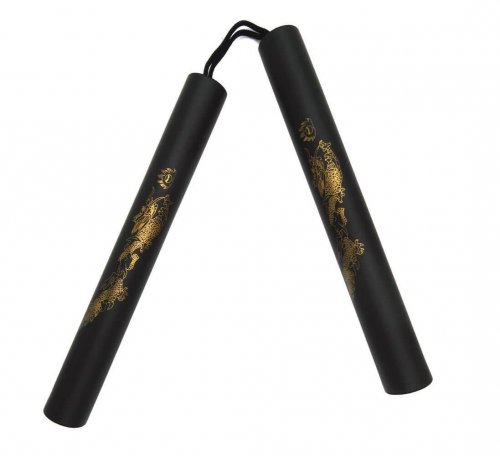 2 Sets
Training Safe
Kid Safe
Affordable
Shovan is yet another online vendor. Shovan has an inventory of useful little home essentials, like cookware accessories and special socks for cracked and dry feet. The theme appears to be attempted at useful accessories. Also in their inventory of useful items is a set of training nunchucks that are two for the price of one.
Read more
Standard Training Model
Here we have another selection of training nunchucks that doesn't deviate too far from the average norm. The sticks are a simple rubber core with a soft foam surface wall connected by a cloth type of rope. These will do just well as a set of training nunchaku, whether it is for speed or offense training.
Two Pairs
For no extra charge, Shovan includes a second set of the same nunchaku. This can equip a friend, making him or her your new sparring partner, or re-equipping a forgetful one. Or perhaps you're very skilled with a single set of nunchuck and want to take it to the next level and be more like the Ninja Turtle best known for his dual nunchucks skill? With this selection, you can do all of these things.
Cost and Value
Not only does this offer sit in the low tier of the pricing scale, but the second set included for free also makes this an excellent bargain. Costing the same price as some of the other options on the list makes it reasonable on its own. However, including the second set for free puts it high up there on our valuable list. A must-have for a couple going into a martial art together for the first time ever.
10

. Royal Union Martial Arts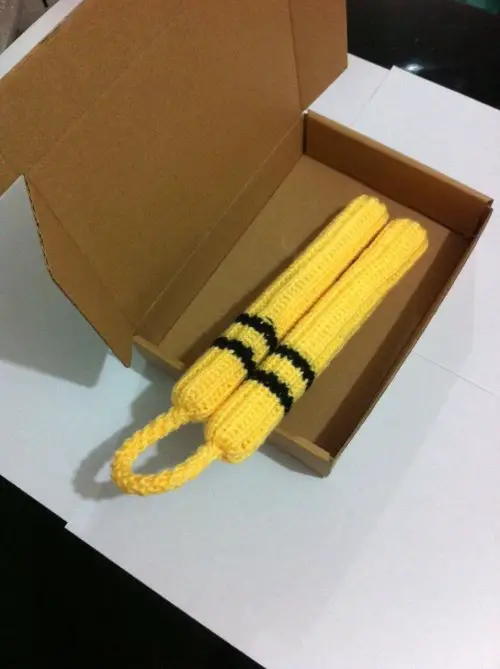 Wool Sleeve
Training Variant
Great for Showmanship
Affordable
Royal Union is another online vendor that has an interesting nunchuck for sale. Looks are deceiving here, as this is a training set of nunchucks that are covered in a wool sleeve. This sleeve encases the entire set of nunchucks. It looks as though it is only a fully-knitted knock-off of an original thing, however, this is not the case with this selection.
Read more
Wool Sleeve
This set of training item is encased in a wool sleeve. Even the chain is covered in the sleeve that appears to be knitted. The yarn serves as an added protective layer, as the nunchucks underneath are a training variant of nunchucks. The yellow wool look can also be a great option at a possible performance where you might want your weapon to look flashy.
Good Training Option
This item is lightweight and soft. These two factors make for a great training option. The addition of the wool serves an additional preventative method from injury which can make it safe for sparring. Its lightweight can make for a good speed and endurance training option.
Cost and Value
This wooly set of sticks falls on the higher end of the pricing scale. That is most attributed to the craftsmanship of the wool sleeve, as knitting can take a great length of time to complete. The actual item inside fo the casing in your typical training nunchaku. This option is a great choice for custom flashiness.
Criteria Used for Evaluation
Materials
The materials used in the development of literally everything can speak volumes about what they are going into. Not only can one sometimes derive how an item functions, but the materials tell more of how well it functions. They can also help one understand better how much an item may cost by knowing how much the material in question costs to harvest and produce. In this section, we will go over the various materials found in a variety of nunchucks.
Wood
This is the most typical material used in a standard set of nunchaku. This material is derived from trees most known for their yield of very hard and sturdy wood. When the sticks are made of wood, the weapon becomes dangerous and can be potentially lethal. This makes them completely illegal in certain states and countries, others limiting their usage to gyms.
Metal
The material normally found in the use of chains. Chains are used to connect the ends of the sticks to one another. Metal chains are even sometimes found in the soft foam training variants. Additionally, some sets of nunchucks sticks are made entirely out of steel, making for a rather weighted pair. These variations are used to further enhance speed and agility, but can also make for an extremely lethal defensive weapon.
Rubber
Rubber is a material that is low in cost to produce and is most notably used in the production of car tires. Rubber is used in a number of ways in the construction of this weapon. In most training versions, rubber makes up the stick of the weapon and is then encased in soft foam. Some models stick are a simple stick of solid rubber without the foam. Some training versions have a thing layer of rubber covering the foam to give a sleek look without the compromise of the item's safety features.
Plastic
This material can be found in the construction of the core of the stick. Training variants occasionally use plastic in place of rubber in the construction of the sticks. Like rubber sticks, the plastic often is covered in soft foam to make them safe for sparring practice. Plastic is also known to be low in production costs and can make a set cost an affordable amount of money.
Foam
Another low-cost material typically found in the training variants of this weapon. Its inclusion is almost always indicative of being suited for training purposes, as it is almost always a very soft and nonabrasive material. In some cases, the foam is left unfinished without a coat of paint or thin rubber and can serve as an extra grip measure. In a lot of cases, the foam can make them potentially safe for kids to practice with.
The rope is often used in place of metal in the linking of the nunchaku sticks. This typically makes the sticks safe for children to practice and even regularly play with. Cloth allows the weapons to swing around much more freely than its chained counterpart but is less durable on the flipside. The rope also helps lower the cost of the item in a lot of cases. This option can also make for great cosplay items.
Use
Although there is a lot of debate about the historical use of nunchaku, today there are a number of known uses for them. Most of them existing entirely in the world of martial arts disciplines. Martial arts like Karate and Hapkido still teach the techniques necessary to wield these weapons. Even today, they still see a lot of different uses just inside of the facet alone. There are other numbers of uses for them, and going over some of them can better give an idea of what kind of nunchucks you might need to consider.
Types of Nunchucks Uses
- Speed and Agility Training
In most cases, nunchucks are used to improve certain general aspects of fitness in martial arts. Like most martial arts, you want to be faster and stronger for longer periods of time. Nunchucks can provide speed and agility aspects quite easily. Swinging these weapons around for an extended period of time, in a rhythmic pattern can only be done effectively if you are fast enough to do it. Not only do they improve your speed and agility, but they can also improve your reflexes and reaction time. These features are key aspects of Karate.
- Offensive and Defensive Training
Nunchaku can make reliable weapons in a combat situation. Some schools teach the techniques that can turn these sticks into weapons. In these cases, you are going to use a training version with a soft surface to almost completely reduce the risk of injuring your partner, or you get injured by them. In these situations it may serve you better to have a metal chain as the connecting link, as they are less likely to break on you, causing potential harm in an unpredictable way.
- Cosplay
Cosplay is a popular trend of today where one dresses up as a character of one's own choosing. Often being fantastical and almost always of fictitious origin, cosplay is typically a fun event where many people of this kind gather, dressed as their favorite superhero or villain. Cosplay is basically Halloween but for adults and kids alike, and also on days that are not at all October 31st, though some cosplay events are held on this day. There are several iconic users of nunchucks in popular culture, including Bruce Lee, Michaelangelo the Ninja Turtle, and even the comic hero the Daredevil. These characters, as well as the convention's popularity, makes this a topic worth mentioning.
Expert Interviews & Opinions
Most Important Criteria
(According to our experts opinion)
Experts Opinion
Editors Opinion
Users Opinion
By Default
Why nunchucks?
If you are looking to improve your speed and quick hand movements, nunchucks are the right piece of equipment for the job.
Hand Eye Coordination
Hand-eye coordination is highly improved with the use of nunchucks. Hand-eye coordination is important in martial arts because it allows you to track movements quickly which allows you to block potential blows coming your way!
Other Factors to Consider
Bottom Line
Having gone over what we believe to be the most important facets in determining what makes the best set of nunchucks around, you should be ready to make your next martial arts purchase. It is important to know what goes into the products you are buying, not only for safety reasons but for making a better call on how it may serve you and how well it does that. In the end, being better-informed can save you time and money, both being extremely important despite being important for completely different reasons.
Frequently Asked Questions
q:

What is the standard size for each stick?

a:

The standard size for a nunchucks stick is around 12 to 13 inches. This is a measurement better suited for an adult practitioner. There are variations in length in a lot of different selections online. Be sure to check if the vendor has the lengths posted.
q:

Are there versions that are safe for my child?

a:

Yes. Although most of the training versions on our list are safe for kids of most ages, there are still some that are better suited for an older child. Nunchucks that feature a rope link, as opposed to a metal one, is a much safer option for even the youngest of the aspiring fighter.
q:

Is there an affordable option for a fighter on a tight budget?

a:

There sure is. Even the highest-priced option on our buyer's guide is what most would consider affordable. In light of this, even the fighter on the tightest of all budgets can afford some of the options that sit in the lower end of our pricing scale.
q:

Is it illegal to own nunchucks?

a:

It depends on the location. Some states in the USA, as well as some other countries, have entirely restricted the possession of nunchucks due to their potentially lethal nature. However, other places have only limited their legal use, making them legal inside a martial arts gym.
q:

Can I use nunchucks for simple fitness?

a:

Yes. Some fitness gyms implement a very simple use of nunchucks in their cardio routines that do not at all require the practice it takes to wield them like a karate master. A cheap set will do just fine for this particular endeavor, as it is very light usage.
q:

Do they have any options for showcasing events?

a:

Yes. In the event of a performance that is meant to simply showcase the sleek techniques of Karate or other martial arts, most will want a kind of nunchuck that is easy to see from a distance. In this case, the metallic finish or bright color will be what you will want most. On our list is even a wooly option, giving any nunchuck a unique look.
Subscribe to our Newsletter