Best Nunchucks & Nunchakus Reviewed for Training
last updated:
Apr 28, 2020
There are quite a few martial arts that have one level of focus or another on the use of weaponry. There some schools that use only one weapon, such as Kendo or Iaido. Kendo uses only a katana or the wooden variant known as a Bokken. Meanwhile, Iaido does not have a focus on sparring and uses real swords, showing only the art of handling the blade. Martial arts such as Karate, Escrima, and Hapkido are known to use a variety of weapons on top of their unarmed focus, with weapons ranging from throwing weapons, nunchaku, and even bo staffs. Our experts at Fighting Report tested, reviewed, and rated 10 of the best nunchucks on the market so you can make an easy choice by reading our reviews of top products.
In a Hurry? The test winner after 4 hrs of research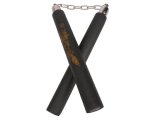 Sensei David Practice
Why is it better?
Safe for Training
Instructional Videos
Child Safe
Affordable
In a
Hurry? Editors choice: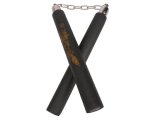 Test Winner: Sensei David Practice
Materials
Speed
Use
By Default
10 Best Nunchucks for Training Reviews
Criteria Used for Evaluation
Materials
The materials used in the development of literally everything can speak volumes about what they are going into. Not only can one sometimes derive how an item functions, but the materials tell more of how well it functions. They can also help one understand better how much an item may cost by knowing how much the material in question costs to harvest and produce. In this section, we will go over the various materials found in a variety of nunchucks.
Wood
This is the most typical material used in a standard set of nunchaku. This material is derived from trees most known for their yield of very hard and sturdy wood. When the sticks are made of wood, the weapon becomes dangerous and can be potentially lethal. This makes them completely illegal in certain states and countries, others limiting their usage to gyms.
Metal
The material normally found in the use of chains. Chains are used to connect the ends of the sticks to one another. Metal chains are even sometimes found in the soft foam training variants. Additionally, some sets of nunchucks sticks are made entirely out of steel, making for a rather weighted pair. These variations are used to further enhance speed and agility, but can also make for an extremely lethal defensive weapon.
Rubber
Rubber is a material that is low in cost to produce and is most notably used in the production of car tires. Rubber is used in a number of ways in the construction of this weapon. In most training versions, rubber makes up the stick of the weapon and is then encased in soft foam. Some models stick are a simple stick of solid rubber without the foam. Some training versions have a thing layer of rubber covering the foam to give a sleek look without the compromise of the item's safety features.
Plastic
This material can be found in the construction of the core of the stick. Training variants occasionally use plastic in place of rubber in the construction of the sticks. Like rubber sticks, the plastic often is covered in soft foam to make them safe for sparring practice. Plastic is also known to be low in production costs and can make a set cost an affordable amount of money.
Foam
Another low-cost material typically found in the training variants of this weapon. Its inclusion is almost always indicative of being suited for training purposes, as it is almost always a very soft and nonabrasive material. In some cases, the foam is left unfinished without a coat of paint or thin rubber and can serve as an extra grip measure. In a lot of cases, the foam can make them potentially safe for kids to practice with.
The rope is often used in place of metal in the linking of the nunchaku sticks. This typically makes the sticks safe for children to practice and even regularly play with. Cloth allows the weapons to swing around much more freely than its chained counterpart but is less durable on the flipside. The rope also helps lower the cost of the item in a lot of cases. This option can also make for great cosplay items.
Use
Although there is a lot of debate about the historical use of nunchaku, today there are a number of known uses for them. Most of them existing entirely in the world of martial arts disciplines. Martial arts like Karate and Hapkido still teach the techniques necessary to wield these weapons. Even today, they still see a lot of different uses just inside of the facet alone. There are other numbers of uses for them, and going over some of them can better give an idea of what kind of nunchucks you might need to consider.
Types of Nunchucks Uses
- Speed and Agility Training
In most cases, nunchucks are used to improve certain general aspects of fitness in martial arts. Like most martial arts, you want to be faster and stronger for longer periods of time. Nunchucks can provide speed and agility aspects quite easily. Swinging these weapons around for an extended period of time, in a rhythmic pattern can only be done effectively if you are fast enough to do it. Not only do they improve your speed and agility, but they can also improve your reflexes and reaction time. These features are key aspects of Karate.
- Offensive and Defensive Training
Nunchaku can make reliable weapons in a combat situation. Some schools teach the techniques that can turn these sticks into weapons. In these cases, you are going to use a training version with a soft surface to almost completely reduce the risk of injuring your partner, or you get injured by them. In these situations it may serve you better to have a metal chain as the connecting link, as they are less likely to break on you, causing potential harm in an unpredictable way.
- Cosplay
Cosplay is a popular trend of today where one dresses up as a character of one's own choosing. Often being fantastical and almost always of fictitious origin, cosplay is typically a fun event where many people of this kind gather, dressed as their favorite superhero or villain. Cosplay is basically Halloween but for adults and kids alike, and also on days that are not at all October 31st, though some cosplay events are held on this day. There are several iconic users of nunchucks in popular culture, including Bruce Lee, Michaelangelo the Ninja Turtle, and even the comic hero the Daredevil. These characters, as well as the convention's popularity, makes this a topic worth mentioning.
Expert Interviews & Opinions
Most Important Criteria
(According to our experts opinion)
Experts Opinion
Editors Opinion
Users Opinion
By Default
Why nunchucks?
If you are looking to improve your speed and quick hand movements, nunchucks are the right piece of equipment for the job.
Hand Eye Coordination
Hand-eye coordination is highly improved with the use of nunchucks. Hand-eye coordination is important in martial arts because it allows you to track movements quickly which allows you to block potential blows coming your way!
Other Factors to Consider
Bottom Line
Having gone over what we believe to be the most important facets in determining what makes the best set of nunchucks around, you should be ready to make your next martial arts purchase. It is important to know what goes into the products you are buying, not only for safety reasons but for making a better call on how it may serve you and how well it does that. In the end, being better-informed can save you time and money, both being extremely important despite being important for completely different reasons.
Frequently Asked Questions
q:

What is the standard size for each stick?

a:

The standard size for a nunchucks stick is around 12 to 13 inches. This is a measurement better suited for an adult practitioner. There are variations in length in a lot of different selections online. Be sure to check if the vendor has the lengths posted.
q:

Are there versions that are safe for my child?

a:

Yes. Although most of the training versions on our list are safe for kids of most ages, there are still some that are better suited for an older child. Nunchucks that feature a rope link, as opposed to a metal one, is a much safer option for even the youngest of the aspiring fighter.
q:

Is there an affordable option for a fighter on a tight budget?

a:

There sure is. Even the highest-priced option on our buyer's guide is what most would consider affordable. In light of this, even the fighter on the tightest of all budgets can afford some of the options that sit in the lower end of our pricing scale.
q:

Is it illegal to own nunchucks?

a:

It depends on the location. Some states in the USA, as well as some other countries, have entirely restricted the possession of nunchucks due to their potentially lethal nature. However, other places have only limited their legal use, making them legal inside a martial arts gym.
q:

Can I use nunchucks for simple fitness?

a:

Yes. Some fitness gyms implement a very simple use of nunchucks in their cardio routines that do not at all require the practice it takes to wield them like a karate master. A cheap set will do just fine for this particular endeavor, as it is very light usage.
q:

Do they have any options for showcasing events?

a:

Yes. In the event of a performance that is meant to simply showcase the sleek techniques of Karate or other martial arts, most will want a kind of nunchuck that is easy to see from a distance. In this case, the metallic finish or bright color will be what you will want most. On our list is even a wooly option, giving any nunchuck a unique look.
Subscribe to our Newsletter