Best Odor Neutralizers for Gross Gym Bags Reviewed
last updated:
Mar 30, 2020
As far as conventional science is concerned, sweat is a sign of good health. When the bacteria that have made a home on your skin forage on it the result is a wild cocktail of smell we call body odor. In nature, it is your signature, since individuals have a unique smell about them. However, things like puberty, specific health conditions, and an active sporting lifestyle can make your body odor noticeable and in certain situations, unpalatable.
When body odor becomes a stink, it follows you everywhere you go, on your body, gym equipment, clothes, shoes, socks, furniture, car upholstery, virtually on everything you own. Suddenly no one wants to be around you, forget the hugs many people would not even shake hands. Do not quit society because of a common problem; here are the odor neutralizers to remedy this condition.
This is the best product on our list that is currently in stock: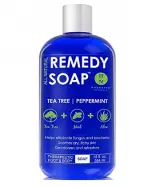 Remedy Antifungal soap
Why is it better?
All natural
Eliminates the root cause at a physiological level
Works in support of topical creams
In a
Hurry? Editors choice: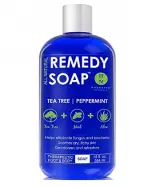 Test Winner: Remedy Antifungal soap
3
Researched Sources
Safety Hazards
Effectiveness
Use
Ease of Use
By Default
Best Odor Neutralizers
Made from natural ingredients
Fast action
affordable
Not recommended for mouth guards
Back in 2008 one man's frustration with his hockey equipment stinking up his dorm room led him to start Raw Athletics, the company behind "vapor fresh" and other detergents. Fast forward a decade later, vapor Fresh Natural Cleaning and Deodorizing Spray still deliver freshness without corrosive that irritate the skin or destroy sporting equipment and clothing.
Read more
Vapor fresh is perfect for all your sports equipment whether they be gloves, trainers, bags, helmets, pads, mats, trainers and much more. It leaves everything fresh and ready for use.
It is effortless to use, spray on any of your sporting equipment including shoes and pads. Let it air dry for a period of between 10 minutes and 15 minutes, to increase your comfort and effectiveness. Your gear will be completely odor free and so fresh you will want to get back to your sporting activity or workout routine. Since" Vapor fresh's" formulation consists of natural products, there are no worries about harmful toxins and chemicals exposure on your skin. It also has the added benefit of acting as a leave-on spray so you can walk around feeling fresh and clean in your gear.
Vapor fresh is an American product approved by the FDA and has met all the high standards without any animal testing during its development phase. Vapor fresh's formulation includes natural essential oils like; lavender oil, Ho wood oil, tea tree oil and has internationally approved preservatives.
2

. Remedy Antifungal soap
All natural
Eliminates the root cause at a physiological level
Works in support of topical creams
Does not come with refills
The challenge with body odor does not lay in only using sprays to neutralize or hide unpleasant odors. It also involves proper hygiene and at times taking proper hygiene further than you have. Remedy antifungal soap eliminates all the fungi and bacteria on your body and even works against the bacteria found on gym equipment, floors, and surfaces.
Read more
Just use it like you would any other body wash, and you could dilute it a bit and wipe down your gym equipment and surfaces. It is guaranteed to wash away bacterial related body odor caused by excessive sweating and any skin condition that affects the skin like ringworms, acne, rashes, yeast infections, nail fungus, athlete's foot, and many others.
Remedy antifungal soap is a natural and organic product, made from concentrates of tea tree oil, Aloe Vera, rosemary, and mint for their anti-bacterial and anti-fungal properties. It also contains Jojoba oil, coconut oil, and olive oil, which leave your skin hydrated and supple after each revitalizing shower.
It is an excellent product since it attacks and eliminates the root cause of body odor not just masking it. Use it as a daily wash and body cleaner for the best results.
3

. Gear Aid Odor Eliminator
Works on every type of fabric.
Biodegradable
Leaves no residue or buildup on fabric
No added dyes or fillers
Viable for 72 hours on dilution
Some concentrations can damage fabrics
If you are familiar with the awkwardness that comes when someone asks, "what's that smell?" then Revivex Odor Eliminator is what you need. It is a powerful, concentrated, and natural formula, which works well in eliminating body odor from your gym equipment, sports gear, shoes, and wetsuits. It even works of smells pets, tents, and your kid's messes.
Read more
Revivex Odor Eliminator is so powerful that even if you had a run in with a skank, it would have your back. It contains a powerful blend of water activated microbes that eliminate all bacteria that cause odor. It can be applied, be sprayed, or used to soak your gear, it's also washing machine safe so you can use it all year round no matter the season. This formulation's versatility allows you to use it practically on any fabric even water resistant ones like Lycra and neoprene. It is not just an odor eliminator but also a powerful cure-all detergent. There is no reason for mildew, tough stains, body odor, and other nasty smells ruin your precious gear.
It comes in a variety of sizes to boot; 10 oz. Pouch, 2 oz. Bottle, and 12 oz. bottle (previously known as Mirazyme). You should use it within 72 hours of diluting with water.
4

. Fresh Wave Odor Removing Spray
GMO-Free
Safe for children and pets
Comes with refills
Boasts of being able to keep you fresh all day, it does not just cover up odor it eliminates it using simple, pure and natural ingredients. Whether they are on your gym equipment, bags, bedding, your dog's favorite spot on the couch, shoes or garbage cans directly spray them away.
Read more
Fresh wave Odor Removal spray is very easy to use, spray it where the offensive odor is, and it goes away. Being a non-toxic, GMO-free, and natural product, there is no danger to your clothes, pets, or even kids. It comes with the benefit of a fresh smell and no undertones of the offensive odor; this is especially good for athletes and gym-heads that are always soaked in sweat.
A little fresh wave goes a long way; you do not need to spray a lot; just a dab will do in most cases. You can also wipe down gym equipment using a cloth. Spray it on your helmet, gloves, trainers, jerseys, literally any sporting equipment. In cases of frilly fabric like silk test, spray a small area before to avoid causing a water dab look. If you have a pet, spray it where they make their messes, a fresh wave comes real handy when you have cats or dogs that are like to assert themselves in your house by using urine to mark their territory.
Fresh wave odor removal spray is all natural, GMO-free, non-toxic, it has met international and FDA requirements without animal testing. It is made using pure, unadulterated, and natural ingredients: water (purified through reverse osmosis) and a holistic blend of patented ingredients including; natural extracts of lime, Cedar-wood, pine wood, anise oil. It contains permitted preservatives and a proprietary compressed air propellant that is O-zone gas free and meets the highest EPA standards and reviews.
5

. Tea Tree Oil Body Wash
A powerful infusion of essential oils
Works in conjunction with other topical treatments
Safe for Sensitive Skin
limited to use in the bath or shower
doesn't come with refills
From Purely Northwest a well-known and trusted brand the world over who have always delivered on their promise of quality and natural products that have always promoted healthy skin and nails. Antifungal Tea Tree Oil Body Wash is made using the best ingredients sourced from the USA, it is safe and works on every skin type
Read more
Antifungal Tea Tree Oil Body Wash Is an extra strength formulation. It contains powerful skin enriching botanicals that have been in use for many decades for their holistic antibacterial and antifungal qualities, which cleanse fungi and bacteria that cause body odor, skin and nail conditions.
Just pour a little on a wash a bathing cloth or sponge, lather up, and let it sit there for a short period before rinsing. For best results, give your body a proper scrub. You can also wipe down surfaces and equipment using a cloth to leave them germ-free and smelling fresh and clean, ready for the next use. It works very well as a shampoo. Great for athletes, gym-head and active teenagers for daily use as a body wash and shampoo. It can also be used to together with other topical treatment for skin conditions like jock itch ring worn or acne, without affecting the efficacy of said treatment.
It Is a rich infusion of natural, organic ingredients from renewable sources. Its components include Aloe Vera, oregano, peppermint, eucalyptus tea tree oil, Atlantic sea kelp, vitamins A, B, B2, C, D, and E. It also contains other stabilizing oils that soothe the skin and leave it supple to the touch and healthy
6

. Sweat X Sports Odor Eliminator Spray
No washing required
Eco-friendly
Safe for use on all fabrics
Made especially for athletes
Gets rid of the odor
No unscented version available
Sweat X Sports products are made with the athlete and fitness buff in mind. Regular detergent products cause residual build up that clogs the pores of fabrics, which in turn trap odor and encourage bacterial growth. Sweat X Sport products work well with activewear because it sprays right through the material.
Read more
It works on even the tightest knit fabrics when you spray it goes right through the material, eliminating odor-causing bacteria. It contains no pigments and fillers so there is no reason to wash your gear or clothing. Spray the odor away and get back to your game or workout.
It is best to use Sweat X Sports eliminator spray when the item of clothing is still damp with perspiration. Just spray it down and let it air dry, for the maximum effect, spray until the item of clothing is wet to the touch. You can also buy Sweat XSports Laundry Detergent for items that have persistent smells for overnight soaking.
7

. Hero Clean odor Eliminator spray
Eliminates Odor and Prevents Its Return
Probiotic Refresher for Longer Term Odor Control
Also an excellent laundry odor pre-treater
Easily corrodes some fabrics if concentrated
Hero Clean Odor Eliminator Spray is a 3 in one product; it controls odor immediately and continuously, eliminates pet odor and eliminates air odor. It also has a manly scent of gin, rather than say a flowery smell.
Read more
Hero Clean odor eliminator spray Geared towards guys and their gear. Its patented blend mixed with juniper essence merge perfectly to eliminate the male musk and that you can smell in very sweaty people. Taking guys from ripe to fresh in just a squirt of a spray
You can use it on clothes, gym gear, shoes, towels, car upholstery, your pet's bed, and anywhere that is not so fresh. Hero clean also works very well pre-laundry to get rid of any deep-rooted guy odor. To apply simply spray on the offensive item while holding the bottle 6-8 inches away. Spray to dampness, air out to dry.
Hero clean odor contains "scent 1" which is based on juniper, which is widely used in flavoring Gin, which a large number of guys would smile at realizing. Well, the resultant smell of Hero clean is fresh and clean and not flowery, which again is something that a guy would smile at recognizing.
8

. Nok-Out Odor Eliminator
Multi-purpose
Does not pollute the air
Removes stains
Usable on almost any surface
They could have put it in better packaging
The fragrance might not appeal to everybody
Strong things come in tough looking packages; the same true with this product. Nok-Out Odor Eliminator does not care; if you just went on a 10K jog. If you just moved into a house that previously owned by a chain. If your dog has come home after a run-in with a skunk. It will permanently Nok-Out that odor.
Read more
It is powerful, non-toxic, and is designed in a way that does not cause air pollution. It is quite easy to use. You merely spray it on the surface or item of clothing that has the offensive scent, from a distance of 1- 2 ft. Consequently, before it is even dry the smell will be gone. You can also spray it in the air as you would an air freshener.
You can feel free to use it liberally since it comes with large refills that you could buy in bulk the next time you go shopping.
9

. Mini Moso Natural Air Purifying Bag
Odorless
Contains zero chemical compounds
Can be recycled as a fertilizer after use
2-year effectiveness
Expensive compared to other neutralizers
Occupy physical space
Mini Moso purifying bags are a great alternative to using sprays. They are work by completely neutralizing odor and not just masking the scent with a fresher smell. This product helps in conserving the environment since it is made from 100% renewable Moso bamboo charcoal.
Read more
They are simple and convenient to use on your shoes, gym bag, closet, travel bag, and sporting equipment, by just placing the bags on the equipment. Moso bags work very effectively and continuously absorb all moisture and remove not only odor but also allergens, fungus, and other harmful pollutants. They also are so effective that they deal with any persistent odor around them and can work on cigarette smoke, your pets' messes, paint fumes, virtually any smell within the vicinity of a Moso bag.
The incredible thing about Mini Moso bags is that they are made from just one natural ingredient, bamboo charcoal prepared to form the Moso, which is the finest in the world. The bamboo is cut down and laid down to dry for a few weeks. It is then baked at a temperature of 750 degrees in the absence of oxygen; this creates millions of tiny pores in the charcoal. These pores are what trap moisture near the mini Moso bags.
For continued effectiveness place the bags in the outside even once a month even if it is cloudy to rejuvenate it. Mini Moso natural purifying bags deliver protection from odor for two years.
10

. ZORBX Multipurpose Odor Remover
UNSCENTED
MULTIPURPOSE
WORKS INSTANTLY
NO HARSH CHEMICALS
ZORBX Unscented Multipurpose Odor Remover works instantly and is; reliable, safe for pets and kids, has no harsh chemicals, fragrances, or nauseating perfumes in its formulation. It was created by a nurse and held in very high regard for its efficacy and universal care.
Read more
ZorbX is guaranteed to deal with even the most tenacious of odors, instantly. Whether it is body odor, smoke odor, chemical odor or pet odor, this product will deal with it at the molecular level by breaking down and carrying off the toxins or bacteria that cause it.
It is as scentless as water, hypoallergenic and contains no toxic compounds in it. Meaning, people with asthma can also use it. It is even safe to use around children and expectant moms.
Criteria Used for Evaluation
Safety Hazards
Clean without destroying the environment you will live in.
As the dominant species of this planet, we have the greatest responsibility in protecting the generous bounty that Mother Nature has bestowed upon us. Especially considering how the choices of the generations that came before, consumerism, industrial expansion and co-operate greed have led to our planet to be in its current state.
Even a little goes a long way. It starts with making educated purchases, just by reading what is written on the packaging. Knowing the effects of the compounds contained in a product is paramount. It is wrong to assume that an EPA or FDA approval or review is a stamped guarantee that the product inside is very safe for the environment or your health. We hear cases where compound X had met all the standards of approval, but after some research, it was found to be toxic.
You as a consumer can take a two-fold approach to fulfilling your part in protecting the earth. The first one is to select products that are non-toxic and have natural extracts sourced from a renewable source. The other step you can take is hitting companies that pollute the planet where it hurts, their pockets, do not buy anything that has toxins in it. There are a lot of natural remedies that we can make at home that can act as an alternative to the toxic ones that exist. After all, humanity survived before the industrial revolution.
Effectiveness
A good product always finds a way into the market.
When you shop for a product, you want it to do the job that it is supposed to and to do it well. The same goes for odor neutralizers. Companies can splurge the money on crafty search engine optimization, creative advertising, attractive branding, and even pay for impressive survey results but as they say, the proof is in the punch. When it comes to odor neutralizers, the punch is the absence of body odor and other offensive smells in your life.
A pleasant odor neutralizes not only leaves everything smelling fresh, but it also leaves no evidence that a stink was there before you used it. It also kills the bacteria and fungi that were the cause of the smell eliminating the need for oversaturating your clothing, equipment, or surfaces with much product.
The best way to tell if an odor neutralizer is the best choice for you is to see how the public rates it. If something is beautiful it will not advertise itself, but the public will sell it by telling of the wonders it has to provide.
Use
An odor neutralizer that does one thing well is better than one which does many things terribly.
A great odor neutralizer has more purposes than just killing body odor. It has to have a diversity in the ways you can apply, methods in which it can be beneficial, and the results need to be varied.
It could also serve as a laundry detergent that also gets rid of stubborn stains on top of killing body odor and other offensive odors. You need to consider if it is safe to use in a washing machine without negating its neutralizing ability.
It could also serve as a disinfectant, which can be used to sterilize more than your clothes and equipment. You could also use it on your kitchenware, without having any toxic effects. Alternatively, if you have a baby, you would need to establish if it is safe for the child's health.
Many odor neutralizers also boast of being hypoallergenic in nature. This makes odor neutralizers ideal for dealing with fungi and other types of allergens that can be present on your gear, body, or house. This comes in handy for people suffering from asthma or skin conditions.
If an odor neutralizer is biodegradable, then it can be used in a farm setting to clean farm equipment like milk churns that need to be kept at very clean and bacteria free. A good product would be able to do this without contaminating milk.
In case, you are suffering from a skin condition. You could use an odor neutralizer in conjunction with a topical cream or some other type of treatment to speed up the treatment process without negating the effects of the procedure.
Ease of Use
An odor neutralizer should be applicable to most, if not all types of smells in and around your home.
When you are debating whether to use an odor neutralizer, it is vital to consider how easy it is to use and store. The cost should also be within your budget while giving you the desired results. Is it easy to carry in a bag or your car? So that you can have the continence of spraying it at a moment's notice in case you have an emergency.
A good odor neutralizer should give you service for a longer time; this would be hard if it comes in tiny and expensive packages. It defeats the purpose if the quantity is too little to clean all your equipment and at the end of the day, there is nothing left inside the bottle.
The scent or lack of is also an essential factor to consider when choosing a product. It would be best if you felt comfortable with how it smells. A good illustration of this point is that men do not like fruity or delightful scents; they would rather keep the musky scent they produce biologically than smell fruity. Sometimes you can find yourself weighing whether you want a neutralizer that does its job and also leaves a fresh bouquet of aromas or has no scent at all. Sometimes you require that fresh scent so that there is no need to buy an air freshener
Other Factors to Consider
Materials
It is crucial to read what is on the package because there might be compounds that are harmful to your body, household, and environment. If you have a body odor, problem, and you use a product that harms your health you would end up with an additional issue that might cost you more.
The ideal neutralizer should not mask the odor but deal with the bacteria and fungi that cause the problem. It should have robust microbial qualities and very few synthetic chemicals. The natural extract contained in the product's formulation should be GMO-free and sourced from renewable raw materials.
Value
When you buy a product, it needs to do what it says on the packaging. It also needs to serve you for an extended period and has added benefits. There is nothing worse than spraying on a neutralizer and having no relief from the odor. It should completely take care of the problem and not layer sweet odor on top of a foul one. The chances are that you will sweat some more and have an awkward bouquet of smells about you.
Some manufacturers and distributors have so much confidence in the strength of their odor eliminators that they offer a money back guarantees; you should consider buying from them.
When choosing an odor eliminator, buying in bulk is a noble idea, in which case consider the shelf life before committing your money. Alternatively, look for a brand that also provides large refills.
Frequently Asked Questions
q:

Do Odor Eliminators Work?

a:

Most neutralizers work as oxidizers meaning that they break down the offensive odor into something odorless when they come into direct contact with it. There must be contact between the odor neutralizer and the source of the smell. In a situation where there is a bad smell in the room, the logic would not spray the air as you would with air fresheners but to locate what is causing the smell and spray it to neutralize the bacteria that are causing the smell.

After you spray the area, there are further chemical changes that occur as the odor neutralizer dries up. You could alternatively speed up this process by wiping the area you sprayed, then spraying on some more and letting it dry.
q:

How Do You Get Rid Of Bad Smells So You Can Feel Comfortable Around Other People?

a:

It is very embarrassing when you are somewhere having a good time or just minding your business then someone suddenly asks "do you smell that?" then every nose sniffs the air and all eyes are suddenly on you.

You can end up not getting invited to event or places because your body odor walks into the room before you do. You can avoid this awkwardness by merely using a body odor neutralizer. They come in various shapes and sizes. That can be; continently sprayed, used in the shower or used to soak your gear and clothing.

• For trainers and shoes, you can spray them with the odor neutralizer and let them air dry. For maximum results, you can mix the odor neutralizer into a bucket of water and dip to saturation then air dry
• For body Odor, you can shower regularly with an odor neutralizing soap or spray your clothes with when they are turned inside out to kill all the odor-causing bacteria that cause the body odor.
• For gym gear, spray and wipe it all down to get the apparatus fresh and clean. Primed and ready for the next use.
• In the case of skunk or smoke smell being stuck to clothing, you with be well advised to soak the clothing overnight in a water/odor neutralizer solution. Then scrub rinse and air out to dry.
q:

Do Odor Neutralizers Kill Mold And Mildew?

a:

Mold and mildew are colonies of fungi that grow on anywhere that they can find moisture and bacteria. They create an ecosystem that expands and takes up more and more space. Odor neutralizers do not merely mask offensive odor like fragrance and fresheners. They work at a microbial level to eliminate germs and fungi.

If it is on shoes, walls and other surfaces, some odor neutralizers like the Mini Moso purifying bag absorb all the moisture in their vicinity denying mold and bacterial the catalyst that powers their colonies. In cases where the purifying bags are introduced after the germs and fungi have made a home for themselves, the bags suck in the spores that mold and mildew use for reproduction and expansion as well as the established colonies.

In clothing, the effectiveness of odor neutralizers depends on how deep-rooted the mold and mildew are in the fabric. Most odor neutralizers are made to fight against the odor that the mold and mildew produce. If the odor on the clothes is related to mold and mildew, then the neutralizer will assist in getting rid of it. There is however no guarantee of this, so you might have to consider using a more powerful cleaning agent like bleach. At times, it is even possible to remove the mildew by scrubbing with water and soap.
q:

Does Doing Laundry Affect The Effectiveness Of Odor Eliminators?

a:

Some detergents hamper the effectiveness of Odor eliminators buy blocking the pores that lay between threads. They create an enzyme buildup that causes stiffening of fabric and wrinkles. The eliminators need to come into direct contact with the bacteria that cause the odor, but end up encountering the buildup instead.

Some multi-purpose odor eliminators are tough enough to breakdown this buildup. However, you need to be cautious about the concentration you use since there is a risk of damaging the fabric if it encounters something too corrosive.

Some detergents like bleach contain chlorine, which is a powerful antiseptic that destroys not only fungi and bacteria but also other chemical compounds. These compounds include many of the essential oil products that Odor neutralizers contain as scent agents. Therefore, should you elect to use chlorine or have no otherwise it would be best to use an odor eliminator during rinsing instead of mixing both during the soaking or scrubbing.

These days we also have the convenience of hypoallergenic washing machines that take out any chemical compound present in the laundry load. It would be pointless to use an odor neutralizer with such a hypoallergenic washing machine since it neutralizes the bacteria and fungi that cause odor.
q:

If You Cannot Smell The Odor Eliminators, Is It Working?

a:

Some odor eliminators have unique formulations that were explicitly developed to be odorless. These neutralizers have no smell even when you take a sniff of the container they came in. The way to know if they still work despite this fact is to take note of whether the fouls odor you needed to neutralize is still there. If it is not there, then the scent, eliminator worked. In the unlikely event, that nasty odor is still there, then the neutralizer does not work.

Always get your products from a reputable supplier to avoid disappointment. If you want an aromatic odor neutralizer, ensure that it writing on the package says that it has that effect.
Subscribe to our Newsletter