Best Pillows for Neck Pain in Athletes Reviewed
last updated:
Dec 24, 2019
Let's be honest, no amount of coffee will help you wake up better than a night of restful, comfortable sleep. And it's the best way to unwind as well: Just laying down in your bed, putting your head on the pillow and drifting to the wonderful world of sleep. Except for when you need to transform yourself into a cat and arrange that stubborn pillow because it won't provide the support and comfort you need.
And this is where problems appear: you wake up tired and stiff and no matter how much you stretch, it goes away for a short time only. In the morning, it comes back even stronger. So our best guess you might need to look for the best pillow for neck pain, in order to get back on track.
In a Hurry? The test winner after 5 hrs of research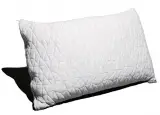 Coop Home Goods - Premium
Why is it better?
Hypoallergenic
New memory foam
Adjustable density
Cooling removable cover
In a
Hurry? Editors choice: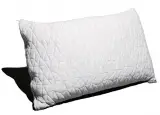 Test Winner: Coop Home Goods - Premium
5
Researched Sources
14K
Total Readers
5031
Reviews Considered
5
Hours Researching
10
Products Evaluated
Effectiveness
Materials
Comfort
Breathability
Durability
By Default
Top 10 Picks
1

. Coop Home Goods - Premium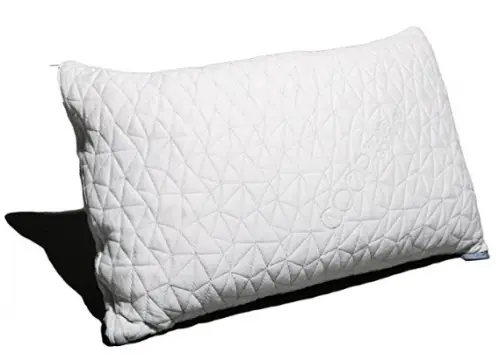 Hypoallergenic
New memory foam
Adjustable density
Cooling removable cover
Synthetic smell right after purchase
There's a lot to say about this pillow, and it was hard to find any negative aspects, as it is one of the most praised pillows for neck pain all over the internet. If we were to analyze only its full title, we would see this is the perfect choice for a very broad audience. It's not only made from memory foam but fully adjustable to fit specific needs, with a complete refund, no questions asked, from the company.
Read more
One of the best features of this pillow is the choice of materials. Most pillow and duvet companies use recycled materials for their products' stuffing. Even if the materials go through a thorough cleaning process, we are still discussing about used memory foam. Yes, the advantage of this material is its capacity to maintain original properties for extremely long periods of time compared to normal foam. But this doesn't mean they do not wear off at one point. Coop Home Goods chooses to create their pillows using only freshly made memory foam, making sure you will benefit from their product for a longer period of time.
Adjustable and hypoallergenic are the next keywords we focused on when assigning the "best pillow for neck pain" title to this product. Being able to purchase a pillow suitable for those with possible allergies and having the possibility to adapt the foam density to suit your specific needs makes this option incomparable.
2

. Xtreme Comforts Side Sleeper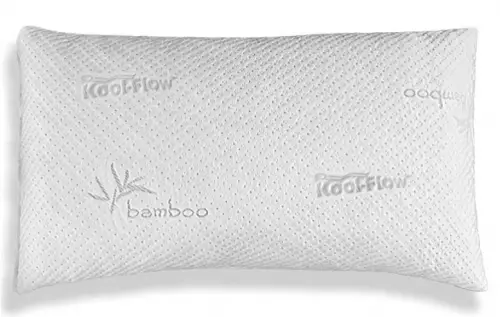 Flexibility
Support
Thick core
Breathability
Strong plastic smell after shipping
Similar to our no. 1 choice, the side sleeper pillow offered by Extreme Comforts is here to soothe your mornings and help you wake up completely relaxed and fully rested. Made from Certi-PUR-US certified memory foam, this pillow guarantees great materials without ozone depleters, TCEP flame retardants, TDCPP, PBDEs, any type of heavy metal, like lead or mercury, phthalates regulated by the CPSC, formaldehyde or CFCs.
Read more
One of its most appealing features is its breathability, generated by the ventilated bamboo cover, which is also water resistant. At the same time, the shredded foam enables air flow and blocks the body from overheating. The manufacturers seem to have gambled with their no questions asked guarantee, but it offers the consumer security and trust in their brand. The 1005 Certi-PUR-US foam core of the Extreme Comforts Shredded Memory Foam pillow will arrive in your bedroom in a safely vacuum sealed case, in order to remain free from any external allergens.
Even though it is named a side sleeper pillow, the truth is that this product from Extreme is suitable for any sleeping position, as the shredded foam enables the user to adapt the shape of the pillow and the foam density according to their needs. This way, a straight backbone line is maintained, reducing stress and strain on neck muscles and ligaments.
3

. ComfySleep Rectangular Buckwheat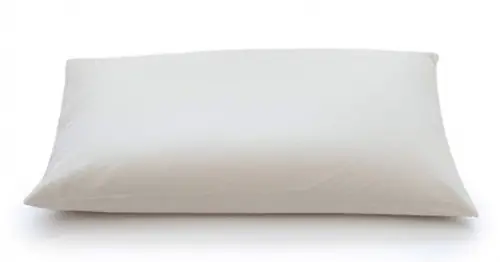 Adaptable
Supportive
Cooling effect
Breathability
White noise generated by buckwheat hulls friction
As the brand claims is, this pillow is designed for a comfortable sleep. Made from a completely different material than those we have been used to growing up, buckwheat pillows are manufactured with the idea of durability in mind. Comparing it to its best counterparts, the ComfySleep Rectangular Buckwheat Hull pillow will probably eliminate the need to replace it, as long as your house maintains normal humidity levels.
Read more
Regarding the benefits of buckwheat pillows, its anti-allergenic properties are the first to pop up. Normal pillows, made from feathers or foam enable the accumulation of dust mites. And even though their "population" can be thoroughly controlled through frequents washing, a buckwheat pillow reduces this need significantly. As for your spine's support, the buckwheat hull pillow from ComfySleep enables the user both to arrange the hulls in order to gain a better resting core, but at the same time to set up the hull quantity you desire in your pillow. This is doable grace to a hardly visible zippered opening. This way you can remove or add buckwheat according to your preferences.
One down-side reported by some users has been the sound made by these pillows. The motion of the hulls against each other generates a gentle sound. Even though some consider it soothing and compare it with resting white noise, there have been more pretentious users who were not capable to adapt to it, even though they were praising the product's quality.
4

. Homitt Shredded Memory Foam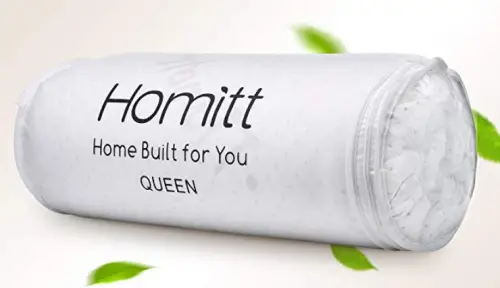 Ample neck, shoulders, and head support
Hypoallergenic
Re-fluffable
Soft, elastic foam
Only available in queen size
Another top choice among our search for the best pillow for neck pain was the shredded memory foam pillow from Hommit. Designed with the user's best interest in mind, not just health-wise, but also financially, this product is a top choice when it comes to shredded memory foam pillows.
Read more
Hommit integrates a custom made shredded foam, with added softness and elasticity, which enables the pillow to keep well-balanced support between the shoulders, neck, and head. At the same time, it is firm enough so that your head will not sink into the pillow while you rest, creating strain to your cervical basal muscles.
One if its most praised feature is its compression packed one, which enables the pillow to return from its deformed state after a good night's sleep in just 15 minutes. Even if it might not be your no. 1 choice, we are certain you will find it more than suitable for your guest room.
5

. EPABO Contour Memory Foam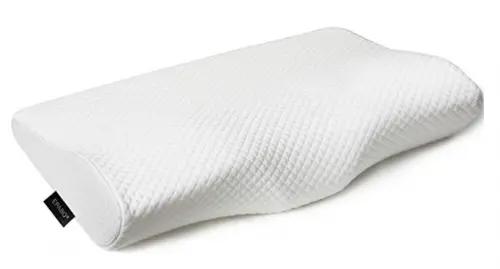 Eco-friendly foam
Good quality
Effective against snoring
Optimal support
Unpleasant memory foam odor at the beginning
Choosing the best pillow for neck pain is never easy. Designing it is even harder, as the manufacturers sometimes have to cross personal preferences off the list in order to prioritize the ergonomic features that really make a pillow suitable. However, the team at EBAPO managed to take the best of both worlds and create a good pillow for any taste.
Read more
The claimed "proven contour" was designed in order to align and support the shoulders, neck and back. This is supposed to enable falling asleep deeper and faster, without the whole fuss prior to your trip to dream-land. However, the first two weeks can be quite challenging, as the ergonomic design of this pillow might not be everyone's cup of tea at first and your body will need to adapt to a correct sleeping position.
Made from full-size memory foam, the EBAPO Contour Memory Foam Pillow is not adaptable as shredded memory foam pillows, but this should not be an issue after you adapt to it. A proprietary blend of hypoallergenic rayon/polyester combined with a breathable foam also ensures the pillow is breathable enough to maintain its coolness over the night.
6

. HoneyDew Sleep Co. Scrumptious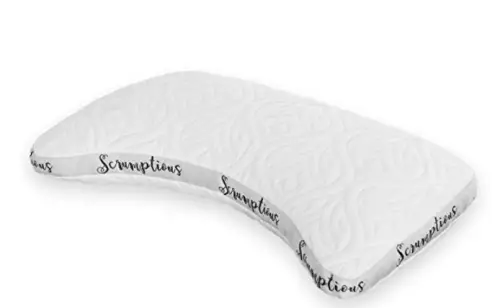 Breathability
Long-lasting
Adjustable height
Supportive
Some might consider it costly, but it does offer premium materials
Made by The HoneyDew Sleep Company (previously known as Drift), The Scrumptious Side Sleeper Pillow is a top choice for many. However, the majority of its buyers come from the category of people who prefer a soft, plushy feeling when they sleep. Made from high-end fabrics, the Scrumptious Side Sleeper Pillow delivers on material quality and supports neck alignment.
Read more
One of the positioning angles of the company is praising the potential beneficial medical effects of the pillow, such as reduces snoring and even a smaller incidence of sleep apnea. However, no conclusive tests or studies have been done to support their claims related directly to their product.
One of the best features of this pillow is the adjustability of its height. WIth the use of a hardly visible zipper, you can customize the loft inside. Supporting the neck alignment in a customizable manner enables you to reduce neck strain and get a better night of rest.
7

. UTTU Adjustable Sandwich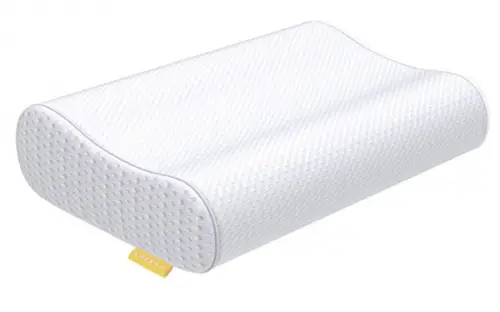 Supportive
Hypoallergenic cover
Adjustable
Machine-washable cover
Some might consider it too small
The adjustable sandwich pillow from UTTU comes with an ergonomic design, adaptable to both side and stomach sleepers and back sleepers. Made from a registered proprietary blend, called UTTU DYNAMIC® FOAM, it has a special property that enables it to maintain its softness in lower temperatures. This makes it ideal not only for your daily use but also as a winter-holiday retreat purchase.
Read more
Even though we are not talking about shredded memory foam, the UTTU blend hasa medium firmness which enables shoulder-neck-head alignment. The 4.7-inch height on the upper side contour and 3.9-inch on the bottom one enables any sleeper to find the best position in order to make the most out of this pillow.
However, its best feature is its adjustability. Being a sandwich pillow, it enables the user to open the cover with the help of a hidden zipper and remove the middle layer of the pillow, reducing the overall height. This feature is highly appreciated by petite-figures.
8

. Emolli Contour Memory Foam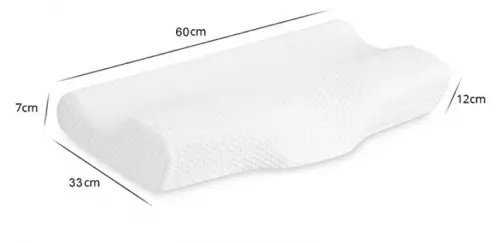 High Breathability
Comfortable
Washing-machine friendly
Needs a higher recovery time after unpacking.
Finding a pillow for neck pain sufferers can prove itself quite challenging when it comes to people who sleep on all sides. Most options better accommodate either side or back sleepers. The Emolli manufacturers kept this in mind when they designed the Contour Memory Foam Pillow. It has a center side which perfectly aligns your back, shoulders, neck, and head when you're resting on your back of stomach. At the same time, the sides are slightly raised in order to provide the same quality alignment and support for side sleepers.
Read more
Made from a strong single core memory foam, the slow-rebound feature of the material enables the pillow to return to its original shape after every use. Even though this pillow and the cover are made from 100% polyester, the weaving enables a good level of breathability, without the unpleasant sensation of strong warm-up right after you set your head to rest.
One of the turn-down aspects which are mentioned by the manufacturer itself is the strong odor you feel right after unpacking it. Their recommendation is to let the pillow recover to its original shape for 24 hours before using it, a period which also tones down the smell of "new".
9

. Classic Brands Conforma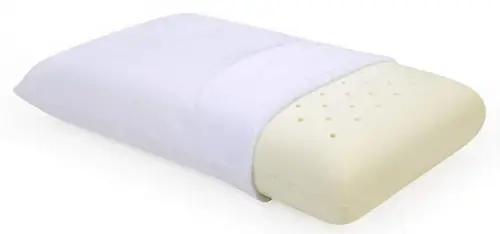 Good ventilation
Recovers shape quickly
Great for those who love firm pillows
The filling is suitable for spot-cleaning only
Made by one of the most reputable sleeping product companies on the market, the Conforma Memory Foam Pillow by Brands gets mixed reviews. Some of its users swear by its efficacy, while others have claimed it was impossible for them to adapt to it. However, the breathable medium-firm memory foam is helpful, especially if you hate the warm feeling you get from full-core memory foam pillows.
Read more
Enhanced with small holes that go across the memory foam, this pillow enables air flow. Combine that with the velour blend present in the knit cover (80% cotton - 20% polyester) and you are set for a cooling effect once you place your head on it.
Advertised as a medium-soft pillow by Classic Brands, reviewers have stated that it has a rather medium-to-high firmness, an aspect which does not reduce the support and alignment of your shoulders, neck, and head. At the same time, regaining its shape in just seconds after you get up is a great feature, as it enables you to get the same comfort no matter which position you choose to sleep in.
10

. Simmons Beautyrest Latex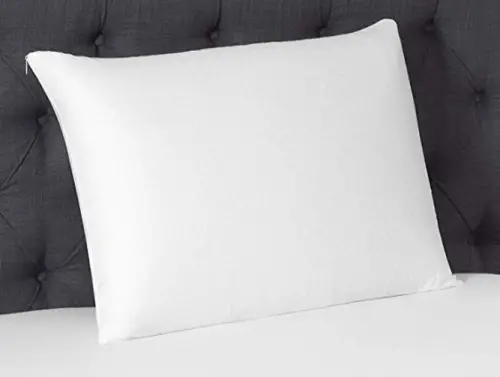 Excellent neck support
Head and neck pressure reduction
Natural latex foam
Comes in sizes fit for all
The odor can be sensed for several days after unpacking
Another firm pillow for neck pain sufferers is the natural Latex Foam Pillow by Simmons Beautyrest. Created in a similar manner to the one from Classic Brands, this pillow is perfect for people who don't enjoy the sensation of sinking in when they go to sleep.
Read more
However, the memory foam enable good support for all types of sleepers and it recovers its shape in mere seconds, allowing you to change positions as you please (or involuntarily, when you're sound asleep). The most interesting aspect of this pillow is that it is made completely from natural latex, a material which repels dust mites naturally and is an antiallergenic.
However, its firmness and height (5 inches) might not make this pillow the perfect one for back and stomach sleepers. Another reported inconvenience is the odor which can be sensed for a few days after its first use, but this is something that wears off pretty quickly, so not much of a down-side.
Criteria Used for Evaluation
Effectiveness
Analyzing the effectiveness of a pillow does not have specific metrics we can rely on. Depending on your anatomical build, the results can differ completely and what might work for us could be a disaster for you.
Even though some would say that finding the best pillow for neck pain is simply a trial and error process, we tend to disagree. Finding similarities between your body type, any existing medical condition and personal preferences in thousands of reviews can be challenging, but that is what we have done for you.
The ultimate goal is to wake up strain and pain-free, which will definitely give you more energy throughout the day, as you feel completely rested. Remember that when any condition affects your body (from a muscle strain to eating right before you go to bed and your digestive tract is still working), you will not reach the REM state of sleep and your body will not recover as it should.
Materials
Choosing the right materials when you select a pillow for neck pain is mandatory, as it is one of the main features which contribute to the overall comfort and effectiveness of these products.
Even though most would recommend going for 100% natural fibers, it is important to understand that some fabrics have the property to retain moisture, which can lead to an increase in humidity and create the perfect environment for bacteria and dust-mites. At the same time, the fabric and weaving pattern have the ability to enhance of prevent airflow, which influences the breathability characteristics of a pillow. The main consequence is having a pillow that heats up quickly.
Comfort
In order to have a good night's sleep it is important to gain the proper level of comfort required. For some, it might start with a soothing bath and some scented sticks. But when it comes down to basics, being comfortable in your own bed is a mandatory requirement. All the criteria chosen to rank the above products work together to create one feeling: comfort.
If setting your head on your pillow requires fussing around until you find the best position to sleep in, or if you wake up over and over again to arrange your pillow, or turn it around because your head feels on fire, then comfort is the last thing you're getting from your current pillow.
In order to feel fully rested, there are several aspects you need to think about. The comfort brought to you by your pillow is comprised by several factors: support, material, thickness, coolness and smell. These are all important factors which contribute not only to a good sleeping posture which contributes to a neck pain-free life, but to the overall quality of your rest.
Breathability
One of the most important aspects for a good pillow that enables a pain-free sleep is breathability. The materials in our choices are either natural materials which enable air flow, or proprietary blends that do the same. What is important is to understand that not only the fabric component plays a role in the breathability of a pillow, but also the weaving pattern chosen for the pillow case.
A pillow that breathes actually enables air to flow through its cover and between the filling material, whether it is shredded foam, buckwheat or feathers. This allows the filling to keep its shape or fastly return to it after a night's rest without much effort.
Breathability also keeps moisture away and slows down the accumulation of unwanted smell and microscopic substance buildup in its components. And one of the best takeaways of a pillow that breathes is the nice, cooling effect you get when you set your head on it after a hard day of work or play.
Durability
Just like us, you don't want to go shopping for a new pillow every 6 months. At the same time, even if possible, we wouldn't recommend for you to keep one more than several years. Yes, we all have a grandma or an aunt who has been using the same goose feather pillows for decades now, but this is not the best health practice.
No matter your choice from the short-listed products above, each one should own up to its name for at least 24 months, which is the median guarantee period listed by their manufacturers. This is the standard period which ensures the quality of the materials is maintained. However, you do need to take care of it. Don't think you can put it on your bed and just change covers.
Keeping your pillow away from moisture, refreshing the air in the room, a frequent change of covers every week and washing it exactly according to its label - all these are mandatory of you want to make the most out of your purchase. Otherwise, you will end up complaining about factors which were completely in your control but you failed to stand up to.
Expert Interviews & Opinions
Most Important Criteria
(According to our experts opinion)
Experts Opinion
Editors Opinion
Users Opinion
By Default
Remember your preferences!
Avoid using pillows that are too stiff or too high. These can keep your neck muscles flexed overnight, resulting in stiffness and pain in the morning.
Keep your pillows tidy!
If using feather pillows, remember to replace them yearly, as they collapse over time, no longer offering the required support.
Other Factors to Consider
Brand
The importance of a well-established brand is undoubtedly when it comes to sleeping products, whatever their category is. Reputable brands invest time and money into medical research that enables them to create products close to perfection. They take into consideration numerous medical and personal factors which could influence the wellbeing of their customers and create adaptable products to suit any preference and need.
Features
Even though some might argue with us that pillows are not that different, we know you care more about the details than you want to admit sometimes. From fabric, to filling material, weaving that enhances a pillow's breathability, these are all things you check out. We have too, in order to provide the largest variety of suitable products to any customer.
Size
The biggest disadvantage when looking for a pillow is that some varieties come in standard shapes and do not offer a large collection to choose from when it comes to size. There is, indeed, scarcity regarding the available sizes of certain suitable pillows, with a high-preference for queen sized-ones. However, the ones above are suitable for any preference, so just take your pick!
Style
Different people will always look for different things in a pillow. Some are used to unique core foam, others to feathers, others to shredded foam. Some people like soft, sinking pillows, while others prefer high firmness. Pillows are styled differently in order to accommodate any desire. We have luckily managed to filter through all of them in order to please each and everyone of you.
Weight
The weight of a pillow can influence how usable and easily maintainable it is. Having a pillow that is durable and long lasting as well as effective is important. And if you do not believe the weight plays an important part, think about its relation with density. A more dense material weighs more but does not enable breathability. At the same time, is takes longer to dry when washed and creates a more humid environment which enable bacteria and dust-mite development.
Frequently Asked Questions
q:

What is the neck-structure?

a:

The neck is structured around seven vertebrae called the cervical vertebrae which create the cervical spine. This is the protective layer that surrounds the spinal canal and cors. Separated by discs, the cervical spine is surrounded by the neck nerves. Other cervical components are considered to be:
neck muscles
skin
lymph nodes
veins
arteries
esophagus
trachea
larynx
thyroid gland
parathyroid glands
Any affliction to each of these components can cause neck or cervical pain.
q:

What is neck pain?

a:

It's as simple as it sounds: pain in the neck area. But to understand it better it is important to understand the anatomy of your neck, which is constructed by vertebrae extending from the skull to your upper torso. All vertebrae are separated by cervical discs, a strong, hard, gelatinous substance which has enough elasticity to enable shock absorption.

At the same time, besides the bones (vertebrae), the muscles and ligaments help support your head and enable motion. If any of these composing elements are affected, by injury, inflammation or anatomical abnormalities, stiffness and neck pain can occur.
q:

What are the causes of neck pain?

a:

Even though neck pain has an anatomical build cause, there are many common conditions which can generate it:
degenerative disc disease
neck strain
osteoarthritis
cervical spondylosis
spinal stenosis
poor posture
neck injury
q:

What are other symptoms associated with neck pain?

a:

Even though neck pain is usually a symptom in itself, there are several other indicators of a condition affecting your shoulders, neck and head. You should pay attention to all because no matter how suited a pillow is for you, any medical condition needs to be investigated and attended to. Knowing some of the adjacent symptoms is helpful:
headaches
arm tingling
muscle pain
stiffness
tenderness
arm weakness
pulsation
upper/lower back pain
q:

What influences neck pain?

a:

There are different risk factors and independent conditions which can influence neck pain. Some of them are external, while some depend on internal conditions or illnesses. A simple throat infection has the ability to generate lymph node (gland) inflammation which leads to swelling and neck pain.

There are unfortunate situations where rare infections can cause neck pain. This can include neck tuberculosis, osteomyelitis and septic discs (spine bone infections) and even meningitis, to which an adjacent symptom is neck stiffness.

At the same time, muscle afflictions can induce neck pain, the most common ones being fibromyalgia and polymyalgia rheumatica. At the same time, there are different external risk factors which need to be taken into consideration, like:
car accidents
horseback riding
contact sports
bull riding
q:

How is neck pain diagnosed?

a:

In order to treat neck pain it is mandatory to diagnose it properly. But there are several medical branches involved in the proper diagnosis of neck conditions which lead to neck pain. However, establishing a proper diagnosis involves clarifying the medical history of the patient and investigating important aspects related to cervical pain: intensity, duration, radiation and location of the pain. Have there been any past injuries to the neck area which could influence the current status? Is the pain relieved or aggravated during specific motions, like moving the head left-right or bending it? Palpation can also indicate muscle tenderness or pressure, and several different analysis are involved in establishing a proper diagnosis:
bone scan
MRI scan
CT scan
X-ray evaluation
myelogram
EMG (electromyography)
NCV (nerve conduction velocity test)
q:

Can neck pain be treated?

a:

There is no specific treatment for neck pain. As in any other medical condition, pain is only a symptom of an underlying condition. It is important to understand that while a symptom can be alleviated, the affliction that generates it needs to be treated as well.

Depending on the medical condition that generates neck pain as a symptom, there are different treatment methods, which include but are not resumed to:
rest
cold/warm applications
soft-collar traction
topical pain-relief patches
topical anesthetic creams
physical therapy: manipulation, massage, ultrasound
over the counter anti-inflammatory drugs
NSAID's
local cortisone or anesthetics injections
surgical procedures
There are also self-treatment options which you can choose in order to temporarily lessen the pain intensity:
neck pain relief stretches and exercises
products like neck pillows and hot pads
Jacuzzi treatment
q:

What is the best sleeping position for neck pain?

a:

There are two main positions which relieve neck pain: on your back or on your side. They both influence the overall quality of sleep depending not only on your pillow but also on your mattress and your overall anatomy. At the same time, any spine defects can influence your sleeping position, needing to take this into consideration.

When sleeping on your back, it is recommended to use a rounded pillow that supports the natural curvature of your neck while the flatter part supports your head. You can achieve this if you tuck a roll pillow inside your pillowcase or by choosing one of the above pillows designed for back sleepers. If you sleep on your side, you need to take into account the fact that your spine needs to keep a straight line. This can be achieved if you ensure your pillow is higher under your neck then under your head.

However, there is another sleeper which is often disregarded: travel sleepers. There are those which spend so much time traveling for personal or business purposes, that they need to sleep in order to recover rest, or they simply prefer to sleep in order to pass time faster. And there are those which suffer from "carcolepsy" - the lucky individuals that once in a moving vehicle, they start sleeping like a baby. For this special category, there are horseshoe-shaped pillows which are able to support your neck and prevent your head from dropping facewards or on the side in a position which is not only uncomfortable but also able to tense your neck muscles, leading to pain.
Subscribe to our Newsletter