Best Portable Speakers for Training with Tunes Reviewed
last updated
Apr 06, 2019
Among thousands of portable speakers, it can be hard to find the one that will be good enough for you along with an affordable price tag. Luckily, there are many to choose from, and something similar to an expensive one can be found at a reasonable price with a little searching and investigating.
The most important thing to look for is that they are made of quality materials which can hardly be damaged and can be comfortably carried in your bag.
Another important thing is the sound. Whether you will buy a stronger or weaker one depends solely on your music taste and the place where you will be using it most. For our list we have taken in account sound quality, features, battery and water resistance, to try to bring you only ones that excel in those aspects.
In a Hurry? The test winner after 7 hrs of research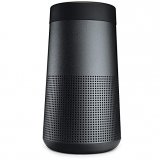 Bose SoundLink Revolve
Why is it better?
Sleek design
360-surround sound
Detailed sound
12-hour battery life
Resistant to scratching
In a
Hurry? Editors choice: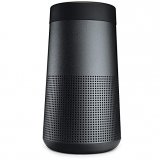 Test Winner: Bose SoundLink Revolve
5
Researched Sources
7520
Reviews Considered
7
Hours Researching
10
Products Evaluated
Battery Life
Features
Water Resistance
Durability
Sound Quality
By Default
Top 10 Picks
1

. Bose SoundLink Revolve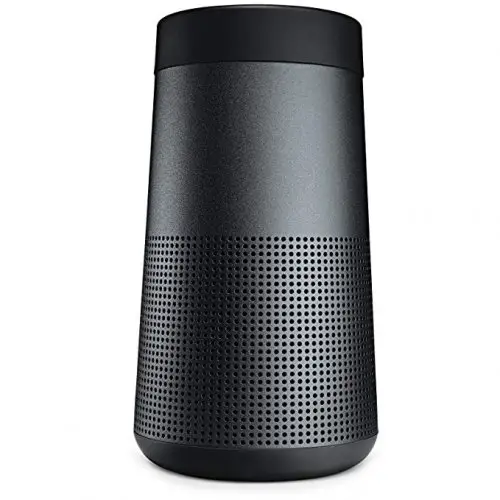 Sleek design
360-surround sound
Detailed sound
12-hour battery life
Resistant to scratching
Charger not included
Only 30 feet of range
Many people tried this one out, and we all agree that it deserves the first place in any list. It is an excellent choice for your home, office, or as a workout aid. It can be carried anywhere thanks to its compact size. Although not big, it provides the 360 sound experience, so that you can enjoy your favorite music while doing your favorite activity. It consists of strong aluminum housing, with rubberized base and buttons, so it can survive being tossed and turned inside a bag.
Read more
Most portable speakers users face a problem when it comes to sound, as a lot of these products offer only one directional sound, and the user having to turn it around for best experience. With this one there will be no such problems because it is made to give off sound from each of its sizes, so it can be placed anywhere and forgotten about, leaving you able to focus more on the activity at hand.
The speaker was designed so that it will fit and blend in with any surrounding. It comes in black and silver and feels well made and of good quality. It features buttons on top of it which control everything, from music to activating voice assistants and taking phone calls. It has Bluetooth 4.0 and a range of 30 feet. It looks and sounds great, which makes it a perfect companion for any activity.
With all that being said, these amazing speakers are totally worth their price. They look much more expensive than they are, and have a sound that follows you around the room so that it provides the best experience from any and all angles. Without charging, they can last for 12 hours until the battery needs to be recharged. For better performance and louder sound, two of them can be paired together. It can be used in and outdoors, but it is perfect for small spaces for better sound, and it is not completely dust and waterproof, which means it can withstand small amounts of water but cannot be submerged or kept in a place with a lot of sand.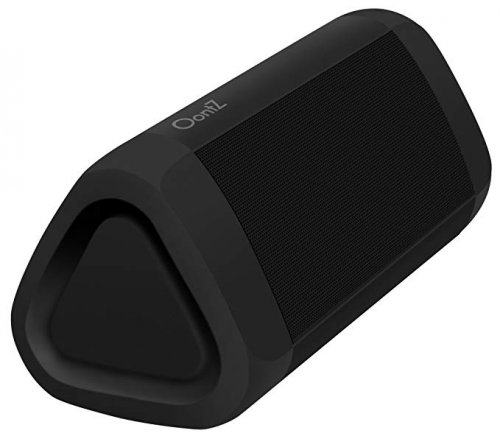 Compact
Light
Water- and sandproof
Good sound
30-hour battery life
Inexpensive
Sound quality uneven
No dual pairing
Siri and Google unsupported
This compact speaker comes from a company which is specialized in high-performance loudspeakers and audio products from Massachusetts, which creates a wide range of electronic products. These speakers are designed to bring you the best sound they can. Shaped like a pyramid, they enable the user to place them horizontally or vertically for the best effect. It is able to deliver excellent stereo sound and bass despite its size. It fits in any bag and can be used for any occasion, be it for camping, at home or at the gym.
Read more
This amazing product makes you forget about having to charge it during the entire day. Its battery lasts for up to 30 hours at medium volume, making it perfect for outdoor activities where there is no option to charge it.
If you have always wanted to bring your music with you and share it with your friends without having to deal with pesky cables and look for outlets, this speaker may be just perfect for you. It is made to be light and compact without any hard edges so it can be carried comfortably. It is perfect for beach sports, during a shower or anywhere else you want to use it without fearing that it will be damaged in the process.
For everything that it has going for it, this speaker is surprisingly cheap. Its performance can be compared to some bigger speakers for the sound quality it provides. It tones down the deeper bass in some tracks, which can usually damage speakers. It works best at midrange volume and provides the best sound and the longest battery life. Bring it with you on hiking, nature workouts, or to the gym or home, to boost your morale and performance.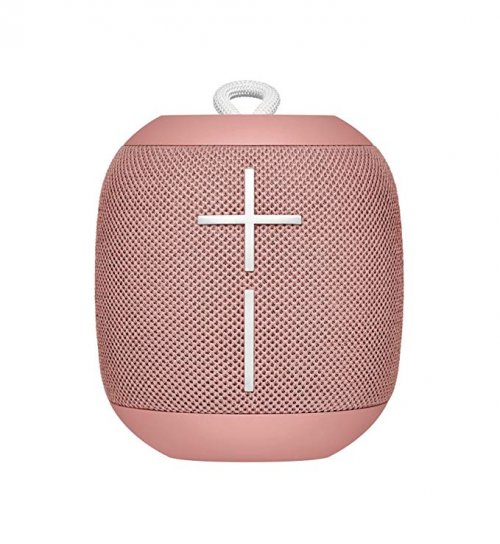 Small
360 sound
10 hour battery life
100 feet wireless range
Completely waterproof
Various colors and designs
Weak bass
No USB charging
No speakerphone
The ultimate speaker for outdoor activities, this one is specially designed for all you nature lovers out there. Weighing only 400 grams, you would not expect it to provide the sound it does. It is equipped with a long-lasting battery and has a 50-foot range, which is pretty impressive for something this small. It only lacks in the bass department like the majority of portable speakers but makes it up by offering a 360 degree sound.
Read more
This speaker is completely waterproof, unlike some which can be wet but will break if soaked in water. The Wonderboom can be taken to the pool or the seaside and placed to float in the water beside you. It is buoyant so there is no fear that it will sink.
The Wonderboom provides clear sound and does not distort it as some others would. The bass is not that impressive, but for the size, it is good enough. You will not get blown out of your chair by its sound, but it will be just enough for your chosen activities.
This speaker is one of the best ones for its price. Relatively cheap compared to others, it provides you the comfort and ease of mind. No longer will you have to think where you will place it because it can't be damaged that easily. It is compact enough that it can be carried in any bag, and light enough so that you don't even feel it is there. With many colors to choose from, it can be paired with any outfit for any occasion and activity.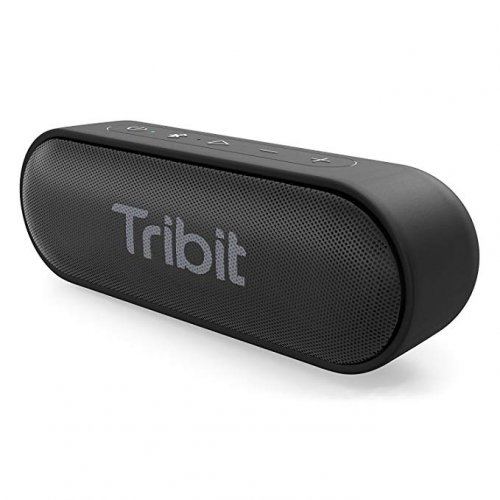 24 hour battery life
Water resistant
Expansive sound
Generic design
Charging takes a long time
Sound lean at max volume
With its small size and only two colors to choose from, this Tribit speaker does not look much different from a random one made in China, but it has so much more to it than it looks. It provides you with rich and surprisingly clear sound, although it has some difficulties with certain complicated tracks which contain a number of different instruments, it is more than enough to satisfy anyone's needs. It can be carried easily thanks to its small size and sounds much louder and better than it looks. It features a mini USB and jack ports in the back. It is water and sand proof and can be taken outside with no problems.
Read more
As we already wrote, this small speaker has a pretty good sound even though it does not look like it. It works best with mid-range sounds and gets loud enough to fill up a medium sized room at full volume, with only a little distortion on the high notes.
The Tribit offers a 24-hour battery life when played at medium volume, which is pretty impressive for its size. The battery takes up much of its size and weight in order to achieve that. With only one charge it will be your trusted companion wherever and whenever you need it. The only downside to this is that the charging takes a long time, but the good news is that you won't be charging it often.
This is probably one of the best portable speakers you can buy for a price this low. It provides good sound, great battery life and is water, sand, and dustproof, so you will not be confined to one place or only to indoors. It can be carried to the pool, camping, gym or just used at home. The options are limitless. Its look is not impressive, but that is not as important as the quality of sound it provides.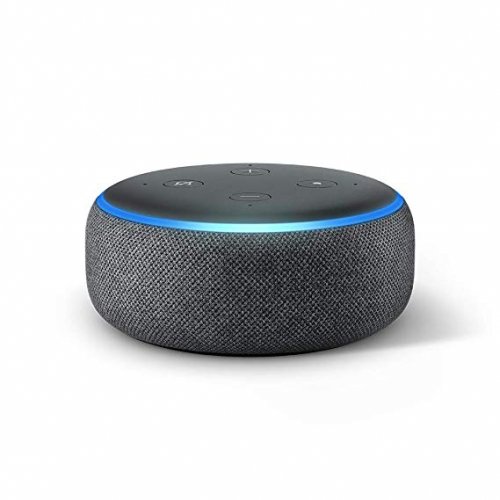 Fabric on the sides
Improved sound
Light
Better design
No aux cable included
No USB port
The third generation of the Echo Dot provides better sound quality, better design and improved audio than its predecessors. It is one of the smallest speakers around and can be placed anywhere. The sound is not as impressive as with other portable speakers, but it is good enough. With Alexa integrated, it works as much more than just a speaker. It can be used to control your smart home, connects to wifi and Bluetooth and blends in with any surroundings.
Read more
Compared to the previous Echo Dot generation, this one has a much better and richer sound, and can be used as a portable speaker. Not too much can be expected of it in terms of sound quality, but for the size, it is still rather impressive. It also has an option to be connected to larger speakers via Bluetooth or an audio cable.
The Echo Dot is one of the smallest speakers on the market. It fits easily on the palm of your hand, enabling you to carry it in your pocket if needed. The new fabric covered sides make it lighter and more comfortable for handling.
The best thing about this one is, even though it has better quality and looks prettier than the previous generations, the price stayed the same. It may be a bit expensive if you are planning to use it only as a speaker, but for all the features it has the price is not at all high. It features all the standard buttons, with an added 3.5 mm jack which can connect the Dot to larger speakers.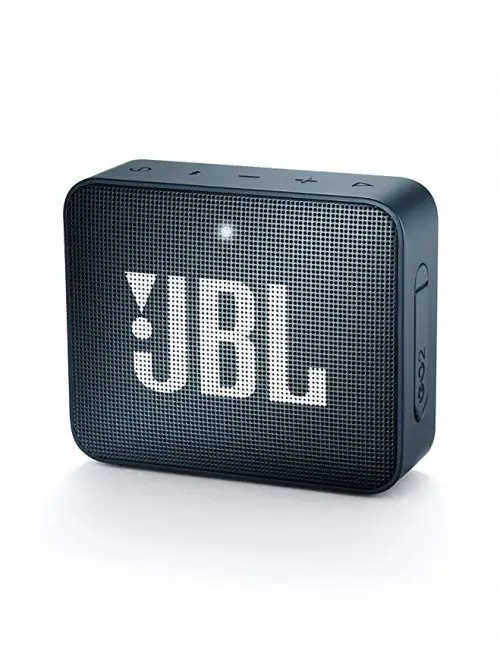 Plastic housing
12 different colors
Clear sound
Water resistant
Louder than it looks
5 hour battery life
One sided
No bass
With a weaker battery and more interesting design, the JBL Go 2 provides you with necessary features to help you enjoy any activity away or in your home. Its small size limits its audio performance potential, but it is still provides louder sound than it seems it can. It is compact, easily portable, water resistant, and comes in many different colors.
Read more
Delivering a surprisingly loud and clear sound for its size, this speaker can't really be on par with bigger speakers, because there is no room to fit better driver that can move more air. The bass is almost nonexistent, but that is really not as important as the clarity of sound. It only projects music forward, so it has to be placed in a way that provides with the best experience.
If we did not know that this was a speaker, we would have thought it was a really small handbag. Thanks to twelve different colors available, it can match everything you want it to, and break the uniformity of all the black speakers out there. It doesn't have a typical waterproof cloth over it but instead is covered in plastic which guards it against any damage.
The Go 2 is a great little speaker which can be used in any room, be it a shower, gym, your home or outdoors. It will not be damaged easily and can be tossed and turned in a bag without worrying. It has a 3.5 mm jack and USB port which is guarded by a plastic door. The battery lasts only five hours, which is pretty unimpressive, but still long enough to enjoy any activity with it by your side.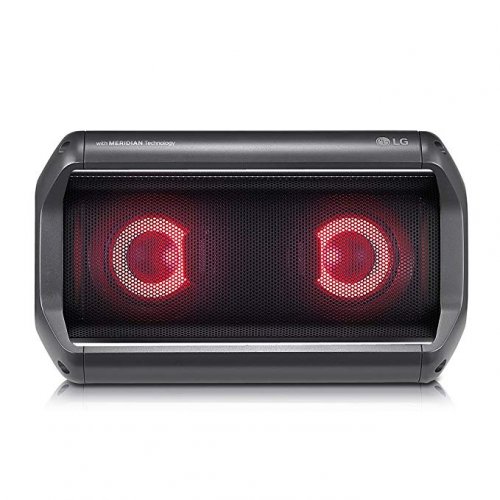 Long battery life
Clear and loud sound
Bass
Splash proof
HD quality over Bluetooth
Bulky and heavy
Android only app
This one is probably the biggest portable speaker we have included in our list. Even though it is big, it can still be carried, although not as easily as the smaller, plastic ones. It has a unique design which will get you in the center of attention everywhere you bring it. It is made from metal so it will be heavier, but with it comes better sound quality. Being splash proof makes it great to put beside a pool or in your backyard without the fear that the sprinklers might ruin it. It features an LCD light at the front which flashes and changes with the music which separates it from any portable speakers out there.
Read more
Thanks to Meridian Audio tuning, this speaker has very clear audio which distinguishes between notes and instruments. It also offers 24-bit quality audio streamed from a phone, using its aptX HD Bluetooth. The Clear Vocal button makes it possible to enhance the voice quality in songs or if you want to listen to a podcast on it. It has a very good bass which is rare with the portable speakers, so you can get the full experience of your favorite tracks.
The design of this speaker is something you won't see often and guarantees that you will be noticed. It has an LED light in the front which blinks with the music so you can throw a mini rave right in your backyard. It has metal grips which make it easy to grip and carry and give it a rugged, manly look. It is finished in matte black and has a textured feel which protects it from the elements.
Not exactly cheap, but this speaker is worth every penny you spend on it. The battery can last up to 22 hours, features a Google Assistant, a 3.5 mm jack for pairing with other devices and a charging port. For the sound quality it provides, you will hardly find anything better than this. A bit chunky, but the extra weight makes it seem that it is of good quality and creates a better sound. The biggest downside for some will be that it has an Android-only app, making it useless for someone with a different operating system.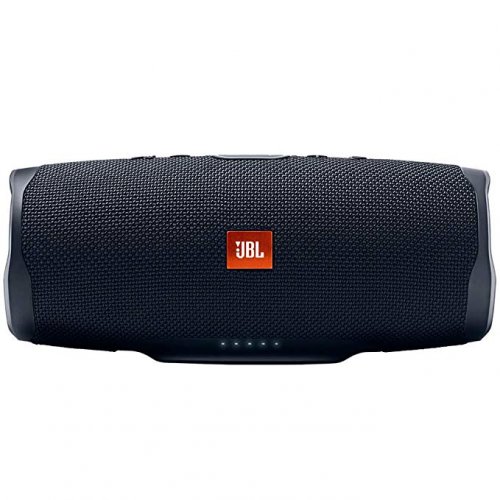 Long battery life
USB-C port
Change Connect
Waterproof
Loud sound
Many color options
Non-lit buttons
No microphone
Same sound quality as the last model
A company that pops into your mind every time someone says 'portable speakers', JBL, released quite a similar product to their previous one, Charge 3, but with some noticeable differences. This one is only slightly bigger and has a bigger battery. It is waterproof and has the IPX7 certification, is travel size and floats on water for a bit so you can get to it in time. It has a 4.2 instead of a 4.1 Bluetooth, and it features a JBL Connect, which is an easy way to pair a couple of speakers together.
Read more
This came as a great surprise because the Charge 4 sounds very much like its predecessor. It sounds better in big rooms and open areas, which is perfect if you enjoy taking it in nature with you, camping, fishing, or for any other activity you enjoy. The fact that its sound quality is basically the same as the Charge 3 is not necessarily a bad thing. It still sounds perfectly good considering its size, although its performance will vary with the songs you are listening to. Some will sound good while for others you may notice that the instrumental overpowers the vocals.
The Charge 4 comes equipped with a larger lithium ion battery which has 7500 mAh as opposed to the Charge 3 which only had 6000, but the battery life is pretty similar despite that. It lasts for up to 20 hours in optimal conditions, which is pretty good because it won't need to be charged every day. You can be out of the house for as long as you like without searching for an outlet any time soon.
The price for these speakers is not too high, but not cheap either. It doesn't offer many new features other than a 4.2 Bluetooth and Charge Connect. It has a USB c port for charging, as well as a 3.5 mm jack which is hidden under a plastic flap door to keep it safe from any liquids. It does not have a built-in microphone which is not necessarily a bad thing for those who don't like their music to interrupted by a phone call.
9

. Ultimate Ears Megaboom 3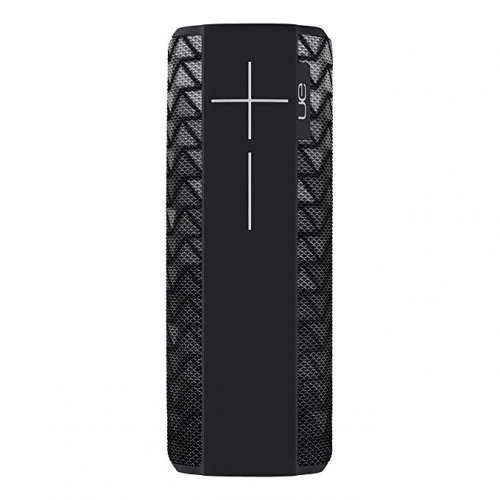 Tactile buttons
Various color options
Great battery life
Loud sound
100 feet Bluetooth range
Charging dock not included
Vocals are quieter than bass
This is this product's third generation, which is not much different from the previous two. Not such a bad thing, since they were also great speakers. With this one, the design is a bit more refined, sound and battery life are still great, and it comes at a lower price. It is in a cylindrical shape which provides sound from all around it, comes in many colors and the old, stiff buttons were replaced with more tactile ones.
Read more
The first and most noticeable thing about these speakers is how loud they are. They can easily fill a medium sized room or drown out ambient sounds in the nature and outdoors in general. The bass sounds good but it can really impact the vocals, making them quieter than they should be.
The battery can last for up to 20 hours on one charge, which is pretty impressive and useful, meaning that it can be taken anywhere and used for a long time without having to charge it again.
As far as the price goes, this one is much cheaper than its predecessor but with some extra added features, making it a great value for money. It still uses a micro USB for charging, but if you don't want to deal with cables there is a dock which is used for charging and as a stand when you are home. The sound can surely be improved, but it is still loud enough that it can be enjoyed in any circumstances, which is a big plus.
10

. Anker Soundcore Flare
Fun LED lights
Waterproof
Long battery life
360 sound
Battery takes long to charge
LED can be hardly seen during the day
The flare is a fun little speaker which has LED colorful lights at the bottom which reacts to music and adds to the design and to the fun. It is a 360 all around speaker, has a quality stand and is covered in fabric all around the speaker making it resistant to all kinds of weather and conditions. It is controlled easily through its app, and the sound quality it provides is dynamic and does the job with casual music listening. If that is not good enough for you, the sound can also be enhanced a bit by turning the bass enhancer on, or just never turning it off. There are also equalizer modes in the app so that you can adjust it to best suit your taste and your music.
Read more
The design reminds of the second generation of Amazon Echo, but there is a lot that differentiates them. The Flare has LED lights at the bottom which change color and add a bit of flair to the speaker. The rest of it is not that unique or pretty, but it is covered in a layer of fabric to keep it safe from water and sand particles, which gives it a different look and vibe than the Echo.
This speaker is great if you are not that picky and feel that you don't need anything special for listening to music. The Flare is much better than it seems, though, being able to compare to those much expensive than it. It offers a solid bass depth and overall decent detail and sounds much larger than it actually is. Its best feature is definitely the 360 sound, enabling you to move around and still receive the same quality and volume of sound. The battery life is good, lasting for up to 12 hours at a time, but the charging takes about 3.5 hours to complete.
The Anker Flare may just be the best portable speaker you can find for this amount of money. It is of great value for its price, provides better sound than some similar products and is waterproof, which means it can be washed after a day in nature without causing it any harm. It can survive being submerged in water for up to 30 minutes, which is pretty impressive on its own and really useful.
Criteria Used for Evaluation
Battery Life
If you are having trouble choosing between speakers always look for the one which has longer battery life. This often looked over aspect is very important because it enables you to focus on anything else, and not worry if there is an outlet nearby. Having a device with a good battery you will forget about it until you come home at the end of the day, and charge it for the next one. The bigger the battery is, the longer it will last, so try to look for those products that feel a bit heavier as they will most likely contain bigger batteries inside.
Features
Most notable features of a speaker are the battery life and sound, among others. They determine whether a product will be useful to you or not. The more features it has, the better value it is for your money. Some of them can be connected to others via the aux cable and some via Bluetooth, for maximum performance and enjoyment. Each of them has something unique, so it is important to research all those aspects before settling on just one.
Weather Resistance
When it comes to water resistance, it is important to read the fine print. Some products will inherently more resistant than others, which only offer splash protection, but will break if submerged. If you plan on using your speaker near a water source, such as rivers, pools or showers, make sure that there is a guarantee that it is completely waterproof and will not break down if thrown or dropped in any kind of liquid. Most of them are covered rubber for this particular reason and have a convenient hiding spot for all the inputs, behind a thick rubber or plastic doors to ensure that the liquids will not be able to get inside the speaker in any way.
Sound Quality
The sound quality has a direct impact on your enjoyment in your favorite music. If it is too weak or distorted, it will affect your mood and any activity you do while listening to music. That is why it is so important to read the reviews and figure out which one is the best for the money you are willing to spend on it. There is not much that can be expected from a small and portable device in terms of sound.
Most of them do not have bass at all or have just a little so the sound is not too hollow, but that is understandable since there is only so much that can fit into a small container like these. However, that does not mean that the sound will be inherently bad with every product. On the contrary, there are a lot of those who sound much bigger and louder than they are and compensate for their size. The only important thing is to know what you want and buy an appropriate product accordingly.
Expert Interviews & Opinions
Most Important Criteria
(According to our experts opinion)
Experts Opinion
Editors Opinion
Users Opinion
By Default
There's An App For That!
Some speakers have only Android or iOS apps. Make sure that one you like has the app for the right operating system so your money is not wasted on something you can not use in its entirety.
Durability Matters
For best results, choose products that were made of metal or aluminum, and those coated in plastic so that they will last longer with minimal wear and tear.
Other Factors to Consider
Bottom Line
Whether you are a business man or woman, athlete or sport enthusiast, a housewife or nature lover, a speaker is always a great thing to have around. Because a lot of them can not be moved or taken out of the house, a portable speaker is the next best thing to have. It provides all the benefits of earphones, without the discomfort of having something in your ears for an extended period of time.
Over time speakers have evolved to accommodate everyone's needs. The first analog speaker was invented in the 1920's, and we have come very far since then. Now everyone can have their own personal portable sound device with them anywhere in the world, which can be paired with any phone to play any music of your choice. Truly magnificent.
Nowadays, the main problem is choosing the right one for your budget, but there is always something for everybody's pocket. There are many versions of a portable speaker with more or less the same features. Some can be used in water, some are very loud, and some can distort the sound of your favorite music. With it being an ever developing technology, an with it the quality of the products, we can expect a lot more in the near future.
Frequently Asked Questions
q:

Can they be used in the shower?

a:

The answer is yes and no. It depends on the way it was manufactured. Some of them are made to be completely water resistant so they will not stop working even when submerged in water for up to 30 minutes, while others are far less resistant, only being able to protect themselves from a few splashes of water.
q:

Can they be carried in a bag without protection?

a:

The best speakers that can be carried in a bag are the ones that are coated in plastic, which ensures that they will not be scratched by keys and other things that may be in an average bag.
q:

Can they be paired with any device?

a:

Yes, they can be paired with any device wirelessly via Bluetooth, provided that the device you are pairing it is equipped with Bluetooth.
q:

How do they handle phone calls?

a:

Majority of these speakers have a microphone which allows you to make and take calls from your phone, while others do not. If that feature is important to you, make sure to read all the product characteristics.
q:

Do they require apps to work?

a:

They do not require an app because they can be paired via Bluetooth, but some of them have an app option so that you can control its other features through it.
q:

What is the most durable material for these speakers?

a:

The most durable and easiest for taking care of will have to be rubber. It makes it extremely easy for the speaker to be cleaned, and can even be put through water if the speaker is stated to be waterproof. The rubber will absorb any impact that may occur, leaving the mechanism inside intact. It is also soft and gentle to the touch while making it hard for the speaker to slide out of your hand, which could easily happen with plastic ones since there is minimal traction between it and your skin.