Best Products for Relaxing & Relieving Strained Muscles Reviewed
last updated:
Mar 03, 2020
It's happened again. You pushed yourself on the soccer field or doing lat pulldowns and you've overdone it. You wake up with a fierce cramp in the middle of the night that shakes you out of sleep, making you gasp in pain. Compounding the problem ins the fact that you don't have any products on hand that are designed to help you with cramps. So not only are you in pain, but you're stuck being in pain until your body relaxes and your muscle pain alleviates naturally. We've all been there; when we're conditioning our bodies and increasing our strength and skill, sometimes our bodies rebel and we get things that are tight, strained, or cramped. Just because your body causes you pain, however, doesn't mean that you have to stay in pain.
In a Hurry? The test winner after 12 hrs of research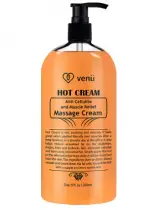 Venu Muscle Relief Cream
Why is it better?
Chamomile, capsicum and peppermint
All-natural
Cruelty-free
87% organic
Fights cellulite
In a
Hurry? Editors choice: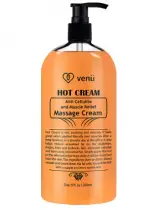 Test Winner: Venu Muscle Relief Cream
20
Researched Sources
1500
Reviews Considered
12
Hours Researching
14
Products Evaluated
Style
Materials
Features
Value
By Default
Top 10 Picks
1

. Venu Muscle Relief Cream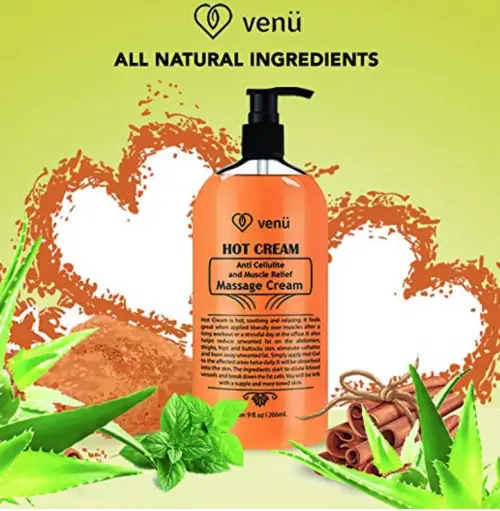 Chamomile, capsicum and peppermint
All-natural
Cruelty-free
87% organic
Fights cellulite
Venu is a small company with most of their efforts focused into online retail. They specialize in products that their customers can use to take beauty, health, and wellness into their own hands. Their product line, however specialized, is extensive. Among their line are anti-cellulite creams, anti-fungal body washes, massage oils, lavender essential oil lotions, and activated charcoal shampoos. Their Muscle Relief Cream is an all-natural product that derives 87% of its ingredients from organic sources, and also fights cellulite to boot.
Read more
Chamomile, capsicum, and peppermint
When someone is stressed, one of the most common ways to help calm them down is with a soothing cup of chamomile tea. This product has utilized the powerful calming effects of chamomile to bring relaxation to your sore muscles in this massage cream. The Capsicum and peppermint also pack a punch to work synergistically together to help ease your stiffness, cramps, and tightness.
Cruelty-free
Many products nowadays are tested on animals. This is just a fact of life. However, that doesn't mean one has to like it. For the conscious consumer looking to purchase ethically-minded products, this item is 100% cruelty-free.
Cost and Value
This product is among the least expensive on our list when compared to other items. Specifically designed for massage, this product uses its synergistically-mixed ingredients to pack a relaxation punch you won't soon forget. Overall, it is stuffed with value, and may be too good to pass up.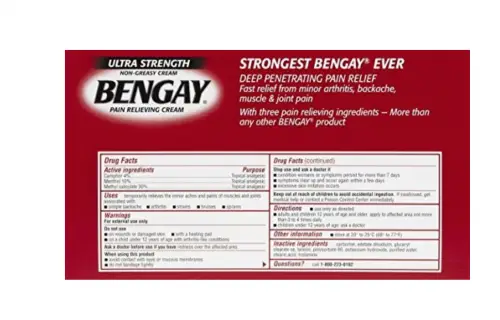 #1 doctor recommended
Non-greasy cream
Convenient, portable tube
Camphor, menthol and methyl salicylate
Top OTC brand
Ineffective for some users
Bengay, also known as Ben-Gay prior to 1995, is an analgesic rub used to relieve muscle pain, as well as pain from arthritis, sprains, strains, and other various aches. It was originally developed in France by Dr. Jules Bengué. Bengay was brought to American shores over a hundred years ago, in 1898. It is named for its creator, and has been one of the most effective products in its class over the past century. This product is a top over the counter brand. It comes in a convenient, portable tube, and its simple yet effective recipe has stood the test of time.
Read more
#1 doctor recommended
This product is one of the most highly recommended brands in the world, which is to be expected from a product that has lasted in the marketplace for over a century. It is highly recommended by medical professionals simply because it works, and works well.
Non-greasy cream
Many topical products for pain relief and muscle relaxation have a nasty, greasy film that they leave on your skin, even after they've been absorbed. Not so with Bengay. This product is absorbed into the skin and leaves no slick or greasy residue on your hands after you're done.
Cost and Value
This product is by far the least expensive item on our list. It manages to combine two aspects of a winning product: stellar effectiveness and a rock-bottom price. There's a reason this product is the number one over the counter muscle relief brand, and why it's lasted for over 100 years in a competitive marketplace.
3

. Maple Holistics Hot Cream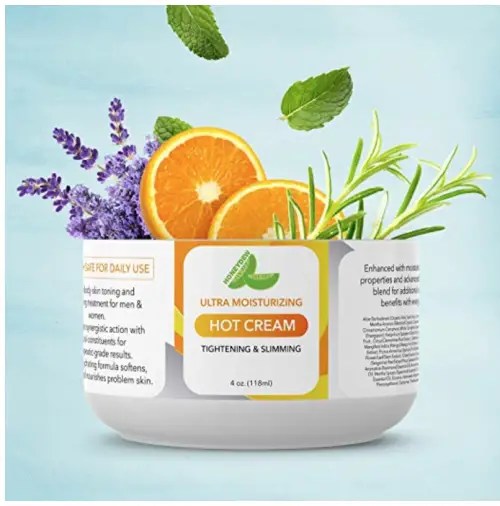 Menthol and camphor
Lavender for calming
Antioxidants and vitamins
Doubles as cellulite treatment
All-natural heated cream
May arrive with broken seal
Maple Holistics is a company based out of Farmingdale, New Jersey. They stand firmly on their Holistic Promise, guaranteeing that their products are of only the highest quality. All of their products are made in the USA from only natural ingredients. Further, all of their products are certified as cruelty-free, using no animal testing. Their entire line of hair products is sulfate-free. They pride themselves on a superior customer experience, providing a hassle-free money-back guarantee if their customer is dissatisfied for any reason. The Maple Organics Hot Cream is a welcome addition to their product line. This product is packed with antioxidants and vitamins and doubles as a cellulite treatment.
Read more
Menthol and camphor
This product uses all-natural ingredients to bring relief directly to your sore muscles. Among the most potent ingredients are menthol and camphor, two of the strongest and deepest-penetrating extracts from the natural world.
Lavender for calming
It is widely known throughout history and among the holistic community about the calming properties of lavender. Simply sniffing it is enough to bring calmness and relief to the mind of even the most stressed person. Its inclusion here will not only soothe your sore muscles, but ease your worried mind.
Cost and Value
This product is the second-least expensive item on our list. Its ranking among the least-costly items does not mean that it is low on effectiveness or value, however. Its all-natural components are packed with power, and will bring you relief for an extremely reasonable price.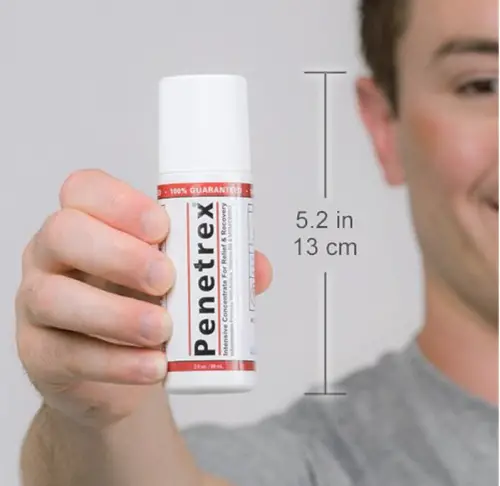 Long-lasting
Quick-acting
Roll-on format
100% satisfaction guarantee
Scientifically formulated
Penetrex brings another quality product to the list with the Penetrex Roll-on. They are a company that got its start in Southern California when a chemist made a breakthrough discovery that changed the game in muscle relaxers and pain relief. Believed to have fundamentally changed the way we treat inflammation-related ailments, this company's products use a unique formula to deliver relief directly to the source. This formula includes Vitamin B6, Arnica, MSM, Cetyl Myristoleate, Shea Butter and Boswellia Serrata. Once applied, the formula acts fast on nerves, tendons, ligaments, and muscles. They deliver this formula in a novel fashion through the Penetrex Roll-on, a product provided by popular demand.
Read more
Roll-on format
One of the most inconvenient parts of using a topical pain reliever is the inability to carry it around with you. Or, if you do, you risk the jar or bottle opening and spilling cream all over your bag or backpack. This product is in a convenient roll-on format that is not only highly portable but also extremely easy to apply.
Long-lasting
Many products can give you pain relief. However, how long that relief lasts is just as, if not more important than, other areas of concern. The Penetrex Roll-on will not only give you quick-acting relief, but that relief will stay put for longer than other pain relievers.
Cost and Value
This product has an upper-range price when compared to other items on our list. Unlike many other products on our list, this one is extremely portable. Sometimes we don't realize we're sore until we're on the go, and the ability to take relief wherever we go is worth the mid-range price.
5

. Prime Natural Essential Oil
Analgesic oils
Deep-penetrating oil
Aromatherapy-grade
GC MC tested for 100% purity
Euro-style dropper
Prime Natural is a company dedicated to providing the best quality and most effective essential oils on the market. Their product line in the online marketplace includes a number and variety of items, such as blends for anxiety relief, formulas to open the airways of congested customers, aromatherapy blends, and sleep and relaxation blends to combat insomnia. The Muscle Relief Essential Oil Blend 10m is a quality addition to their product line and is an analgesic, deep-penetrating oil that comes with a Euro-style dropper.
Read more
Aromatherapy-grade
Many times when you are applying a muscle relaxant cream or other topical product to your skin, the scent leaves something to be desired. Aside from being effective, this product is aromatherapy-grade. If you're already in pain, why submit yourself to further discomfort in the form of unpleasant smells?
GC MC tested for 100% purity
With essential oils, oftentimes there is a worry about purity. Many companies cut corners to save money by skimping on ingredients or blending their oils with unsafe additives. Not so with Muscle Relief Essential Oil Blend 10m. This product has been tested and certified for purity.
Cost and Value
This product has a relatively low cost when compared with others on our list, tieing for the position of third-least-expensive. It is the only essential oil blend on our list, and certainly one of the best-smelling options you will come across. If you are an essential oil aficionado, this product is too good to pass up.
6

. Botanic Hearth Muscle Jelly
Majority organic
Cruelty-free
Quick-absorbing
Cream formula
Homeopathic
Botanic Hearth is a small company focused on the digital marketplace. Their product line is specialized in various topical health and beauty products. Among their products are acne removal gels, anti-wrinkle creams, activated charcoal shampoos, skin-brightening serums, and shea butter for moisturizing. Their goal is to help people bring comfort, cleanliness, and relief to their bodies. To this end, they released the Botanic Hearth Muscle Jelly, a homeopathic cream that is cruelty-free, among other great features.
Read more
Organic
Oftentimes when searching for ways to bring relief to sore muscles, people think they have to compromise on purity and effectiveness. Not so with the Botanic Hearth Muscle Jelly. This product derives the majority (87%) of its ingredients from organic sources. Now you can be sure of the ethical roots and purity of your muscle relief product.
Quick-absorbing
The Botanic Hearth Muscle Jelly is designed to be absorbed quickly by the skin, to bring you fast-acting relief. One of the worst things is sitting around in pain waiting for your muscle relaxer to kick in. That discomfort will be cut short with this product's speedy action.
Cost and Value
This product has a mid to low range price when compared to other items on our list. It is one of the most highly-rated topical creams included here, and delivers relief directly to the source of discomfort. Not only this, but it is a cellulite treatment as well, and promotes healthy and supple skin. This product has many facets which make it well worth its reasonable price.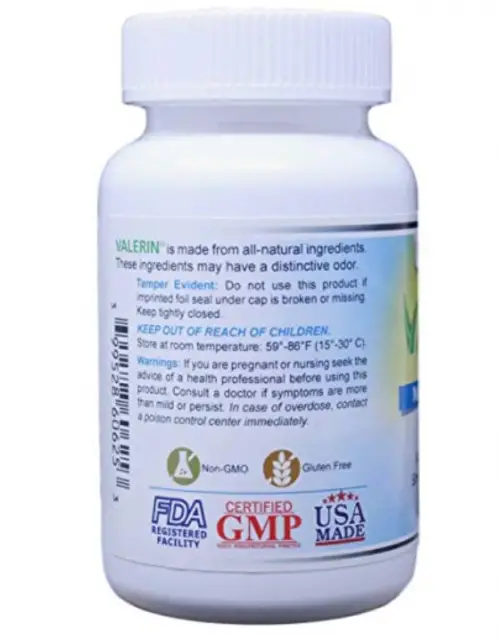 For spasms, cramps, tension
Workout recovery formula
Non-habit-forming
All-natural
Kosher certified
Difficult warranty process
Wonder Labs was established fifty five years ago. A family-run business, their business model can be summed up as "for every customer, we will make it right". Based in the South, they were founded in 1962 and have been excelling in customer service ever since. Their products come with a 100% satisfaction guarantee for either replacement or refund, and they are welcoming of customer feedback. They have also been Kosher certified since 2008. Wonder Labs brings the Leg Cramps, Muscle Cramps - All-Natural Relaxant Valerin to their product line, a supplement that is all-natural and is designed for spasms, cramps, tension.
Read more
Non-habit forming
A worry many people have when ingesting any kind of pill or supplement is the fact that it may be habit-forming. However, you can lay that fear to rest with the All-Natural Relaxant Valerin, which is made from all-natural ingredients and does not contain any component that is addicting.
Kosher certified
Many people who keep kosher have a hard time finding supplements that they can ingest. This is due to the fact that many supplements and vitamins are simply not produced in facilities that keep kosher. Understanding this need, Wonder Labs ensured that all of their products are Kosher certified, a credential they achieved in 2008.
Cost and Value
This product has a mid-range price when compared to other items on our list. It is the lowest-priced oral supplement that you can take, however. When you factor that in, in addition to the fact that it is all-natural, kosher-certified, and non-habit-forming, this product is packed with value.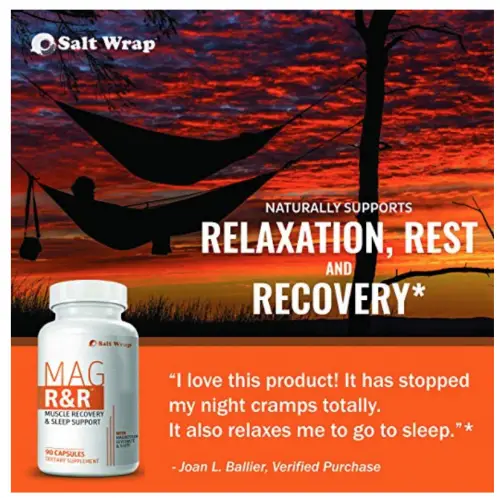 Homeopathic
Clinically-supported ingredients
Good for tension, cramps
Sleep support
Good for recovery
Salt Wrap is a small, tightly knit group of exercise therapists and fitness trainers. Though the collective's members are from varied backgrounds, they have one unifying goal. That goal is to help people use their bodies, and minds, to their full potential. Not only do they seek to help people live better and improve their athletic and day-to-day performance, but also to improve their long-term health. With this goal in mind, they have developed the Mag R&R Natural Muscle Relaxant, this homeopathic product is good not only for tension and cramps but also for sleep support.
Read more
Clinically-supported ingredients
Many times when you order a product on the internet, especially a health supplement, you may wonder if it will actually do what it claims to do. This product is developed from clinically-supported ingredients; science has shown that it can do what it claims it does, meaning it will get your muscles unknotted and get you back on the mat.
Good for recovery
Most athletes and those who undergo intense training understand the pain that can result from an intense workout. This is par for the course for people testing their body's limits. This product is specially designed to help with the recovery process; just because you're training hard doesn't mean you have to suffer.
Cost and Value
This product is second-most expensive on our list. Again, with high quality comes a high price. When you're looking for a clinically-proven oral supplement, this product was developed specially for you by exercise therapists and sports trainers. The recovery-boosting power of magnesium in this product doesn't come cheap, but is well worth it for those willing to spend.
9

. Penetrex Pain Relief Therapy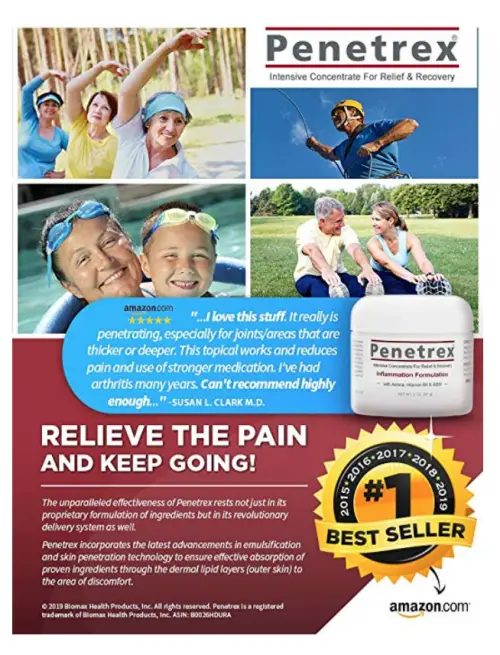 Quick-acting
Long-lasting
Cream for direct application
2 million clients worldwide
100% money-back guarantee
Low effectiveness in some users
Penetrex was first researched and developed by a famed chemist located in southern California. It is widely lauded as a breakthrough in treating inflammation-related health problems. Used topically, it delivers Vitamin B6, Arnica, MSM, Cetyl Myristoleate, Shea Butter & Boswellia Serrata directly to the source of the ache, and penetrates deep into muscles, tendons, ligaments, and nerves. Penetrex as a company has sold thousands of products in over 65 countries around the globe.
Read more
Direct application
There are two ways to use muscle-relaxing supplements. The first is to take a pill and hope that your body uses it in the correct fashion to ease the pain in the exact location you need it. The other is to use Penetrex, which is designed to be used topically directly on the source of the ache. Because of this direct application, it is fast-acting, letting you feel better, faster.
2 million buyers worldwide
Over two million people around the world have purchased this product. With numbers like that, you can be sure that Penetrex is doing something right. Their product is held to superior standards to provide superior relief to millions around the world.
Cost and Value
This product has a mid-range cost when compared to other items on this list. It has many features that set it apart, including having helped bring relief to millions. This product brings direct relief to the source of your ache and comes with a money-back guarantee. With these features, the middling cost seems like a steal.
10

. Dee Cee Labs Formula 303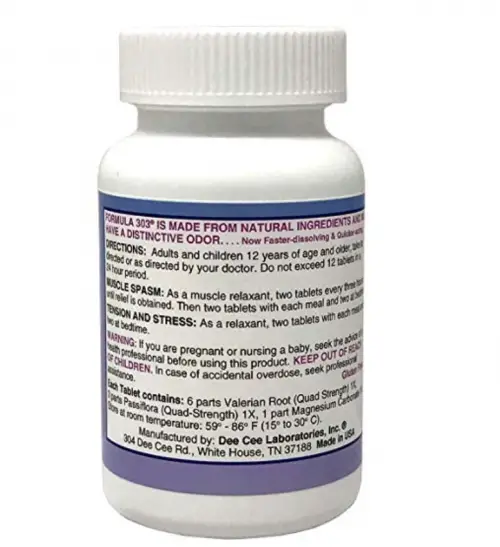 All-natural
Tension and stress relief
Good for muscle cramps
Insomnia relief
100% safe
Dee Cee Labs was founded in 1962. A small, family-run company, Dee Cee Labs was founded as a nutritional business to help people live a healthier life with the aid of sound nutritional supplements. The company is also working hard to make themselves a 100% eco-friendly company, which they believe is a moral imperative. They have reached their goal of being 100% green through the use of reducing, reusing and recycling in their manufacturing cycle. The Formula 303 Maximum Strength Natural Relaxant Tablets is all-natural
Read more
All natural
This product only uses ingredients that can be found in nature. It does not use any synthetically-derived chemicals or additives to help ease your stress. Sometimes mother nature has the best cure. This will be a boon to those who worry about the excessive use of artificial ingredients in products used inside the body.
100% safe
Sometimes you may worry that a supplement or pill you put into your body will have an adverse effect. Because this product only uses items that are 100% naturally derived, it is also 100% safe. When used as directed, this product has no reported side effects, and will not have any unexpected results in your body.
Cost and Value
This is the most expensive item included on our list. However, this is because with high quality comes a high price. This is the only all-natural pill supplement that is included in this list. If you're looking for a supplement to take by mouth to help out with your aches and pains, there's no other product like it.
Criteria Used for Evaluation
Style
There are two main methods to use products that relax the muscles. The first is the oral method, which is ingested. These products are usually in the form of pills that are taken by mouth. Once they enter the stomach, they are digested and released into the bloodstream; from there they provide relief to the specific muscles that are tight or cramping. These pills contain a variety of different ingredients, from herbal supplements to vitamins.
Topical
The second variety of product that is used on sore or tight muscles is topical, or that which is applied to the skin. These products are in the form of creams or gels that have to be rubbed into the skin. The benefit of these products is that they are able to be applied directly to the site of cramping or pain. Because they can be applied more directly, rather than needing to be absorbed into the bloodstream, they tend to work faster and provide more immediate relief. A downside of these products is that they often have a lotion-like texture that can leave a greasy feeling once applied to the skin.
Materials
Some products use a mix of vitamins to relax tight and cramping muscles. One of the most commonly included vitamins is magnesium. If your body does not have adequate levels of magnesium to compete with the present levels of calcium, your muscles can contract way too much, which causes cramps and spasms. Magnesium is a natural calcium blocker, and helps muscles relax.
Another common vitamin used to help muscles relax is potassium. The reason that muscles contract is because they get instructions from motor neurons, the nerve cells which talk specifically to muscles. The neurons fire due to sodium entering the cell; potassium has to leave in order to stop the message so that the muscle can relax. Basically, if you don't have enough potassium, there isn't a turn-off switch in your cells to tell them to stop contracting. Taking a potassium supplement can restore adequate potassium levels.
Features
Tube
Products that come in tubes tend to be fairly portable. Because of the screw-on lid, they tend to stay closed, and will not open up inside your backpack or purse. However, depending on the size of the tube, it may be cumbersome to carry around.
Pump bottle
Pump bottles generally are the least portable form of these products. There is simply no way to transport them in your bag or backpack without them getting cream everywhere. These products should stay in your bathroom or medicine cabinet so that they are in easy reach for late-night leg or back cramps.
Jar
Jars are slightly more portable than pump bottles, but not by much. Considering that most jars are made of glass, there is a significant risk of breaking. The danger of broken glass means that these kinds of products should generally be left at home.
Value
Sore and cramped muscles are just a part of life when you're pushing your body to the limits. However, as anyone who has woken up gasping in the middle of the night with a charleyhorse can attest, it is by no means a fun experience. The information assembled here has been put together to arm you with knowledge. Now that you have had a chance to do some research, you will be able to choose the product that is right for you depending on your needs.
Products that come in screw-topbottless, usually oral muscle relaxants, are perhaps the most portable form of muscle relaxant. Most products of this variety come with child-proof lids that are guaranteed to stay closed no matter how much you jostle them around. Additionally, the container are usually made from plastic, which won't break if dropped on the ground.
Expert Interviews & Opinions
Most Important Criteria
(According to our experts opinion)
Experts Opinion
Editors Opinion
Users Opinion
By Default
Storing
Generally, any medicinal or herbal product should be stored in a cool, dry place and out of direct sunlight. It should never be exposed to temperature extremes.
Topical or Oral
This will depend on the kind of relief you are looking for. Topic creams are usually faster acting and deliver relief directly to the source. However, oral supplements, especially those that contain magnesium and potassium, deliver nutrients that are needed to stop muscle contractions in their tracks.
Other Factors to Consider
Accuracy
Muscle cramps happen when the muscle seizes up involuntarily, rendering it immobile for a period of time. There are a few immediate steps that you can take to alleviate the pain. Massaging the cramping area is one way to cause the muscle to relax. You can also stretch the joint nearest to the cramp in order to flex the muscle, which can cause it to loosen up and stop seizing. It's an unpleasant situation to be in, and luckily there's help available. There is a huge range of products out there in the marketplace that have been invented for this exact scenario, and we've assembled them here for you.
There are several varieties of muscle pain relievers and relaxers. One kind is the variety that you take by mouth in the form of a pill, such as magnesium. These work from within the body to deliver relief to the affected area. Another variety is muscle relaxant and relief creams that are used topically to deliver relief directly to the source of the tightness and cramping. These products are more localized and may work faster, either working by applying an analgesic to the affected area or by promoting relaxation within the cramp or tight area. We've assembled the best of both kinds below to help you figure out which variety is right for you.
Frequently Asked Questions
q:

How do analgesics work?

a:

Analgesics work by blocking the pain signals that the body sends to the brain. The active ingredient in analgesics that are applied to the skin is nonsteroidal anti-inflammatory drugs like aspirin. This ingredient reduces inflammation which is the source of swelling and stiffness. A benefit of these topical medications is that they work locally.
q:

Can I overdose on a muscle relaxant?

a:

As long as you are following the directions and taking only the prescribed amount directed on the bottle, it is impossible to overdose. Additionally, most oral muscle relaxants are either simply vitamins or herbal supplements, which in and of themselves are not dangerous.
q:

Are there any contraindications with my medications?

a:

This will depend largely on which medications you are taking. There is a huge range of diseases and conditions that exist. Contact your doctor depending on which kind of medication you are thinking of using.
Subscribe to our Newsletter