Best Punch Shields Reviewed & Tested for Performance
last updated:
Feb 18, 2020
Many people engaged in sports overlook the importance of a punch shield. Punch shields are a great tool for training as it builds up your endurance through cardio exercises. Having to use a series of arm and leg movements burns a lot more energy in comparison to normal workout exercises and makes it easier to maintain a high heart rate. It can also change up the environment or change up your routine, allowing your workout to remain fresh. Because of the number of punch shields on the market, you can really personalize and select the right fit to meet your needs. On the other hand, selecting the right one may become an overwhelming task because of the number of choices and options. To make it easier, we have put together a list of the best reviewed and rated punch shields that will suit the needs of everyone.
In a Hurry? The test winner after 4 hrs of research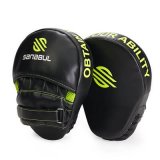 Sanabul Essential Curved
Why is it better?
Shock absorbent
Good quality materials
Good traction and grip
Comfortable
Ergonomic Design
In a
Hurry? Editors choice: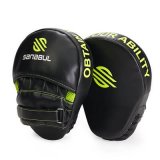 Test Winner: Sanabul Essential Curved
Durability
Weight
Effectiveness
Size
Adjustability
By Default
10 Best Punch Shields
1

. Sanabul Essential Curved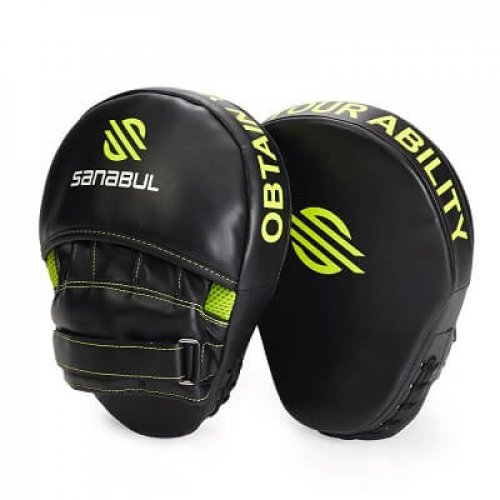 Shock absorbent
Good quality materials
Good traction and grip
Comfortable
Ergonomic Design
The Sanabul Essential Curved Punching Mitts are one of the most popular punching mitts on the market. Many people have left rave reviews about how great this mitt it. One of the biggest selling points it that it is a curved punching mitt. There are not many punching mitts on the market that have a curvature. The curvature of the mitt is great as it protects the wearer from hyperextending their wrists when they are being used.
Read more
Grip
This punching mitt gives the person wearing it a very good and secure grip. A secure grip is important for a wearer as the punching mitt can slip off when practicing and potentially cause injury to both people. The Sanabul Essential Curved Punching Mitt was constructed with the idea that the glove would follow the natural curvature of a hand. It also comes with a velcro strap to tighten the glove on your hand, allowing for more security. To increase the ability to grip after long periods of use, the backing of the punching mitt is made from highly breathable mesh. This is so that your hand can stay dry in the mitt and it won't compromise your grip strength.
Durability
The Sanabul Essential Curved Punching Mitt is made of high-quality leather which is the preferred material of construction as it has very good properties to make a good mitt. Leather is very flexible and can stretch and bend over and over again without wearing. It is also a tough material that can withstand a lot of stress, hence making it very durable and reliable as a punching mitt.
Cost and Value
From a monetary standpoint, this punching mitt is very economical and totally affordable. In terms of value, this mitt will give you more than what it is worth. Because it is made from high-quality material, it will take longer to break or wear down which translates to not having to replace it as quickly as you anticipate. The Sanabul Essential Curved Punching Mitt has also incorporated other technology into the mitt to ensure that you get your money worth. Between the breathable mesh in the back and the ultra lightweight foam of the actual glove, this is definitely a glove that will have you coming back to buy more.
2

. Everlast Strike Shield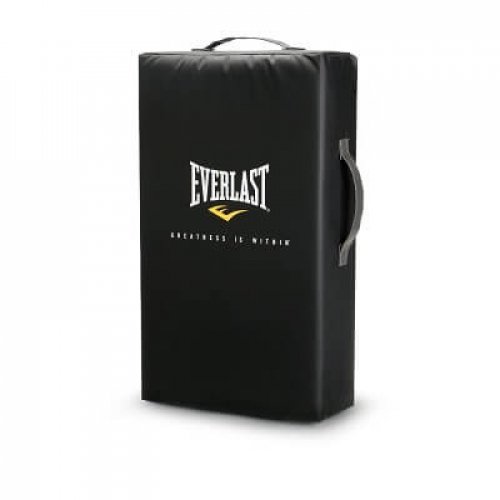 Thick Padding
Versatile
Dissolves impact of hits
Leather exterior
lightweight
The Everlast Strike Shield is extremely popular because of its large size. The large size allows for more ways to use the Strike Shield. From higher attacks to lower attacks, this Strike Shield can handle all of them without requiring too much change in stance for the person holding it. This is beneficial as it allows the holder to find a stable stance to absorb the impact and they can improve their endurance. It also enables the person delivering the hits the flexibility of how long each series of hits will last before they need to stop and rearrange things.
Read more
Material
The Everlast brand is the best brand you will find when it comes to the construction of a good large-sized strike shield. The materials used to build an Everlast Strike shield is of better quality in comparison to other brands and types of strike shields.This is because the strike shield is made with a type of high-density foam that ensures it will be able to handle the strong punches and kicks you throw at it. The density of the foam will also protect the person holding the strike shield as it will be able to absorb most of the impact of the hit and lessen the impact the holder has to take.
Even Distribution of Impact
The worst thing that could happen while training with a strike shield is to accidentally injure whoever was holding it. Apart from having an arm or leg go through the strike shield, where the impact is actually distributed on the shield is just as important. Most injuries reported are not from something going through the strike shield but from a concentrated area of impact. Many large sized shields are designed to be able to evenly distribute the impact of a hit. This is so the stress of the impact is not concentrated on one specific hard of the holder's body, thus preventing a local or specific injury. The Everlast Strike Shield has woven the leather in the back of the shield so that it can spread out and minimize the strength of the impact. While it is not reinforced with extra padding or cushion, the foam inside the strike shield itself releases pockets of air that help dissipate some of the strength of the hit.
Cost and Value
The cost of this strike shield is quite reasonable as it has many uses. Due to the large size of this strike shield, it can be used with a person holding it, or also propped up against the wall. For smaller children practicing a sport, it can be used as extra cushioning and prevent falls. The strike shield has a large enough surface area that it can allow for practicing hits outside of just the torso area. As mentioned, the value of the strike shield is in its foam. There are not many companies that are able to provide as high of a quality foam which the Everlast brand can.
3

. Everlast Thai Strike Pad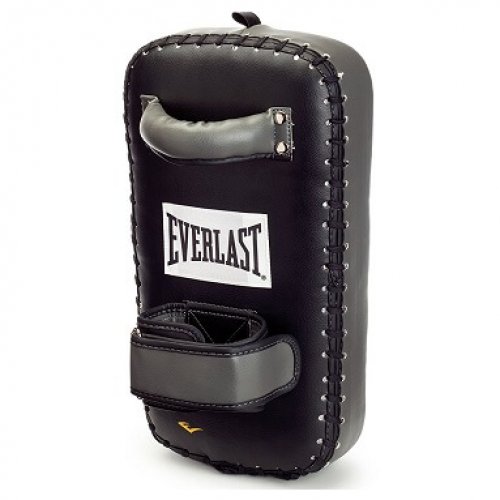 Comfortable
Good depth when hitting
Low price point
Multiple-use
Popular
When it comes to strike shield gear, Everlast is the most well known and trusted brand. They have been around for years and have earned a very reliable reputation. Many gyms and training facilities also choose the Everlast brand because they are genuinely that good. Although the Everlast brand seems a little lacking in the design department, they excel in the construction and materials of a strike pad. These pads are made of leather and designed to take a beating.
Read more
Reliability
This Thai Strike pad is an item that many professionals swear by. Despite other options out there, many professionals prefer to practice or train with the Everlast Thai Strike Pad. This is because the pad is made of a synthetic leather that makes the pad very durable and hard to break. This punch pad is constructed by taking synthetic fibers and weaving it into the leather so that it merely enhances the already good properties of leather. Once the synthetic fibers are woven in, the leather becomes even stronger as the synthetic fibers repair any damaged leather strands.
Foam Padding
This Everlast Strike Pad was the result of a mixture of texts and experiments. This pad deviates from the ways that Everlast uses to produce their strike pads. This strike pad has a much denser foam compared to other strike pads in their brand. While it is a little heavier and thicker, it offers a lot more protection against accidental injuries. The materials used to construct the inside of the Thai Strike Pad is a mixture of foam and stuffing. The foam is layered while stuffing is layered in between each layer. This allows for a much more shock absorption as there is more room within the foam layers to help the impact dissipate.
Cost and Value
With the use you will get, the cost of this strike pad is very affordable. The Everlast Thai Strike Pad is a very versatile strike pad that can be used for a variety of sports and exercises. This strike pad is durable enough to use for years without needing a replacement. However, the most important selling feature is that this strike pad is made to protect the person using it and also the person holding it.
4

. Pro-Down Strike Shield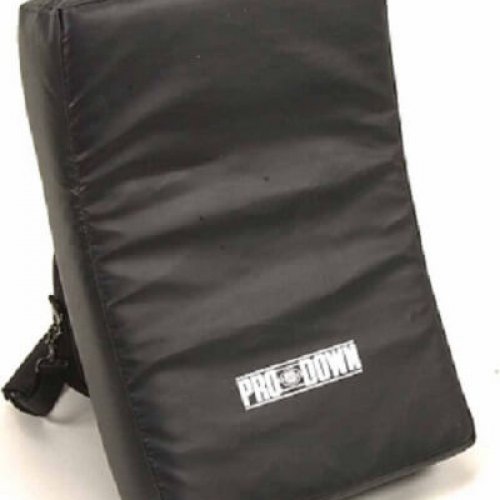 Quality material
Good for individual use
Able to withstand strong hits
Shock absorbent
Easy to clean
This durable strike shield is the favorite among basketball players. Due to the size and weight of the shield, it is a perfect accessory for running drills during practice. It is also a great tool to use when teaching players how to block opponents in a safe manner. The size of the strike shield is perfect for a youth or adult to use. Apart from competitive sports, this strike shield can also be used for leisure activities or workouts.
Read more
Shock Absorbing
Similar to its name, using a strike shield usually means you are striking it. Whether it is with your fists and feet or an object, the strike needs to be able to withstand and absorb the shock that you deliver. The worst thing that could happen to a strike shield is having it come apart when you strike it. The Pro-Down Strike Shield is made with a thicker leather, which prevents the insulation of the shield from coming out. The leather also has a bit of flexibility that gives a slight bounce back against the strikes that are being dealt to it. The insulation inside the strike shield is also made from a denser foam which allows it to absorb more of the impact. This will prevent injuries to whoever is holding it.
Durable
The Pro-Down Strike Shield is built to last. The outmost layer of the strike shield is made of nylon and vinyl, which will protect it from the sun, rain, and wind. The grip or handles of a strike shield is considered the weakest part of the entire shield. This is because it absorbs a lot of weight and stress when the shield is struck. The handles of the strike shield are the only thing that is keeping the strike shield in place while it is being hit. As a result, wear and tear tend to show very quickly in these areas. The Pro-Down Strike Shield has thoughtfully sewn the grips on the shield with heavy duty thread, this will prevent the seams from breaking as early as other strike shields.
Cost and Value
Strike shields are relatively affordable. But the Pro-Down Strike Shield comes with a lot of extra benefits. It was carefully designed so that it is wide enough to protect the entire torso of whoever is holding the strike shield. The interior of the shield has five layers of thick and durable foam which has been impact tested. This shield would be a great addition to any training gym or group.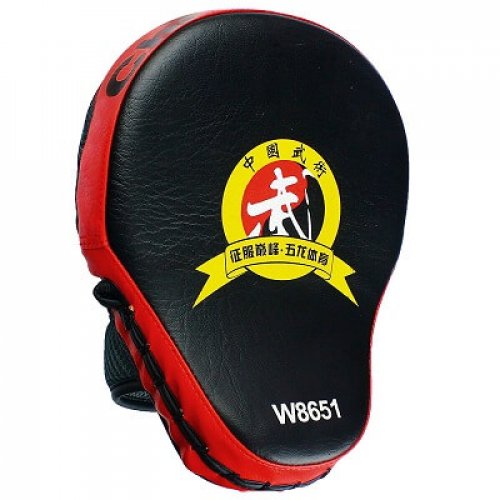 Interchangeable hands
Significant increase in athleticism
Made of high-quality leather
Very durable
Protects wearer's hand from injury
Purchased individually (not in pairs)
The Cheerwing PU Leather MMA Focus Punch Pad is a pad that is incredibly popular. Due to the size and the versatility of the punch pad itself, most people choose to purchase this version of punch pads. The punch pad has many uses, whether you are practicing for a sport or simply training your arms, this punch pad will be able to benefit you.
Read more
Comfortable
One of the biggest problems that punch pad users have is that the pad is extremely uncomfortable to hold. Because of the angle and way a punch pad needs to be held, most people experience wrist pain after a session with the pads. The Cheerwing PU Leather MMA Focus Punch Pad by offering a curved glove. The curve of the glove allows for the wrist to be more relaxed and in more of a natural position. This will bring down the stress it has to absorb during each impact. The punch pad is also made with a mesh in the back, allowing air to flow through the gloved hand. With the glove being able to breathe and circulate air your hand will be kept dry for a longer period of time.
Grip and Traction
Being able to grip a punch pad for a long period of time has always been a problem. This is because the hand inside the punch pad gets sweaty and once there is moisture inside the pad traction is lost very quickly. The Cheerwing PU Leather MMA Focus Punch Pad has designed individual finger slots so that it utilizes more surface area of your hand. It also allows each finger to have its own separate grip area, thus isolating any moisture that may build up. The finger slots are also completely enclosed, which allows for the very tip of the fingers to have something to grip as well. When each finger has more opportunity to grip, traction is made between the hand and the punch pad.
Cost and Value
These pads are well worth every single penny you will invest in it. The design of these pads alone will have given you more value than what you paid. Due to the punch pad's ergonomic design, it will allow for a longer training session and increase your endurance. The foam inside each pad is also made of high-quality material, thus preventing wear and tear as quick. Compared to other punch pads, the Cheerwing PU Leather MMA Focus Punch Pad is going to be the best that you'll find on the market.
6

. YoSoo Kick Pad Targets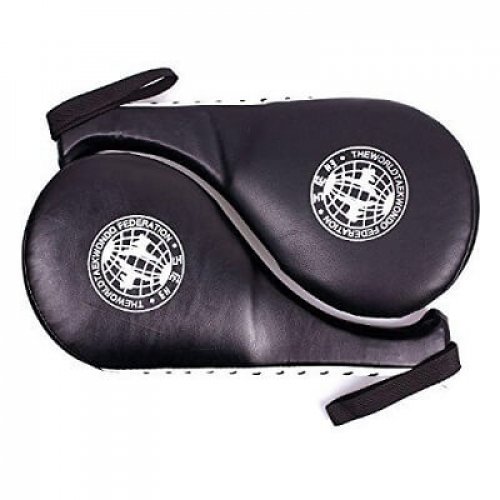 Good depth in hits
Durable
Thick padded foam
Added length and height
Versatile
The handle may wear out easily
Kick pad targets have always been a staple training tool in martial arts. However, more classes and sports are incorporating the use of kick pads into their sessions. This is because kick pads can be used for all kinds such as aerobics classes and cardio classes. Kick pads are not necessarily bound by their name and can be used as a punch pad. They can also be hung or secured so that you can train individually if you choose.
Read more
Extra Height
Kick pad targets are a favored training tool because of how versatile it is. Apart from improving their endurance and cardio, many people use these kick pads to do stretch training. For most strike shields and punch pads, the maximum height that the training pad can be held at is based on the person holding the pad. However, the YoSoo Kickboxing Taekwondo Kick Pad Targets come with an extended handle that allows users to hold it at least five inches higher than what they would normally be able to. This allows for training where you can stretch further and improve your flexibility while toning and sculpting your muscles.
Quality Material
When it comes to quality, the YoSoo Kickboxing Taekwondo Kick Pad Targets cannot be beaten. Similar to other products, the exterior of the kick pad is made of a high-quality synthetic leather which was designed to take a beating. The inside of the kick pad is made from an elastic compression sponge which will absorb a lot of the impact and bounce back quickly. An added bonus is the satisfying snapback sound when the pad is hit!
Cost and Value
The YoSoo Kickboxing Taekwondo Kick Pad Targets are the best-valued kick pads on the market. This is the go-to kick pad for many types of sports because it is very durable and lasts for a long time. The investment into these kick pads translates to enhanced performance, longer endurance, and increased accuracy. Along with construction using high-quality materials, it is surprising that these kick pads are so affordable.
7

. Combat Sports Strike Shield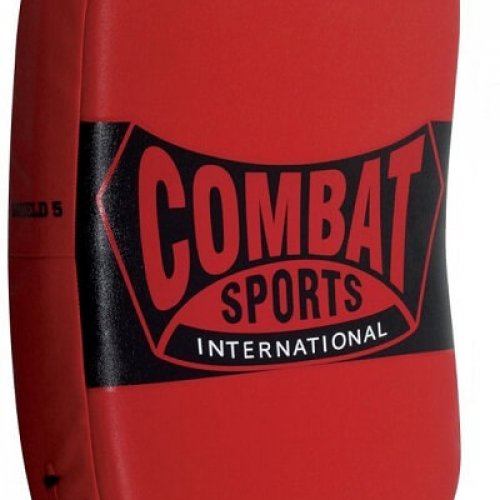 Very tough
Comfortable to hold
Good quality material
Shock absorbent
Thick padding
When it comes to combat sports, the keyword is practice. Similar to everything else in life, to become better requires practice over and over again. This is one of the most important things to remember when looking for a strike shield; to assume that it will be used every day for practice. As a result, the strike shield needs to be extremely durable and be able to withstand the forces of being used daily. The Combat Sports Strike Shield is designed with the goal of being durable in mind. Made from high quality reinforced materials, this strike shield will take the toughest of hits.
Read more
Heavy Duty
This is one of the most well-received and most popular strike shield on the market. The durability on this shield is so good that it is shocking. Instead of the usual leather used to make strike shields, Combat Sports have opted to engineer a type of synthetic leather to make the exterior of the shield more durable. The exterior looks to be made of just leather, but there are small synthetic fibres that are woven between the leather fibers which allows for the material to become rip resistant. The handles are also triple riveted into the strike shield, ensuring that they don't break off as easily.
Versatile
The Combat Sports Strike Shield is well-liked due to its ability to adapt. Due to the large size, it is ideal for tackling practice and full body attacks. The kicks and punches can be high or low without compromising the safety of the person holding it. You can safely practice your knee and shin kicks by having the holder lower their stance when holding the strike shield. This strike shield can also be used for kickboxing, punching, or focused based practice as well. The middle of the strike shield is large enough for aiming punches and is made of a reinforced material to ensure it will last.
Cost and Value
The cost of the Combat Sports Strike Shield is more on the expensive side, however, it is something you will not have to replace for years. Based on a daily usage of an hour, this shield can easily last two or three years. If the strike shield is used for group classes, it may not last as long as if it was for one single person practice. But it will still last longer than most large sized strike shields. This strike shield may take some wear and tear over time, but it was designed to take a good beating.
8

. Tiger Claw Strike Shield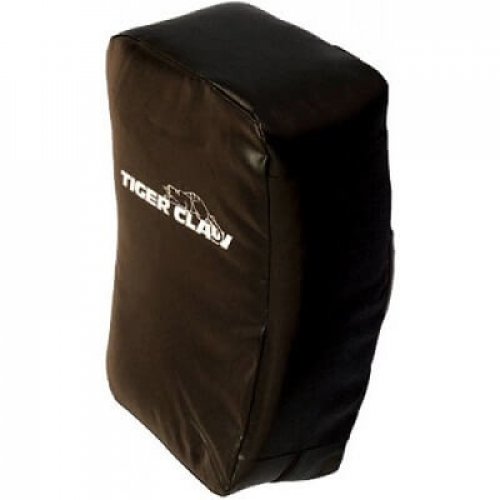 Durable and reliable
Dissipates hits well
Protects users
Sturdy
High-quality material
Most people prefer to pick a lighter weighted strike shield so that they can hold it longer without getting tired. However, most of the lighter strike shields have a thinner foam padding, which means the shield breaks down faster. The Tiger Claw Strike Shield is a large sized strike shield that is slightly heavier than most. But it is the most durable, unbreakable item on the market. Most strike shields are suitable for people with normal fitness levels, however, this strike shield is great for people that are more advanced in their fitness or sports. The density and thickness of this strike shield allow people to use all their force and practice for full contact sports and exercises.
Read more
Resistant
No company makes a shield like the Tiger Claw Strike Shield. Despite the thickness of the shield, this is not a poorly constructed shield. All the seams are double stitched to ensure that it does not break down as easily. Due to the thickness, this shield will not wear down despite throwing all your weight at it. The foam is a little harder than most strike shields, but it adds to the integrity of the strike shield and ensures a longer time before the shield takes a bit of wear and tear. Because you can practice using full power, this shield greatly improves your fitness and sports performance.
Shock Absorbent
The Tiger Claw Strike Shield is the big brother of all strike shields. This strike shield is completely shock absorbent to all full contact blows. This is a suitable strike shield for advanced students in martial arts to practice. This strike shield is thicker and more dense than normal, which is how it absorbs all the impact of a strike. The strike shield is made of multiple layers of thick foam. Although it is denser, the foam has microscopic air pockets will release when an impact is made to the foam. When these bubbles release the air, it absorbs and dissipates the shock, protecting the hold.
Cost and Value
This is strike shield that brings a lot of value. Due to the density and thickness of the foam, it can withstand any attack. Essentially, this is not a strike shield that you can easily punch through. As a result, it will last you for years. It is also great for out of the norm practises, such as learning how to do floor strikes with all the power in your body. Despite being more expensive than any of the other strike shields, for many people that are looking for something to use as normal cardio or martial arts practice, the strike shield will last forever. For high contact or heavy impact sports practice, this shield is still made to endure more blows than any other shield on the market.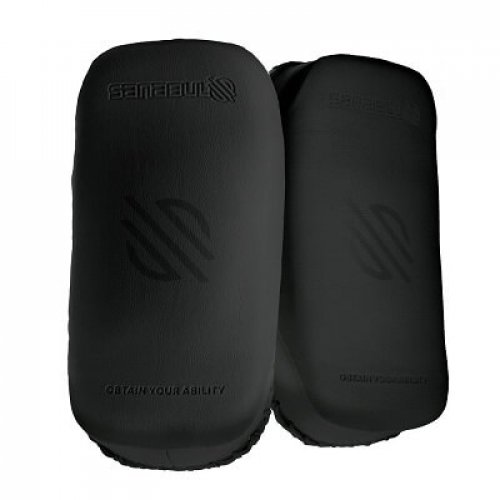 Advanced technology
Very light weight
Revolutionary materials
Good grip and traction
Comfortable to wear
Difficult to secure single handedly
Sanabul has always been known for the top quality materials that they use. Despite the materials used, they are always looking for ways to improve their strike shields and kick pads. The Sanabul BattleForged Muay Thai Kickboxing Kick Pads is one of the newest products and features a wear-resistant leather exterior. They have also researched and created a foam interior that is very light and allows for longer practice sessions.
Read more
Lightweight
When practicing for a sport, the last thing you want to be is tired out by holding your kick pads. The Sanabul BattleForged Muay Thai Kickboxing Kick Pads is one of the lightest kick pads on the market. These kick pads are made of a high-quality ultra-thin foam that still offers depth when they are kicked. These kick pads are great as they only weigh a pound and a half each, thus increasing the endurance of the person holding it. Because the foam is a new revolutionary technology, it is extremely comfortable to kick and will not hurt whoever is kicking it.
Secure
The worst thing that could happen when you are using a kick pad is for it to fly off. Not only does it break up the routine or the number of attacks, but it also poses a large danger to whoever is wearing it. Many can kicked skewed or fly off because of the force of the kick and also because of the sweat generated by the exercise. The Sanabul BattleForged Muay Thai Kickboxing Kick Pads come with two velcro straps to ensure the perfect fit for the person wearing it. There is also a third strap for the wearer to grip the kick pad so that it stays in place.
Cost and Value
The Sanabul BattleForged Muay Thai Kickboxing Kick Pads is quite expensive for a pair of kick pads. However, they are made from the most top quality material and some of the newest technology in a kick pad. Just those two points alone will make it worth quite a bit. Due to the high price point, these kick pads are ideal for people that are seriously training for a sport. However, that is not to say that these kick pads are not suitable for people looking to generally improve their fitness. These kick pads are durable enough to last a very long time before you purchase a new pair.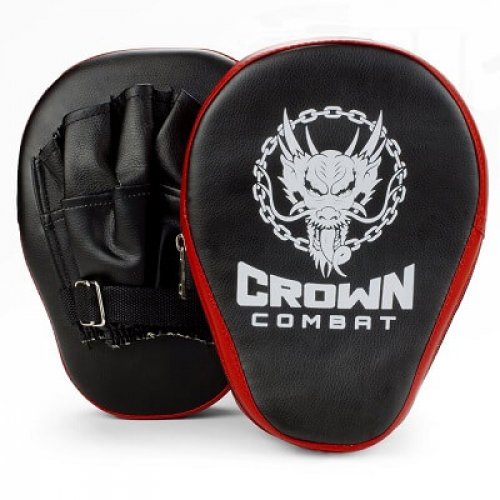 Ergonomic design
Shock resistant
Comfortable to kick or hold
Durable
Multi use
Inside of glove may be slippery
Punch mitts are a great training tool to invest in. The Curved PU Leather Punch Mitts are versatile enough to be used in multiple settings. They are great target practice for martial arts, boxing, and other combative sports. However, these will work just as well if they were used in a cardio or kickboxing class. These punch mitts are easy to use and lightweight allowing users to improve their performance significantly.
Read more
Ergonomic
The ergonomic design of the Curved PU Leather Punch Mitts cannot be beaten. They specifically designed the punch mitt so that it follows the natural curve of a hand. This translates to less strain on your hand and allows for a more comfortable kicking or punching angle. Many practices end early due to an injury or a strain to a wrist, which often happens when the punch mitt is a little too large or long. The Curved PU Leather Punch Mitts are purposely designed slightly shorter so that your wrist will not be caught by the punch mitt and it also allows for complete control over your mobility.
Secure
Most punch mitts have two straps where one can be held and one is secured around your wrist. However, the Curved PU Leather Punch Mitts have installed a glove on the back of the punch mitt, allowing all five fingers to grasp the mitt. This allows for more a more secure grip and a lesser chance of dropping the punch mitt during a crucial moment. It also has a strap built into the glove near the wrist so that you can tighten the mitt and secure it to your hand. The idea behind the design of this punch mitt is that once it's put on, it is merely an extension of your hand.
Cost and Value
Most punch mitts are a one-time use item, meaning that once they break or wear down that is the end of them. However, the Curved PU Leather Punch Mitts allow for swapping out the material inside the punch mitt. As a result, the value of this punch mitt is higher than most as it is much less expensive to replace a pair each time they break. If the exterior becomes compromised, these punch mitt also have a fairly low price point, so you will not break the bank if you had to replace the pair.
Criteria Used for Evaluation
Durability
Part of choosing a good strike shield or punch pad is knowing what materials have been put into the construction. Just like everything else in this world, some of the pads made will have a higher quality while others will be made with cheaper materials. Overall, it is safe to say that both punch pads and strike shields are constructed with similar materials. This means that if you know how to pick a punch pad then you know how to pick a strike shield.
The exterior of a good quality punch mitt or strike shield will most likely be made of leather. In the past, the leather would be a tanned leather from an animal. However, with the passing of time, we have been able to synthesize leather. Nowadays, synthetic leather is what most manufacturers choose to use as it has much stronger properties than normal leather from the hide of an animal. Synthetic leather is comprised of leather and usually a fabric such as nylon. The microscopic strands of nylon are mixed in with the strands of leather to give the synthesized material a stronger resistant from damage. As a result, the synthetic leather becomes much more durable and lasts much longer. Some manufacturers opt to put in two layers of leather to guarantee a slower break down rate while other manufacturers prefer to use a nylon covering between the leather exterior and in inner padding.
Another key to look for is at the seams. Most manufacturers have opted for a double stitched system for the seams. As these punch mitts and strike shields take a heavy beating every day, it is crucial that the seams do not split. If a seam rips in a target, it renders the target useless. In the past, many manufacturers opted for a normal stitch as it is quicker and less material used. However, they soon found that using just a straight stitch was causing the punch pad or strike shield to break quite quickly. Often times it is because when a target is hit, the impact needs to be absorbed and dissipated. When there is nowhere for the energy to go, it will look for the weakest spot to break through. As a result, the seams would constantly burst. Since then, the double stitching of the seams has improved the durability of the targets significantly.
The interior padding of a punch mitt and strike shield have always been a topic of conversation. In the past, the inside of these targets was simply stuffed with cotton. Obviously, this was not a good idea. With time and use, the cotton collapsed into itself and rendered the target completely useless. Since then, there have been many experiments in efforts to find the perfect foam and depending on a brand, the amount and layers of foam used differ. The general consensus for present-day punch mitts and strike shields are made from a compressed version of polyvinyl chloride or latex. Simply, these chemicals were sprayed and compressed into sheets. In comparison to cotton, this type of foam padding was able to sustain a lot more hits before breaking down. Inside these layers of foam, there are tiny pockets of air. This is where the energy in a hit is absorbed and dissipated. When there is a hit on the target, these air pockets compress allowing for the absorption of the energy. Then the air pockets re-inflate within the foam padding and allow for the target to go back to its original shape. Some of the higher end models will have punch pads interiors that are made with a combination of gel and foam. Gel is one of the greatest absorbers of shock, but having the gel inside with the foam will also ensure the integrity of the punch mitt is not compromised.
Weight
The weight of a punch pad or strike shield is extremely important. Depending on how heavy the target is, it may translate to how long you are able to train. For wearers, it is difficult to maintain target practice for a long period of time if the target is very heavy. If the target is too heavy, this will directly affect endurance levels. If there is not enough endurance to keep practicing, this means that the practices will be cut short, thus slowing down your ability to improve.
In the ideal world, a punch pad or strike shield should be light as a feather. However, lighter targets tend to mean that there is less cushioning or padding inside. This means that you'll need to expect some bounce back when the target is hit. A happy medium is usually somewhere around two pounds. Most of the targets that are under two pounds tend to experience much more bounce back when they are hit. This means when the person hits the punch mitt or strike shield, the impact of the hit pushes through the target and into the person holding it. This can cause a lot of injuries as the target is not absorbing most of the hit. However, many people prefer lightweight targets to use as fitness pads. It is recommended that while searching for the right target, try not to choose something heavier than three pounds. Having a punch mitt or strike shield that is heavier than that will mean that it decreases your endurance when holding it. The biggest problem with having such a heavy target is that it impedes your ability to move and slows down your reaction time.
Effectiveness
One of the biggest mistakes for beginners that are just starting to train is not purchasing the right pads for the right reason. Similar to many sports, kick pads and strike shields have different specifications that can really enhance one's performance. Once you have determined what your needs are, the cost and type of strike shield can change dramatically.
The most basic strike shield is known as an all-purpose fitness pad. These are ideal for beginners that are looking to start getting into a fitness routine. These are also often used for beginner classes in combat sports. The idea is to have a fitness pad or strike shield that can be put on and taken off easily. This is so that they can be quickly taken off to help the person delivering the strikes readjust or change their positioning. Most basic strike shields and fitness pads are lightweight and will have thinner padding but it will be more than enough padding to protect the wearer. Most people beginning their healthy lifestyle or starting combat sports will not have had the knowledge to focus the hits and will not hit as hard.
Another category of strike shields are known as safety pads. These safety pads are simply the largest strike shields manufactured. Many sports such as basketball, football, and soccer require the use of large strike shields to practice their blocking and tackling. There are also many combative sports that also have a use for these large shields. These largely sized strike shields are suitable for all levels of skill whether it is for a sport or for a fitness class. While the goal is to improve the performance of athletes, it is just as important to ensure the safety of the people holding the striking shield. These strike shields are ideally large enough to cover the full body and protect the torso. They also have extra layers of foam inside the padding to prevent harder and heavier hits. An added bonus for these larger sized strike shields is that they can be propped up or secured against a wall for individual use.
The final category for punch pads and strike shields is the professional combat sporting pads. These strike shields and punch pads are ideal for people looking to become professionals in a specific sport. Unlike the name, these strike shields and punch pads are applicable to all sorts of advanced sports and advanced cardio fitness classes. The idea is that the people using these pads will have a harder and more focused way of attack which means that the pads need to be able to withstand the impact. As users become more advanced they can opt to start decreasing the size of their punch pads and strike shields. This allows for athletes to train their accuracy and for wearers to improve their speed and evasion training. Despite it may seem a little bit of an overkill, beginners sometimes opt for the more professional sporting pads as they are the lightest in their category and they are small making storage significantly easier.
Size
When it comes to punching pads and strike shields, they come in all forms and sizes. They are placed in their categories based on size. In general, there are three categories: large strike shields, handheld focus pads, and punch mitts.
Large strike shields are usually an average height of twenty-five inches. They are designed to be big enough to do full contact tackling while protecting the wearer. Full contact tackling can be found in both combat sports, but also other sports such as football and basketball. The large strike shields are also used for individual training when there is no partner available. The large size is advantageous for beginners that are just getting into their fitness routine as they may not have the knowledge necessary for more focused and direct hits. The large area of attack will ensure that the person wearing the striking shield will not get injured.
As the name states, handheld focus pads are to be held when they are used. Instead of having the palm of your hand become the target, handheld focus pads allow a target to be held away from the body. These sort of focus pads are usually made of a padded cushion that has an average diameter of eight inches attached to a handle. Focus pads that have a handle are advantageous because they allow for further reach when holding a target. The target can be held higher or lower without compromising the stability of whoever is holding it. Focus pads usually require a little bit of aiming, but even the most beginner of beginners will find them to be of use.
The other category that was created through sizing is punch mitts, also known as punch pads. These are foam padded cushions that you wear on your palms to create a target for someone. These punch pads usually have an average length of ten to twelve inches and should be able to fit a hand comfortably. Usually, two or more people are needed in order to use punch mitts. Most people choose to purchase punch mitts as they are incredibly versatile. A punch mitt can be used as a stagnant target for someone looking to improve the strength of their hits. It can also be used to improve accuracy if the wearer keeps the target moving. The great thing about a punch mitt is that it helps both the person hitting it and the person wearing it to improve different abilities. The wearer can practice their evasion techniques by dodging the hits, or they can also practice their footwork and increase their speed while trying to not be hit. Punch mitts are usually a popular choice for beginners and athletes alike.
Adjustability
Keeping a target secured on you is extremely important, it will help the person delivering the hit aim, but it will also ensure the wearer is being protected by the foam padding. A hit on a loose target can cause a substantial injury that may require a long period of rest. As a result, it is important to consider how secure the target will be on you. Another important point to remember when choosing the right securing mechanism is that a loose target means a loss of grip and traction. Most of the securing mechanisms of the strike shields and punch mitts are designed to offer better grip and traction. Using a target that will easily slip or fall off means that the target is not compatible with your hand and it's best for you to look for something that will give you a better grip.
Unfortunately for a strike shield, there are not many ways to secure them. A securing mechanism for a striking shield usually comprises of straps and a handle. The handle at the very top is for holding, while the two straps are for wearing. Depending on how the strike shield is used, different straps will be utilized.
There are many ways to secure a punching pad. The key to finding the right one is finding a securing mechanism that will get the punch pad to stay put on your hand and not causing discomfort. Many of the securing mechanisms can cause discomfort through the friction of the material rubbing against your skin. Most people tend to stick with a specific type of securing mechanism once they find one that works for them.
One of the most common ways to secure a punch pad is the use of velcro straps. Normally on the back of the punch pad, there are two straps. The top strap is an elastic strap that cannot be removed or adjusted. The strap is there for you to slip your fingers underneath it and the tension of the elastic is to keep the fingers in place. The second strap is an elastic strap with velcro on the ends. The second strap is designed to wrap around your wrist area and adjusted so that it keeps your wrist in a secure place. This is a popular design as it is easy to manufacture and does not cost much to make. However, your wrist will pay for it when the straps fail. Because the straps have elasticity, it allows the target to move and wiggle around. Depending on the direction of the hit, the target can either slip to the side or your wrist can snap back. If the target slips to the side, the attacking hit will connect with your bare hand. If it is a hard hit, it could potentially break bones within your hand. Although this elastic and Velcro strap combination is common, it may be better to go with something a little more secure.
Another securing mechanism found on a punch pad is a glove. The hitting face of the punch pad looks normal, but there is a glove sewn onto the back of the punch pad. The glove shape allows for users to put their entire hand into the glove and grip the punch pad tighter. As the glove has a spot for each finger, it allows for more surface area where your fingers are connected to the glove. This will translate to better traction and grip. Even if your fingers become sweaty, there are five opportunities before there is a chance that the punch pad will slip out of your hand. In the ideal world, the glove on the back of the punch pad should be made of a mesh or breathable material. Having a type of material that allows for airflow and air circulation will make a huge difference in how well you can grip the punch pad. Most of the sports that use punch pads are quite intense and can cause a lot of stress. As mentioned previously, a sweaty hand can translate to an injury, which is why we want to keep the hand gripping the punch pad as dry and cool as possible.
Some of the best punch mitts on the market use a combination of the mentioned methods. Many of the higher model punch mitts have a glove on the back of the punch pad, but also has an additional strap to secure the wrist area. Usually, this strap is either made of elastic and Velcro or uses a buckle system. When the punch mitt is ready to be used, the wearer will slip the hand into the glove on the back of the punch pad. Using the other hand they can either wrap the elastic to a spot where they find comfortable and stick the Velcro together. The buckle system is slightly more complicated but is similar to a leather belt. Once the hand is inside the gloved, the wrist can be secured by tightening the strap until the right tightness. Having a punch mitt that is secured by a combination of ways will greatly decrease the chance of injury. It will also improve performance as practices can be in longer duration without the need to stop and readjust the punch mitt.
Expert Interviews & Opinions
Most Important Criteria
(According to our experts opinion)
Experts Opinion
Editors Opinion
Users Opinion
By Default
Other Factors to Consider
Comfort
One of the most important factors in choosing a strike shield is finding one that is ergonomically comfortable. A strike shield should be something that helps you train, and not something that will impede you from becoming better. It is important for both the user and the person wearing the strike shield to be comfortable. Being comfortable will translate to being able to focus on improving your athletic abilities.
For a larger sized strike pad, it is extremely important that the pad will cover your entire torso. Having a strike pad large enough to cover your torso will mean that your body is required to absorb fewer hits. The large strike pad can also help prevent any unwanted injuries. When wearing a strike pad, it is important to ensure that the straps are not placed too far apart or too close to you. If the straps are too close together, there is a potential of injuring your neck. When they are too close to each other, it will severely restrict your movement. The straps may also rip or get damaged because they are under constant stress to adjust to fit your body. Straps that are placed too far apart will also not work. You will not be able to secure the straps on you or one of the straps will constantly slip. When purchasing a strike shield, it is important to take into account how wide the wide of your shoulders are to ensure that the straps will fit comfortably on you.
The best shape for punch mitts is ones that are curved. A curved mitt will conform to the natural curvature of your hand. Instead of having rigid fingers in the back of the punch pad, you will be able to curve your fingers slightly. This will prevent any wrist injuries and carpal tunnel. Having a curved mitt is also beneficial when it comes to absorbing shock. Most punch pads are designed so that the impact of the hit is usually concentrated near the wrist area. As a result, many people are sore or uncomfortable after holding a punch mitt for a long period. However, the new punch mitts that have a curved face allow for the concentration of the hit to be in the palm. The palm is a much better place to absorb impact than your wrist. Some of the more expensive punch mitts also have what is known as a sweet spot. The sweet spot in a punch mitt right in the middle. Instead of foam, manufacturers have placed a gel cushion to save the wearer from injury and also increase the lifespan of the mitt.
Bottom Line
The key to finding a good punch shield for yourself is knowing what will make you comfortable. A strike shield or punch pad is of no use to you if they are not comfortable. Having a comfortable shield means that you can train longer and better. Whether it is a large shield or a small punch mitt, there is a different use for each one. It is important to do research and know what will be most suitable for your need before purchasing. Regardless of research, one of the most important things to keep in mind is that you can grip the target properly. There are many targets on the market that have great qualities, but if you are unable to grip the target, then even the highest quality punch shield will be of no use to you.
Frequently Asked Questions
q:

How Do I Know Which Punch Pad Will Be Best For Me?

a:

Punch pads come in a variety of sizes. The key to a good punch pad is finding one that your hand can hold comfortably. If you have a smaller hand, this may mean you will need to purchase a punch pad that is slightly smaller than the average. The most important thing is for you to be able to hold and also be comfortable while holding it.
q:

Why Do All Strike Shields Seem So Large?

a:

Strike shields are the largest type of targets used for practice in combat sports. It is important that they are big as they need to be wider than the person holding it so that it can protect the torso of the holder. Strike shields are also purposely designed to be larger so that you can have more area of attack instead of just focusing on one spot over and over again.
q:

Should I Choose a Punch Pad or Strike Shield?

a:

A strike shield is always recommended as they are good for both focused training and fitness. While punch pads have their own good qualities, a strike shield is more versatile. They can be used for tackling practice, speed and accuracy training, and also have a larger hitting surface allowing for other types of exercise.
q:

Are Punch Pads Sold In Pairs?

a:

Most manufacturers sell punch pads in pairs. The theory behind it is that It is very rare that only one punch pad is used at a time during practice. However, when punch pads decide to break, they don't both break at the same time. As a result, most manufacturers now have an option for purchasing an individual punch pad to replace one that is broken.
q:

How Do I Wash A Strike Shield?

a:

A strike shield will need to be cleaned occasionally. Due to its size, it can be quite difficult to do. Unfortunately, only the exterior of the strike shield can be washed. Simply use a bit of sanitizer or soap and water to wipe down the outside of the strike shield. The key is to leave it in a place where it can air dry, otherwise, it will retain the moisture in the foam and cause a musty smell to emit every time the target is hit.
q:

Can I Wash Punch Pads In The Washer?

a:

Absolutely not! A washer will damage and compromise the punch pad. As the movements of the washer are mechanical and not controlled, there is a high chance it will break up the foam padding inside the punch pad and render your target useless.
q:

Do You Have To Have A Partner To Use A Strike Shield?

a:

The answer is no. A strike shield is large enough you can either secure it to a wall or prop it against something. It would be great to have a partner to hold it, but you'll be able to use the strike shield just fine on your own.
q:

Can My Kids Use A Strike Shield?

a:

They can hit the strike shield but it is very unsafe to allow a child to hold the strike shield. Simply because it is a large item that they will not be able to see around and also because the force of a hit could imbalance them.
q:

Should I Buy A Punch Mitt For My Child To Use?

a:

Most punch pads are fitted for adults and are generally too big for a child. A child has too thin of a wrist for the punch pad to be able to tighten around it.
q:

Can Punch Pads Be Used For Kicking?

a:

Of course! Contrary to the name, a punch pad can be used in all sorts of ways. They can be used for hitting with the hands, practicing blocking with elbows, kicking with legs, and many other methods.
Subscribe to our Newsletter