Best Rash Guards Reviewed and Rated
last updated:
Mar 03, 2020
There are many people who enjoy sports such as mixed martial arts, Kickboxing, and Brazilian Jiu-Jitsu. Without the proper gear, these combat sports are dangerous and can cause serious injury. However, most people that enjoy these sports are willing to invest in good gear as most gyms and fitness centers will not allow you to join without using the proper gear.
A basic piece of protective equipment is a rash guard. It functions as a second skin on your body and is usually considered as the base layer for the rest of the equipment. While it may be the most basic item, do not let it fool you as there are many benefits to your performance when you wear one.
Featured Recommendations
Sanabul Short Sleeve

Our rating
Stretchy Fabric
Good Heat Dispearsment
Price:

See Here
Elite Sports Long Sleeve

Our rating
Compression Material
Durable
Price:

See Here
Fanii Quare Short Sleeve

Our rating
UV Protection
Temperature Control
Price:

See Here
One of the biggest benefits of using a rash guard is that the fabric it is usually made of will help the compression of your muscles. Many people wear compression socks or braces to help reduce the swelling and shorten their recovery period. As a combat sport is full bodied, having the compression properties in your rashguard will help remove the swelling and inflammation in your body, allowing for a quick recovery product. The compression material will also constrict your muscles and hold them in place and prevent sprains from the sudden jarring impact.
The rash guard will also prevent something known as mat burn. Quite simply, when your body is pressed against the mat, friction is created between your skin and mat. When this happens, the most top layer of the skin is removed through the constant rubbing. It will leave a very painful and stinging sensation that can last for a few days.
10 Best Rash Guards
1. Sanabul Short Sleeve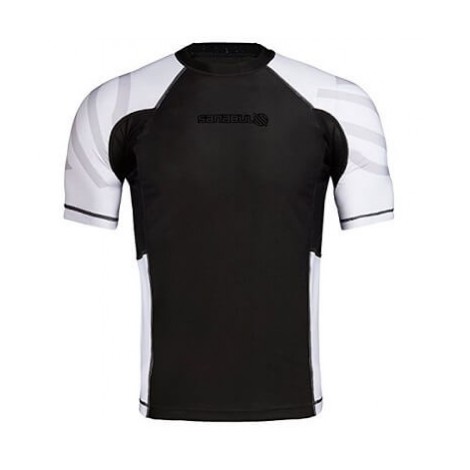 This rash guard is exceptionally good at its job. While the main responsibility of this product is to protect its user, it is also very flexible and allows for unrestricted movement. It is a high-performing item that will help boost your performance and while drastically improving your body condition.
Expand to see more
Stretchy Fabric
The fabric in this product uses a material that allows for a lot of stretching. Most clothing will get ruined when they are overstretched in one direction or another. However, the materials that construct this item can easily stretch in all directions without losing elasticity.

Heat Dispersal
Engaging in a sport can be a very hot and sweaty business. If there is no way for your body to get rid of the heat, an athlete can run the risk of heat stroke. Unlike other products, the fabric in the armpit area has been cut away and replaced with mesh. This allows for the heat to have alternative ways to escape quickly.

Cost and Value
This product comes at a reasonably affordable price but is worth more than what you are paying. Along with being able to reduce heat quickly, this product is extremely durable and can last longer than most items of similar use. It is tough and can withstand being used in a variety of activities.
Machine washable

Versatile

Flexible

Supportive

Variety of colors
2. Elite Sports Long Sleeve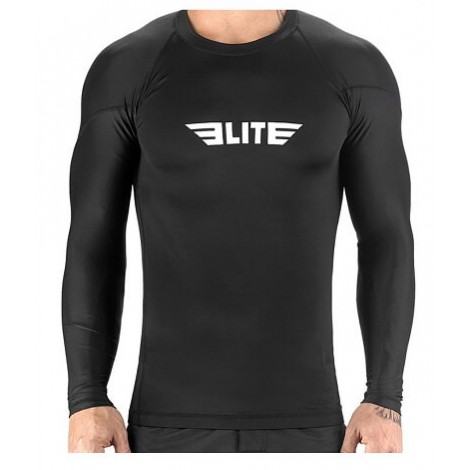 This is a popular rash guard among athletes as it is a long sleeve which will prevent accidental scrapes and cuts. There is a lot of subtle technology that is packed into this product that will greatly boost your performance. It can also be used in many different sports thus eliminating the need to invest in more equipment.
Expand to see more
Compression Material
The materials used to build this product also offers compression when you wear it. It has been proven by medical science that wearing compression materials can improve your blood flow. It can also protect you from injury as the materials help support your muscles and keep them in place.

Durable
This product uses a procedure known as flatlock stitching to keep the pieces in place. It is a form of stitching that pushes the two pieces of fabric up against each other to eliminate all gaps before securing it. This decreases the chances of a burst seam when used over a period of time.

Cost and Value
There is a slight variation in the price depending on the color and design, but overall this is a product that has a reasonable price point. It is worth the investment as it covers the entire length of your arm and allows for the ultimate protection when engaged in a sport.
Strong material

Stretchy

Full coverage

Durable stitching

Affordable
3. Elite Sports Standard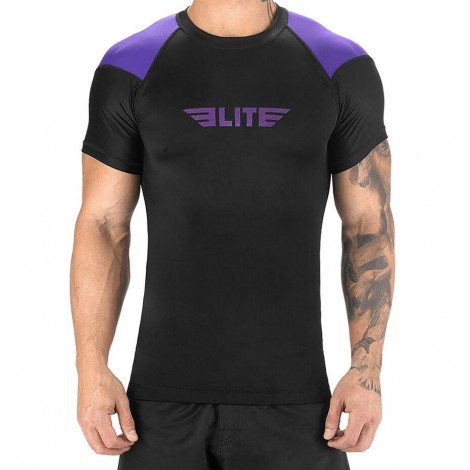 This item is extremely popular amongst experienced athletes and amateurs. It is not only affordable but is stylish and looks great on anyone. There is an unbeatable amount of science that has been incorporated into this product and is sure to give you an additional boost to your performance.
Expand to see more
Quick Recovery
This product uses a gradual compression system in the fabric, which greatly reduces the recovery time of your body. The material keeps the blood flowing by lightly pushing it up and down, preventing areas of stagnant blood to form inside your muscles. It is these inactive areas that cause the soreness after a workout.

Anti Bacterial
The fabric of this guard has been treated with a special chemical that decreases the build-up of bacteria and germs. As this material is tight against your skin, the germs and disease can easily jump between your partner and yourself. The chemicals used will eliminate most of the germs despite the hot environment of sportswear.

Cost and Value
This product is not only cost-efficient but has a lot of innovative technology. It is surprising it can be so affordable considering the high-grade materials and used to construct this item. It is also machine washable and will not damage the integrity of the chemically treated fabric.
Chemically treated

Stylish

Affordable

Protective

Durable
4. Sanabul Series 1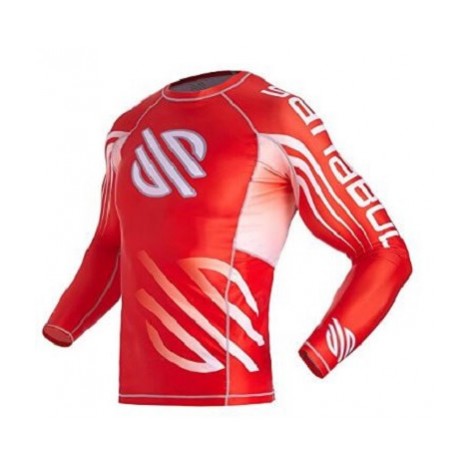 This product is one of the best on the market. It hit all the niche areas that other products of similar specifications to do. Not only is it versatile, it also appeals to people that have body structures that may not necessarily fit the average size.
Expand to see more
Long Torso
Many people develop injuries in the lower stomach area despite wearing a rash guard. This is because some rash guards will ride up, or simply because the user has a longer than average torso. To mitigate this problem, the Sanabul brand has developed an extra long torso for their newest model to ensure that the lower stomach area will always be protected.

SPF Protection
While most rash guards are used indoors, this rash guard can also be used for outdoor activities. This product uses fabric that offers SPF 50 protection against the sun. Along with combat sports, many people purchase this item to use for surfing as well.

Cost and Value
While this product is more expensive than other items, it is more versatile than most. Investing in one of these will save you from buying any other rash guard as it can be used in all weather conditions and for all types of sports. It is also incredibly durable and will last for quite some time.
Extra long torso

Machine washable

High-quality fabric

Sun protection

Variety of sizes and colors
5. Anthem Athletics Long Sleeve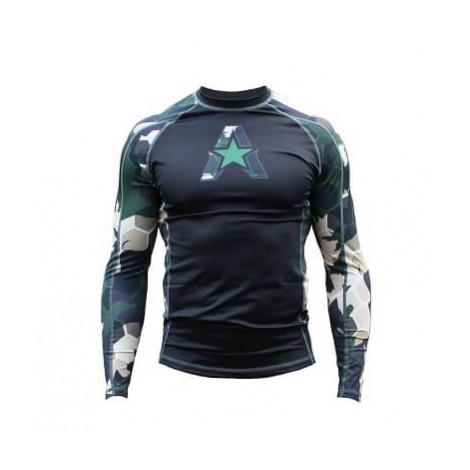 This brand is known for its stylish gear that works. Their products are created to meet international standards while maintaining its eye-catching abilities. This tight-fitting combat gear gets rid of any moisture to prevent germs and bacteria from developing.
Expand to see more
Versatile
Most products are only certified for a few categories of combat sports. However, this item is recognized by the International Brazilian Jiu-Jitsu Federation as a piece of protective gear. It can be used in large-scale competitions and will offer you the ultimate protection during fights.

Compression Material
The materials used to build this product will compress and work with your muscles to increase blood flow. Having increased circulation can greatly increase your alertness and focus. This item was designed to be supportive and offer a noticeable difference in your performance.

Cost and Value
While this product is slightly more expensive than most, it is guaranteed to protect you. While engaging in combat sports, it is absolutely necessary to find equipment that will prevent injuries and help you recover quickly. This is worth the investment as it will offer you more value than you have paid in the long run.
Multi purpose

Researched and tested

Certified for international standards

Popular

Chic
6. Sanabul Essential Long Sleeve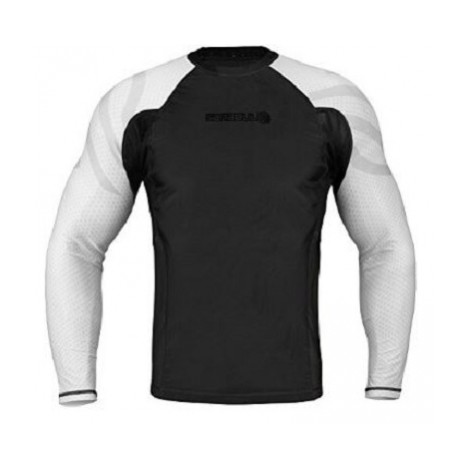 This is a brand that has been long-standing and well trusted when it comes to combat gear. They are known to constantly research and incorporate newly developed technology in their products. This product is no different and will far exceed many of your expectations.
Expand to see more
Antimicrobial Treatment
Bacteria and germs love to breed in sports gear and do not discriminate when it comes to what equipment in particular. If the bacteria are given a dark and moist environment, they will multiply quickly which can cause infections when entering a cut on the body or cause odor to emit from your equipment. This fabric has been sprayed with a chemical that will make it harder for the bacteria to grow on your guard.

Breathable Fabric
The materials used to build this rash guard is breathable and can help ventilate the product quickly. The fabric is thin and was microscopic holes that allow for hot air to leave and cool air to come in. The improved air circulation will prevent sweat from overproducing and help regulate body temperature.

Cost and Value
While this product is slightly more expensive compared to other brands, it is a reliable piece of combat gear. Being able to ventilate your body will improve your performance and also help maintain your focus. This product was constructed in a way to increase its lifespan, thus eliminating the need to replace it as often.
Improved air flow

Durable fabric

Machine washable

Multi purpose

SPF protection
7. Meister Rush Long Sleeve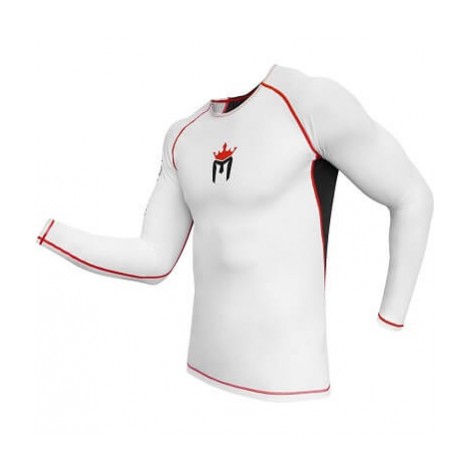 The idea that slight tweaks and improvements go a long way is true even when it comes to combat gear. Despite seemingly common, this product has little improvements that give a user an advantage over their opponents. This product is suitable for different activities and can be used every day without showing signs of wear and tear.
Expand to see more
Contouring
One of the biggest pet peeves for a combat athlete is when the opponent manages to snag a piece of your clothing. This product contours against your body and fits like a second skin. It pushes the air bubbles out to attach firmly to your skin, allowing you to slide easily out of your opponents grasp.

Secure
Many other products that are similar have the same issue of riding up. When the guard rides up, changes the protection structure. To prevent it from happening, this product comes with a strip of rubber attached to the hem and uses the traction it creates to grasp your skin tightly. This prevents the clothing from riding up and compromising the protection.

Cost and Value
This product comes at an average price range but is a great item to consider investing in. There are subtle additions placed throughout the product to create a better experience for the user. Whether it is a slightly longer sleeve or a gripping hem, it was all made to give a little more advantage to the user.
Durable

Upgraded material

Tight fitting

Machine washable

Comfortable
8. Anthem Athletics Helo-X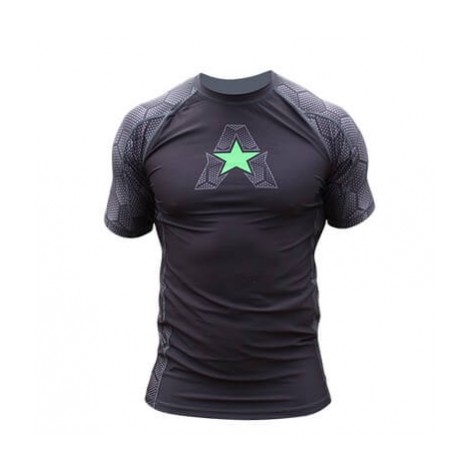 While this brand is a little more expensive than others, it creates gear that is top quality. Their performance is unbeatable and will give users a huge advantage over their opponents. It comes in a large variety of colors and designs, ensuring you'll find something perfect for you.
Expand to see more
Lightweight
One of the most inconveniencing things is when your
protective gear
is bulking and uncomfortable. This product is made with one of the most lightweight fabrics known to mankind, allowing for a more comfortable wear. Having lighter gear will also improve your performance and improve your stamina greatly.
Durable
This product is extremely durable as it is made from large swaths of fabric, thus decreasing the number of seams there are. The large pieces of material are pushed tightly against each other and sewn to prevent air bubbles or loose stitching. The lack of seams and tight stitching will guarantee that the seams will not rip over long periods of use.
Cost and Value
This product enters the market at a high price point, however, the value you gain is much more than your initial investment. This product is incredibly long lasting and can easily outlive other products, thus your cost spreads over a longer period of time. It is also a very versatile piece of clothing that can be used for multiple different activities.
Technologically advanced

Superior quality

Multi purpose

Machine washable

Stylish
9. Fanii Quare Short Sleeve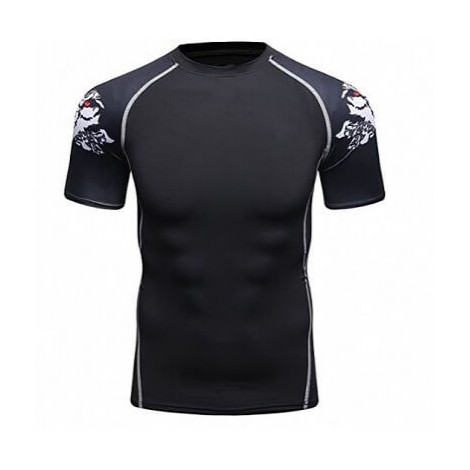 Although this brand is relatively unknown, it has produced a great rash guard. Unlike other items that are similar, this one goes above and beyond to incorporate the best of all the other guards to create the ultimate product. It is suitable to be used in all sorts of conditions and will even help protect against UV rays.
Expand to see more
Temperature Control
Your body temperature increases as you exercise, which can lead to an overheated body. When your body is unable to cool down, it will drastically reduce your performance. This product was designed to be more breathable and rids moisture, allowing for your body to naturally be able to regulate itself and keep cool.

UV Protection
Whether you are exercising indoors or outside, it is important to have something that can protect you from ultraviolet rays. It has been proven that UV rays are unhealthy and can do lasting damage to your body. The fabric has capabilities to reflect and bounce away these harmful rays, allowing you peace of mind.

Cost and Value
The cost varies depending on the size, color, and design you choose. However, the most expensive ones can still be considered affordable. The value of this product lies in the material that was used to construct the guard. It has many more benefits and technology incorporated in comparison to other brands.
UV protection
Waterproof
Machine washable
Antibacterial
Stretchy
10. VERUS Short Sleeve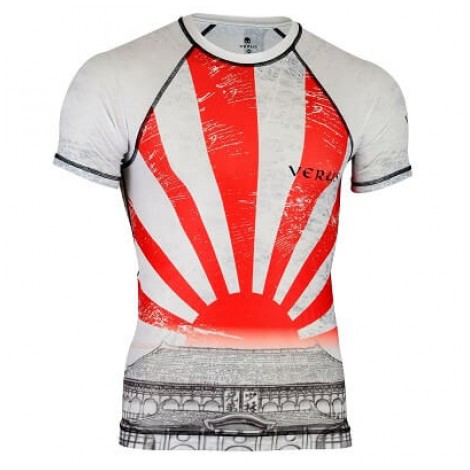 This brand is slowly making its way into the market. It has many designs that are guaranteed to get your attention. While the design is important, this product also offers protection unmatched by its competitors. Suitable to be worn as a base layer for many activities, this product will not disappoint.

Expand to see more
Protection
This product will protect you better than most items. Using a series of rubber strips, it holds the item in place to prevent large movements that may cause the fabric to ride up and expose your skin. Along with the compression capabilities, this product is guaranteed to protect both your insides and outsides.

Streamlined
The fabric that is used to create this protective gear is designed to fit closely against your skin in order to prevent someone from being able to grip it. Having tightly fitted fabric will also ensure that it does not get ripped or torn in a fight. This will allow you to easily get away from your opponent and not have to worry about being snagged.

Cost and Value
This product is slightly more expensive but a lot of thought has been put into their designs. The fabric it is created with is comfortable and soft enough to wear all day without worrying about chafing and drying out your skin. It also uses a durable stitching system to prevent tearing at the seams.
Design

Ergonomic

Streamlined effect

Ultimate protection

Strong seams
Rash guards can come in wide variety of shapes and forms. The key is to create a list of what you want in your product before purchasing one. A good rash guard will be able to offer you the proper protection for your sport while having a way to remove the heat from your body. There are many more benefits of using one of these products that engaging in sports without your protective gear. While it may mean that you have to spend a little more doing a sport you enjoy, having the proper gear will allow you to enjoy your sport safely and for a longer period of time.
Criteria for Evaluating the Best Rash Guards
Seams
Rash guards are usually constructed with two types of stitching: flatlock and overlock. While flatlock stitching is the more popular of the two techniques, each has their own benefit.
Overlock –
The overlock stitching method is created by pinching two pieces of fabric together before they are sewn. This method decreases the chance of burst seam as the fabric is overlapped. Even if the seam was slightly torn, the extra fabric will compensate for the extra space and allow you to continue use of your product. The disadvantage of this stitching method is the pinched fabric will stick out slightly and potentially cause chafing and discomfort after a long period of use.
[space]
Flatlock –
Flatlock stitching is preferred by many athletes as it is much more comfortable. Because the fabric does not overlap and is simply pushed against each other before being sewn, there is no extra material to stick out and irritate the skin. It also means that the clothing is more streamlined and be taut against the body. The disadvantage of this type of stitching is that if the seam were to burst, it could potentially follow along with the seam and rip the clothing completely. The lack of extra material will not allow for any room in error, once the integrity of the sewing is damaged, there is little chance for repair.
Sleeve Length
There are always concerns when it comes to trying to decide whether to purchase a long-sleeve or short-sleeve rash guard. While both have their own advantages and disadvantages, long sleeves rash guards are more recommended and popular among athletes.
Short Sleeves –
Many people enjoy using a short-sleeved guard because it does not restrict their movement. The short sleeves allow for more control of their arms and a wider range of motion. It also keeps the body cooler as there are less fabric covered areas. Short sleeves are also a popular choice among many bodybuilders as their biceps may be too large to fit the circumference of the rash guard.
[space]
Long Sleeves –
A long sleeve rash guard will offer significantly more protection. As your body is entirely covered, there is a lesser chance of cuts and scrapes to happen. If you are doing mat practice, it will also protect against mat burn. One of the biggest advantages is that it will protect against most transmittable diseases. Unfortunately, a combat sport involves getting really close to people that may be unaware they are carrying some sort of germ or infection. These hot and moist environments are the perfect place for bacterias and infections such as staph to grow. Once they make it to your skin, it can start a serious infect. The long sleeves will protect you from any germs that may be in the gym or fitness center. Despite the great benefits of choosing a long sleeve guard, it can significantly restrict your movement. This is because the material extends all the way to your wrist. Depending on how long your arms are, the materials may snag and interrupt your reach.
Fit
Unfortunately buying a rash guard can be quite frustrating. This is because each company has their own way of measuring and fitting a rash guard. Prior to purchasing, it is important to check each brand specific size chart to ensure you are choosing one that will fit.
A rash guard that fits will be flush against your skin. The long sleeved rash guards should reach your wrist bone when you extend your hand. The short sleeved ones should at least reach the middle of your bicep. The hem of the product should be around your hip area and should not expose your belly when you stretch upwards. If you find the rash guard moving in all direction as you stretch, it may be too loose or too small which would mean you need to select another size. Keep in mind that some brands may not have a size that fits you perfectly. This is known as being in between sizes and is a common occurrence when the design of the gear simply does not fit with your body. Unfortunately, there is no way to mitigate this problem and you will simply have to choose a different brand to try.
A good fitting rash guard will also feel slightly pressured against your skin. People have likened the feeling to wearing a wetsuit. There should be a slight tightness that does not restrict your movement or your breathing. The tightness prevents injuries to you and your partner as incorrectly fitted rash guards can lead to sprains and injuries to the user. It can also trip up your opponent and have their fingers or feet tangled in your clothing which will also be another opportunity for injury.
The last thing to a well fitted rash guard is to ensure that the seams are not chafing against your body. Chafing occurs when a piece of fabric constantly rubs against your skin. The rubbing friction will cause irritation in your skin and eventually will cause inflammation or a skin rash. More serious cases of chafing can lead to the top layers of the skin is removed and light bleeding. If any of the seams feel raised and digging into your skin, it may mean your guard is too tight and you may consider going up one size.
Ventilation
Combat sports can be a very high-temperature sport. With the amount of sweating and warm bodies in a room, the heat can rise very quickly. An important factor when choosing your rash guard is how well it will ventilate. While many guards are made of breathable material, there are other ways to quickly decrease your body temperature as well.
One of the popular things that brands have started to incorporate into their rash guards is a ventilated armpit area. It is a common fact that your armpit and groin area are two of the most heat retaining areas on your body. To solve this problem, many brands have constructed their products using a mesh that goes from the armpit area down the side of the body. This allows for cool air to flow into the body while the hot air leaves. It helps maintain positive air circulation which will also help to evaporate the moisture that has been created because of your exercise. Having more of your skin exposed to the air will also help your body regulate its temperature to prevent overheating or heat stroke.
A final benefit to having good ventilation is the prevention of fungal and bacterial growth. Given the body heat, darkness, and moisture that is produced, it is a perfect breeding ground for infections such as ringworm to form. There are many skin issues that can be caused by close contact and can easily put a kink in your training. Many of these infections are also incredibly uncomfortable and may require hospitalization if left untreated.
Frequently Asked Questions
Q: Is a rash guard a must for combat sports?
A: The answer is no. Many people elect to wear a t-shirt but they can be ripped or torn very easily. T-shirts are often overstretched and require a new shirt after a month of use. The materials that a t-shirt is made of can also be much rougher in comparison to a rash guard and can cause much more chafing and potential open wounds from the friction created during a fight. A t-shirt is also not moisture wicking and will simply absorb your sweating, making the clothing heavier. This will translate to reduced endurance, stamina, and an overall sense of discomfort. Professionals wear BJJ Gis on their tournaments still rash guard is great for training.
Q: What should I look for in a rash guard?
A: While the criteria mentioned above will be of use, there are other factors that you can consider. If you intend to use the same rash guard for surfing, it may be beneficial to invest in something that offers SPF and UV protection as well. Depending if you are using this item inside or outside, heat retention may also be something to consider. If your training involves being outside during the colder months, selecting something with a higher capability to retain heat will be more beneficial than picking a lightweight item.
Q: Must I purchase a tight fitting rash guard?
A: It is not a must but recommended. Having a tighter fit will protect your body better and prevent unnecessary injury. As mentioned, loose-fitting garments can get caught while you are in combat and potentially hurt either athlete. While a tight fit will offer the compression capabilities, a loose fitting rash guard will greatly increase your movement and offer you a wider range of motions. Both have their benefits and is ultimately based on your own preference.
Sources
Subscribe to our Newsletter