Best Rebreakable Boards to Have at Home Reviewed
last updated:
Dec 22, 2019
Rebreakable boards are the product of a need that arose among those who practice martial arts. In the past, there were only wooden ones available, and even though they were thought to be the best, people would need to buy a lot of them in order to keep practicing, because once it is broken it does not serve its purpose anymore and is ready to be thrown in the trash.
That is why these modern boards are so awesome. They can be broken and put back many times, without wasting money and natural resources in the process. There are, of course, still wooden ones that are in use, but they serve mostly for demonstration purposes. In order to get good at breaking the real thing, a rebreakable one is much needed for practice. They can be used by children and adults thanks to various difficulties available.
In a Hurry? The test winner after 5 hrs of research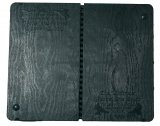 Revgear Deluxe
Why is it better?
Thick plastic
Durable
Can withstand a lot of impact
Rubber pads for palms on the back
In a
Hurry? Editors choice: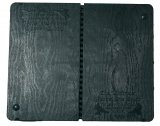 Test Winner: Revgear Deluxe
4
Researched Sources
8927
Reviews Considered
5
Hours Researching
10
Products Evaluated
Ease of Use
Durability
Materials
Value
Comfort
By Default
Top 10 Picks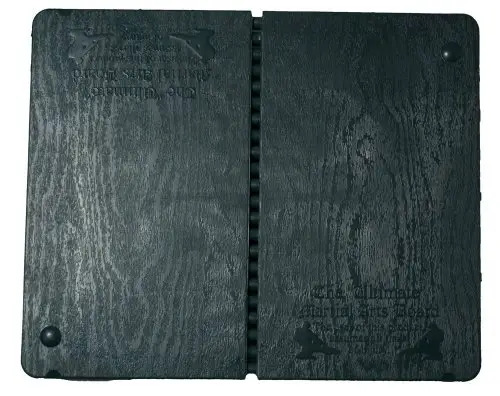 Thick plastic
Durable
Can withstand a lot of impact
Rubber pads for palms on the back
Revgear has been in the martial arts equipment business since 1996 and has become one of the leading suppliers since then. They are committed to making high-quality products that can be used by both students and professionals children and adults.
Their board is made from sturdy plastic that can withstand multiple hits and impacts. The two sides are connected with multiple joints which can be pushed and closed together again after every use.
Read more
The plastic it is made from is tough and sturdy, so that it will not suffer damage and can survive all the impact that you are able to provide. The plastic that holds the two sides together may be a bit difficult to push back after the first couple of uses, but once it is broken in it gets much easier to do so. Padding in the back of it is made of rubber and protects your palms while holding it and ensures that it does not slip from the holder's hands. It was made so it can not be broken easily by anyone, ensuring that the correct technique and strength have to be used.
This product is made of quality materials because it was meant to last so that it can be used over and over again, and help you improve in one of your chosen martial arts. It can be locked together time after time without providing damage to the locking mechanism in the foreseeable future.
The only thing that is not great about this product is its price. Falling into the more expensive category, it will not be everyone's cup of tea, but the thing to keep in mind is that it is made by a company that only makes martial arts equipment, so that they are specialized in that area, which means that you can't go wrong purchasing one of their products. It is quality, durable and sturdy and does exactly what it is supposed to. It comes in different colors, each of which represents a higher or lower level of difficulty and thickness.
Protective foam coating
Rubber siding
Excellent grip
Multiple levels of difficulty
High-impact plastic
May be resistant to breaking
Another company specialized in martial arts equipment, Pro Force, brings us this awesome product. With its unique design and four available colors, each representing a level of difficulty, these boards are an excellent thing to use for your daily practice. There's enough variety in difficulty so that almost anyone can use them for their training.
Read more
Made of high impact molded plastic, this one is perfect for breaking and putting together time after time. They feature rubber pads on the sides, to ensure that the holder has a good grip and that they don't slip or hurt their palms. The entire front side is covered in foam which provides some protection to the hitter. It is recommended to always choose plastic over wooden ones, because they can cause splinters and are generally heavier, and have to be replaced after every break.
Even though it is plastic, this product can take more than a few punches. After long use, you will not notice that the material is damaged or bent. It is excellent in retaining its original shape and strength. The joints will be able to be pushed together over and over again after every use, without any problems.
Each color represents a different difficulty level and thickness, to ensure that it can be used by both beginners and professionals, whether they are children or adults. It provides a great base for learning techniques without having to invest in a new one every year. It is made from quality materials, which can make it last for a number of years before it will have to be replaced. Although not very cheap, it is a great investment, in the long run, saving you time, money and energy.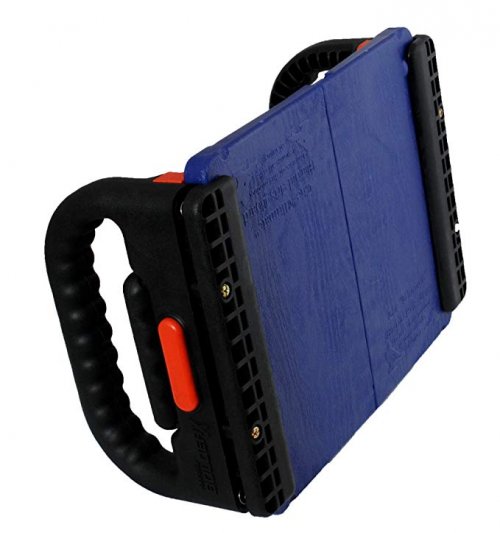 Tough nylon
Does not break or bend
A thousand breaks guaranteed
The holder has to be bought separately
Expensive
The Ultimate Martial Arts Board does indeed live up to its name. It comes in seven levels of difficulty and can be used by both children and adults alike. It can be broken literally a thousand times before it has to be replaced. It was created in order to replace the wooden boards, which cost more and would have to be replaced each time they are broken, and at the same time hurt the environment and potentially, the person hitting them.
Read more
The board is constructed with super tough nylon which provides strength and durability and ensures that the material does not break, damage or bend with many uses. Each one consists of two identical halves that are connected with the company's patented hinges which provide a strong grip and easy resetting.
Made to last, these boards can endure being broken and put back for a thousand times, which is a lot regardless of how often it is used.
A bit on the expensive side, this piece of training equipment is absolutely worth the money that is spent on it. It saves you all the money and aggravation of having to get another one after a short time. It is made to last a long time and is able to survive all kinds of impacts. If you choose to buy this product, your money will be well spent on a product of high quality which can be used and abused for quite a long time.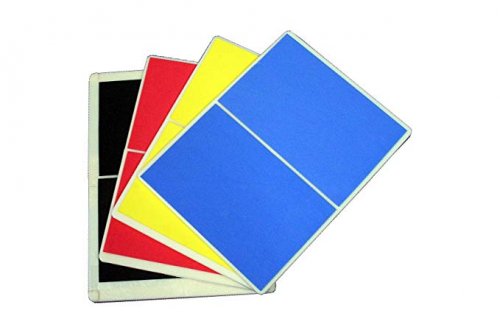 High impact plastic
Rubber padding
Easy to reset
Lets out real breaking sounds
Can withstand a limited number of breaks
These awesome boards come in a set of four, one for each difficulty. They are made from a high impact plastic and coated in a thin layer of latex and have a rubber padding for hand and skin protection for the person holding it. It was designed so that it can be used continuously with no side effects to both you and the board. It gives out a real breaking sound and gives confidence to beginners and professionals alike.
Read more
Made from a sturdy and high impact plastic, you can be sure that your board will be able to withstand any blow. It will only break along the designated lines, and not cause damage to the plastic or the joints that keep the two sides together.
The quality of the product is excellent, although it can not withstand a high enough number of breaks and will need to be replaced sooner than some more expensive ones. It is perfect for beginners and children who will pass on to tougher ones, ideally before this one runs out of steam.
These boards come in a pack of four, each of different colors and thickness, so investing in a different one will not be necessary for a while. For that reason, the price is not high, given that you will get more than one piece. The plastic it is made from ensures that it will behave as expected and it provides special padding to ensure the protection of the holder and a good grip.
Quality plastic
Can withstand a thousand breaks
Provides good grip to the holder
There are a lot of similarities between the rebreakable boards, but at the end of the day, the material, force needed for breaking and durability are the most important aspects of any of them. This particular one is not much different from the others, which is not a bad thing at all. Made of high-quality thick plastic, it is perfect for everyday use and practice without the inconvenience of the wooden boards which would have to be replaced after every use.
Read more
They are lined with rubber in the back, allowing for a firmer grip without slipping from the holder's hands. The grip is very important because the inability to hold it properly ultimately defeats its purpose and disables the hitter from practicing.
The company which makes these awesome products guarantees that you will be able to break them a thousand times before they lose their effect and have to be replaced. The plastic they are made from help them last for a long time and withstand the impacts of any intensity.
Due to their quality and endurance, the price of these pieces of equipment is not very high. It is definitely worth the investment, as they will last for a long time and enable you to practice and get good in your chosen martial art.
Cheap
Four difficulties
Withstands 300+ breaks
The Golden Tiger Martial Arts company makes and sells a wide range of martial arts equipment, from uniforms and accessories to training weapons. Their goal is to provide everything a martial arts student may need to improve their abilities. These boards are great for children and young learners, which can use a different color on their way up the difficulty tree.
Read more
Each one is made from plastic, which ensures its durability and the ability to retain its shape after many uses. The joints in the middle provide a tight grip which holds the two pieces together which can only be broken by using proper technique and strength.
This product can withstand being broken for up to three hundred times without losing its grip. The material it is made from makes it impervious to damage and it can last for a long time without suffering damage to its surface. Although it can only take a limited number of breaks, the board is great for beginners and children who will upgrade to the one with a higher level of difficulty after practicing on a lower difficulty one for a short period of time.
The price is pretty reasonable. You can choose from four colors and four difficulties, blue being the easiest, and the black the hardest one to break. It is made especially for those who need the practice but do not want to spend a lot of money on a piece of equipment.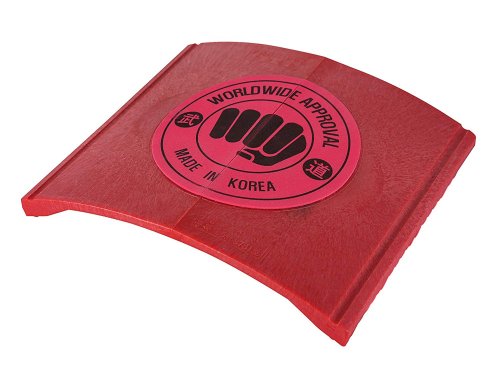 Cheap
Grooves which slide together
Curved
800 to 1000 breaking times
Are not padded in the back or the sides for better grip
The material used to make this product is called ABS, which is a high-quality plastic compound. It looks different than regular plastic and gives the product a unique feel to it. The Board is used especially for Taekwondo training, and is suitable for all ages, genders and levels of strength. Taekwondo beginners and advanced users will all be able to use this board.
Read more
This product is made from a plastic compound, which allows it to be cheaper than regular plastic, while still retaining all of its desired properties. It gives the boards a different look, making them stand out from the sea of similar products. It is durable and will not break in many places it is not designed to.
The mechanism used to connect the two sides of a board is somewhat different than any other on our list so far. Instead of joints which lock together, this one has a couple of grooves which slide into each other. This allows for more breaking times, as there are no joints to become loose. These grooves make it a lot easier to lock together after use than any of the standard joints. It can withstand from eight hundred to a thousand breaks and one can last for a couple of years, depending on level and frequency of use.
The taekwondo rebreakable boards have a unique shape and ways of connecting the two sides. While most of the similar products use the joints that click together, this one has grooves which easily slide into each other. The plastic compound that it is made from enables it to be cheaper than other products that don't offer anything more than this one has, so if you need something cheap and sturdy, this is the best deal for you your Taekwondo dojo.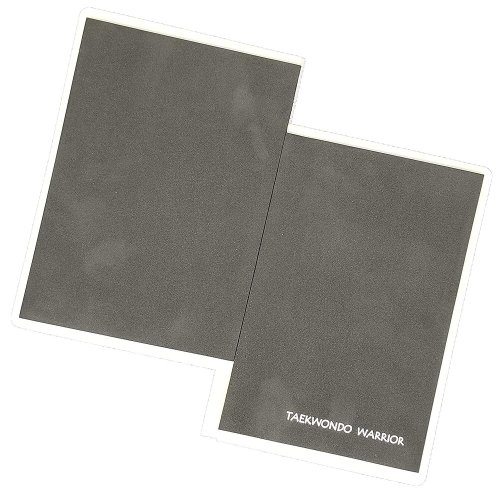 Sturdy
Easy to reassemble
Can be used by children
Rubber padding
Can be too hard or too easy to break
Even though it is made by a company named Taekwondo Warrior, this board can also be used for karate or any other sport that requires breaking something. They are made from high impact plastic with rubber padding and latex finish. The grooves make it easy and quick to just slide both parts together after every use so that your practice can continue without any obstacles unnecessary loss of time. It comes in yellow, red, blue and black colors which designate their thickness and difficulty, to make it easy to find the one that is right for you.
Read more
Since the board is made from a quality grade plastic, it can endure anything you can throw at it. It was made to last and help you get better every day. It has a rubber padding to ensure its quality and ease of use and a firm grip.
These boards are as sturdy as they look. With quality materials they are made from, it is very hard to damage them or break in other places. They can withstand a ton of impact so that you can go all out and give it their best every day of your training.
While affordably cheap, these boards work great and serve their purpose. They are hard to break so that some strength has to be put into it, but not that hard that they can't be broken using the right technique. The grooves which connect the two parts are easy to use and quick to assemble to minimize the time you can waste doing that after every break.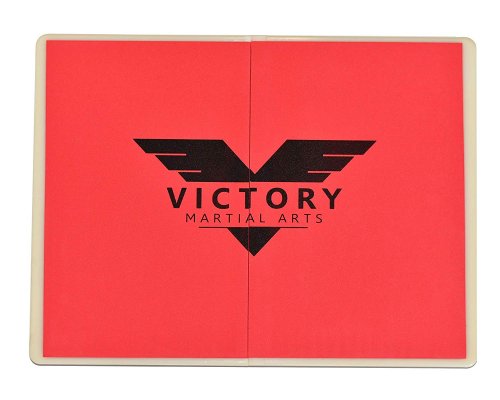 Quality plastic
Rubber padding
Sliding connection
Logo is centered to help you find the middle
Some boards may be harder to reassemble
If you are in need of a board that will allow you to practice over and over again without damaging it or having to buy another, then we have something for you. Different from others due to its logo design which conveniently marks the middle so it will be easier to aim, this board is meant to people of all ages and abilities.
Read more
We have one more board with an easy to use sliding grooves on our list. They are made from soft plastic which allows for easy and smooth movement but also provides a tight grip so that the board can not be broken that easily. Padded with rubber on both edges, it is easy to use by both the hitter and the person holding it and provides a firm grip without slipping down.
Like most of the rebreakable boards, this one is also made from high impact molded plastic. It is durable and makes for a great piece of equipment while also providing comfort for the person holding it as well as for the person who is hitting it. It has a limited amount of breaks before it becomes too loose and unusable, but before that happens it will work great for practicing and perfecting your moves.
The price of this product is not high, falling into the cheaper category. It pays off because it will last long, but may become expensive if you wish to buy all four colors. Either way, you can be sure that your money will not be wasted at all.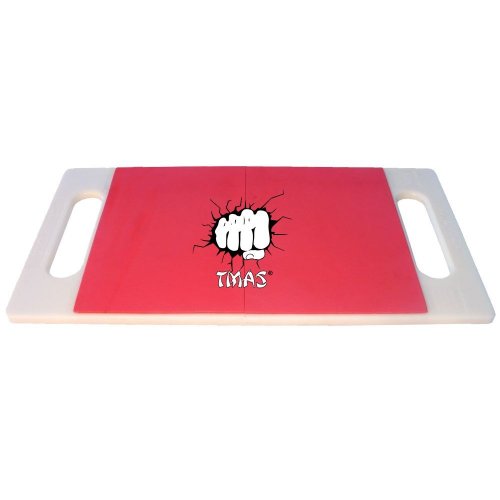 Handles on the sides for holding
Can handle one thousand breaks
Groove for sliding back together
Inexpensive
May be too hard to break for small children
A bit different from the other ones, this board comes equipped with two handles on the side to ensure the best possible grip, for best results. It is made of sturdy plastic, with a cartoon fist in the middle and the company logo under it. It looks cool and makes you want to hit and break it. It has three different thickness options that correspond to your martial art abilities.
Read more
Made from plastic, the board is as sturdy as can be. It minimizes potential damage that can be done to it, only breaking along the intended line. The unique thing about it is that it has handles on the sides to ensure bigger gripping area and a lot more comfort to the person holding it. The board itself is lined with protective foam on both sides, to make sure that you do not injure yourself while practicing.
More durable than some and less than others, this board will satisfy your training and practicing needs. The manufacturer states that it will be good for a thousand breaks, which is more than enough to perfect your technique. Depending on how often it is used, it can last for a couple of years without any noticeable damage to the material or the handles.
If you are on a budget and need something cheaper but of good quality, than this one is perfect for you. It is a cheap solution to your problem and will last for a long time, making it worth the investment. Just choose the color that is suitable for you and your level and practice away.
Criteria Used for Evaluation
Ease of Use
There are many boards on the market, most of them made of similar materials and with a similar look. But do not be fooled, there is one crucial difference between them. Cheaper boards tend to be reassembled a bit harder than their more expensive counterparts.
They make breaking them look like the easy part. If you want to advance and become better at what you do, it is important to find a board that will not waste your or anyone's time and which will be able to be put back in its original position in a couple of seconds.
Durability
Durability is something that we are always looking for before committing to a purchase of a product. It needs to be able to withstand use and abuse, as it is what it was made for. Buying a product that falls apart or gets weaker after only a few hits means money wasted.
It can be hard knowing which one will be able to last at first glance because most of them look the same. That is why it is important to look for durable materials, as well as reading customer reviews and getting informed on the type and strength of the part that connects the two sides of the board.
Materials
As far as these boards are concerned, always look for ones made from special, high impact plastic, as they will be able to withstand more hits and provide more and better quality practice without having to worry about anything else.
The padding on the sides or in the back of the board is also extremely important, because it will enable a better grip for the person who is holding it, and so that you can both be sure that the board will not slip or fall due to stronger hits. The main material this padding is made from is rubber because it is not slippery and is inherently very strong and durable.
Value
If you are not on a tight budget and need something good that will last for a while, it is better to invest in more expensive board, as it is guaranteed that it is made from more quality materials and can withstand a lot more than similar cheaper ones. However, if you do not wish to spend a lot of money on a piece of equipment, there are plenty of cheaper options that can satisfy your needs.
The Stronger The Better
Sturdier and harder materials mean that your board will not give up or fall apart after a couple of uses. Hard plastic, for example, may last longer than a foam-based design.
Attention To Detail
The connection between parts is most important, as it will ensure that it can be easily and safely reassembled after every break. Missing pieces or ill-fitting connective bits can pose a risk to your safety... and they won't give you the workout you're looking for!
Other Factors to Consider
Bottom Line
These boards have made the lives of those who use them daily so much easier. They come in various kinds of breaking difficulty, which corresponds to the thickness of a genuine wooden board only reusable many, many times. Different colors signify different difficulties so that it is easier to find the one that agrees with you and your level of training and skill.
The difficulty level corresponds to the thickness of the real wooden board. Some of the boards let out a genuine cracking sound, making the user feel as if they broke the real thing, and give them reassurance in their abilities and give the push they need to continue practicing and improve their skills every day.
Frequently Asked Questions
q:

Why does the board need to have rubber padding?

a:

The padding is very important for both the hitter and the person holding the board. It will keep it still and in place, without flying away or falling down from the holders hands if a lot of force is used. It serves for better grip, overall comfort and security of the holder.
q:

Which one is the best for a small child?

a:

If your children wish to learn board breaking, the best one to buy for them is the one of the easiest difficulty. Each company marks their difficulty levels with a different color, so always read the seller's description before purchasing.
q:

Are they sold individually or as a set?

a:

That ultimately depends on the company that makes and sells them. Some will be able to be bought as a set which consists of a board of every difficulty, while others only come individually.
q:

Which ones are the easiest to reassemble?

a:

That is a somewhat tricky question, because boards from different companies will behave differently. In the end, it depends on the type of connection that is used. There is a sliding and locking mechanism. The sliding one may be easier than the other one, because it only consists of two
q:

Which one is the strongest?

a:

Depending on the manufacturer, different ones will label the difficulties in different colors. The usual one which is made to be the toughest is black, made for adults who already have some practice in this area.
q:

Which sport can they be used for?

a:

The boards are originally made to be used by all martial arts practitioners, they are not intended to be used with any other sport.
q:

Will my child get hurt while using one of these?

a:

No one can guarantee that no one will get hurt, even though the manufacturers to their best to ensure that the injuries are minimal if it comes to them. They are not as hard as those made of wood, so the person hitting already has some advantage and comfort. If stricken correctly, there should be no damage to any part of the hand.
q:

How many times can they be broken before they lose their strength?

a:

This is more of a question for the seller or the manufacturer of the product. Some of them have a guaranteed limited break times, while for others that is not stated. If you are unsure, check the way the two pieces are held together and which material was used for it for a better overall understanding of its quality.
q:

How can I keep it clean?

a:

Because it is made from plastic, the boards are very easy to clean. Just wipe them with a damp cloth and they will be as good as new.
q:

Where can I buy one of these boards?

a:

These can be bought in any well stocked retail store that sells martial arts and sports equipment. If they are not available in your local store, there is always an option for purchasing from an online retailer.
q:

Is there an option for someone on a budget?

a:

Yes, there is always a budget friendly option. They are not that expensive in general, but if you wish to buy something that is of close quality as the most expensive item for less money, several options are presented in our list.
Subscribe to our Newsletter