Best Recovery Supplements Reviewed & Rated
last updated:
Mar 02, 2020
There is one aisle in the grocery store that baffles everyone - its contents appear in gyms and on the pages of fitness magazines; celebrity trainers either swear by them or spit on them. That aisle is, of course, the fitness supplement aisle. Most grocery stores only carry protein powders or meal replacement systems, but as fitness supplements gain a wider following more and more mainstream stores carry them. They were once the realm of high-level athletes, particularly recovery supplements, and the best recovery supplements out there seemed well outside the reach of the average gym-goer who was likely unsure what exactly a recovery supplement was. But they are now available in nearly every price range. With a little bit of research, nearly anyone can find a recovery supplement to fit their budget, their lifestyle, and their goals.
In a Hurry? The test winner after 4 hrs of research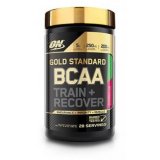 ON Gold Standard
Why is it better?
Banned Substance Tested
Low-Calorie Option
High Protein
In a
Hurry? Editors choice: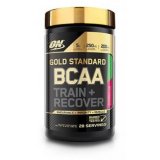 Test Winner: ON Gold Standard
Materials
Potency
Effectiveness
By Default
Top 10 Picks
Banned Substance Tested
Low-Calorie Option
High Protein
Optimum Nutrition opens up this list in the Editor's Choice position for good reason. This is a company that tries to anticipate their customers' needs and meets them before they even arise. They have a massive flavor selection and their supplements cover a huge array of focuses. Their Gold Standard recovery supplement has nearly everything an athlete or trainer could need or want in their supplement, and the company likely offers whatever is missing in a tasty and easy-to-stack secondary supplement.
Read more
Banned-Substance Tested
Athletes who already use supplements are well aware of the issues that plagued supplements for several years before the rise of third-party assured testing. Several companies were found to be selling supplements containing banned substances or supplements that did not contain what they claimed to contain. Optimum Nutrition has taken measures to be set apart from those companies, however. Their supplements are tested for banned substances and to ensure that they contain exactly what they should, nothing more and nothing less.
High Protein
Protein is absolutely vital for building and retaining muscle, particularly after an intense workout or training session. Many of the supplements on this list do not contain protein as their manufacturers expect the supplements to be stacked with other things. Optimum Nutrition, however, includes the protein in their supplement to cut down on cost and work on the consumer's end.
Cost and Value
Optimum Health is, in general, a fantastically affordable company. Their Gold Standard line is a little more expensive than the rest of their offerings but the cost per unit and per serving is still well inside most people's budgets. The company gives a lot of bang for the customer's buck and the vast majority of their customers rave about the taste as well as the results they achieved.
Pure BCAA
Lab Tested
No Fillers
BulkSupplements is, well, a bulk supplement supplier. They do not provide whole-package supplements as other companies on this list do. Instead, they sell most of the individual components that go into whole-package blends. This allows customers to build their own custom blend depending on their needs and goals. Their products are tested for purity, guaranteeing that their customers will get exactly what they pay for.
Read more
No Fillers
When you buy a product from BulkSupplements you are getting precisely what you pay for. In this instance, the customer gets BCAA, also known as Branch Chain Amino Acids. BulkSupplements does not include any fillers or thinners, preferring instead to trust their customers to do with the product as they see fit.
Lab Tested
BulkSupplements doesn't just pay lip service to the idea of pure ingredients with no filler. They lab-test their supplements to ensure that the customer gets everything they pay for without any nasty surprises mixed into the BCAA.
Cost and Value
The cost for this BCAA varies depending on how much is purchased at one time. Even at the low end of the price range, however, the cost per unit is higher than this list offers on average because customers get BCAA and nothing else. They must take into account the cost of anything else they will be stacking this supplement with and that will rapidly increase the base cost of this product.
3

. Old School Labs Vintage Build
Contains Creatine
Third-Party Tested
Money-Back Guarantee
Old School Labs plays on the nostalgia of old-school bodybuilding and they do it well. Their mascot is the iconic carnival strongman, but their recovery supplement is no gimmick. It is only one of a wide variety of products that are tested for quality, covered under a money back guarantee, and designed from the ground up to give customers the results they want.
Read more
Third-Party Tested
Despite its name, Old School Labs uses the latest trends and standards to ensure that their products will satisfy their customers. This includes sending their products to a third party in order to have their purity verified. This means that their customers will get exactly what they pay for without any nasty extra surprises or missing ingredients.
Contains Creatine
Creatine is almost a stereotype for bodybuilders at this point but that reputation came about for a reason. The substance, typically found in red meat, helps avoid muscle loss and reduces soreness after workouts. It has a wide array of positive benefits for recently used muscles and is a key building block for anyone who wants to bulk up their muscles.
Cost and Value
Old School Labs is one of the more expensive brands on this list. But their increased price is incredibly understandable when one takes into account the size of their sales units, the number of servings in each unit, and the quality promise that they carry. Money-back guarantees are rare and they are rarer still on third-party tested products, yet Old School Lab offers both.
Sugar-Free
No Calories
100% Satisfaction Guarantee
If you need a supplement shake, bar, or capsule, Muscle Pharm likely has an option you'll want to take a look at. Their supplements cover a huge array of needs, stack well, and are affordable under most budgets. Their recovery supplement is a particularly strong offering that is covered by the same quality guarantee that covers all of Muscle Pharm's products.
Read more
No Sugar
There are a thousand reasons why an athlete or trainer would want to avoid added sugar. This can make buying supplement shakes and powders tricky because many companies add sugar to their product to improve the taste. Muscle Pharm, however, is different. They add no additional sugar to their products and many customers still enjoy the flavor.
Money-Back Guarantee
Money-back guarantees are very rare among fitness supplies and especially among supplements but Muscle Pharm likes to stand out. Their supplements are covered by a 100% money-back guarantee. This dedication to satisfaction is part of what sets them and their products apart from the rest.
Cost and Value
Not only does Muscle Pharm offer a money-back guarantee but their products are almost startlingly affordable, whether that cost is measured in price per unit or price per serving. Their warranty and product quality are just icing on the affordable cake.
Contains BCAA
Can Stack With Other Supplements
Safe for Vegetarians
BSN is an absolute outlier on this list in that they sell something other than supplements. Whenever they veer from this core inventory, however, it is always into the realm of medical dressings such as gauze. Some customers may be uncomfortable buying their supplements from a company that dabbles in other products, but it should be of some comfort to know that they stick with the health fields and that their supplements do not seem to suffer for this variance in inventory.
Read more
Safe for Vegetarians
It is often difficult for those with dietary restrictions to find out where the ingredients in supplements come from. Many companies rely on products derived from animals and do not state this on their labels. Companies like BSN, however, strive to open their market up to as many consumers as possible. Their products are safe for vegetarians, though it is important to note that vegans may not be covered under the same assurance
Can be Stacked
BSN is in the supplement business and it is impossible to be in that business without realizing how hard it is to create a whole-package supplement. Their method of addressing this issue is to specifically suggest that their consumers stack their supplements to achieve optimum results custom-tailored to each customer.
Cost and Value
BSN's supplements are certainly among the most affordable on this list. They do lack carbs and protein which is a deal-breaker for some athletes but that can be easily remedied by stacking supplements or adjusting one's daily meal plans.
6

. Sheer Strength Lab BCAA
Helps Burn Fat
Money Back Guarantee
Capsule Form
Sheer Strength Labs has a supplement for nearly anything. Pre-workout, postworkout, overnight fat burn. You name it and they have a supplement to cover the need. Their supplements are covered by a unique guarantee, only highlighting the pride they take in their products and the care they show their customers.
Read more
Money-Back Guarantee
Warrantees and money-back guarantees are incredibly rare in the fitness world because results vary so much from person to person. Sheer Strength Labs is willing to take the risk, however. Their supplements are covered by a 100% Money-Back Guarantee to ensure that their customers are satisfied with their products.
Capsule Form
Most post-workout supplements come in powder form with a focus on flavor and drinkability. BCAA, however, is rather bitter. It would be hard to make a pure BCAA supplement that tastes good when mixed into fluids. Sheer Strength avoids the issue entirely by providing their BCAA in capsule form. No mixing necessary, just a drink to wash them down with.
Cost and Value
These capsules have a slightly higher-than-average price per unit but that is more than made up for by their money-back guarantee. Consumers must also take into account the cost of anything they want to stack their BCAA with, which will impact the overall cost per serving in comparison to an all-in-one mixture.
Intended for Intense Weight Traning
Can be Stacked with Other Supplements
Capsule Form
Optimum Nutrition's second entry on this list is no less impressive than their first. If anything it is even more impressive as it takes the title for this list's Best Value product. These ZMA capsules contain an intense mixture of zinc, magnesium, and vitamin B6 to help increase an athlete's anabolic rate and muscle strength after an intense workout. With a minimal financial investment and an impressive result potential, it is no wonder that Optimum Nutrition's products took two titles on this list.
Read more
Intended for Intense Trainers
No recovery supplement is going to be helpful if the person taking it does not train properly. There simply won't be enough afterburn effect for the supplement to capitalize on. This ZMA combination, however, is intended specifically for intense trainers. This is the supplement for someone who plans on flipping truck tires, competing in bodybuilding lineups, and who will likely have a specialty blend of supplements that they stack themselves.
Can Be Stacked
Many supplements must stand alone. But this ZMA combination is a very focused supplement that can easily be stacked with others to create a custom outcome for nearly any trainer. Medical professionals or trained nutritionists are the best resources for those who want to create a custom blend, naturally, as they can discuss potential interactions and side effects. But Optimum Nutrition's ZMA supplement is a good place to start.
Cost and Value
Consumers certainly get a lot of bang for their buck with these capsules, particularly if they intend to train hard. The cost per unit is extremely low which makes them ideal for stacking as well as independent use.
Vegetarian and Vegan-Friendly
Contains Creatine
Calorie-Free
Legion is more than just a workout supplement company. They are a compete designed around the needs of serious trainers and athletes. Their supplements cover everything from post-workout recovery to sleep aids. They even have their own t-shirts and shake mixing bottles. Their post-workout recovery supplement, Recharge, is exemplary of the care and quality they put into every product.
Read more
Vegetarian and Vegan-Friendly
Supplements can be tricky for people with dietary restrictions. It can be hard to tell where some of the ingredients came from when everything is rendered down to powders or capsules. Legion Athletics understand this struggle and strive to ensure their customers that their products are safe and friendly for those who cannot or will not consume animal products.
Contains Creatine
On the heels of assuring consumers that Legion's Recharge powder is vegetarian and vegan-friendly, we introduce their use of creatine! Creatine is often found in sources such as red meat, though Legion sources their creatine elsewhere. It helps avoid post-workout soreness, muscle loss, and fatigue.
Cost and Value
Each container of recharge is over a pound of high-impact recovery supplement. Consumers will get 60 servings out of one container which breaks down to a little less than a dollar a serving after taxes and shipping. It is very nearly a complete-package supplement once carbs and protein are stacked on top.
9

. MuscleTech Amino Build
No Sugar
High Ratio of BCAA
Contains Caffeine
MuscleTech is a company lives up to its name startlingly well. Their products are designed using the latest scientific studies and all follow the basic idea that science is the best tool by which athletes and trainers can reach their fitness goals. They have everything from mass gainers to weight loss supplements and they offer their products as bars, capsules, or powders. If there is a supplement niche to cover, MuscleTech is there in style.
Read more
No Sugar
Whether sugar is a concern due to diabetes or sugar's impact on a calorie budget, MuscleTech has sidestepped the issue entirely by cutting sugar out of their supplement. There are still calories due to the other substances in this mix, but additional sugar has been stringently avoided.
Contains Caffeine
There have been fascinating studies done recently regarding the impact of caffeine on workout efficacy and post-workout results. All of the findings so far point to caffeine as an excellent way to boost energy during a workout and, when taken after a workout, to keep up the after-burn effect that many athletes are familiar with. MuscleTech's supplement has caffeine built into each serving, saving consumers the calories of most consumable caffeine sources or the trouble of cutting up caffeine tablets.
Cost and Value
MuscleTech's supplement runs a little towards the high end of the price spectrum once the amount of product is taken into consideration along with the price. There is something to be said for smaller containers, as consumers can essentially begin supplement trials without going in for even larger financial investments, but experienced supplement-takers might find the price-to-size ratio a little steep.
Avoids Muscle Loss
Works with Low-Calorie Diets
Tested by Vitagen Labs
Not a Traditional Supplement
Double Wood is a supplements company through and through. They pride themselves on offering supplements that are all third-party tested by Vitagen Labs, guaranteed non-GMO, gluten-free, and made in the USA while adhering to the food and drug laws therein. Their products routinely receive four and five-star ratings, including their HMB recovery supplements.
Read more
Works With Low-Calorie Diets
Hydroxy Methyl Butyric acid, abbreviated here as HMB, is a substance that occurs naturally in the human body. When HMB is taken as a supplement, it helps the body synthesize protein more effectively. This helps increase the muscle gained through exercise and, to a degree, safeguards against the muscle loss that occurs when someone eats at a calorie deficit.
Tested by Vitagen Labs
Vitagen Labs is one of the most highly sought-after third-party testing labs in America. They help some companies create their products while they test the products of other companies to ensure that consumers get exactly what the label says, no more and no less.
Cost and Value
Double Wood is far from the most expensive brand on here, but the narrow scope of this recovery supplement must be taken into consideration. It is strictly Hydroxy Methyl Butyric acid in capsule form. Protein, carbs, and BCAA are still necessary to achieve the usual result desired from recovery supplements. That said, HMB is not a common addition to many of the powders on this list and stacking Double Tree's capsules with other supplements as well as proper nutrition could lead to better results.
Criteria Used for Evaluation
Materials
Branch Chain Amino Acids are commonly abbreviated as BCAA. They are most often used in tandem with protein and carbs to help sustain muscle mass and muscle growth even when someone is taking in fewer calories than they are burning. It may seem counter-intuitive, but the human body draws from both the protein stores of the muscles and the calorie stores of fat when it goes into a calorie deficit. BCAA works to prevent the body from feeding on its own muscle which some studies suggest is the reason it seems to help promote fat burn. It cannot do the job alone, however, and must be stacked with protein and carbs to get the job done.
HMB
HMB, also known as Hydroxy Methyl Butyric acid, is a substance that naturally occurs in the body and is used to delay the deterioration of the body's muscle stores whenever it is short on protein. Some bodybuilders swear by higher doses of HMB as a means of protecting their muscle mass while eating at a calorie or carbohydrate deficit. Like BCAA it needs to be used with other supplements to be fully effective. There aren't as many studies on HMB as there are on BCAA, unfortunately. But the studies that do exist seem to support the idea that HMB can help prevent muscle loss in bodybuilders, making it an ideal supplement to keep in mind.
ZMA
ZMA is the shorthand for a combination of zinc, magnesium, and vitamin B6. Some studies suggest taking it right before bed is best, as magnesium typically makes people groggy. There are studies that suggest taking it after a workout, however, as the combination of all three supplements can help boost an athlete's anabolic output and support the development of muscle strength. There is even some evidence that it can reduce the amount of soreness after an intense workout, though there is not ample enough evidence to say this will full confidence.
Potency
Creatine's popularity and visibility have increased so rapidly that it's almost a buzzword at this point. Some of the popularity is strictly hype and PR, of course. But there is merit to using this particular substance. Creatine is usually found in red meat and can help increase the body's access to certain naturally-occurring energy sources within the body. Proponents of the supplement state that this increased access to the body's own energy stores means that fat will burn faster, muscles will respond better, and athletes will recover more quickly from intense workouts while seeing a higher return on their supplement use.
Effectiveness
Several years ago a very serious scandal rocked the fitness world. Several supplement companies were found to be selling products that did not contain everything they claimed to, or they contained things that should not have been in the supplements. Testing certifications became the hallmark of quality after the scandal broke and there are a few variations that consumers must be aware of.
Supplements that label themselves lab-tested could have been tested by a third-party lab with no vested interest in the results of the testing or they may have been tested in the company's own labs. Honest companies will give the same results as an uninterested party would and the companies on this list all have stellar reputations, but it is important for consumers to note the difference between third-party tested supplements and generally lab-tested supplements.
Expert Interviews & Opinions
Most Important Criteria
(According to our experts opinion)
Experts Opinion
Editors Opinion
Users Opinion
By Default
Why is Creatine Important?
Creatine is excellent for post workouts and the reasoning behind that is it gives your muscles a burst of powerful energy that allows you to heal.
Other Factors to Consider
Product Purity
Third-party tested supplements are products that have been produced by one company and tested by another company that does not have a vested interest in the results of the analysis. These are often more objective and honest in nature due to the lack of immediate concern with whether or not the tested substance will pass the test. Companies that use third-party testing on all of their products do so in order to send the signal that they care about providing their customers with the most assurance possible that the customer is getting exactly what they pay for.
Frequently Asked Questions
q:

What does it mean to "stack" supplements?

a:

To "stack" a supplement means to take it at the same time as other supplements that are complementary. An example of this would be taking an HMB supplement capsule along with a shake that has BCAA< protein, and carbs but has no HMB.
q:

Will supplements interact with my medication?

a:

Nobody can answer this but a trained medical professional with knowledge of drug interactions and, preferably, knowledge of the ingredients in the specific supplement the patient has chosen.
q:

Will supplements automatically help me bulk up?

a:

No. Recovery supplements are no replacement for hard work at the gym and a healthy day to day meal plan. They are an aid, not a stand-alone solution.
q:

How often should I take supplements?

a:

This depends on the consumer, the supplement, and what sort of activity is being done. Most supplements can be taken every day after an intense workout, but that will vary from person to person.
q:

Are these meal replacement shakes?

a:

While some of the supplements here might be filling, none of them are intended to be meal replacement shakes. Most of the companies listed do offer such products, however.
q:

Can I still take a multivitamin with these?

a:

This depends on what kind of supplement is being taken and what is in the multivitamin as well as what kind of food is being eaten as part of the consumer's daily routine.
q:

Are recovery supplements only for weightlifters?

a:

Anyone who puts themselves through physically strenuous activities can benefit from recovery supplements, though the impact of the supplements will vary depending on what sort of activity is being done, how strenuous it is, and what is being eaten in conjunction with the supplement.
q:

How do I mix the shakes?

a:

Some supplements mix easily and a spoon will suffice for those. For other harder-to-mix supplements, a blender or a shaker bottle is suggested. Bullet Blenders or stick blends are very handy for mixing supplements as they are lightweight and have little mess to clean up afterward.
q:

What if I don't like the flavor?

a:

If a flavor is simply too gross to drink, the buyer has two options. One is to try and give the container to someone else who may find it more palatable and the other is to call the company and try to get an exchange. Several companies on this list offer money-back guarantees as well which may cover exchanges or refunds based on a bad flavor.
q:

Can I mix the supplement with coffee?

a:

So long as the supplement is a powder, it would be easy to mix it in with coffee or combine the two into a shake. Certain flavors will not mix well, but that is a matter of personal taste. It is also important to note that some of the supplements on this list already have caffeine in them and care should be taken not to take too much caffeine.
q:

Can I turn the supplement into a meal shake?

a:

Most of the supplements on this list come in powder form and can, therefore, be, in theory, turned into any kind of shake the buyer desires. Some flavors won't lend themselves well to meal shakes but that depends on personal taste. Supplements in capsule form, however, would not do well if opened and poured into a shake. The amount of supplement would vary depending on the amount left in the capsule and most of the supplements sold as capsules are too bitter to be taken straight in any high dosage. As such, they would severely affect the flavor of any meal shake they were added to.
Subscribe to our Newsletter