Best Recovery Supplements Reviewed & Rated
last updated:
Mar 02, 2020
There is one aisle in the grocery store that baffles everyone - its contents appear in gyms and on the pages of fitness magazines; celebrity trainers either swear by them or spit on them. That aisle is, of course, the fitness supplement aisle. Most grocery stores only carry protein powders or meal replacement systems, but as fitness supplements gain a wider following more and more mainstream stores carry them. They were once the realm of high-level athletes, particularly recovery supplements, and the best recovery supplements out there seemed well outside the reach of the average gym-goer who was likely unsure what exactly a recovery supplement was. But they are now available in nearly every price range. With a little bit of research, nearly anyone can find a recovery supplement to fit their budget, their lifestyle, and their goals.
In a Hurry? The test winner after 4 hrs of research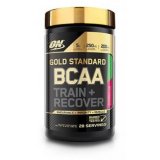 ON Gold Standard
Why is it better?
Banned Substance Tested
Low-Calorie Option
High Protein
In a
Hurry? Editors choice: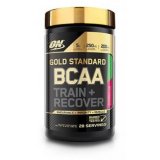 Test Winner: ON Gold Standard
Materials
Potency
Effectiveness
By Default
Criteria Used for Evaluation
Materials
Branch Chain Amino Acids are commonly abbreviated as BCAA. They are most often used in tandem with protein and carbs to help sustain muscle mass and muscle growth even when someone is taking in fewer calories than they are burning. It may seem counter-intuitive, but the human body draws from both the protein stores of the muscles and the calorie stores of fat when it goes into a calorie deficit. BCAA works to prevent the body from feeding on its own muscle which some studies suggest is the reason it seems to help promote fat burn. It cannot do the job alone, however, and must be stacked with protein and carbs to get the job done.
HMB
HMB, also known as Hydroxy Methyl Butyric acid, is a substance that naturally occurs in the body and is used to delay the deterioration of the body's muscle stores whenever it is short on protein. Some bodybuilders swear by higher doses of HMB as a means of protecting their muscle mass while eating at a calorie or carbohydrate deficit. Like BCAA it needs to be used with other supplements to be fully effective. There aren't as many studies on HMB as there are on BCAA, unfortunately. But the studies that do exist seem to support the idea that HMB can help prevent muscle loss in bodybuilders, making it an ideal supplement to keep in mind.
ZMA
ZMA is the shorthand for a combination of zinc, magnesium, and vitamin B6. Some studies suggest taking it right before bed is best, as magnesium typically makes people groggy. There are studies that suggest taking it after a workout, however, as the combination of all three supplements can help boost an athlete's anabolic output and support the development of muscle strength. There is even some evidence that it can reduce the amount of soreness after an intense workout, though there is not ample enough evidence to say this will full confidence.
Potency
Creatine's popularity and visibility have increased so rapidly that it's almost a buzzword at this point. Some of the popularity is strictly hype and PR, of course. But there is merit to using this particular substance. Creatine is usually found in red meat and can help increase the body's access to certain naturally-occurring energy sources within the body. Proponents of the supplement state that this increased access to the body's own energy stores means that fat will burn faster, muscles will respond better, and athletes will recover more quickly from intense workouts while seeing a higher return on their supplement use.
Effectiveness
Several years ago a very serious scandal rocked the fitness world. Several supplement companies were found to be selling products that did not contain everything they claimed to, or they contained things that should not have been in the supplements. Testing certifications became the hallmark of quality after the scandal broke and there are a few variations that consumers must be aware of.
Supplements that label themselves lab-tested could have been tested by a third-party lab with no vested interest in the results of the testing or they may have been tested in the company's own labs. Honest companies will give the same results as an uninterested party would and the companies on this list all have stellar reputations, but it is important for consumers to note the difference between third-party tested supplements and generally lab-tested supplements.
Expert Interviews & Opinions
Most Important Criteria
(According to our experts opinion)
Experts Opinion
Editors Opinion
Users Opinion
By Default
Why is Creatine Important?
Creatine is excellent for post workouts and the reasoning behind that is it gives your muscles a burst of powerful energy that allows you to heal.
Other Factors to Consider
Product Purity
Third-party tested supplements are products that have been produced by one company and tested by another company that does not have a vested interest in the results of the analysis. These are often more objective and honest in nature due to the lack of immediate concern with whether or not the tested substance will pass the test. Companies that use third-party testing on all of their products do so in order to send the signal that they care about providing their customers with the most assurance possible that the customer is getting exactly what they pay for.
Frequently Asked Questions
q:

What does it mean to "stack" supplements?

a:

To "stack" a supplement means to take it at the same time as other supplements that are complementary. An example of this would be taking an HMB supplement capsule along with a shake that has BCAA< protein, and carbs but has no HMB.
q:

Will supplements interact with my medication?

a:

Nobody can answer this but a trained medical professional with knowledge of drug interactions and, preferably, knowledge of the ingredients in the specific supplement the patient has chosen.
q:

Will supplements automatically help me bulk up?

a:

No. Recovery supplements are no replacement for hard work at the gym and a healthy day to day meal plan. They are an aid, not a stand-alone solution.
q:

How often should I take supplements?

a:

This depends on the consumer, the supplement, and what sort of activity is being done. Most supplements can be taken every day after an intense workout, but that will vary from person to person.
q:

Are these meal replacement shakes?

a:

While some of the supplements here might be filling, none of them are intended to be meal replacement shakes. Most of the companies listed do offer such products, however.
q:

Can I still take a multivitamin with these?

a:

This depends on what kind of supplement is being taken and what is in the multivitamin as well as what kind of food is being eaten as part of the consumer's daily routine.
q:

Are recovery supplements only for weightlifters?

a:

Anyone who puts themselves through physically strenuous activities can benefit from recovery supplements, though the impact of the supplements will vary depending on what sort of activity is being done, how strenuous it is, and what is being eaten in conjunction with the supplement.
q:

How do I mix the shakes?

a:

Some supplements mix easily and a spoon will suffice for those. For other harder-to-mix supplements, a blender or a shaker bottle is suggested. Bullet Blenders or stick blends are very handy for mixing supplements as they are lightweight and have little mess to clean up afterward.
q:

What if I don't like the flavor?

a:

If a flavor is simply too gross to drink, the buyer has two options. One is to try and give the container to someone else who may find it more palatable and the other is to call the company and try to get an exchange. Several companies on this list offer money-back guarantees as well which may cover exchanges or refunds based on a bad flavor.
q:

Can I mix the supplement with coffee?

a:

So long as the supplement is a powder, it would be easy to mix it in with coffee or combine the two into a shake. Certain flavors will not mix well, but that is a matter of personal taste. It is also important to note that some of the supplements on this list already have caffeine in them and care should be taken not to take too much caffeine.
q:

Can I turn the supplement into a meal shake?

a:

Most of the supplements on this list come in powder form and can, therefore, be, in theory, turned into any kind of shake the buyer desires. Some flavors won't lend themselves well to meal shakes but that depends on personal taste. Supplements in capsule form, however, would not do well if opened and poured into a shake. The amount of supplement would vary depending on the amount left in the capsule and most of the supplements sold as capsules are too bitter to be taken straight in any high dosage. As such, they would severely affect the flavor of any meal shake they were added to.
Subscribe to our Newsletter