Best Running Shorts for Cardio Training Reviewed
last updated:
Mar 02, 2020
Martial arts is a world that takes a lot of physical output. The training one requires to master any art takes a lot of exertion of some kind, most particularly the physical kind. Where there is physical exertion, there will be high internal body temperatures. Because of this, most will likely need more than just one method of keeping their bodies cool to prevent overheating. There are more than a couple of ways to stay cool while exercising. Some of these methods are some you can not go without. Hydration is one of these methods, as dehydration is always a lingering possibility, especially for an athlete. Additionally, another known method is dressing properly for the occasion.
Featured Recommendations
Soffe Ranger Panty

Our rating
Military Preffered
Nylon
Price:

See Here
Under Armour Fly-By

Our rating
Side Pockets
Mesh Inserts
Price:

See Here
Champion Jersey

Our rating
Breathable
Adjustable
Price:

See Here
When it comes to most physically rigorous activity, dressing in a manner that will help prevent an early exhaustion is very important. It is as important as staying hydrated, as it can really put yourself at risk for a number of problems should you dress inappropriately. Most unanimously agree that shorts are a cheap and effective way to meet this end. However, just any old pair of shorts will not do.
From thrift stores to the world wide web, shorts are an easy to obtain garment. But to get the most out of exercise and training, you are gonna want your shorts to be of certain qualities. In this buyers guide, we will go over a selection of shorts that we think are the best for your money. Additionally, we go over the criteria that influenced our decisions, to better inform you, allowing you to make an easier and a more beneficial decision.
10 Best Running Shorts
1. Soffe Ranger Panty
Soffe was established about 75 years ago in 1946. Having only started in distribution for military exchanges as well as college bookstores, Soffe grew to a sizeable esteem. In 2003 they were acquired by another company and the rest is history. Today, they offer comfortable and efficient apparel for the purpose of accommodating the athlete. They are even trusted by the military, its boot camp personnel relying on their name clothing.
Expand to see more
Nylon Tricot
These shorts are made of 100% Nylon. Nylon, an elastic and synthetic material, is weaved in the Tricot style. This makes for fantastic breathability and comfort. Additionally, the nylon serves some other functions. It not only conceals the elastic waistband but also forms a key pocket on the inside.

Sweat-Wicking
In addition to nylon, these shorts have sweat-wicking materials in them. Sweat-wicking is a term used to describe a process in which sweat is pulled from the skin and pushed to the surface of the mesh. This process keeps you cool and dry, which prevents things like chaffing and can be beneficial to anyone who perspires more than the average person.

Cost and Value
The Soffe Running Shorts are on the lower end of the buyer's guides pricing scale. This means it is affordable, especially for somebody with a tight budget. When you factor in the cost as well as its features, such as sweat-wicking capabilities and it's small and comfortable design, you can find that you have a decent value in light of its low cost.
Breathable
Affordable
Sweat-Wicking
Elastic Band
2. Under Armour Fly-By
Under Armour was founded in 1996. Its founder is Kevin Plank, a former University of Maryland football player. His goal was to invent an athletic clothing line that would redefine the athletic clothing market. As a result, he developed clothing that not only keeps you cool and dry but also enhances your athletic performance. Under Armour is a very trusted and beloved brand by athletes far and wide.
Expand to see more
Pockets
Not all shorts come standard with pockets. For some, this is not a problem at all. However, some may have need of them, as they do not wish to carry a bag of any kind while running. These pockets, especially the sealable back pocket, allows for the carrying of simple household items like keys or cell phones. This is a great feature for anyone who absolutely needs to carry these things while running.

Built In Brief
For added comfort, these shorts feature a built-in brief. Made of mesh, the added brief allows for improved breathability. Not only do they provide breathing, they help prevent unwanted rashes from chaffing. In addition to these things, it all comes together to help keep you comfortable.

Cost and Value
Under Armour Shorts come in on the mid to high range on our pricing scale. Being more costly than others, you end up paying a little bit more, but in return, you get a rather quality product. Under Armour is a tried and true name that most athletes swear by. The value is in the product, and it certainly justifies the cost. You can not go wrong with Under Armour.
Breathable
Sealable Back Pocket
Mesh Brief
Trusted Brand
3. Champion Jersey
Champion is a well known American clothing brand for athletes. Having been acquired by Hanes, another popular clothing brand, Champion is Hanes second largest line of clothing next to its own line. Together, they sell clothes that help athletes perform for as long as they were designed to do. If it is a tried and true line you are looking for, then look no further than Champion.
Expand to see more
Jersey
Jersey, as most already know, is a popular knit in sportswear. Seen in most professional sports as the official attire, there are good reasons why it is most preferred. These shorts make use of the jersey knit. This denotes that they are stretchy, lightweight and breathable. Not everyone finds this material and knit to be comfortable, but most do. The shorts jersey design may also contribute to its low cost.

Inner Cord
The shorts not only feature an elastic waistband for fitted comfort, but also an inner cord for adjustability. The inner cord can be pulled to make the shorts fit tighter around the waist which will prevent your shorts from falling during the most intense of practices. This means you spend less time having to stop to pull your shorts up and more time focusing on improving your skills. Features like this are always a plus for the most serious of athletes.

Cost and Value
These shorts fall into the low-cost category of our buyer's guide. In addition to that, they are also our buyer's guides best value, meaning they are the most affordable option on our list for the greatest value. These are extremely affordable for even the athlete on the tightest budget. Low cost usually denotes lesser quality, however, this is not the case for Champion, as their products have withstood the test of time and are loved by a great many people.
Affordable
Trusted Name
Jersey
Inner Cord
4. Adidas M10
Adidas is another extremely popular name brand in sports. Boasting billions of dollars last annual year, they are a huge and successful company known all throughout the world. Having only started in a washroom, they grew to start sub-brands, and have even acquired Reebok, another well-known sports brand. If it is guaranteed quality you are in need of, Adidas most certainly has you covered.
Expand to see more
Climalite
Climalite is an Adidas original fabric. Patented by Adidas, Climalite is a sweat-wicking material that is designed to keep you cool and dry under warm conditions. Unlike other sweat-wicking technology, this mesh is made of cotton on one side, concealing its mesh underneath. Not only is this sightly, it is more comfortable for you. This makes for a comfortable, stylish and extremely effective option for you.

Key Pocket
These shorts come standard with a key pocket. Sewn into the inner inseam, this tiny pocket allows for the carrying of small objects, particularly designed with a key in mind. With this, you can leave your home or car for a quick jog without having to worry about the safety of either. The small pocket design also ensures comfort, preventing a key from violently tossing around, hitting off of whatever part of you it can.

Cost and Value
These Adidas shorts are on the higher price range of the buyer's guide. Being a more costly option than others on our list, these shorts guarantee quality if you're willing or able to shell out the extra cash for them. Adidas is another tried and true product, loved by most athletes. As most have seen, professionals make use of their products during official games which should serve as a testament to the brands quality.
Key Pocket
Climalite Material
High Quality
Comfortable
5. Baleaf Active
Baleaf was founded in 2014. Having only started with a cycling line of clothing, the brand has since expanded into other forms of sportswear, such as swimming, yoga, and more. The company has a focus on making innovative, effective, and affordable sportswear for athletes and guarantees quality on top of it. So, if you are an athlete in need of something new and affordable, Baleaf may have just what you are looking for.
Expand to see more
Blended Fabric
These shorts are made with a series of fabrics that serve multiple purposes. Blended with Nylon and Spandex, these materials come together to create comfort and functionality. Their stretchiness not only allows for breathability, they are also designed to fit your figure, which creates comfort. In its blend is also a sweat-wicking material that will keep you dry and cool, allowing for longer and effective running periods. This innovative design is truly effective, to be sure.

Reflective Elements
Also in its design is a reflective feature. Reflective elements are designed for the night runner who might be harder to see in low light situations. When light hits this material, it shimmers, drawing a drivers attention and making them better able to avoid hitting you in the event you are running on the side of the road. We recommend you do not run at night, but if your busy schedule calls for it, then these shorts are the shorts for you.

Cost and Value
The Baleaf Active shorts falls on the lower end of the buyer's guide pricing scale. This is an affordable but quality option for anyone who needs to run. Its value further justifies the low cost when you include its reflective and sweat-wicking features. These features make for a safe and effective option for the trainer on a budget and are even useful for someone who has been in sports for a while. These shorts serve as an example that a low cost does not always mean they are low quality.
Affordable
Sweat-Wicking
Reflective
Comfortable
6. Tesla Compression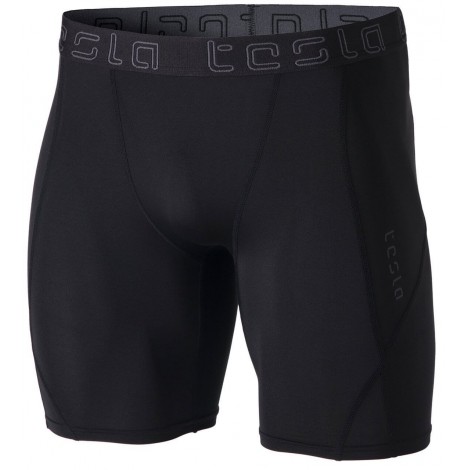 Tesla was founded in 2007. They began as a company that specialized in triathlon gear that
prevented rashes.
Since then, they claim to have embraced general sports. They now offer a full line of sportswear with a focus on high tech innovations that are designed for both professional athletes and the general public. In conclusion, if it is sportswear that keeps you cool and dry, while also looking stylish, Tesla Gear is the brand you might be looking for.
Expand to see more
High Tech
The Compression Shorts offer effective performance for your high energy routine. Combining comfort with functionality, these shorts will keep you very cool and dry during your runs. Not only do they feature sweat-wicking material, the fabric features UV ray protection, keeping your legs safe from the harmful rays of the sun. Additionally, the shorts offer a two-way breathing capability that keeps the cool in, as well as the heat out.

Wide Color Choice
This line of shorts has a vast array of colors and styles of prints. Tesla offers the option of self-expression with its many print styles, for those who feel the need to do so. The ink is washer safe and will not cause any damage to your other clothes, as well as your body. However, be aware there may be price adjustments when choosing these different color options, so be sure to keep an eye out for that possibility.

Cost and Value
The Tesla Compression Shorts falls into the low-cost category in our buyer's guide. This is a great option for the runner on a budget, as well as an affordable option for someone who is looking for something cheap. With its many effective features, the low cost becomes an even greater value. Additionally, having the option to choose from an array of colors and styles only adds to its value even more. This offer is one you would not want to overlook.
Compression
Two-Way Breathing
UV Protection
Washer Safe
7. Adidas Designed-2-Move
Adidas makes our list a second time with a
different pair of shorts
. The last entry was designed primarily for women whereas these shorts were designed with the other gender in mind. The Adidas tried and true quality is ever present in this offer, however, they do have other features that stand out from the last Adidas option. Once again, this might be an offer for anyone looking for top quality shorts.
Expand to see more
Mesh Panels
These shorts feature great breathability. Located on the sides, as well as the back, are mesh panel inserts that are designed to keep air circulating within. This level of breathability is designed to prevent problems like chaffing as a result of sweating. Along with the panels are Adidas patented Climalite fabric, which is a sweat-wicking hybrid that provides comfort as well as functionality.

Draw String
To provide comfort and adjustability, Adidas includes a drawstring cord. Located along the elastic waistband, the drawstring allows you to adjust the short to meet the ever-changing and required comfort for the different levels of activity you may need. This is always a great feature for shorts, as exercising can cause one to lose weight. This will prevent you from having to purchase another pair of shorts too quickly as a result of a physical change.

Cost and Value
The Adidas Designed-2-Move Shorts are on the higher range of cost. In our buyer's guide, this means it is a more costly option. However, in most cases, a high cost can be indicative of a high quality. By spending more money, you end up with the Adidas quality that the brand is famous for. Designed for both professionals and beginners, both will likely find satisfaction in this product should you be willing to spend the extra cash.
Climalite
Drawstring
Elastic Waistband
High Quality
8. Nike Compression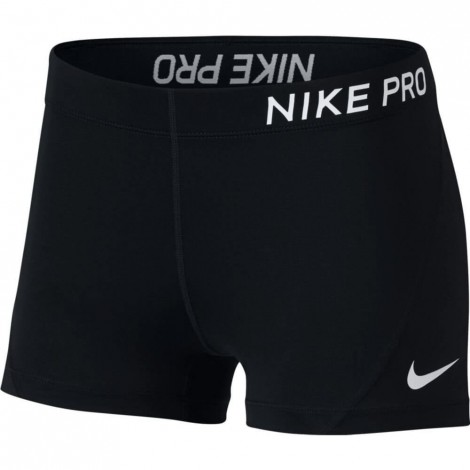 Nike. A brand we all more than likely know as the top basketball and sports shoe brand. The brand has reached international recognition since their birth and can be seen as a widely used brand by professionals in most sports. They offer a huge line of varying sports gear, from shoes,
shorts
to general clothing. Two things are certain with Nike, for your top dollar, you will get a top quality product that is hailed by many as the best.
Expand to see more
Great Base Layer
Many athletes know about proper attire when training and competing. Some make use of a base layer during their performance, and these shorts make for that perfect base layer. Nike's patented Dri-FIT fabric is another sweat-wicking hybrid that provides comfort and functionality to the user. Not only is it comfortable to wear, it keeps your skin cool and dry by wicking sweat. In addition to this, its elasticity ensures it clings tightly to your skin without suffocating it.

3" Inseam
Also adding to its base layer functionality is a 3" inseam. This short inseam means it covers a minimal amount of skin but still it retains proper coverage that prevents indecent exposure to the public. This further means that it is not restricted to only being a base layer and can be worn freely. This will surely keep any user cool during the warmest days.

Cost and Value
The Nike Shorts are unsurprisingly on the high range of our buyer's guides pricing scale. Nike is a huge name with a lot of trust backing it. There is a reason the company has survived so long with its products cost being so high. That reason is total dependability, as the brand has worked with professional athletes, tweaking their gear to meet its consumer's needs. Again, by shelling out a little more money, you end up with the Nike quality guarantee.
High-Quality
Dri-FIT Technology
3" Inseam
Great Baselayer
9. Joe's USA Track & Field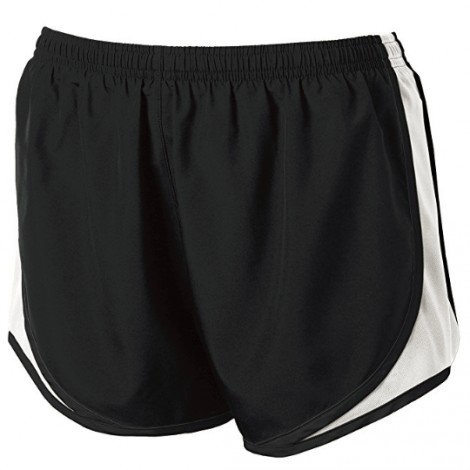 Joe's USA is a wholesale provider of various clothing for everyday and sports. Having a particular focus on blank clothing, they also sell their own line of clothing. In this particular case, Joe's USA has a pair of affordable running shorts. In addition to being affordable, many will attest to their functionality in the face of top brands like Nike and Adidas. If it is a top brand quality you want, with a lower cost, then this might be just the thing you are looking for.
Expand to see more
Tricot Side Panels
These shorts feature side panels made of tricot polyester. Tricot is a kind of stitching that results in a kind of improved breathability. These panels run up the entire length of the shorts, providing a very effective means of sweat prevention. It additionally features a sweat-wicking material. Those who have sweating issues, as well as your average person can take great benefit of this feature, as it will surely keep you cool during intense exercising and heat.

Elastic Waistband
Along the waist is an elastic waistband. This serves several features, the first being comfortable fitting. Paired with a drawstring closure, the waistband becomes adjustable, making one able to tighten or loosen the waistband as they see fit. When it comes to clothing, having the option to adjust to meet whatever needs one may have is an invaluable feature that most look for.

Cost and Value
The Joe's USA Track and Field Shorts fall into the mid-range on our pricing scale. Being neither the most expensive, nor the least can provide a slew of benefits to people on a budget, as well as those with extra money to spend. For those on a budget who may not be able to afford top quality brands can take comfort knowing they are getting quality gear for a fraction of the cost. For those with extra money, who know the top brand quality will notice little to no difference in the quality of these shorts, making these a great value.
Tricot Panels
Elastic Waistband
Drawstring
Comfortable
10. Outdoor Jackets Gym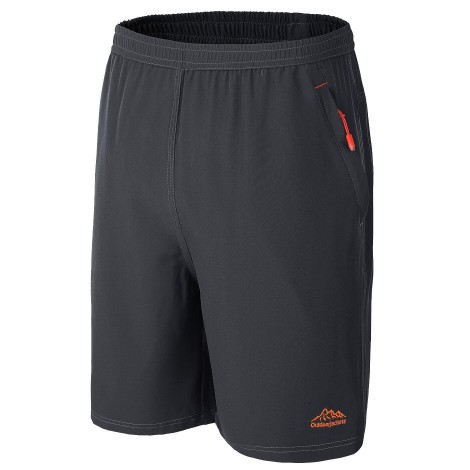 Outdoor Jacket is a brand that is available for wholesale purchase. It has been picked up by a number of online vendors. It is known for its affordability, as well as their useful properties. Being an affordable option, it is a great place for both beginners, as well as anyone on a tight budget. Those looking for a decent pair of athletic wear, or those looking for a comfortable clothing to lounge around may not need to look any further than this option.
Expand to see more
Luminescent
Certain areas of these shorts are lined with a reflective material. This has few but very useful properties. Those who will find this to be most useful are the runners who prefer or are limited to running only at night. The reflective material is designed to shimmer when any light hits it. This being most effective in low light situations. This will certainly help catch the attention of any driver on the road, allowing him or her ample time to take precautions so they do not strike you while you are running on the side of the road.

Zipper Pockets
Not only do these shorts feature pockets, but the pockets have a feature unique to this list. The side pockets have a plastic, but secure zipper system which can provide a number of benefits to the user. Having the ability to seal your pockets shut can allow you to carry items like cell phones and keys; things you do not want to fall out while running. This feature alone makes these shorts a fantastic option, as this is not a common feature for gym shorts.

Cost and Value
These gym shorts fall into the low to mid-range of pricing on the buyer's guide. These are still affordable to a runner on a budget, despite there being more affordable options. However, by spending a very little amount of extra money, you get hooked up with a pair of shorts that have unique but very useful features. The zipper and reflective material drive the value of these shorts way up, as they are safe for you and your belongings. An item well worth the consideration, especially if you are known to lose or break precious things as a result of running.
Zipper Pocket
Reflective
Lightweight
Comfortable
Now that we have shown some of the best offers on the internet, we can move on to some more in-depth explanations. While this product information alone is efficient enough for some, others may require more details. Not only can these further details serve to assist you in future purchases, it can also help you to take our word for it. For these reasons, we will share with you the factors that helped us determine what we believe to be the best among the rest.
Criteria for Evaluating the Best Running Shorts
Materials
The materials that go into everything, let alone shorts, can tell you a wealth of information about the item. Each material has very unique characteristics that do not deviate too far from a set of known qualities. Materials can tell you how something may function as well as how well it does those functions. They can also inform a keen eye of the price range for the item. Knowing the nature of these things can help out with determining what fits your needs, both physically and monetarily.
Tricot-
Used mostly in clothing, tricot is a kind of knitted fabric. The fabric can be made of many natural or synthetic fibers or a mix of both. Wool, silk, and nylon have been seen in its development. Alongside the fabric is the way it is knitted.  On the outer side can be verticle patterns whereas on the inside it is a horizontal pattern. The knitting is known for its elasticity and breathability and is often seen in athletic clothing as a breathable feature.
Nylon-
Nylon is a synthetic material known as a polymer. Actually, nylon is more of a general term used to describe a series of different polymers that use the same chemical consistency. Nylon is seen in various things but is commonly seen in clothing, like stockings, or in this case, athletic gear. It is a lightweight material, cheap to produce, and rather durable. Most running shorts are made of a blend of materials where nylon is present.
Polyester-
Polyester is another synthetic material, much like nylon. It is used in a number of common household items, ranging from clothing to furnishings such as bed sheets and blankets. In some cases, it is biodegradable, but in the case of clothing and furnishings, it is not. In the case of shorts and athletic gear, it is either present as a standalone material or it can be blended with other materials, like cotton or spandex. Most vendors advertise if their clothing is 100% Polyester or if it is blended, and typically goes on to list the materials it is blended with.
Cotton-
Cotton is a widely known, popular, and widely used material in the construction of many household items. It has seen use all over the world in the development of many things ranging from clothing all the way to car seats. It is harvested from a seed-bearing plant that is easy to grow and use in the development of whatever it is needed for. In the case of shorts, it can be a standalone material, but in running shorts, it is typically blended with other materials such as polyester or spandex to add durability and most notably, comfort. It is a very cheap material to produce and develop into items but seldom denotes an items price. It is also able to be dyed and holds colors very well.
Spandex-
Spandex is another manmade material used most commonly in the development of clothing. The word spandex is an anagram (a word made by rearranging the letters of another word) for the word expands. It is known best for its elasticity and is also more durable than natural rubber. In most clothing, it is known to cling tightly, but comfortable to the body, giving more of a defined form to whatever body part that wears it. In running shorts it can be found in a number of features, ranging from the total item itself, found in a blend of the overall construction, or on minor features that serve a breathable purpose. Additionally, spandex can be found in the development of sweat-wicking mesh.
Jersey-
Jersey is a kind of knitted fabric used more commonly in clothing. It is most commonly used in the development of sportswear. It was originally comprised of wool, but over time has been developed with a blend of wool and synthetic fibers. It is known for its lightweight properties and by default is extremely breathable, as the finished products knit pattern leaves noticeable, but intentional holes. Sports Jerseys, where they get their name, is made of this very knitted fabric. Running shorts are not commonly made of this, but some use this as its main material.
Features
Running shorts have a number of features that you should look out for when making a purchase. Since everybody is different, everybody has different needs. Shorts are of no exception when it comes to being different. They come in all sizes, colors, and functions. Some people will have more need for anti-sweat features, whereas some will only need something to cover them properly while running. In this part, we will go over common things featured in running shorts to give you an idea what to look for.
Reflective-
If shorts feature reflective material, it is for the purpose of safety. Most particularly intended for night running, this feature is used to reflect light in low light situations. It is designed to draw the eyes attention to it from a distance, as the movement from the act of walking and running keeps the material moving. This should give ample time for a driver to act to avoid hitting a runner or a cyclist on the side of the road at night time.
Pockets-
Not all shorts feature pockets. However, many shorts still do in varying degrees. Some have two open pockets, one on each side, stitched into the seams. Some feature seam pockets with an additional back pocket, or even a key pocket on the inside of the seam, which will safely house a key without worry of it falling out. Some shorts even feature pockets with the ability to seal them shut, either with zippers or velcro to further ensure nothing valuable falls out of your shorts while on a run.
Waistbands-
Almost all shorts feature an elastic waistband. However, the waistband can have differing features from shorts to other shorts. Sometimes, the elastic band is exposed, which can be a skin irritant to some. Others have an additional lining on the inside to prevent said irritation. Alongside the waistbands can be a drawstring of some kind that is designed to adjust the size of the waistband slightly, allowing for on the fly adjustment.
Zippers-
Not common in most running shorts are pocket zippers. Some, however, make use of a plastic zipper that allows one to carry more than one valuable item with them while exercising. This is commonly used to be an added security measure to keep items from falling out of your pockets, preventing damage or loss of valuables. Many prefer to jog with a light bag, or with nothing on them at all, but not everyone has that luxury or preference.
Built-In Briefs-
A great many running shorts come standard with built-in briefs. Found in both men and women's running shorts, these can have a number of useful features. For males, these can serve to keep the genitals contained which will prevent not only discomfort but also unsightly presence while jogging. For bother genders, briefs can serve to keep the outer material from rubbing on your skin, which can cause chaffing. Other shorts have a sweat-wicking material built into it to further improve anti-chaffing and rash features.
Sweat-Wicking-
Found in a number of places in running shorts is a sweat-wicking material. Not all shorts feature this function, but the ones that do advertise themselves as such. Sweat-wicking is a technology that pushes sweat from an area on your body to the surface of the clothing. Since the material is typically made of a non-absorbent material, the end result is your body staying cooler and dryer for longer, which is an ideal feature for most athletic types, most notably the ones who have over perspiring problems.
The variety of materials, functions, and features of running shorts are a great number. Arming yourself with the knowledge of what each material is and what it is primarily used for can be monumental in most facets of life, not just in a shopping situation. The better informed you are, the easier making a well-informed decision will be. In the end, this will easily save you precious time and equally precious money.
Frequently Asked Questions
Q: Are there any "one size fits all" options for shorts?
A: No. Not only are there not any one size fits all options, most vendors offer a size selection. For some vendors, these sizes are represented numerically by waist size. Others offer the American standard range of S-XL with some smaller and larger options. Keep an eye out for this option when online shopping and also be aware of the notice, if the vendor tells you to pick a size larger or smaller than your normal size.
Q: Are there any price changes when choosing a different size?
A: Yes. In most cases, there will be a slight price adjustment in size differences. In a lot of cases, this price adjustment is marginal, however, in other cases, this price adjustment can be large. Always pay close attention to this possibility, as it can make all of the difference in your final shopping decisions.
Q: Are the gender-neutral options?
A: There are, in fact, some gender neutral options of running shorts, some of which are featured on our buyer's guide. However, most of the selection on the guide denotes what gender they are intended for. It is an important factor in running shorts as some were designed with the specific genitalia in mind, and have features that will prevent discomfort for either.
Q: I am on a tight budget, are there quality options to accommodate for that?
A: As always, our buyer's guide is intended to save everyone time and money. Although our guide features some top brands like Nike and Adidas, options that are known for being costly, we also feature other brands that are both affordable and actually worth investing money into. While not all items may be of top quality, we assure that our other options are of suitable quality for your dollar.
Q: Are there color options for me to choose from?
A: It varies from vendor to vendor. While some vendors will only offer one color of shorts per offer, there are also lines of shorts that were developed in only one color. Meanwhile, other vendors have a line of shorts that boast a great many of not just colors, but print designs. These may come with price adjustments so be aware of that possibility.
Subscribe to our Newsletter