Best Satin Trunks Reviewed
last updated:
Mar 03, 2020
How are you supposed to float like a butterfly with heavy, bulky fabric weighing you down?
If you want to step into the ring for a round or two, you want to get your hands on a pair of satin trunks. While they may look nice and give you a certain flash of style, there are also a lot of practical reasons that fighters flock to satin.
First of all, there is nothing on the planet that is more comfortable than satin. This means that as you duck and weave around your opponent, your legs remain unencumbered, and there is minimal risk of chafing. Plus, they are quite durable which means they hold up well over time.
In this guide, we have compiled a list of some of our favorite satin trunks out there on the market so you can jump in the ring in style and comfort!
This is the best product on our list that is currently in stock: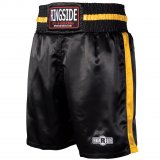 Ringside
Why is it better?
Many sizes
Comfortable fit
In a
Hurry? Editors choice: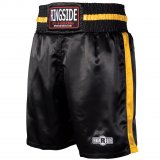 Test Winner: Ringside
2
Researched Sources
920
Reviews Considered
7
Hours Researching
10
Products Evaluated
Comfort
Flexibility
Size
Features
Durability
By Default
10 Best Pairs of Satin Trunks
Criteria Used for Evaluation
Comfort
At the end of the day, you just want to be comfortable.
It's pretty hard to be uncomfortable when you wear a fabric such as satin, but there are some options out there that are considered a little less than ideal. To ensure that you stay comfortable even in the middle of a fight, there were a few key features that we considered.
The type of satin used was one of the biggest things that we took into consideration. Not all types of satin are created equal, and there are some that just aren't a comfortable as others. We wanted to ensure that we selected satin that was light and breathable, and didn't fit so tightly against your skin.
Satin blends were something that we took into consideration, and even included a few options on our list. While blends will not feel as soft and light as 100 percent satin options, they do come with a few advantages. Blends are just a little bit easier to care for, and they also will wear a lot better over time.
While 100 percent satin may seem like the best option, take into consideration how often you intend on wearing them, as well as how much time you intend to dedicate to caring for 100 percent satin.
The size of the waistband is another thing that determines how comfortable it will feel when you wear your boxing shorts. To most, the thickness boils down to a matter of personal preference. If you don't like the idea of a thick band around your waist, you may want to opt for designs that are a tad narrower than most. While most measure in at 4 inches, there are some options out there that are only 3 inches wide.
Flexibility
You want a pair of shorts that will be able to move right along with you and not hold you back.
The perfect gear when fighting is to wear nothing at all! It means there is nothing holding you back from pulling off some pretty powerful moves. However, fighting in your birthday suit is a bad idea for a number of reasons.
To keep things flexible, there are a few things that we kept in mind. The first thing that we looked at was the placement of the seamlines. A low inseam on each design is important to keep things light and loose. No one likes to suffer the discomfort of an inseam that likes to ride a little too high.
Another thing that we took into consideration was the quality of the satin used. While some brands opt for premium 100 percent satin, others take a more pragmatic approach to their fabric. While 100 perfect satin is great for wicking away sweat, the fabric doesn't have any elasticity to it at all.
Using satin blends that include a percentage of polyester is a great way to add a little bit of movement (as well as durability) to your shorts. We made sure to include a few brands that used a blend of satin and other bendable materials to create more movement in your shorts.
Size
The size of the shorts is another thing that we took into consideration.
There are two areas to consider when selecting a size for your- the length of the legs as well as the size options available for purchase.
There are two schools of thought when it comes to the size of the legs. Longer shorts are used primarily by boxers that want to keep their waistline as high as possible. They are also used by more modest athletes that don't like the idea of showing off too much leg.
Shorter options are used by fighters that really use their legs a lot, such as Muay Thai and Kickboxers. These designs run high up on the thigh and prevent the fabric from becoming bunched up as you throw kicks.
We also wanted to make sure that each design that we selected came in a wide variety of sizes. This isn't like shopping around for jeans- there is a lot more wiggle room when it comes to finding the right size for your body.
However, we still wanted brands to offer a wide variety of sizing options to find the right size for you. We preferred brands that included a sizing chart to make things a little easier.
Features
Extra little design features in the fabric are something that can make all of the difference.
Below, we have broken down some of our favorite features in some of these styles, and the reasons why you may want to give them a try.
Small slits in the side of the leg may be small features, but it is something that makes a big impact. When you lift your leg, your shorts will ride up on your thigh. If the leg holes are a bit on the narrow side, it means that it could potentially limit your full range of motion. By adding slits in the side of the leg, it prevents this from even happening.
Thinner waistbands are something else that we wanted to ensure that we included. The standard size of waistband for almost all of the brands out there on the market measure to be 4-inches thick. However, if you don't like the idea of a super thick waistband, there are some brands that offer smaller designs. The smallest band that we found out there on the market measures to be about 3-inches thick, which may prove to be a little more comfortable.
Durability
Satin doesn't have the best reputation when it comes to the washing machine.
When it comes to workout shorts, you want something that is easy to clean, because you will need to wash them pretty frequently. We wanted to make sure that we selected garments that hold up well over subsequent washings.
The very first thing that we need to note is that satin cannot be tossed into the washing machine. We know, it's a little disappointing that washing them is a little complicated. However, there are a few design features found in these products that will make this task a little easier, and also help them hold up well over time.
The good news here is that they do not need to be washed after each and every workout. Satin is a nonporous material that will not hold on to bacteria, sweat, and odors. Due to this fact, it means that you will not need to wash it as often. We made sure that we select products that had strong seamlines to prevent the product from unraveling the moment it hits the water!
Another feature that you may want to consider if you wash your training clothes each and every day it to perhaps select a blend. Products that use a blend of poly-satin aren't as soft as 100 percent satin, but they hold up a lot better when submerged in water.
When washing your satin trunks, be sure to use gentle detergent and water that isn't too hot. Another important thing to remember is that you should never ring your shorts dry. Simply hang them up in a well-ventilated area, and they will be dry almost as quickly as you finish reading this sentence.
Expert Interviews & Opinions
Most Important Criteria
(According to our experts opinion)
Experts Opinion
Editors Opinion
Users Opinion
By Default
Go Big
If you are unsure of what size you need, we recommend getting a size larger than what you would normally buy. Shorts that are a little too big will simply slide around on your waist a bit. If you opt for a smaller size than you need, you run the risk of limiting your full range of motion. Plus, it will be incredibly uncomfortable!
Keep It Above The Waist
You may have noticed that many of the designs out there on the market rock a pretty high waistline. When boxing, blows are only permissible above the waist. That means that the line here your shorts begin is the line your opponent is not allowed to cross. By raising the waistline of your trunks, you can avoid suffering blows lower down on your body.
Get Protected
Accidental blows below the waist can happen when you are training or when you are in the middle of a match. The truth is, a thin and fluttering piece of fabric won't do much to keep yourself protected. Equipping quality groin protectors is always a good idea to avoid the mistery that comes when a rogue blows head straight for your netherregion.
Other Factors to Consider
Bottom Line
To be able to move around the ring like you aren't wearing anything at all, satin is the way to go! When you are engaged in a fight, that last thing that you want on your mind is uncomfortable gear getting in your way.
We loved satin because it is durable enough that you can wear it while you are training for your next fight at the gym, and then wear it the next day during a fight. They work great at wicking away sweat from your body, and the shorts will always stay high and dry no matter how sweaty you get!
If you need something that is able to keep up with you and will not hinder your full range of motion in the slightest, we recommend getting your hands on a great pair of satin trunks the next time you step into the ring!
Frequently Asked Questions
q:

Why is satin so great?

a:

The reason that we love satin trunks for fighting is that it feels like you aren't wearing anything at all. When you are in the ring, you need to have a full range of motion at all times. Tight and clingy materials such as polyester or spandex can actually hinder your range of motion slightly.

Not only does satin allow you to move naturally like you aren't wearing anything at all, but it also is quick-drying and wicks away sweat. This means that no matter how hard you sweat, your shorts will not become wet. It's for these very specifics reasons that satin is the way to go before you step into the ring.
q:

How can I ensure that I select the right size?

a:

Sizing for these styles of shorts isn't as much of an issue when you compare it to other types of athletic gear. You want these shorts to fit as loosely as possible around your legs, but not strangle your waist.

The good news here is that all brands use a waistline that is around 4 inches and is composed of a comfortable elastic band. The thicker band is beneficial because it moves the tension of an uncomfortable band over larger area of your waist.

If you are unsure of the size that you need, we feel that it is always better to go a little bit larger than you would normally wear. Who knows how the end of Rocky would have played out if Apollo Creed was wearing tight and uncomfortable shorts!
q:

Do I need to wash them every day?

a:

Satin is a very temperamental fabric. On the one hand, it is light and feels great against the skin. On the other hand, it will throw a real temper tantrum if you are too harsh when you wash it.

Luckily, this is a material that actually doesn't need to be washed every day. Due to the fact that the material is nonporous and doesn't absorb moisture or sweat, it means it will not hold on to bacteria either. This means you can wear it a few times to the gym before you feel the need to give it a good cleaning.

Of course, this ideology boils down to a simple matter of personal preference. Some users hate the idea of wearing pre-worn gear to the gym- and that's perfectly fine! As long as you take the time to gently wash your garment, it will last you for many years of fights!
q:

Are they easy to clean?

a:

We aren't going to sugar-coat this: satin can be a real drama queen when it comes to laundry day. As we mentioned above, cleaning them after every trip to the gym isn't a necessity, but the day will come when it's time for a cleaning.

So, how exactly do you wash satin? You wash it carefully, and with care. We recommend filling the sink with some nice warm water (not too hot!) and using gentile detergent to wash away the funk. Also, it's important to skip the dryer completely.

Once you finish washing your shorts, you will soon discover that the need for the dryer isn't necessary. Most garments made from satin dry super fast. That means you can wash it in the morning, and by the afternoon they will be dry and ready for the gym!
q:

Why can't I just wear cotton shorts?

a:

Everyone loves their old reliable cotton gear, but cotton isn't great for all instances. While it may feel comfortable the minute that you step into the ring, that soft material will quickly turn on you as you begin to sweat.

Cotton is an incredibly porous material, and it holds your sweat tightly against the fabric. The reason cotton isn't ideal is due to the fact that excessive sweating will not only weigh you down, but it also holds it against your skin. When this happens, you will start to chafe in places that you do not want to chaff.

Sure, cotton is great for other activities, but when it comes to fighting you need to be light on your feet. That's why light and airy materials such as satin (that feel as if you aren't wearing anything at all) will help you stay at the top of your game for the duration of the fight.
q:

Can I wear them for anything else?

a:

Sure, these shorts may feel amazing and you might want to wear them grocery shopping and running- but they do have their disadvantages as well. While there is no reason you can't wear them while picking up some protein powder and raw eggs at the grocery store- problems may arise when you wear them for other workouts.

While satin may feel light and comfortable and wicks sweat away from your body, it doesn't offer a whole lot in terms of support. Gear that is made from materials such as neoprene, spandex, or polyester will be better for your training days. These materials offer your muscles a lot more support which lowers the risk of injury.

When you are fighting in the ring, the last thing that you need is tight and clingy fabrics hindering your full range of motion and holding you back. That's why satin trunks are ideal for these instances.
q:

Do I need short or long cut legs?

a:

The answer to the question boils down to a matter of personal preference. There isn't any real benefit from wearing long or short satin trunks, it just depends on how much skin you are willing to show!

It goes without saying that shorter shorts will offer up a higher range of motion because there is no fabric that will bunch up on your legs. Those that engage in sports such as Muay Thai often flock to the shorter options due to the fact that that is light and easy and will not restrict your full range of motion.
Subscribe to our Newsletter