Best Blender & Shaker Bottles Reviewed
last updated:
Jan 16, 2020
There are many people that use blender bottles as there are many advantages to using one. Apart from professional athletes, people that are very serious about their fitness goals will use them. If you are looking to start becoming more healthy and fit, shaker bottles will also give you a big advantage in reaching your goals sooner.
A shaker bottle is simply an item that can be used to create protein shakes. It is not to say that no other bottle can do this, but a shaker bottle will ensure your drinks are free of powder lumps and smooth. These blender bottles are very versatile and really work for anyone. If you're not looking to make a protein shake, it can simply function as a drinking bottle. We covered 10 best shaker bottles on the market and made our honest reviews after testing each one.
In a Hurry? The test winner after 4 hrs of research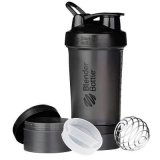 Blender Bottle Prostak
Why is it better?
Stackable

Affordable

Durable

Leak proof

Variety of colors
In a
Hurry? Editors choice: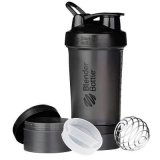 Test Winner: Blender Bottle Prostak
Size
Ease of Use
Features
By Default
10 Best Shaker Bottles
1

. Blender Bottle Prostak
Stackable

Affordable

Durable

Leak proof

Variety of colors
Lid will crack after long period of use
This product is one of a kind as there are no others like it on the market. This is the only bottle that features the ability to attach containers onto your bottle so you don't lose things at the bottom of your bag. Anything from supplements to trail mix will fit into these containers. With it all secured together, you're guaranteed to have a fantastic workout!
Read more
Extra Capacity
A lot of different things go into a well-rounded workout. Depending on what your needs are, a certain supplement and protein powders will also be very beneficial to you. It can get very difficult and bulky with all the additional items. This product is designed with jars that lock together and onto your bottle, ensuring you won't forget anything you need.
Leakproof Lid
Many bottles will leak over time because the lids are constantly twisted or flipped. Other lids often get loosened when it's rolling around in your gym bag. This product is constructed with an extra tight seal to secure the lid and prevent it from coming untwisted. The particular item also comes with a loop at the top of their lid so that you can hook it to the outside of your bag to prevent it from getting knocked around inside.
Cost and Value
This product comes at a great price and is easily affordable for everyone. This item comes in many different colors and sizes, allowing you to find one that will match your needs specifically. They are great additions to any workout routine.
BPA Free

Double sided

Durable

Affordable

Easy to clean
Cannot be filled to the top otherwise it will mix
This product has a unique feature that no other product has. Quite simply, this is a product that is two in one. Inside the cup is a thick wall that runs down the middle to separate the cup into two moon shapes. Each side comes with its own shaker, allowing you to make two completely different drinks without the risk of mixing them.
Read more
Double Sided
This is a product that comes with two completely separate sides for two different drinks. Many people that are training have different diet needs throughout the day. This item will allow you to have your full day prepared so that you don't have to bring extra containers that you may end up losing.
BPA Free
As people become more technologically advanced, we are learning a lot of things we used to eat and manufacture products with are actually harmful to our bodies. One of the most widely used plastics turns out to be very harmful to our bodies. It imitates our hormones and inhibits our system from producing more. This product is made from a different type of plastic that is a much safer form of plastic that will not affect human bodies.
Cost and Value
This is a great cup as it saves you space and time. Instead of bringing two bottles and making two different drinks, they will all fit into one. With two separate drink openings and a plastic splitter, it is guaranteed that the drinks not mix! This versatile cup can also function as one big cup on days you do not want to split your flavors. Simply fill it to the top and shake it!
3

. Blender Bottle Classic Loop
Dishwasher safe

High quality

Extra wide opening

Leak proof

Affordable
Comes only in twenty ounces
This product is a great addition to your workout. It comes with a blender ball, allowing your drinks to stay mixed. Prior to drinking, swirl the cup a few times and the sitting sediment will be mixed right back into the water. It is a great way to prepare a replenishing drink for your end of workout routine.
Read more
High Quality
When products are not produced with good materials, there is a chance they will break down sooner or have a shortened lifespan. This metal ball shaker inside is made with surgical quality steel that will not stain or rust. The plastic is also a safe, chemical-free type that will not be harmful to your bodies.
Wide Mouth
There are many shakers that have an opening that barely fit a spoon, if the spoon is slightly larger, then it will not fit at all. To mitigate the problem, most people have a specific spoon or funnel that they use. Despite using those tools, there is a high chance of making a mess and there will be bits and pieces of food or powder everywhere. This product features a wide mouth opening, meaning that you'll be able to prepare your bottle with ease.
Cost and Value
This product is very cost-effective and can be purchased anywhere. It comes in a wide variety of colors and designs, ensuring something will match your needs. They can be washed in the dishwasher without fear of the plastic melting.
Rechargable

Efficient

Supplement compartment

Quiet

Lump free drinks
This product is the first of its kind. It is a shaker bottle that you are not required to do the actually shaking. It is high tech and function at the same time. Unlike normal blenders, there is no bulky base you have to worry about. Along with how great this bottle looks, this product is definitely a crowd pleaser!
Read more
Coveninent
This product has all the frills without any attachment. Despite being electric, it does not have a blender base. The shaker comes with a USB wire that can be plugged into any device to activate the charging system. One it is done, simply unplug and go. Press the button on the cup to get the vortex spinning each time you want to mix it.
Lightweight
Despite having a tiny motor in the cup, this item is just as light as any other bottle on the market. The cup also has a tiny battery in it so that there is energy sent to the mixing mechanism, but it has barely made a difference in terms of how heavy the actual product is.
Cost and Value
This product is so versatile and has many more benefits than bad attributes. On top of being able to do the shaking for you, It comes with an interlocking compartment that you can place your supplements in. The technology packed into this design is really well thought out and is so lightweight you won't notice the difference between this and other competitors!
Patented technology

Popular brand

Easy to use

Stackable

Comes in a pack of two
Takes time to get used to spinning it right
This brand is popular with people as there is a lot of technology that goes into each of their models. Each bottle has multiple patented design to make it better than other competing brands. It also comes in a wide variety of colors, allowing you to pick and choose the perfect one for yourself.
Read more
Tapered Cone
Unlike other products, this bottle features stationary mixers. Other brands use free-floating mixers that go throughout the cup to try and break up all the lumps. However, this product uses a patented technology allows for the drink to be completely mixed. The tapered cone shape of the mixer allows it to create a vortex within the cup which will bring all the lumps of powder up. These lumps then physically go through the tapered cone which breaks them up.
Click n' Go
This item features an easy and accessible way of drinking. Rather than constantly twisting off and twisting back on, this uses a "click N go" system. This is a patented technology that easily locks the mouthguard in place over the opening of the bottle. To drink from it, simply lift up. When you are done, push down on covering which will make a loud clicking noise once it is in place. This will secure the lid and prevent it from getting knocked off as easily.
Cost and Value
This product is a reasonable price and is worth the money you invest. It will make a great addition to your workout as a companion to keep you hydrated. It also comes with stackable containers to ensure you don't forget anything you need. Coupled with the fact this is machine washable, this product is a definite must-have!
6

. Stainless Steel Blender Bottle
Durable

High quality

Odor resistant

Accurate quantities

Insulated
This bottle is cleverly designed to allow user efficient and easy access. It has markings on both the inside and outside of the cup to ensure accurate measurement for your drink. It is also dishwasher friendly and comes with a plastic loop in which you can carry the product on the outside of your gym bag.
Read more
Insulation
A protein shake on a warm summer day can turn warm quite quickly. To prevent that, this bottle is made completely from stainless steel, which does not heat up as quickly as plastic. The shaker is also double-walled, making for extra insulation that will keep your drinks cool. Despite being placed in the heat, this bottle can keep your drink cold for up to twenty-four hours.
Center Mount
The logical way to design a cup is to have the spout near one side. While this may make drinking easier, it can always imbalance the cup. It may also be quite cumbersome to find the spout opening while you are on the treadmill. This product features a central mount, meaning the opening of the bottle is placed in the middle. This allows for quick and convenient access regardless of which way you hold your bottle.
Cost and Value
This product is slightly more expensive than others, but it is because it is made from stainless steel. The metal is a surgical grade quality type of stainless steel, meaning that it is extremely durable. Coupled by the fact it can keep your drinks cold all day, this is definitely worth the few extra bucks you spend.
Extra compartment

Cool design

Affordable

Durable

BPA Free
A little difficult to wash the rod
This particular model was designed in collaboration with Marvel. It features all the different Marvel logos, allowing you to customize your bottle. Apart from the design, this product also has the capacity to store your supplements and vitamins. This product is a great way to have all your food and drinks for the gym in one place.
Read more
Actionrod
Instead of using whisking ball, this product as their own patented technology known as actionrod. There is a rod that is built into the cup that slides up and down when the bottle is shaken. The rod will then agitate the water and break up any lumps of power that may be found. This guarantees a smooth drink every time.
Extra Compartment
There are many people who do not want to mix their protein drink right away. This is because once the drink is mixed, lumps will start to form if it is not consumed right away. This will require more shaking to try and get the bits and pieces apart. This product features a separate compartment where you can store the powder and pour it in when you are ready to mix it.
Cost and Value
This product is quite affordable and will work for its worth. The actionrod technology is proven to be successful and effective in guaranteeing a lump-free drink each time. They are multi-faceted items that do not necessarily work just for protein drinks, but can also be filled with water with a little room for some trail mix after your workout!
8

. Bottled Joy Protein Shaker
Leak proof

High quality materials

BPA free

Dishwasher safe

Twenty seven ounces
Rubber ring inside lid will harden over time
This item is very popular due to its accessibility. Despite the low cost, this item is made from the highest quality materials on the market. The materials used are durable enough to withstand use every day without wearing out over a long period of time. This item also comes with a secure lid that is both leak-proof and spill-proof.
Read more
Grip and Traction
Many bottles that have the smooth sides run a high risk of the user dropping the cup. Hands tend to get very sweaty when they are exercising, grabbing a smooth plastic surface can increase the chances of it slipping. This will create a mess that no one wants to clean up. This item comes with rubber grips on the side, allowing your fingers to hang on to the material and minimize the chance of dropping it.
BPA Free
BPA stands for Bisphenol A and is extremely harmful to humans. Although we have been using this plastic for years, more and more brands are trying to stay away from it. When ingested, the product can bring about fertility problems and also lower your testosterone. When it enters our system, it mimics the different type of cells and tricks our body into thinking our health levels are up. However, these BPA cells do not copy the function of our healthy cells and simply fool our brains into thinking we are healthy. This places extra stress on our otherwise healthy cells and causing them to break down at a faster rate.
Cost and Value
This product is very cost effective and would be a great way to keep your protein drinks fresh. The rubber grips on the side have ridges that prevent your fingers from slipping off, giving you a more confident and secure hold. Along with the fact that this item is dishwasher safe, it is guaranteed not to disappoint!
9

. Auto Flip Shaker Bottle
Value back

Silicone ball

Dishwasher safe

Integrated handle

Durable
Mixer ball floats in milk
This bottle has many great features that are useful in making protein shakes. One of the biggest inconveniences is to wash and maintain your bottle. This blender ball is made from silicone and both the ball and the cup can be placed into the dishwasher. Shaving off minutes in your day and allowing you to focus on what you really enjoy doing.
Read more
Blending Ball
Instead of using a ball in the shape of a whisk, this product using a blending ball made of silicone. The ball has fins that all work like a powerful motor to break apart lumps of powder when spun. This product is easier to clean as the metal wires of a whisking ball can get caked with gunk.
Integrated Handle
People that have small hands often complain about gripping the body of a bottle. A bottle can have quite a wide body, which means people with small hands are forced to stretch them out to hold the bottle. This can become quite uncomfortable and run the risk of dropping the item. This product has a built-in handle that you can either secure to the outside of your bag or just to hold.
Cost and Value
This product comes at a great price as it is one in few that offer the options of a value pack. Despite thinking you only need one bottle, it's always great to have a backup when you can't get to washing out your regular one in time. If there are multiple people in your family that maintain a healthy lifestyle, investing in a value pack will save you money.
Affordable

Strong mixer ball

Rubber sides

Durable

Machine washable
This product is a great purchase for someone looking to purchase something basic. Despite the way it looks, this product was designed with the user in mind. It is simple and easy to use a cup that has integrated comfortable rubber sides to ensure you grip your product tightly. Along with the fact that this bottle will last for years, it is a must-have item on everyone's list!
Read more
Durable
One of the primary complaints of shaker bottle users is that their cups do not last long enough through daily use. Most cups need to be replaced after a year or two. However, this product was built to last. It boasts a super thick plastic that does not make the bottle heavier, and also a seamfree mold. This means each cup was produced using a mold rather than melting two sides together. The lack of a seam decreases the chances of the cup splitting open.
Rubber sides
Integrating rubber into the side of the cup breaks up the smooth plastic surface. This is beneficial as your fingers will be able to grasp and hold on to the built-i ridges. The rubber used to construct the cup also helps insulate your product, meaning it will keep cold drinks cold and hot drinks hot.
Cost and Value
This product is very affordable and is a great bottle for beginners. It features a simple design that does not have too many components to confuse you and is dishwasher safe. This mixer ball is also in the shape of gear with extra ridges and studs that will break up any lumps of protein, ensuring a smooth and delicious shake.
Criteria Used for Evaluation
Size
Because of their popularity, shaker bottles are now being produced in multiple sizes. The most common ones are:
22 ounces,
28 ounces,
32 ounces.
However, there are also sizes such as 20 ounces and 45 ounces for people that are looking for a smaller quantity of something very big.
The key to knowing which shaker bottle is best for you depends on what kind of exercise plan you are doing. For instance, a protein shake that you are drinking as a meal replacement is going to be very different than the drink you are going to consume for cutting your fats. There is also protein shakes that give you more muscle or energy to go longer in the gym. Depending on your plan, the amount of drink you need will change. The amount of beverage to recover post-workout will be significantly smaller than something that may be building your muscles. The key is to research online or speak with a professional to find out what will work best for you prior to purchasing your bottle.
Versatility
There are all sorts of types for shaker bottles. There is a possibility that you will have to experiment and try some to find which one works well for you. Overall, there are three main types: flip top, screw top, extended spout.
Flip flop Lid Shaker Bottle
The most common lid that people purchase is the flip-top lid. When you are ready to drink, you can flip the top of the lid off the spout. On the flip-top, itself is a little piece of plastic that sticks out slightly to make the circumference of the lid smaller than the spout. The lid is fully secured when you hear an audible click. There are also other flip-top lids that utilize a plastic O ring to secure the flap tightly on the lid. These are popular amongst people as you can easily flip them open with one hand.
The disadvantage of these lids is that if you have a messy bags, one of your items may accidentally flip the lid off the spout. At that point, you're going to have no drink for the gym and a sopping wet bag. To prevent this from happening, most people usually have a separate compartment for their bottle of they hold it in their hands.
Screw-top Lid Shaker Bottle
The screw-top lid is recommended as they are the most secure way of ensuring your beverage does not spill. The screw-top has ridges that match inside the lid and on the spout, along with a plastic O ring inside the lid to tighten the seal, it guarantees a spill-free experience. This is a great bottle for people that leave their bottles inside their bags. The disadvantage of using this kind of lid is that it requires two hands to operate, which may be a problem mid-workout.
Extended Spout Shaker Bottle
The lid with the extended spout operates similarly to a flip-top one. The only difference is that spout extends further from the lid, allowing you to avoid having your face so close to the top of the bottle. These can be great as you can completely enclose the spout top of your mouth and prevent spillage. However, the disadvantage of this type of opening is that you must turn the bottle until you reach the spout. Other bottles with a lower opening can be accessed from all directions, but having the higher spout means you'll have to turn the opening to face you each time. This can be cumbersome if you are in the middle of a workout.
Expert Interviews & Opinions
Most Important Criteria
(According to our experts opinion)
Experts Opinion
Editors Opinion
Users Opinion
By Default
Use your shaker for anything!
Shakers are a great product to have when trying to mix up your pre-workout, post-workout, or any other work out drinks. What is nice is that they are universal and you can use them for any other type of beverage that requires mixing. Dual-purpose!
Other Factors to Consider
Bottom Line
Prior to purchasing your shaker bottle, invest some time in looking at all the different kinds of designs the shaker inside may be. Some are going to work better than others. The idea is to look for a shaker ball that will be most effective in breaking up the lumps that may form when the powder is mixed with water or milk. Keep in mind that over time, the powder may also settle in the bottom despite being mixed into the liquid. At that time, your shaker ball will also be required to mix the beverage evenly.
As the needs of people are changing, there are more adaptations and transformations to shaker bottles. Historically, they were constructed especially for athletes and was used as a tool to enhance performance. As the customer landscape has changed, the bottles have evolved. Now they serve as a cup for all sorts of beverages or even as a container. Overall, these have grown to be so multi-purpose that they are worth the investment just to keep a few at home.
Frequently Asked Questions
q:

How do I use a shaker bottle properly?

a:

People may think that a shaker bottle is easy to use, but there is an actual process in how to use one correctly. The first thing to keep in mind is that protein powder breaks down easiest in milk, however, juice and water are options if your milk isn't your thing. Prior to pouring anything into the bottle, take note to see how much power you need. Remember to always add the liquid prior to the powder in order to avoid as many lumps as possible. After adding the powder and liquid into the cup, you may opt to put in things such as fruit or ice, some will even add chocolate to the shake. The final part is to place the lid back onto the bottle and screw it on tightly. Once it is sealed, give the bottle a hard shake for a minute. The shaking should be an up and down motion and should be constant for the entire time. The ball inside your cup will work to mix your beverage and break up any clumping powder bits.
q:

What is the point of using a shaker bottle?

a:

These bottles are a convenient way for athletes and people that are training to get the protein and nutrients they need. Most people pour their daily dose into a bottle and drink it when they need it.
q:

Can you put hot liquid in a blender bottle?

a:

Most shaker bottles can hold hot liquid, however, it is not recommended that you microwave the bottle itself. Depending on the type of bottle, some may be insulated and able to keep your drink hot or cold for a specific period of time. There is always an option of buying hot water bottles for this particular use.
q:

Where can I get a shaker bottle?

a:

Bottles can be purchased almost anywhere. Most large supermarkets or box store will carry these. For more options and brands, it is best to online as most stores can only carry a selected few.
Subscribe to our Newsletter