Best Sparring Gear for Combat Sports Reviewed & Rated
last updated:
Feb 03, 2020
Many combat sports require you to wear protective gear simply to protect yourself and your opponent. Sports that involve sparring can get very physical which is why full-body protection is almost always necessary. Usually, a set of sparring gear comprises of five or seven pieces in total. A complete set of seven will usually have the headgear, two sparring gloves, two shin guards, and two sparring shoes. For a set of five, there are no sparring shoes. These pieces are decided as the basic set and designed to protect the most heavily hit areas. Based on the amount of equipment you have to wear, it seems like the workout is getting into all the gear itself. If you can get past the amount of work and money spent on the protective gear, there are actually many benefits to sparring.
In a Hurry? The test winner after 4 hrs of research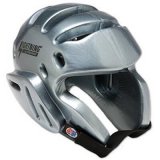 ProForce Lightning Headgear
Why is it better?
Affordable
Easy to maintain
Durable
Enhanced protection
Multiple colors
In a
Hurry? Editors choice: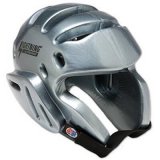 Test Winner: ProForce Lightning Headgear
10 Best Sparring Gear Items
Other Factors to Consider
Protection
Foam Density
For items that are designed to protect your body, it is incredibly important to know how dense the cushioning is. In most sparring gear, the insulation is made of a type of foam. When purchasing your equipment, it is recommended that you look for something known as PU Foam. This stands for Polyurethane foam and it is currently the highest quality foam available on the market. It is a flexible type of insulation that contours to your body and fists.
The foam uses a system of air bubbles to dissipate the impact of a hit. During the creation of PU foam, air is introduced into the material to create tiny little bubbles of air. The force from a hit will enter these tiny bubbles an either cause these bubbles to collapse or vibrate. Using this system, the air bubbles will absorb most if not all the energy from a hit and dissolve the impact, leaving little to nothing for your physical body to absorb. After each hit, the bubbles that have collapsed will reinflate which will start the entire process all over again.
Headgear
This item is most likely going to be your most important piece of protection. It is important to invest in one that will really protect your head versus saving a few dollars. A hit to the head can easily turn serious or prove fatal, which is why the product you purchase should be of top quality.
Apart from knowing whether it is certified and what materials it is made of, take some time to see if the headgear offers any enhanced protection or a design that is better than the average ones. These little upgrades make a significant difference in the performance of your gear. To save yourself time, it may also be worthwhile to invest in a product that is easy and quick to clean.
When trying to figure out how to purchase one, it is best to try it on physically. As each brand has a slightly different sizing system, simply measuring your head may not be enough. When trying it on, the headgear should be snug. Spend at least a minute or two in it as the pinching will be much more prominent if it is too tight. It is not advisable to pick a smaller helmet as a prolonged period of wearing it can cause a headache. Once you have put it on, rotate your head and see if the gear is too bulky as it may get in the way of your shoulders. Ensure that the helmet covers all the way down to your jaw as that is the most vulnerable area and is likely to sustain injury.
Gloves
There are many different types of sparring gloves you can choose from. Depending on your needs, there are ones that have better performance or are tailored to specific sports. In general, sparring gloves are opened handing, meaning that they do not cover the fingers. It is a large protective covering over the back of your hands and knuckles. If you extend your fingers, they will stick out from the glove. When your hand is closed, the glove works as a complete protective item over your entire fist. These sort of gloves provide for better dexterity and more flexibility in terms of movement.
When putting them on, ensure that they are able to fit snugly on your hand. Pay attention to the areas in which your fingers separate as the seams may be too thick and force your fingers to spread. This will cause an incorrect fist to be formed and may cause injury to your hands. Also, take note to see what kind of closure it uses. The recommended closure is a velcro one as it will allow you to adjust it to the proper fit. It also enables you to take off and put on your gloves by yourself without needing to ask for help from a training partner. Sparring gloves should allow you to form a fist comfortably without feeling like something is jammed into the palm of your hand.
Shin and Foot Guards
These guards not only protect you but also prevent your opponent from getting hurt. They are often made of fabric with a foam insulation on the shin area. Ideally, these should feel light and are can be cleaned easily. There are some great fitting guards for a relatively low price. Depending on what you want, costs can run very high. Compared to all your equipment, this is one that does not necessarily have to break the bank. Regardless of what brand you choose, it will do its job and protect your shin bones. It is recommended that you purchase the type of shin guard that extends to the feet, that way you have less equipment to carry around and also will save you money in the long run.
Bottom Line
One of the most important factors when it comes to deciding what kind of sparring gear to purchase is knowing where it is made. There are many brands on the market that offer sparring gear at a very low or discounted price. There is a high possibility that these products are not ISO certified and may not actually withstand the impacts of hits.
Being ISO certified means the product has gone through multiple strongest tests and their products have passed the quality management system. This certification guarantees that these products are able to protect you from bodily harm up to a certain amount of force. Unfortunately, with the number of manufacturers and channels to sell products growing, it is getting more and more difficult to ensure the quality of an item.
Sparring gear is expensive but it is worth it. Sparring is a great sport to relieve stress and is an alternate way to exercise. Many people struggle or fall off the wagon when they are only working out in a fitness center. Sparring allows you to meet new people and also keep fit while staying interested. There are many that do it to drastically increase their fitness levels and the added benefit is that it gives you a place to vent out all the frustrations you may have in your daily life.
Frequently Asked Questions
q:

Can Kids Use Sparring Gear?

a:

Of course! Any child enrolling in martial arts or any type of combat sport will be required to purchase their own sparring gear. All the gear recommended in this article come in sizes that fit children or sizes that also fit adults. Sparring gear is also versatile enough that if you have multiple children, it can be handed down as the other child grows.
q:

Where can I buy Sparring Gear?

a:

Any martial arts store will have sparring protection. It is recommended for you to these kinds of stores as opposed to big sporting marts. This is because the sporting marts will have generic kinds that may not be the best on the market. While those products are acceptable for beginners, it may be better to invest in something that may offer a little more protection. Martial art stores will also offer more brands with different functionalities, allowing you to find one that suits your needs.
q:

How do I clean my Sparring Gear?

a:

Most of the gear comes with a vinyl coating. While it is not recommended for you to wash your gear in the washer, you can still ensure it gets a good clean. Add a drop of dish detergent into a bucket of warm water, take a cloth and soak it through. Give your gear a good wipe down inside and out, allowing it to air dry. Do not leave it out in the sun as it will damage the materials and foam. For storing, leave it in a cool and dry place.
Subscribe to our Newsletter