Best Speed Bags Reviewed & Rated
last updated:
Jan 28, 2020
Boxing is one of the most recognizable forms of martial arts in practice today. People who have no interest in sports or martial arts will likely still be able to point to most boxing gear and correctly identify which sport the gear belongs to. This is especially true of the two most common pieces of boxing equipment: the heavy bag and the speed bag. Heavy bags come in a variety of styles, filling options, and size while speed bags are more limited by their function. This limitation has not stopped the producers of speed bags from designing quality products, however, and the best speed bags on the market come with an array of styling and mounting option.
In a Hurry? The test winner after 4 hrs of research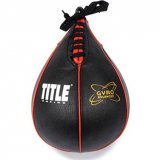 Title Boxing Gyro
Why is it better?
Wide Range of Sizes

Quality Company

Gyro-Balanced Rebounds

Holds Up to Daily Use

Hone Precision Strikes
In a
Hurry? Editors choice: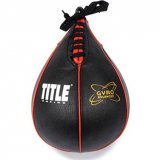 Test Winner: Title Boxing Gyro
Durability
Materials
Versatility
By Default
10 Best Speed Bags
Wide Range of Sizes

Quality Company

Gyro-Balanced Rebounds

Holds Up to Daily Use

Hone Precision Strikes
Title Boxing is a frequent name on our lists and for good reason. Their products are designed for boxers but that has not stopped practitioners of other martial arts styles from finding utility in them. Title Boxing's products receive consistently high ratings and their Gyro Balance speed Bag is an excellent example of why this is.
Read more
Gyro-Balanced
Gyro-balanced is not a common term in speed bags and that is likely because it has been trademarked by Title. A gyro-balanced speed back has a gyroscope inside that keeps it swinging in a predictable fashion to help the user achieve an ideal rhythm with the bag. It is a unique factor that would strongly impact a user's training through its exact impacts that have not yet been determined.
Wide Range of Sizes
Different sizes of speed bags provide varying levels of difficulty. This means that not every bag is good for every practitioner. Title sidesteps this issue by offering their bags in a range of sizes to fit just about anyone's skill level from absolute beginner to the seasoned expert.
Cost and Value
Title's Gyro-Balanced speed bag is one of the most affordable on our list. The range of sizes and unique balancing construction makes this an excellent purchase from a company known for the quality and durability of their products.
2

. Pro Impact Genuine Leather
Made of Genuine Leather

Reinforced Seams and Stitching

Heavy Duty Latex Bladder

Exceptional Quality

Cross Sport Training Uses
Pro Impact has one thing and one thing only on their mind: boxing. Their products are designed to give boxers the best bang for their buck no matter what equipment that buck is going towards. They carry everything from boxing gloves to jump ropes to punching bags and all of it is sold at reasonable prices. Their speed bags are an excellent example of their commitment to affordable quality. The bags are constructed of genuine leather, heavy-duty latex bladders and reinforced stitching to give the bag layer upon layer of durability.
Read more
Made of Genuine Leather
Lether used to be the go-to material for punching bags regardless of the size, shape, or weight of the bag. Synthetic materials have largely replaced leather in modern bags, but Pro Impact chose to keep things a little bit traditional by using genuine leather in the construction of their speed bag. Leather might need a little more care than synthetic materials but they also tend to last longer.
Reinforced Stithching
The one major flaw that seems common among all speed bags is the tendency to split along the seams after prolonged use. Any boxing equipment company knows about this fault but their reactions to it vary from company to company. Pro Impact's solution was to reinforce the stitching along the seams. Reinforced stitches take much, much longer to tear and even if one stitch does pop or break, the reinforcements keep the seam held tight together.
Cost and Value
This speed bag goes for a very affordable cost and is one of the lowest prices on our list. The company's reputation alone could justify a higher price, but Pro Impact is all about affordability. Any buyer would be hard-pressed to find a comparable genuine leather bag with reinforced stitching at a price anywhere close to Pro Impacts. This bag might not be the best value choice on this list, but it's a close second.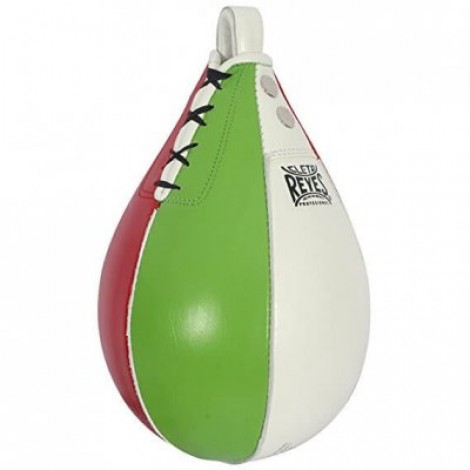 Quality Brand

Handmade

Genuine Leather

Excellent for Precision Strikes

Extra Bladder Included
Cleto Reyes is quite possibly one of the most stand-out companies on this list. Many of their products are still hand-made despite the realistic price tags attached to each product. Their speed bags are constructed from genuine leather in such a way that the seams and lacing will not interfere with a user's training. It is a strong offering from a company that is still upholding the boxing traditions that made the sport into what it is today.
Read more
Handmade
Most people don't think of punching bags when they think of handmade items, but Cleto Reyes is challenging that notion. Their bags are all handmade of high-quality materials and constructed with the kind of care that underlies the company's obvious respect for the sports their customers participate in.
Genuine Leather
Not only does Cleto Reyes handcraft their speed bags, but the bags are crafted from genuine leather. This gives them durability that most synthetic materials lack. It also means that there is a little more care required to keep the bag in top form, but the extra work is worth it for the longer lifespan.
Cost and Value
Cleto Reyes' speed bag costs a pretty hefty sum, putting at the top end of the average speed bag price range. The price tag is more than worth it, however, when you take into account that each bag is handmade of genuine leather and produced by a company with a deep respect for martial arts and those that practice them.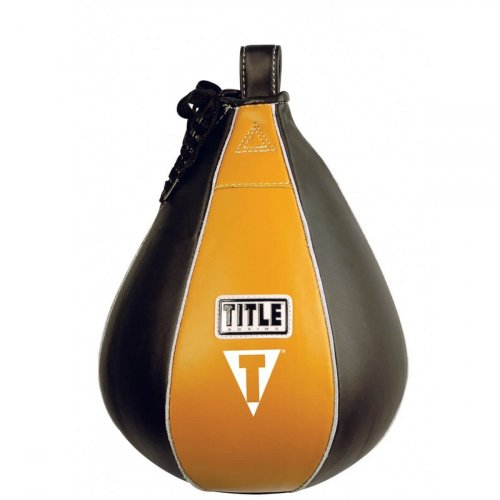 Genuine Leather Covers

Triple Stitched Seams

Reinforced Loop

No Irritating Patch

Great Cost
Large Stitch = Inconsistant Rhythm
Title is the one and only company to grab two spots on our list. It is a record they earned with quality craftsmanship, affordable pricing, and a stellar reputation. Their super speed bag comes in a variety of sizes and colors to fit any skill level and very nearly any aesthetic preference. They've designed their bag with longevity in mind, once again displaying the quality work they've become known for.
Read more
Triple Stitched Seams
When a speed bag breaks down it is almost always along a panel seam. Stitches pop or come loose and the air inside the bag begins to leak out. One of the most effective remedies for this issue is to construct the bag with reinforced seams. Title not only employs this technique with the speed bag but with several of their products, highlighting their dedication to quality.
Reinforced Top Loop
If a panel seam doesn't pop, the only thing that is likely to lay a speed bag low is a torn top loop. Title avoid this problem by reinforcing the entire top loop, extending its life and adding a layer of durability to their speed bag
Cost and Value
If you're in the market for a traditional platform-mounted speed bag, this might be the best that the market has to offer. With a fairly low cost, this speed bag has several layers of reinforcements to increase its lifespan and make sure that the buyer gets as much bang for their buck as possible.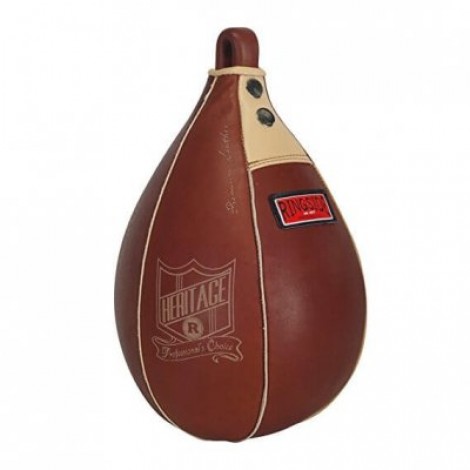 100% Genuine Leather

Reinforced Seams

Riveted Swivel Loop

Retro Look
Nice Bounce Back
Ringside is a brand name familiar to most boxers. Their products have a reputation for durability and quality at reasonable prices. They offer products in nearly every category a martial artist could hope for, from boots to hand wraps to gloves. Most of their products are made with a blend of materials, but their Heritage line is constructed from tried and true leather, styled after vintage boxing equipment, and built to last. Amazon may list this bag as being from "Heritage Products", but rest assured it is Ringside through and through.
Read more
Reinforced Seams
Ringside knows what kind of strain the seams of a punching bag are put under. They also know exactly what happens when those seams pop. Their Heritage Line speed bag is designed with reinforced seams to avoid just such a situation. Even if a few stitches break, the seam as a whole should continue to hold air, extending the lifetime of the bag.
Riveted Swivel Loop
Panel seams are not the only weak spots on speed bags. Mounting loops are also susceptible to damage, particularly if the bag belongs to someone who trains for both power and speed. The Heritage Line speed bag averts this issue with a riveted top loop, ensuring that the loop will hold even under the strongest hits.
Cost and Value
The Ringside Heritage speed bag comes in a range of prices, all of them at the higher end of the speed bag price range. Ringside products are generally worth their price tag and the reinforcements on this bag's construction further justify the price tag. But, on the flip side of that, there are comparable bags with a lower price tag. The true value of these bags is in their vintage styling and nod to the deep roots of boxing.
If the buyer just wants a reinforced speed bag, they may want to look somewhere else. But if they want to feel like they stepped back in time, closer to the beginnings of this sport's long history and its heyday, then this is the ideal bag for them.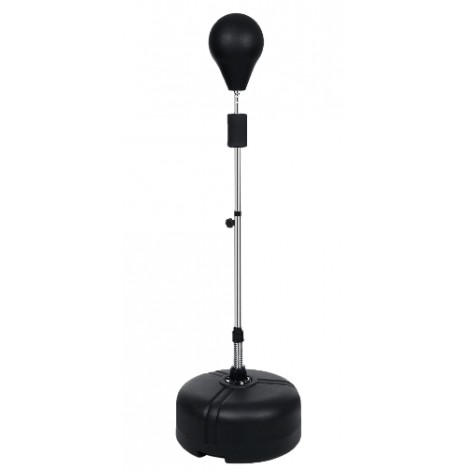 No Mounts Needed

Easily Movable

Adjustable Height

Versatile Use

Excellent for Daily Use
Tomasar is not so much a martial arts supply company as it is a whole-life wellness company. They sell everything from martial arts equipment to makeup organizers but all of their products seemed geared towards the theme of helping people be their most ideal selves. Their free-standing speed bag seems designed to help people reach just such a goal. It is easy to set up and easy to use, versatile and well made. Tomasar's free-standing speed bag would be ideal at home or in a gym setting and is perfect for people all over the experience spectrum.
Read more
No Mounts Needed
Free-standing bags tend to appeal to those users who do not have space or the capability to mount equipment. This is particularly true for people who rent their spaces and may not be able to make the kind of alternations that platform speed bags usually require. Tomasar's free-standing bag just needs water or sand to fill the base and is ready to use, no alternations to the building necessary.
Adjustable Height
Tomasar's free-standing speed bag has an ability almost entirely unique to this design. The height of the bag can be adjusted to allow for strikes from nearly any part of the body. Most speed bags are only intended to train hand-eye coordination and hand speed, but this bag can be used for kicking coordination, knee-strike speed training, and a wide range of other applications that traditional speed bags are not designed for.
Cost and Value
Tomasar's price tag is relatively reasonable given the mobility and utility of this speed bag. It is towards the high end of the price range for most speed bags. But other bags at this price point are rarely so mobile and often require hard mounts or alterations to the training space in order for the bags to be useful. The downside to this particular style of bag is that it may tip over and, with the post under the bag instead of on top, users may have a harder time missing the mounting point when using the bag.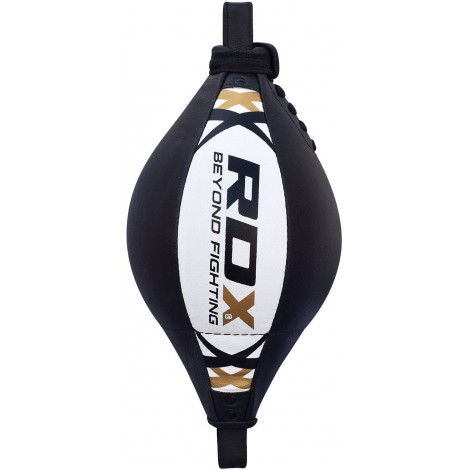 High-Quality Faux Leather

Dual Mounting Points

All Hardware Included

Quite Sturdy

Good Construction
RDX makes frequent appearances on our lists for a few reasons. They are a company dedicated to providing quality sports equipment that won't empty their customers' bank accounts and they offer everything from hand wraps to apparel and punching bags. Their speed bag continues this tradition of quality with a high-quality faux-leather interior, dual mounting points, and all the necessary mounting hardware included.
Read more
Dual Mounting Points
Dual-mounted speed bags have a unique kind of versatility. They can be mounted with their anchors above and below or to either side depending on the need of the user. Their elastic mounting ropes can be given more or less slack to control the amount of movement the bag has. And the height of the bag can easily be adjusted for hand, foot, knee, or elbow strikes depending on what speed training aspect the user is focusing on.
All Hardware Included
Mounting any kind of exercise equipment can seem daunting, but RDX has its customers covered. Their dual-mounted speed bag is sold with all the hardware included making installation easy on their customers.
Cost and Value
RDX's speed bag is not the most affordable on our list but it doesn't have the heaviest price tag either. Its cost falls right in the middle of the price range for speed bags the price is even more understandable given RDX's reputation as a quality equipment supply company. This bag also comes with all the hardware necessary for installation, further justifying the price tag.
8

. Balazs Lazer Speed Bag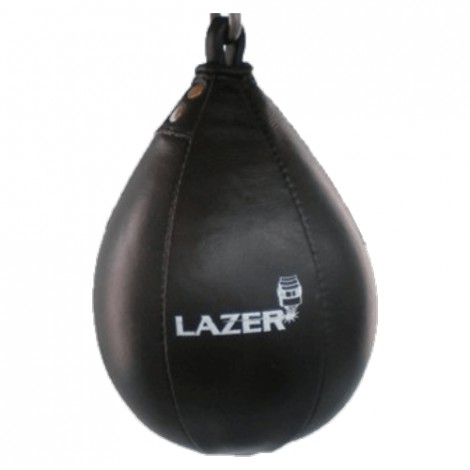 Made of Fine-Grain Leather

No Laces or Welting

Kevlar Triple Stitched Loop

Nice Large Size

No Scratchy Patches
Balazs is a small company but they are dedicated to quality boxing equipment. They have some unique offerings such as flush floor mounting rings and several variations on platform mounts for speed bags. Their Lazer speed bag comes in several sizes, each with their own size-related name as "Sonic" or "Peanut", and feature quality construction.
Read more
Triple-Stitched Top Loop
The reinforced top loop on the Lazer line of speed bags is a feature unique to Balazs' products. Thie Kevlar triple-stitched top loop is designed to hold up to even the most powerful hitters going at their best speed and rhythm during training. It extends the lifespan of the speed bag, making the investment cost worth every penny.
No Laces or Welting
Reinforced laces and welting are common features on speed bags for good reason. They reinforce seams and protect against air leaks. But they have their downsides. Welting and laces can interrupt a user's rhythm and cause them to lose speed, reducing the efficacy of each training session. Balazs' Lazer bags are designed with smooth seams
Cost and Value
Balazs' speed bags aren't the most affordable on our list but the quality construction may make the cost of investment worth it. The bags' top loop is triple stitched for reinforcement and the panel seams are sealed without laces or welting to give the bag a smooth and easy-to-strike finish. The bag itself is constructed of fine-grain leather and will require a little bit more care than some other bags, but this also gives it a longer lifespan.
Stays Inflated
Perfect Size
Excellent Design
Trusted by Millions
Soft and Smooth
The Title Classic Speed Bag offers great durability due to its leather build and welted seam construction. In addition, the hanging loop is reinforced to make sure your bag hangs with you for tons of fast-paced training. The inside bladder is made of rubber for superior bounce and overall longevity of the product. Title has been providing quality equipment to its users for years and their Classic speed bag is an exceptional training tool.
Read more
Structured for Durability
From the inside out, every piece of this bag is built to last. 100% Genuine Leather is tough, add to it Leather welted seams and it becomes a whole lot tougher. It doesn't stop there, the rubber bladder is made to take punishment with ease and the loop is triple stitched to ensure all parts of this bag are going to stay intact for years to come.
Lightweight Construction
Keeping your speed bag lightweight will help make sure it rebounds correctly. An overly heavy bag is not going to react the same and may inhibit for speed training. Finding quality material that is still nice and light can be difficult but not when you purchase a Title bag.
Cost and Value
Purchasing this option won't break the bank. Title keeps it real with their price which allows almost all budgets to afford it easily. Train with high-quality equipment without the worry of the added stress on your finances.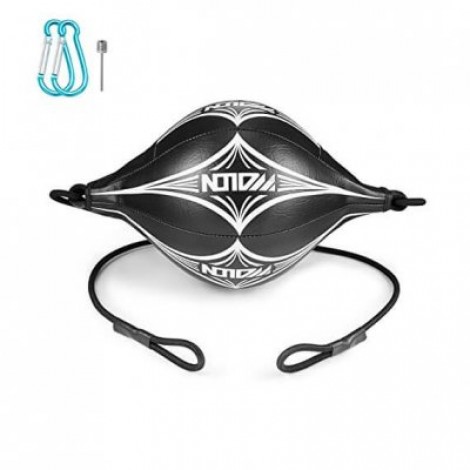 Universal Style

Dual Mounting Points

Affordable Price

Easy to Relocate
Most of the companies on our list are dedicated martial arts equipment suppliers. Kuyou, however, is not. They are a company that has their eggs in a couple of different baskets but that does not seem to stop them from providing quality products. It does, however, seem to give them the option of selling their products at incredibly affordable prices.
Read more
Universal Style
Kuyou's speed bag is specifically designed for use in a range of disciplines. It can be adjusted to hang just above the eyebrow like a boxing speed bag or it can be moved to hang lower so that it can be used to practice kicks and knee strikes in other branches of martial arts.
Dual Mounting Points
Speed bags with dual mounting points can be hung with the mounting points either above and below the bag or to either side of it. This gives the bag a little more versatility, particularly when the bag has Kuyou's universal design.
Cost and Value
Kuyou offers the most affordable bag on our list. Speed bag enthusiasts might not like the universal styling or the dual mounting points, but this bag is a good option for those just starting out with speed bags or who want to use their speed bag for more than just hand strikes.
Criteria Used for Evaluation
Durability
Reinforced Stitching –
Most speed bags are made up of panels sewn together to form the iconic round shape. When leaks occur it is usually because the stitching at the seams has split. Quality speed bags feature reinforced stitching along the seams and the loop at the top of the bag from which the bag hangs so that a few stitches here and there may break without the bag deflating.
Welting –
Leather welts are the rolled portions of leather that are often found along the seams between leather panels or on shoes along with the outsole. They are sometimes used for decoration but are also often used to seal the seams between portions of leather. In the case of speed bags, this helps reduce air leaks and deflation although the welts themselves can be uncomfortable to hit.
Materials
Leather –
Punching bags traditionally been made of leather. The material has fallen a little out of favor recently due to cost and care concerns, but there are still companies who prefer to stick to tried and true materials for their punching bags. Proper care is key for leather longevity but once a user gets down a care routine it is easy enough to keep leather going for years and sometimes decades. There are other factors that will affect the lifespan of a leather punching bag such as the intensity of use and the conditions it is kept in, but both of those are easily accounted for.
Faux Leather –
Faux leather gained popularity as leather goods became more expensive. Most faux leather would not hold up to the kind of use that speed bags see, but the bags on our list are made from high-quality faux leather that should be able to take the strain. There are still some caretaking steps that should be observed with faux leather so that users can get the full lifespan from their bag, but it is easier to care for than leather. Faux leather should always be wiped down soon after it gets wet and it should not be left outside in harsh conditions or in prolonged direct sunlight.
Versatility
Mounting Style
Platform
Platforms are the most common and widely-recognized mounting style for speed bags. This mounting style usually consists of a circular base from which the bag is suspended on a pivoting ring. Speed bags mounted from platforms are typically at eye height or a little higher and provide a quick cardio boost to any workout. The pivoting ring gives the bag a little more variety in its movements and can provide a little bit more of a workout for users who want to practice their hand-eye coordination.
Dual-Point
Dual-point mounted bags are usually suspended between two elastic cords with one at the top and one at the bottom. These cords are then, in turn, mounted to hooks or bolts in the ceiling and floor or within a frame that keeps the cords stretched relatively taut. The bag will move around within cords' range of motion when hit, but will always bounce back to the center point. These bags test a user's rhythm and coordination more than platform mounted bags because of the wider range of motions available to dual-point mounted bags.
Freestanding
Freestanding bags can be thought of as the opposite of platform mounted bags. They are mounted on a pole from below and stand above it, looking quite a bit like a balloon. They generally have the same range of motion as a platform mounted bag but they are usually at a lower height. There are several branches of martial arts in which practitioners use freestanding speed bags to work on their kicking speed and foot-eye coordination as well as hand strike speed and hand-eye coordination.
Door-Mounted
Door-mounted speed bags are probably the most uncommon. Only one made our list and it was very nearly the only one in our search results at all. Speed bags on door mounts tend to have two methods of attaching to the door frame so that the bag and mounting system do not come down when hit. The specific combination of mounting options depends on the company, but one usually attaches to the sides of the door frame while the other clamps around the top. Most door-mounted exercise equipment is designed to avoid damage to the door frame but there is still some risk of damage so users should take steps to avoid this if it is a concern.
Expert Interviews & Opinions
Most Important Criteria
(According to our experts opinion)
Experts Opinion
Editors Opinion
Users Opinion
By Default
Frequently Asked Questions
q:

What size speed bag should I get?

a:

Beginning speed bag users should probably aim for a medium bag because they will be easier to hit. Medium bags are typically about 8 inches and a little rounder than the smaller bags. If you are already trained in the use of a speed bag, you can move to a small or extra small bag for an increased challenge in your workouts. In addition, a water bag can be a great tool.
q:

How do I get started with a speed bag?

a:

There are a few methods out there on how to get good at speed bag training. They all recommend starting slow, however, and being aware that it will take time before you can generate a steady rhythm. YouTube has several videos on how to get started with a speed bag, making the site a good starting point if you don't have access to a boxing trainer.
q:

How do I care for a leather speed bag?

a:

Leather speed bags can be cared for in the same way as any leather product that you want to get the full lifespan out of. The specific cleaning schedule depends on how often the leather is used and what kind of conditions it is kept in. A general schedule, however, is that the bag is wiped off if it gets sweat or water on it, then cleaned once every other week or so and conditioned about once a month. Leather conditioners vary based on the intended use of the product so it is important to make sure you're getting the proper kind of conditioner.
q:

What is inside a speed bag?

a:

Speed bags are filled with air, typically through the use of a latex or rubber bladder inside the ball. Anything else would be too heavy to give it the kind of recoil necessary for speed bag training.
q:

Can a boxing beginner use a speed bag?

a:

Speed bag training should make up the foundation of any boxing practice and can be used in the foundations of any martial arts training. So, yes, a beginner should definitely try their hand at speed bag training. It takes quite a bit of practice to get the rhythm right for the kind of speed bag training people see in movies and on television. But that should not deter anyone who wants to train their speed and coordination, however.
q:

Will speed bag training make me hit harder?

a:

No, speed bag training will not help you hit harder. For power training, you will want to train with a heavy bag or water heavy bag. Speed bag training is intended to improve your striking speed, body rhythm, and hand-eye coordination. These factors are all very important for martial artists as well as for general athletes because they improve overall performance.
q:

Why do I need to work on my rhythm?

a:

Rhythm is probably one of the least talked-about aspects of martial arts but it is important. Martial artists with rhythm can make their movements flow more naturally which avoids things like pausing too long between motions and telegraphing their intended strikes. This skill also translates well into everyday life and not just when the martial artist happens to go dancing. Having a steady sense of rhythm will make you seem more coordinated and focused even if you're doing something as simple as carrying a box across a room because you will be more aware of how your body moves as a unit.
q:

What height should my speed bag be at?

a:

Mounted speed bags should be adjusted until the bottom is just above the user's eyebrow. Free-standing speed bags are typically adjusted until the main mass of the bag is in the center of the user's chest or a little bit lower.
q:

Do I have to wear gloves when hitting a speed bag?

a:

There are several options for hand protection when using a speed bag, but standard boxing gloves are not one of them. You aren't like to suffer serious injury if you use standard boxing gloves while speed bag training, but it is not ideal. Some users prefer to wear speed bag gloves that do not weigh their hands down but protect the skin of the knuckles from damage when they strike the bag. Other users prefer to just use their hand wraps or simply their bare hands.
Subscribe to our Newsletter