Best Sports Deodorants for All Skin Types Reviewed
last updated:
Dec 03, 2019
Most people use deodorants and antiperspirants on a daily basis. It is ingrained in the lives of many people and is considered part of their personal hygiene routine. However, everyone has a different way of living and depending on what activities they do, there is a different level of hygiene need.
For people who are active and partake in combat sports, finding a product that can help control the sweat and the way it smells is super important. Because you are constantly in close quarters with someone, it is respectful to keep good hygiene so that the other person does not have to smell you. It will also ensure that no bacterial or fungal infections are spread. Using a deodorant that is specific for high-intensity sports can ensure that you are able to train comfortably without being overly sweaty or smelly.
In a Hurry? The test winner after 4 hrs of research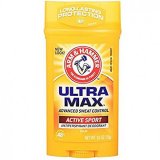 Arm & Hammer Ultra Max Active
Why is it better?
Goes on invisible
Neutralizes skin odor
Maximum strength
Cost efficient
Trusted brand
In a
Hurry? Editors choice: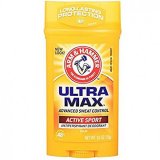 Test Winner: Arm & Hammer Ultra Max Active
2
Researched Sources
8914
Reviews Considered
4
Hours Researching
10
Products Evaluated
Potency
Materials
Water Resistance
Ease of Use
Value
By Default
Criteria Used for Evaluation
Potency
One of the most important things to look for when purchasing a sport deodorant is how many additional benefits it carries. More benefits usually mean more value in the product. Many people have a misconception that deodorants will do the one job and that's it. However, this is not the case anymore as technology improved. To date, many deodorants can do more than just simply mask your odor.
For instance, try to look for a product that can help moisturize or rejuvenate your skin. Most of these products contain rubbing alcohol, which can dry out your skin significantly. Unfortunately rubbing alcohol is not something that is going to disappear off ingredient lists any time soon as they are well known for helping fight germs and bacteria. Your underarms can easily become infected with unwanted germs because they are an ideal setting to cultivate certain bacteria. The alcohol can act as a deterrent to prevent the development of these germs. The tradeoff is that your skin becomes dry. Finding a deodorant product that can hydrate the skin in the area will prevent itchiness or cracked skin.
Another thing to consider is whether the products can help calm razor burns. These are burns that are caused by running a blade over the hairs of your underarm. This can greatly irritate your skin and cause burning and discomfort. By selecting a deodorant that can help with this will ease the discomfort you are in. Many products contain chemicals that can penetrate deep under your skin, thus cooling the inflamed sites on the way.
Materials
One of the things that people often forget to consider when purchasing a sport deodorant are the ingredients that go into the product. Similar to products like toothpaste and mouthwash, they are just so ingrained in our lives that we often no longer thing about them. However, because these products contain a lot of chemicals it would be worthwhile to look for something that also contains nourishing ingredients.
One of the ingredients would be tea tree oil. This is one of nature's best anti-inflammatories, meaning that it can help with razor burns. Applying a deodorant on areas that have been irritated by razor burn will allow the tea tree contained in the formula to heal the skin. The oil would penetrate below the surface of the skin to locate the problem area and spread a soothing calming layer of protection in that area. It works quickly to heal the area and also significantly reduce the discomfort over a short period of time. Tea tree oil also has antiseptic properties that can prevent you from getting an infection. One of the most dangerous things that are often associated with razor burns is that the itchiness can make you scratch. If there happen to be bacteria in the area, it can enter via the cut and cause a serious infection. The tea tree oil will prevent that by cleaning the open wound area and also remove the itchiness, thus removes all need to scratch or bring additional germs into the area.
Water Resistance
One of the most important things to do when purchasing a sports deodorant is seeing how effective it is. As a combat fighter, you will produce a lot of sweat from your training and it is imperative that the deodorant can stand up to the moisture. There are some products on the market which will not help reduce the amount of sweat, and instead, the sweat will also wash away the odor masking formula. These products are considered ineffective and are not water resistant enough for your needs.
When choosing the formula, consider the number of inhibitors there are in the ingredient list. These are the things that will help stop the production of sweat. As a combat fighter, it is extremely important to not be sweaty especially during a fight. Sweating profusely can leave moisture on the ground that either yourself or your opponent may slip on and cause a serious injury that can set you back days or months on your training. It is also very uncomfortable to be sparring through your sweat as it may prevent you from seeing your opponent as clearly. Many combat fighters can attest to the fact that constantly wiping or dripping sweat can become a big enough distraction that it can affect their performance. When looking for a sport deodorant, it is recommended that you purchase something that is extra strong and tough enough to withstand the extra moisture.
Ease of Use
When people think of ease of use, the main thing that is considered is only how easy the product can be dispensed. While this is important for most products, it does not apply very well for deodorants. Most personal hygiene products are in a stick that comes with a twist bottom. When the mechanism is twisted, it pushes the stick of product upwards so you can apply it onto your skin.
The thing that many do not consider is how messy the product can get. Often times people are distracted by the amount of value and benefits offered and do not consider whether there are consequences to this. One of the biggest things to consider is whether the product is in gel or soft solid form. Soft solids are almost always a white cream that leaves a white streak in your underarm. Depending on whether the product is fully absorbed or not, the white stuff can transfer to your clothes. While most of the product can be washed from your clothes, sometimes the chemicals can cause discoloration or staining and ruin your clothing. This can become quite frustrating as you will be spending money replacing items that are ruined. The best recommendation when it comes to purchasing a sports deodorant is to find something that is gel based. While they take a little longer to dry and may require a long period to absorb, at least it is clear once it is dried.
Value
When you are looking for a sports deodorant, try to find something that can provide you with added value. For instance, products that contain ingredients such as Vitamin E and Aloe vera are great as they are a natural way to keep your underarm area health.
Aloe Vera has natural healing properties so that your razor burns can heal more quickly. On the initial cut by the razor, applying deodorant that contains aloe vera can help provide a soothing sensation to the wounded area. The aloe vera will leave a protective layer in that are to help calm down the inflammation, which can act fast enough that you do not even realize you were hurt in the first place. Aloe vera is also rich in antioxidant properties, which are necessary for your body to fight toxins and bad substances. Because your skin is porous, it can allow for increased absorption of ingredients within your deodorant formula. The aloe vera will give your body an overall boost of immunity and help fight any free radicals it may find. Free radicals that are left untouched will build and leech onto healthy cells and start to break them down, so it is very important that there are ingredients like aloe vera that can help heal your body.
Expert Interviews & Opinions
Most Important Criteria
(According to our experts opinion)
Experts Opinion
Editors Opinion
Users Opinion
By Default
Everyone is Different
Everyone sweats differently and has varying amounts of sweat, which is determined by things such as fitness level, weather, nerves, and many other reasons. When it comes to sweating, we have up to four million sweat glands in our body. However, they are not in places where you most expect it. The sweatiest part of your body is actually your feet. On days where it is really hot or you are exceptionally nervous, you can sweat up to a whole pint in one day! This is because the feet have the most sweat glands for the amount of surface area that is available. Coupled by the fact that they are stuck roasting in shoes all day, it can generate a lot of heat. Once your body starts to feel the heat, it will sweat to try and cool your body down. Sweating is designed to help reduce the heat by creating a layer of moisture that is a better conductor to cold air than our skin
You are what you eat
There is a familiar old saying that is "you are what you eat." This rings very true, especially when it comes to food. Our sweat almost always will smell like what we eat. It is an inevitable fact that everyone needs to eat to survive. Depending on the foods we like, there will be different things in our diet. Many people do not know that when food is broken down, some will smell much stronger than others. This is because some of the foods will react with the chemistry of your body and generate odors that are foul smelling. That being said, some foods will smell much more than others. When you sweat, the pores in your body and on your skin will expand. During these times, some of the stronger smells may end up escaping. This is known as body odor that is induced by your diet. If you do not want to smell like the food you eat, then try to avoid some stronger smelling things.
Other Factors to Consider
Bottom Line
There are many more benefits to using a sport deodorant than disadvantages. For people partaking in combat fighting, regular deodorant or antiperspirants just don't cut it. They are not strong enough to help reduce the amount of sweating and are also not able to protect against odors for a long period of time. Sport products have extra ingredients that are going to be able to withstand prolonged periods of exercise. Despite the benefits, it is very important to be aware of potential allergic reactions that you may get from the chemicals. Many products contain chemicals that work similar to a drug that prevents you from sweating, particularly strong products can cause hormone imbalances over a long period of time. It is recommended that you do not use extra strength products unless it is a day where you know your training will need it. It is not ideal to be using such strong chemicals on a daily basis as it can become quite harmful.
Frequently Asked Questions
q:

Where can I purchase deodorant?

a:

There are many places where you can purchase these products. Your local supermarket or cosmetic stores will carry many different ones. In the event you are looking for something specific, it may be easier to locate at an online retailer. Because they are not restricted by the amount of physical space they have in a store, there may be more options and a more comprehensive list for you to choose from.
q:

How soon can my child start using deodorant?

a:

While there is no specific age that your child can start using these products, a general rule of thumb is for them to start when they enter puberty. During these times, the hormone imbalance can cause the body to produce extra sweat or body odors. Using a deodorant can help them mask them odors and prevent them from feeling as self concious.
q:

Does my deodorant have to have a fragrance?

a:

No! There are many products that are scent free which allow you to wear them comfortably if you are sensitive to certain smells.
q:

Are sports deodorant for me if I have sensitive skin?

a:

Absolutely, just make sure that you purchase something with a gentle formula before using
q:

Should I do a patch test before using deodorant?

a:

It is always recommended to do a patch test before using anything on your skin. Because you may have allergies that you are unaware of, it can cause adverse and severe reactions. Always test it on a little patch of skin and if you start to react, stop use immediately and consult a doctor.
Subscribe to our Newsletter