Best Strength & Conditioning Books Reviewed
last updated:
Dec 03, 2019
With sales estimated at over 126 million units for last year, fitness books are a huge industry and there more experts and advice available than ever before. If you're in the market for a book to help you improve your strength and conditioning you have a ton of options. Many books focus on strength and conditioning so it's easy to find a book that's conducive to your goals. This deluge of information can often lead to a classic case of "Analysis Paralysis". There are a million experts out there, and they're each selling a million different systems and programs. The strength and conditioning book industry is a crowded space at the moment, and beginners can be overwhelmed by the wealth of options to choose from.
In a Hurry? The test winner after 12 hrs of research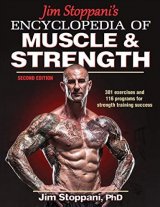 Encyclopedia of Muscle
Why is it better?
In a
Hurry? Editors choice: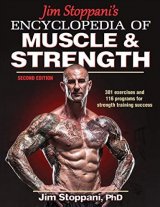 Test Winner: Encyclopedia of Muscle
"Top 3 S&C"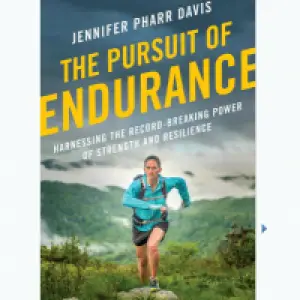 The Pursuit of Endurance
Inspirational
Record-Breaking Author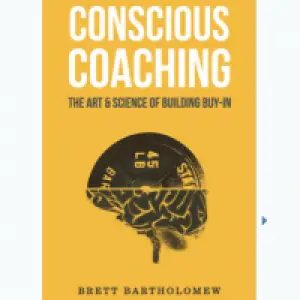 Conscious Coaching
Written for Coaches
Covers Athletic Psychology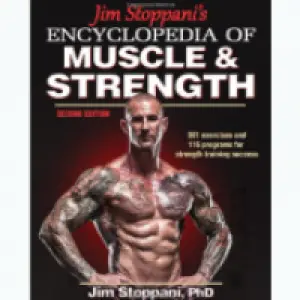 Jim Stoppani's Encyclopedia of Muscle & Strength
Detailed Exercise Guides
Comprehensive Nutrition Plan
Top 10 Picks
1

. Encyclopedia of Muscle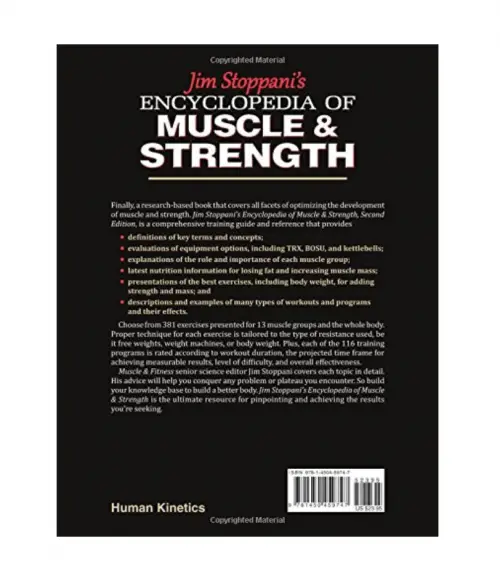 By Jim Stoppani
This book is a great resource for any fitness enthusiast. The author, Jim Stoppani, has one of the most impressive resumes of any fitness personality. The level of research and detail that Stoppani put into this book give it a level of detail suitable to an academic research paper. Stoppani takes a revolutionary, scientific approach to fitness and, resultantly, his programs are renowned for their effectiveness.
Read more
Equipment Evaluations
You have a lot of options to choose when it comes to how you want to do an exercise. For any given movement or muscle there is a corresponding free weight, machine, or cable exercise that will work it. How do you decide which one to use? Stoppani takes the time to explain the ups and downs of various types of equipment, including kettlebells, BOSU and TRX. He explains the merits of each one and helps you understand how and, more importantly, why it works, so you can use that knowledge to determine the best equipment to use for your fitness goals.
Nutrition Guide
In addition to offering first-rate advice on weight training and exercise, this book has a detailed nutrition sections that explain biological processes necessary to muscle gain. Stoppani's impressive background in biochemistry is evident in the level of detail and fact. Nutritional information is presented that can help you get the results you're looking for, whether you are trying to burn fat or increase muscle mass.
Cost and Value
As our choice for best value, this book has one of the lowest prices on the list. However, don't let the fact that this book is a bargain fool you into thinking that this book is anything less than authoritative work on training and sports science. Stoppani is one of the most impressive and intelligent fitness experts in the field today. His resume includes postdoctoral studies at Yale and over 10 years as editor of "Muscle & Fitness". A book with an author of this caliber at such a bargain price is a clear winner for our best value pick.
By Dan John
The author of "Never Let Go" is an All-American discus thrower by the name of Dan John. In this book, John breaks down his strength and conditioning training techniques, and relates experiences he cultivated over a lifetime spent around sports and athletic training. This book covers an array of fitness subjects ranging from weight training philosophy, competition insights, and more.
Read more
Advanced Training
This book is highly technical in nature so it's perfect for advanced weight trainers looking to break through plateaus and maximize their routines. Featured exercises can have as many as 25 small tweaks and variations that are detailed extensively. If you are an advanced weight trainer and you have a very scientific approach to lifting then you will appreciate "Never Let Go" for its comprehensive explanation and analysis.
Competition Guide
John has a background in participating in and coaching athletics, and he brings all of that experience to the pages of this book. You'll find detailed insights into olympic lifting, strongman competitions, track and field, and more. John even offers advice to athletes looking to compete at high levels.
Cost and Value
This book contains tons of detailed advice that can help any athlete take his training to the next level, and the price is what you would expect for any first rate fitness book. This book received a great reception among athletes and the author is some kind of legendary figure in the field of strength and conditioning coaching so you're getting well regarded advice from a respected industry figure.
By Mark Rippetoe
"Starting Strength: Basic Barbell Training" features a no nonsense, meat and potatoes approach to weight training. It's not trendy or exciting, but it uses widely accepted, scientifically proven techniques that have worked for many years. The system centers on five compound lift exercises: squats, deadlifts, power cleans, bench presses, and standing presses. All five are basic lifts that bodybuilders have been using for many years, however the effectiveness of these exercises can not be disputed and this book features some of the highest ratings on the internet.
Read more
Lab Tested
You may have heard the phrase "lab tested" a lot from exercise systems and programs that claim to be backed by science, but the truth is very few popular fitness programs have held actual applied studies to verify the effectiveness of their systems. Usually, the science they mention come from results found in independent studies whos findings they used to develop the program and the program itself is often not tested. The third edition of "Starting Strength" features the addition of four additional years of testing and analysis, further increasing the effectiveness of an already validated training system.
Simple Strength
If you've ever looked around a gym or the fitness section at your local sporting goods store and found yourself totally overwhelmed don't be embarrassed, it's a more common occurrence than you may realize.There are a million training methodologies and there is a huge variance in their fundamental approaches and ideology. Often, they are more complex than necessary to intimidate the individual and foster dependence on a trainer or program. This book gets away from all of the subterfuge and brings you quality routines that work, plain and simple. The routines are constructed around simple exercises and routines, so you can get the results you are looking for without the inane intricacies and complex methodology of most modern training systems.
Cost and Value
This book is one of the highest quality books on the list, but it's also one of the highest price. However, the spread on prices only amounts to a few bucks, so it's not an outrageous price and falls in line with what you would expect for a fitness book. The program is great and is almost unanimously praised as being effective. All and all, a great book and a decent value.
By Paul Wade
One of the most unconventional books on our list, "Convict Conditioning" is a look at the unique exercise programs used by inmates in jails and prisons. The author, Paul Wade, claims to be an actual convict who served 23 years in prison after a 1979 arrest. The program is built around training concepts Wade developed during his stay in prison. Resultantly, this book has a big emphasis on calisthenics since often inmates have no access to training equipment.
Read more
The Big Six
Wade emphasizes six calisthenic moves that are the foundation of his training program: the pull up, the squat, the push up, the leg raise, the abdominal bridge, and the handstand. These moves are all compound exercises that can greatly increase overall fitness and body strength. There are detailed descriptions and photos to go with each exercise so, even if you aren't familiar with all of them, you will be able to quickly learn the move and complete the exercise.
The Power of Calisanenics
Calisthenics are an important tool in your training arsenal, and there should be some amount of bodyweight exercises in any training routine. The author is a huge proponent of calisthenic training and he makes a pretty convincing argument that it's still the best training methodology. Wade mentions his disdain for modern-day "fitness scams" and, while he doesn't bring a lot of scientific data to the argument, his zealous enthusiasm for bodyweight training is very convincing.
Cost and Value
"Convict Conditioning" is a great read and there's a ton of information on calisthenic exercise. Additionally, there's an entire section on self-coaching, since prisoners often have no one to motivate them aside from themselves, and a lot can be drawn from the motivational techniques they employ to stay fit and focussed. This book is on the higher side of the price spectrum but is not far off from what the average book on our list goes for. Overall, this is a great book for a beginner or expert, and it can expand your fitness horizons by bringing some new, unconventional techniques into your workouts.
5

. Strength Training Anatomy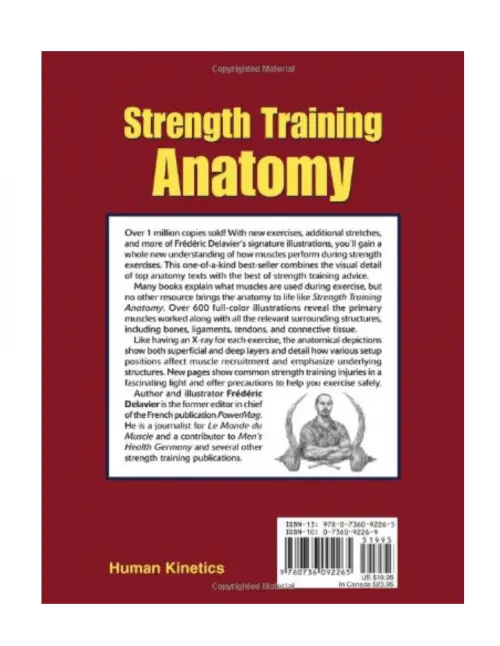 By Frederic Delavier
A bodybuilding classic, this essential work by a retired powerlifter has sold over 2 million copies since its original publication in 2001. This is a great book for any total novice since it has a wealth of information. There are charts and anatomical diagrams so the highly technical material is easy to digest. By the time you finish the book, you'll know all the real anatomical names for all your major muscles groups so the next time someone says they hyper-extended their real deltoid you'll know what they're talking about. However, it's a great book for advanced trainers too and gives great insights into the mechanics of the human body.
Read more
Anatomical Detail
This book is jammed back with educational materials to help you learn all about the human body's muscle structure. You'll especially enjoy this book if you have in interest in medicine or anatomy because the diagrams are so accurate and there are detailed explanations of how muscles and surrounding tissues react to exercise. From a scientific standpoint, it's a fascinating topic and gives this book a wide appeal.
Bodybuilding Focus
If you're into weight training this is a great book that will give you a better understanding of how isolation training affects your muscles. It explains how certain exercises recruit certain muscles into the movement, so you can have a thorough understanding which muscles go into each repetition and you can focus intently on using the correct muscles to accomplish the rep. This concentration is one of the most important aspects of isolation weight training so understand the exercise is extremely important to quality training.
Cost and Value
This book comes in the at right around average price for books in this category. It includes a wealth of information that is borderline scientific in its scope and detail. If you're into weight training this book can give you a really comprehensive understanding of training's effect on the body. It's a great addition to any weight training enthusiasts library, regardless of whether they are beginners or advanced lifters.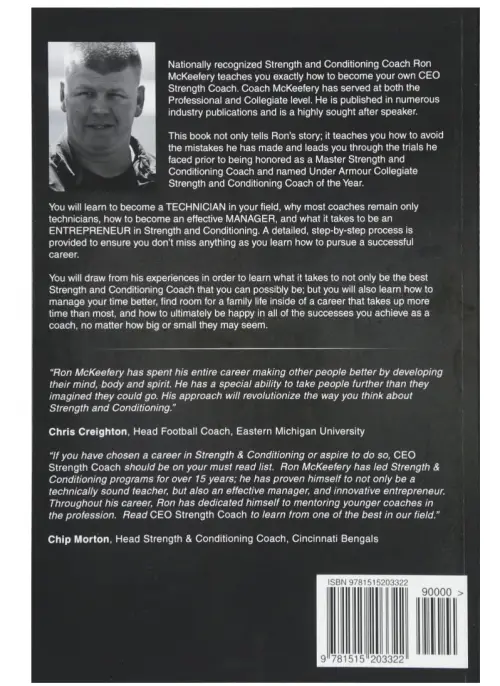 By Ron McKeefery
"CEO Strength Coach" goes beyond fitness and coaching with sections on how to become a strength and conditioning entrepreneur. The author, Ron McKeefery, collected an impressive list of credentials during the course of his long career in the strength and conditioning. He uses his experience to guide you through three phases of evolution for a great coach: technician, manager and entrepreneur. Mckeefery takes you through all the intricacies of the profession and recounts the challenges he faced along the way. Even if you're not a coach, the insights in this book will help you with your own training and you might even learn a life lesson in the process.
Read more
Accredited Author
Author Ron McKeefery has an extensive coaching resume and has worked with a long list of noteworthy employers, like the Cincinnati Bengals and the Kansas City Royals, and even trained big time NFL players Jason Pierre-Parul and Mike Jenkins. With a background like that, it's safe to say that McKeefery knows his stuff and, if he can get players drafted into the NFL, he can probably help you meet your fitness goals too.
Fitness for Business
This is a unique fitness book because it includes information to help coaches and trainers become more successful business owners and entrepreneurs. There are sections on topics like time management, self-marketing, and setting aside time for your loved ones. If you've ever thought about going into personal training or coaching, this book can help know what to expect. You get an in-depth look at the life of a successful trainer and you'll even learn what to expect from the business side of things.
Cost and Value
You can get this book at an average price point for a fitness book, so it rates as average on the cost scale. However, you do get a lot of quality information at the price. The author, while not well known, has an extensive list of qualifications so you can have a certain degree of confidence in his advice. The section on business management and self-promotion is a big plus for anyone pursuing their own business or investment. Even though this book is geared towards coaches, it's a great read for anyone with an interest in training or fitness.
By Juan Carlos Santana
Even 20 years after its first publication "Functional Training" is still as relevant as ever. This book focuses on total body fitness rather than the isolation techniques common with weight lifting. In fact, the term functional training has come to describe almost any type of training outside of weightlifting or bodybuilding. The author, Juan Carlos Santana, described his program by saying, "With functional training, no single muscle screams. Instead, the entire body sings."
Read more
Lean Strength
If you're looking to stay lean and mean, the functional training program is the program you're looking for. By spreading the exercise load over the entire body or muscle group, this even allocation of muscle allows the body to become stronger without putting too much strain on a particular muscle which, in turn, would induce growth. This is incredibly helpful for anyone who wants to increase their total body strength while maintaining the same size.
Convenient
Functional Training uses next to no equipment and most of these exercises can be performed anywhere, giving this system a huge advantage over conventional strength and conditioning programs. In the same amount of time as it takes you to get back and forth to the gym, you can do a functional training routine and be done. You don't need any fancy equipment so you can do these exercises in your basement, backyard, or anywhere that you have enough room to perform the reps.
Cost and Value
Since this book isn't a new release, it comes at a significantly discounted price and has the distinction of being one of the lowest priced books on our list. However, this is a classic volume on fitness, and the benefits that reading this book can have on your training make it a fantastic value at such a low price point. If you like doing calisthenics or if you're after that lean and mean figure, this is a great book to add to your fitness library.
8

. Encyclopedia of Bodybuilding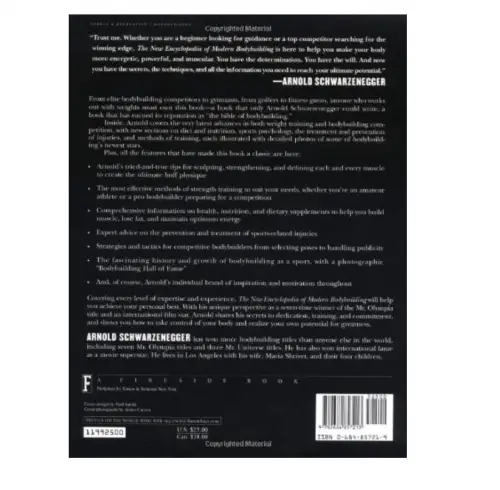 By Arnold Schwarzenegger
From winning Mr. Olympia seven times to starring in Hollywood feature films, Arnold Schwarzenegger is a mainstay in both the entertainment industry and the world of fitness. Schwarzenegger won the Mr. Universe title for the first time at age 20 and has been a fitness icon ever since. In this book, "The New Encyclopedia of Modern Bodybuilding" Schwarzenegger gives detailed information on how to build the physique you've always wanted. This book has sections covering every aspect of weight training and bodybuilding, it even has a section on participating in competitions. This book is a comprehensive reference tool that anyone interested in fitness should have in their library.
Read more
Competition
The book features an entire section of information about the in's and out's of competition written by one of the Titans of the sports. Arnold Schwarzenegger revolutionized the sport and was one of the greatest competition bodybuilders of his era. Schwarzenegger is an authority on all things bodybuilding and shares many of his insights in the book, but the lessons he gives for competition bodybuilders are some of the most valuable in the book.
Nutrition
This is a comprehensive fitness book that will give you a basic understanding of everything you need to build the physique you've always wanted. There's a section on nutrition that walks you through some basic biology facts before explaining what you should be eating and why. This book can potentially be the only item in your fitness library, it covers materials suitable for beginners, experts, and everyone in between.
Cost and Value
This book is a bargain. While it's mid-range as far as pricing, this book offers a wealth of information that you would be challenged to find at that price tag. This volume is actually a collection of five books on the following topics: history, training principles, training routines, competition training, and nutrition. Last but not least, you get insights from one of the most successful competitors in the history of the sport from the author, Arnold Schwarzenegger.
By Brett Bartholomew
This book examines one of the most under-looked aspects of strength and conditioning training, communication. Bartholomew analyzes how coaching and motivation can play an integral part in any training routine. The book offers techniques to improve relationships with players, increase engagement, and increase player confidence. While most of us aren't coaches or personal trainers, the book provides important insight into the human psyche and how motivation affects your training. You can apply these lessons to your own training by being aware of the potential negative effects caused by lack of motivation and use those insights to ensure that your training routine is exciting and effective, so you can keep your routine engaging and effective.
Read more
Psychology
This book's focus on communication and psychology make it a unique addition to the strength and conditioning landscape. The author spends a lot of time analyzing the finer points of communicating with people and determining the best ways to motivate them. He guides you through understanding your own temperament and using that as the foundation to base your coaching or instruction on.
Advice for Trainers
Anyone who instructs people, whether kids or co-workers, will find useful information in this book. If you're a coach or training professional this book will give you valuable insight into your own interactions with clients or players. This book's scope is not limited towards athletics, however, and this book can give a unique perspective on sports.
Cost and Value
"Conscious Coaching" is a wealth of information that can help any athlete gain a deeper understanding of the psychology behind training and coaching. By examining the mentality of both the athlete and the coach you'll make observations that will improve your relationships with anyone you're teaching or training, athletically or otherwise. This book comes in the price range you would expect for a book in this category. All and all, you get a ton of information and value for your money.
10

. The Pursuit of Endurance
By Jennifer Pharr Davis
The author, a former National Geographic Adventure of the year, is an exceptional long-distance hiker and writer. She holds the record for the fastest time to complete the Appalachian Trail by a woman. She hiked an average of 47 miles per day to win the record in 2011, a record she holds to this day. In this book, she outlines her journey to becoming a record-setting hiker by profiling the mentors who helped her grow. This book looks primarily at the mental hardships that come with fortifying your endurance and overcoming obstacles. It's a must-read for endurance athletes or anyone that wants to rise to a challenge.
Read more
Inspiring
Ms. Davis is a shining example to anyone that is beset by challenges in their athletic or personal life. This is a woman who completed a hike of over 2,000 miles in less than 47 days. She shows you the path she took to conquering her challenges without being condescending. There are more wisdom and humor in her voice than anything else, and she comes off more like an old friend regaling you with tales of her adventures than a world-class athlete. To the reader, she is an everyday woman who accomplished superhuman feats, and the example she sets is that anyone can rise to great heights if they push themselves hard enough.
Insightful
You won't find pages of charts and tables packed with data in this book. The author is not a scientist or a nutritionist and this isn't anything close to a textbook. Ms. Davis takes us on an inward journey and paints us a picture of life from a perspective gained by a lifetime of endurance training, great successes, and great failures. She gives the reader an intimate look into the lessons she learned during her journey to the pinnacle of her sport, giving you the opportunity to learn from the unique experiences of an amazing woman.
Cost and Value
This is an excellent book and its impact isn't limited to sports. Davis's insights on confronting and overcoming challenges teach lessons valuable to nearly everyone who is dealing with adversity. You'll find yourself going back to the book when you find yourself facing obstacles in your athletic life and your personal life. This is a great book that can be helpful to so many people and it's a bargain at its price point.
Criteria Used for Evaluation
Accuracy
One of the things we looked for is detailed information. Anyone can give general advice as far as fitness and exercise. However, you usually need someone with a higher level of expertise to give you the in-depth analysis that is going to really benefit your routine. Book with focussed details and analysis rated higher on our list for the simple fact that this kind of material holds the highest value to the reader. We sought out books that have lots of specific techniques that can immediately improve your training. A relatively minor technical improvement can have a big impact on your training.
Features
Most of the marketing behind these fitness books is driven by the authors behind them. A large part of the validation process for these books is the credentials of the author. Anyone with a personal training certification can call themselves a fitness expert, but real distinction for an author comes from a long career in coaching, personal fitness, some even had a run in the pros themselves. Obviously, the insights that come from that amount of experience are invaluable to most amateur athletes. With that in mind, we rated books with highly esteemed authors with a reputation in their fields higher than less accomplished authors.
Capacity
Certain books focus on particular types of training technique or philosophies and, while specifics are valuable, there is something to be said for the value of a book that covers a wide breadth of topics. These types of books are generally better suited to the beginner since a wide perspective often serves to better introduce the intricacies of the sport to novices. Additionally, books that comprehensively cover an entire category are often indispensable to the readers that have them in their libraries, and they are often the best type of reference book to buy since you get a lot of information in one volume.
Value
The price range we chose for these books are solid, we wanted to make sure that the not only the books are filled with valuable information but also wanted to be sure that these books stayed in a budget range that everyone could appreciate. It's important when choosing a great strength conditioning book that you find one with appropriate techniques and safety information.
What strength and conditioning exercises to get faster?
There's no single exercise that can be pointed to as the ultimate speed increasing exercise. In fact, some types of weight training can serve to gain muscle mass but slow you down in the process. Generally, the best types of exercises for developing explosive sprinting speed involve the large, fast-acting muscle groups in your legs, exercises like deadlifts and pistol squats are just a couple of examples.
Which gets better results, weight training or calisthenics?
Both are good in different ways. Weight training with machines, for example, is better for beginners because it helps correct their posture and form. However, calisthenics can give you great total body fitness and muscle endurance, but eventually, you will max out at the resistance to your own bodyweight supplies. Ideally, a good strength training routine consists of a good blend of both types of exercises to maximize muscle growth.
Other Factors to Consider
Accuracy
However, finding a quality fitness book that gives sound advice and useful information is a more difficult task. If you're new to training, it helps to do a little background research before you start shopping. No worries, we did your homework for you. We reviewed, rated, and ranked the 10 best strength and conditioning books for 2019 and listed them here for your convenience. These books are some of the highest-rated fitness books available and have the potential to immediately improve your training regimen. They are jam-packed with detailed information on training, nutrition, healthy habits, and more. You'll learn everything you need to know to find the strength and conditioning book that's right for you, so you can crash through your fitness goals and on your way to a stronger, healthier you.
Frequently Asked Questions
q:

Does strength training burn more fat than cardio?

a:

This is a very controversial topic in the fitness world. Entire books have been written devoted to one side of the argument or another so it's hard to answer this question without oversimplifying it. However, the general consensus is that the best system for burning fat is a program with metabolic strength training at its core.
q:

Will strength training make me bulky?

a:

The only sure result from strength training is that you will get stronger. How your body and muscles react to that increase in strength is based off a plethora of factors including genetics. It's possible to get quite strong without significantly increasing your bulk my managing your training and sticking to lighter loads. However, the potential is always there for increased size.
q:

Which strength and conditioning program is the best?

a:

To answer this question you'll have to ask yourself a few important questions to determine the kind of program will keep you engaged and interested in your new routine. What kind of workouts do you enjoy the most? What are your fitness goals? Do you take a thoughtful approach to your training? Do you like high energy programs? Do you prefer classes or training alone? These are just a few examples of questions to consider when selecting a fitness book.
Subscribe to our Newsletter