Best Sweatpants & Joggers Reviewed for the Ultimate in Comfort
last updated:
Mar 30, 2020
There's an abundance of importance in terms of clothing when exercising. Clothing has more functions than just keeping you warm. Choosing the best equipment for your exercises or activity can prove vital in the way you perform and feel throughout the exercise. That's why sportswear has become a permanent part of every effective routine. Not only is gym wear designed to be as comfortable as possible, it serves specific functions such as absorbing moisture and being inherently breathable. Every world-class trainer agrees that your workout clothes can be just as important as the clothes you wear daily. Not only can it be stylish, it should also be comfortable and have a good fit—while never restraining your motion. Whether you're going for a heavy session or just a light jog, your sportswear can have a bigger impact than you think.
In a Hurry? The test winner after 4 hrs of research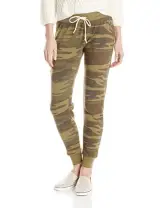 Alternative Eco Fleece
Why is it better?
Lightweight
Very Comfortable
Machine Washable
Eco-friendly Fleece
Vivid Pattern
In a
Hurry? Editors choice: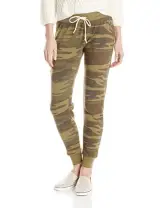 Test Winner: Alternative Eco Fleece
Size
Materials
Brand
Style
By Default
Criteria Used for Evaluation
Size
Of course, with each type of clothing, there are different sizing elements that need to be evaluated before choosing a pair. With sweatpants, you mainly want to look at waist size, inseam, and outseam.
Waist Size – Pretty self-explanatory, the waist size is just the width of the waist in the sweatpants. Generally, a small waist size ranges from 28-30 inches, medium 32-34 inches, and large 36-38 inches. Waist size is generally completed with a drawstring to precise sizing isn't as crucial.
Inseam – The inseam is the inner part of the leg or the measure of the seam connecting the legs together on the bottom hem of the sweatpants. For sizing, inseams should be around 31 inches for small and 32 inches for small to large. The variety of sizing of inseams aren't dramatic, but having the right size ensures that your sleeves won't hit the ground or trip you.
Outseam – The measure of the outer part of the hem, starting at the waistband and ending at the bottom hem. For outseams, small is generally 42 inches and medium/large is 43 inches.
Materials
Probably the most important key aspect is the material. Many sweatpants companies incorporate fabrics from polyester to fleece to cotton—anything that has an elastic waist and can be worn comfortably. We'll go through each of these fabrics below:
Polyester – One of the best synthetic fibers, polyester has made its name known as an affordable fabric that competes with other top fibers like cotton. Polyester has many benefits that cotton doesn't, such as extreme flexibility and resistance to shrinking and pilling. Polyester is also much cheaper than cotton, making it perfect for difficult contact sports where an endurance fabric is needed. Moisture-wicking is also another thing polyester does well, as the fiber absorbs while keeping a light overall weight. You can't go wrong with polyester!
Cotton – With similar properties to polyester, cotton is generally seen as the more comfortable, more expensive premium fiber found in expensive clothing. Cotton is advantageous because it is breathable, natural (meaning free of chemicals and safe for the environment), and doesn't irritate the skin. Cotton is, however, disadvantageous because it is more expensive and wears down faster. Cotton is an excellent fabric for sweatpants as it adds comfort with breathability, but just be aware of how easily cotton can wear down in terms of durability compared to polyester.
Brand
As you can see, there are tons of products and brands to choose from in the market of sweatpants and sportswear. Although many of the more renown brands will always offer satisfactory clothing that you won't regret buying, there are still some things to keep note of when you're purchasing a new pair of joggers. Unlike most clothing, there are more things to consider in sweatpants such as the breathability, the elasticity, and the feel when jogging or working out. You don't just want sweatpants that look good, you also want one that you can use on a daily basis without the fear of wearing or tearing. We'll cover more of these aspects below in our Criteria Used to Evaluate Best Sweatpants section.
Style
In addition to the fabric, there are various other parts that makeup sweatpants. It's ideal to get a basic understanding of all of the following parts:
Construction – The construction generally refers to anything from the type of stitching to the seam on the pockets. Expensive sweatpants often feature a topstitch or cover stitch that uses twice as much threading to hold the pair together. You can also notice the construction of stitching by wearing, as cheaper brands don't feel as comfortable and can be irritating at times.
Waistband – The waistband is what makes sweatpants different from jeans or regular pants. It's a design that revolutionized sportswear and the acceptability of long-sleeve pants. Waistbands are complete with a drawstring that can be used to adjust the size of the waist and tie easily when done. Waistbands should fit snug without being too tight, and better products are known for their superior durability in waistbands, as they never get horribly stretched out beyond wear.
Drawstring – As we mentioned before, the drawstring is the feature that holds your sweatpants together. What you may not know, however, is that the drawstring also offers a fashion statement as it sets its own statement. A fashionable drawstring is usually made of a compact material that can hold shape.
Expert Interviews & Opinions
Most Important Criteria
(According to our experts opinion)
Experts Opinion
Editors Opinion
Users Opinion
By Default
Materials For Sweatpants
You always want to choose a material that's light, breathable, and comfortable. Whether you prefer it being eco-friendly is up to you, but generally popular high-quality fibers are polyester, cotton, rayon, and fleece as a fabric. Most of these aren't harmful to the environment and fleece can even be recycled.
Finding the right fit
There are plenty of sizing aspects to pay attention to other than just the waist size. Although the length of the inseam and outseam aren't crucial, they should be kept in mind if you want to have a better, more snug fit.
Other Factors to Consider
Accuracy
Sweatpants are sporting equipment that's meant to help you, no matter what your goals are. Not only have studies proven that wearing sweatpants can essentially burn more calories by upping the heat, but sweatpants are also specially designed to be "moisture-wicking" to keep you dry. A popular material that wicks moisture is fleece, although almost all sweatpants are designed to be as breathable as possible. In addition, sweatpants can also keep you warm in harsher climates. Even if it's cold or rainy, that's no excuse for you to skip your morning jog. Sweatpants are ideal for keeping the warmth in while kicking the moisture out. They also protect your skin from the sun's UVA and UVB rays, making them a great outdoor and indoor sportswear. Sweatpants can also protect your knees and shins from unpleasant injuries, such as rashes or bruises. With all the benefits, it's no wonder why sweatpants have become one of the iconic mainstays of sportswear. If you're thinking about hitting the gym or jogging the streets this winter, we've got you covered with the 10 Best Sweatpants of 2018.
Frequently Asked Questions
q:

Will sweatpants shrink in the dryer?

a:

This one depends on the type of fabric and fibers found in the sweatpants. If you're afraid of shrinking or pilling, it's generally best to find sweatpants labeled as "machine washable" which is made of a material that is guaranteed to stay durable during washes and drying.
q:

How to wear sweatpants fashionable?

a:

There's an art to wearing sweatpants fashionable without looking lazy. Even though your sweatpants can be useful in the gym, there's no reason why you can't wear them out in public. For starters, you want to pair them with a cozy pair of sneakers and a casual t-shirt. Having something like a suede jacket or flannel allows you to master the effortless look.
q:

What are the most trending brands in sweatpants?

a:

All of the brands that we've listed in our Best Sweatpants of 2018 list are from companies that are trendy in style while also affordable for the general consumer. Although brands like Yeezy and Gucci have notable sweatpants that will surely be stylish around the globe, they aren't exactly the most affordable brands for the average consumer. In this list, we have top brands like RVCA and Calvin Klein while keeping our list available to almost anyone with affordable choices from Champion and Sketchers.
Subscribe to our Newsletter