Best Goggles for Swimmers Reviewed
last updated:
Dec 24, 2019
Swimming, Skiing, and Snowboarding are all great ways to get a full body workout while spicing it up. These are ideal sports for combat fighting athletes to keep up their training while building their cardio. These sports engage all the major muscle groups in your body and allow you to get a full workout while being stimulated. The change of pace will also keep you focused and on track to accomplish all your fitness goals. In particular, these sports are a great way to improve your endurance and cardio. No other sport engages more muscle groups and provides better relaxation than swimming. When going swimming it is important to choose the best swimming goggles for such activity.
In a Hurry? The test winner after 4 hrs of research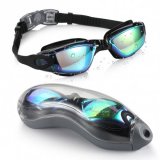 Aegend
Why is it better?
Shatter resistant lens
Smart snap clasp
Anti fog lens
High quality material
Ergonomic and comfortable
In a
Hurry? Editors choice: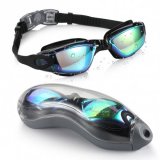 Test Winner: Aegend
2
Researched Sources
5214
Reviews Considered
4
Hours Researching
10
Products Evaluated
Fit
Adjustability
UV Protection
Water Resistance
Value
By Default
Our Top Picks for The Best Swimming Goggles
Criteria Used for Evaluation
Fit
In any sort of goggles, the most forefront concern should be how well they fit. Simply put, there is no point in purchasing a product that does not fit.
For swimming goggles, the lens should be able to hold up on its own without wearing the head strap. If you are trying a pair of swim goggles, simply place your goggles where you would wear them on your face. When it is comfortable, gently press the lens into your face. The lens should be able to stay there on its own without the help of the head strap. This creates a seal around your eyes and can guarantee that they fit properly. If the goggles fall off once you let go, then you need to try a different pair from another manufacturer.
Adjustability
Regardless of what kind of goggles you purchase, one of the things that need to be considered is whether it can be adjusted. When you are looking to purchase the perfect pair of goggles, it is always recommended to go with something adjustable. Because all heads are built differently, it can be very hard to create a product that claims to fit all sizes without having some sort of adjustability factor to it.
Swim goggles often have a way to adjust the head strap. Usually, it is a clasp on each side of the head that can be pulled more tight or loose. Some products come with a contraption that looks similar to a buckle. By pushing the buckle in a particular direction, the head straps will loosen or tighten.
The head strap should be adjusted to fit properly, meaning it is not too tight or loose. During the testing phase, try wearing the head strap for a few minutes. If it starts to cause headaches or discomfort, it means that it is too tight and needs to be loosened. However, the flip side of that is that after loosening the strap, it may no longer allow the goggles to stay on your head. Try to find a medium in which the goggles are not too tight but will stay on your head unaided.
UV Protection
Something that people often forget to consider when purchasing a pair of goggles is the amount of UV protection it provides. While this may seem like a given for snowboarders and skiers, it is not the case for many indoor swimmers. Often times people have a misconception that because they are inside, the UV rays are unable to get them.
UV rays have been proven to be very harmful to your skin, eyes, and overall body. Having windows in a building will greatly increase the chances that you may absorb a few UV rays. Because humans are attracted to natural lighting, most buildings have windows. When the sun shines and hits the water, it can reflect a lot of extra UV rays back to someone who is swimming. When it comes to eyes, UV rays can greatly increase the chance of cataracts in people and also cause future eyesight problems. Unfortunately, UV rays are a type of ultraviolet radiation that occurs naturally.
To prevent damage to your eyesight, always try to purchase a product will UV protection. These are usually darker tinted goggles, however, there are also some goggles that come with a sticker on it that says UV protection.
Water Resistance
An obvious thing to look out for in a product is how water resistant it is. It goes to say that if swim goggles are not water resistant, they are useless.
The only factor to be concerned about when regards to water resistance in swim goggles is the seal. If the seal is proper around the eyes, it should cause very minimal water from entering the lens. The tiny bit of water that enters will more than likely be caused by your exhalation when swimming. If you find the lens filling up on a regular basis despite having a good seal, it means the product has poor water resistance.
An easy way to identify the water resistance in a pair of snow or swim goggles is how quickly your eyewear fogs up. Ideally, the eyewear should never fog up as the fog means that condensation has somehow gotten inside the lens. If it quickly dissipates or is very minimal, chances are it is caused by your own breathing. However, if you are wearing your eyewear and find that the moisture keeps returning, it means there is somewhere in which the moisture is entering. The bottom line is that goggles should be able to keep your eyes dry when you are wearing them and if they do not, then you need to look into purchasing a different pair.
Value
Swim goggles are very affordable and can be easily replaced. That being said, the cost should not be the only thing that matters when you are looking at value. Depending on the brand and features, it may be worthwhile to purchase a product that lasts longer with more additional features than an item that simply does the trick.
An additional feature you would want in a pair of goggles is whether the lens is polarized or not. Regardless of whether you are swimming or playing in the snow, there is an intense amount of glare. Using a pair of polarized lenses can help improve the colors and focus of things you see when you move around. It works to eliminate the extra light that is reflecting off surfaces around where you are. This can help you become more aware of your surroundings and see any potential hazards as they come.
Another thing to consider is the shape of your lens. Some products are meant to fit over your prescription glasses while others may not have that capability. If you are not purchasing a prescription pair of goggles and you need glasses, it may be worthwhile to purchase something that can slip over your existing eyewear.
Expert Interviews & Opinions
Most Important Criteria
(According to our experts opinion)
Experts Opinion
Editors Opinion
Users Opinion
By Default
Old school goggles
Back in what feels like a million years ago, the Persians would dive for pearls to sell. Before goggles were invented, people would try to locate the pearls by using touch or sight. However, they would lose sight of everything once they were submerged. To counteract this issue, the Persians were innovative and created the first set of goggles that were made from polished tortoise shells. The idea behind them was to offer a barrier or protection which would allow them to locate the pearls more easily.
Stretch your eyeballs!
It is a little known fact that eyeball muscles can be stretched. Like any part of your body, there are many advantages if that muscle is more flexible. Strengthening your eye muscles go a long way in improving your overall eye health. The stronger these muscles are, the easier it is for you to read faster. This is because your eyeballs are supported while performing all the necessary movements to allow you to move them back and forth on a page. It will greatly boost your speed reading and also expand your peripheral vision.
Other Factors to Consider
Bottom Line
There are many things that you need to consider prior to purchasing any sports equipment. One of the major things to think about as a combat athlete is just how beneficial engaging in a different sport is. Usually, participating in a different sport to train for your combat fights are great but not all of them will achieve the goals you want. An example is playing football, this would be counterintuitive as you could end up getting hurt rather than building your athleticism. As a combat fighter, swimming or sports on a mountain are a fantastic way to give you a solid base. These sports strengthen your core and train your reflexes, which are two very important attributes to have for a combat fighter. Having better reflexes allow you to react faster toward the attacks of your opponent while having a stronger core can help build strength behind all your kicks and punches. The strong torso allows for the extra power to be released with every hit, making you a force to be reckoned with.
Frequently Asked Questions
q:

Where can I purchase goggles?

a:

All sporting good stores will have both swim or snow goggles. However, it is important to keep in mind they are restricted by shelf space. If you cannot find what you are looking for, it may be worthwhile to purchase them from an online retailer or a specific brand store.
q:

Do all goggles fit me?

a:

No! It is important to do your research and try goggles physically. Because everyone has different raises and bumps on their heads, it is nearly impossible to make a product that fits everyone. It is recommended you try goggles before you purchase them.
q:

Can my children use goggles?

a:

Absolutely! There are a range of ski or swim goggles that can fit children and youths.
q:

How can I maintain my goggles?

a:

Rinse them with tap water each time after use and air dry before putting back into the case.
Subscribe to our Newsletter