Best Ninja Tabi Boots Reviewed & Rated
last updated:
Jan 30, 2020
Japanese Tabi shoes have been around for centuries and are a type of shoe design that Japanese people prefer to wear compared to regular martial arts shoes; this is because of the split toe design Tabi shoes have. Instead of a shoe that completely encloses all the toes together, a Tabi shoe has a separate cutout for the big toe. The idea behind the design is to allow wearers to "feel" the ground better. Being able to feel the ground means you can detect the small changes in height and texture, which allows your feel to adapt easier.
In a Hurry? The test winner after 4 hrs of research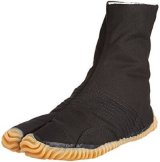 Marugo Air Jog 6
Why is it better?
Unique

Protective

High quality rubber

Durable

Trusted brand
In a
Hurry? Editors choice: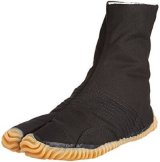 Test Winner: Marugo Air Jog 6
Stability
Adjustability
Support
Versatility
By Default
Criteria Used for Evaluation
Stability
There are many types of Tabi shoes available on the market. The key is to find one that will suit your needs. The overall idea of wearing a footwear like this is that they are lightweight and comfortable. They will keep your feet cool and feeling fresh during hot summer months. This type of product will also greatly increase your dexterity as it allows your big toe to move completely unhindered by the other toes. This can minimize the amount of room you need to pivot and can allow you to turn on the spot. This is incredibly beneficial for martial arts training as even the smallest bit of room can make a difference. If you are not into martial arts training, this footwear is also a great product for daily use, allowing you to wear them for long periods of time without feeling fatigued.
Adjustability
Most Tabi shoes use a traditional way of securing the shoe which is known as kohaze. Sewn into the inside of the shoe are clasps that resemble a fingernail. On the opposite side of the shoe, there are these hoops or hooks that are meant to go around the clasp. On a long Tabi, there will be twelve clasps and on a short Tabi, there will be three. This is a very traditional way of securing clothing which the Japanese still use. It is a great way to ensure the security of your shoe without compromising the way it looks.
As Tabi shoes made their way to America, an alternative way to secure the shoe was born. Many people found it cumbersome tedious to have to hook twelve clasps in a shoe. As a result, American manufactured Tabi shoes come with a Velcro enclosure. The Velcro also allows people to tighten the shoe to their own comfort level. There has been some backlash in regards to putting the Velcro onto the Tabi shoe as there have been complaints that it is destroying the history of the shoe.
Support
There are two lengths in a Tabi shoe: Mid-calf and low tops. A Tabi shoe that extends up to the middle of your calf is the most traditional type of Tabi shoe you can get. These are great as they keep your legs and feet comfortable and offer ankle support to those looking for that. They are also much more protective against knicks and scratches as they cover more of your leg area. The downfall of these longer Tabi shoes is that they do slightly restrict your movement. As your ankle is inside the shoe, it does not allow for full rotation of your ankle. This may translate you the shoe preventing you from moving a certain way.
The low top Tabi shoe will stop at the ankle. While this means that your ankle is completely free to move, it will not offer you the support you may need for your particular sport. An ankle that is not supported can translate to an injury. The longer Tabi shoe uses the structure of the shoe to keep your ankle in place, however, a low top Tabi will not prevent you from hurting yourself when you are in an unbalanced state. A particularly strong or fast attack may cause you to lose your balance when you are trying to defend yourself.
Versatility
One of the first things to decide when you are purchasing a pair of Tabi shoes is what they are going to be used for. There are two main types of Tabi shoes: indoors and outdoors.
The indoor Tabi shoe is very light and is similar to a sock. It is usually made of one layer of cotton with a slightly thicker bottom. Many people have likened the feeling of wearing thick socks indoors. Indoor Tabi shoes are ideal for martial arts training as they are light and uses a minimal amount of energy, thus saving your stamina and endurance for your actual training. They are also well suited to be worn at home as an alternative to slippers as they are very comfortable. The disadvantage of indoor Tabi shoes is that they can be quite slippery as they use the natural grip your big toe has versus an outsole with ridges. This can potentially translate to an injury by slipping. Another possible disadvantage is that because the cotton is so thin, it can rip easily thus shortening the lifespan of your product.
An outdoor Tabi shoe is completely different. It is similar to a gumboot but with a split toe design. Outdoor Tabi's are usually made of a thicker and more durable type of material. Usually, they are made of a thick canvas which is much harder to penetrate compared to cotton. Most outdoor Tabi's are also treated with chemicals to protect it against the elements and to keep your feet warm. They also have a thick outsole which is made of rubber and can fully grip the slippery surfaces you may be stepping on.
These are ideal shoes for you to wear during the winter months and are a great alternative to snow boots. The disadvantage of these shoes is that they are much heavier and bulkier compared to the indoor ones. They are also not as versatile and have a habit of keeping the heat inside your shoe. While it is good during the winter, the trapped heat may also cause bacteria and germs to spread.
Frequently Asked Questions
q:

How do I size Tabi Shoes?

a:

The sizing for Tabi shoes is no different from the sizing for your other shoes. If you know the size you wear, it is safe to purchase a pair of Tabi shoes in the same size.
q:

Are there Tabi Shoes for Kids?

a:

Absolutely, just like any shoes, Tabi shoes come in a wide variety of adult and children sizes. As a reminder, because these shoes have a split toe it will take a child longer to get used to them.
q:

Why should I wear Tabi Shoes?

a:

Despite the weird look, the split toe design has many health properties. It can help keep your bone structure aligned and also improve your balance.
q:

Where can I get a pair of Tabi Shoes?

a:

You can usually purchase them online otherwise they can only be purchased at martial arts stores. An alternative is also to custom order them from Japan as there are many Japanese trained shoemakers that still make them by hand and to order.
q:

Are Tabi Shoes Comfortable?

a:

Despite the way they look, they are much more comfortable than your regular shoes. This is because it practices stretching your big toe away from your other toes, which is now our predecessors used to walk. It calls for better posture and decreased reaction time when you are about to fall or trip.
q:

Can I wash my Tabi Shoes in the Washer?

a:

If your Tabi shoes are indoor ones, absolutely. Do not put them in the dryer as they may shrink, simply air dry in a cool place. It is not recommended for you to put outdoor Tabi shoes in the washer as it may damage the integrity of the shoe. The rubber may reform from the heat and the chemically treated fabric may react as well.
Subscribe to our Newsletter