Best Taekwondo Shoes Reviewed & Rated
last updated:
Jan 28, 2020
For most people, the mental image of an Asian or Southeast Asian martial arts class always involves students in their bare feet or in minimalist slippers. It is true that many of these martial arts branches do encourage their students to practice barefoot, including Taekwondo. This is not a rule that applies to every style from that region, however. The preference could even vary within a particular style, depending on what substyle is being practiced or even what school or instructor is leading the students. Whether the student is encouraged to practice barefoot, in shoes, or a mix of both, there are some key factors that must be kept in mind when choosing martial arts shoes. It is those factors that helped develop this list of the best Taekwondo shoes.
In a Hurry? The test winner after 4 hrs of research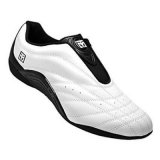 Mooto Wings
Why is it better?
Lightweight
Sturdy Construction
Available in two colors
In a
Hurry? Editors choice: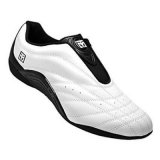 Test Winner: Mooto Wings
Materials
Fit
Versatility
By Default
Criteria Used for Evaluation
Materials
Sole Material
Not all martial arts shoes for sale feature a non-slip rubber sole. Such a feature is important, however, and the results were filtered to ensure that all the shoes listed featured a non-slip rubber sole. A few of them have special features such as pivot points on the heel or waterproofing in addition to the non-skid nature of rubber soles.
Upper Material
Upper materials are important, particularly with athletic shoes. A rigid upper could cause discomfort and may not stand up as well to the bend and shift of a student's footing in a martial arts class. The shoes on this list were chosen for the supportive but flexible uppers. Soft leather, synthetic materials, and canvas are the most common.
Soft Leather: Soft leather is a highly durable option for shoe uppers. Leather is, in general, somewhat naturally waterproof which can be useful id a student is practicing outdoors. Leather requires more care, however, such as conditioning or chemical waterproofing and can cause the shoes to cost and weigh more than shoes made with other materials.
Canvas: Canvas is a highly breathable option for shoe uppers and is one of the most popular options for martial arts shoes. They are less durable than leather or synthetic materials but often make the most lightweight shoes.
Synthetic Materials: Synthetic material is the most inexpensive choice for a shoe upper. The shoes may be mildly waterproofed depending on the nature of the material and the durability will fluctuate from material to material.
Style
Lace Up or Slip-On
The fastener method of an athletic shoe is important. Most athletic shoes have laces but martial arts shoes tend to favor short lace-up segments or slip-on styles. This is likely because martial artists have to slip their shoes on and off frequently during practice as well as when they have to change from their practice shoes to their street shoes.
Versatility
Most martial arts schools will not want a student's practice shoes to double as their street shoes. For those that don't mind, however, we wanted to provide shoes with a range of styles that were versatile enough for the student to wear during practice without sacrificing style in their day to day wear.
Expert Interviews & Opinions
Most Important Criteria
(According to our experts opinion)
Experts Opinion
Editors Opinion
Users Opinion
By Default
What Traction Circles Are Good For
When doing Taekwondo, it is important to know about traction circles on shoes. The traction circles are in place to help with your pivoting kicks. It makes it a smooth motion into the kick!
Performance Wear
With the correct fit in shoes, performance will be much better. The shoes allow you to move freely and properly coordinated for certain movements.
Other Factors to Consider
Bottom Line
It is important to check with the instructor or manager at your particular martial arts school prior to purchasing a pair of martial arts shoes. Not only will the instructor tell you if the shoes are allowed inside the practice area, but they may have specific requirements for the kind of shoe or the appearance of the shoes that can be worn. Some teachers do not allow shoes in the practice area because they can potentially damage floor mats or the feet of other students who may not be wearing shoes. The teacher may also require that, if shoes are worn, a pair be dedicated solely to use inside the school so that outside grime and debris are not tracked in on the soles of the shoes.
If the teacher or school is focused on uniformity in the dress of its students, they may have style guidelines that govern what the shoes can look like. though this is not likely to be an as widespread concern as the safety of other students or the longevity of the school's equipment. Once the teacher or school has approved the use of martial arts shoes, it is important to find a pair that fits with the school's requirements and is a good match for the specific student.
The shoes on this list come in a range of weights, prices, colors, and styles. Some would be better for practice and others would be better for competition, though the competitions may have their own rules regarding shoes. With all of these guidelines in hand, you are ready to purchase top-rated Taekwondo shoes listed above that are perfect for you and your family.
Frequently Asked Questions
q:

How will I know if shoes are necessary?

a:

It is best to ask your instructor directly before buying equipment for your Taekwondo class. The teacher may not allow shoes or if they allow shoes, may have guidelines on what the shoes must look like or if they must be shoes dedicated solely to indoor taekwondo practice.
q:

What are some benefits of wearing shoes during training?

a:

Wearing shoes during practice gives a more realistic sense of the conditions that self-defense outside of class will feel like. This includes the angle and position of feet within shoes instead of bare and the difference in foot weight caused by wearing shoes.
q:

Are there drawbacks to wearing shoes while training?

a:

Some schools will not allow students to wear shoes because they can damage the floor mats or carpeting in the school. Shoes can also slip on the student's feet and cause injury or cause the student to lean the foot placement for certain moves incorrectly.
q:

Is there a specific color I should get?

a:

The specific color may or may not be important to your instructor so it is best to ask them. Some schools prefer that students below the rank of black belt wear all white aside from their rank belt. Other schools may not care. The only way to know for certain is to ask your instructor.
q:

Can I wear my training shoes outside of practice?

a:

Most schools that allow shoes are very adamant that shoes are worn for training to be dedicated solely to indoor use. This is to cut down on the amount of outdoor grime and debris that is tracked into the training area and to keep dangerous debris such as sharp rocks and bits of glass from getting into the training area and injuring someone.
q:

Is there a shoe style specific to Taekwondo?

a:

Shoes are generally not worn for Taekwondo practice so there is no set style special to the tradition. Martial arts shoes, in general, are slip-on with sleek lines and a tight fit to keep the shoe from slipping on the student's foot, but the appearance of the shoes can vary widely. For example, fencing shoes are designed for more traction and grip with a flexible sole.
q:

How do I determine the right size to order?

a:

Most of the companies listed here include sizing charts. It is always best to measure your foot from the tip of the longest toe to the back of the heel and apply that measurement to the size chart to find the best size for you.
Subscribe to our Newsletter