Best Taekwondo Uniforms Reviewed & Rated
last updated:
Mar 02, 2020
Not all schools of martial arts require special uniforms, so it is important to check with the instructor or manager of a martial arts school before spending money on a dobok, belts, or any other equipment. This is especially true for those who practice martial arts more than once a week, as that increases the number of uniforms required. Once you have confirmed the need for a dobok, however, this list will provide you with the ten best Taekwondo uniforms for men, women, or children.
In a Hurry? The test winner after 4 hrs of research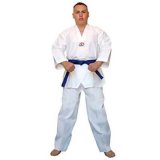 Tiger Claw 7 Oz White
Why is it better?
Affordable Price
Reinforced Pant Seams
Elastic Waist
In a
Hurry? Editors choice: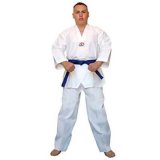 Test Winner: Tiger Claw 7 Oz White
Materials
Size
Fit
By Default
10 Best Taekwondo Uniforms
Criteria Used for Evaluation
Materials
Cotton
Cotton has long been a favorite among athletes and martial artists because of its ability to wick away moisture while allowing air to pass through and cool the skin. It also allows for a soft fabric that has a lot of give to it, allowing it to move more freely than other materials would. A stiffer fabric would hinder a student's range of motion which would negatively impact their ability to practice.
Polyester
Polyester has gotten a bit of a bad name since its rapid rise to popularity in the 60's and 70's, but the material does have its benefits, especially when it is blended with cotton. Blending polyester and cotton allows the fabric to breathe like cotton but also gives an added layer of durability as well as a better ability to holds its shape which reduces the amount of ironing and shaping that would have to be done to keep the uniform in its best condition.
Drape and Weight
A cotton and polyester blend gives the uniform a little bit of added weight to help it stay in place when the body moves back to deliver a kick or when a jump kick is required. The blend also gives the fabric a little flexibility and drape so that it hangs loosely on the frame and does not restrict motion.
Size
Once you have chosen the dobok that best suits your budget, practice schedule, and practice style you need to take measurements. Martial arts uniforms are rarely sized on the same chart as clothes intended for day to day wear. This could be for a number of reasons, whether it is the uniform's country of origin or simply the fit required for clothes that must allow you room to move during practice without causing you to trip or stumble. Whatever the reason, the variation in sizes between companies and uniform styles makes accurate measurements a must. The most common measurements will be around the chest, across the shoulder, and along an inseam. Once these measurements are in hand and the dobok is selected, it is only a matter of waiting for delivery until the best Taekwondo uniform for you is ready to start practice.
Fit
V-Neck Pullover
Taekwondo is a martial arts system that focuses heavily on kicks and jumps. This emphasis is one of the reasons that the top of a dobok is a single piece. It is less likely to come undone than the crossover style top of a gi, which ties together.
Elastic or Drawstring Waist
The lower half of a dobok consists of a pair of pants with either an elastic or a drawstring waist. Elastic or drawstrings are more appropriate for uniforms such as the dobok because the waist will not dig in during practice and it can be loosened or tightened as the student loses weight or tones their form through continued practice.
Loose-Fitting
It is important for the dobok to be loose fitting but not overly baggy. This gives the student room to move without tripping on the hem of their uniform. Form-fitting uniforms can also achieve this, but tighter clothes typically do not breathe as well as clothes that do not fit tight against the body.
Hem Ends at or Above the Ankle
Many martial arts uniforms, the dobok included, hem the pants at or just above the ankle. This might throw off many people as most jeans and daily-wear pants are hemmed so that they fall to the top of the foot. Uniform pants are hemmed a little higher so that they do not get in the way during practice. If the hem of your uniform falls lower than your ankle, many teachers will encourage you to roll or hem they higher so you do not trip or stumble.
Expert Interviews & Opinions
Most Important Criteria
(According to our experts opinion)
Experts Opinion
Editors Opinion
Users Opinion
By Default
Frequently Asked Questions
q:

What measurements do I need for a proper fit?

a:

The necessary measurements for each uniform should be provided on the company's sizing chart. Chest, shoulder, and inseam measurements are the most common because these are the points where an ill-fitting uniform would pull the most and could affect a student's range of motion. Some companies require additional measurements, such as outer hip to ankle measurements to ensure the length of the pants, but that varies from company to company.
q:

Is there a difference between uniforms for men and women?

a:

Not really. The uniforms are generally loose-fitting to accommodate many body types. As long as the chest and shoulders fit, the rest of the top will hang loose unless secured tighter to the torso by a belt. Both men and women can adjust how tight they tie the belt or the size they order to make sure their uniform is comfortable while still being functional.
q:

Will any of these fit my child?

a:

Most of the uniforms on this list can be purchased at sizes that fit anyone from child through to adult. It is best to check the sizing charts provided by the company to double check if your child's measurements will fit the uniform you have selected.
q:

What is the difference between taekwondo and karate uniforms?

a:

Taekwondo uniforms are similar to karate gis, but the differences between the two are important. Dobok do not tie shut like gi do. This is to avoid the risk of the top coming undone while performing the high kicks and jumping kicks that are more common in tae kwon do than in karate. The uniform styles are also usually made of different materials. Gi are predominantly made of 100% cotton while dobok tend to be produced as a polyester and cotton blend. This is likely due to the effect polyester has on the flow of the fabric, which can also impact a practitioner's kicks.
q:

Can I wear a karate uniform to practice Taekwondo?

a:

That is going to depend on the opinion or policy of your teacher and the specific school at which you practice Taekwondo. Some teachers don't care what their students wear as long as it is safe to practice in. Others don't mind if you wear one uniform or the other, and still, others will be very specific that you only wear a dobok to class.
q:

What color uniform should I buy?

a:

This is another question that is best asked of your teacher or the person running your Taekwondo class. The general rule is that students wear white uniforms until they receive a black belt, at which point they switch to a black uniform. Some schools do not follow this pattern, however, so it is important to talk to your instructor about your school's specific preference.
q:

Do any of the listed uniforms come with a belt?

a:

A few of the listed uniforms do come with their own white belt, which is typically the first belt that a Taekwondo student will need. Most schools provide their own belts, however, and are especially adamant that students not purchase their own higher level belts because the school gives them as rewards for mastering the previous level.
q:

How many uniforms should I have?

a:

The ideal number of uniforms depends on how often you practice martial arts and how often you do laundry. If you attend lessons once a week, or even less frequently than that, one uniform should suffice as long as you do laundry between classes. The uniform will wear out faster this way because it receives wear during training and then in the laundry, but it should still last you close to a year. If you attend classes more often than that or do laundry less than once a week, two to three practice uniforms are ideal.
q:

Do I need a separate uniform for competition?

a:

Competition uniforms tend to cost more so it is important to check with your instructor prior to buying one to make sure that you are going to be competing and to see if the competition requires a competition-only dobok. Most teachers will provide this information if their student shows an interest in competing, but it is always best to ask.
q:

Can I buy different colored belts?

a:

It is possible to buy belts in different colors, but many schools will not allow students to wear any color belt other than white until the student earns that belt color from that specific school. This is important to ensure that untrained or undertrained students do not buy high-level belts and end up injured when they spar or compete against students who earn the higher level belts. Each color represents a rank of training, so it is best to wait until the belt is earned and given to the student by the teacher before wearing it.
Subscribe to our Newsletter