Best Taekwondo Uniforms Reviewed & Rated
last updated:
Mar 02, 2020
Not all schools of martial arts require special uniforms, so it is important to check with the instructor or manager of a martial arts school before spending money on a dobok, belts, or any other equipment. This is especially true for those who practice martial arts more than once a week, as that increases the number of uniforms required. Once you have confirmed the need for a dobok, however, this list will provide you with the ten best Taekwondo uniforms for men, women, or children.
In a Hurry? The test winner after 4 hrs of research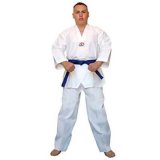 Tiger Claw 7 Oz White
Why is it better?
Affordable Price
Reinforced Pant Seams
Elastic Waist
In a
Hurry? Editors choice: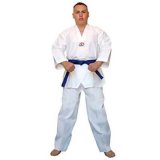 Test Winner: Tiger Claw 7 Oz White
Materials
Size
Fit
By Default
10 Best Taekwondo Uniforms
Affordable Price
Reinforced Pant Seams
Elastic Waist
Tiger is one of the most common martial arts uniform providers on Amazon. They sell uniforms for a variety of martial arts, but they're dobok are among the most popular in the field. Sizing for Tiger brand doboks can be a little tricky to nail down, but with a tape measure and the sizing chart, it is easy to purchase a well-fitting dobok at a reasonable price
Read more
Reinforced Leg Seams
Martial arts uniforms see a lot of wear and tear, particularly the knees and inseams. Tiger designed their dobok with this in mind and reinforced the inseams with double stitching. This ensures a longer life for the inseam and the uniform as a whole.
Durable and Breathable Fabric
Like many tae kwon do uniforms, Tiger's dobok is made of a cotton and polyester blend. The polyester gives the uniform an extra level of durability and the cotton allows that uniform to breathe. Both of these traits are necessary for any garment worn during intense or repetitive workouts such as a Taekwondo lesson.
Cost and Value
The reinforced inseams and breathable fabric, combined with the affordable price, make this a great option for a practice uniform.
2

. Century Martial Arts Lightweight
Durable fabric
Breathable
Affordable Price
Century Martial Arts are other well-known martial arts uniform company. They sell dobok and gi as well as grappling dummies, providing the students with multiple martial arts forms with the materials they need to learn their chosen style.
Read more
Durable and Breathable
Like most of the dobok this list, the Century dobok is a cotton and polyester blend. This gives the fabric a little more durability while still allowing it to breathe.
Beginner's White Belt Included
There is a good chance that the instructor at your tae kwon do school will provide you with the belts as you earn them. In case they do not, however, this dobok comes with its own beginning white belt.
Cost and Value
This dobok comes at a range of prices that start at the moderate and climb to the higher than average. Century provides a unique color that other lines don't, however, so that option may combine with the quality to make the uniform worth the investment.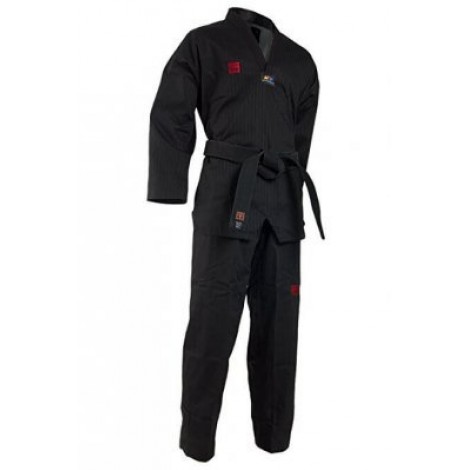 Range of sizes
Unique colors
Great customer service
Mooto is a company that specializes in providing martial arts students with the products they need for their martial arts practice. Their products range from martial uniforms to taekwondo shoes and gym bags. Their prices are among the highest on this list but the quality seems worth the investment.
Read more
Produced in South Korea
These uniforms are produced and shipped from South Korea, the birthplace of tae kwon do. This can affect sizing expectations, but the seller provides an excellent sizing chart for buyers to compare their measurements to.
Wide Range of Sizes
A range of sizes is available from Mooto, allowing the buyer to make sure that they are getting the size that best fits their needs.
Cost and Value
These dobok are among the more expensive, but the excellent customer service and quality of the product may make them a good investment for instructors of competitors.
4

. Rhingo Taekwondo Uniform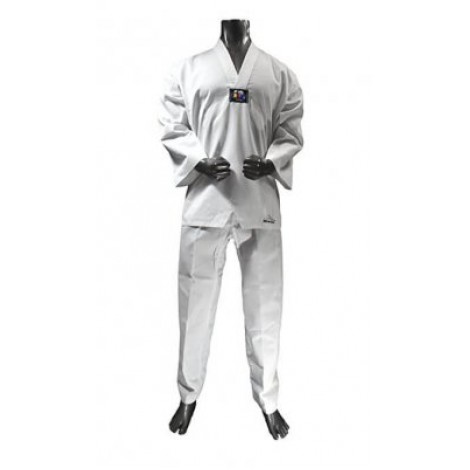 Double inseam
Elastic Waist
Wide range of sizes
Rhingo is another martial arts product company that offers products for a range of practice styles from boxing to Taekwondo to MMA. Their prices run the midline for the dobok on this list but the investment may be worth it for the five-star rating.
Read more
Double Inseam
Rhingo offers a unique feature with their dobok in the form of double-stitching along the inseam. This reinforces one of the most easily damaged areas of a martial arts uniform and extends the overall life of the dobok.
Elastic Waist
The elastic waist provides the wearer with a snug fit without the discomfort of a knotted drawstring or the risk that the bottom of the uniform will come off if the hem is accidentally stepped on.
Cost and Value
Rhingo's dobok come at a price point in the middle of this list's price range. The cost is a little steep for the product but some people may find the double stitching on the inseam worth the higher cost.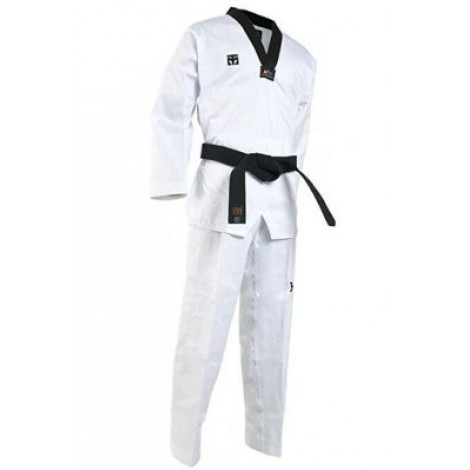 Sturdy construction
Great drape to the fabric
Easy to care for
Mooto is one of the few repeat vendors on this list and for good reason. Their products are made to last and offered in a range of sizes and colors. They are excellent for both practice and competition. The company also has excellent customer service which they demonstrate through their involvement with potential buyers on their Amazon page as well as their return and exchange policies.
Read more
Quality Construction
Mooto is known for the quality of their products. Their uniforms are a sturdy blend of cotton and polyester that stands up to heavy use and frequent washing.
Easy to Care For
Several reviews praised the high quality of this uniform, including how easy the uniform is to care for. The materials can be ironed or simply put through the washer and dryer. This is particularly important for uniforms that might be worn to competitions.
Cost and Value
Mooto is one of the high-end brands for dobok. The quality is worth the investment, however, particularly for a potential competition uniform.
Fits as expected
Quality Construction
Adidas is likely the most well-known brand on this list, though they are best known for their shoes and not their martial arts uniforms. Despite this, their dobok is of just as high quality as the rest of the products. The dobok is branded in several places with the Adidas logo as well as the World Taekwondo insignia, giving it a slightly different look than most of the dobok on this list.
Read more
Fits as Expected
Adidas makes the most consistently sized uniforms on our list, with a 90% rating on Amazon for the fit. This might make the Adidas uniform a good choice for people who do not have much experience taking their own measurements.
Quality Construction
Adidas brings their reputation for quality to their martial arts uniforms and it shows in the durability and quality of the materials, stitching, and fit.
Cost and Value
The Adidas logo adds to the price of the uniform, but it also brings quality to the mix. This uniform might be too expensive for a frequent practice uniform but would be ideal for a competition uniform.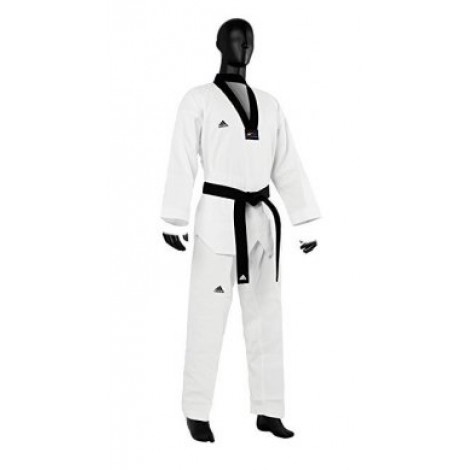 Quality construction
Competition quality
Adidas brings another quality offering to the table with their Adi Start dobok. The renowned quality of Adidas products is clear in the quality of the uniform's production.
Read more
Quality Production
Adidas is known for making high-quality and long-lasting products, and this uniform is no exception. With solid construction and crisp lines, this uniform is sure to last for quite some time.
Perfect for Competitions
The crisp lines and sharp color contrasts in this uniform make it a good option for competitions. Some competitions may not approve of the Adidas logos on the dobok, but if there is no issue, this would be an excellent uniform to compete in.
Cost and Value
Adidas uniforms are not cheap, but the company's reputation and the quality of the uniform make the investment worth it.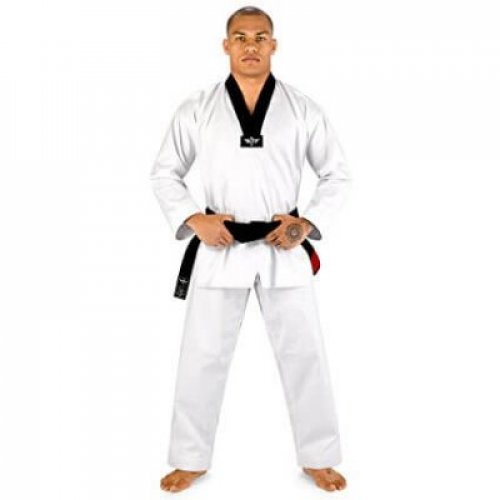 100% cotton for breathability and moisture wicking
Quality construction
Preshrunk
On the higher end of the price point
Elite Sports is one of the most prolific martial arts gear providers on our list. They offer supplies for everything from karate to Muay Thai to MMA and BJJ Gis. Most of their products come highly rated, giving the buyer peace of mind that they're making a quality purchase.
Read more
Pure Cotton Fabric
Cotton fabric is wonderfully breathable which allows the wearer to remain cooler longer while practicing. It also wicks moisture which can help to avoid chafing and discomfort after a long practice.
Preshrunk for Convenience
Some people veer away from 100% cotton fabric because it has a tendency to shrink in the wash. Elite Sports preshrinks their fabric which avoids the issue entirely and allows the buyer to rest assured that the size they ordered is the size their uniform will stay.
Cost and Value
This dobok falls in the middle of the price spectrum. It may be a little high priced for some people, but the fabric and construction might make the investment worth the mild stretch in cost.
9

. Twister Taekwondo Uniform
Reinforced stitching
Side vents
Embroidered back panel
Embroidery may be unacceptable at some schools
Twister Fight Wear makes an array of affordable sports and martial arts equipment. They are one of the most reasonably priced uniforms on our list, coming in at less than $20 and loaded with a few features that put additional value into the purchase.
Read more
Reinfored Stitching
Martial arts puts a lot of wear and tear on a student's uniform. Not only is this dobok sold at a great price, but the reinforced stitching adds durability to the product and extends the uniform's life.
Elastic Waist and Side Vents
Durability is not all this dobok has to offer. The elastic waist and side vents help keep the student comfortable during practice by ensuring that the uniform stays in place without a bulky drawstring knot while the side vents keep the wearer cool.
Cost and Value
This is the most affordable dobok on our list and the added durability and comfort features bring additional value.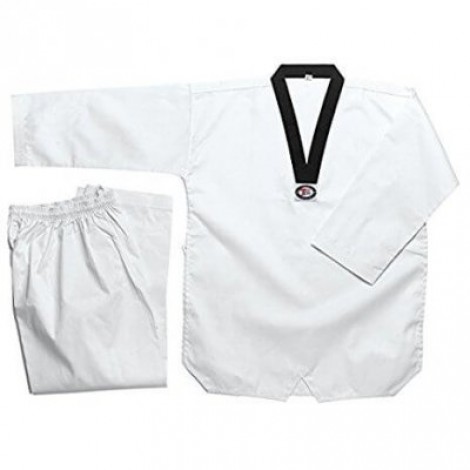 Huge Range of Sizes
Internal Ties for Custom Fits
Larger Cut Through Shoulders and Chest
Higher Than Average Price
Moon Star MMA is not a particularly well-known brand. Based out of New Jersey, they only offer this dobok through their Amazon page. The quality of the dobok, however, makes up for the lack of diversity in the online inventory.
Read more
Huge Range of Sizes
Moon Star offers their dobok in a range of sizes which makes it possible to find a dobok that will fit nearly everyone in the family. Following the provided sizing chart makes it easy to choose the best size to order.
Cut for Comfort
This dobok was designed to keep the wearer comfortable no matter what practice throws at them. It is cut larger in the chest and shoulders to allow the student plenty of room, and the internal ties allow it to be strategically tightened so that it stays in place.
Cost and Value
At nearly $40 this is one of the more expensive uniforms on the list. The quality may be worth the investment, particularly if the uniform is for someone with particularly wide shoulders or a larger chest.
Criteria Used for Evaluation
Materials
Cotton
Cotton has long been a favorite among athletes and martial artists because of its ability to wick away moisture while allowing air to pass through and cool the skin. It also allows for a soft fabric that has a lot of give to it, allowing it to move more freely than other materials would. A stiffer fabric would hinder a student's range of motion which would negatively impact their ability to practice.
Polyester
Polyester has gotten a bit of a bad name since its rapid rise to popularity in the 60's and 70's, but the material does have its benefits, especially when it is blended with cotton. Blending polyester and cotton allows the fabric to breathe like cotton but also gives an added layer of durability as well as a better ability to holds its shape which reduces the amount of ironing and shaping that would have to be done to keep the uniform in its best condition.
Drape and Weight
A cotton and polyester blend gives the uniform a little bit of added weight to help it stay in place when the body moves back to deliver a kick or when a jump kick is required. The blend also gives the fabric a little flexibility and drape so that it hangs loosely on the frame and does not restrict motion.
Size
Once you have chosen the dobok that best suits your budget, practice schedule, and practice style you need to take measurements. Martial arts uniforms are rarely sized on the same chart as clothes intended for day to day wear. This could be for a number of reasons, whether it is the uniform's country of origin or simply the fit required for clothes that must allow you room to move during practice without causing you to trip or stumble. Whatever the reason, the variation in sizes between companies and uniform styles makes accurate measurements a must. The most common measurements will be around the chest, across the shoulder, and along an inseam. Once these measurements are in hand and the dobok is selected, it is only a matter of waiting for delivery until the best Taekwondo uniform for you is ready to start practice.
Fit
V-Neck Pullover
Taekwondo is a martial arts system that focuses heavily on kicks and jumps. This emphasis is one of the reasons that the top of a dobok is a single piece. It is less likely to come undone than the crossover style top of a gi, which ties together.
Elastic or Drawstring Waist
The lower half of a dobok consists of a pair of pants with either an elastic or a drawstring waist. Elastic or drawstrings are more appropriate for uniforms such as the dobok because the waist will not dig in during practice and it can be loosened or tightened as the student loses weight or tones their form through continued practice.
Loose-Fitting
It is important for the dobok to be loose fitting but not overly baggy. This gives the student room to move without tripping on the hem of their uniform. Form-fitting uniforms can also achieve this, but tighter clothes typically do not breathe as well as clothes that do not fit tight against the body.
Hem Ends at or Above the Ankle
Many martial arts uniforms, the dobok included, hem the pants at or just above the ankle. This might throw off many people as most jeans and daily-wear pants are hemmed so that they fall to the top of the foot. Uniform pants are hemmed a little higher so that they do not get in the way during practice. If the hem of your uniform falls lower than your ankle, many teachers will encourage you to roll or hem they higher so you do not trip or stumble.
Expert Interviews & Opinions
Most Important Criteria
(According to our experts opinion)
Experts Opinion
Editors Opinion
Users Opinion
By Default
Frequently Asked Questions
q:

What measurements do I need for a proper fit?

a:

The necessary measurements for each uniform should be provided on the company's sizing chart. Chest, shoulder, and inseam measurements are the most common because these are the points where an ill-fitting uniform would pull the most and could affect a student's range of motion. Some companies require additional measurements, such as outer hip to ankle measurements to ensure the length of the pants, but that varies from company to company.
q:

Is there a difference between uniforms for men and women?

a:

Not really. The uniforms are generally loose-fitting to accommodate many body types. As long as the chest and shoulders fit, the rest of the top will hang loose unless secured tighter to the torso by a belt. Both men and women can adjust how tight they tie the belt or the size they order to make sure their uniform is comfortable while still being functional.
q:

Will any of these fit my child?

a:

Most of the uniforms on this list can be purchased at sizes that fit anyone from child through to adult. It is best to check the sizing charts provided by the company to double check if your child's measurements will fit the uniform you have selected.
q:

What is the difference between taekwondo and karate uniforms?

a:

Taekwondo uniforms are similar to karate gis, but the differences between the two are important. Dobok do not tie shut like gi do. This is to avoid the risk of the top coming undone while performing the high kicks and jumping kicks that are more common in tae kwon do than in karate. The uniform styles are also usually made of different materials. Gi are predominantly made of 100% cotton while dobok tend to be produced as a polyester and cotton blend. This is likely due to the effect polyester has on the flow of the fabric, which can also impact a practitioner's kicks.
q:

Can I wear a karate uniform to practice Taekwondo?

a:

That is going to depend on the opinion or policy of your teacher and the specific school at which you practice Taekwondo. Some teachers don't care what their students wear as long as it is safe to practice in. Others don't mind if you wear one uniform or the other, and still, others will be very specific that you only wear a dobok to class.
q:

What color uniform should I buy?

a:

This is another question that is best asked of your teacher or the person running your Taekwondo class. The general rule is that students wear white uniforms until they receive a black belt, at which point they switch to a black uniform. Some schools do not follow this pattern, however, so it is important to talk to your instructor about your school's specific preference.
q:

Do any of the listed uniforms come with a belt?

a:

A few of the listed uniforms do come with their own white belt, which is typically the first belt that a Taekwondo student will need. Most schools provide their own belts, however, and are especially adamant that students not purchase their own higher level belts because the school gives them as rewards for mastering the previous level.
q:

How many uniforms should I have?

a:

The ideal number of uniforms depends on how often you practice martial arts and how often you do laundry. If you attend lessons once a week, or even less frequently than that, one uniform should suffice as long as you do laundry between classes. The uniform will wear out faster this way because it receives wear during training and then in the laundry, but it should still last you close to a year. If you attend classes more often than that or do laundry less than once a week, two to three practice uniforms are ideal.
q:

Do I need a separate uniform for competition?

a:

Competition uniforms tend to cost more so it is important to check with your instructor prior to buying one to make sure that you are going to be competing and to see if the competition requires a competition-only dobok. Most teachers will provide this information if their student shows an interest in competing, but it is always best to ask.
q:

Can I buy different colored belts?

a:

It is possible to buy belts in different colors, but many schools will not allow students to wear any color belt other than white until the student earns that belt color from that specific school. This is important to ensure that untrained or undertrained students do not buy high-level belts and end up injured when they spar or compete against students who earn the higher level belts. Each color represents a rank of training, so it is best to wait until the belt is earned and given to the student by the teacher before wearing it.
Subscribe to our Newsletter