Best Tens Unit Reviewed
last updated:
Mar 02, 2020
If you train hard, the pain will follow. Keeping a tens unit in your medicine cabinet is a great way to tame the pain.
Pain is your body's way of telling you that something is wrong and that you need to take action. However, muscle soreness from training is actually a good thing and will go away on its own in a few days.
Over the counter pain pills are a great way to combat pain, but using them too often and too much can have some pretty bad side effects. What we love about tens units is that they provide excellent pain relief in a natural way. You can stop the pain without adding anything to your bloodstream.
In this guide, we have listed some of our favorite designs of tens units to bring you quick and speedy pain so you can get back to training pain-free.
In a Hurry? The test winner after 20 hrs of research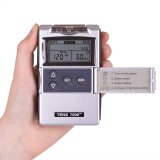 TENS 7000 2nd Edition
Why is it better?
Trusted brand
Easy to use
Small frame
In a
Hurry? Editors choice: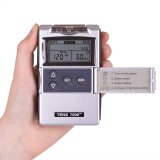 Test Winner: TENS 7000 2nd Edition
2
Researched Sources
940
Reviews Considered
20
Hours Researching
10
Products Evaluated
Ease of Use
Effectiveness
Battery Life
Features
Comfort
By Default
Our Top 10 Picks for Best Tens Units
Criteria Used for Evaluation
Ease of Use
We wanted to make sure that we selected devices that are simple and easy to use.
While a lot of massage settings and intensities are beneficial, they aren't doing you a whole lot of good if you don't know how to use it!
There were a few things that we kept in mind to ensure that it is something that will be able to be up and running in no time.
Display: The display was one of the most important features that we considered. We preferred displays that offered thumbnails of the types of massages offered. To get started, simply press the type of massage that you want, and adjust the intensity with buttons that look like volume buttons on the face of the unit.
Backlit displays make it easy to use in low light conditions, but they sometimes come with a few problems. If the backlight goes out on your unit, you will not be able to read the display. Most companies offer replacements if this occurs, but it isn't with an annoying hassle. Plus, backlit designs tend to drain the battery just a little bit faster.
Instructions: We wanted to make sure that we combed through hundreds of user reviews to find out what people had to say about the instruction manuals. Of course, we wanted to ensure that every device that we select for our list came with some type of manual to learn how the settings work.
A beneficial instruction manual is one that goes above and beyond. If you really want to get the most out of your device, learning how each setting can help your tired muscles is a great tool to have on hand. Some settings are made to work simply at the surface level, while others are designed to really penetrate deeper into your muscles.
Effectiveness
If it doesn't work at managing your pain, then what's the point?
We wanted to make sure that we selected options that actually get to the source of the pain. There were a few things that we looked at to ensure that each device actually worked at relieving your pain.
Electrodes: The base machine is responsible for generating the electrical current, and the electrodes are responsible for delivering it to your skin. Selecting electrodes that are made from high-quality materials was one of the very first things that considered.
We love electrodes that used a gel coating to stick to the skin. The gel options don't work as great at sticking to the skin over disposable options, but they can be used over and over again. Plus, they won't remove a thin layer of skin and hair when you go to remove it!
Electrode size: In this case, size does matter. While many of the brands out there on the market opt for one universal size that will work for most areas of the body, we prefer brands that offer users a few more choices.
Small electrodes work for smaller muscle groups. If you have been doing a lot of grip work at the gym, you may find that the muscle in your hands is sore and weak. Also, if you engage in a lot of cardio, the muscles in your feet may be screaming at you as well. Smaller electrodes are made to fit on even some of the smallest muscle groups.
Medium electrodes are found in almost every single package. They are the perfect size for many muscle groups in the body and will fit just about anywhere. If you are unsure of the size you need, you cannot go wrong with this size.
Large electrode pads are perfect for those larger muscle groups. They come in a large rectangular shape designed for the more serious muscle groups. They are perfect for places like shoulder, upper and lower back, and the muscles in your legs as well.
Battery Life
Long battery life makes everyone happy.
The last thing that you want to do is to reach for your device for a little relief to find that the batteries are dead. We discovered these products often fall into two camps: disposable and rechargeable batteries. Below, we have broken down the advantages and disadvantages of each option.
Disposable batteries may seem outdated, but they have quite a few advantages over their rechargeable counterparts. First of all, these batteries often hold a charge for quite a bit longer than lithium options. Many users reported using their device for months without the need for replacing the batteries.
The downside, of course, to disposable batteries is that you will need to replace them at some point. This means you will need to incur an additional cost and inconvenience of heading down to the local drugstore for more batteries.
Rechargeable batteries have a clear benefit- you don't need to ever replace the batteries. Many companies utilize a lithium battery that can be recharged using a USB cable that is included with purchase. These options also have the benefit of a battery indicator light to know when you will need to charge it.
The downside to rechargeable batteries is that they don't hold a charge quite as long as replaceable batteries. For most, the will only hold a charge for up to 10 hours before you need to give it a quick charge.
Features
Everyone loves products that come with additional features, and that includes us!
We wanted to select products that came with extra features to make it easier to get some relief, as well as make them a little bit easier to use. Below, we listed our favorite features that took a product over the top in our eyes.
Carrying case: You probably have a couple of aspirins tucked into your suitcase or in the pockets of your gym bag. Pain doesn't just happen when you are sitting at home on the couch, so portability is a big benefit. We loved products that come with a carrying case for a few reasons.
First, a carrying case allows you to easily tuck it into a suitcase or a bag for quick and easy access when you need it. It keeps the unit tight and compact and prevents movement from accidentally turning it on as you navigate your way through your day.
Even if you don't travel, a carrying case keeps all of the additional electrodes, wires, and charging cables in one place. This reduces the risk that you accidentally misplace any of the additional features that come with your purchase.
Belt buckle: A belt buckle allows you to take your show on the road. Pain management can happen just about anywhere, so carrying it without discreetly while you are on the go is a great way to mitigate pain without pills.
With the use of a belt buckle, you can manage pain while driving to work in the morning, or even while sitting at your desk at work.
Comfort
The idea of these devices can be a little intimidating, so we wanted to keep them as comfortable as possible.
There were a few things that we considered to ensure that they help and not hurt.
Reusable electrodes: There are two types of electrodes out there on the market- disposable and reusable. We gravitate more towards reusable for a few reasons.
First of all, disposable electrodes have a surface that is much like a bandaid. This means that when you apply it to your skin, it will stay firmly in place no matter how much you move. However, the downside is that taking them off can be pretty painful.
Gel options may not stick as well as disposable options, but they allow you to move them around to find the perfect spot without losing stickiness, and not taking off a thin layer of skin every time you move it!
Plus, it means that you will not have to make ad added investment in replacement pads over time.
Intensity control: Changing the intensity of the current is another really important aspect. You always want the device to feel comfortable and a little bit tingly, but never painful. A control panel that has clear buttons to control the intensity is a great way of finding your ideal comfort level right out of the gate.
Expert Interviews & Opinions
Most Important Criteria
(According to our experts opinion)
Experts Opinion
Editors Opinion
Users Opinion
By Default
Heal By Eel
Soothing tired muscles with electric currents isn't exactly a new invention. The moderns designs like those currently on the market were invented in the early 1970s. However, the ancient Egyptians used to use the electricity from eels to stimulate the nerves and promote healing.
Ditch the OTCs
Over the counter pain relievers may be good in a pinch, but they carry some pretty unpleasant long-term side effects. Long term damage may include kidney and liver damage, and can even result in stomach bleeding. A tens unit is an all-natural way to mitigate pain with no noted long term side effects.
Other Factors to Consider
Bottom Line
Pain is a basic fact of life, but it doesn't have to be a pervasive one. If your stomach is tired of constantly popping ibuprofen after every grueling session at the gym, you might be overdue for a natural solution to your muscle pain.
A good quality tens unit is a great way to signal your brain to offer up some of its top of the line pain remedies without the use of any unnatural substances. We love them because they are small and compact, and are great to take with you on the go.
Whether you are recovering at home, or on the way to work in the morning, a natural way to get a little relief lies in the subtle electric current that a tens unit can bring.
It is important to note that these devices are primarily used for the wear and tear that happens when you hit your muscles hard at the gym. Most muscle soreness goes away after a few days, even in some severe cases.
If you have muscle pain that doesn't get better on its own, it may be time to put down the natural remedies and make a quick trip to the doctor. To prevent damage to your muscles, it is always important to take care of them when something seems wrong!
Frequently Asked Questions
q:

Why do I need a tens unit?

a:

Pain is an unfortunate fact of life. If you are training to get stronger, sore muscles soon become a part of your everyday life. While some athletes resign themselves to a life of constant muscle pain, it doesn't have to be that way!

There are generally two routes that users take to alleviate muscle pain and soreness. One of the most common routes is popping over the counter pain pills. While pain pills may be quick and effective, they aren't without their side effects, especially if they are used daily.

A tens unit provides an all-natural solution to help ease the pain that often comes after an enthusiastic trip to the gym. Next time your muscles are screaming at you after a brutal workout, skip the pain pill and opt for a more natural and safer solution to your pain.
q:

How does it work?

a:

If you have ever suffered a really serious injury, you know that the pain that comes in the following days is often worse than the moment of impact. The reason for this is because when your body suffers from a sudden injury, your brain sends a flood of endorphins to the area that works to mask the pain.

A tens unit works in a similar way. By flooding the nerves around your muscles with a shock of electricity, your brain reacts like you just stuck a fork into a light socket. It reacts to this by sending a flood of endorphins straight to the area, the works to relieve the pain in the affected area.
q:

Is it just a short-term solution?

a:

Yes, it is. However, when you take OTC pain pills, it is also a short term solution.

Sore muscles from a brutal workout aren't something that is going to last forever. It takes your body time 1-2 days to heal exhausted and fatigued muscles, and that soreness can affect your workouts in the following days.

By employing the use of one of these units, you can ease the pain that comes from fatigued muscles as they heal, which will not hinder your workouts in the following days. Plus, who wants to go about their day with pain when there is an easy natural solution to provide relief?
q:

Is it actually effective?

a:

Yes! We know that it seems a little gimmicky, but these devices have been around for quite some time. In fact, the ancient Egyptians actually used the electric shocks from eels to ease pain in a natural way.

Your body is equipped with a lot of tools at its disposal to help in healing and pain management. The only downside to your brain is that it determines if and when you will get the goods. It's like a stingy pharmacist.

It will only deliver pain management drugs when it feels that you have suffered a pretty painful blow. To get it to give up the goods, this device works by sending electric shocks to your nerves so your brain sends down endorphins.

Endorphins are our bodies' natural opiates. They have been considered to be just as effective as some of the heavy-hitting pain-killers such as morphine or codeine.
q:

Will it hurt?

a:

It seems a little unsettling to ease pain by sending an electric current directly to the source of your pain. However, these devices only use a very low current that uses soft gel insulators to make it as comfortable as possible. They only run off a few mild batteries, so even at the highest setting, it isn't powerful enough to singe the ends of your hair!

Most users describe the sensation as a mild tingling along the top of their skin, similar to the feeling of your foot falling asleep. If you have sensitive skin and reluctant to use these devices, we suggest starting off at the lowest setting.

By placing it on the lowest setting and working your way up, you can find the setting that is the most comfortable for you. There are some users that even find that some of the highest settings aren't powerful enough to feel any type of pain or discomfort.
q:

Can they be used for anything else?

a:

Absolutely! While it is mainly used for easing the pain from tired muscles, there are also some other uses as well. Users that suffer from chronic back pain can find a lot of relief in using these products, as well as those that suffer from menstrual cramps.

Just like aspirin, these devices are not designed to be a cure for any ailments. They are simply used as a pain management system to give you a little bit of relief when you need it.

If you are suffering from a pain that is pervasive and persistent- it may be time to take a trip to the doctor. Most minor muscle soreness and fatigue will get better on its own in a matter of days. If it lasts longer than that, a doctor may suggest you take time off of your training to help it heal.
Subscribe to our Newsletter