Best Thai Pads Reviewed
last updated:
Dec 03, 2019
There is no better feeling than summoning all of your strength for a well balanced and powerful kick. When you are training with a partner, you may feel that you need to hold a little back for fear of actually hurting them. Using high-quality Thai pads means you can unload all of your pent up frustrations safely on soft, but sturdy Thai pads.
Thai mats aren't just a rectangular piece of foam- they have features that are designed to keep you and your partner protected. Features such as curved frames and reinforced backing ensure that it can safely absorb your most powerful punches and kicks free from injury.
In this guide, we have compiled a list of some of our very favorite Thai pads that are primed and ready to take on whatever you can throw at them!
In a Hurry? The test winner after 7 hrs of research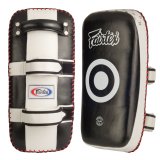 Fairtex Standard
Why is it better?
Leather exterior
Extra thick option
Curved design
In a
Hurry? Editors choice: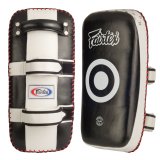 Test Winner: Fairtex Standard
2
Researched Sources
890
Reviews Considered
7
Hours Researching
10
Products Evaluated
Protection
Materials
Durability
Comfort
Features
By Default
Criteria Used for Evaluation
Protection
At the end of the day, you simply want to avoid injury.
When training throughout the week, you want to be able to not hold anything back without the worry that you will actually hurt your friendly sparring partner! That's why we wanted to make sure that we selected designs that keep you protected no matter how strong your sparring partner is. Below, we have listed some of the things that we looked at to ensure that they will keep you up off the floor.
Brand: Professional fighters train with shields, so we wanted to seek out the brands that the pros use! Sanabul, for instance, is one of the big brands to keep an eye on. Their products are used by UFC fighters and are even used by champions such as Michael Bisping.
Fairtex is another award-winning brand that is worth a look. They are a Thailand- based company bringing high-quality gear to fighters since they were founded in 1958. If you want gear from a company that knows exactly what fighters need, Fairtex is worth checking out.
Size: The larger the pad, the more protection it provides. We wanted to make sure that we included larger options that use thick padding to keep you protected from the most powerful of fighters. Shields with a larger surface area means that it will absorb a lot of the impact of each kick. Thick padding that measures to be around 4 inches is excellent for powerful players.
Keep in mind that more padding means that it will be heavier. The heaviest designs out there weigh in at just over 3 pounds. While 3 pounds (per arm) may not seem like a lot, holding up 6 extra pounds on your arms may feel pretty heavy after a while!
Materials
The materials used dictates how well it will hold up over time as well as the level of protection it offers.
Most of the products out there on the market use a variety of similar materials, with minor differences here and there. Below, we will go into a little bit of detail about the materials used for inside as well as the outside, and their possible benefits to you.
Leather: Leather options come in a few different varieties. For most instances, companies opt for a tried and tested PU leather. This manufactured leather is just as durable and reliable as cowhide leather but at a fraction of the cost. What makes PU leather a great option is that it wicks away moistures, and will not hold on to odors and bacteria. Plus, it is incredibly easy to clean.
Foam padding: As far as the insides are concerned, foam is the way to go. Many brands out there on the market add various layers of foam that helps absorb the impact from each and every hit. In addition, some option includes a gel coating to the foam that helps further absorb the impact of each and every blow.
We also wanted to make sure that the materials used were of superior quality. The better the materials used on both the inside and the outside means the better it holds up over time. Higher quality materials are also great because they provide a more comfortable fit and can help keep you more stable.
Durability
Thai pads take a beating, so it needs to be something that can hold up well over time.
We wanted to ensure that we selected products that not only hold up for the duration of your training class but also work for years to come.
The materials used play a big part in a product's durability. We have already gone into a little bit of detail above about the materials we preferred, but it is worth mentioning again. For the most durable designs, a leather exterior is the most durable option. Whether it is PU leather or cowhide, it works great at wicking away moisture that can weaken the fabric used.
Double stitching ensures that the fabric will not rip apart at the seams. We made sure to select products that had incredibly heavy-duty stitching not only at the base od the shied but in the handles as well.
One of the most common ways these products head to that big broken gear graveyard in the sky is when the handles break away from the shield. Extra care in the stitching of the handles is a great way to keep the handles in place. However, riveted handles ensure that those handles aren't going to go anywhere. If you need something that will not break under the pressure, we suggest opting for riveted handles.
We combed through hundreds upon hundreds of user reviews to determine which products held up under the pressure. While the quality of the materials used is half of the formula to durability, the proof is in the pudding. If we found that there was an overwhelming number of users that felt that their products did not hold up over continued use, we would move on to another product.
Comfort
No one ever wants to wear gear that is awkward and uncomfortable.
While protection and durability are incredibly important, we also wanted to make sure that it is something that is comfortable to wear. There are a few things to look at to ensure that your thair pads won't make your arms feel like they want to fall off of your shoulders.
The first thing that we looked at was sharp edges. You want every corner and handle of these designs to have smoothe edges so that it will not dig into your skin with continued use. Smoothe edges also include the handles as well.
We also wanted to make sure that the loops for the arms were able to be adjusted and won't fit too tightly on your arms. Some designs have simple loops for the arms that make it easy to slip on and off. Other designs use adjustable velcro bands that allow you to affix to you your arm and it will stay in place even when you lower your arms.
Ensuring that each product provides a comfortable fit that successfully absorbs each and every blow is the recipe for an excellent product.
Features
Extra features in the design and style can really make all of the difference in the world.
Below, we have gone into a little bit of detail about the extra features that we looked for in the products that we selected
Curved frame: A curved frame is great because it does a better job of catching strikes easier. If you are just starting out and need something that can offer you a little bit more help to keep you from being knocked to the ground a curved frame is the way to go.
The downside to curved frames is that they can only accommodate certain types of strikes. If you need something that is a little more versatile, a flat option may be better for your specific needs.
Riveted handles: The last thing that you want is handles that pull away from the base. While double stitching is helpful to keep them firmly in place, some designs need a little something extra. Rivets use a round piece of metal or steel to hold the handles in place. It is incredibly hard to pull of handles that are riveted to the base!
Mesh underside: When you think about it, your forearms will start to sweat a little bit as you fend off multiple blows and kicks. If your skin is placed against bare leather, that just intensifies the sweat. A great way to combat excessive sweating to keep the pad in place is a mesh material. There are com brands that utilize a mesh fabric on the underside that is great for wicking sweat away from your skin to keep you cool and dry.
Expert Interviews & Opinions
Most Important Criteria
(According to our experts opinion)
Experts Opinion
Editors Opinion
Users Opinion
By Default
Don't Jump The Gun
In a regular sparring match without pads, it is a really good ability to anticipate the movements of your opponent. When you are training with pads, however, this anticipation of movement can actually be detrimental. Be sure that you never lunge forward in anticipation of your partner's kicks. By shifting forward, you are abbreviating the extension of their kick and may even make them lose their balance.
Keep It Tight
There is never time to relax when you are sparring with a partner. It is important that you keep your arms stiff as you can. If your arms are loose, you run the risk of getting punched in the face by your own fist! It is also important that you keep your entire body rigid and stiff. This prevents you from losing your balance and falling over as you get kicked.
Don't Be A Dummy
Don't just stand there like a training dummy! A good sparring partner moves around and throws in a few punches and kicks to keep their partner on their feet. If you simply stand there like a statue, you are robbing your partner of the benefits of training with a real live human being!
Other Factors to Consider
Bottom Line
The last thing that you ever want to do when training is to hold anything back. Using a training bag may be a great way to work on your form, but the real skill comes when engaging in hand to hand combat. That's why sparring with Thai pads is the perfect way to hone your skins with a real human being, and not worry about hurting them with your raw power!
Before you take the plunge, take into consideration your needs. If you are new to the game, a thinner and more lightweight option may be better for your needs. If you are working with powerful fighters, heavier designs that offer more padding may be better.
Whether you are the one throwing kicks or absorbing them, each partner is bound to get in a really great workout and learn a lot of each side of the pads. No matter where you are in your training, staying protected and safe while enhancing your skills is always the more important thing to keep in mind!
Frequently Asked Questions
q:

Why do I need to use Thai pads?

a:

How are you supposed to hone your Muay Thai skills if you only do air drills or bag work? Sparring with a partner is a great way to learn how it feels to spar with a real opponent without the risk of injury.

Equipping a pair of shields on your arms doesn't mean that you aren't learning or getting in any training. By being a sparring partner, you have the opportunity to anticipate their movements which in turn makes you a better fighter as well.

Using a pair of Thai pads is a lot more than being a training dummy. You need to be able to tighten your body to anticipate their kicks, but you cannot play on the offense because you may throw off their balance.
q:

Do I need to buy them in a pair?

a:

It's important that you keep an eye on the Thai pads you intend on buying. Most brands indicate on the product description whether or not they are shipped as a pair, but it is important to note that not all come in pairs.

For the ultimate protection, we suggest buying a shield for each arm. While you only need to dodge one kick at a time when spotting, only using one shield can throw off your balance and send you flying to the floor.

Be sure that you check that the product you select comes in pair of two unless you are simply replacing an old shield that has fallen apart on you.
q:

Are Thai pads easy to clean?

a:

Absolutely! The great thing about these pads is that they are constructed from materials that are incredibly nonporous. Plus, due to the fact that they don't have a lot of nooks and crannies for bacteria to hide, it means you will not have to clean them as frequently.

However, if you notice that your gear is starting to smell a little funky, cleaning it is quick and easy. We suggest investing in a small bottle of a cleaning solution that is designed to be used on vinyl or PU leather. A mix of water and alcohol on the surface of the shield is perfect for killing off any odor-causing bacteria that may start to form.

Simply spray a cleaning solution on the surface, and then wipe it down with a soft cloth. It is important that you let it air dry completely before packing it into a gym back or popping it in your arms for a little bit of training.
q:

How should I hold them?

a:

Learning the correct way to hold them is not only beneficial to you, but to the person throwing the kick as well. If you hold the shields incorrectly, you run the risk of injuring yourself and can throw off the person throwing the kick.

The most important job as a shield holder is managing momentum. The most common mistakes that spotters run into is taking a step forward as they brace for impact. While this is a great way to ensure you're not knocked to the floor, it can hinder your kicker (and sometimes make them lose their balance).

While you want to move along with your fighter, you also need to brace yourself for impact. Loose arms are a recipe for getting punched in the face- so keep those arms stiff! It's important that you keep your arms tight and close together. Keep tight, and let the kicks come to you.
q:

Are they heavy?

a:

The answer to this question depends upon the style that you select as well as the level of padding in the design that you choose. The good news here is that even the thickest options are not excessively heavy.

On the light end of the spectrum, thinner designs weigh in at about 1.5 pounds per arm. To put this into perspective, its like tying a small bag of rice to each arm and holding it upright for the duration of a training session.

On the heavier end of the spectrum, there are designs out there that weigh in at around three pounds. While it may not seem like that much at first, it can really start to weigh you down after a long class of holding your arms up.
q:

How do they work?

a:

There are three loops along the back of the unit that is designed for your arms. The bottom loops sit just below your elbow, and the top loops are designed for your hands. There are some designs out there that fasten in place so that when you put your hands down they will not fall off.

The shield itself is wide and broad, which distributes the impact of a kick evenly. This prevents you from falling on your butt from the sheer force of the kick and keeps the kicker from falling over as well. The inside is filled with a layer of incredibly sturdy foam that is far from a pillowy soft surface. It is important to note that the surface is hard, so you still need to ensure that you engage in proper form.
Subscribe to our Newsletter