Best Towels Reviewed & Rated for Your Sweaty Workout
Stepping out of a nice, hot shower at the gym, you're squeaky clean after sweating hard and training harder. You've scrubbed yourself down and now the only thing left is to dry yourself off. Feeling refreshed, you reach for your towel and begin to dry off, only to discover that the towel is coarse and scratchy against your skin, ruining your mood. That's it, you decide. It's time to buy a new towel. The only catch is, how do you pick the best towel?
Featured Recommendations
1888 Mills Luxury

Our rating
Organic
Two-ply
Price:

See Here
Pinzon Egyptian Cotton

Our rating
Multi Sets
Egyptian Cotton
Price:

See Here
Incite Elite Quick Dry

Our rating
Microfiber
Carry Bag
Price:

See Here
Picking the right towel can be overwhelming. There are a lot of things to consider. What size do you need? Should you spring for the extra large, or would it be a waste? The material is yet another consideration. There are so many different kinds of fabric out there–microfiber, long-spun cotton, Egyptian Cotton, Turkish cotton. The average consumer would probably be surprised at the fact that there are so many different kinds of cotton in the marketplace. Construction, sewing, and hems are yet another factor. Overall, it can seem to be a huge undertaking. You may get so intimidated that you want to give up.
Never fear. Though there are a lot of considerations when making a purchase such as this, most of the factors fall into just a few simple categories. These categories have been neatly organized below to help you pick the best towel for your lifestyle.
10 Best Towels
1. 1888 Mills Organic Cotton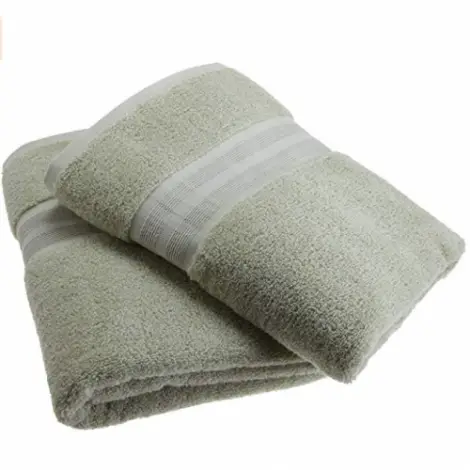 1888 Mills is a company whose goal is the "weave a better world." They were founded over 40 years ago as "Eastern Imports," a textile importing company whose goal was to provide low-cost textiles to Western customers. Over the years they have merged with other companies to tackle the global market. The 1888 Mills 100 Percent Organic Cotton Luxury Bath Towel demonstrates these past 40 years of excellence through its material, which is 100% combed cotton. This product is made right here in the USA.
Expand to see more
Two Ply
Many towels are thin, and don't have the right thickness and feel. The problem with thin towels is that they wear out faster and don't absorb as well. Towels such as those are problematic and oftentimes a waste of money. Luckily, the 1888 Mills 100 Percent Organic Cotton Luxury Bath Towel is two-ply in its thickness. This double layer of thickness gives it a rich, textured feel.
Organic
Nowadays people are extremely aware of their impact on the environment. We do our best to keep our environmental footprint small, and to make sure that we're being conscious of our purchases. The 1888 Mills 100 Percent Organic Cotton Luxury Bath Towel makes this easy, as it has sourced all of its material from 100% organic cotton.
Value and Cost
The 1888 Mills 100 Percent Organic Cotton Luxury Bath Towel is one of the least expensive items on this list. However, it should be noted that other items on this list come in packs of two or three or even six towels, whereas this item comes only in a pack of one. However, if you're not looking to buy five extraneous ones and just need one, single,
high-quality item
, this could be the product for you.
Made in usa
100% cotton
Combed cotton construction
Two-ply
Organic
2. Pinzon Egyptian Cotton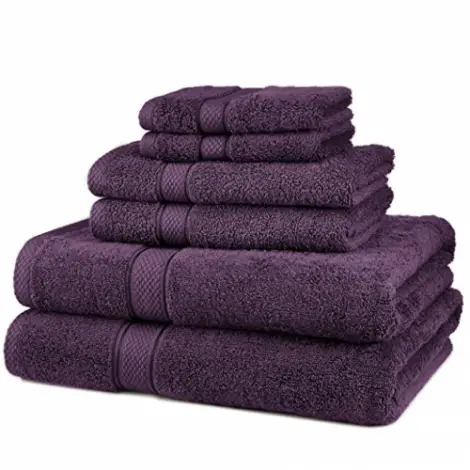 Pinzon was established in 2009. It is named after Vicente Yáñez Pinzón, the Spanish explorer who discovered the Amazon River in South America. It made the foray into the world of textiles with the same exploratory spirit. Today Pinzon's product line features a wide array of fabric and textile creations, from bedsheets and pillowcases to blankets and robes. The Pinzon 6-Piece Egyptian Cotton Towel Set is an excellent addition to this line. Made from Egyptian cotton, it is
fully machine washable
and dryable, with no synthetic fibers.
Expand to see more
6-Piece Set
Other sets on the market may only provide you with a single item. However, this product comes in a set of six. This includes two full-sized towels, two mid-sized towels, and two wash rags. This versatile set provides you with the full range of sizes you could ever possibly require to meet your drying needs.

Certified Excellence Factory
Sometimes when you're buying an item online, you may be nervous about the quality of the product. When you can't touch and feel something in your hands before you buy it, the issue of quality control can hover in the back of your mind. However, the Pinzon 6-Piece Egyptian Cotton Towel Set is produced in a factory that is certified to meet the highest quality standards of production. You can lay that fear to rest.

Cost and Value
This product is an excellent value. Some items on this list are similarly priced and only provide you with one product. The highly rated Pinzon 6-Piece Egyptian Cotton Towel Set is comparably priced to some of those items, but provides you with a set of six instead. This product will give you six times the value for the same price.
6 piece set
100% cotton
Egyptian cotton
Certified excellence factory
Machine washable and dryable
3. Classic Turkish Towels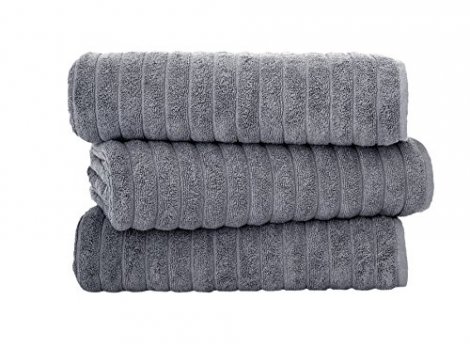 Established in 1996, Classic Turkish Towels is the top manufacturer of Turkish Towels in America. They supply everyone from hotels to casinos, to spas and more. Their manufacturing facility, called Makroteks, for the last 20 years has been the leading textile manufacturer in Turkey. Their facility is ISO9001 & OEKO-TEX certified. The Classic Turkish Towels 3 Piece Luxury Bath Sheet Set, produced at this facility, is extra plush and made from 100% Turkish cotton.
Expand to see more
Double Stitched
A problem with any textile is the hem. The fabric will eventually give out and begin to fray and unravel. How quickly this occurs depends on the quality of the fabric and the integrity of the stitching. The Classic Turkish Towels 3 Piece Luxury Bath Set is double-stitched to prevent this unwanted phenomenon and to ensure your product lasts a long and useful life.
No Chemical Processing
The idea of
harsh chemicals
being used on our items can be scary. This is especially so when these items are things that we use against our bare skin. The Classic Turkish Towels 3 Piece Luxury Bath Set is processed using gentle methods, and no harsh chemicals are used in the creation process.
Value and Cost
As the most expensive item on this list, you might wonder if this set is worth the price. Though the price tag is a bit high, this is a luxury item, and the high quality comes with a high cost. Produced by America's leader in Turkish towels, this product has a victorious track record for quality and comfort. If you are willing to pay extra for high quality, this set could be right for you.
100% Turkish cotton
Double stitched
Extra plush
No chemical processing
4. Utopia Towels Extra Large
Utopia Towels is a brand with a specialized product line that focuses in on absorbent items. They have bath mats, wash rags, bibs, napkins, and more. Their product line may not have a huge range of variety, but what they do, they do well. The pricing on their products is a testament to their dedication to affordability. The Extra Large Bath Towel by Utopia demonstrates both these points.
Expand to see more
100% Ring-spun Cotton
No one likes an itchy towel. But not every manufacturer puts in the extra time and effort to produce high-quality items. This product is made of 100% ring-spun cotton. Ring-spun cotton is different from regular cotton due to the production process. Ring-spun cotton is continuously spun, twisted, and thinned to yield longer, softer strands.

No synthetic materials
With an item that is as intimately used like this, you want to be completely, 100% sure about what it's made of. You don't want any nasty surprises. The Extra Large Bath Towel by Utopia is extremely transparent in its production process, and no synthetic materials are used or woven into this product.

Value and Cost
The Extra Large Towel by Utopia is the second-least-expensive item on this list. While it does not come in a multipack, not everyone needs to order three or six at a time. If you're on a budget and just need one high-quality item, then this one could be for you!
Machine washable
100% ring-spun cotton
No synthetic materials
Soft on skin
5. Martex Commercial
Martex, also known as West Point, has been in business for over two hundred years in fashion and textiles. It began in 1813 with manufacturing woolen broadcloth and has only grown and evolved over the centuries. West Point owns several well-known brands, of which Martex is one. The Martex Commercial Bath Towel is made from one hundred percent looped terry cotton and comes in a six-pack of six full-sized towels.
Expand to see more
Hotel and Spa Quality
Hotels and Spas require high-quality items that are designed to last. Because they are used and reused, washed and rewashed, they have to be able to stand the test of time. If it falls apart quickly, they kick it to the curb and go with a higher-quality item. The Martex Commercial Bath Towel is designed to hold up to these standards so that they are built to last.
Reinforced Hems
To double-down on this product's ability to
stand the test of time
, Martex has designed this product with reinforced edges and hems. Nothing is worse than purchasing an item and having it fall apart within the first few washes. When this happens, not only are you frustrated, but you've wasted time and money. These super-strong, reinforced hems prevent this from happening and keep your investment secure.
Value and Cost
This is one of the most expensive items on the list. However, it has a few things going for it. Many other similar sets do come in six-packs but only come with one additional full-sized items. The others are either half-sized or washcloths. This product comes in a six-pack of six full-sized items. If you need to buy a lot of something in bulk, you definitely will get a good deal with this product.
100% looped terry cotton
6piece set
Hotel and spa quality
Reinforced hems
6. Incite Elite Quick Dry
Incite Elite, owned by Incite Nutrition, is a supplement and nutrition company that has expanded into the larger sports gear and personal care market. The dedication that they have shown in developing products to help strengthen the body from within has been applied now to creating items that
care for the body
from without. The Incite Elite Quick Dry Towel is an exemplary item for this purpose, with its extra-large size, built-in hanging loop, and compact design.
Expand to see more
Microfiber
Drying technology has come a long way in the decades and centuries since humanity has begun to use and perfect it. Typically, products are made with various kinds of cotton. However, microfiber is the cutting-edge of technology. It dries your body exceptionally well, but is a fraction of the weight and can be folded up into a super tiny space for easy storage and transportation.

Included Storage Bag
To facilitate transportation of this product, it comes with an included storage bag. Does the storage bag seem small? That's because this product folds up into an extremely small space, making it extremely easy to carry around wherever you need it--to the beach or to the gym, it doesn't' matter.

Value and Cost
Despite being extremely portable, high-tech, and easy to store and wash, this is the least expensive item on this list. The only possible downside to this item may be that it comes in a one-pack. However, you could order two or three of these items for the cost of some of the most expensive items on this list, so this hardly seems like a detraction. This is one of the best values on this list.
Micro fiber
XL size
Comes with storage bag
Compact
Hanging loop
7. Superior 900 GSM Luxury
Superior was founded by the Ruwe family in the early 1900s, originally in the linen and laundry niche. The founder borrowed a few hundred dollars and set up shop in a basement in Ohio. From these humble beginnings, they have been in business for over a hundred years, with a wide range of linen products for today's market. The Superior 900 GSM Luxury Bathroom Towels are an example of this century-spanning record of excellence,
Expand to see more
18 Colors
Sometimes aesthetics is a consideration we have to make space for, especially when purchasing products that will be highly visible in our home. Sometime's it's not enough for a product to just do a good job--it needs to also look good doing it. To this end, the Superior 900 GSM Luxury Bathroom Towels comes in a rainbow array of eighteen colors. This feature allows you to pick the hue that will best match your decor, in addition to keeping you comfortable and dry.

Locked-in Colors
A huge problem for any textile purchase is when you throw it in the washing machine. It's extremely annoying when your white shirt is dyed pink by a red towel that accidentally gets thrown into the load with it. To prevent your clothes from being ruined, Superior designed this product with locked-in colors that will stay put in the fabric.

Cost and Value
This product sits in the high end of the range of price when compared to other products on this list. For some, it may be too pricey, especially when considering that it only comes in a set of two. For those people, another product would better fit their needs. But if you have an eye for style, and are looking for just the right color to match your decor, this set may be right up our alley.
Long-staple combed cotton
900SM weight
Double ply
Don't bleed in wash
18 colors
8. Love My Natural Antibacterial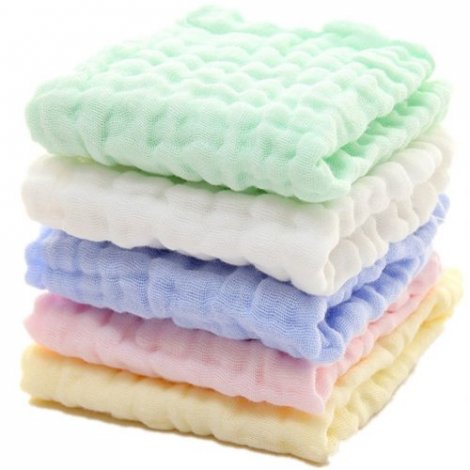 Love My is a company that specializes in linens and fabric products that are safe for babies and very
young children
. Their product line contains bibs, cloth diapers, and infant head pillows, to name a few. The 100% Medical Grade Natural Antibacterial Towel is an example of this baby-safe design. This product is packed with features that make it a cut above the rest.
Expand to see more
Honeycomb Embossing
Especially where babies are concerned, getting them dry and warm as quickly as possible is the highest priority. To that end, this product features a special kind of stitching: honeycomb embossing. This design feature means that this product can absorb moisture as much as three times as quickly, getting you drier and warmer that much quicker.

Medical Grade
There are a lot of considerations that go into making something medical-grade. Medical-grade means that they are of the highest quality and can be used in such sensitive environments as hospitals. To that end, this product has two major features: it is antimicrobial and antifungal. This means that any dangerous microbes that could make you sick are deterred. Similarly, any fungal spores that could do damage are deterred.

Value and Cost
The main downside of this product is their small size. They are sized for babies and thus run a bit small to be used by adults. This, combined with a mid-to-high price range, may deter someone who needs an adult-sized towel. However, if you're looking for a small towel to pack along on a trip, or you have very young children, this high-quality, medical-grade towel is perfect.
Honeycomb embossing
Baby safe
Anti-microbial
Medical grade
Anti-fungal
Not as soft as advertised
9. Chakir Turkish Linens
Chakir Turkish linens is a company that produces one thing, and one thing only: towels. You may think that their narrow focus and small product line would be an indicator of a company that is not doing well. The opposite is true. Though they only feature a few products, they make those few products especially well and are a standout in the linen world. The Turkish Cotton Luxury Hotel & Spa Bath Towel has several high-quality features, such as
Expand to see more
Turkish Cotton
Turkish cotton is grown only in one small area of Turkey, by the Aegean Sea. It is world-renowned for both its softness and long life. It can be annoying when you get stuck with an itchy or coarse rag when you're drying off. You'll never have to worry about that again with a Turkish cotton towel.
Natural Dyes
Oftentimes when we want a product in a specific color, we have to resign ourselves to the fact that the dyeing process is a chemical-laden process. If we want color, we have to be willing to make the tradeoff and accept a product that has been treated with harsh chemicals. With the Turkish Cotton Luxury Hotel & Spa Bath Towel set, however, you don't have to make that compromise. This product is colored using only natural dyes.
Value and Cost
This product has a
mid-range price
. However, this set comes with four full-sized towels. This fact alone stuffs it full of value, especially when other items at this price range only give you two full-sized items, at maximum. The fact that it is also made with extra-soft Turkish cotton and is made using only natural dyes are additional perks that make it well worth the price.
Turkish cotton
Machine washable
Chemical free
Natural dyes
Double-stitched hems
10. Lunasidus CTT-300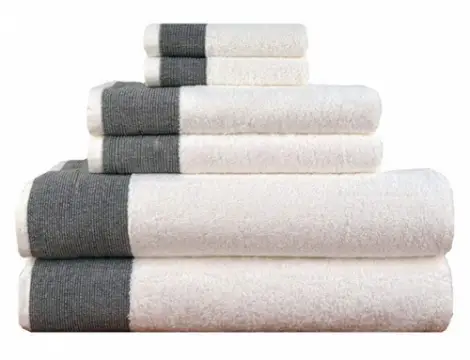 Lunasidus is another company that specializes in linen products, specifically Turkish cotton. Their products are produced in facilities that meet Oeko-Tex standards, and they pride themselves on their sustainability and
environmentally friendly products
. They have been in business for over twenty years, and in time have developed several exceptional products, such as the LUNASIDUS CTT-300 Venice Luxury Hotel. This product is eco-friendly and comes in a six-piece set.
Expand to see more
Long-staple combed fibers
There are many factors that go into making a fabric product soft and plush. Sometimes it's the source material. It could also be the weaving process or the treatment procedure. The secret to the LUNASIDUS CTT-300 Venice Luxury Hotel's softness is it's long-staple combed cotton fibers. Combed cotton is superior to regular cotton in terms of softness and durability due to the way it is spun. Overall, its softness can't be neat.

Oeko-Tex certificate
How do you ensure that the product you're purchasing has integrity and long life? How do you pick a product that has superior softness, especially when you can't hold it in your hands before you buy it? One answer is to ensure that the producer's manufacturing facility is certified by their industry to maintain the highest standards. This is very much true with the LUNASIDUS CTT-300 Venice Luxury Hotel, whose factories are Oeko-Tex certified.

Cost and value
This is a luxury item with a mid-range price. This six-piece set includes a variety of sizes for your drying needs and is extremely fashionable to boot. Produced in a certified facility to ensure high quality, the LUNASIDUS CTT-300 Venice Luxury Hotel is just packed to the gills with value.
Long-staple combed fibers
Turkish cotton
Oeko-Tex certificate
Eco-friendly
6-piece set
Our skin is the largest organ in the body. It feels everything, from the blistering heat of the sun to the smallest breeze on an autumn afternoon. As it covers every inch of our body, it is important that we treat it right. This means avoiding cheap, coarse, and itchy fabrics that can damage the skin. One of our most vulnerable moments is when we are drying ourselves. Not only for us but for our skin as well. If we use a scratchy piece of fabric, we can hurt our epidermis.
Not only do we want to actively avoid this, but most people seek out a comfortable, luxurious experience. They want fabrics that are richly textured, plush, and soft. Thus, these should be qualities we look for in a towel. When shopping, there are a lot of factors to take into consideration. However, the bottom line is that you want something that feels good and absorbs moisture quickly and thoroughly. After you've done your research and bought a high-quality product that meets your needs, trust me–your skin will thank you!
Criteria Used for Evaluating the Best Towels
Certification
To ensure that the product you are purchasing is of the highest quality, make sure it is Oeko-Tex certified. This is a certification provided by the International Association for Research and Testing in the Field of Textile and Leather Ecology. It guarantees a level of quality control within manufacturing facilities.
Materials
Long-spun cotton is a term that has to do with the quality of the cotton fiber itself. Longer fiber is created by spinning yarn to contain fewer joins. The fewer joins in your thread, the stronger and smoother it is.
Turkish cotton is grown only in one small area of Turkey, located near the Aegean Sea. It is premium cotton, due in part to its extra-long fibers.
The term "Egyptian Cotton" is given to cotton produced in Egypt that is ELS, or Extra Long Staple. The Egyptian climate allows the cotton fibers to grow longer than usual, which is what gives it the ELS classification. As with Turkish cotton, the longer the thread and the fewer the joins, the smoother and stronger the fiber.
Microfiber fabrics are usually synthetic, a derivative of polyester, usually. Microfiber fibers are usually ten micrometers or less apart, which is smaller in diameter than a strand of silk. The smallness of these fibers allows them to be woven into a dense pattern that allows for superior absorbency.
Construction
Towels are generally made with either one layer or two. A single ply towel means that a single layer of fabric was used in its creation. Two-ply means that a second layer was added for extra absorbency and thickness.
Many fabric products use only a single line of stitching in the hem. This can lead to unraveling and fraying. Many towel manufacturers will either double-stitch or triple-stitch their hems to give their products a longer lifespan and make them more durable.
Frequently Asked Questions
Q. What's the difference between all the different kinds of cotton?
A. The different kinds of cotton include long-staple cotton, Egyptian cotton, Turkish cotton, and more. The main differences are the country of origin, which is denoted in the name. Long-staple cotton refers to a longer, smoother fiber which leads to a softer towel. Turkish and Egyptian cotton are so high-quality, in part, because they contain long-staple cotton.
Q. Will the colors run in the wash?
A. Usually, no. But to be safe, run them first in a load by themselves. After that, you can run your white towels with a load of white clothes, and your darker towels with your colored loads. Better safe than sorry.
Q. Is the product a single-pack or a multi-pack?
A. Each product is different. Sometimes they come in a two-pack of two full sized towels, and sometimes they come in a six-pack with two full-sized, two mid-sized, and two washcloths. And sometimes they just sell one product on its own. Be careful and read the product specifications.
Q. What size is it?
A. There is quite a range of sizes. On average, they run from around 27 by 52 inches all the way to 30 by 58 inches. If you're a shorter or smaller person, the size may not matter that much. But if you are larger and need a larger towel, read the sizing to ensure you don't get stuck with a too-small towel.
Q. Are these machine washable and dryable?
A. Usually, yes. For convenience, most producers make these products able to be run through the washer and dryer. Some, however, are machine-wash only and must be hung to dry.
Q. Why does it say Made in the USA if it has the Egyptian/Turkish/etc. cotton label on it?
A. There are two parts of the manufacturing process: the growing and the weaving. The country of origin (Egypt, Turkey, etc.) is denoted on the label. This means farmers in those countries grew the cotton that went into the product. Then, the cotton was shipped to the USA, where it was woven. Thus, it can be produced in the USA, but the raw material may be grown overseas.
Sources:
https://en.wikipedia.org/wiki/Microfiber
https://en.wikipedia.org/wiki/Cotton