Best Treadmills for Home Use Reviewed & Rated
last updated:
Mar 30, 2020
There was a time when home gyms were rare. They were most often found in the homes of executives or professional athletes who did not have the time or desire to go to a public gym. Home gym equipment has become less expensive over the last few decades or so, making the reality of having a personalized gym accessible to more people. Free weights, resistance bands, and yoga equipment are all commonly found in homes today, but there is still one piece of gym equipment that many people hesitate to bring home. That equipment is, of course, the treadmill for home. That is why our experts at Fighting Report reviewed and rated the best treadmills for home.
This is the best product on our list that is currently in stock: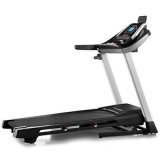 Proform 505 CST
Why is it better?
Quiet Motor
Good for HIIT Training
1 Year Manufacturer Warranty
In a
Hurry? Editors choice: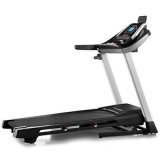 Test Winner: Proform 505 CST
Support
Features
Versatility
Size
By Default
Best Treadmills for Home Use Reviewed in 2020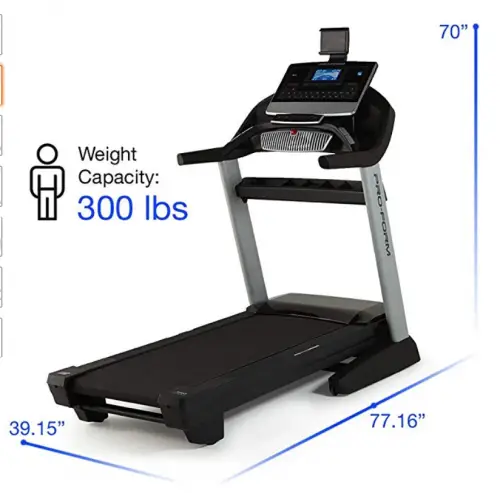 Oversized Backlit Display
Wireless Heart Rate Monitor Included
Google Maps Integrated
Terrible Customer Service
Proform has been one of the biggest names in large home gym equipment since 1987. They cover just about every niche of the home cardio equipment market from rowing machines to ellipticals. Their Pro 2000 is a fantastic piece of equipment. Its oversized backlit display gives users a lot of visual options to make their workout more interesting, including Google Maps images thanks to the system's integration with Maps. The included wireless heart rate monitor is just icing on the cake of traits that makes this product worth the investment.
Read more
Oversized Backlit Display
Fitness equipment displays used to have a very limited purpose. Initially, they only told the speed of the belt. Then they moved into distance, time, and calorie counts that gave users a better idea of how effective their workout was. Today's machines are much more interactive. Many of them offer minute-by-minute progress checks. Some, like this machine, have an embedded screen on which motivational images are displayed. The idea is to give users as much incentive as possible to finish their workouts, which can seem harder and harder to do as other demands pile up or the workouts get more exhausting.
Google Maps Integrated
This product's embedded screen is impressive enough on its own. Proform is not the kind of company to rest on its laurels, however. The Pro 2000 is integrated with Google Maps so that users can choose real-world locations to "run through". It's a one-of-a-kind feature that is sure to keep exercise routines fresh longer than almost anything else on the market.
Cost and Value
This unit does not come cheap. It is a solid investment and that is likely to turn a lot of buyers off. Serious users or families looking at a long-term option will want to seriously consider this product, however. It is sturdy and durable with many, many features that will make exercising more engaging and enjoyable. The biggest downside is that Proform's customer service leaves much to be desired when returns or exchanges come up.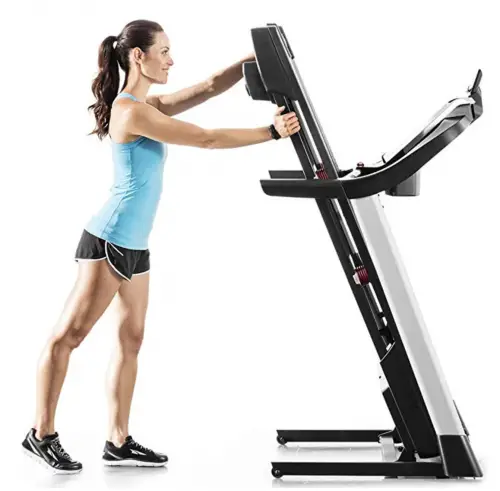 Quiet Motor
Good for HIIT Training
1 Year Manufacturer Warranty
Terrible Customer Service
Proform's experience with large-scale home gym equipment is undeniable. It is rare for one company to snag the top two spots on a list like this one, but Proform's products are clear winners in just about any comparison. The 505 CST us a scaled-back model compared to their Pro 2000 with a smaller price tag to match. Scaled-back does not mean dismally inferior, however. The 505 CST has its own set of desirable features that set it above many other similar products currently on the market.
Read more
Quiet Motor
Exercise machines designed with cardio in mind are rarely quiet. Any motor large enough to really put a user through their paces is likely to cause a fair bit of noise. The 505 CST is a bit quieter than most, however. Running on a home treadmill will likely wake up any roommates sleeping nearby but the motor by itself is not so loud that it drowns out a TV turned to a reasonable volume.
1-Year Warranty
Warranties are usually rare in athletic markets, but large pieces of equipment are generally an exception to this rule. Proform is a great example of this, particularly with its 505 CST model. The product is covered under a 1-year warranty, though it is important for buyers to read the restrictions and instructions prior to using the machine so that they do not void their warranty.
Cost and Value
The 505 CST is a great deal more affordable than Proform's Pro 2000 but it is still a pretty hefty investment for most budgets. The durability and usability will soften the cost for most buyers and the warranty is a good fall-back cushion if the machine does not work out. Proform has a bad reputation for customer service, however, so securing the benefits of the warranty might be easier said than done.
3

. Confidence Fitness Magnetic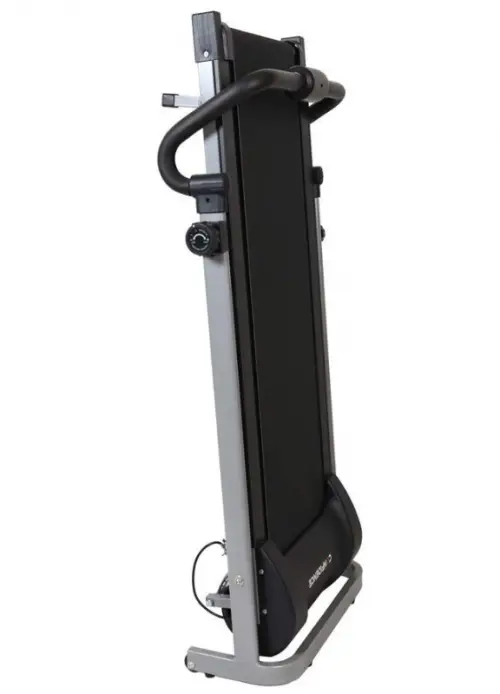 1 Year Warranty
Affordable Price
Simple Design
Not for Intense Use or Users over 220 lbs
Confidence has an oddly diverse inventory, especially when their offerings are compared to those of other companies on this list. Strange as it might be to see, however, it obviously has not impacted the company's ability to create effective machines. Their magnetic treadmill is the only manual machine on this list. It is also the most lightweight and features an excellent warranty in addition to being the most affordable product on offer.
Read more
Simple Design
Treadmills are complex machines designed to give their users as much information as possible while giving them the exact intensity and speed they want. Some users want something simpler, however. A little feedback on speed and distance covered is all these users require and that is all this machine will give them. Moving the belt is a manual affair and will take more effort than the electric versions, which will entice a very specific market of buyers.
1-Year Warranty
Confidence offers a 1-year warranty on their manual machine. This may seem somewhat limited, but warranties, in general, are rare in the sporting goods markets. Buyers should take care to read the limitations and instructions prior to using their machine, however, to be sure they don't void the warranty with improper use.
Cost and Value
This machine is, by far, the most affordable on the list. It has none of the bells and whistles of more expensive machines. Only the bare necessities to keep it running and foldable design so that it can be tucked out of the way when not in use. It has earned the Best Value title for this list and fans of the machine will attest that it lives up to its title.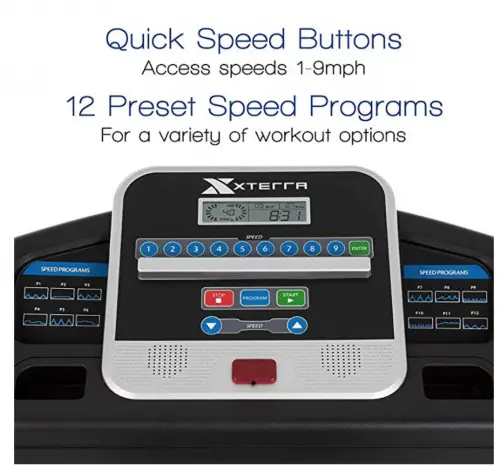 Easy-to-Read LCD Display
12 Preset Programs
Fold-Up Design
Relatively High Rate of Malfunctions
XTerra Fitness makes its focus clear in its name. Their goal is to get their customers up and moving, whether that is through equipment such as swim goggles or larger machines like ellipticals and treadmills. Their TR150 model is an excellent example of their dedication to quality fitness supplies. It has an easy-to-read LCD display, several preset programs and a fold-up design that makes it much easier to store the machine between uses.
Read more
Easy-to-Read LCD Display
Reading while running is not something humans were really designed to do. That has not stopped us from trying, however, particularly in this hyper-busy modern age. XTerra took this into account when they designed the TR150 and the result is an easy-to-read LCD display that gives the machine's user clear readouts of important information such as distance, time, and their progress on their chosen program.
12 Preset Programs
When XTerra says that their product comes with a wide array of preset programs, they are not exaggerating. The TR150 comes preloaded with twelve programs that will cover nearly any goal at any intensity. This is particularly helpful for someone who may be interested in HIIT training, a group of people who share the treadmill, or anyone with multiple fitness goals.
Cost and Value
Durable, storable, variable, and affordable. Could anyone ask for more from their exercise equipment? The only consistent complaint among users is that the machine has a few bugs that crop up fairly often, though the company is proactive in trying to solve issues if customers contact them. It's not a bad tradeoff for a versatile and affordable machine that can be folded up and easily stored between uses. That is why it is in our list of best treadmills for home use.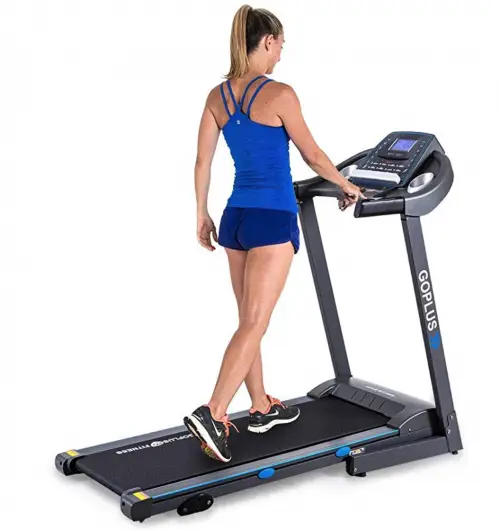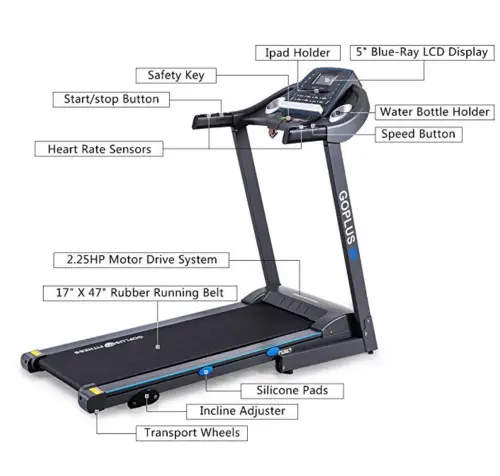 Safety Key
12 Built-In Programs
Foldable Design
GoPlus is a company whose focus is on getting people up and moving. Whether their passion is cars, travel, or fitness, they want to help their customers get up and, well, go! Their Black Jaguar III model is an excellent example of this. It is a relatively affordable machine designed with an eye on both safety and usability. It is foldable for easy storage, making a great machine for those just getting into the use of large-scale fitness equipment in a home gym setting.
Read more
Safety Key
Safety keys are one of those features that nobody wants to talk about but are incredibly important. The machine won't start without the safety key inserted which is important for homes with children. Serious injury and disability can occur if children get their hands into the wrong spot while the belt is moving which is why it is important to store the key separate from the machine when a qualified user is not present. The key can also be pulled out in the event of an injury or fall, preventing further injury to the user.
12 Preset Programs
This machine may not have all the bells and whistles of other models, but do not be fooled. The Black Jaguar III comes with twelve present programs that cover a wide range of goals and intensities. This makes it ideal for someone who may want to use their machine for HIIT exercises or for a family that shares the machine between them.
Cost and Value
GoPlus' price is at the low end of average for this list and is surprisingly low for the market in general. The interface is a little bit limited but any user with a smartwatch or other wearable health tracker will not miss anything by using this particular product. With 12 preset programs and foldable design, this machine is all about versatility and convenience at an affordable price.
6

. Confidence Fitness Trac Pro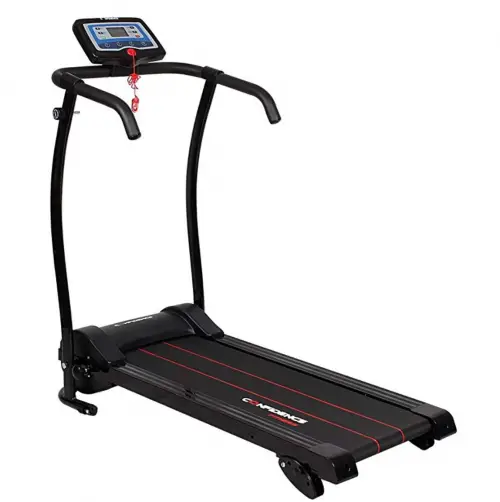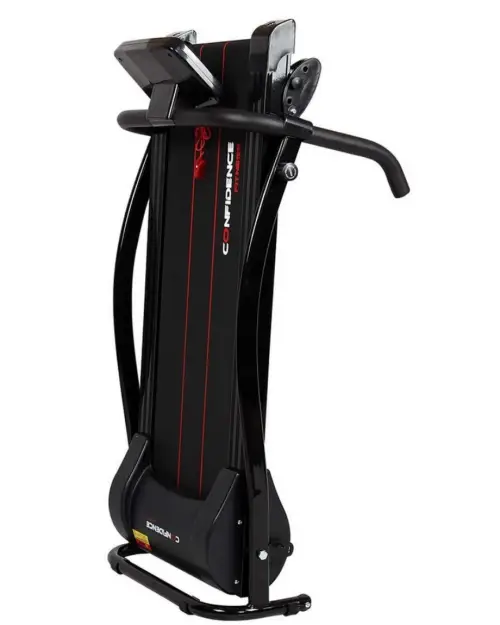 Safety Key
Simple Design
Relatively Lightweight
Confidence's varied inventory has clearly not had a negative impact on their ability to make a name for themselves in the fitness market. They make their second appearance on this list with the Fitness Trac Pro. It may look like something straight out of the '80s but that is honestly part of its appeal. It is a relatively lightweight machine with a simple and intuitive design that is perfect for frequent light use. It has a low weight tolerance of only 220 pounds, however, which must be taken into account.
Read more
Safety Key
Safety keys aren't the most exciting feature to talk about, but they are important. Many people assume that the most common injuries on these machines occur when a user slips and falls. In homes with children, however, the most common injuries have nothing to do with falling. The belts on these home treadmills move fast enough that they can permanently injure a child if their hands get into the wrong place. Safety keys prevent this from happening and, if it stored away from the machine when it is not in use, will keep the machine from running at all until a qualified user is present.
Relatively Lightweight
These machines are not light. Most of them are meant to be given a single home and then stay there until their users no longer need them. The Fitness Trac Pro, however, was designed with a more fluid style of use in mind. It is relatively lightweight enough to be moved around between uses which means that it can be rearranged to best use a home's space or to give the user the view they want while on the belt.
Cost and Value
Confidence's second offering is also the second most affordable item on this list. It is a great piece for someone who wants an electric machine but does not want to commit a lot of space or time to a heavier machine. It can only handle up to 220 pounds and has a fairly narrow belt width. It is still usable to a large market of buyers, however, and would be great for frequent low-intensity use.
Joint-Supporting Deck Cushioning
Industry-Leading Warranty
High-Information Display
Sole has a few odds and ends in their inventory but their main focus is insoles and, of course, treadmills. They have several models for sale as well as replacement safety keys and repair kits. Their F85, however, is the crown jewel of their collection. It comes with an industry-leading warranty and is designed with the user's joint health in mind. It is a versatile and durable machine that will meet nearly any need the user might have for it.
Read more
Joint-Supporting Cushioned Deck
Running can wreak havoc on a person's joints. SOLE was clearly aware of this issue when they designed the F85. The running deck is cushioned with a material designed to absorb a large portion of the shock caused by a runner's feet striking the deck. This shock reduction is intended to reduce the impact on the runner's knees and ankles, keeping them healthy and the runner on their feet.
Industry-Leading Warranty
When SOLE says that their warranty is industry-leading, they mean it. Customers have to register their product with SOLE, but once the registration is complete the machine is covered for four years. There is little that the warranty does not cover and it is unlikely that users will throw anything at this machine that it cannot handle. It has one of the widest running surfaces available on the market and can handle users up to 400 lbs, making it by far the most durable product on this list.
Cost and Value
SOLE's product has the highest price tag on this list but it really is justified. The width of the running deck and the weight capacity make it jaw-droppingly durable while the preset programs and high-information display mean that it will be useful to just about anyone who steps onto the belt. It comes with a fantastic warranty that is four times longer than any other warranty on this list. The investment is pretty high but it is more than worth it.
8

. Miageek Folding Treadmill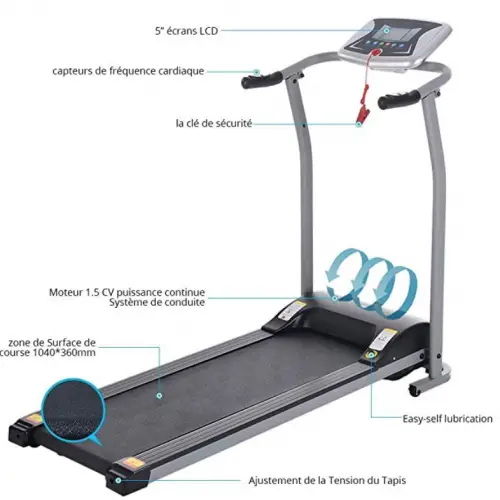 Safety Key
LCD Display
Foldable Design
Miageek treadmill is predominantly a clothing company, which makes its inclusion on this list a little bit shocking. Despite this apparent lack of connection to the fitness market, there is no denying that their product is a quality piece of equipment that has more than earned its place on this list. Their offering is a relatively affordable machine that is foldable for easy storage, designed with safety in mind, and capable of providing the necessary information that most users will want.
Read more
LCD Display
It's hard to read while running. Any student who has tried to study on the treadmill will admit that without hesitation. That is part of what made older exercise machines hard to work with. Their displays were hard to read when the user was in motion, forcing the person to stop their workout just to read the display. Newer models such as this one use LCD screens to avoid that issue. They are generally clearer and much easier to read while the user in motion, saving time and keeping the user on track.
Safety Key
It is hard to understate the importance of exercise equipment safety keys. Miageek's safety key is the type that prevents the machine from starting until the key is plugged in and will stop the machine if the key is removed. This is helpful if the user happens to fall while the machine is in use, but it has a further importance for homes with children. Fast-moving belts can cause devastating and disabling burns if children get their hands into the wrong places. By removing the key when the machine is not in use and storing it out of reach, the issue is resolved without any risk.
Cost and Value
This model might not be the least expensive on this list, falling instead along the midline of the list's price range. The safety features alone would make this an excellent choice for most users and the ability to fold and store the machine more easily means that less space has to be dedicated to the machine when it is not in use. Buyers need to be careful of some sellers, however. The main company has a good reputation but some sellers are not helpful if something goes wrong with the machine.
9

. ProForm Performance 300i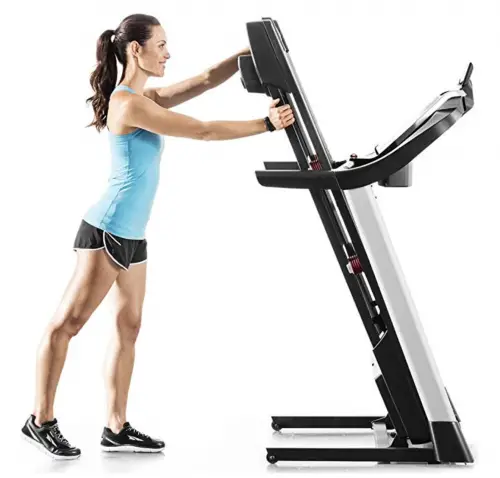 ProShox Cushioning Supports Joints
Grip Pulse Heart Rate Monitor
Easy to Use Large Display
Terrible Customer Service
Fans of Proform won't be surprised to see them taking the third slot on this list. The Performance 300i is the most affordable model Proform has on this list but that does not mean that it is inferior. With ProShox cushioning and built-in heart rate-checking grips, this offering is just as strong as the other two and may even be a little more accessible.
Read more
Grip Heart Rate Monitor
Any athlete will attest to the importance of keeping their heart rate under observation. The heart rate is key for ensuring that the workout is intense enough with being dangerous and there are some athletes who swear that keeping their heart rate slightly elevated is the key to their physiques and power. The Performance 300i has its own heart rate monitor built into a handlebar on the machine. This allows the user to combine their heart rate automatically to create a more complete picture of the impact their workout is having.
ProShox Cushioning
It's no secret that running and prolonged walking can cause damage to an athlete's knees over time. Stationary equipment can be particularly troubling in this regard because of the way the user's knees react to hitting the rigid surface. Proform's solution to this issue is to use ProShox technology and pad the product's deck that every footfall is met with a little bounce that keeps sensitive joints safe.
Cost and Value
This unit is slightly less expensive than the 505 CST and less than half the price of the Pro 2000. It has fewer features than either of the other two but is a little more budget-friendly. It is ideal for those trying to build up their stamina or strength but who might not be on the treadmill for long stretches where they may need extra motivation.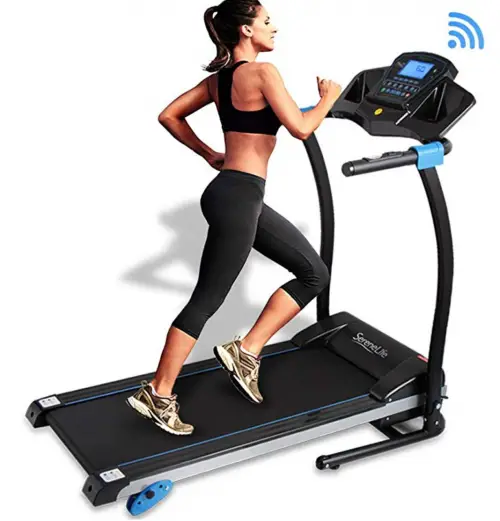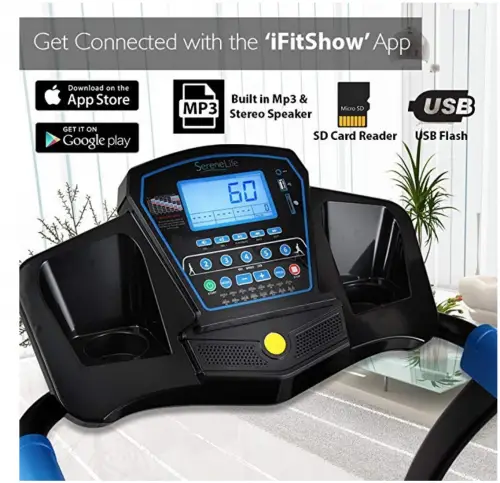 Large LCD Wi-Fi Connected Screen
Low Noise
Spring Cushioning System
SereneLife is another of the rare companies that offer quality products in a range of markets. Their treadmill is one of the most advanced on this list and it has a price tag to match. But the quality and versatility of the product take most of the sting out of the price tag, which is high praise for equipment at this level. They might not be a well-known or niche-specific brand, but they most definitely know their products.
Read more
High-Tech Display
LCD and backlit displays are becoming more and more common on exercise equipment. As people gain a better understanding of how to craft effective workouts, there is a higher demand for as much information as possible. This machine provides the information that most users want plus a little bit more. Their screen is wifi connected which opens up a whole range of possibilities for students, physical therapy patients, or anyone who wants to stay connected while working up a sweat.
Spring Cushioning System
One of the downsides to running a treadmill - or any running, really - is that it can do some pretty severe damage to a person's knees and ankles. There are a few ways around this issue and the path that Brinymo chose was to include spring cushioning in the running board of their machine. This cushioning absorbs some of the shocks that would otherwise travel back up the runner's leg and cause problems with their joints.
Cost and Value
This model has a pretty hefty price tag attached, there is no denying that. It is an investment piece for someone who has a concrete plan on how to use this machine and the intention to use it often for a long time to come. That being said, it is a fantastic investment. The company isn't well known so there are few first-hand reviews to go off, but the quality of this machine and the versatility of its features is one of the unifying themes across the reviews that do exist.
Criteria Used for Evaluation
Support
Shock absorption is not something that impacts the immediate safety of the user but it does play into their long-term health. Running puts a lot of pressure on the joints, particularly the knees and ankles. It is hard to avoid this pressure but a few fitness companies are trying. The most common style of approach is to add a liner of shock absorbing material to the running deck, just below the belt in the hopes that it reduces the impact on the user's joints.
Features
Heart Rate Monitor
Some people may see a heart rate monitor as more of a "vanity feature" than a matter of safety, but for many users, it is both. A person's heart rate can tell them a lot about the eventual impact of the exercise style they have chosen, such as whether or not it is intense enough to improve their heart health or if they are working at a good pace to burn fat. It can also tell them if they are pushing themselves too hard so that they can avoid serious complications.
Wifi or Bluetooth Integration
Some people like to use their workouts as a chance to disconnect from a world where people are increasingly connected. Other users hate the interruption in their ability to meet professional or social needs. There are machines available for both types of users. Those who seek connectivity will be pleased to know that there are now exercise machines with Bluetooth or wifi integration capabilities. This allows them to communicate with smartwatches or phone apps that track the user's health. It also opens up the possibility of using the embedded screens to finish work, enjoy a show or movie, or stay connected while on the belt.
Versatility
Most home treadmills have a very select set of information that they provide. This set usually includes such information as the distance traveled, the current speed of the belt, the number of calories burned, and the user's progress on their chosen program. The newest models, however, often offer more information such as the user's heart rate. Some even have the capability to run through a scene or setting and give the impression that the user is running through that location as well. It's not quite the Holodeck from Star Trek, but it is certainly a step closer.
Size
Not all exercise machines are created equal. Some are lightweight and relatively easy to move, up to and including those that can be folded so that they take up as little space as possible in between uses. Other machines are much heavier and require dedicated space that will be their permanent home until the user no longer needs the machine. Not all machines are a good fit for every lifestyle and buyers should take space constraints into account when making their purchase, including any difficulty they may have in getting the machine in and out of their home gym.
Expert Interviews & Opinions
Most Important Criteria
(According to our experts opinion)
Experts Opinion
Editors Opinion
Users Opinion
By Default
Maps Integration
In addition to running pre-programmed scenes as mentioned above, a few models on this list are integrated with Google Maps. This integration allows them to use Google Street View and other such tools to create real-world running routes that the user can travel through from the comfort of their own home.
Reading
everal of the machines have a ledge on which users can balance books, phones, tablets, or magazines. It may be hard to read smaller print but that is something that can only be decided on a person-by-person basis.
Other Factors to Consider
Value
The best treadmills for running are often high-investment pieces which can make buyers nervous. They are also heavy and not easily tucked out of sight for the sake of aesthetics. Buying this particular piece of equipment is a sort of commitment to whatever workout program the buyer has in mind and that can be daunting. The list below is designed to help alleviate some of that uncertainty and stress.
The best treadmills on the market today have been compared so that buyers can more easily find the model that best suits their needs. Factors such as intended weight limits, safety features, tracking features, and intended training uses have been weighed and compared. These products run from the ultrabasic to the hyper-technological with price points to match, giving a solid sampling of the market today.
Frequently Asked Questions
q:

What are the advantages of stationary running?

a:

Running is a great way to boost cardio health and get the blood pumping. Running indoors on a stationary machine allows runners to control the temperature and climate in which they're running. It also allows them to fit a run or brisk walk in whenever they have spare time, even if it is only five or ten minutes when they otherwise would not have been active.
q:

Are there disadvantages to stationary running?

a:

Stationary running can cause bad habits to develop such as a short and bouncy gait that can lead runners to stumble if they transition to outdoor running. Indoor running is also more accessible, which means that there may be an increase in the pressure on knee and ankle joints.
q:

Are these home treadmills safe?

a:

So long as they are used properly, yes. Users should always consult with a doctor before starting a new exercise program and, as mentioned above, caution should be taken whenever the belts are in motion or could begin moving.
q:

What sort of upkeep is necessary?

a:

The belts will eventually wear out and have to be replaced. Basic motor maintenance will also be necessary at some point in order for the machine to continue running. Other than that, it should be enough to simply wipe down the machine between uses and keep the vent ports clear of dust or hair.
Subscribe to our Newsletter