Best Under Armour Boxers Reviewed & Rated
last updated:
Dec 03, 2019
Under Armour is one of the most prolific sports apparel brands on the market. Their products run the spectrum from daily wear to exercise staples to "athleisure wear", which – to paraphrase One Day at a Time – are athletic clothes that people don't want to sweat in.  The brand's logo is iconic and can almost single-handedly conjure up the image of a muscled athlete leaving everyone else in their dust. Their clothes can be purchased from boutique retailers or big box stores and they have come out with options for just about every piece of clothing. And I really do mean every piece. Under Armour has released several lines of boxers, most of which are offered in three different lengths to meet the needs and preferences of as many customers as possible. Some of these lines have been more popular than others and each line has its own place among fans of the brand. The real trick is to find the best Under Armour boxers based on a person's individual needs.
Featured Recommendations
Original Series 6" Boxerjock

Our rating
2-Pack
Performance Waistband
Price:

See Here
Original Series 9" Boxerjock

Our rating
Longest Length
Lightweight
Price:

See Here
Original Series 3" Boxerjock

Our rating
Shortest Length
Smooth Outline
Price:

See Here
Undergarments might seem like an easy garment to shop for, but that is not always the case. The process becomes even trickier when the underclothes are for someone else. Boxers have a relatively limited range of differences from one line to the next but a few things like inseam length and waistband style can make a world of difference. Under Armour clearly had these differences in mind when they designed their boxer lines and they brought their reputation to every garment on this list. Many of the products share similar traits such as high-comfort fabrics and durable material. Certain features like the shaping of the fly and the style of the waistband, however, vary from line to line.
10 Best Under Armour Boxers
1. Original Series 6-Inch Boxerjock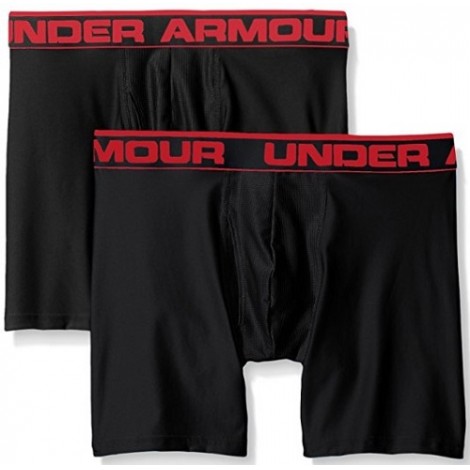 There's really no better place to kick this list off than with the original line that started it all. It is the core from which the company's other boxer lines were spun and this alone would set them at the top of this list. The fact that they're the most popular of the company's lines as well as the longest-running line just strengthens their case for occupying the top three spots on this list. People seem to prefer the six-inch length more than either of the product's other two lengths and, admittedly, they do look good.
Expand to see more
2-Pack
Most of Under Armour's boxers are sold as a single pair which may make their prices a little bit eye-watering. This version, however, is a two-pack. It is ideal for customers who may have already tried out this particular line of boxers and want to add a few more pairs to their collection.
Most Common Length
A six-inch length seems to be the most common length for most boxer-wearers. It is long enough to reduce the risk of the garment bunching or riding up while also short enough to remain
covered by most shorts
and pants. This length also has a slim risk of causing any visible outline when worn beneath thinner dress pants which makes them ideal for work and semi-formal settings.
Cost and Value
None of Under Armour's products are cheap but their boxers seem to be a little more expensive than most. This two-pack is on the more affordable end because there it is usually sold for a bundled price rather than double the usual price of one pair. It is still a bit of an investment but this company's garments tend to last and last which means that the cost may simply be the price of quality.
Most Common Length
Price for 2-Pack
Smooth Outline
4-Way Stretch Material
Performance Waistband
Moisture-wicking
Quick-drying
Heatgear Material
Anti-Odor Technology
2. Original Series 9-Inch Boxerjock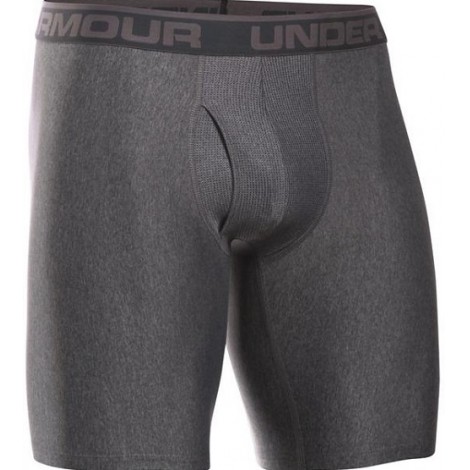 Although a six-inch boxer length seems to be the most popular, there are those who need a few additional inches to truly feel comfortable. This company has them covered. Literally. These boxers are long enough to reach nearly to the knee and provide more coverage than the majority of outer-wear shorts currently on the market. They will play peek-a-boo if the wearer tries to pair them with anything shorter than ankle-length trousers, but that doesn't mean that these boxers don't have their own fan base.
Expand to see more
Longest Length
Nine inches is the longest side length that Under Armour offers. The garment is tight fitting and hugs the leg down almost to the knee which means it is long enough to possibly be visible beneath knee-length shorts so wearers need to take that into account. It is also the least likely length to bunch up and since it is longer than most boxers, few people will assume any lines it causes on trousers will be from an undergarment.

Performance Waistband
A performance waistband might seem like a silly thing to mention, but every athlete has at least one story where their waistband bunched up or rolled down, distracting them or causing them some embarrassment. The company's performance waistbands are designed to do neither so long as the garment is properly sized. It will stay in place through jumps, squats, and the constant motion of running.

Cost and Value
These shorts are available at several prices, even the highest of which is towards the middle of this list's price range. At their least expensive they are a great bargain for the brand. The shorts will provide a smooth outline, so long as the pants worn over them are long enough to keep their nearly knee-length hem hidden. They are also constructed using Under Armour's signature fabric blend that wicks moisture, dries quickly, combats odor, and helps keep the wearer cool.
Longest Length
Smooth Outline
Heatgear Material
Lightweight
Performance Waistband
Moisture-wicking
Quick-drying
3. Original Series 3-Inch Boxerjock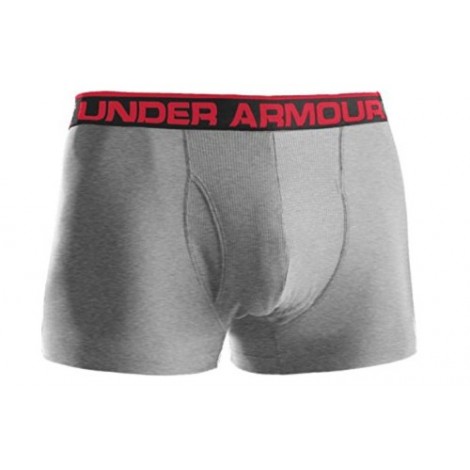 Is it irony that the shortest of this line's shorts are also the most affordable or just an amusing coincidence? Either way, these shorts easily take the title of "Best Value" for this list and are by far the most affordable on the market. They're not the most popular style - most of Under Armour's three-inch lengths tend to be less popular than their roomier counterparts - but there are several situations where a three-inch length is really the only option that won't show itself while the wearer is on the move.
Expand to see more
Shortest Length
This is by far the shortest length of undergarment that could still be called boxers. Anything shorter is more likely to be referred to as briefs. This short length also means that there is less of the garment that could cause a visible outline and so long as the garment is sized properly it shouldn't roll or bunch. Its high hem also makes this pair ideal for use beneath uniform shorts and tighter trousers then other lengths of undergarment could be worn with.

Lightweight
The garment is very lightweight. This, combined with its higher hemline, can give the wearer the sensation of "going commando" without having to actually forgo their underclothes. This might seem unnecessary to some people but some people who prefer boxers may also want to wear compression shorts, bike shorts, or some other tighter garment that would be worn best with a lightweight undergarment.

Cost and Value
These shorts are certainly some of the most affordable on this list. Don't let their lower price and short length fool you, however. They are made with the same focus on design, comfort, and performance as all of Under Armour's underclothes. The articulated front reduces the risk of the garment accidentally slipping and the soft material is also moisture-wicking and quick-drying. As with all their garments, Under Armour made sure to pile on the value when they designed these shorts.
Shortest Length
Polyester Blend
Anti-Odor Technology
Performance Waistband
Smooth Outline
4. Freedom Boxerjock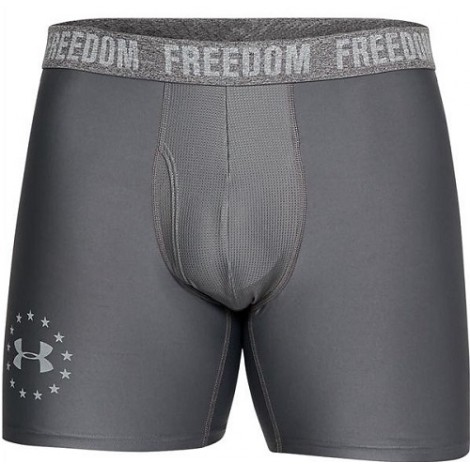 I never thought I would have strong emotions about boxer shorts but Under Armour is surprising like that. The company's Freedom line is designed to support more than the men wearing them. It is also designed to support first responders whether they be police, medical, fire, or military. Under Armour sets aside a minimum donation every year and profits from the Freedom line are used to meet and then exceed that goal. Flag-print boxers are all good and well, but these are the most patriotic shorts on the market, hands down.
Expand to see more
Supports First Responders
Under Armour's Freedom line is perhaps their most unique. It is designed using the same quality and attention to detail as the rest of their products but there is an added layer of community support built into the product. Under Armour is dedicated to donating no less than $250,000 a year to first responders and part of their fundraising method is the sale of this boxer line. The design varies slightly from the majority of their underclothes in that the brand name has been replaced around the waistband with the word "freedom" and the company's logo is instead featured on one leg. A portion of the profit from every pair sold is set aside as part of the $250,000 minimum annual donation.

4-Way Stretch Material
In addition to being durable and charitable, these shorts are also flexible. They are constructed with a four-way stretch fabric which means that they can stretch in any direction that the wearer pulls them. This means that they are less likely than many other types of shorts to pull uncomfortably during a game or chafe against the wearer's skin in the middle of a run.

Cost and Value
The Freedom boxer line falls right in the middle of this list's price range and the price tag delivers more than quality alone. It delivers support and aide to those who show up when things are at their worst and do everything they can to make things right. Every pair purchased helps to increase the donation that Under Armour makes every year and, in return, the customer receives an undergarment that will go the distance and keep them comfortable in the process.
Anti-Odor Technology
Supports First Responders
4-Way Stretch Material
Heatgear Fabric
5. Original Series Twist Shorts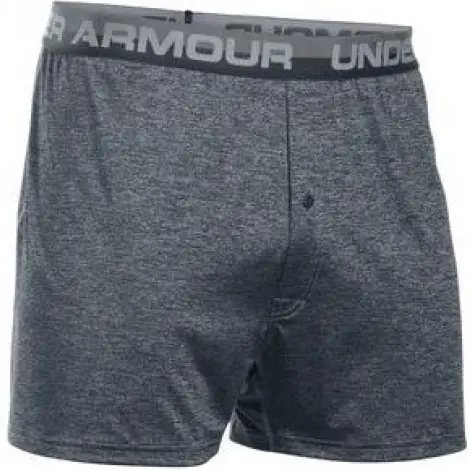 There's really no telling why this line is called the "Twist" line, though I'm sure several readers are coming up with their own hypotheses as I speak. As far as the shorts themselves go, they are made with the same quality and comfort-driven style as the rest of the company's lines but they do have one small difference. Their fly is a button rather than the articulated pouch that the company tends to favor. This might be where the "Twist" comes in, but that is up to the readers to decide.
Expand to see more
Smooth Outline
Under Armour's boxers are well-known for their smooth outlines. This is achieved mostly through the use of soft fabrics and flatlock seams that do not cause the shorts to bunch or pull in odd ways when the wearer is moving. The Twist line of boxers is especially noted for its smooth outline thanks to the malleability of the fabric. It will move and contour in the same way as most
trousers
which means that any fold in the shorts is easily hidden by the pants.
Button Fly
Most of the company's boxers feature a contoured fly but their Twist line does things a little bit differently. This line is designed with a button fly for a more traditional and detailed appearance. It is an important detail that can often make or break a garment's usability for some people and it can affect the security of the fly closure if the shorts are not cut properly.
Cost and Value
The Twist line is a fantastic series of boxers with small details like the button fly setting it apart from the rest of the brand's lines. There is a small issue with the seam placement in the back of the shorts that has left some customers feeling that the detail could have been handled better, but it is otherwise another solid offering from the company with a cost that is in line with the rest of the products.
Smooth Outline
Heatgear Material
4-Way Stretch Material
Button Fly
6. ArmourVent Mesh Series 6-Inch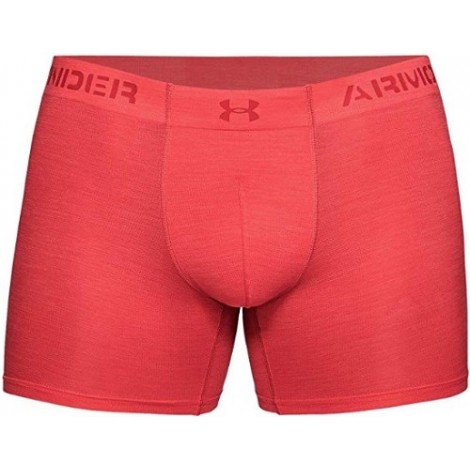 Have you ever looked at cotton boxers and thought that they'd be even better if they were, well, breezier? If you have, then these are the shorts for you. If the idea of total ventilation kinda freaks you out, you might want to skip the next few entries on this list. The Armourvent line is a sort of cross between actual fabric and the mesh lining that is in most men's swim trunks. They are modest enough and won't go around fashing skin in the locker room but they also allow an ample level of air flow that is bound to keep wearers cooler and drier than they probably thought possible.
Expand to see more
Micro-Mesh Body
The Armourvent series is possibly the most unique of all the undergarment lines that Under Armour has to offer. The entire body of the shorts is constructed from a micro-mesh material. This allows for complete 360-degree ventilation no matter how active the wearer is being. And the mesh material does not mean that Under Armour sacrificed their general practice of making their shorts out of moisture-wicking and quick-drying material.

Ultra-Durable
Mesh might not seem like the strongest material for boxer shorts but Under Armour is not the usual kind of company. Their mesh material is ultra-durable to ensure that their customers do not have to swap durability for the all-around ventilation.

Cost and Value
The Armourvent shorts are a little bit more expensive than the rest of the products on this list, provided consumers can find them at the lower end of their price range. Some sellers have them listed for more than four times the retail price and that is incredibly steep unless the shorts are part of a combo pack. They are a quality product that offers a unique level of ventilation, but they are certainly not worth four times their original retail value.
Nylon Blend
Micro-Mesh Body
Ultra-Durable
Performance Waistband
Articulated Front
7. Armourvent Mesh Series 9-Inch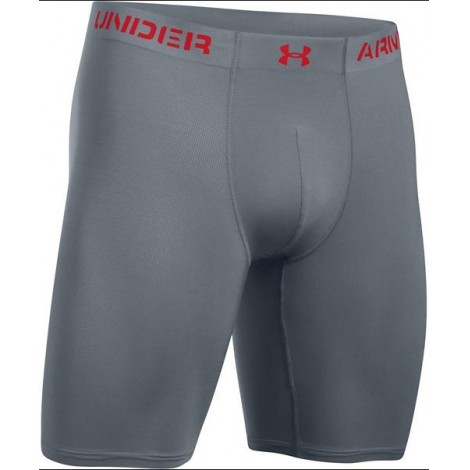 Armouvent only seems to be popular with fans of the longer lengths, oddly enough. The six-inch length dominates in this line as it does in most others but the roomier nine-inch length isn't far behind. Sure, these shorts are modest enough to be worn under bike clothes for a breezy-yet-covered look while on the run but I wouldn't recommend trying out the look on Casual Friday or while out with friends.
Expand to see more
Offers Total Ventilation
The Armourvent line has several lengths, much like Under Armour's original boxer line. However, even the nine-inch shorts in the Armourvent line offer total ventilation. They have the same nearly knee-length hem as the original line of shorts but the material still breathes well and provides uniquely thorough ventilation.

Nylon Blend
Nylon is one of the strongest and most lightweight materials used in modern clothing. Under Armour puts it to excellent use in their Armourvent shorts because it allows them to offer a full mesh material for the body of the shorts that is just and strong and durable as fabrics with tighter weave patterns.

Cost and Value
The longer Armourvent shorts are available at a more narrow price range than shorter options in the same line which makes them a little more affordable but the higher price points are still nearly double their original retail value. Consumers who can get the shorts for their lower near-retail price will be getting a great bargain, however. These shorts are fully ventilated, heat-releasing, moisture-wicking, and quick-drying.
Micro-Mesh Body
Anti-Odor Technology
Performance Waistband
Articulated Front
8. Original Series Printed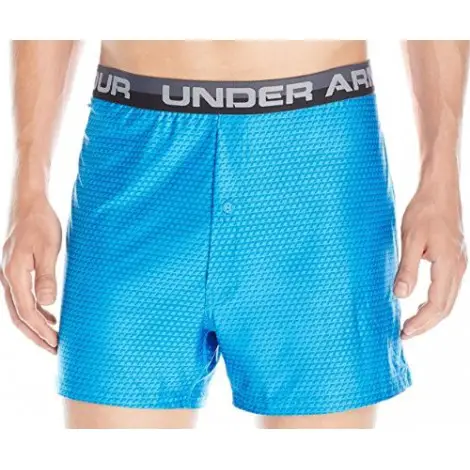 Look at an Under Armour ad. Now, look back to the image above. Now look back at the ad. What do you see? You probably see a whole lot of neutral colors and very
serious-faced athletes
powerhouse-ing their way through something slow-motion and intense. I promise I'm not spying on your computer. It's just the type of ad this company always goes for. Except, of course, for this line of printed boxers. Gone are the dark, neutral tones. The company instead opted to give bright colors and geometric patterns a try and for good reason. Nobody can be serious all the time. They can try, but let's face it: that's just not good for you.
Expand to see more
Patterned Appearance
The vast majority of Under Armour's products are produced in grey, black, and dark blue. This is understandable given then the company was founded by a professional athlete and became popular through its use by other well-known athletes and neutral colors are easy to mix and match with uniform pieces. Non-athletes have a bit more wiggle room in their wardrobe, generally speaking. If you have a yearning for some color but still want the awesome support of Under Armour, then these shorts have you covered.

Moisture-Wicking
It's not enough to look good. Boxers need to be comfortable and bring something new to the table otherwise they're just taking up space. Thankfully for this company, nobody really wants their trousers or jeans absorbing the moisture that is going to happen at some point or other during the day, particularly hot or busy days. And that is where these boxers really prove their worth. They will wick the moisture away so that the wearer doesn't even have to worry about the discomfort that would have otherwise resulted. And, as an added bonus, they dry quickly so there won't be any embarrassing moisture transfer.

Cost and Value
Most of this company's shorts all bear the same price tag so their value really comes down to what the customer wants. Do you want bold colors, geometric prints, and the kind of heat-releasing, moisture-wicking, and quick-drying material that Under Armour is known for without having a skin-tight pair of shorts on? If you do, then these are the shorts for you.
Polyester Blend
Heatgear Material
4-Way Stretch Construction
Patterned Appearance
9. Elite 6-Inch Boxerjack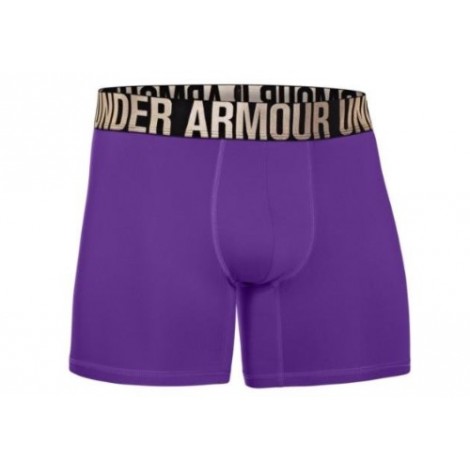 Don't let the Joker-esque colors distract you, these boxers really are one of the best lines produced by this company. Yes, they are bright purple. But so are most royal cloaks and that should put a little bit of swagger into anyone's step when they're out and about in their Elite boxers. They're soft as butter though much less messy and the bright gold lettering around the waist makes it clear that these are no mere ordinary Under Armour boxers. They are elite.
Expand to see more
Ultrasoft
Remember the "soft as butter" comment? I wasn't exaggerating. The company - and more than a few happy customers - have called these boxers "ultrasoft". And I'm no expert in undergarments predominantly worn by men, but I'm willing to bet that a super soft and non-chafing fabric is exactly the kind of material that a boxer fan wants in a garment that is going to be getting up close and personal with some very sensitive areas.

Flatlock Seams
These boxers seem custom-made for people who really hate chafing. Not only is the fabric supposed to be the softest that the company has to offer but it is also seamed using a flatlock stitch. This type of seam, as the name implies, is a flat set of stitches instead of the folded-over portion of fabric that always ends up scratching at the worst possible moments.

Cost and Value
Purple and gold might not be ideal for everyone but if you're looking for a little bit of flash and a whole lot of comfort then you might want to go with the Elite line. The products do not come with an Elite price tag, thankfully, and they cost about as much as the other pairs sold by the company. They have a lot more swagger, however, and that is worth its weight in gold lettering.
Ultrasoft
Anti-Odor Technology
Flatlock Seams
Performance Waistband
10. Threadborne Natural 3-Inch Boxerjock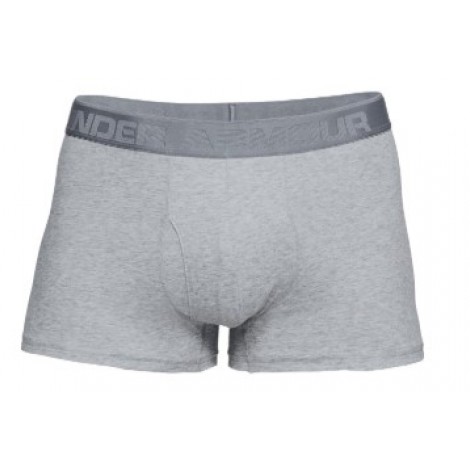 How natural is the Threadborne line? So natural that you might worry you've gone commando by mistake. The shorts come in several lengths but even the rather intimate three-inch length is so soft and so breathable that it feels like a second skin. Unlike your actual skin, however, these shorts will keep you smelling and feeling fresh all day long. And how do they achieve this? Anti-odor technology, moisture-wicking fabric, and a breathable cotton blend so soft that you might want to spring for a couple extra pair so you don't have to go back to stiff, scratchy pairs when your Threadborne needs a wash
Expand to see more
Anti-Odor Technology
We're still a few decades off from clothing with nanites that help keep the garments clean but that doesn't mean that our clothes can't have a little bit of technology built in. These shorts are designed using material that will kill odor-causing bacteria before anyone, even the wearer, catches even a whiff of funk. And if the mere mention of "funk" makes you a little uncomfortable, then these shorts are definitely the right choice for you because they will keep you from having to worry about it again!

Softer Than Silk
Everyone talks about "smooth as silk" and "soft as satin" but ladies will be quick to point out that these materials aren't exactly ideal for breathable, lightweight undergarments. This cotton blend, however, is exactly the sort of material that undergarments should be made of. It is soft to the touch and breathable to boot, adding layer upon layer of comfort that will leave the wearer feeling like there's nothing there at all.

Cost and Value
Are you the sort of person who is tempted to go commando but doesn't feel comfortable with taking the plunge? You are the kind of person that the Threadborne line must have been developed for. It is soft, it is breathable, and it is so lightweight that you'll forget you're wearing them until your trousers come off.
4-Way Stretch
Moisture-wicking Material
Cotton Blend
Extremely Soft Fabric
Fans of Under Armour would be hard-pressed to go through this list and not find a pair of boxers that would suit their needs. Whether they need a pair that will stay in place during a long run or a pair that won't leave an obvious silhouette underneath a pair of work pants, there is bound to be at least one pair in Under Armour's inventory that fits the bill. The company isn't known for the wild prints but a few pairs on this list have managed to bring interesting colors and designs to the table without sacrificing the quality that Under Armour has become known for. The company might have started out as a compression gear company with their eyes fixed solely on athletes, but they have long since become a household name that brings comfort, style, and usability to even the most personal of garments.
Criteria for Evaluating the Best Under Armour Boxers
Quality Materials
A company cannot create a reputation for excellence while using subpar materials and Under Armour was all but founded on this idea. Their boxers are all made using materials that promote comfort and reduce distractions like dampness and overheating as much as a garment can while still offering support and some level of modesty.
Ventilated: Under Armour started a company focused on compression garments and many of their modern products reflect this heritage through the use of fabrics that aren't always the most breathable. They compensate for this by designing ventilation into their garments, however, and a few of the garments are even designed to be fully ventilated without being overly revealing. Any athlete will happily explain the importance of ventilation to both performance and comfort which is why garments that allow the wearer some breathing room were given slightly more consideration than garments that were not quite as airy.
Moisture-Wicking: People sweat. Many people like to pretend that they don't, but just about nobody is exempt from this rule. Under Armour is not a company to shy away from the realities of the human body and they designed many of their garments with these realities in mind. Their boxers are almost all moisture-wicking so that their customers remain comfortable and dry whether they are in the middle of a marathon or powering their way through office paperwork.
Quick-Drying: Moisture-wicking and quick-drying qualities tend to go hand in hand. If they didn't, people would be left with damp garments and that is somehow even more irritating than dampness on the skin.  So once the sweat is wicked away, Under Armour's materials are designed to release the moisture as efficiently as possible so that the wearer will stay both drier and cooler than they would otherwise.
Heatgear Material: Under Armour garments offer a second line of defense against overheating as well. Most of the company's boxers are made from various Heatgear materials. These materials are designed to release heat more efficiently than other materials which, in turn, allows the user's body to remain cooler than expected given that many of these products are made of nylon or polyester blends.
Anti-Odor Material: No matter how cool and dry a garment keeps a person, nobody is going to wear the thing if it ends up smelling awful. It can be another problem that goes hand-in-hand with moisture-wicking materials if manufacturers aren't as careful as Under Armour has been. The company was clearly aware of the odor issue and chose to address it using anti-odor technology in their garments. They do not specify how their garments combat odor, likely because it is a proprietary approach, but the fabric must in some way destroy the bacteria that cause odor when it builds up in the weave of a fabric.
Cut and Design
Seam Placement: Small and often-overlooked details tend to be some of the most important and one such detail is the placement of a garment's seams. In all but one pair of the boxers listed above, Under Armour was very careful to place their seams in places that would not stand out and would not cause discomfort for the wearer. Many of the seams are also flatlock seams, which are both stronger and less noticeable than most other seam stitches.
Comfortable Fit: On the heels of seam placement, it seems fitting to mention the cut and fit of Under Armour boxers. The company has several different fits from the very tight to the mildly loose and every line of boxers takes its own approach to the rather personal issue of internal roominess. Some lines have button flies while others are articulated flaps that allow the wearer a little bit more security when they are being more active.
Frequently Asked Questions
Q: Are these all official Under Armour products?
A: They should be. There is always a risk of receiving a fake when buying from a third-party seller, however, so it is important to buy from a seller with a good reputation or to buy directly from Under Armour.
Q: How many Under Armour boxer lines are there?
A: There are four or five major lines at the moment and all of them have a representative on this list.
Q: Are these compression shorts?
A: No, they are not. Under Armour does make compression garments but the boxers on this list are just normal undergarments even though some of them are quite tight.
Q: Are any of their boxers 100% cotton?
A: No, all of Under Armour's undergarments are fabric blends. One of the featured products is a cotton blend but most are nylon or polyester-dominant.
Q: Is a polyester blend scratchy?
A: Despite the material's decades-old bad reputation, it is actually quite soft and feels rather like silk in its modern form.
Q: Can these be worn while exercising?
A: This depends on the wearer's personal tastes. Some pairs are long and may show past the hem of workout shorts while others are very short and may ride up.
Q: Are these for fitness or daily wear?
A: They are for both, depending on the wearer's personal preferences.
Subscribe to our Newsletter