Best Workout Clothes for Women Reviewed
last updated:
Feb 21, 2020
There are a million articles on the internet about what women should or shouldn't wear to the gym. But let's be honest, it all comes down to personal taste with very few exceptions that all relate back to safety. If you're a woman and you've tried to find articles on gym clothes, you've probably walked away from the computer rubbing your eyes and wondering why everything seems to be the wrong thing to wear. And you're probably tired of it. Which is why this is not one of those articles. This is an article that is intended to showcase the best workout clothes for women in terms of what staples the active woman needs. Whether the clothes are tighter or looser, all black or a riot of colors, cute and on-trend or a comfortable classic style is all up to personal taste.
In a Hurry? The test winner after 14 hrs of research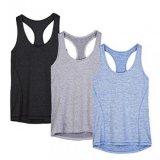 Icyzone Racerback Tank Tops
Why is it better?
Lightweight
Moisture-Wicking
Machine Washable
Bound Edges and Flatlock Seams
Tag-Free Neck
In a
Hurry? Editors choice: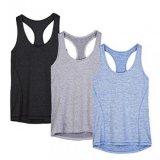 Test Winner: Icyzone Racerback Tank Tops
30
Researched Sources
4500
Reviews Considered
14
Hours Researching
19
Products Evaluated
Comfort
Color
Style
Size
Materials
By Default
Criteria Used for Evaluation
Comfort
You're not going to want to work out if your clothes are too uncomfortable. This much is undeniable. That is why every product on this list was evaluated based on the accuracy of the company's sizing and the comments made by confirmed customers. There are few harsher critics than athletes who have put themselves through the strain of an intense workout only to find that a seam is in an uncomfortable location or the material chafes when damp. Their complaints and comments were taken into account to find the most comfortable options in each category.
Chest Support
Some people hedge around this, but it's a topic best addressed candidly. Many women – not all, but many – need sports bras and athletic tops that help support and control their chests. This is an issue that an overwhelming number of women deal with throughout their whole lives starting in their teen years. In spite of this, many companies who produce sports bras and athletic apparel seem to overlook this need entirely. Whatever efforts they do make are usually inadequate or uncomfortable, particularly with women whose boson is a little ampler than others. Exercising without chest support can hurt. A lot. And despite what Richard Simmons says, pain is absolutely not necessary to see the gain. That is why the tops and sports bras on this list were rated, in part, based on the support that they can offer their wearers.
Layering Possibilities
Good athletic clothes can cost a pretty penny so it makes little sense for them to be designed in a way that makes them unusable when the weather changes. Being able to layer workout clothes is just another way of determining how versatile a garment is and versatility is one of the broadest yet most important factors that all products should be judged under. As Alton Brown says, single-use items should not be the norm when the same many can get quality and versatility.
Color
Color options were not a strong factor when choosing products for this list, but they did play a role. Most people opt for dark solid colors when heading to the gym but that should not be the only option on the market. Bright colors can help motivate some people and this list is all about helping people get up and moving.
Style
Pockets
Is there any design feature women crave more than pockets? Our clothes rarely have them. If pockets are included, they're often too small to use or illusions designed strictly as decoration. This lack of storage is what propelled pockets to the number one priority among the "Style and Design" criteria requirements. Most people don't carry much with them when they go to the gym, but any garment that has a place for a phone, keys, or a slim wallet automatically received a higher priority than garments without this option due to the sheer versatility that pockets can offer.
Trendy Style
For as long as athletic endeavors have been separated from day to day life, there have been athletic fashions and styles. Everyone remembers the leotards of the '80s, the windbreaker suits of the '90s, and the tracksuits of the early 2000s. Current trends are more about the details, like cutouts in the legs of yoga pants and extra crisscrossing straps across the back or chest of tops and bras. These are styles that can flatter any body type which is part of what has fueled their popularity and why products that offer fashionable yet comfortable options were ranked more highly than those companies without them.
Size
There is a strange phenomenon among fitness clothing companies wherein they only make sizes for slim people. This issue is common enough that it only adds to the frustration most people experience when they have to go to the gym. Frustration is the last thing that a list like this should inspire. For this reason, companies that offered products in a wide range of sizes were given priority over companies that only focused on one side of the size range.
Materials
Most people have material types that they prefer over others. This preference should be tempered with information about the materials, however, so that the options chosen are those best suited to the needs they will have to meet. Natural: Natural fibers are a go-to for many people because of their breathability and tendency not to hold on to foul odors. Nobody wants to be the one upholding the idea of "stinky gym clothes" and natural fibers tend to take better to soap and water than their synthetic counterparts. They are also often more breathable and softer on the skin which can be ideal for anyone whose skin gets sensitive when it gets damp. The downside to natural fabrics is that they tend to wear out faster, carry a higher price tag, and fit more loosely on the body. Some people may prefer this looser fit but it can become an issue in sports like swim, running, and the more active yoga branches because the loose fabric may distract or trip the wearer. It will also hold on to more moisture than synthetic fibers as most exercise clothes made of synthetic material are designed to be quick-drying. Synthetic: Synthetic materials have quickly gained the upper hand in the fitness apparel market. They are more form-fitting which allows for a better range of motion while providing more support for the wearer. Most synthetic materials are also designed to be moisture-wicking and quick-drying with some companies even adding anti-microbial properties to help avoid unpleasant odors. Even with these antimicrobial treatments, however, natural fibers are still more likely to let go of bad odors. Synthetic fibers also have the unfortunate tendency to shed microplastics into the water when washed and the impacts of this issue have recently been highlighted by multiple scientific studies and news stories on water quality.
Expert Interviews & Opinions
Most Important Criteria
(According to our experts opinion)
Experts Opinion
Editors Opinion
Users Opinion
By Default
How many you really need
Only one set is really, truly needed. Having one set means doing more laundry, unfortunately, and the clothes will wear out sooner. If the budget allows, two to three sets are recommended so that the wearer can go two days in a row without having to worry about running out of gym clothes. People who go more often should consider getting more sets of clothing so that their workout plans do not go off the rails for lack of something to wear.
Keeping your gym bag fresh
The best way to keep a gym bag fresh is by not leaving dirty gym clothes or shoes in it. If that has already happened, there are several sprays on the market that can return the bag to its pre-funky state. If a spray is used, it is a good idea to also spray any shoes and equipment that are kept in the bag.
Other Factors to Consider
Bottom Line
Motivating yourself to go to the gym is hard enough. It can be daunting to walk into a place full of bodybuilders and slim runners whether it's your first time in the gym or if you're working out between marathons. Everyone has personal tricks to help get them through the door but there is one trick that just about everyone uses: looking good and feeling good about themselves. The right outfit won't magically make all the stress and worry disappear and it won't make the prospect of sweating in front of strangers any more appealing but it can make the difference between skipping a workout and taking another step toward making exercise a habit or maintaining a habit you've already worked to put in place!
Frequently Asked Questions
q:

What else might I need for the gym?

a:

There are only a few other "key items" that most people might want to bring to the gym but those suggestions vary wildly depending on the activity someone plans to do. An armband, for example, allows someone to keep their phone on hand and stream music from it while they work out but it is not suitable to wear during martial arts practice. Likewise, headphones are great for music but cannot be worn in the water.

Specific exercises aside, however, the most common additions to the staples listed above are armbands, headphones, cross trainers, a smartwatch or heart rate monitor, a cooling towel, and a water bottle. Some gyms might ban cooling towels and water bottles in certain areas for fear of spilled water making the area unsafe, so be sure and check the rules of your gym before making any new purchases. You may want to invest in some pre or post-workout, too!
q:

Is there an "ideal" fit for gym clothes?

a:

There are some general guidelines, but a truly ideal fit will vary from person to person. As for the guidelines, they essentially suggest that gym clothes not be so tight that they affect blood circulation or the ability to breathe while not being too loose as to cause tripping or get caught in machines.
q:

Are there clothes more specific to certain exercise methods?

a:

In very specific cases, yes. Most martial arts branches have a uniform that their students are required to wear, for example. Swimmers must wear appropriate swim attire as dictated by the rules of their pool, and people taking spin classes should opt for tight-fitting clothing that will not get caught in any fast-moving parts. Weightlifters should avoid clothes that could hamper their grip or cause them to stumble and dancers are often limited to skin-tight clothing so that they can make sure that their bodies are moving correctly.
q:

I don't want tight gym clothes but I plan losing weight. What size should I get?

a:

This is a situation where specific measurements will come in handy. They will allow you to find a company whose sizes are just a little bit bigger than your measurements which will result in purchases that are not tight but won't become baggy too quickly once the weight starts to drop.
q:

Why are most sports bras designed the same?

a:

Sports bras are supposed to provide as much support as possible without being too uncomfortable or causing their wearers to overheat. The most common design meets these needs while also fitting under the majority of athletic apparel.
Subscribe to our Newsletter