Best Yoga Books To Enhance Your Routine Reviewed
last updated:
Dec 03, 2019
This is a website about the art of fighting, so you might think to yourself what are yoga books doing here? Well, as you already may know, yoga won't teach you any new moves to outperform your opponent, but this helpful art of relaxation will help you be a better fighter, without a doubt.
Yoga helps your physical, but also your mental and spiritual health. If this is not your jam though, you can simply skip through meditation and all of that, and you will still see many benefits that yoga brings with itself. It relaxes your muscles, stretches out your joints and it will strengthen and work on the muscles you usually don't use when you fight. So, in other words, yoga is the best solution to bring balance to your whole body, as it helps you work on muscles you didn't even know you have!
In a Hurry? The test winner after 6 hrs of research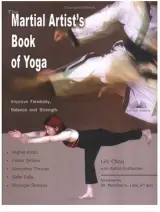 The Martial Artist's Yoga
Why is it better?
Specialized For Martial Arts
Three Authors
Teaches Faster Strikes
Safer Falls
Stronger Stances
In a
Hurry? Editors choice: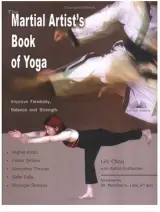 Test Winner: The Martial Artist's Yoga
2
Researched Sources
442
Reviews Considered
6
Hours Researching
10
Products Evaluated
Accuracy
Effectiveness
Ease of Use
Advanced Features
Release Date
By Default
Top 10 Yoga Books
1

. The Martial Artist's Yoga
Specialized For Martial Arts
Three Authors
Teaches Faster Strikes
Safer Falls
Stronger Stances
This book was created by a tag team of three authors, all experts in the areas helpful to improve your martial arts skill. The primary author behind this book is Lily Chou. She has practiced yoga for a few years but holds a 2nd-degree black belt in hankido, and she also competed in many national fighting tournaments. Kathe Rothacher has an amazing 30 years of yoga behind her, while Dr. Norman Link is a highly respected martial arts master. All of their expertise combined brings you this comprehensive yoga book, tailored to your specific needs.
Read more
First things first, this book will explain the ancient connection between yoga and martial arts. Then it will teach you some things about your anatomy, vital for you to understand how the poses work and help you. And then, taking up the vast majority of the book, they will explain your practice sessions. They will all solely focus on kicks, strikes and so on. Each section focuses on the elements needed to be successful with the particular exercises and explores specific movements from ancient traditions. And at the end, the authors teach you specific yoga poses to succeed in your area of expertise!
Aimed At Men
Famous Star Interviews
'Real" Men Experiences
Powerful Message
Photos Of Stars Doing Yoga
No Comprehensive Routines
This male-orientated instruction yoga book helps us understand that yoga is not a sport meant only for women. It's seen as feminine most of the time and can be quite off-putting for males, and it's really not! It's very important for the health of all genders, as it benefits us all. The author, Capouya, tried his best (and succeeded) to bring us a fun and humorous guide that features a regular man as its center model. There are many beginners poses explained, but if you're up for the challenge, you can also try the "supercharged" versions of the poses!
Read more
The book features many famous sports stars and their experiences, but also commentaries of "real" everyday men, talking about how yoga helped them improve the quality of their life. The photos of the aforementioned stars doing the explained yoga pose transfer a powerful message and motivate us to do better. Every chapter combines stretches with strength-building, and each target back pain, sports improvement, flexibility, muscle strength, and surprisingly, sexual performance! This book brings yoga closer to men and lets them enjoy all the benefits yoga brings, catered just for their needs.
Written By An Experienced Author
Remedies To Gain The Edge
General Conditioning
Helps With Flexibility
Focused Breathing Guide
This book is the perfect supplement for every passionate MMA fighter! If you want to gain an edge, this book will surely help you do just that. It was specially developed by Khai Madama, not just another pretty face! She's been involved with many martial arts for 20 years, and she has been practicing yoga for 40 years, so your health and body is in good hands. She even used her skills to coach an Olympic Gold Medalist, since martial arts are her true passion. Khadi is a staff writer for the MMA Council and had many radio, media, and print appearances, and she believes that anyone can improve their performance with the power of yoga.
Read more
This book will help you work on many aspects. First things first, it will help you with general conditioning, so you have a better understanding of your body. If you feel pretty stiff and unable to bend your joints the way you want, this book will also help with that, improving your elasticity. This will help you recover from injuries faster, or it will make them a thing of the past! In case you need relief and relaxation after (or before) you work out, you can turn to this book since it's got your back! Nd last but not least, it will help you gain an edge, something many fighters crave!
Improves Mobility
Weekly Program
For Fitness-Focused People
In-depth Proper Techniques
Result-Driven
Flimsy Paperback
Not For Older People
Dean Pohlman is the mastermind behind this one. He is the founder and CEO of Man Flow Yoga, a very handy online platform meant to bring the functional benefits of yoga to men. Ever since his company was founded, he devoted himself to bringing yoga to everyone at the gym, parks, workshops and online. He has a 200 hour yoga certification, and even has a handy DVD guide called Yoga Boost, so if you are more of a visual type you can rely on that.
Read more
There are 25 different workouts included in this book, and more than 50 key postures, all aimed to make you healthier. If you want to improve your mobility, then this book is just right for you. It has multi-week programs and workouts all created for your specific health goals. When you incorporate the methods talked about in this book, you will see how stronger, faster and better you get with every exercise completed!
Very Descriptive
Best 100 Poses
Routines For Different Levels
Easy To Read
Confusing Table Of Contents
Susan Hollister is the author behind this book perfect for both beginners and experts. She loves the outdoors and believes that meditation and a relaxed mind are what we need to have a better life. She made passing her knowledge to others her passion and aspires to make the lives of everyone she can better.
Read more
This book is great if you want to improve your flexibility and strength, but it can also help relieve pain and make injuries heal better while keeping you stress-free. The many pictures and descriptions featured here will make it easier for you to understand yoga and its supportive powers. No matter what you want out of yoga, this books has got a pose for it. For relaxation, strength, flexibility, and healing, it's got it all! This book will also help you integrate yoga into your busy life, so even if you've got only 10 minutes to spare, you'll know how to fit yoga in there somewhere! You will also learn how to warm up beforehand, to be safe from pain. You will know how to strengthen specific parts of your body, and it will also show you that you can love your body no matter what!
Focuses On Spine Health
Handy Illustrations
For All Spine Types
Scientific Explanations
For All Yoga Levels
Our spine is one of the most important parts of our body, and it is imperative we take care of it. It gives us stability through our core, allowing forces to be transferred all over our body, which is what you need while you fight. It also allows us to move in so many ways, but that side is usually emphasized at the cost of stability, which is what this book focuses on. Your spine is your strength and your support, and we need to work on that too, otherwise, we might get injured very easily.
Read more
Bernie Clark has focused all of his energy into caring for your spine. It's important we know how our spine functions, and how it's built, and we've got Clark to help us with that. He focuses on the science as well as the spirit and explains everything you need to know in great detail with the help of charts, guides, and photographs, so you don't lose your way. This is also an anatomical guide, so if you want your spine to remain healthy, and to be a better fighter, you ought to protect and work on your spines health!
Targets Deep Tissues
Accompanied By Youtube Channel
Enhances Mental Health
Correct Breathing Techniques
Easy To Follow
If you want to focus more on your mind, then this is the book you're looking for. Written by Kassandra Reinhardt, one of the best online Yin yoga instructors. She even has a popular Youtube channel, named "Yoga With Kassandra", that can be a great addition to this book and can help you understand it even better. She's been active since 2012 and has both 200-hour and 300-hour training, and yoga therapy knowledge as well, so you can rely on her to make you feel better.
Read more
This book offers a remedy for your busy and stressful life and relaxes both your mind and your body. Her descriptions of restorative poses target your deep tissues and fascia, so you will experience better flexibility and joint health. Kassandra also helps you breathe better, improving your hold time, so you can clear your mind and enhance your mental health. This book brings you back into balance and assists you with more than 50 step-by-step poses that work on specific areas of your body. If you're interested in the philosophy and the chakras behind yoga, there's even a short passage about that, so you have complete knowledge of restorative yoga!
By Celebrity Teacher
Exercises In Sitting Position
Bonus Chapters
Short Exercises
Excellent For Balance
Written by a nationally recognized yoga instructor Kristin McGee, this book is perfect for busy bees and people that love to sit! She is a celebrity trainer, and an acknowledged pilates and yoga instructor. Her extensive knowledge of fitness and health has helped make her so renowned, with continuous support from celebrities such as Emilia Clarke, Tina Fey, Steve Martin and so on. She makes yoga accessible to students of all ages and sizes, making it fun and easy to connect with.
Read more
This book talks about exercises you can do in the sitting position. This book is organized by chapters all concentrated on different body parts, so if your fist really hurts from working out all day or your feet feel really sore, the book has got the solution to your problems! Bonus chapters explain simple and fast exercises that last 15 minutes tops, so you always have time to do them. If you struggle with bad posture and spine aches, then chair yoga is what you've been looking for.
9

. Power Yoga for Athletes
Specialized Power Yoga
Guides For Many Sports
Concise Explanations
Video Instructions Available
Witty Writing
Not Enough Alignment Descriptions
Sean Vigue was recently named one of the "Top 50 Online Instructors", so you can rest easy knowing your health is in good hands. He specializes in Pilates and Yoga meant to support whatever sport you may be into. He even had the pleasure of working for Walt Disney! He believes that yoga will help you improve your flexibility, focus, and performance, no matter what your sport of choice is.
Read more
His book helps you hone into your athletic prowess, and features guides for every sport imaginable. It features more than 100 yoga poses, all specifically explained to help you understand the pose and its benefits better. The power yoga he talks about is what makes functional training so effective, inspiring all ages and skill levels to get into the supportive powers yoga can offer!
Great For Physical And Mental Health
Over 300 HD Pictures
Detailed Explanations About props
Healing Stretches
Cindy Roberts brings us this comprehensive book about the healing powers of yoga, meant to help us get better quickly, without losing a lot of time on recovery. She is a certified therapeutic and prenatal yoga instructor and is confident about helping your injuries heal faster.
Read more
This in-depth book provides instruction for 43 different restorative yoga poses put together with heart and great intentions. You can practice them at home, whenever you like, with over 300 hundred high-resolution pictures to help you along the way. Also, as an added bonus, you will be taught about all the seven chakras and how to activate them - if that's what you need, of course. If you suffer from hip, lower back or any other major joint pain after a rigorous fighting session, you can rest easy knowing this book will provide you with the needed relief afterward!
Criteria Used for Evaluation
Accuracy
Anyone can be a writer today, and it's becoming increasingly easier thanks to ever-developing technology, and the abundance of information we can find online. The result of this are many websites and blogs all telling us how to practice yoga, but that doesn't mean that the information will be the same! So, this creates a world of confusion for everyone involved - what to follow, which of the articles we've read are accurate, and most importantly, will the exercise listed there help us or cause harm?
This is the main reason why we need to consider the accuracy of the books we are looking into. All the yoga books we included will give you precise information on how to improve your body, aimed at improving your performance. All the authors have licensed yoga practitioners, and if you follow the information given there you will see progress in no time. They have more than enough experience and education to pass it onto us with ease, explaining the steps you need to take in great detail, so you don't make any mistakes.
But then again, just because someone is an expert doesn't mean that they won't say or explain something that may not be so accurate. Or maybe they'll focus more on the mind - this doesn't have to be a bad thing, meditation can help you relax greatly, but this isn't exactly what you're looking for, isn't it? Take the book Spine Yoga for an example - this is a very specific book written to help your spine align and to relieve most of the pain, but you won't find information about anything else in it!
So depending on what you need, and what you want, the topic which you will choose will be different. That is why we made sure to include as many different yoga books as we could, making sure we stay on topic. If you don't have a mat, you can always try practicing on your chair with the help of one book we listed. And so on and so forth. No matter the type of information in the book, we made sure to check out whether or not it's correct, concise and on point!
Effectiveness
The different yoga poses and exercises contribute to your strength and the various techniques you use as you work out. But it's important you do the right way in order to maximize the benefits you will be getting out of it. In case you don't know yet, here are some ways yoga is effective in making you better.
First things first, you will develop clarity of the mind. Usually, what matters the most to experienced yogis is the practice of the mind. Even if this is not your primary goal, you will experience it to some degree. Everything yoga teaches you to do, ranging from breathing exercises to the most complicated of poses, helps you master your mind as a result. Yoga is a way to connect your mind and body through breathing exercises.
Every move you'll make will be tuned to your breathing, so in order to truly experience yoga, you must focus and clear your mind. Every book listed here will teach you to bring silence to your mind, in some way or another. Your breathing will help you move from one pose to another, almost effortlessly. But why does all of that matter to you? Strong mental clarity helps you focus, something you desperately need when you've got so much going on around you in the ring, or as you fight anywhere else!
Most people believe that they need to be super flexible in order to practice yoga. This belief probably stems from seeing all of the images and videos of yogis doing inconceivable poses, intertwined in seemingly impossible ways. While it is true that yoga and elasticity are the best of partners, you don't necessarily have to be bendy to practice yoga. As your skills progress over time, so will your flexibility, and those impossible poses you once saw online will be your reality. This flexibility helps you perform better when you fight, as it will let your feet kick even higher, and your hands to spring to action even faster. Flexibility also keeps you safe from harm, because a bendy joint won't break easily!
One more reason you should practice yoga is for your strength. This may seem unbelievable, but trust us you will feel mightier as long as you keep at it! You might be of the thought that most of the poses you see are thanks to the insane flexibility of yogis, but you do need strength as well. If you only relied on your elasticity, you will experience pain and discomfort in no time! One way to avoid this is by focusing on the strength of your core.
Create a solid base, and then work your way up from there. But as a fighter, you probably have strength covered. That doesn't mean that you won't develop strength in some other places you might have neglected before, and thus you'd end up being a perfectly balanced machine! Going back to your core strength - if you focus on this, you will be able to perform super strong kicks and punches, thanks to the added muscle support!
Yoga is also one surefire way to secure your joints. How is that even possible when some poses look like they require your joints to pop out of place and bend at unnatural angles? Well, as your muscles lengthen and become leaner, your joints will follow. This keeps the well lubricated and strong, improving their durability. And you already know why strong joints are good for martial arts and other fighting sports - no more pesky injuries!
Ease of Use
The amount of material we've included here is vast, but just how easy it is to understand it for someone who has never even met with yoga before? What do the names of the poses mean, how do you do them without injuring yourself? This is what we mean by the ease of use, and it's very important you understand the books before you actually start practicing what they say, since without that understanding you could hurt yourself, setting your progress back instead of helping it.
Many of the yoga books we mentioned here in our guide are easy to follow. They explain everything like you're five, and plenty of them have handy charts and diagrams to help you understand it even better. Some of them might be a little bit too much "in there", but you will still be able to follow along with the books without any problems. Since you already sought help fromconditioning books, that usually means that you'll be practicing it in the comfort of your lovely home.
These books all make that possible, you won't be needing any tools and machinery not available to regular folks - all you need is a mat and your own good will! Or a chair, in some cases, and we're pretty sure you have a chair. Again, if you want to do these exercises somewhere else, no one is stopping you, since you also won't take up much space as you go from one pose to another. The text in the books is separated into easily digestible passages, and you won't lose any precious time trying to decipher what the author meant. All in all, the books will be your handy guide for better performance!
Advanced Features
Features are usually reserved for equipment and technology, and you might think to yourself what kind of features can a book possibly have? As it turns out, there are many different ways a book can improve the reading and working out experience with the use of various techniques.
The text is something that we all expect to see in books, and maybe some pictures on the side. But the information given in such books just wouldn't cut it for yoga, which is why these books implement, pictures, charts, sidebars and actual photographs of the authors, celebrities or other real people doing exactly what the text describes, step by step. Some of them even include handy links you can open up to see the exercise in details, minimizing the chances of you doing the pose incorrectly.
Other yoga books include step-by-step descriptions of the said poses, handy diagrams that describe which muscles will be doing the work, and detailed instructions on how to achieve the best possible pose. Even if you are a complete beginner, you won't be left feeling confused, since there will be many ways the authors will try to effectively transfer the knowledge to you, and they will succeed! This doesn't mean that a book lacking in all of this won't give you the necessary information - it just means that the written text will be much easier to follow!
Release Date
The date a book is released on might not seem like such an important thing. Why does the year the books are released in really matter when it comes to yoga? The poses will remain the same, all of the time, but the world of medicine and rehabilitation exercises always evolve, since we always find new and better ways to help our body. This means that a recent release date will provide you with accurate and up-to-date information, and you won't be left blindsided by false information.
Some of these books release new titles as the information available grows, yet some will always remain the same, like "Chair Yoga" - there simply won't be any new ways you can position yourself on a chair! Restorative Yoga, on the other hand, might change as time goes by, since there will be new ways you'll be able to heal your injuries and help your body heal, all more effective than the previous one. All in all, it's important you always check when the title was released so you can get the best information out there, but since yoga is such an ancient art, yoga books that are older will give you great and accurate information too!
Expert Interviews & Opinions
Most Important Criteria
(According to our experts opinion)
Experts Opinion
Editors Opinion
Users Opinion
By Default
How Old? Really Old!
Yoga is one of the most popular ways of exercising today, but when was it created? Its history is obscure and veiled in mystery, thanks to the way it was taught - it was transcribed on palm leaves, that are fragile and easily damaged, so we can't be exactly sure when it began. It's universally thought that it began 5,000 years ago, but some scientists say it can be traced back to 10,000 years ago!
The Originators
Yoga was developed by the Indus-Sarasvati civilization, over 5,000 years ago, if we believe the initial estimation. It was only in the 1800s and the 1900s that the yoga masters started to travel west, spreading their philosophy, and that is when this art started being popular. Hatha Yoga is the most popular, which is what you'll be learning with the aid of these books!
Other Factors to Consider
Portability
One of the best things about books is that they are portable! You can take them with you wherever you like, and this is especially true for online books - if you've got your phone or kindle with you, you can read it whenever and wherever you like! No matter if you're on a vacation, on the job, getting ready for a fight, you'll be able to check the books out for whatever info you might be craving, and update your knowledge accordingly. There's no need to carry heavy equipment with you - just pop out your book and you're ready to go!
Bottom Line
Are you excited about trying yoga now? You should be, and now you know all the benefits yoga provides us with! Learning new things is fun, and with the aid of these books, it will be even easier. You will see how fast your performance will improve, and how better you will be at everything you try to do. Also, you'll be much more relaxed and at peace, able to focus better. We hope our comprehensive guide has helped you choose the book just right for your needs, and that you will enjoy learning new ways to strengthen your body.
Frequently Asked Questions
q:

Can these books cause me more harm than good?

a:

If you follow the guidelines carefully, you will start to feel better each and every day. We made sure the books explain everything in great detail, so you can safely practice this ancient art. But if you rush over the exercises, and don't read through everything, there are chances that you'll injure yourself while you work out! Make sure you've understood it all - the books have handy graphs and charts to help you work out better, and if you still struggle, look up videos of people doing that particular pose. This way you won't do any harm to your body!
q:

Should I consult someone before using a yoga book?

a:

It's always better to ask your coach or your guide about whether you need to do yoga or not. Ask them which title would they recommend for you, and what type of yoga. Maybe you need to focus on your spine, or on your joints, and doing advanced yoga poses won't do you any good. But you can use the book all by yourself since they do a petty good job at explaining the exercises!
q:

How many types of yoga are there?

a:

There are many different styles of yoga out there, with Hatha Yoga being the most popular since it works on your body s a whole. Some of the styles you might run into are Anusara Yoga, Ashtanga Yoga, Restorative Flow and so on. It's difficult to figure out exactly which type you need in order to advance your skills, but you can't go wrong with beginner styles!
q:

Do I need special equipment and clothes for yoga?

a:

This is one of the best thing about yoga - you really don't need anything else besides a floor mat, maybe a towel and some water and your own good will in order to try it out! Although, you probably shouldn't wear jeans and a fancy shirt when doing yoga, since that will limit your movement. Go for a regular t-shirt or tank top, and sweatpants or leggings, and you'll be good to go!
q:

How many times a week should I practice yoga to feel the benefits?

a:

It's best if you practice yoga every day, when you get out of bed, even for five minutes! You'll start the day fresh and relaxed, and you'll feel better in no time. If this is too much for you, then you can practice it after every workout, since it will help you stretch out and relax those worked up muscles and joints! You can even practice it once a week, but you don't need to go to classes, since you'll be doing it from home, so you can surely practice it all the time when you're there!
Subscribe to our Newsletter