Best Yoga Mats For The Dedicated Yogi Reviewed
last updated:
Dec 03, 2019
In your yoga practice, your yoga mats are both your best friend and your most important tool. A good mat can be the difference between enlightening asana practice and slipping and pulling a muscle. A quality mat is vital to ensure that your pose alignment is correct. Even if your instructor adjusts you into a picture-perfect Triangle Pose, if your matt slips on the floor it can throw off your alignment. Entering or holding a pose incorrectly and staying there for too long can adversely affect the muscles and ultimately hurt your ankles, knees, hips, and other joints.
In a Hurry? The test winner after 12 hrs of research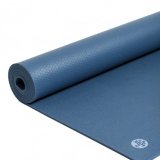 Manduka Pro
Why is it better?
Lifetime guarantee
Excellent support
Doesn't absorb smell
Easy to clean
In a
Hurry? Editors choice: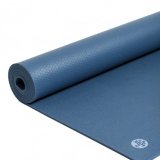 Test Winner: Manduka Pro
15
Researched Sources
6500
Reviews Considered
12
Hours Researching
15
Products Evaluated
Durability
Materials
Style
Portability
By Default
Top 10 Picks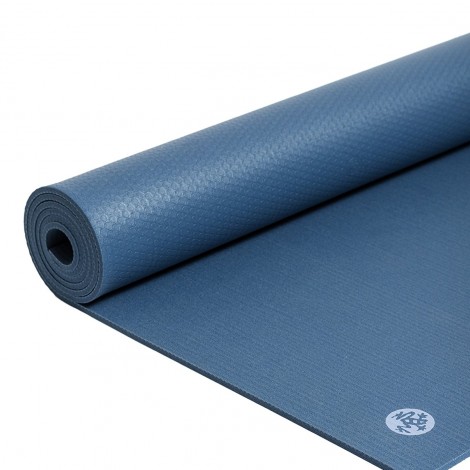 Lifetime guarantee
Excellent support
Doesn't absorb smell
Easy to clean
Manduka was founded by yogis, for yogis. The Manduka Pro mat is made from eco-certified safe, phthalate-free PVC material. It is one of the few mats on the market that comes with a lifetime guarantee and gives great support to your wrists, ankles, and knees. The Manduka Pro is great for those who prefer a firmer mat. The fact that it does not absorb sweat or moisture is a draw for those who practice dry yoga, but it can become slippery if used during a hot yoga practice.
Read more
Resilient and Health Conscious
Manduka is confident in the quality of this product, and it is one of the hardiest mats out there, and will last as long as your yoga practice does. And if it doesn't, the company will replace it for you. The Manduka Pro is consciously produced, and is phthalate-free.
Cost and Value
The Manduka Pro is definitely a higher-end mat, with a mid-range price. However, it is one of the few mats on the market that comes with a lifetime guarantee, and it is highly rated in all categories. It is resilient, supportive, and grippy, though a bit heavy--it is a great value for the cost.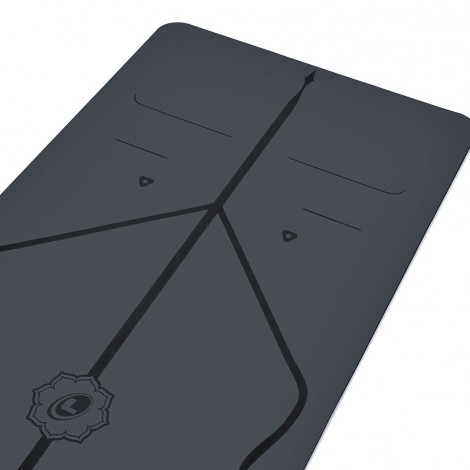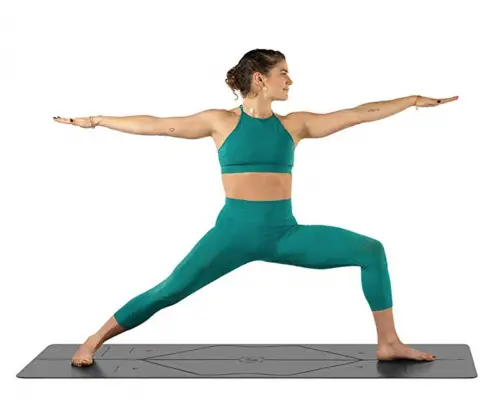 Grippy
Stable
Alignment guides
Good length
Cushioning
The company's founder began practicing yoga to heal his injured back, and noticed his fellow students having issues holding poses correctly. Liforme was founded on the principle of helping yoga students find correct pose alignment. Everything from the production to the packaging of this mat is eco-friendly. This mat is known for staying put on the floor, and will not wrinkle, bunch up, or slide as you switch poses.
Read more
Alignment and Sustainability
One of these traits that sets the Liforme mat apart from other mats are the alignment guides printed on the fabric of the mat. The guides help students align their feet, promote a good stretch and prevent injury from improper alignment. The mat is also sustainably sourced, and its packaging is recyclable.
Cost and Value
The Liforme mat is one of the most expensive mats on this list. The price for this mat may seem to be a drawback, but for serious students who make pose alignment a high priority, there is no other mat like it on the market. The alignment guides allow you to be confident of your alignment even at-home practice, even without a teacher to adjust you. This mat is eco-conscious, grippy, and sticks to the floor. If you want to take the next step to improve your practice, this mat is worth the investment.
3

. Aurorae Classic Extra Thick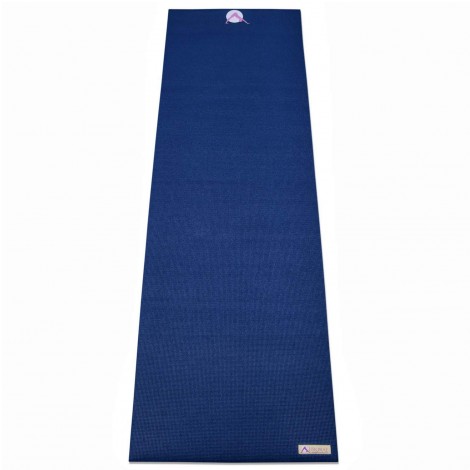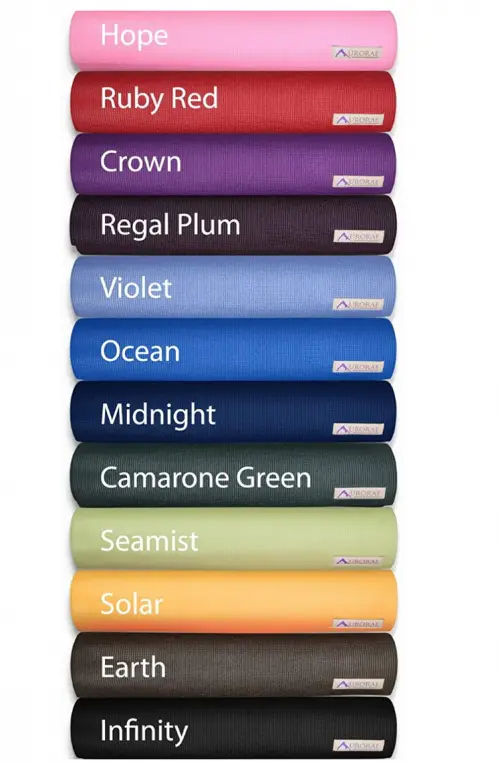 Toxin-free
Lightweight
Easy to wash
Inexpensive
Aurorae is a small family business whose priority is customer satisfaction. Though they started out just selling yoga mats, in their success they have diversified to include apparel, accessories, and lifestyle products. This mat is extremely lightweight and is printed with a focal icon to help you keep balance in downward-facing poses. This mat is also non-toxic and is not manufactured with phthalates, phenols, PAHS, latex, or silicone.
Read more
Low price and portability
The Aurorae Classic Extra Thick has one of the lowest prices of any mat on this list. However, it has all of the attributes a yoga student or teacher would look for in a mid-to-high quality mat.
Cost and Value
This mat is half the weight of the other mats on this list, at a fraction of the cost. It has thousands o glowing reviews, and comes with a two-year guarantee. Aside from being toxin-free, it is among the best in terms of best bang for your buck for quality and price. It is light enough to take with you to class, whereas other, heavier mats are better suited to home practice. For a new student who has just started taking classes outside their home, this mat is a great option.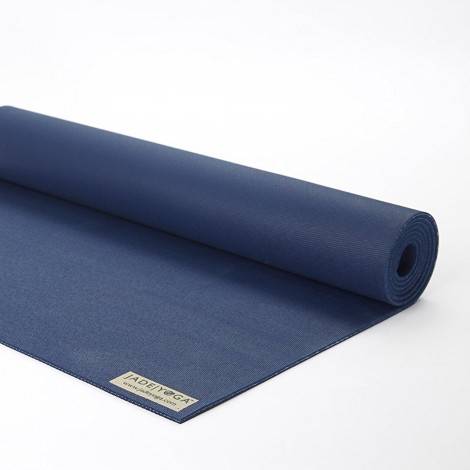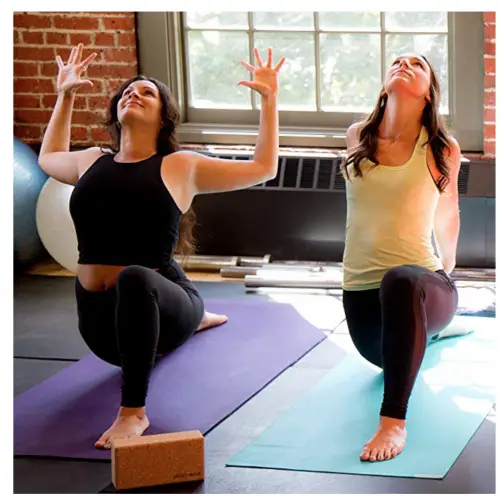 Grip
Great for balance
Length
Cushioning
All-natural materials
Deteriorates with heavy use
This company was founded over a hundred years ago, originally specializing in oriental rugs. They had a problem preventing their rugs from slipping around on the floor, so they invented all-natural rubber rug pads. Realizing that slipperiness was a common issue in yoga mats, the company broke into yoga mat production to tackle this common issue. Jade also takes a strong stance for the environment and plants a tree for every yoga mat sold.
Read more
Grippiness from All-Natural Rubber
This mat was designed and produced to tackle the problem of grip. It is made from 100% sustainable, US-grown rubber. The material from which it is made gives this mat serious cushion and grip. This is a great option for people with latex and silicone allergies who want an all-natural, allergen-free option.
Cost and Value
The Jade-Pro has a mid-range price for its quality. If the grip is the most important attribute you're looking for in a mat, then look no further, doubly so if you're looking for an allergen-free mat. However, if you have an extremely diligent and active practice, this mat will begin to show signs of wear and tear fairly quickly, especially in high-use areas such as near the feet.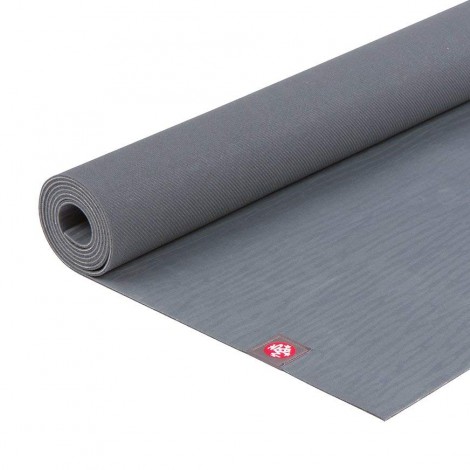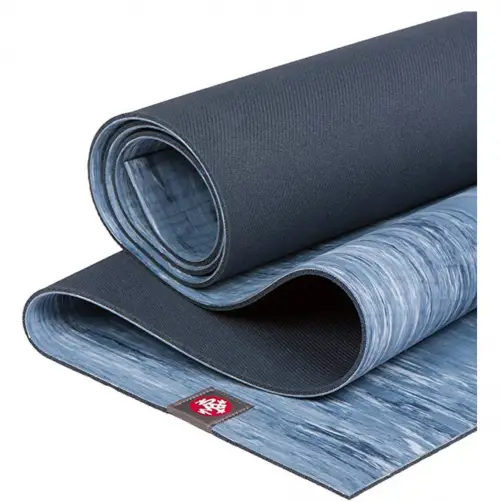 Grippiness
Long-lasting
Support
Zero-waste production process
Doesn't absorb moisture
Bad for hot yoga
Rubber smell
The founder of Manduka was on the hunt for the best tools for his personal yoga practice. He discovered a design that worked and shared the mats as gifts amongst his teachers and colleagues; through word of mouth, its popularity spread. The concept behind this mat was to capture the grip of rubber without the drawback of deterioration with heavy use. The result is a two-layer design that combines non-Amazonian tree rubber with reinforced materials.
Read more
The Grippiness of Rubber Without Compromising on Durability
To combat the weakness of natural rubber, this mat is reinforced with cotton and polyester to give it a longer lifespan. Though this has led to a slight sacrifice in grip when compared to other rubber mats, it is negligible when compared to the gains in structural integrity. This combined designed does add a bit of weight.
Cost and Value
This mat is on the higher end of the middle range in terms of price. A standout among rubber mats, the Manduka Eko is ideal for those specifically seeking the grip of a rubber mat, but who are looking to avoid the intrinsic problems of the material. It offers good support for the wrists, knees, and feet, and is easy to care for.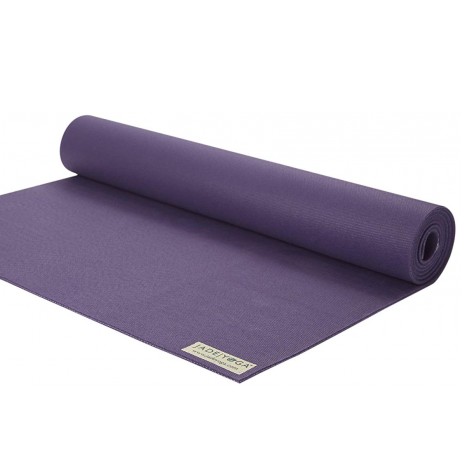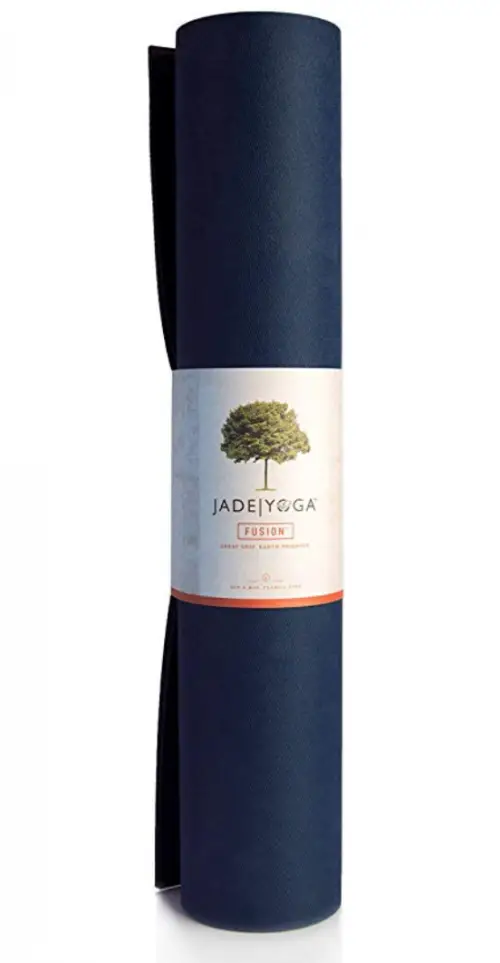 Absorbs moisture
Grippiness
Cushioning
Length
Made in the US
The Jade Fusion is another mat that boasts the grip of all-natural rubber, mixed with a small amount of man-made materials to promote structural integrity. This is a hefty mat with great padding, support, and moisture absorption. If you tend to work up a sweat and are looking for a mat to use for your home practice, this would be a good option. However, Jade Fusion's weight makes it heavy to carry to your class across town.
Read more
Thick, Absorbent Cushioning to Support Sensitive Joints
If you have sensitive wrists, ankles, or other joints, this mat will provide you the cushioning you need to really dig deep into those poses. It will also absorb moisture, allowing you to maintain your grip while working up a sweat.
Cost and Value
This is one of the most expensive mats on our list, but for those who need joint support, this mat is worth the price. It also scores extra points for absorption, allowing for excellent grip when the mat is wet or dry. A drawback is the heaviness of this mat, but this is a tradeoff due to the extra material necessary to give it its extra cushioning. And, just as with the Jade Harmony mat, a tree is planted for every yoga mat bought.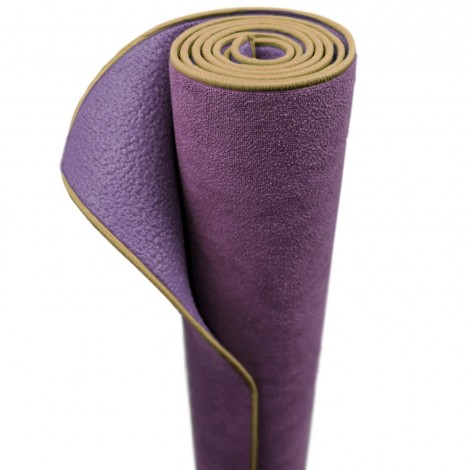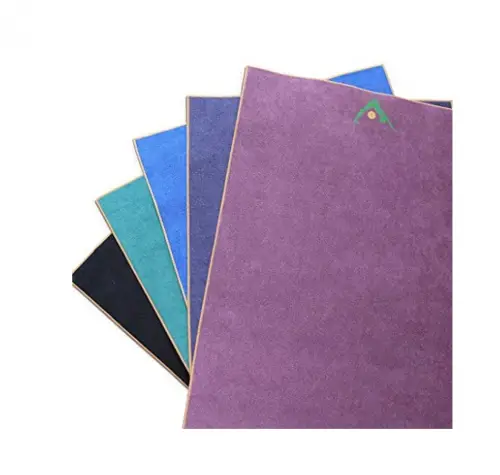 Reversible
Grippy
Great for hot yoga
Portable
Supportive
Unstable
Needs frequent washing
The Aurorae is one of the only mats on this list that is specially designed for hot yoga practice. It is two-sided: the top layer features an extremely absorbent and grippy microfiber towel designed for sweat absorption, and the bottom layer is PER (polymer environmental resin). As an added bonus, the mat can be flipped, and the PER side can be used during dry yoga classes.
Read more
Made with Soft, Absorbent Microfiber
Whereas other mats advertise their firmness and support, the Aurorae Synergy's biggest draw is its soft, microfiber material that is pleasant on the hands and feet, and can absorb lots of moisture.
Cost and Value
The Aurorae Synergy is mat has a mid-range cost. It does have a few drawbacks. This mat may move beneath you as you switch positions. However, it is one of the only mats specifically designed to be used during a hot yoga. If you really like to work up a sweat during your workout, this could be the mat for you. As a side note, to prevent smell, it does have to be washed regularly if it is absorbing a lot of moisture.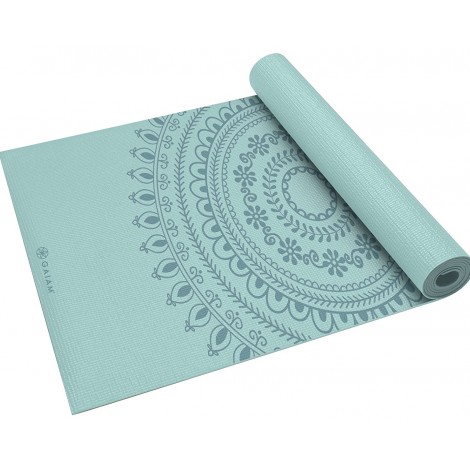 Price
Lightweight
Cushioning
Length
Free of harmful chemicals
Surface deteriorates quickly
Slippery
Gaiam's name is a fusion of the word "Gaia" (the ancient Greek Earth Goddess) and "I am." Their focus is on providing products that allow people to integrate spirituality and peace into their everyday life. They offer a huge range of fitness products not only for yoga but also for other fitness disciplines. These values are exemplified in this extremely low-cost and aesthetically pleasing mat.
Read more
Beauty and Affordability
This mat is one of the most accessibly-priced mats on this list. It has a good set of basic features while offering a wide range of beautiful designs.
Cost and Value
Weighing in at only three pounds, It is extremely lightweight and portable, and can be carried with you as you bike, walk, or take the bus to your yoga class. For a thin mat, it has a decent amount of cushion. However, it is not an ideal mat if you have sensitive joints, the designs can fade quickly and the surface can deteriorate quickly with heavy use. For a casual student who is just getting started, the low investment cost can make this a great starter mat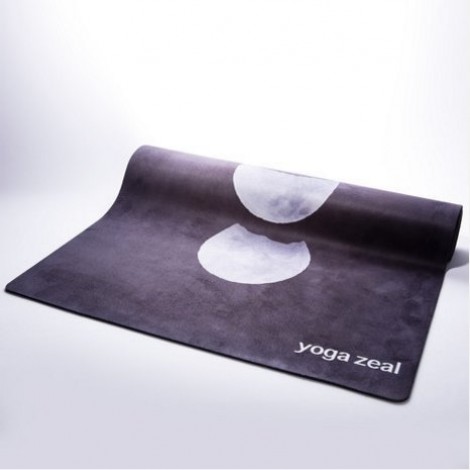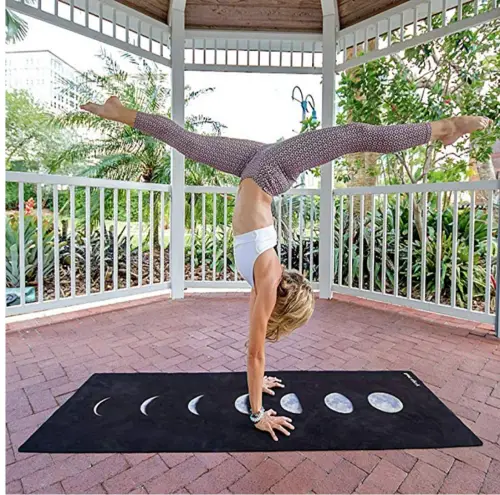 Extra cushioning
Good for hot yoga
Machine washable
Portable
Soft
Yoga Zeal is a company whose specialty is yoga mats and yoga towels, with an emphasis on producing high-quality mats and yoga towels that are perfect for a hot yoga practice. Focusing on a small range of products has allowed them to perfect their inventory and produce items of extremely high quality. Yoga Zeal emphasizes durable, aesthetically-pleasing products.
Read more
A Range of Designs for Your Hot Yoga Practice
The Yoga Zeal mat is one of the only mats on this list that offers such a large array of color, pattern, and design options. It is the only hot yoga mat on this list with such a wide range of choices.
Cost and Value
The Yoga Zeal mat has a mid-range price, with a number of features that make it extremely attractive, especially to practitioners of hot yoga. Yoga Zeal is a company that designs absorption into all of their products, so this mat can handle a huge amount of moisture and sweat. It is also machine-washable, which is a huge draw for a mat that behaves a lot like a towel. That, plus, the cushioning and support you'll find in this mat, make it an attractive option, even if it is more expensive than the other hot yoga mats included in this list.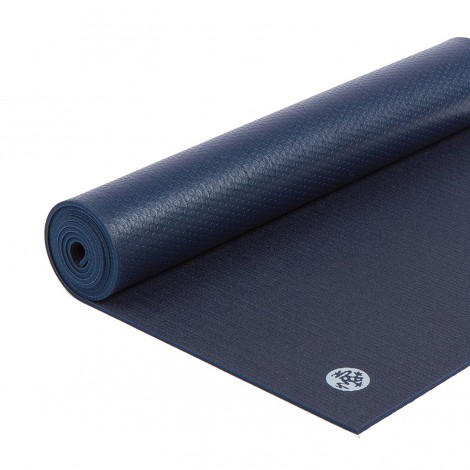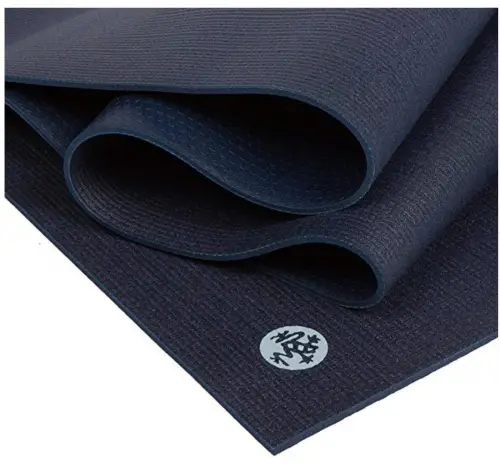 Grip
Portability
Repels sweat
Firm
Length
Lack of cushion
Bad for hot yoga
The Manduka ProLite was designed to demonstrate all of the strengths of the Manduka Pro mat, but with significantly less weight, and for a lower cost. The Manduka ProLite retains the Manduka Pro's material, surface texture, and density. In contrast to the Manduka Pro, the ProLite is available in a variety of colors and weighs several pounds less.
Read more
Sweat Repellent Mat with a Lifetime Guarantee
Just as with the Manduka Pro mat, the company guarantees that this mat will last a lifetime, and will replace it for you if it becomes damaged by normal wear and tear. It also repels sweat, so that it does not absorb moisture and become smelly.
Cost and Value
The Manduka ProLite is a mat that has a mid-range price and offers most of the benefits of this list's top-rated mat at a lower cost and a lower price. However, even though this mat is far lighter than the Pro, it is still heavier than a typical travel mat and can be a bit burdensome to carry around town. Another tradeoff is that this mat does not have a huge amount of cushioning, but this may not matter to those who do not mind a firmer mat. Due to its lighter, thinner construction, this mat is not ideal for people who have sensitive joints that need extra support.
Criteria Used for Evaluation
Durability
In ancient India, yogis would use rugs as the cushioning for their practice. Nowadays, no one is going to carry a rug around with them to yoga class. Modern technology has invented mats that give us superior grip and traction. Staying firmly planted in downward-facing dog today is much easier than in ancient India.
The primary goal of yoga is to learn and hold certain poses for a length of time. Holding that pose can be impossible when your yoga mat does not give you the necessary grip to keep your palms from sliding every which way. There are a lot of different considerations to keep in mind when picking out a mat for grip, but the two main ones are the material that the mat is made from and the texture of the mat's surface.
Materials
The material from which a mat is made is the biggest consideration when thinking about the kind of grip that it is going to give you. A decade ago, most yoga mats were made from a single kind of material, PVC–aka, vinyl. It has a decent level of stickiness but is completely artificial, which may be a turn-off for the more eco-minded yoga practitioner. PVC has been used for over a decade and has proven itself to be a winner in terms of grip. For people looking for an option made of natural materials, a rubber yoga mat could be a good fit. These all-natural mats have great grip, and won't leave you slipping. The downside to these kinds of mats are the weight–rubber can be pretty heavy to carry around. The other downside is that they smell, obviously, like rubber. If you don't mind the smell, this could be a good option for you. Cotton yoga mats are also catching on in popularity, especially for practitioners of hot yoga. Mats made from cotton are absorbent and can be counted on to absorb any sweat you may dish out during a hot yoga class. Be on the lookout for machine-washable cotton yoga mats especially. If it is absorbing your sweat, you will need to wash it out in order to prevent it from smelling, and constantly washing your yoga mat in the sink can get tiring.
Style
There are a few considerations in to look at in terms of texture for your mat. Sticky mats can have a rougher texture. While this may be a bit uncomfortable while laying on your back for Shavasana, it can be extremely helpful if you are an intermediate to an advanced practitioner who is taking on more intense poses. The extra roughness will help your hands find purchase on the mat and prevent potential slips. Smooth mats can be preferable if you have easily irritated skin, or are practicing a more gentle form of yoga. In terms of sensation, mats with a smooth texture are easier on the hands and feet. If you are taking on a less-intense yoga class and would prefer a more comfortable mat, then a mat with a smooth texture could be right for you. PVC mats have a reputation for their smoothness.
Portability
A heavy mat can weight anywhere from six and a half to eight pounds, which is a burden to take across town on the bus. Luckily there is a range of travel mats that have been designed to achieve the sweet spot between quality and weight. Travel mats usually weight between three to five pounds and are often preferred by the yogi-on-the-go. If you need to be able to take your mat onto a plane or be able to fold it up into a suitcase, you'll need a travel mat. Traditional mats are too thick to be able to fit into such confined spaces.
Expert Interviews & Opinions
Most Important Criteria
(According to our experts opinion)
Experts Opinion
Editors Opinion
Users Opinion
By Default
Surfaces
Most mats can be used on any surface, from carpeting to concrete to grass. However, if you have an especially thin mat, you may want to check a head of time how it feels when you use it on concrete. If it is especially thin, the concrete may dig into your palms and create discomfort
Washing
The material will degrade in the washing machine, and most are too large to be fit into the wash anyway. However, the exception is hyper-absorbant hot-yoga mats or yoga towels. Sometimes if the mat is designed to absorb a lot of sweat, it can be run through the wash. Check the product specifications for individual product details.
Other Factors to Consider
Bottom Line
Joint Support
A thicker, more supportive mat may be in order if you have health or joint problems that are aggravated by extended contact with hard surfaces. The cushioning on these mats tends to make them thicker and gives them a squishiness that protects your body from harm. A more cushioned mat will prevent you from damaging your knees when swinging them forward to get into the crescent pose and protect your ankles in the warrior poses. While these mats do tend to be heavier, this is a necessary tradeoff. Most people come to yoga in order to reap the health benefits and to heal their body; getting a thin mat when you have joint problems may end up exacerbating the issue and only making things worse.
Thin mats
The tradeoff of a thicker, more supportive mat is that while it is nice and squishy and provides joint support, it can also be a liability. A thicker, more supportive mat is designed to prevent your joints from feeling the bite of the hard surface underneath you. The cost of this is that it can prevent you from feeling anchored to the floor, and may make it more difficult for you to balance in positions such as Tree Pose. Listen to your body when you are deciding on the amount of cushioning you need from your mat. Don't get overly-ambitious and decide you can make do with a gorgeously-designed, thin travel mat at the expense of your joints. The purpose of yoga is to heal and strengthen the body; by getting a mat that does not align with your needs, you are defeating the purpose of the practice. On the other hand, getting a mat that has just the right amount of joint support can make a world of difference, and set you down the path to a healthier, happier you.
Frequently Asked Questions
q:

What is PVC?

a:

PVC stands for polyvinyl chloride. In terms of production, it is the third-most commonly produced synthetic plastic polymer in the world. Until recently, it was far and away from the most commonly used material in yoga mats. Nowadays though, there are many other materials that are used. Some keywords to be on the lookout for when researching PVC mats are "phthalate-free."
q:

How do I know if my mat is anti-slip?

a:

Typically, the best way to identify whether or not a mat is non-slip is to take a look at the individual product descriptions. Non-slip mats often have specialized ridges or coatings to keep your palms adhered to the surface material.
q:

What's the best way to clean my mat?

a:

Usually simply wiping it down with a rag and soapy water will do the trick! Try to avoid using harsh chemical cleaners on your mat. This may degrade the material.
Subscribe to our Newsletter