Best Boxing Gloves for Women Reviewed
last updated:
Jan 17, 2020
Boxing gloves are deceptively simple. Most people outside the sport think that gloves are a one-size-fits-all piece of equipment. They are wrong. There is a range of glove styles and the best boxing gloves for one person might lead to injury in another. It is important to consider the boxer's weight, bout style, practice intensity, and overall sports goals when choosing gloves.
This list focuses on the gloves best suited for people with lighter frames or smaller hands, which would typically have them classified as lightweight or welterweights. Lightweights are typically classified as anyone between 127 and 147 pounds, though those numbers fluctuate a little based on the organizations and the boxer's sex.  Boxers in these weight divisions typically box with gloves that weigh between ten and fourteen ounces, though this too is a general guideline.
In a Hurry? The test winner after 4 hrs of research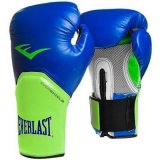 Everlast Pro Style
Why is it better?
Anti-Microbial Treated Liner
Curved Anatomical Grip
Mesh Ventilation Panels
In a
Hurry? Editors choice: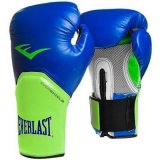 Test Winner: Everlast Pro Style
Materials
Comfort
Features
By Default
10 Best Gloves for Lightweight Boxers
Anti-Microbial Treated Liner
Curved Anatomical Grip
Mesh Ventilation Panels
Everlast has been a staple in the boxing world for decades. Their name is almost synonymous with boxing quality and, despite their quality taking a hit in the last few years, they still produce equipment that many boxers would be proud to own. Their Pro Style Training Gloves easily took the top spot on this list, both in terms of design features and overall value. These boxing gloves for women feature mesh ventilation panels and liners treated with an anti-microbial solution. With an anatomically-supported curved grip and a reasonable price tag, these women's boxing gloves tick just about all the boxes that a boxer could ask for.
Read more
Anti-Microbial Treated Liner
There is a reason that "stinky gym socks" is the go-to expression for something truly foul-smelling. And the stink is not limited to socks, as any athlete will tell you. Boxing gloves might not get as smelly as other pieces of equipment but eventually, they too will fall prey to the effect of sweat and use. Everlast attempts to head this problem off before it even starts by treating the lining material of their gloves with an anti-microbial solution. This will prevent the bacteria that cause odor from forming in the first place, though the gloves do still need to be properly cleaned and cared for.
Mesh Ventilation Panels
Another step in avoiding equipment odor is proper ventilation. This, naturally, has the added benefit of keeping the wearer's hands more comfortable, and Everlast is a company that knows the benefits of comfortable boxing gloves. The Pro Training Gloves feature dedicated mesh ventilation panels at key points, allowing air to cool the wearer's palms while keeping them drier than non-ventilated boxing gloves for women would.
Cost and Value
Everlast's Pro Training Gloves come at a wide range of prices. Prices at the low end of the range are some of the most affordable on this list. At the high end, however, the prices are far and away the highest and should be avoided if possible. Everlast also suffers from frequent fakes and false sellers, so it is important to make sure that the buyer you choose is either Everlast or a reputable reseller.
Gel Cushioning for Protection
Mesh Palm for Breathability
Quality Leather Construction
Sanabul might not be as well-known as Everlast, but they have not let that stop them from bringing quality martial arts equipment to the market at affordable prices. They offer products for a range of practices from MMA to Jiu Jitsu and boxing, all of it designed to keep the wearer on their feet and in the ring. Their Sanabul Gel Boxing Gloves are an excellent example of this. The gloves come with a jaw-droppingly affordable price tag and are designed with gel cushioning, breathable mesh palms, and genuine leather exteriors.
Read more
Gel Cushioning
Bare-knuckle boxing is, by and large, no longer a mainstream sport. Most modern boxing gloves for women feature padding across the knuckles and around the back of the hand to prevent injury to both the wearer and their opponent. This cushioning is predominantly made of foam but Sanabul took a different approach. The cushioning in their boxing gloves is a unique form of a gel that cushions the force of any strikes and protects the wearer from harm.
Quality Leather Construction
Leather has long been the go-to material for boxing equipment because of its durability and flexibility. Synthetic leather has been slowly replacing the genuine material for some time now, but Sanabul has stuck with tradition. Their Essential gloves are constructed of genuine quality leather, save for the mesh ventilation panels in the palms and the Velcro closure system on the supportive wrist-wraps. Genuine leather may require a little more upkeep than the synthetic version, but that is a small price to pay for the longevity and durability that leather offers.
Cost and Value
These are by far one of the most affordable pairs on our list. Not only do they come with a relatively low price tag, but the quality of their design and construction offers a huge amount of value on the dollar. These women's gloves are reported to feel bulky for some users, but that may just be the difference between foam padding and gel padding. If the gloves do feel too bulky, however, Sanabul has a great customer service team that is there for their customers which will make finding a more suitable pair of women's boxing gloves relatively painless.
Breathable Interior Mesh
Premium Synthetic Leather
Naturally Contoured Design
Venum is another company that, while not a household name, is making waves in the martial arts and fitness world. Their products run the spectrum from compression pants to MMA gear to blocking pads. They are a company that seems to follow their own slogan of "Fight Your limits". And if fighting their limits means bringing high-impact boxing gear to the market without charging sky-high prices, then they have succeeded admirably. Their Challenger 2.0 Boxing Gloves feature mesh ventilation sections, a naturally contoured design, and high-end synthetic leather construction.
Read more
Breathable Mesh Interior
Breathability seems to be a common feature among quality lightweight gloves and for good reason. Damp palms are not only uncomfortable but also serve as a distraction which can lead to losing a match or possible injury, depending on how distracted the fighter is. Venum sidesteps this issue by incorporating mesh panels into their boxing gloves, allowing for an air transfer that will cool the wearer's palms to avoid discomfort, distraction, and odor.
Premium Synthetic Leather
Leather may be the traditional material for boxing equipment but synthetic leather is making a name for itself as the material improves in both quality and durability. Traditional leather requires a relatively high level of upkeep to avoid equipment breakdown. Synthetic leather, on the other hand, needs only the occasional wipe down to remain serviceable.
Cost and Value
Venum's gloves are well worth their midline price tag. The built-in ventilation points will keep hands cool and comfortable while reducing odor buildup. Their naturally contoured design and attached thumb are design elements that are intended to reduce injury to the wearer. And synthetic leather means that the boxing gloves for women need a minimum amount of care to stay in tip-top shape. The only thing that makes us wary of these women's boxing gloves is the lack of reinforcement along the seams. This could lead to busted seams and ruined gloves and that is a risk worth taking into account before buying.
Injection Molded Foam
Proprietary Stay-Dri Lining
High-Quality Synthetic Leather
Ringside is a company that thrives on its dedication to a niche market rather than catering to a wide range of customers. All of their products are designed to provide affordable quality to boxers and boxing trainers. They cover everything from bag springs to cotton swabs to a huge array of best boxing gloves for women. Ringside's Apex option has several unique features intended to improve comfort and utility. These features include injection-molded foam padding, a proprietary Stay-Dri liner, mesh ventilation panels, and high-quality synthetic leather construction.
Read more
Injection molded Foam
All boxing gloves feature padding that is designed to protect both the wearer and their opponent. The majority of padding in boxing gloves consists of foam sheets that are cut to cut the design of the glove. This can lead to padding slipping or shifting. Ringside found a unique solution to this problem that does not sacrifice protection or style. Their Apex boxing glove is padded with injection-molded foam which means it is blown straight into the glove so that it takes the exact form of the glove and has nowhere to shift to. The result is a padding that stays put under intense use, keeping the wearer in the ring as long as possible.
Stay-Dri Lining
Any boxer will tell you that traditional boxing gloves can leave their hands sweaty and uncomfortable after a few rounds or long practice. Many brands have taken their own steps to address this issue and one of Ringside's steps is the inclusion of their proprietary Stay-Dri liner. This liner is described as a material that promotes the microbial health of the wearer's hands while keeping them dry and reducing odor build-up inside of the gloves. Ringside also included mesh ventilation panels for increased airflow and odor control, setting up a double-whammy against sweaty palms and stinky gloves.
Cost and Value
The price tag for these boxing gloves for women clocks in around the middle of this list's price range. Ringside's Stay-Dri liners and mesh ventilation panels give a boost of value to the product that is only boosted higher by the injection-molded foam padding that will keep both the wearer and their opponent safer. Synthetic leather exteriors also make these gloves easier to clean than authentic leather would be, though there is a slight trade-in on durability. The biggest pitfall with Ringside's entry on this list seems to be that their gloves run small. Ringside provides several sizing charts, however, so this issue might be avoidable if you pinpoint the right size for you and confirm the selection on the company's sizing charts.
Full-Grain Leather Construction
Multi-layer shock absorbing foam
Twin-ply Wrap-Around Leather Wrist Strap
Knuckle Padding May Be Too Thin
Title Boxing is one of the biggest names in boxing equipment today. Every product in their catalog is designed to deliver maximum value for the minimum investment, allowing boxers to focus on the sport and not the cost of the equipment. This company has made it on to just about every boxing list on our site so far and that is no coincidence. Their products maintain an almost uniformly high rating and their designers put careful thought into each piece of equipment. Title's Pro Style Leather Training Gloves are made of highly durable full-grain leather and padded with multiple layers of foam. The twin-ply wrap-around wrist strap keeps the gloves in place while supporting the wearer's wrist and the attached thumb helps prevent injury to make sure the boxer stays in the ring.
Read more
Full-Grain Leather Construction
Leather may be the most traditional construction material for boxing equipment, but not all leather is created equal. Title chose full-grain leather for their Pro Style training gloves. Full-grain is the most durable kind of genuine leather, giving these gloves more life than gloves made from top-grain leather. These women's boxing gloves will require a little bit more maintenance than synthetic gloves would. But every ounce of effort put into upkeep will be repaid with years of service for the investment.
Multi-Layer Shock-Absorbing Foam
The padding of a boxing glove is one of its most important features. It protects the wearer's knuckles as well as whatever surface they happen to be hitting, which is especially important if they are hitting another person. Most equipment manufacturers content themselves with a single layer of foam or whatever other substance they use for padding. Title is not like most other manufacturers. Their Pro Style training gloves' padding is constructed of multi-layer foam for added protection without too much added bulk.
Cost and Value
Title's Pro Style training gloves were selected as the Best Value pair for our list. Our top two entries cost less, but there are several factors that won these boxing gloves for women the title of "Best Value". The multi-layer foam padding brings additional safety without additional bulk. Some users find the knuckle padding too thin. But for every person who noted this as a flaw, there was a half-dozen who preferred the greater sense of contact and conditioning. This, combined with the gloves' full-grain leather construction, adds a huge boost of value to an already reasonable price.
Leather Construction
Hook and Loop Closure
Excellent Knuckle Protection
Twin's products have not appeared on my lists before but the blame for that rests almost solely on the fact that many of their products only have a few reviews. The reviews they do have, however, are almost uniformly positive. Every item in their catalog is intended for boxers or MMA fighters who use boxing equipment, from gloves to shorts to head padding. And, based on their Special Boxing Gloves, their products should certainly be generating more buzz than they do. These gloves don't come cheap, but they do come in full-leather construction with hook-and-loop closure systems that keep the gloves stable while the glove's excellent knuckle protection staves off injury.
Read more
Leather Construction
Twins Special might not be a well-known company, but they know their boxing traditions. Their Special Boxing Gloves are constructed from genuine leather for the kind of durability and authenticity that has turned vintage boxing gloves into works of art over the years. The leather is not exactly what one would call traditional colors, but that allows their customers to express their own unique style while still staying true to the traditions of the sport.
Excellent Knuckle Protection
One of the most common complaints about boxing gloves is that, regardless of the protection across the back of the hand, the knuckle protection is too weak. Barring that, the knuckle protection is so thick that it causes problems when the boxer tries to close their hands within the gloves. Twins strike an even balance between these two issues. The result is a winning balance between protection and bulk.
Cost and Value
These gloves can be purchased at a range of prices. Even the low end of their price range is at a higher price point than any of the boxing gloves for women previously mentioned on this list but the high end is still not the highest that this list will see. Some customers will find the prices reasonable, however, given the gloves' leather construction, a hook-and-loop closure, and the balance of protection versus bulk.
Genuine Leather Construction
Hook and Loop Closure
Handmade in Thailand
This manufacturer is unique among the companies on this list not only for their quality but for the fact that they made this list twice! Fairtex's products are of a high enough quality that other companies carry them in addition to the company's own line. That kind of endorsement is rare and it lends a little more clarity to the price tag that Fairtex's basic boxing gloves come with, as does the handmade quality and genuine leather construction of each pair.
Read more
Genuine Leather Construction
Fairtex's basic boxing gloves are made from high-quality leather that gives them a longer lifespan than their synthetic counterparts. Leather is also water repellant which means that the exteriors of these women's boxing gloves will not develop odors like a more absorbent material would.
Handmade in Thailand
Each pair of Fairtex gloves is handmade in Thailand to ensure the product's quality. It's an investment that seems to pay off for the company, give the high ratings that their products routinely receive. This also means that each pair has been inspected prior to shipping which cuts down on the risk of a defect forcing the buyer to return the gloves before they even get a chance to wear them.
Cost and Value
Fairtex gloves usually come at a pretty wide range of prices, but their basic boxing glove is sold at a single price point. This price point is towards the high end of this list's range, but they are far from the most expensive. Handmade quality certainly takes the sting out the price and the genuine leather construction is just one more burst of value to women's gloves that come from a family of quality products.
8

. Cleto Reyes Hook & Loop
Goatskin Leather Construction
Water-Repellant Lining
Quality Brand
Cleto Reyes is, quite possibly, the most authentic boxing equipment manufacturer on our list. The company's gloves are handmade in Mexico using quality leather. In the case of their hook-and-loop training gloves, that leather is goatskin. The gloves' lining is water repellent to keep the wearer's hands dry. And you know that with Cleto Reyes you're getting quality, which will help soften the shock when you see the price tag.
Read more
Goatskin Construction
Goatskin might not be the most common kind of leather in the United States but that is by no means a mark against the material. This type of leather is incredibly flexible and durable, capable of holding up under more intense use than most other leather varieties. It will still require the occasional upkeep, but that is a small price to pay for the benefits of goat leather, particularly when Cleto Reyes sticks so closely to the respected roots of boxing that most of their products are handmade.
Water-Repellant Lining
These gloves are beautiful to look at, especially because they come in such a wide range of colors. But any boxer will tell you that the inside of the gloves is just as important as the outside. Many will tell you that it is even more important. Cleto Reyes seems to be thinking along the same lines when they designed their Hook and Loop Training Gloves. The gloves' liners are water-repellant which means that they won't soak up as much sweat. This might not sound like a good thing, but this feature prevents the gloves from taking on liquids that will generate unpleasant odors as time goes on, keeping the gloves fresher, longer.
Cost and Value
Handmade gloves aren't as common as they once were, but Cleto Reyes is all about tradition and quality. Their boxing gloves are handmade of quality goatskin and lined with a water-repellent material that will keep them fresher much longer than a normal liner would. The only downside that really stands out is the lack of reinforcement along the seams which often the weakest part of sports equipment. These women's boxing gloves don't come cheap and that lack of reinforcement will make them a bit of a gamble that some customers just are not going to be comfortable with.
Premium Buffalo Leather Construction
Triple-Density PU Foam
Moisture-Wicking Lining
Anthem Athletics is a company that prides itself on providing just about anything a martial artist could want. Their products touch on nearly every corner of the martial arts equipment market. Every product has a four to five-star rating and that is not an easy feat to accomplish, particularly among sporting goods companies. This quality really shines in their Stormbringer boxing gloves. Not only do these women's boxing gloves have the coolest product name on this list, but they are designed with several key features that make an already reasonable price tag look even better.
Read more
Buffalo Leather Construction
Buffalo leather has long been prized for its durability, longevity, and adaptability. Anthem Athletics puts all three of those traits on display with their Stormbringer boxing gloves. These gloves look sharp and will keep the hits coming so long as they are properly cared for.
Moisture-Wicking Lining
Damp palms are annoying at the best of times. During a boxing match, however, they can be downright dangerous. The moisture-wicking lining in the Stormbringer gloves cuts this problem out before it can really get started. The liners on these boxing gloves for women will help reduce odor, alleviate skin irritation caused by sweat on the wearer's palms, and help keep the wearer's focus in the match where it belongs.
Cost and Value
Anthem Athletics is refreshingly affordable. Their products all have uniformly high ratings and, if they are all like the Stormbringer gloves, it is easy to see why. Genuine buffalo leather is an amazing material and it is honestly a little astounding to see buffalo leather gloves go for such a reasonable price. When the moisture-wicking liners and the triple-density PU foam padding is added on top of that, these gloves could very nearly be considered a steal.
Microfiber Construction
Handmade in Thailand
Consistent Weight Throughout
Fairtex may not have ranked highly on our top ten list, but they are the only company to make the list twice. They are a company absolutely dedicated to martial arts equipment and the people who buy it. Their products are mostly focused on boxers, MMA fighters, and Muay Thai practitioners, but many of them can be applied to nearly any form of martial arts. Their BGV14 boxing gloves don't come cheap, but they do come with an array of features that highlight why Fairtex pulled off a one-two punch when this list was compiled.
Read more
Consistent Weight Distribution
Boxing is often an underestimated sport. Many people who have never boxed assume that it is simply hitting your opponent until one person falls down. That is a wildly simplified idea of what boxing is, but even if it were correct, that would still mean that people underestimate how hard it is to accurately hit a moving target with any force, particularly one that is trying to hit you at the same time. Things can become even more complicated if a boxer's gloves become unevenly weighted. This can cause distraction and injury to both the boxer and their opponent. Fairtex's gloves are designed to bear the weight evenly throughout the glove and are intended to maintain that balance throughout the lifespan of the lightweight gloves.
Microfiber Construction
Microfiber might not be a particularly common material for boxing gloves, but it certainly has its merits. It is moisture-wicking and highly breathable which will help keep the wearer's hands cool. The texture of the material is soft and not likely to split when struck against a bag or opponent repeatedly. And it does not require any particular care such as conditioning to maintain its durability.
Cost and Value
Fairtex gloves do not come cheap. They are very nearly the most expensive on our list, though a few other pairs beat them to that particular title. Fans of the brand, however, feel that the price tag is earned. Each pair of gloves is handmade in Thailand with evenly balanced weight distribution, microfiber construction, and the quality that Fairtex has made their name on. Microfiber has to be cleaned more often than other materials to avoid odor, which is a drawback that must be considered. And printed decals on the women's boxing gloves tend to fade over time. But even with these issues taken into consideration, the Fairtex price tag seems worth it.
Criteria Used for Evaluation
Materials
Leather
Leather is the most traditional material for boxing equipment still on the market today. Synthetic leather has slowly been easing the real deal out, but several companies still offer gloves in leather. It may only be one pair or it may be their entire line, but it is still possible to find lightweight women's boxing gloves built in the traditional style with traditional materials. This is due, in large part, to the benefits that leather has over other materials including synthetic leather.
Genuine leather may require a little more care such as dedicated cleaning and occasional conditioning. But this added care is a small price to pay for gloves that may last years if not decades. The largest drawback to leather gloves historically has been the way it causes boxers' hands to overheat. New innovations in boxing glove design have largely solved this problem, however. This leaves all the benefits to leather without the drawbacks of uncomfortable, sweaty palms.
Synthetic Leather
Synthetic leather has improved by leaps and bounds in the last decade or so. The material has come a long way from the easily-shredded material that was common in the 80's and 90's. Modern synthetic leather is a much closer approximation of the real thing and lasts nearly as long when properly cared for. It does not require the same level of cleaning and conditioning as genuine leather. A simple wipe down after practice and the occasional proper cleaning will suffice. This ease of care does have a trade-off, however. Synthetic leather lasts longer than it ever has before, but it still does not last as long as genuine leather.
Microfiber
The majority of boxing gloves for women are constructed of leather or synthetic leather, but one or two companies offer gloves in a third option and that option is microfiber. This material is softer than leather and often breathes more easily to keep the wearer's hands dry and comfortable.
Microfiber is also, for better or worse, more absorbent which means it will hold onto sweat or other liquids and but it will also wick moisture from the wearer's hands. While some users may find this moisture-wicking effect incredibly enticing, they need to be mindful that it comes with a trade-off. Microfiber gloves have to be washed more often and more thoroughly than leather or synthetic leather gloves to avoid odors and bacterial growth.
Comfort
Padding
The main purpose of boxing gloves is to protect the hands inside of them as well as whatever surface they are coming into contact with. Padding, therefore, is not only a comfort feature but a safety feature as well. It does not feel good to hit anything with your bare knuckles but, more importantly, it is not safe.
Bare-knuckle boxing technically isn't legal in most U.S. states based solely on the damage that the sport can cause. This is where the padding on boxing gloves comes in. Most padding is focused across the knuckles and around the back of the hands which are the two points where the fine bones in the hand are likely to be broken in a fight. The injury still happens when wearing padded gloves, but it is usually less severe than it would have been without padding.
Padding comes with a trade-off, however. Some boxers find heavily padded gloves to be too bulky. The weight of the gloves and amount of padding usually goes up as the boxer's weight class increases as well, which may leave some lightweight fighters feeling that their gloves are too thin and some heavyweight boxers feeling bulky. The gloves on this list often strike a good balance between the two, offering the most comprehensive protection without puffing up the boxer's hands to the point where making a fist is difficult.
Ventilation
Traditional boxing gloves for women were often made strictly of leather which did not allow the wearer's hands to breathe. This not only led to discomfort which could distract a boxer during a match but also caused odor and, on rarer occasions, skin conditions. Modern boxing gloves offer better ventilation by way of more breathable materials, mesh ventilation panels, or vent slits built into the design of the gloves.
Features
Odor Control
There are many ways to control the odors that build up in sports equipment. A recent trend, however, is for the sports equipment to actively work against odor without the owner's intervention.
This is usually accomplished through the application of an antimicrobial solution to the glove's lining. The odor is caused by a bacterial build up in and on certain materials. Antimicrobial treatments kill the bacteria before they can grow and cause the odor. Such treatments may fader over time and have to be reapplied, but the upkeep is worth the outcome.
Other Factors to Consider
Bottom Line
The best boxing gloves for women or welterweight boxers must balance the safety and comfort of padding with the bulkiness and awkward handling that can happen when a glove is overstuffed. They must also be designed with several key factors in mind including ventilation, the effect of the glove's shape on the boxer's ability to make a fist, and the durability fo the glove's construction. Most of the gloves on this list follow in the footsteps of boxing tradition and use leather which is both lightweight and durable, though a few have struck off on their own paths with materials such as microfiber fabric.
Frequently Asked Questions
q:

How do I choose the right glove size?

a:

Boxing gloves are usually sized based on the boxer's weight. There different glove weight expectations for each gender which can confuse matters, especially since weight is highly subjective based on muscle density, water weight, and several other factors. The best way to work around this difference is to compare the different charts for different weights and genders, then find a happy medium that suits your body weight and composition range.
q:

Are training gloves and boxing gloves different?

a:

This answer really depends on the trainer. Many trainers opt to put their boxers in heavier gloves when working on the bag or sparring outside of matches because this will train them to work hard and fast under more strenuous conditions. Once the boxer switches to lighter gloves for the match, their speed seems to increase because they are not working with the additional weight.

Because of this tendency, bout gloves may be lighter and feature slightly less padding while offering more wrist support and a better range of flexibility so the boxer can form a tighter fist. Many training gloves can be used as bout gloves, however, depending on the boxer, the trainer, and the rules of the match.
q:

Will these gloves fit a child?

a:

Most of these gloves will not fit a young child. The gloves occasionally weigh as little as eight ounces, but they are still sized for older teens and adults whose hands would be larger. Many of these companies do sell youth gloves, however.
q:

How do I care for leather gloves?

a:

Most leather sporting goods are made from highly durable leathers that can withstand intense use before they need any kind of special treatment. Once the gloves get to the treatment point, however, proper maintenance becomes key the long life of gloves that are often a kind of investment in the wearer's chosen martial arts.

Leather often needs to be cleaned with a special leather cleaner, though it is important to make sure that the chosen cleaner is intended for the kind of leather it is being applied to. Some cleaners have conditioners built in, but a leather conditioner will be needed if the cleaner is not a combination product. Conditioner usually only needs to be applied once every few months and this maintains the leather's flexibility and elasticity.
q:

Can I wear my hand wraps with my gloves?

a:

This answer is highly variable. It depends on how you wear your hand wraps, what kind of hand wraps you use, and how tight the gloves are that you've chosen. In theory, hand wraps can be worn under any pair of boxing gloves. This is not always possible in practice, however. Boxing glove shoppers should consult a trainer or experienced boxer prior to purchasing a set of gloves and a set of wraps to make sure that the products can be integrated successfully.
Subscribe to our Newsletter