Best Boxing Gloves for Women Reviewed
last updated:
Jan 17, 2020
Boxing gloves are deceptively simple. Most people outside the sport think that gloves are a one-size-fits-all piece of equipment. They are wrong. There is a range of glove styles and the best boxing gloves for one person might lead to injury in another. It is important to consider the boxer's weight, bout style, practice intensity, and overall sports goals when choosing gloves.
This list focuses on the gloves best suited for people with lighter frames or smaller hands, which would typically have them classified as lightweight or welterweights. Lightweights are typically classified as anyone between 127 and 147 pounds, though those numbers fluctuate a little based on the organizations and the boxer's sex.  Boxers in these weight divisions typically box with gloves that weigh between ten and fourteen ounces, though this too is a general guideline.
In a Hurry? The test winner after 4 hrs of research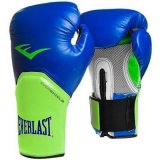 Everlast Pro Style
Why is it better?
Anti-Microbial Treated Liner
Curved Anatomical Grip
Mesh Ventilation Panels
In a
Hurry? Editors choice: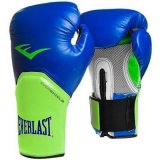 Test Winner: Everlast Pro Style
Materials
Comfort
Features
By Default
10 Best Gloves for Lightweight Boxers
Criteria Used for Evaluation
Materials
Leather
Leather is the most traditional material for boxing equipment still on the market today. Synthetic leather has slowly been easing the real deal out, but several companies still offer gloves in leather. It may only be one pair or it may be their entire line, but it is still possible to find lightweight women's boxing gloves built in the traditional style with traditional materials. This is due, in large part, to the benefits that leather has over other materials including synthetic leather.
Genuine leather may require a little more care such as dedicated cleaning and occasional conditioning. But this added care is a small price to pay for gloves that may last years if not decades. The largest drawback to leather gloves historically has been the way it causes boxers' hands to overheat. New innovations in boxing glove design have largely solved this problem, however. This leaves all the benefits to leather without the drawbacks of uncomfortable, sweaty palms.
Synthetic Leather
Synthetic leather has improved by leaps and bounds in the last decade or so. The material has come a long way from the easily-shredded material that was common in the 80's and 90's. Modern synthetic leather is a much closer approximation of the real thing and lasts nearly as long when properly cared for. It does not require the same level of cleaning and conditioning as genuine leather. A simple wipe down after practice and the occasional proper cleaning will suffice. This ease of care does have a trade-off, however. Synthetic leather lasts longer than it ever has before, but it still does not last as long as genuine leather.
Microfiber
The majority of boxing gloves for women are constructed of leather or synthetic leather, but one or two companies offer gloves in a third option and that option is microfiber. This material is softer than leather and often breathes more easily to keep the wearer's hands dry and comfortable.
Microfiber is also, for better or worse, more absorbent which means it will hold onto sweat or other liquids and but it will also wick moisture from the wearer's hands. While some users may find this moisture-wicking effect incredibly enticing, they need to be mindful that it comes with a trade-off. Microfiber gloves have to be washed more often and more thoroughly than leather or synthetic leather gloves to avoid odors and bacterial growth.
Comfort
Padding
The main purpose of boxing gloves is to protect the hands inside of them as well as whatever surface they are coming into contact with. Padding, therefore, is not only a comfort feature but a safety feature as well. It does not feel good to hit anything with your bare knuckles but, more importantly, it is not safe.
Bare-knuckle boxing technically isn't legal in most U.S. states based solely on the damage that the sport can cause. This is where the padding on boxing gloves comes in. Most padding is focused across the knuckles and around the back of the hands which are the two points where the fine bones in the hand are likely to be broken in a fight. The injury still happens when wearing padded gloves, but it is usually less severe than it would have been without padding.
Padding comes with a trade-off, however. Some boxers find heavily padded gloves to be too bulky. The weight of the gloves and amount of padding usually goes up as the boxer's weight class increases as well, which may leave some lightweight fighters feeling that their gloves are too thin and some heavyweight boxers feeling bulky. The gloves on this list often strike a good balance between the two, offering the most comprehensive protection without puffing up the boxer's hands to the point where making a fist is difficult.
Ventilation
Traditional boxing gloves for women were often made strictly of leather which did not allow the wearer's hands to breathe. This not only led to discomfort which could distract a boxer during a match but also caused odor and, on rarer occasions, skin conditions. Modern boxing gloves offer better ventilation by way of more breathable materials, mesh ventilation panels, or vent slits built into the design of the gloves.
Features
Odor Control
There are many ways to control the odors that build up in sports equipment. A recent trend, however, is for the sports equipment to actively work against odor without the owner's intervention.
This is usually accomplished through the application of an antimicrobial solution to the glove's lining. The odor is caused by a bacterial build up in and on certain materials. Antimicrobial treatments kill the bacteria before they can grow and cause the odor. Such treatments may fader over time and have to be reapplied, but the upkeep is worth the outcome.
Other Factors to Consider
Bottom Line
The best boxing gloves for women or welterweight boxers must balance the safety and comfort of padding with the bulkiness and awkward handling that can happen when a glove is overstuffed. They must also be designed with several key factors in mind including ventilation, the effect of the glove's shape on the boxer's ability to make a fist, and the durability fo the glove's construction. Most of the gloves on this list follow in the footsteps of boxing tradition and use leather which is both lightweight and durable, though a few have struck off on their own paths with materials such as microfiber fabric.
Frequently Asked Questions
q:

How do I choose the right glove size?

a:

Boxing gloves are usually sized based on the boxer's weight. There different glove weight expectations for each gender which can confuse matters, especially since weight is highly subjective based on muscle density, water weight, and several other factors. The best way to work around this difference is to compare the different charts for different weights and genders, then find a happy medium that suits your body weight and composition range.
q:

Are training gloves and boxing gloves different?

a:

This answer really depends on the trainer. Many trainers opt to put their boxers in heavier gloves when working on the bag or sparring outside of matches because this will train them to work hard and fast under more strenuous conditions. Once the boxer switches to lighter gloves for the match, their speed seems to increase because they are not working with the additional weight.

Because of this tendency, bout gloves may be lighter and feature slightly less padding while offering more wrist support and a better range of flexibility so the boxer can form a tighter fist. Many training gloves can be used as bout gloves, however, depending on the boxer, the trainer, and the rules of the match.
q:

Will these gloves fit a child?

a:

Most of these gloves will not fit a young child. The gloves occasionally weigh as little as eight ounces, but they are still sized for older teens and adults whose hands would be larger. Many of these companies do sell youth gloves, however.
q:

How do I care for leather gloves?

a:

Most leather sporting goods are made from highly durable leathers that can withstand intense use before they need any kind of special treatment. Once the gloves get to the treatment point, however, proper maintenance becomes key the long life of gloves that are often a kind of investment in the wearer's chosen martial arts.

Leather often needs to be cleaned with a special leather cleaner, though it is important to make sure that the chosen cleaner is intended for the kind of leather it is being applied to. Some cleaners have conditioners built in, but a leather conditioner will be needed if the cleaner is not a combination product. Conditioner usually only needs to be applied once every few months and this maintains the leather's flexibility and elasticity.
q:

Can I wear my hand wraps with my gloves?

a:

This answer is highly variable. It depends on how you wear your hand wraps, what kind of hand wraps you use, and how tight the gloves are that you've chosen. In theory, hand wraps can be worn under any pair of boxing gloves. This is not always possible in practice, however. Boxing glove shoppers should consult a trainer or experienced boxer prior to purchasing a set of gloves and a set of wraps to make sure that the products can be integrated successfully.
Subscribe to our Newsletter