Best Disinfectant Spray for Mats and Equipment Reviewed
Gym mats are one of the most common pieces of safety equipment in the athletic world. They range from the plush mats that most Americans remember using in gym class to harder rubber mats that are intended more as water-resistant floor protection than as any sort of cushioning. As handy as mats can be, they can get grimy quickly. Their grime is not always visible to the bare eye, either. Gym mats can pick up germs and viruses from one person and pass them on to the next if they are not cleaned with some regularity. Much like knowing when a mat is grimy, however,  finding the right cleaning spray is not always straight-forward. Some mats can handle all-purpose cleaners or industrial-strength cleaners that all but sanitize them while other mats are more sensitive and will dry out if exposed to harsh chemicals. This list addresses these differences by including products that range from the general to the specific so buyers can find the best disinfectant spray to fit their needs.
Featured Recommendations for Disinfectant Spray
Asutra

Our rating
Plant-Based
Safe for All Mats
Price:

See Here
Fresh Wave 2-Pack

Our rating
Does Not Mask Odor
Meets EPA Guidelines
Price:

See Here
Lysol Professional

Our rating
Kills Flu Viruses
Mold and Mildew Killer
Price:

See Here
The best products on the market are a highly-mixed assortment that ranges from aggressive and abrasive synthetics to low-impact and fragrantly scented all-natural solutions. Customers will find the best cleaner to fit their needs by selecting the disinfectant spray that is best suited to the type of equipment they need to clean, the level to which they need to clean it, and any sensitivities that they must be on guard against. Most sprays on this list are listed as antibacterial and antifungal as a minimum while a more narrow selection of them are designed to kill severe and dangerous infections such as MRSA.  The optimum choice will vary from person to person and location to location, but this list has been constructed to try and steer as many people in the right direction as possible.
10 Best Disinfectant Sprays for Mats and Equipment
1. Asutra
Asutra is, by and large, a company that specializes in the holistic and the natural. Their products range from clay masks to eye pillows stuffed with organic lavender. Most of their products are well regarded and feature several hundred to several thousand reviews, most of them overwhelmingly positive. Their
yoga
mat cleaner follows suit with the rest of their products quite nicely. It is
plant-based
and very gentle on the user as well as anyone else who may come in contact with the mat, provided that they are not allergic to lavender. The spray comes with a microfiber cleaning cloth to help make sure that the non-drying spray is evenly distributed across the mat.
Expand to see more
Derived From Plants
The composition of cleaning solutions has followed a roller-coaster-like path over the years. Products started out as entirely plant-based then became synthetic as artificial cleaners were discovered and approved for widespread use. Many companies have begun to move back towards
naturally-occurring ingredients
as more and more synthetic cleaners have been linked to dried-out or damaged equipment, skin agitation, and higher levels of unsafe chemicals in water supplies. Asutra is one such company and they explicitly state that their cleaners are all derived from plants.
Safe for All Mats
Asutra also asserts that their products are safe for all mats. This is a bit of added value for their customers, particularly those who may be looking to buy Asutra's product in large quantities for gyms or studios. The customer need only purchase one cleaner rather than find multiple cleaners that will disinfect multiple types of mats without drying them out or otherwise damaging them.
Cost and Value
Asutra's prices are about midline for this list. This gives them a little more value than some other brands, particularly when the versatility and natural nature of the product are taken into consideration. Buyers looking for a fungicidal spray will want to look elsewhere, unfortunately, as Asutra is not intended to combat this particular menace.
Derived from Plants
Microfiber Cloth Included
Safe for All Mats
Non-Drying
2. Fresh Wave 2-Pack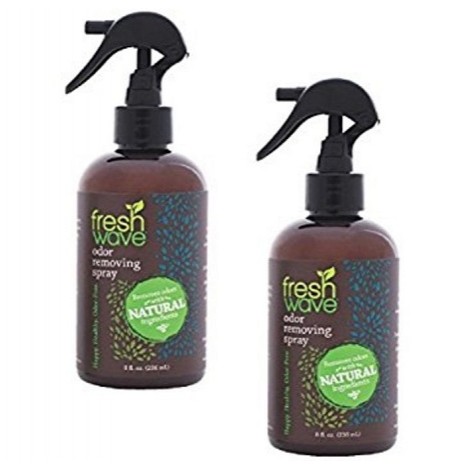 Fresh Wave bills themselves as an all-natural company that bears a strong grudge against odors. All of their products are designed to safely and gently remove odors through plant-based oils and water in a manner that won't harm the person using the product or their pets. Their products are a bit of a mixed bag in terms of customer reviews but their most popular product, the 2-pack of their odor-removing spray, has an overwhelmingly positive reputation. It combats odors rather than masking them, meets EPA guidelines for safe and sustainable cleaning products, and is sold in recyclable packaging for an added boost of sustainability.
Expand to see more
Does Not Mask Odor
An unfortunate trend among many cleaners, both natural and synthetic, is masking odors rather than combatting the bacteria that create them. Fresh Wave truly lives up to its name in both their fresh approach to odors and the freshness the product leaves behind. This spray does not mask the odors but actually removes the base cause of them which leaves mats truly fresh, rather than smelling perfumed.

Recyclable Packaging
This trait might not impress some people, but consumers who keep an eye on their waste production - whether for environmental or financial reasons - will be happy to find that Fresh Wave's packaging is all recyclable. Most companies use multiple layers of packaging, at least one of which cannot be recycled but Fresh Wave lives up to their name once again by taking this waste-reducing route.

Cost and Value
Fresh Wave is, unfortunately, among the more expensive products on this list. Their price tag is a case of getting what you pay for, however. Not only is the packaging recyclable but the product meets the EPA guidelines for safe cleaners and is rated as safe for both people and pets. This, on top of its ability to truly eliminate odors rather than masking them, makes up for the product's price tag and brings a huge amount of value to the table. The one real downside is that this product is not fungicidal which is something that may be especially important for those who are purchasing cleaners for public-use equipment.
Does Not Mask Odor
Safe for People and Pets
Meets EPA Guidelines
Recyclable Packaging
3. Lysol Professional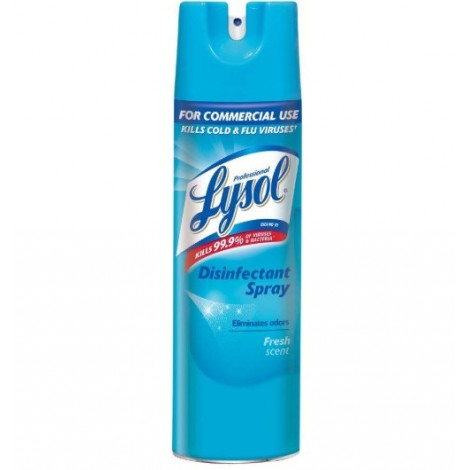 Lysol is one of the biggest names in cleaning and disinfecting so it is no surprise that they have a product that made this list. It's not explicitly listed as a mat cleaner but many customers have reported using it in gyms both private and public as well as
training studios
. The vast majority of them are more than satisfied with the product and, as far as disinfecting goes, it is easy to see why. Lysol will kill nearly every germ it comes in contact with as well as mold and mildew. It is also available in several scent options so that customers can find a scent that they don't mind smelling while they work out.
Expand to see more
Kills Flue Viruses
Working out is well-known for making people feel healthier and more vital long after the workout itself is over. It's hard for someone to feel healthy when they're running a fever or dealing with an upset stomach. Whether or not it is "flu season", the flu is one of the worst common bugs out there and it's hard to shake given that it is transmitted via a virus. Lysol is an excellent first-line defense against most strains of the flu as it is designed to kill them within ten minutes of contact, so long as the solution is left to sit on the surface in need of cleaning.
Mold and Mildew Killer
Even the cleanest gyms can struggle against mold and mildew. This is especially true of gyms that have
steam rooms
, "hot" classes, or policies that encourage users to bring their own hydration options with them into the gym. Lysol is once again formulated to combat these issues since it is effective in killing both mold and mildew within a few minutes of making contact.
Cost and Value
Lysol is the most affordable option on this list. Its widespread use and brand prestige are part of what make it both affordable and accessible. The product's formula will kill just about anything that doesn't belong on exercise equipment and it will do the job while delivering any one of several pleasant scents. It does have its downsides, however. The formula is aggressive enough that it may cause equipment to dry out and crack, so testing the product on samples of out-of-the-way equipment sections is strongly recommended.
Kills Flu Viruses
Aggressively Disinfects
Mold and Mildew Killer
Multiple Scent Options
4. Vapor Fresh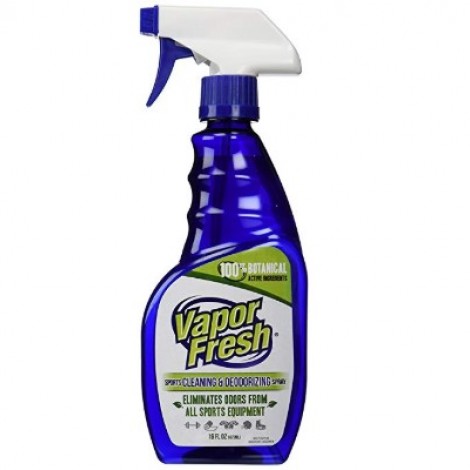 Vapor Fresh does not care what kind of athlete or fitness enthusiast their customers are. They don't care if the odors on their clothes are from handling food all day, from hitting the gym, or from working in some less-than-fresh locations. All Vapor Fresh cares about is providing quality products that use a scientifically proven approach to eliminating odors. Their products are lab-tested by third-party companies to ensure that they live up to the promises they make. They are also non-irritating and non-toxic while still designed to attack odor on a microbial level.
Expand to see more
Third-Party Tested
Sometimes a company's claims can seem a little too good to be true. Other times, a company is relatively unknown and potential customers worry that the product won't live up to its promises. With Vapor Fresh, however, neither of these is really a concern. Their product has been third-party tested and proven to live up to its claims after several lab tests.

Antimicrobial
Many products use the term "antimicrobial" but not everyone knows what this means. This term means that the product will either kill microorganisms or prevent them from growing any more than they already have. Vapor Fresh labels themselves as an antimicrobial product which ensures the customer that germs won't stand a chance against their formula.

Cost and Value
Vapor Fresh is among the more expensive brands on this list and it is another case of the customer getting what they pay for. The company's formula is tested in a third-party lab to ensure that it works without the customers having to rely on the company selling the product. It is also non-irritating and non-toxic which makes it more family-friends if the equipment in question is used by children or exposed to pets. The product only comes in one scent, unfortunately, but that is a small trade-off for a product that has been proven effective by a third-party lab.
Antimicrobial
Third-Party Tested
Lab Tested
Non-Irritating and Non-Toxic
5. Purell Two-Pack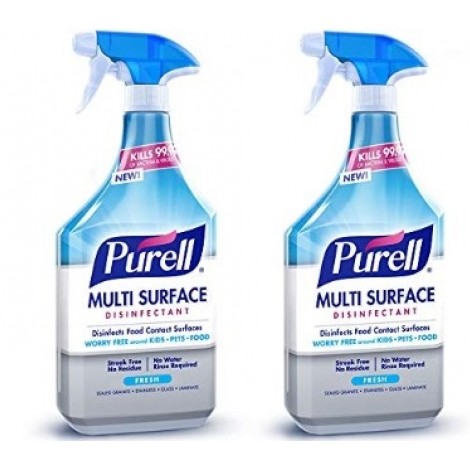 Purell is best known for their hand sanitizers but that is not all the company can do. Their disinfectant spray is an EPA-approved formula that will also kill viruses thirty seconds after the spray makes contact. The company promotes it for both soft and hard surfaces which makes it even more appealing for people who may have a communal lobby, waiting room, or workout room with both soft and hard features.
Expand to see more
Multi-Surface Cleaner
Purell clearly put a lot of effort into giving their products as much usability as possible. Their product is designed to be used on multiple surfaces, both soft and hard. This versatility allows Purell's customers to use the same bottle of cleaner in a bathroom, lobby, and fitness studio without worrying as much about damaging fabric coverings or soft rubber surfaces.

Kills Viruses in 30 Seconds
Many disinfectant cleaners recommend that users spray them onto the infected surface and they let the cleaner sit for several minutes. This allows the solution to kill all the viruses and germs that it can before the user comes back to wipe it up. Purell, on the other hand, only needs 30 seconds to kill all the viruses that it is rated for. This fast-acting cleaner saves the user time and effort which translates into more time left over to do the things that they enjoy.

Cost and Value
Purell was very nearly named the Best Value product for this list but was edged out by a product only marginally less expensive. This product still works faster and with more versatility, however, and there is value in those facts that should not be overlooked. This product's largest drawback is that it may dry out some types of exercise mats and so should be tested on a piece of scrap material or in an out-of-the-way area before being used on a larger and more high-traffic area.
Multi-Surface Cleaner
Kills Viruses in 30 Seconds
Good for Soft and Hard Surfaces
EPA-Approved
6. Clear Gear Sports Spray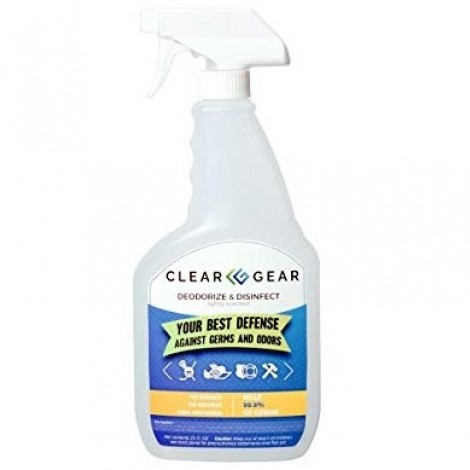 It is rare for a company to take two spots on one list but Clear Gear managed to pull it off. They are one of the most well-known names on the market that is designed and marketed specifically as a sports equipment cleaner. They have several formulas on the market but their spray seems to be their most popular. It is an EPA-approved formula that can take on MRSA, staph, and strep the way other cleaners take on mundane germs. It is easy-to-use and offers a low-level deodorizing to help knock out the inevitable odor left behind after practice, class, or a game.
Expand to see more
EPA-Approved Formula
Some people are moving towards organic cleaners because of the effect that the use of widespread synthetic cleaners has had on the quality of our water. Some companies, such as Clear Gear, have chosen to take a slightly different approach to the issue. They developed a product that is EPA-certified and should be gentle on the water supply as well as on the people who come into contact with the spray.

MRSA, Staph, and Strep Killer
This product might be easy on the water supply and gentle on people who come into contact with it, but it is much, much harsher on the viruses and bacteria that it is designed to combat. Not only does it defend against common bacteria but it is designed to kill traces of MRSA, staph, and strep to help keep athletes healthy and on their feet.

Cost and Value
Clear Gear's prices are relatively inexpensive when the actual amount of product per dollar is taken into account. The product also packs an amazing amount of value into their price tag by ensuring that their formula can tackle some of the most aggressive disease strains that their customers might encounter while at the same time creating a formula that was approved as safe by the EPA.
EPA-Approved Formula
Easy to Use
MRSA, Staph, and Strep Killer
Also Deodorizes
7. Seventh Generation Fresh Citrus and Thyme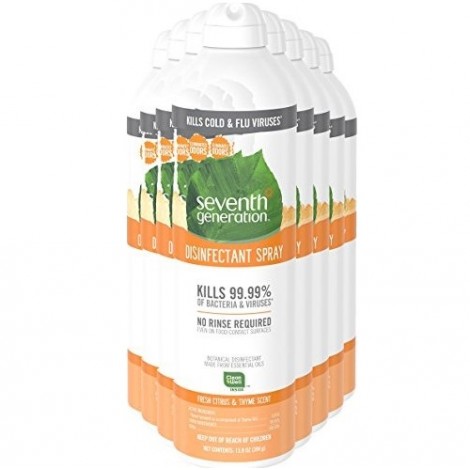 Seventh Generation is a brand best known for the eco-friendly approach to cleaning and their focus on plant-based disinfectant sources. They also tend to come up with unique scent combinations that don't always seem as pine or lemon do. Their "fresh citrus and thyme" disinfectant spray is one such example of this and while the scent might be unusual or take some getting used to, the product's effectiveness will certainly be welcome. Seventh Generation states that their spray will kill 99.9% of germs that it comes into contact with, including odor-causing bacteria, and that the product will not need to be rinsed off and can be sprayed on then left alone.
Expand to see more
Botanical Disinfectants
Seventh Generation's reputation is more or less built on their ability to derive the important parts of their formulas from plants and still achieve the same results as harsher chemical alternatives. The citrus and thyme in this scent combination may be part of what makes this cleaner so effective but they are not the only plants that this company uses to create a highly effect germ-killing formula. Each bottle of product features a full list of the plants used to create the formula for customers who are interested.

Kills 99.9% of Germs
Plant-based cleaners have a bit of a bad reputation as being less effective than harsher synthetic options, but Seventh Generation is a clear indicator that the reputation is not always deserved. Their disinfectant is plant-based and kills 99.9% of germs that it comes into contact with. That is a fantastic success rate for any cleaner, let alone a cleaner from a category often accused of being ineffective.

Cost and Value
Seventh Generation is one of the most expensive brands on this list but their price tag is certainly understandable. The face-value price tag applies to eight bottles of the cleaner which makes the price per unit much more affordable. It is also one of the most time-saving cleaners on this list and, more broadly, on the general market because users only have to spray the necessary surface and then leave the cleaner alone to do its job. With the largest drawback being an odd scent, this product is an excellent option for anyone looking for an effective yet gentle plant-based cleaner.
8-Pack
Kills 99.9% of Germs
No Rinse Needed
No Odor Coverup
Botanical Disinfectants
8. Black Diamond Stoneworks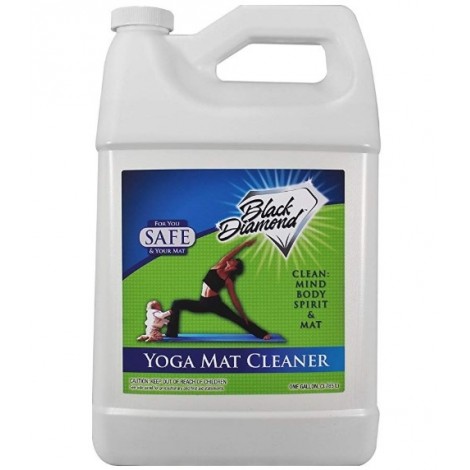 Despite their name, Black Diamond Stoneworks has a cleaner on the market for nearly any surface. Whether their customers need to clean carpets, stone, or yoga mats Black Diamond has them covered. Their products are generally gentle and versatile, and their yoga mat cleaner stands as an excellent example. It is non-drying and safe for all mats while also being hypoallergenic and biodegradable. It is safe to use on mats that children and pets will have access to while still doing a thorough job of getting the surface clean.
Expand to see more
Hypoallergenic
Cleaners might not seem like a likely culprit to set off an allergic reaction but anyone who suffers from allergies can attest that the oddest things can cause them to act up. Black Diamond made sure that their product would not cause allergic reactions in their customers so that more people would find their product accessible.

Biodegradable
Black Diamond also made sure that their product was biodegradable. This allows the chemicals to break down without affecting any plants or water in the nearby ecosystem. This might seem a bit far-reaching but there are already studies pointing out the effects of wide-use chemical cleaners on water supplies and reducing the impact will lead to cleaner drinking water in the long-run.

Cost and Value
Black Diamond's products are available in a range of prices that run from the most affordable on this list to the most expensive. Customers will end up paying for the products that best suit their needs so an exact price is hard to pin down, but even the higher prices are more than worth their price tag. This cleaner is rated as safe for all athletic mats and guarantees that the mats will be left fresh and clean.
Safe for All Mats
Biodegradable
Hypoallergenic
Fresh Mats Guaranteed
9. Clear Gear Athlete Pack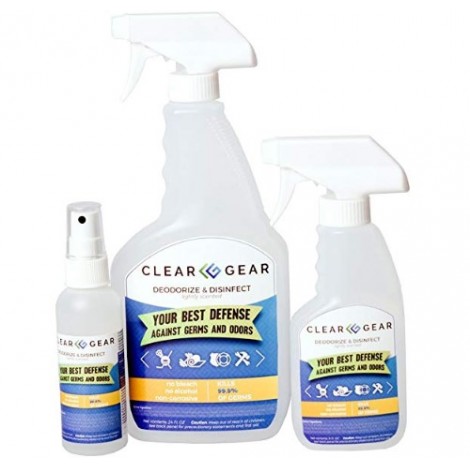 Clear Gear's second offering on this list is something of an elaboration on their first product. Instead of only offering one type of cleaner, Clear Gear put together a pack fo their most popular cleaners and made it available to their customers at a lower, bundled price. The cleaners themselves are water-based and easy to use, ideal for deodorizing and maintaining clean mats in a home or public fitness setting.
Expand to see more
Water-Based
Water-based cleaners are not common in any market but they seem especially rare in the sports equipment cleaning market. Water-based cleaners have a reputation for being too mild but Clear Gear seems to be pulling their weight just fine. Their water-based cleaner is less likely to dry out mats and equipment when compared to alcohol or astringent-based cleaners. Water-based cleaners are also generally more gentle on those using them than other forms of cleaners.

Deoderizes
Clear Gear would not have the reputation they do without the ability to thoroughly deodorize the equipment it is applied to. This relatively mild cleaner gets deep into the material being cleaned and destroys the bacteria that builds up and causes odors in the first place. This completely neutralizes them rather than covering them up with stronger scents.

Cost and Value
The price tag for this set would be unacceptably high if it applied to only one bottle but customers get the full kit. When the cost is applied to the full set, it is much more reasonable. The set is easy to use and can be used on multiple equipment types. It is a great set for anyone who may be looking for products that will work across a gym or private studio with multiple surfaces in need of cleaning.
Three-Product Pack
Deodorizes
Water Based
Easy to Use
10. SweatX Odor Eliminator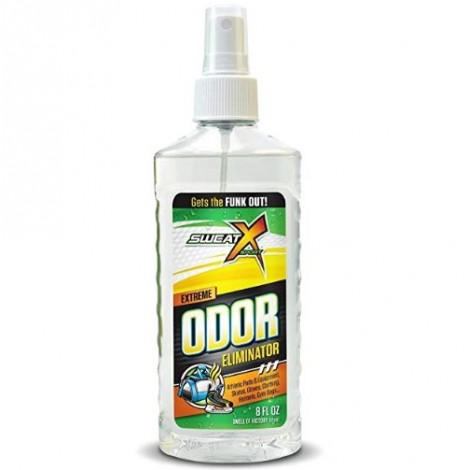 SweatX is a company whose entire - albeit small - line of products is designed to battle and defeat the nasty odors that athletes know all too well. Their products include the spray featured here as well as a few laundry detergents that are designed to get out even the toughest sports-induced odors. All of the products are easy-to-use and non-toxic. They are also ideal for all gear and work deep to neutralize the odors that other cleaners might not be as well-equipped to handle.
Expand to see more
Easy to Use
Some cleaners have a specific wait time that users have to let pass before the cleaner can be wiped up. Others have to be combined with other products for maximum effect. SweatX, on the other hand, needs only to be sprayed on and then left to do its job. It soaks into the gear so that it can destroy the bacteria that cause unwanted odors, rather than covering them up with a stronger smell.

For All Gear
SweatX did not want to pigeon-hole their products by specializing in one type of gear. All sports gear can be sprayed down with their odor-neutralizing spray and returned to their fresher, closer-to-new condition. Hard surfaces such as rubber mats or hard plastics might not see as drastic an odor reduction as soft materials, unfortunately, but the odor-causing bacteria will be neutralized to some degree and may be eliminated entirely with time.

Cost and Value
This product is not specifically a disinfectant, but many people who seek disinfectants for their odor-eliminating uses may be happy with SweatX alone. Their spray bottle application makes the product easy to apply so that users can get on with their day rather than coming back to finish the cleaning job after the solution has sat. There are also several complementary products from SweatX that can help users get nasty smells out of just about anything.
Easy to Use
For All Gear
Non-Toxic
Neutralizes Odors
There is no magic cleaner that will kill all the germs in the world without damaging the material that someone is trying to clean.  A few cleaners come close but every one of them has their own drawbacks and only the customer can decide which is the best disinfectant spray to suit their needs. Whether the need at hand is sanitizing gym mats, removing stains and odors from hockey pads, or preventing flu viruses from taking up residence on the elliptical machines there is something on this list for nearly everyone.  It is possible to make some cleaning solutions in your home, such as cleaning sprays for personal home-use yoga mats or hand weights. But when it comes to equipment that multiple people will come in contact with or equipment that is going to see a lot of abuse and needs a heavy-hitting cleaning option, these sprays are the best answer.
Criteria for Evaluating The Best Disinfectant Spray
Germ-Killing Potential
The main point of these products is to disinfect. This made a disinfectant spray's germ-killing potential the obvious starting point and top priority when it came time to generate this list. Products that promised effectiveness against multiple germ types were given more priority than those that sold themselves based solely on smelling good or on a unique approach to the art of sanitizing exercise equipment.
MRSA and Staph: Few products are designed to address these aggressive and devastating cultures. It is almost dangerous to claim efficacy against these strains as it opens companies up to a lot of risks but one or two companies took the risk all the same. Gyms aren't the most likely places for these strains to take hold and the people there are not very likely to entertain the infection unless they're already having other problems, but some gym owners or studio managers may be interested in giving their clients the most protection possible, even against the unlikely.
Flu Viruses: A relatively low number of Americans get the flu every year, somewhere under 20%. That is small comfort to anyone who has to suffer through fevers, stomach bugs, restless nights, and an aching body of course. Most people would prefer not to play the odds and instead appreciate products that can help them avoid the contagion altogether. Multiple products on this list specifically state that they can kill multiple strains of the flu virus. And although no disease safety net can be considered perfect, this added layer of protection is helpful for anyone whose equipment may be seeing wide-spread use.
General Germs: Products had to promise a basic level of disinfectant ability in order to be considered for this list. Their specific promise might have only been that the disinfectant spray would kill general germs and but that was the minimum that a product could do while still remaining in the running for a spot on this list.
Mold and Mildew: One of two products on this list take things one step further than disinfecting equipment when it comes into contact with germs or viruses. These products also kill off any mold or mildew that may be growing on the equipment. This will help reduce odors and extend the lifespans of the equipment, particularly in damp or humid climates or if the equipment is intended for use in or near water.
Safety
I can think of several chemicals that would fully disinfect anything they came into contact with. They would also irritate the lungs and harm the skin of anyone who came into direct contact with them. Disinfecting power might be important but safety is just as strong a factor when finding a product that will disinfect a product that is going to be in contact with bare skin and multiple people. The products on this list are also generally safe when inhaled in small quantities, such as when someone is spraying them and happens to breathe in or if the disinfectant spray lingers on the equipment when someone goes to use it.
Usability
Once a product's disinfecting power and its safety were determined, a few other factors were used to determine how usable a disinfectant spray was. This is where the hidden values of a product can really shine, such as whether or not they will dry out the equipment they're cleaning, whether they can be used on multiple surfaces including non-athletic equipment, and the true amount of cleaner that customers can get for their money.
Effect on Equipment: Many cleaning products on the market will disinfect but they will also dry out certain types of materials. Leather, whether synthetic or natural, is especially prone to drying out when exposed to harsh chemicals which is unfortunate given that it is one of the most common materials used in the construction of sports equipment. Products that are meant to be gentle on the equipment or that promises not to dry out any surface it is sprayed on ere given a higher rating because this sort of damage shortens the usable lifespan of a product which can easily cost people large sums of money when they have to replace equipment far sooner than they otherwise would have.
Versatility: One or two products on this list are intended for specific types of equipment such as yoga mats. The majority of them, however, are intended to be used on multiple surfaces and some of them can even be used on products on that fitness equipment. This widespread applicability brings a little bit of added value to the product because it allows the user to disinfect more surfaces than originally expected without having to research or purchase additional products.
Cost Per Unit: This was the least-considered factor during the creation of this list but it was considered all the same. Products were generally not compared based on their ticket price but by the price of one unit of product. This was generally grams or ounces, depending on the size of the product in question. Comparing products' prices in this way provided a clearer picture of how each product actually compared on price and allowed me to select a disinfectant spray that not only had a low price tag but also gave the customer more product for their money.
Frequently Asked Questions about Disinfectant Spray
Q: Is disinfectant spray safe to use around children?

A: For the most part and after certain precautions are taken, yes. Cleaning supplies, whether natural or synthetic, should not be left where children or pets can reach them because even the most organic cleaner can damage sensitive eyes, mouths, and noses at a minimum. When these products say that they are safe for use around pets and children, they mean that pets and children can come into contact with any cleaner that is still on the equipment and should be fine.
Q: Do I have to ventilate the area after using the disinfectant spray?

A: One or two of the products may have a strong scented component that some people will not like. Most of them, however, have either very pleasing scents or scents that fade quickly. None of them should produce fumes toxic enough to require ventilation and if they do, it is best to contact the company that produced them.
Q: How can I find a disinfectant spray designed specifically for my equipment?

A: If an equipment-specific cleaner is not featured on this list and one is not found through a Google or Amazon search, the next best bet is to call the company that made the equipment. Any company with a decent customer service department should be able to answer any questions related to the care and keeping of the disinfectant spray and some may even have specific products that they recommend and specific products that they suggest avoiding.
Q: Will I need special safety gear to use the disinfectant spray?

A: I did not come across any mention of safety gear in my research, though anyone who is concerned certainly won't be hurt by throwing on a pair of gloves before getting into their cleaning work. Gloves may be a generally good idea if the equipment in questions has come into contact with aggressive or potentially contagious germs and viruses.
Q: What if I don't like the product's smell?

A: Some of the products on this list come in a couple of scents and customers may be able to contact the company for exchange if they explain the situation. If an exchange is not possible, customers can give the cleaner to someone else and try another one after thoroughly ventilating the area if the original scent has lingered.
Q: Can I return disinfectant spray I'm unhappy with?

A: This depends on the specific company at hand since return policies vary widely. It is best to read any labels and booklets that may come with the cleaners and contact the company ahead of time if there is a strong risk of having to return the disinfectant spray.