Best Gym Backpacks for All Your Workout Needs Reviewed
last updated:
Dec 13, 2019
Getting to and from the gym or your workout space can be a hassle, which can be made even worse by having to get all your gear together. This can include workout clothes, shoes, and various accouterments such as balls or rackets.
While duffel bags are often used to hold such equipment, they can be inconvenient to carry for those who walk or take public transit regularly. Luckily, there are other options than duffel bags that exist on the market. For the person who is on the go, and needs something easy to carry, there are gym backpacks to help you get both yourself and your workout equipment to and from the workout space, dojo, or playing field.
In a Hurry? The test winner after 13 hrs of research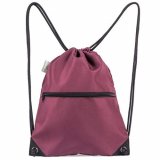 HolyLuck Sport Sack
Why is it better?
Low cost
Drawstring closure
Easily washable
Big storage in small space
In a
Hurry? Editors choice: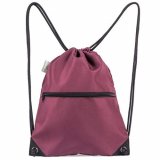 Test Winner: HolyLuck Sport Sack
30
Researched Sources
1200
Reviews Considered
13
Hours Researching
15
Products Evaluated
Water Resistance
Materials
Features
Size
By Default
Top 10 Picks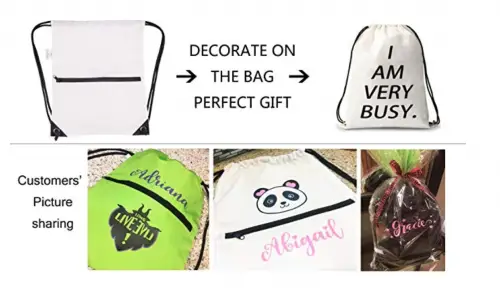 Low cost
Drawstring closure
Easily washable
Big storage in small space
Holyluck is a company that specializes entirely in reusable and drawstring bags. Their line sports numerous products, such as waterproof tote bags, reusable grocery bags, and sports bags. The Men and Women Gym Sports Sack is an excellent example of a company showcasing their excellence by sticking to a few products, and by doing those few products well. The Holyluck Sport Gym Sack is made of 100% polyester, has a drawstring top, and has a good amount of storage space for a product its size.
Read more
Easily Washable
One of the biggest problems people have with gym bags is that, eventually, they start to smell. This is inevitable because you are carting around sweaty articles of clothing, and much-used accessories that are going to get dirty. However, the Holyluck circumvents this issue by being easily washed to remove offending odors.
Drawcord Closures
Many gym backs are loaded down with zippered pockets that, while they allow you to store a lot of items, can quickly become confusing as you rummage through to look for various items. This small and compact bag with an easy-open top makes locating your items quick and easy.
Cost and Value
The HOLYLUCK Men & Women Sport Gym Sack is extremely bare-bones when compared to other items on this list. It does not have a water-bottle holder, or any other features or frills. However, it is a good basic gym backpack to get you from point A to point B, and is by far the least expensive item on this list. If you are looking for a simple, streamlined option for your next gym backpack, and aren't looking to spend a lot of money, look no further.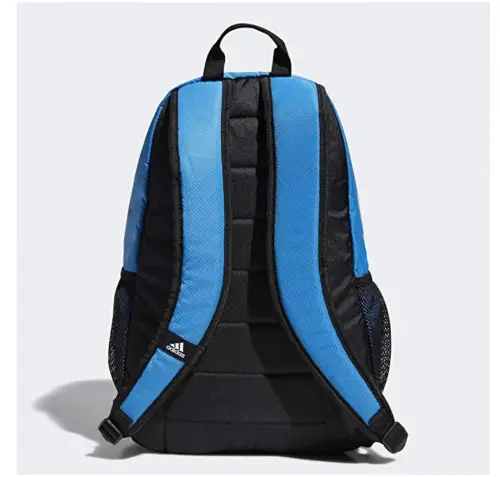 Lifetime warranty
Padded straps and back panel
Two water bottle holders
Four external zippers
Laptop sleeve
Adidas is a company that needs to introduction. They have been one of the most trusted names in sportswear and sports accessories for decades. Their brand has appeared everywhere from action movies to music videos. In short, this household name is a trusted brand that has a reputation for excellence. The Adidas Foundation Backpack is yet another example of their superior product-crafting skills. This item is made of 100% polyester and has a lifetime warranty.
Read more
Padded straps and back panel
For complete and total comfort, the Adidas Foundation Backpack is crafted with padding in not only the straps but the back panel as well. This will prevent not only the straps from digging into your shoulders, but also will stop any pointy items from your backpack from poking into your back as you walk.
Four external pockets
This bag has an extremely streamlined look, but don't let appearances fool you. The outside of this back is chock-full of pockets to store whatever personal items or accessories you may need to bring to the gym. Items such as keys, headphones, cell phones or wallets can be stored easily and with quick access.
Cost and Value
This bag is full of features that would make it worth a significant investment. However, this bag is one of the least expensive products on this list. Not only does it have almost all of the features of a higher-end bag, but it also has an extremely affordable cost. It has a laptop sleeve, a reinforced bottom, padded straps, and a lifetime warranty. The only downside is that does not have a compartment for shoes, but for many people, this is not a dealbreaker. Overall it is extremely high value and extremely low cost.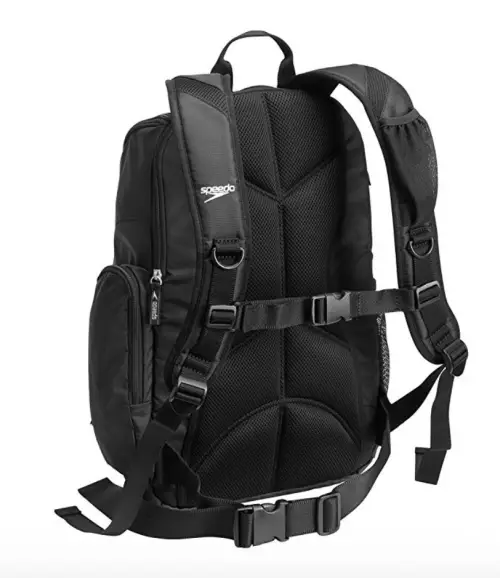 Adjustable straps
Trusted brand
Built-in bleacher seat
Slanted zipper
The Speedo brand is perhaps best-known for their minimalistic swimwear. However, they have a wide range of products available, including bags and sports accessories. The Speedo Large Teamster Backpack is large, with a maximum of 35 liters of volume. It is 91% polyester and 9% nylon. It also comes with a built-in laptop sleeve with a water-resistant bottom that will protect it from water damage, as well as from jostles and shocks.
Read more
Removable bleacher seat
The Speedo Large Teamster Backpack has a removable bleacher seat. This is perfect for when you're on the sidelines or waiting for your turn to use the court. Sitting on a cold, hard bench is an unpleasant experience, and with this backpack's built-in feature you can spare your body that experience.
Complimentary "dirt bag"
The Speedo Large Teamster Backpack has a built-in feature called the "dirt bag." Though it may sound unappealing, this built-in bag was designed to hold your sweaty clothing articles. Thus, you can ensure the rest of your belongings don't end up reeking of sweat.
Cost and Value
When it comes to pricing, the Speedo Large Teamster Backpack falls mid-range. It is not the most expensive item on the list, but definitely has comparable features to some of the higher-end bags. Though it does not have a compartment to carry items such as a basketball, it does have a built-in bleacher seat, laptop sleeve, and other items that give it loads of value.
Versatile
Lots of pockets
Laptop sleeve
Reinforced bottom
Fuel is an apparel and accessory company. They sell dozens of different kinds of specialized socks. This backpack is 19 inches tall by 13 inches wide, by 7.5 inches deep. It has plenty of room to hold your gear, as well as various pockets and features that make it versatile enough for use as a day-to-day bag as well.
Read more
Laptop Pocket
This backpack boasts a specialized internal compartment which is capable of holding your 15-inch or smaller electronic device. This is useful for the athlete on the go, especially if you have a tightly-packed schedule and need to take your device with you.
Reinforced bottom
A common problem with backpacks is that they wear out on the bottom due to contact and impact with the ground. This design feature will mitigate that wear-and-tear.
Cost and Value
Though this backpack does not have some of the features others on this list do, such as shoe compartments, it is versatile enough to be worth purchasing. It is also one of the least expensive backpacks on the list.
5

. Athlio Legendary Drawstring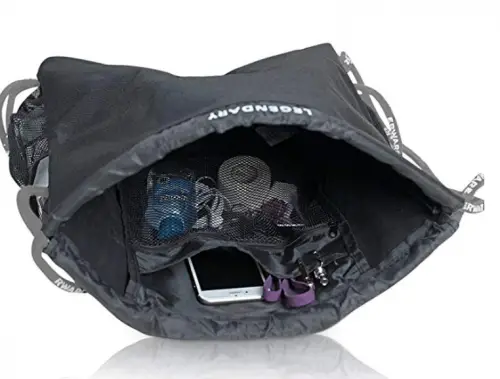 External shoe sleeves
Ventilated compartment
Size
Lots of pockets
Athlio is a company founded on the principle of providing the best possible products and services to athletes. Each item in their product line is completely customizable, to fit each person's unique needs and taste. The Legendary Drawstring Gym Bag comes in a variety of colors. It has the ability to hold a volume of 12.5 liters and is 19 inches by 16 inches.
Read more
Two external holsters
The two external holsters on this bag can hold two water bottles or your shoes. These pockets can serve double-duty to either keep you hydrated or to keep your smelly gym shoes out of your clothes.
Lifetime replacement warranty
Should you ever experience any issue with this bag, be it a ripped seam or a damaged pocket, you can return it at any point for a free replacement.
Cost and Value
This bag is one of the most versatile on the list, and one of the lest expensive. It can fit a soccer ball inside in addition to other clothing and equipment. It also has external pockets for your valuables. The only downside is that it does not seal completely at the top, and water can penetrate if you are walking in the rain. This small flaw aside, this is an excellent bag for the cost.
6

. 6 Pack Bags Expedition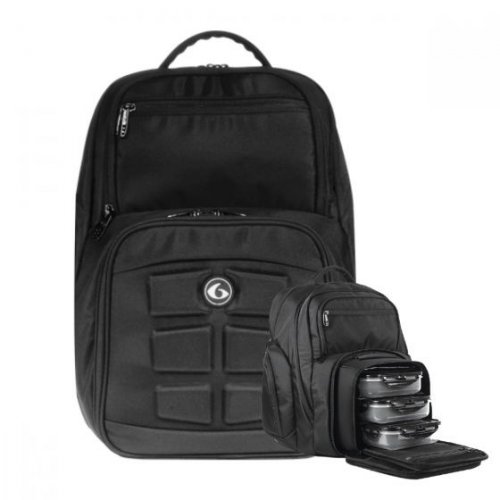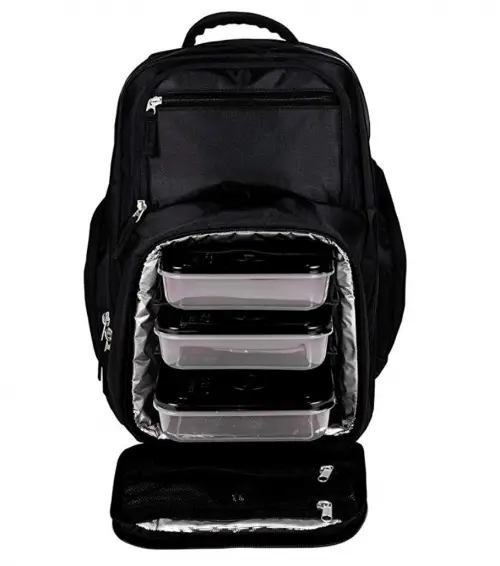 Meal compartments
Large size
Adjustable straps
Included water bottle
6 Pack Fitness has invested considerable resources in designing and producing the best containers and bags possible. Though they have a number of backpacks on their roster, they also carry various other types of containers, such as storage bins. The 6 Pack Fitness Expedition Backpack is about six pounds, and its dimensions are roughly 11 inches long, 13.85 inches wide, and 17 inches tall.
Read more
Meal organization system
This bag has a built-in heating and cooling system inside its three meal compartments, which can keep as many as three meals either hot or cold to your preference.
Included water bottle
With the purchase of this backpack, you will also receive a complimentary water bottle.
Cost and Value
This backpack has a lot of top-of-the-line features that give it a top-of-the-line price. While not the most expensive on this list, it is definitely among the pricier options listed here. However, if you need to bring your meals with you and want them to stay warm, this product's food-warming feature makes it worth the cost.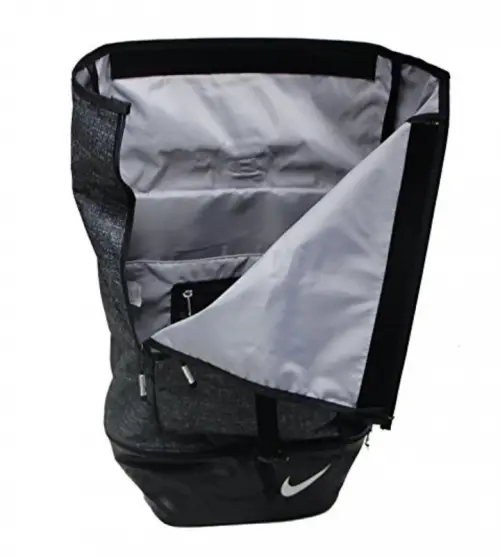 Separate shoe compartment
Fold-over top
Lots of pockets
Adjustable straps
Nike is one of the most well-known shoe and fitness brands in today's marketplace. Nike dominates the industry and is a household name across the world. The NIKE Sport III Golf Backpack is made of 100% polyester and has a variety of pockets to store your items. It also has a separate shoe compartment to keep your stinky sneakers away from the rest of your items.
Read more
Fold-over top
One of the main issues people can experience with bags is that they have drawstring tops. This makes them vulnerable to not only water but also thievery. The fold-over top on this bag ensures your items stay dry and secure.
Pockets galore
The inside of this backpack consists of one large compartment; however, the outside has lots of different zippered pockets to contain a variety of items.
Cost and Value
This item is comparable with others like it on this list. However, it is also one of the most expensive. The Nike brand name is well-known, and for some people, it is worth investing in a brand they know and trust. However, if you're looking for a comparable bag at a fraction of the cost, you may want to consider other options.
8

. Teton Sports Oasis 1100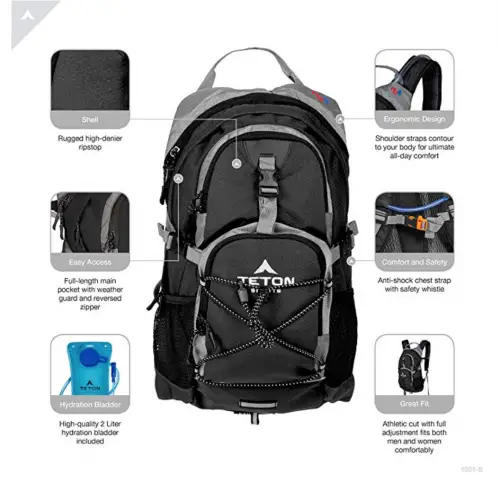 Built-in rain cover
Hydration feature
Low cost
Lots of pockets
Teton is an outdoor lifestyle company based out of Salt Lake City. Their products allow you to venture into the wilderness ready and prepared. They boast about their painless process of getting your gear fixed with their customer service team should it break. The Teton Sports Oasis 1100 2 Liter Hydration Backpack, it was designed to be used on your outdoor adventures.
Read more
Hydration feature
The Teton Sports Oasis 1100 2 Liter Hydration Backpack has a built-in 2-liter hydration bladder with an extendable tube. You can drink from the bladder without removing the backpack.
Built-in rain cover
This product features a built-in rain-fly to prevent your valuables or yourself from getting wet during outdoor activities.
Cost and Value
This item has a low-to-mid cost when compared with other items on this list. It is specifically designed for people who spend a lot of time doing outdoor activities. The built-in water bladder allows for on-the-go and convenient hydration. If you are looking for a simple bag to get yourself and your gear to and from the gym, you may not need the extra features.
Ball compartment
Shoe tunnel
PVC-reinforced
Diadora's product line consists of sports apparel and sports accessories, from shirts and pants to cleats to protective gear such as kneepads and helmets. The Diadora Squadra has a nylon-and-PVC construction and has numerous specialized compartments to hold various kinds of gear. It also features straps on the front which are capable of holding your jacket.
Read more
Ball compartment
This bag was designed for those who play volleyball, basketball, or soccer. It contains a specialized compartment which is capable of holding most average-sized balls.
Shoe compartment
One of the main complaints people have with gym bags is that their smelly shoes get mixed in with the rest of their items, causing the odor to spread. The shoe tunnel in this bag separates the shoes out and spares you the odor.
Cost and Value
The Diadora Squadra has a relatively low cost when compared to other items on this list. However, it has a relatively limited range of uses. It is not designed to hold a laptop or other gear. However, if you need to cart a ball around, this bag's specialized design could be just the ticket.
10

. Under Armour Storm Hustle II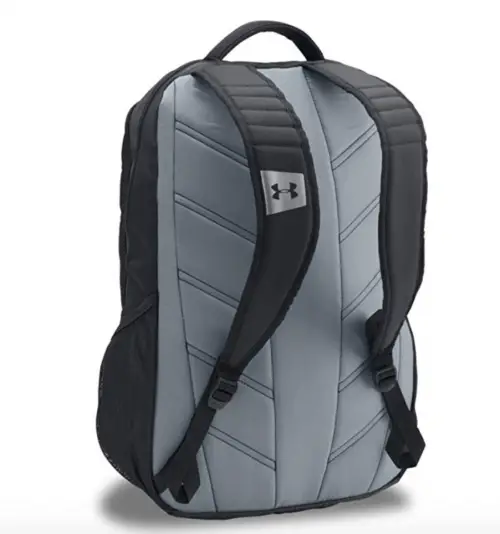 15" laptop compartment
Water-resistant front pocket
Abrasion-resistant bottom panel
8 pockets
Under Armour is a well-known company that specializes in fitness-wear and fitness accessories. The Under Armour Storm Hustle II is 81% polyester and 19% nylon. It has three interior pockets and five exterior ones, as well as shoulder straps that can be adjusted for your comfort.
Read more
Water Resistant front pocket
In order to keep your valuables safe from the rain and other elements, the Under Armour Storm Hustle II has a water-resistant front pocket. Items such as wallet, phone, and other delicate valuables can be stored here to be kept safe and dry.
Abrasion-resistant bottom panel
The part of the bag that experiences the most wear and tear is undoubtedly the bottom panel. This area has been reinforced to ensure a longer lifetime for your bag.
Cost and Value
As one of the more costly items on this list, the Under Armour Storm Hustle II has several redeeming qualities, such as the reinforced bottom panel and the plethora of pockets. There are other items on this list with comparable qualities for a lower cost. However, the Under Armour brand is trusted and well-known.
Criteria Used for Evaluation
Water Resistance
If you are someone who needs a workout bag for your commute to and from your workout, you'll want to look into the waterproofing features one each product. This goes double for individuals who will be walking, biking, or taking the train. The bag is going to be exposed to the elements, and you will want to make sure that your valuables do not get wet.
Materials
A recurring theme in this list is that these items are prone to accumulating smell. An important factor in deciding to buy your bag is to look at the materials. Some are machine-washable. If offensive odors are a big no-no for you, look into purchasing one that you can run through the washing machine once it starts to smell a bit ripe. Due to the nature of the items, it will be holding, some odor accumulation is inevitable.
Features
Balls
Many carry-bags have specialized compartments designed to hold volleyballs, basketballs, or soccer balls. If you play a sport that involves carting a ball around, you'll want to spring for a bag that contains a specialized pocket that can hold it. It can be awkward to carry a ball around in addition to a bag, so the ability to carry your sports accessory on your back can streamline your commute. However, if you just are running out to use the treadmill, it's likely you won't need this specialized compartment, and can instead spend your money on a bag more tailored to your needs.
Shoes
Some bags have external or internal sleeves or tunnels into which you can slide your gym shoes. this is extremely handy for people who want the ability to separate their shoes out from the rest of their items. Arguably, shoes are one of the pieces of sportswear that get the smelliest. Preventing your other items from smelling like sweaty socks is a benefit many are willing to pay extra for.
Laptop
If you are someone who needs to run to the office immediately after your morning workout, you'll need to take your laptop along. Many carry-bags have a specialized sleeve installed inside to hold your device in place and to prevent it from being jostled or damaged by water. If you need to cart your laptop around inside your gym bag, look into getting one with a built-in laptop sleeve to give yourself extra peace of mind.
Size
If you are going to be hauling around a lot of sporting gear, or need to store items other than your workout paraphernalia inside the space, you may want to go with a larger bag. Oftentimes, people take a carry-bag along on their workouts, but then have to head to work or to run errands immediately afterward, which necessitates packing items into the carry-bag other than strictly sports equipment. If you are one of those people, a smaller drawstring sack likely isn't going to serve you well, and you may need to upgrade to a larger model.
Expert Interviews & Opinions
Most Important Criteria
(According to our experts opinion)
Experts Opinion
Editors Opinion
Users Opinion
By Default
Keeping your bag clean
Oftentimes the only way to clean these bags is through spot-cleaning,
To keep a gym bag clean amounts to maintaining it, the more effective the maintenance the better the quality of the materials and the lifespan of the bag.
Keeping the bag regularly cleaned avoids a build-up of dust and dirt in the pockets and prevents bad odors forming.
Read Instructions
Some bags are machine washable. Be careful and make sure to read the washing instructions.
Other Factors to Consider
Bottom Line
Backpacks are much easier to carry, much lighter, and can usually fit all of the equipment you need for your workout. However, there are a lot of designs and specifications you will need to sort through in order to find the one that most perfectly fits your needs. This includes whether or not they have a compartment to fit your shoes if they have the ability to store a full-sized basketball, soccer ball, or volleyball, and if it can serve double-duty as not only a bag but also work or school bag. Considering these and other factors is important when finding the carry-bag that is right for you.
Frequently Asked Questions
q:

Can it also serve as a school or work bag?

a:

Oftentimes, yes. Many sports bags nowadays have built-in laptop sleeves and lots of pockets which allow them to hold a variety of items other than strictly sports gear. Depending on your needs, there is a huge range of bags out there that can serve not only as a workout bag but can also hold all your materials for school, work, and life.
q:

Can I fit my shoes inside?

a:

It depends. Oftentimes you can fit your shoes inside of any bag in general. However, some come with specialized built-in compartments to hold your sneakers on the outside of the bag or separate from your other items. This provides you with the added benefit of preventing your belongings from smelling like sweaty feet.
q:

Are these bags water resistant?

a:

Sometimes. The amount of water-resistance and waterproofing on each item will vary drastically depending on the material with which it is made. You'll need to check to see what the specifications on each bag are in order to reach an educated decision. If you are driving to your workout space, waterproofing may not be as important, as the bag will not be exposed to the elements or rain.
Subscribe to our Newsletter