Best Gym Clothes for Men Reviewed & Rated
last updated:
Feb 21, 2020
Most gym clothes can be worn by just about anyone. They're fairly androgynous and unassuming. After all, they're probably going to be gross and sweaty within an hour of getting to the gym! But there is a definite difference in the way most men and most women dress when at the gym. Some clothing styles are just more common among men and those are the clothes this list is focused on. Factors like cost, style, durability, and design were all taken into account in order to narrow down an over-saturated market to the ten best gym clothes for men.
This is the best product on our list that is currently in stock: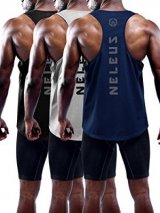 Neleus Muscle Tank
Why is it better?
Machine Washable
Dri-Fit Moisture-Wicking Fabric
Flattering Design
In a
Hurry? Editors choice: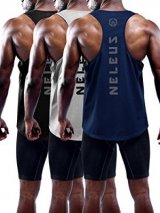 Test Winner: Neleus Muscle Tank
15
Researched Sources
3200
Reviews Considered
14
Hours Researching
30
Products Evaluated
Value
Style
Comfort
Materials
By Default
Top 10 Picks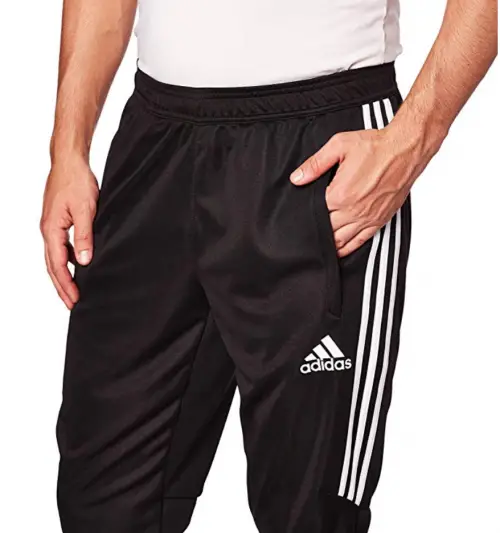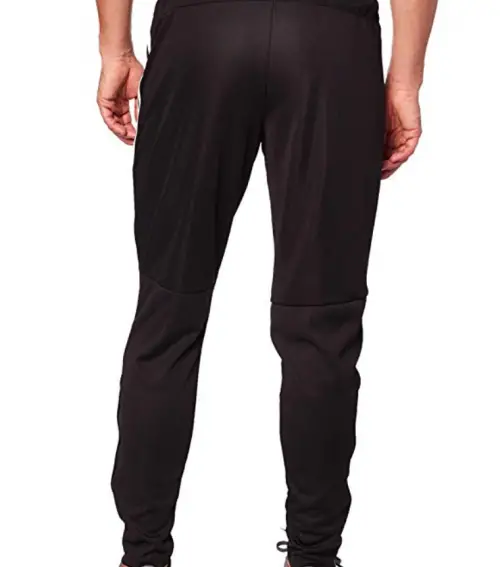 Ventilated Climacool Design
Front Zip Pockets
Ribbing on Lower Legs
Adidas is one of those companies that needs very little introduction. Their brand is one of the best-known in the world and it got that way through offering high-quality products that had both style and durability. Their Tiro 17 pants are the sort of product that has become iconic for their brand. These pants feature Climacool design and front zip pockets, adding comfort and versatility to their iconic styling
Read more
Climacool Design
Climacool is an Adidas-branded design style that uses mesh ventilation sections to increase airflow through certain garments. This particular design style has been used on an entire line of clothes from shoes to pants to tops, making all of them ideal for anyone who plans to work up a sweat in the gym. The Tiro 17 pants are included in the Climacool line and feature mesh ventilation panels to increase airflow through the legs.
Front Zip Pocket
Most people think that they could do without pockets, but nobody can resist using pockets once they have them. Adidas added a top zipper to the pockets on the Tiro 17 to ensure that anything placed inside will still be there after an intense workout. Cell phones, keys, even small towels can easily be tucked into the pockets on these pants and kept close at hand until they are needed.
Cost and Value
Adidas has never been known for its low-low prices and, for some people, that is part of their appeal. These pants are sold at several price points, the lowest of which is moderate but the highest of which is unreasonable even for the most devoted Adidas fan. It is important to make sure that any sellers offering low prices for these pants are not selling counterfeits, as there is a high risk of fakes with a company as popular as Adidas.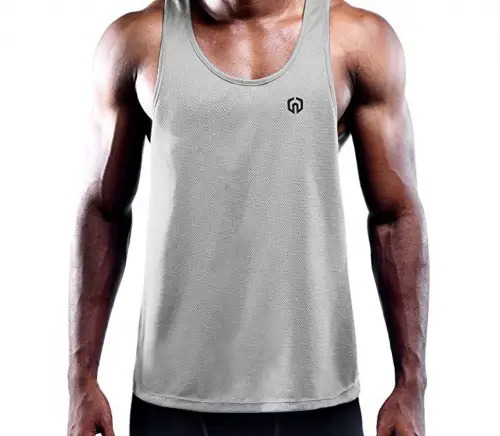 Machine Washable
Dri-Fit Moisture-Wicking Fabric
Flattering Design
Neleus isn't a very well-known company but that has not stopped them from producing excellent products at affordable prices. Their inventory is stocked top to bottom with athletic apparel that was designed with both comfort and style in mind. Their prices are reasonable, particularly when one is considering their multipacks such as the muscle tank 3-pack featured here. They may run a little small but that is the worst that can usually be said of these tanks and the positives outweigh that issue by far. They are machine washable and made of a Dri-fit moisture-wicking fabric. Their design will flatter most wearers and gives an excellent range of motion which makes them ideal for a whole range of activities.
Read more
Dri-Fit Moisture-Wicking Fabric
Dri-Fit is usually a Nike material, but Neleus has also put it to use in their muscle tanks. This material is a highly absorbent moisture-wicking polyester microfiber that is much more absorbent than standard fabrics. It draws sweat away from the skin and locks it in the material of the tank until the top dries which happens a little bit faster than it would in other fabrics thanks to the nature of the material. While removing sweat from the skin might not seem that important this is a key way to avoid issues like jock itch or prickly heat as well as a way to reduce the odor associated with intense workouts.
Flattering Design
Going to the gym is intimidating for some people and, for some, that intimidation starts with trying to find something comfortable to wear at the gym that won't get in their way but is also mildly flattering. Neleus has those people covered with their muscle tank. Wearers don't have to be a tank to wear this shirt as it is designed to flatter most body types with its cut and use of color.
Cost and Value
The price tags on this set of tank tops are low enough that it would almost be a reasonable price for one tank top on its own. Instead, it is the price for three tops and consumers can choose from a range of colors and decide whether they want a trio of colors or three shirts of the same color. They are versatile, affordable, and durable. The worst that can be said about them is that they run a little small, which is not much of a downside when everything else is taken into account.
3

. Amazon Essentials Shorts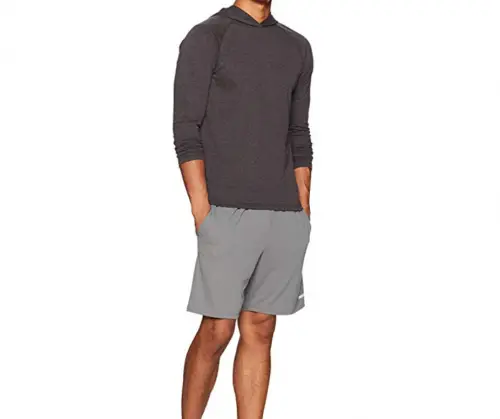 Machine Washable
Highly Breathable
Quick-Dry and Moisture-Wicking
Designed with Pockets
It is still a little bit strange to think of Amazon as selling Amazon-branded products, but it is nonetheless true! Not only do they sell their own products but they price them competitively and, if the reviews are to be believed, put the same care and quality into them as most of the big brand names do. There's little reason to doubt the reviews, given that the Amazon Essentials 2-pack of athletic shorts snagged the number two spot on this list. They are machine washable, highly breathable, moisture-wicking and quick-drying, and feature the ever-beloved pocket. That is a lot of features rolled into shorts bearing a slightly lower-than-average price tag.
Read more
Highly Breathable
There are a lot of things that can ruin a workout, but one of the fastest ways is to overheat or feel stifled. Amazon's shorts sidestep this issue by using highly breathable fabrics and a loose-cut design that allows air to circulate easily through the garment. This helps keep the wearer cool and dry, letting them focus their attention on the workout at hand.
Quick-Dry and Moisture-Wicking
Air currents aren't the only way that these shorts are designed to help keep their wearers cool and dry. They are both moisture-wicking and quick-drying which is a one-two punch designed to maximize the comfort that the shorts can offer. Moisture-wicking fabrics draw sweat off the wearer's skin which not only keeps them cool and dry but has the added benefit of helping them avoid issues like jock itch. The fabric then dries faster than normal fabric, releasing any heat that was wicked along with the sweat and allowing the cycle to continue.
Cost and Value
These shorts come at a price that would be reason enough for only one pair, but buyers get two pairs. That is a whole lot of bang for the consumer's dollar, given the number of design elements that went into these shorts to ensure that they were as comfortable and supportive as they could be. Well, almost as supportive as possible. These shorts do not have a liner which may be a deal breaker for some consumers and is important to keep in mind when adding them to one's cart.
4

. Champion Long Mesh Shorts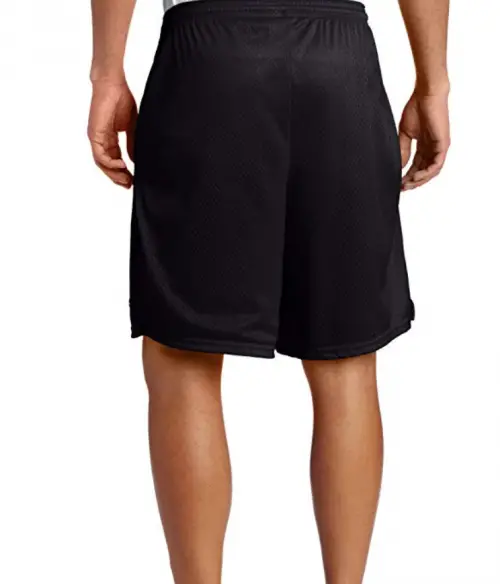 Drawstring Closure
Machine Washable
Champion Brand Reputation
Internal Quickcord
Champion is best known for the basketball equipment but there is no rule stating that basketball shorts don't make good general exercise shorts. These long mesh shorts are what most people would call basketball shorts though they have a few hidden surprises that set them apart from other comparable garments. Their internal quick-cord makes them more adjustable so that every wearer gets the best fit possible and they are made with the same quality that has made Champion a household name.
Read more
Internal Quickcord
An internal quick-cord is a built-in adjustment system that allows shorts like these to be adjusted until they properly fit any wearer. This might not seem overly important given that the shorts are made of comfortable mesh and feature a drawstring closure, but sometimes a little bit of extra tailoring is needed for either comfort or style.
Machine Washable
A few products further down this list are not machine washable, but Champion likes to make things easy for their customers. These shorts can be thrown into any load of similar colors and run through a standard wash cycle without any problems.
Cost and Value
Customers can find these shorts at any one of a few price points, even the highest of which is somewhat reasonable given the brand's reputation and the quick-cord adjustment feature. The one downside to these shorts is that the drawstring is a little bit weak and may have to be replaced after some time.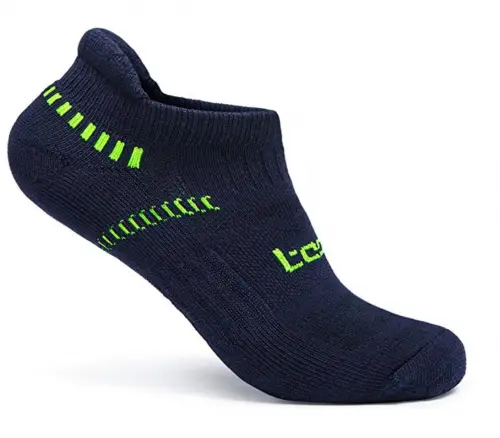 Tesla Quality
Affordable Multi-Pack
Extra Cushioning in the Heel and Toe
Tesla has quickly made a name for themselves in the athletic apparel world, though it might seem silly to say this about socks. Silly or not, their athletic clothes are a top-line quality from head to toe. This 6-pack of their no-show socks was chosen for this list and for the title of this list's Best Value product because they are the same affordable high quality that Tesla has become known for.
Read more
Extra Cushioning In the Heel and Toe
Cushioned socks might not be familiar to everyone but they are a true lifesaver to anyone who is on their feet for any length of time. This is especially true for athletes who are not only on their feet but putting additional pressure on their feet by running or jumping. Tesla's cushioned socks are ideal for these situations because they provide extra comfort at the heel and toe where it is most needed.
Tesla Quality
Tesla might be best known for their cars but that has not stopped them from pouring that same dedication to quality into their clothing lines. Their athletic wear is long-lasting, comfortable, and durable without breaking the bank or requiring much more care than other similar products.
Cost and Value
These socks are labeled as the Best Value product on this list for a good reason. Even at their most expensive they are one of the most affordable products on this list and they hold tremendous value thanks to their durable construction and the extra cushioning at the heel and toe to help keep their wearers moving. The socks are available in a range of colors and a few different styles, all with the same great comfort and at the same low price.
6

. Adidas Essential Tricot Pants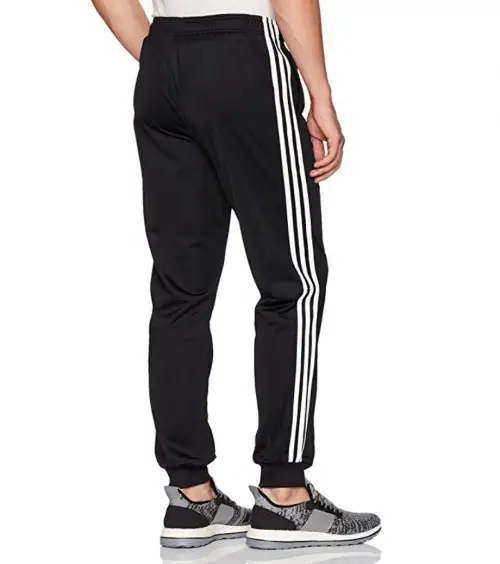 Adidas Quality
Front Welt Pockets
No Zippers
It is hard to imagine that anyone would be shocked to find Adidas on this list. They are one of the biggest names in athletic apparel regardless of whether the garment is intended for the gym or just for looking good in. They have an iconic style that is almost minimalist, though what truly sets them apart from the rest is their quality. The Tricot pants are an excellent example of this quality and it is what landed them their first spot on this list. These pants were designed with welted pockets and are absolutely zipper free which gives them a great range of uses without sacrificing comfort or aesthetics.
Read more
No Zippers
Zippers might seem like a great idea and, depending on what activity they pants will be used for, zippers can be incredibly useful. For other activities, particularly ones that feature contact or any motions that pull the pants tight against the wearer, a zipper is more of a liability. They can cut skin and press in at uncomfortable angles that make it hard to stay focused on the task at hand. The Tricot pants are completely zipper-free, giving them an extra pop of versatility.
Front Welt Pockets
They may not have a zipper, but these pants do have a specific design feature that is unusual for a lot of gym clothes. They have pockets. And not just any pockets, either. Adidas is a style company as much as they are an athletic wear company so they designed their Tricot pants with the ever-dapper welted pocket. These pockets tend to stay tighter at the top to prevent things from falling out without trading off style or comfort.
Cost and Value
Adidas is not a low-cost company so a certain minimum price point is kind of expected when shopping for their products. That being said, the highest possible price point for these pants is not justifiable as there are comparable pants for less. Buyers should be wary when buying from anyone with a low price-point however. The pants may be genuine but there is a high rate of fakes due to Adidas' popularity and buyers must be sure they are buying the real deal.
7

. Tesla Long-Sleeve Base Layer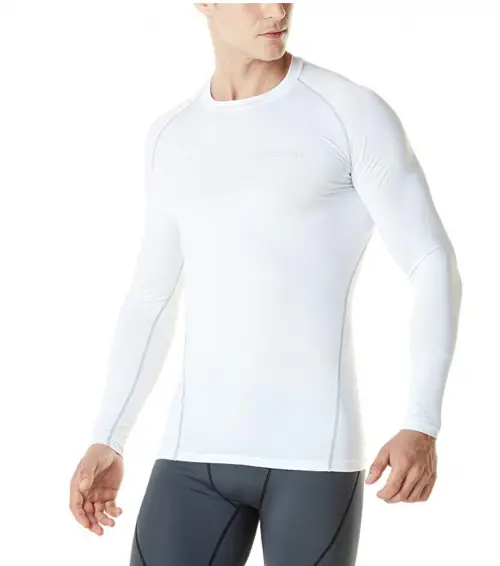 Releases Heat
Moisture-Wicking
Quick-Drying with Two-Way Air Circulation
Non-Abrasive Fabric
UPF 50+
Some people might be surprised to see Tesla featured a second time but it's hard to deny that the company produces a lot of top-line athletic wear. Their line of compression pieces is especially well-reviewed by their customers and the long-sleeve base layer top is one of their most popular pieces. The top is made from a non-abrasive fabric and features UPF 50+ protection among a whole host of other features.
Read more
Non-Abrasive Fabric
Nobody likes chafing but everyone has to deal with it. Some garments are a little more forgiving than others, however, and this compression top might be one of the most forgiving on the market. It is made from a non-abrasive material that will go a lot farther in sparing an athlete's skin than most fabrics used by other companies.
UPF 50+
It is hard to overstate the importance of protection against UV rays. Most fitness buffs and athletes tend to forget that sunblock is a necessity when training outside, but at least with this top on the wearer has a minimal amount of protection. The top is no substitute for more direct sun protection but it is an excellent platform on which to build a layer of sun protection.
Cost and Value
Even the highest price for this top is beyond reasonable. The lowest end of the shirt's price range is accessible to nearly any budget, which is amazing given the quality and features packed into this top. The sizes run small which is especially troublesome for a compression top, but once a customer finds the right size for them, they likely won't want to go with another brand again.
8

. Russel Athletic Dri-Power
Moisture-Wicking
Quick-Drying
Classic Styling
Russel Athletic is exactly the kind of company their name implies. Their products are all classic athletic styles offered in colors and cuts that are a little more appealing to the modern consumer. A great example of this updated-classic style is their Dri-Power pullover. It is both moisture-wicking and quick-drying while maintaining its classic style for a timeless look that hides modern conveniences.
Read more
Moisture-Wicking
Clothes made from any moisture-wicking fabric are very handy. They absorb moisture much faster and more thoroughly than a non-wicking fabric would. This might not seem ideal for some people, but the removal of sweat from the skin is hugely beneficial to the wearer. Drier skin is less likely to develop jock itch, unpleasant odor, or prickly heat.
Quick-Drying
It is not enough for a garment to simply be moisture-wicking because it will be unable to draw in more moisture after a time or it will simply redeposit the moisture on the wearer's skin. Russel Athletics worked around this problem by also ensuring that their garments were quick-drying. This means that the garments will release the absorbed moisture much more quickly than a standard fabric would which both releases heat and allows the fabric to wick more moisture from the skin as it becomes available.
Cost and Value
Hoodies tend to be a little more expensive than standard gym wear. That being said, the price for this hoodie is more than fair. The price fluctuates depending on the size and specific style of the hoody and the sizing runs a little large, but even the high price point on this hoodie's range is worth the cost.
9

. Tesla Compression Pants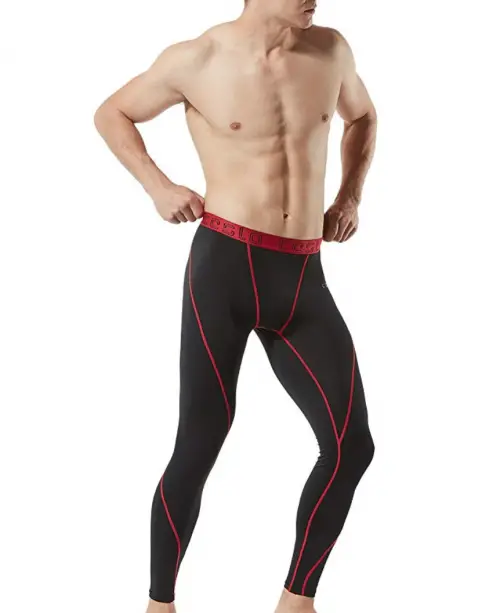 Releases Heat
Moisture-Wicking
Quick-Drying with Two-Way Air Circulation
Non-Abrasive Fabric
UPF 50+
Tesla might seem like an odd company to see selling athletic wear, but they have been at it for a while and their dedication is paying off. Their athletic clothes are some of the best on the market and that is saying something because they have a fairly extensive clothing line. Their compression pants take all the best that Tesla's clothes have to offer and roll them into one versatile and functional garment that helps keep the wearer cool while offering UPF 50+ protection.
Read more
UPF 50+
It is surprising how many fitness buffs completely forget the dangers of overexposing themselves to sunlight. And while these pants are no alternative to sunscreen or a hat, they certainly do offer an added layer of protection in addition to other forms of sunblock. It is important to note that these pants are too thin to be worn on their own and should be layered under something else which further adds to their UPF protection.
Two-Way Air Circulation
Overheating is one of the biggest risks when someone is exercising. And even those who don't overheat may stop working out when they become too warm. There are some benefits to someone feeling the heat when they work out, but that does not mean that it's comfortable. Tesla's take on this issue is to make their compression pants out of quick-drying material that is designed to create two-way air circulation. Circulation like this removes heat from close to the wearer's skin and release it before replacing it with cooler air.
Cost and Value
Tesla, generally speaking, does not seem to approve of high price points. Their compression pants are some of the most affordable and that applies to this list and the wider market in general. The care that has gone into designing the garment is obvious which creates tremendous value in an already affordable product.
10

. Hanes Eco-Smart Hoodie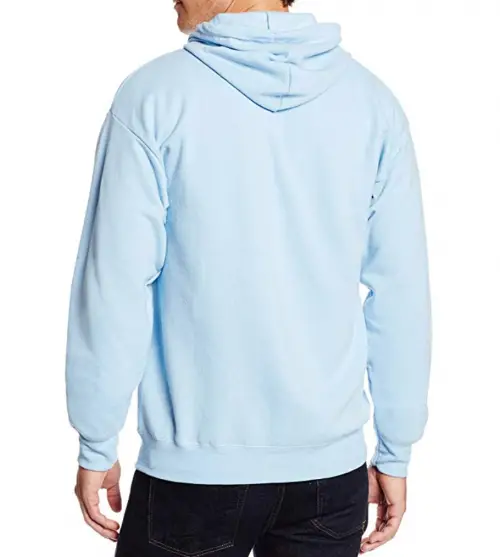 Hanes Reputation
Double-Needle Seam Stitching
Pill-Resistant Fabric
It's hard to imagine any other company before Hanes when thinking about comfort. Their name has become synonymous with cotton products which are often the most comfortable gym clothes to work out in. Their Eco-Smart hoodie is a great example of this, even though it is not 100% cotton. A portion of it is polyester made from recycled plastic, which is where it gets its name from, but don't let the plastic throw you off. This hoodie is a little on the thin side but it's still a great lightweight or post-workout hoodie with its pill resistant fabric and double-needle seam stitching.
Read more
Double-Needle Seam Stitching
Double-needle seam stitches aren't a common feature to point out but that might need to change. Seams stitched with a double-needle machine are less likely to roll or pinch. They will retain their shape longer which helps keep the garment looking good. This stitching style also helps prevent broken seams but giving the seam one more line of security.
Pill-Resistant Fabric
Fabric pilling isn't the biggest problem in the world but it can be really annoying after the problem builds up for a while. Pilled sweaters do not look good or cool. They look unkempt and, while they tend to be soft and comfortable, they make even the best clothes look frumpy. The Eco-Smart hoodie is pill-resistant. No tiny bumps of material are going to be marring this sweater's surface any time soon.
Cost and Value
Hanes products aren't really known for their high cost and that mostly holds true for the Eco-Smart hoodie. The sweater is available at several price points. The lowest price point is an incredibly affordable rate that makes this sweater one of the most budget-friendly items on this list. The high price points, however, are very nearly the highest on this list and there are comparable sweaters available for less.
Criteria Used for Evaluation
Value
Though some of the items on this list have high possible prices, most of them are firmly in the reasonable and affordable price range. This was deliberate, the thought being that any piece of clothing too expensive for most people to afford is probably too nice to really work up a sweat in. The purpose of gym clothes is not only to make the wearer look and feel more confident when at the gym, but to support the wearer as he strives to reach his fitness goals.
Style
Most gym clothes are designed along the same lines but there are some companies who prefer to add in a little extra value when possible. These design options either help keep the wearers more comfortable, extend the life of the garment, or increase its usability both in and out of the gym.
Comfort
Garments made from a moisture-wicking material are fairly common among athletic wear. This type of material draws in moisture more effectively than most other fabrics which have several benefits for the wearer. Drawing sweat away from the skin helps keep the wearer cooler, reduces the risk of things like jock itch, and can help the wearer smell a little fresher as their workout goes on. Some products made of this material are also treated with anti-bacterial substances that destroy odor-causing bacteria once sweat is soaked into the clothing, further reducing any unwanted smells.
Materials
Some fabrics are inherently better at releasing heat than other fabrics. These heat-releasing fabrics are very popular for athletic garments because they can help keep wearers cool. Some people don't mind the heat spike that comes with an exercise – some people even like it – but a large number of people are more likely to stop working out when they get too warm. Releasing extra heat is likely to keep them moving longer.
Expert Interviews & Opinions
Most Important Criteria
(According to our experts opinion)
Experts Opinion
Editors Opinion
Users Opinion
By Default
Color
Most of the products on this list are offered in several different colors.
Standards
These products all met a certain standard that was set after taking all the variables in the criteria section into account and reading customer reviews. There may be some products out there with a higher review score or a lower price, but those products did not meet the aggregated standard set by the criteria.
Other Factors to Consider
Bottom Line
There is a little bit of everything on this list from compression pants to hoodies to socks. Gym shoes were left off in favor of focusing on clothes, but just about everything else puts in an appearance. Some of these products offer special design features such as the use of a moisture-wicking fabric or double-needle reinforced seams. These features are part of what makes these products stand out from the rest. They take some of the edges off that comes with working out, leaving the wearer free to enjoy all the benefits of their workout with less of the unpleasant side effects.
Frequently Asked Questions
q:

Can I machine wash these gym clothes for men?

a:

Some of them, yes. Other clothes must be hand washed and laid out or hung to dry. The tags inside the garments should specify which method is better, but it is important to use the method suggested as machine-washing clothes not intended for it can cause them to fall apart, sometimes after only one wash.
q:

Can you return gym clothes for men?

a:

It varies from company to company, but most likely it can be. Returns and exchanges are the good business sense for most companies and this is especially true if the garment did not fit when it was first received.
q:

There's no sizing chart. How do I find gym clothes in my size?

a:

Other consumers are usually happy to answer any questions about sizing and customers can try writing directly to the company. There may also be a sizing chart on the company website, though it may not be easy to find.
q:

Why were these items of gym clothes picked?

a:

These products all met a certain standard that was set after taking all the variables in the criteria section into account and reading customer reviews. There may be some products out there with a higher review score or a lower price, but those products did not meet the aggregated standard set by the criteria.
Subscribe to our Newsletter