Best Kick Pads For Martial Arts Training Reviewed
last updated:
Dec 03, 2019
Kick pads are special pieces of equipment that are used by various martial arts practitioners. They provide an easy and comfortable way to practice your techniques, while receiving minimal or none of the injuries that would occur if practicing on something hard, like a wooden plate.
The clappers are filled with a sponge or foam and covered with different materials, such as faux leather or vinyl to keep their surface flat and sleek for easy cleaning and the most comfort to your feet. They feature a handle and usually a wrist band for the person who is holding it, providing the best comfort and making sure that the pad does not fly away if the impact is too strong.
Buying the right one can be difficult, and that's why we have some criteria set to help you make the correct choice. Check them out at the bottom of our list.
This is the best product on our list that is currently in stock: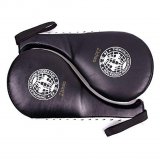 YosooPack Kick Pad
Why is it better?
Can be used by children and adults
Steel plate for extra strength
Enhanced stitching
Wrist lanyard for holding
In a
Hurry? Editors choice: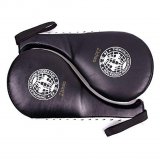 Test Winner: YosooPack Kick Pad
3
Researched Sources
3210
Reviews Considered
5
Hours Researching
10
Products Evaluated
Durability
Ease of Use
Shock Absorption
Value
Comfort
By Default
10 Best Kicking Pads
1

. Tiger Claw Kicker Target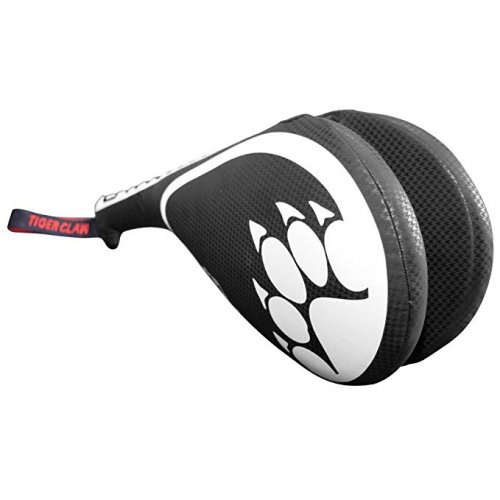 Heavy duty elastic wrist lanyard
Quality materials
Makes a loud sound when hit
Durable
Sold individually
Expensive
Tiger Claw is a high end manufacturer and distributor of handheld targets. It is dedicated to meeting the needs of all martial arts practitioners and they are doing a pretty good job at it. It was founded in 1983, so they have had years of experience and know the needs of people who use their products. Made of high-quality materials, their products are made to last.
Read more
This clap kicker target was designed to be easy to use by anyone. It has a unique clamshell design in which a plastic clapper is hidden. It comes with an elastic wrist lanyard which makes it easy to be held, it is made from a heavy duty material which will not snap or lose its strength, so both the person hitting it and the holder will be safe and sound. The clapper can withstand a lot of hits without showing signs of damage. It is used by both students and professionals. There is no limit to your training anymore with this excellent pair of kick pads.
The clapper is extremely easy to use. There is nothing new to be accustomed to, just feel free to kick it over and over again until your technique is perfect. The person holding it has a lanyard to put over their wrist to secure the clapper from moving anywhere that you don't want it to, and the one who is kicking will receive a rewarding clapping sound from the plastic part inside which will encourage them to continue and get better at it. It is easy to use by children and is safe and effective enough to be used every day.
Coming from a company that is known to make only the quality kick pads, the price is not surprising. It is not unaffordable, however, some may want to opt for something less expensive. The uniqueness of design, ease of use and quality materials make it the perfect investment for you or your loved ones, which will last a long time even with everyday use. The only downside is that it is sold individually, so if you need more than one it becomes a bit more expensive.
Can be used by children and adults
Steel plate for extra strength
Enhanced stitching
Wrist lanyard for holding
Built mainly for children
These clappers are an excellent budget friendly way to keep your training going smoothly. They can be used for karate, taekwondo and any other martial art that requires kicking practice. They are split at their ends, creating two parts that can produce a sound when they hit one another. They are stitched on the sides which makes it look good while holding the entire thing together. Available in three colors, black, blue and red, they make for a good training companion.
Read more
Not as durable as some of their more expensive counterparts, although durable enough to serve their purpose. They make for great practice for the kids as well as adults. They are quite small and originally intended for children to the age of eight, but there is no reason why adults can use them too. The only problem might be that the kicking target may be too small for them.
Equipped with a lanyard at the end, they are easy to be held in place and comfortable for your wrist and your palm. The clappers are made with a thickening sponge that absorbs the impact. They have an elastic steel plate that keeps them together and makes them very hard to break in half. The target itself is made from a waterproof, non-slip material which makes it last longer and easy to use and clean.
Whether you or your kids need to practice high or low kicks, using more or less strength, these kick pads will help them in their practice. They are made with enhanced stitching, which holds the material well over its skeleton and is not easy to break. It can withstand months of abuse without showing signs of use any time soon. The grip and the clappers are connected with a steel plate which ensures that a strong impact will not send a part of it across the room.
Perfect for children who are just starting to practice and learn any martial art, these clappers come in a pair of two at a very reasonable price. They are durable and strong enough to withstand all the kicks that you or your little one can provide for it. Made with a sponge that thickens on impact and comfortable and easy to clean material over it, they make for a great learning foundation.
3

. Century Drive Double Target
Impact absorbing sponge
Comfortable material
Wrist lanyard
High quality materials
Expensive
No colors and designs to choose from
Century is widely known as the largest supplier of martial arts equipment in the world. Their kick pads can be found in training dojos all over the world. Known for the good quality of their products, they strive to meet the needs of everyone while providing high-quality products. These clappers allow for stress-free, easy use for both the kicker and the holder with their quality materials and comfortable grip.
Read more
The stitches that hold the fabric over the body is placed over the fabric so it can be visible. It gives this pair of kick pads a cooler look and the user can see if the stitches are holding up well after a couple of uses. If they happen to break, there will be no surprise, as it would become obvious that they have lost their strength.
The clappers are so easy to use thanks to their soft material which is perfect for kicking and comfortable handles which feature a wrist lanyard for the holder to be able to grip them and secure them in their place. The company's logo is printed in the middle so the person who is striking it knows exactly where to aim. There is a clicking sound every time it takes a hit and gives feedback and a confidence boost for the hitter, making them want to practice more and more.
It comes in only one design, in blue and black color, which makes it look professional and expensive. Only sold individually, it can be a bit expensive, when there are others that offer a pair for the same or lower price. They feature an impact absorbing sponge which makes them comfortable and painless to kick or hit over and over again, while also providing comfort to the holder with minimum recoil. For all these reasons it would be wise to invest in a pair of kick pads like this which will provide a long time of practice.
Made from quality faux leather
Comfortable grip
Does not cause skin irritations
Minimizes injuries
Wrist strap for holding
Cheap
It is no secret that most of the clappers look the same or even have the same features. But what makes a difference is the quality of the fabric it is lined with, the quality of stitching and the materials used to create them. This is where these Juvale clappers or kick pads come in. They can be used for any martial art, for practicing high and low kicks with any strength that you can provide.
Read more
The outside is made from polyurethane leather, which is a type of faux leather made of high-quality plastic materials, which make it a lot cheaper than real animal leather but also looking good and easy to use and keep clean. The parts that make a sound are actually built-in boards which hit each other, producing the well familiar sound of clapping. The intensity of the sound depends on the accuracy and strength used so the hitter can always know efficient their strikes were.
Even though they have all these great features, the clappers are not at all expensive. For the price of one expensive one, you get two which can be used together or separately or used by different people. They provide your feet with safety from injuries and irritation, are easy to hold and use, and are of good overall quality. The only downside is that they only come in one color, but for this price, it is worth the sacrifice.
Does not need to be held
Strong straps
Has more padding than regular ones
Can be easily moved up and down the bag
Very expensive
Can not be used without the bag
May move around on impact
If you do not want to bother anyone to hold a target for you, or want to practice at your own pace and time, then this kick pad is made for you. It can be strapped to any height you need on a medium or large punching bag. A great innovation, this clapper can be used without anyone's help, but only works if you already have a punching bag at home.
Read more
Even though it resembles handheld clappers, there are some obvious differences. The main one is that this one does not need to be held and fits snugly over your medium or large punching bag. It works the best with the Century Weavemaster bag but can be fitted over other ones. The kick target itself is bigger, has more padding and makes a clear and audible sound when hit.
Made by Pro Force, a well-known sports equipment manufacturer, it is obvious that this product is of good quality. The only downside to it is that it can become loose after using it for a while and the clappers may lose their sound. Other than that, this clapper is a really useful thing to have in the short run and will provide hours of great practice.
One of the most expensive kick pads on our list, this one is unique and different from all other clappers. It allows you to practice on your own without the fear of kicking and hurting the other person and without the hassle of finding someone to hold it for you. It is strapped over a punching bag using two straps and sits there securely. It is easy to move up and down the bag, with the only downside being that it may move around as you kick it. It only works if you already have the right bag for it, otherwise, it can be very expensive to get both products at once. Other than that, it provides a great base for learning and practicing all kinds of moves.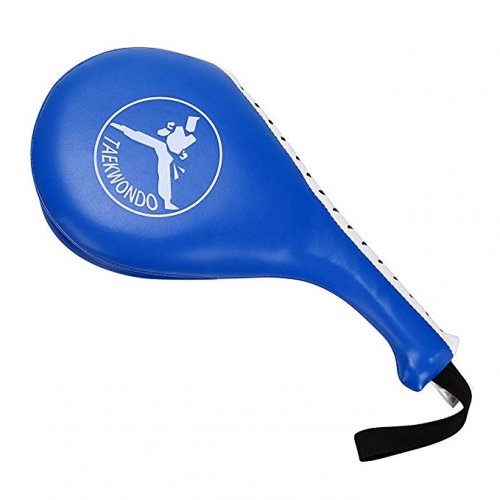 Highly affordable
Multiple color options
Wrist strap included
Lovely, supple leather design
For those who do not want to spend a lot of money for a piece of training equipment but are eager to learn, these pads make for an affordable compromise. They serve their purpose and do exactly what you need them to. With straps for wrists connected to their ends, they provide a good hold and grip for the person at the other end of the pad.
Read more
Made from faux leather, these clappers are easy to clean, waterproof and comfortable to kick. They are equipped with a highly elastic compression sponge which absorbs impact and keeps your feet from injuries. The holding strap is not elastic, so there is a possibility that it will break or get unattached from the base of the clapper if kicked hard enough.
The faux leather cover makes it a very comfortable thing to kick with you bare feet or hit with bare hands. The sponge inside is designed to absorb the impact and makes it soft to the touch. It is also comfortable for the holder, as he is able to pull their wrist inside the strap and grip the handle with ease, without causing blisters or scratches.
This item is very small and best suitable for children. The sponge may be a bit thinner than with a bit more expensive product, but it does what it is supposed to. For this low price, you get two paddles, which makes them even cheaper. They come in three colors so you can choose your kids' favorite one. Due to its price, this item is not of the best quality, but will serve its purpose and your money will hardly be wasted.
Soft impact absorbing sponge
Faux leather that is gentle and easy to clean
Prevents injuries
Cheap
Sold individually
Loses its stiffness after a short time
No clapping sound
This nice looking black clapper has a faux leather exterior that shines and looks a bit more expensive than it really is if that sort of thing is important to you. However, looks come after the quality. It is great for practicing all kinds of kicks, speed, agility, accuracy, and strength. It will withstand hits of any intensity and can be used every day.
Read more
The clapper is filled with a high impact compression sponge, which means that it can survive hits of any strength without suffering any damage. The sponge makes it soft and will not hurt your foot in the process. When hit, it compresses and hardens in the place of the impact, to ensure better protection to the pad and to yourself.
The use of this kick pad is really straightforward. One person holds it by its handle with a strap gently tied around their wrist, and the other kicks it the best that they can. The ideal scenario is that the pad does not fly away from the holder's hand, and even if they drop it, the strap will ensure that it does not go far. With it, you can just relax and focus on your kicking techniques.
Suspiciously cheap, this kick pad offers much more than what it costs. It is not a high-end pair of kick pads not is it of the best quality, but it does exactly what it was created for, to allow for an easy and affordable way to practice your martial arts from the comfort of your home. It provides an excellent learning base for beginners and is definitely worth checking it out.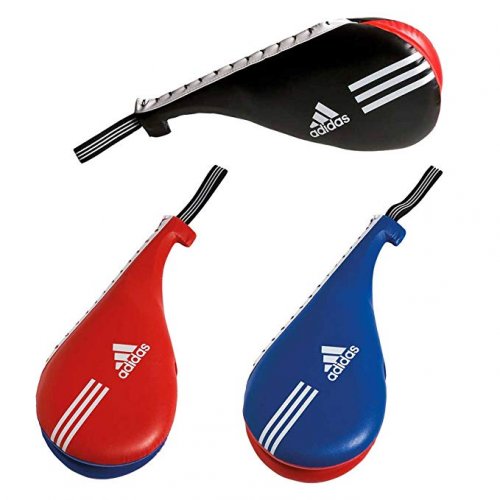 Adidas logo
High impact foam
Vinyl makes it durable
Elastic wristband
Expensive
Sold individually
Who knew that Adidas also made sports equipment? I sure did not. It is a pleasant surprise for me and anyone looking to buy a pair of kick pads manufactured by a company that is known for their great kick padquality. The clappers come in three colors, with the Adidas stripes and logo on both sides, so that everyone in the dojo can see that you take your training seriously and are concerned with the quality of the product you use.
Read more
This clapper's outside is covered with polyurethane vinyl which is stretchable and very durable, easy to clean and hard impacts will not break its surface easily. As opposed to some others, it is filled with foam rather than a sponge, which acts as a cushion for your extremities. At the end, it is equipped with an elastic wristband which ensures a strong and firm hold, and will not break or rip from the clapper's base no matter how strong the impact.
With this kick pad, you don't need any special instructions on how to use it. Hitting it in the right place will create a sound which will encourage you to use it a lot more and get better each day. The holder only has to grip the handle firmly and let you unleash your techniques on it.
The Adidas clapper comes at a high price, but that was to be expected simply because of the brand, which on its own promises quality and durability. It may be a bit of an investment, but one which will pay off in the long run, because you will be able to use it for a long time before it becomes unusable. The fabric and the elastic strip are of good quality for the money, which are the two most important parts for a product like this.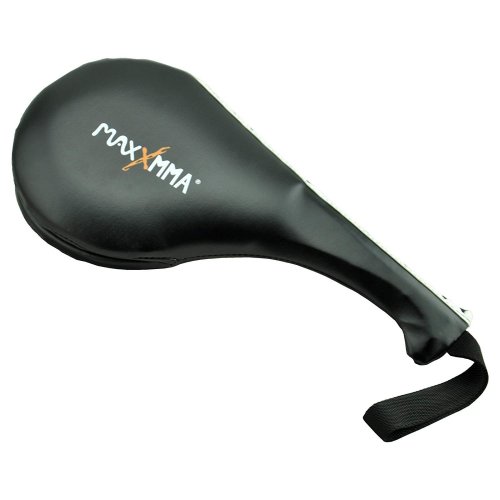 Cheap
Faux leather
Easy to clean
Heavy duty lanyard
Comfortable to hold and kick
MaxxMMA is an American brand and company which is dedicated to bringing you good products which are affordable to everyone because they are being made in China. They try to be innovative in the martial arts market and make sure that their kick pads are of good enough quality. This kick pad does not look like it had been made in China one bit. Its shiny and smooth exterior gives it a more quality look, while its design can match even the most expensive kick pads.
Read more
Being made in China does not necessarily impede the product's quality. It only means the same materials are cheaper to buy there and it saves a lot of money to both the company and the consumer. Looking flashy and cool with its faux leather cover, this clapper is also equipped with a heavy-duty wrist strap, which can withstand multiple and strong hits and kicks. The material is lightweight and does not make the kick pads heavier than they need to be.
This product can last for quite some time. The faux leather makes it durable because it is elastic and can take quite a few punches before starting to show signs of use. It looks and feels sturdy, which is a testament to its quality and longevity.
There are little better products to buy for this amount of money. It has everything a clapper should have and can take being used and abused. The sponge inside and the material over it will keep you safe from harm and comfortable, and the holder will not have any problems gripping it because of its soft but sturdy handle and heavy duty lanyard.
Super durable
International Tae Kwon Do Federation regulation design
From a reputable brand
A bit on the expensive side
Might be too large for children
Adidas Double Portable Mitt gives you the reassurance of a reputable brand along with the really affordable price. It's regulation Tae Kwon Do size which means it's larger than most other affordable clappers. Of course, like a clapper, it also makes a very satisfying sound when kicked properly. That along with Adidas patented imitation leather means it will last for a long time and be ready to get kicked whenever you need it. Also, it is made in the country of Tae Kwon Do, South Korea. The wrist strap is also here to prevent you from dropping it during those long and exhausting kicking sessions.
Read more
Adidas was founded in 1949 and in the last 70 years, they became a household name in the sporting equipment industry. By choosing Adidas Double Portable Mitt you are guaranteed to get one of the best clappers available from one of the best brands available.
Designed by all standards of the International Tae Kwon Do Federation, this kick pad is perfect for beginners and champions alike. ABS plastic discs on the inside change the sound depending on the kick the clapper receives so you know if you're doing it right. Even if you aren't, Adidas Double Portable Mitt will surely help you improve your kick accuracy and timing.
Adidas Double Portable Mitt is made of Adidas' patented imitation leather. This imitation leather is exceptionally durable and easy to wash and clean. The company behind this clapper, Adidas is so confident of its durability that they rate every single clapper for 100 thousand kicks. Imagine kicking 100 thousand times, that's how long it's going to last.
It might be a little more expensive than some of the other clappers made by generic brands but you get guaranteed quality and endurance from one of the sporting goods juggernauts. That makes it ideal for Tae Kwon Do dojos and schools where clappers see a lot of use.
Criteria Used for Evaluation
Durability
Durability often comes hand in hand with the price of any product. If it is cheaper, it is probable that some materials of lesser quality were used and that they stand no chance of lasting longer than the more expensive ones. However, how it is made also plays a big part in this. The way that it is manufactured reflects the company's policies and methods. Some of them strive to create something affordable while also being able to last a long time, while others only focus on the product being made from the best materials and that they have the greatest value.
People who are on a tighter budget can, of course, find something that agrees with them and their needs, and will not be of bad, but certainly of lesser quality. The most important things to be aware of before purchasing is the way the clapper is held together, whether it has a metal plate inside to ensure that it will not be broken in half, the softness of the material, the thickness of the sponge or foam inside, and of course the quality of the strap which is used to hold the handle better and more secure with. If all these aspects seem good to you, then go ahead and start practicing.
Ease of Use
The clapper should not be too easy or too hard to use. The middle range is of perfect difficulty for everyone. It means that that rewarding sound will not be heard if it is kicked incorrectly or too softly. It will have to be done just right. By hearing the sound, you will know that you are doing it right and will be motivated to continue practicing.
The ease of use is a little bit different for the person who is holding it for you. It means that he or she will have to be able to grip the handle tightly to allow for minimum movement when stricken. It should be easy to hold in place with minimum recoil and save them and you time you would waste by putting it correctly in place again.
Value
None of us are happy to give a lot of money for something, only to find out it was not worth it and that we could have gotten something a lot better for that price. That is why you should always pay attention to every aspect of the product, and if possible, read as much customer reviews as you can, because they will be the most honest ones. The value for clappers comes from its durability, materials and the type and strength of the padding inside. All of those things are necessary for a good training and will help you improve yourself every day.
Comfort
As you can imagine, comfort is the number one priority when it comes to combat sports across the board. It's well known that there's no gain without a little pain... but why put yourself through more pain than necessary? Advil exists for a reason, people. It's because of this that comfort was, of course, at the forefront of my mind during this review.
You want to look for long-lasting materials that are still going to give you some cushion. Foam is awesome if protection is the pinnacle of your experience. However, keep in mind that foam degrades a lot faster than other materials like silicone, for example.
Stay away from items that are poorly made- stitching coming apart at the seams is a huge indicator that a product will be low quality and you're going to sacrifice quality because of it.
Shock Absorption
Shock absorption directly depends on the type of padding that is inside a clapper. Most of them are made using a high impact sponge or foam, which hardens around the area which was impacted, and ensures that your foot does not fall in or break the pad. It cushions the blow that way and your body is less likely to suffer any trauma thanks to it. It also makes for a better practicing base, because it feels like you are hitting the real thing. Before you buy, check the level of shock absorption and type of padding the product contains, as it will prove useful and important the first time you take a swing at it.
Look out for knock off products
If a product is popular, there is bound to be a knock off of it posing as the real thing. Pay close attention and do not be tricked into paying for something less than you intended.
Invest in a top notch brand
Investing a bit more money in something that is guaranteed to be of great quality and endurance can not be a bad decision.
Other Factors to Consider
Bottom Line
Every serious martial arts practitioner needs a useful piece of equipment for perfecting their technique. It has to be sturdy and durable in order to withstand high intensity impacts and forgiving enough not to hurt the person or break and render itself useless. Before these amazing clappers, people would practice their kicking on much harder materials, namely wood, which could result in splinters, pain or even something broken. Wood was unforgivable and the person would feel pain if they did not perform the technique the way they should have. With clappers arriving to the scene, everything became much easier and less painful. They are made so that they provide a sound similar to breaking wood which would reward the person and give them motivation to continue. There are a lot of them to choose from, and they are even made especially for children, so that the clap can be heard using a weaker impact, and the target is smaller in size. With that said, the clappers are a very useful product to have and is suitable, and maybe the best, for people just starting out and needing to practice a lot in order to graduate to wooden plates.
Frequently Asked Questions
q:

Can you remove the clapper?

a:

The clapper can not be removed, even though it is reachable. It is built into the fabric, and tugging it can damage the product.
q:

Can these be used by children?

a:

Of course, they are meant for children and adults alike. There are even multiple products which are designed only for children, and if an adult tried to use them they would suffer some damage because they were not built to withstand a lot of pressure.
q:

Do they have a clapping sound?

a:

Of course they do, that is why they are called clappers. However, some cheaper versions do not provide the sound, which is very important for motivation and to know when it is hit properly.
Subscribe to our Newsletter