Best Massage Balls to Hit Trigger Points Reviewed For Pain Relief
last updated:
Jan 23, 2020
Trigger points might sound like a specific technical term but it is simply another phrase used to describe muscle knots. Anyone who has suffered through a muscle knot – and most people have – can attest to the surprising amount of pain these small points can cause. They often develop around the site of an injury and some trainers suspect it is the muscle's way of protecting that spot from further damage. Ironing out these knots is no small tasks, that is why some fighters use massage balls.
This is the best product on our list that is currently in stock: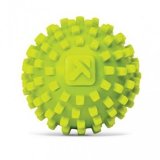 TTP MobiPoint
Why is it better?
Unique Spike Pattern
Solid Construction
Great in a Set
In a
Hurry? Editors choice: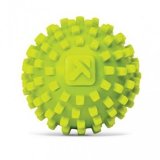 Test Winner: TTP MobiPoint
30
Researched Sources
3400
Reviews Considered
14
Hours Researching
30
Products Evaluated
Durability
Style
Ease of Use
Value
By Default
Top 10 Picks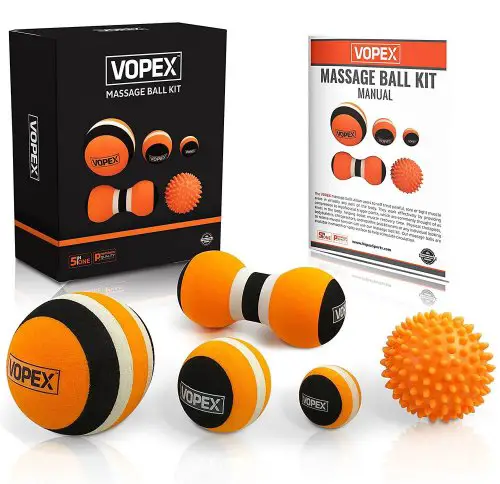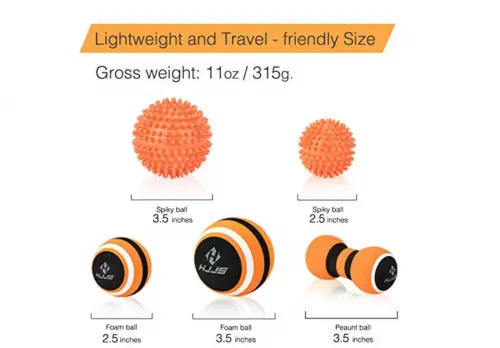 5 Piece Kit
Includes Instructions
Useful for a Variety of Issues
Vopex is a relatively small company that only offers a few products but their small inventory seems to translate into high-quality products that resonate well with its customers. This massage tool set comes with five pieces and a set of instructions so that customers can find the tool that best suits their needs and put it to use immediately without any additional fuss or hesitation.
Read more
5-Piece Kit
If one massage therapy ball is good, five variations on it must be better. Vopex is, by quantity, the most affordable company on this list despite the fact that the face value of their price tag is higher than anyone else's by a slim margin. Their massage kit comes with four different balls and a dumbbell-style device that is perfect for arms and wrists.
Instrcuctions Included
Massage balls might be popular but getting the hang of them takes a little bit of practice. This practice often comes with a lot of guesswork as consumers figure out the best methods and pressure levels to treat their muscle knots but Vopex's instructions will at least get their customers on the right path.
Cost and Value
The only reason that this product did not take the title of Best Value for this list is that many consumers will want to purchase one particular ball for their needs and spending a little bit more for a five-piece set would not be a good deal. Consumers interested in a full-range massage ball kit, however, will find Vopex's offering to the best on the market to fit their needs.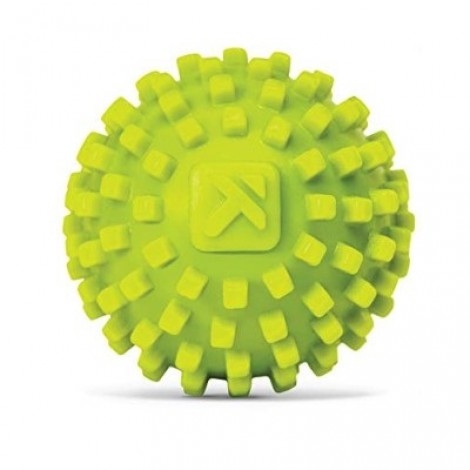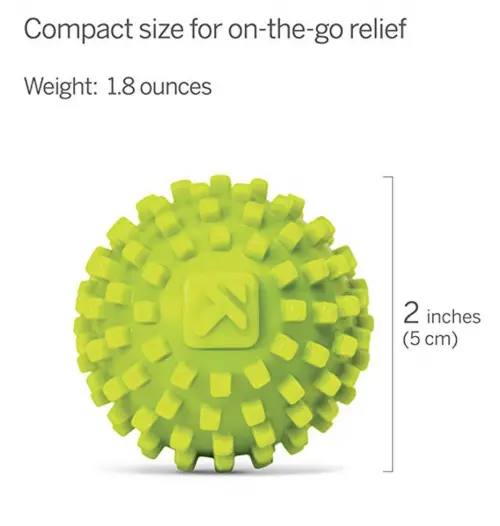 Unique Spike Pattern
Solid Construction
Great in a Set
Trigger Point Performance makes their second appearance on this list with another product that fits perfectly into their line of quality massage products. The Mobipoint was designed with solid construction and a unique blunt-tipped exterior texture pattern that mimics a masseur's fingers without digging in quite as much as massage balls with spiked exteriors tend to.
Read more
Unique Spike Patern
Massage balls usually come in either a smooth lacrosse style or their surfaces are textured with stiff spikes that are meant to dig into the user and recreate the sensation of kneading fingertips. The Mobipoint has a slightly different take on the idea of a textured massage ball. It was designed with square segments sticking out of the surface instead of points. This allows for a more blunt pressure against the skin and provides the same mimicry of kneading fingers without the pain that sometimes comes with the use of sharper shapes.
Solid Construction
The massage ball market is pretty well split between solid-construction and layered-construction massage balls. Both types have good and bad qualities that determine how well they serve consumers. In this case, however, Trigger Point Performance made the right call by choosing the solid-construction method. Solid-construction balls are usually denser than those made using layered construction which allows users to get a deeper massage from the textured surface.
Cost and Value
The MobiPoint easily took the title of "Best Value" for this list. It is the most affordable product but, more than that, it is a product that is designed literally from the inside out to provide relief through trigger point therapy. Trigger Point Performance is a generally great company and the Mobipoint is just one of their products that all integrate into a cohesive set that is sure to keep athletes and fitness buffs up and moving.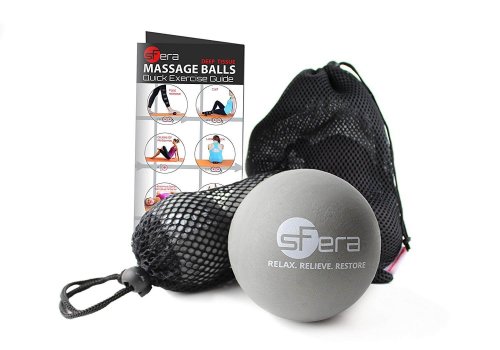 2-Ball Multi-Pack
Includes Mesh Bag
Lifetime Guarantee
It is rare for a company to take two consecutive spots on a list by sFera has managed to pull it off! Their firm rubber stand-alone set is a mild departure from their tendency to sell their products in variety packs but it is still a valuable offering on its own merits. This set of two smooth lacrosse-style balls is covered by a lifetime warranty and arrive with the same mesh bag and usage guide that sFera includes with nearly all of their products.
Read more
Includes Storage Bag and Guide
SFera's firm rubber massage therapy balls are a great deal in and of themselves but their value does not stop there. The balls call with a mesh storage bag that makes using them at the gym or on the road infinitely easier. They also come with a guide so that new users can get started as soon as they open their shipment without any uncertainty.
Lifetime Warranty
The fact that sFera made this list twice - let alone twice in a row - is a testament to how committed they are to providing their customers with quality products. But the company didn't stop at creating quality products. They back up their products with a lifetime warranty. These kind of buyer protections are relatively rare in the world of fitness equipment and SFera's decision to support their products with such a wide-ranging warranty really highlights their belief in the durability and longevity of their product.
Cost and Value
sFera products are relatively expensive compared to other single or double-product sets. Their quality and warranty account for some of that excess cost, however. This particular set comes with two balls, a mesh storage bag, and a user guide as well as a lifetime warranty so that customers can get going and stay going as soon as their product arrives. That kind of support and encouragement really showcase the value of this product.
4

. sFera Firm Therapy Set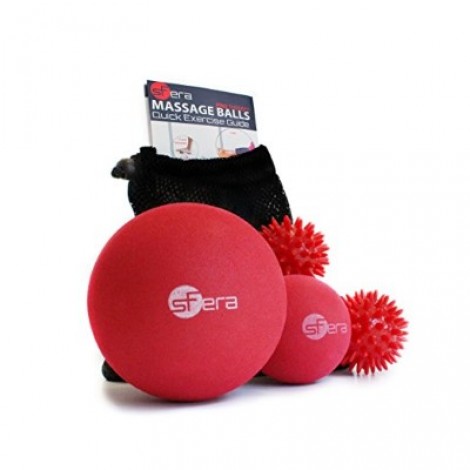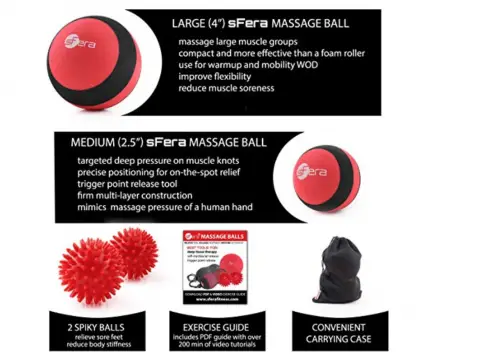 Multi-Pack
Includes Instructional Guide
Comes With Travel Bag
Different Shapes/Sizes
sFera is a very focused company. Their entire inventory is based around the idea that trigger point massaged can help alleviate pain and get athletes and fitness buffs back on their feet. They offer several variations of this kit but the standard firm version seems to be the most popular. It comes with four pieces, some textured and some in the smooth lacrosse style. It also comes with a mesh storage bag and usage guide so customers can jump right into their massage therapy.
Read more
Set of 4 Therapy Balls
sFera's products are usually a little more expensive than comparable products from their competitors, but they really knocked their value out of the park with their firm therapy set. Rather than just one ball, this set comes with four, two of which have textured exteriors while the other two are lacrosse-style balls. The balls also come in varying sizes although they all share the same firm density.
Comes with Storage Bag and Guide
Some might say that four balls at a reasonable price are enough for one company but sFera obviously disagrees. Their therapy set comes with a mesh bag and an instructional guide, both of which serve to ensure that sFera customers can get started with their trigger point therapy as soon as they receive their products in the mail.
Cost and Value
sFera is a somewhat pricier company, as a general rule. With this therapy set, however, they set aside high prices for a grand-slam in value. This set comes with a slightly higher price tag than normal for a massage therapy ball but that price tag gets the customer four balls, a usage guide, and a mesh storage bag so that they can take their massage therapy on the road with little to no problems.
5

. Epitome Fitness Muscle Max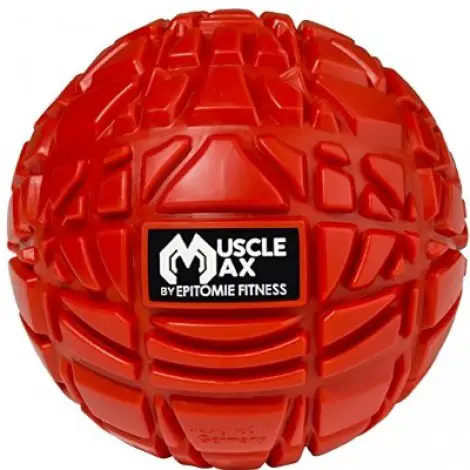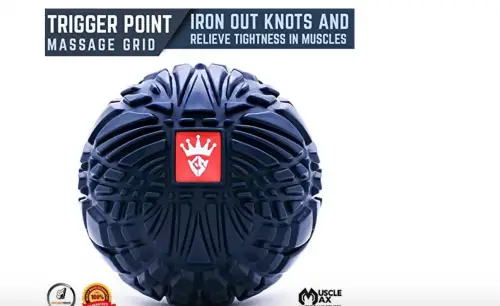 High-Density Rubber
Unique Grid Pattern
100% Satisfaction Guarantee
Dust and Debris Collects in Grid
Epitome is a company that wants to help people get up and get moving. They offer a wide range of fitness products from jump ropes to compression socks, every last item geared toward the goal of getting their customers up on their feet. Most of their products have been well-received by their customers but one of the most popular is their Muscle Max massage therapy ball. The unique grid pattern and high-density rubber construction ensure that this product will deliver a deep massaging to any knot no matter how stubborn it is.
Read more
High-Density Rubber
This particular upside might not appeal to everyone, but many users will be happy to find that the Epitome Fitness chose to make their massage therapy ball from high-density rubber. This choice allows the ball to withstand more pressure and deliver a deeper massage to the user.
100% Satisfaction Guarantee
Epitome Fitness does not want to take chances with their reputation and they back up that commitment with a rare 100% satisfaction guarantee. Some customers have even spoken out saying that the Muscle Max was too dense and was uncomfortable to use, but Epitome Fitness still honored their guarantee and helped those customers find a better product for their needs. That kind of customer service and dedication to a product is rare, which adds a lot of value to the Muscle Max.
Cost and Value
The Muscle Max is definitely one of the more expensive items on this list. It costs as much as some of the featured kits but, for some, its textured exterior and high-density construction are enough to earn the product's price tag. Others will be drawn in by the 100% satisfaction guarantee. Regardless of which trait appeals to the buyer more, they will be getting a great and long-lasting product for their investment in the Muscle Max.
6

. 4 KOR Fitness Fireball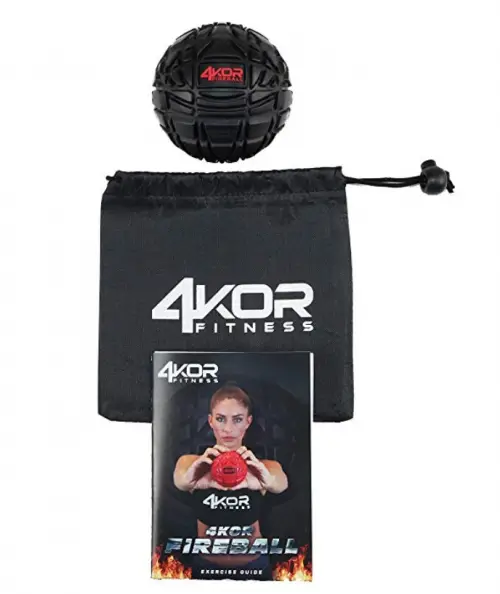 Unique Grid Pattern
Lifetime Satisfaction Guarantee
Made of Thermoplastic Rubber
Dust and Debris Collects in Grid
4 KOR makes it obvious that they are intense about fitness. All of their products are designed to either help people push their limits or to heal up after pushing themselves so that they can do it all again. Even their product names are intense, such as their Fireball massage therapy ball. This product is a uniquely-patterned dense rubber ball that provides a unique massage experience and is covered by a lifetime satisfaction guarantee. The guarantee, of course, proves that 4 KOR is just as intense about providing quality products as they are about helping people to push out their comfort zones.
Read more
Unique Grid Pattern
4 KOR's Fireball is unique among the products on this list in that it is not a lacrosse-style ball but it does not have prominent bumps on its exterior either. It instead bears a grid pattern with notches and grooves that create a unique effect when applied to muscle knots and sore limbs.
Lifetime Satisfaction Guarantee
The Fireball has a great reputation and it is clear that 4Kor is eager to protect it. Their offer a lifetime satisfaction guarantee is unusual in this market but it is a mark of the confidence they have in their product. The guarantee seems to apply to all of their products which is just a further testament to the company's dedication to quality.
Cost and Value
4 KOR's Fireball is very nearly the most expensive item on this list, but it may very well be worth it. The unique grid pattern will be a bit trying to keep clean, but if properly cared for this product will provide years of massage therapy. That longevity and the guarantee that protects it make this product an excellent investment for anyone who wants to make trigger point massage therapy part of their long-term fitness plan.
7

. ActiveProZone Extra Firm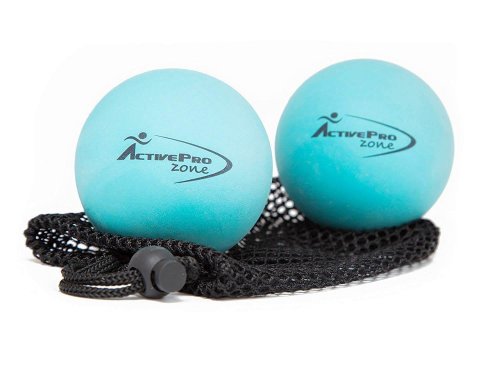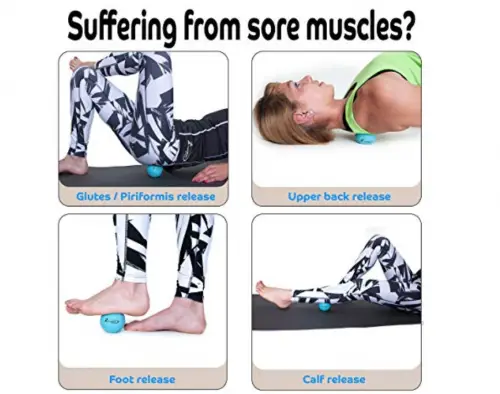 Comes with Mesh Bag
100% Satisfaction Guarantee
Made of Natural Rubber
ActiveProZone has a very small inventory. And by very small, I mean that they offer one product: their extra firm massage therapy balls. Their narrow focus seems to have paid off, however. These natural rubber lacrosse-style balls may have a rubbery odor but they are designed to last while providing a high level of pressure where the user needs it most. The product is also backed up by a 100% satisfaction guarantee. Clearly, ActiveProZone backs up their one and only product and the customers who rely on it.
Read more
Made of Natural Rubber
Most fitness products, particularly those that need to be durable under pressure, are produced using synthetic materials. ActiveProZone took a different approach, however. Their extra firm massage therapy ball was produced using natural rubber which makes it ideal for those looking for a more traditional or natural alternative to synthetic equipment.
100% Satisfaction Guarantee
Some people worry that natural rubber is not as durable as synthetic rubber but ActiveProZone clearly has faith in their product. They offer a 100% satisfaction guarantee that a few customers have attested to them honoring when they were unsatisfied with their products for even minute reasons. That kind of customer support is uncommon and it truly speaks to this company's commitment to their product, to their customers, and to quality.
Cost and Value
This set of massage therapy balls came very close to taking the title of "Best Value". They may not be the least expensive products on this list but they are still an excellent value. Some customers had issues with a rubbery odor that the products give off when they first arrive, but that is part and parcel of the company's decision to use natural rubber and is said to fade with time.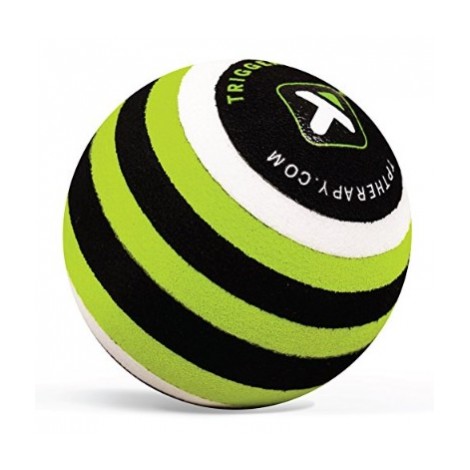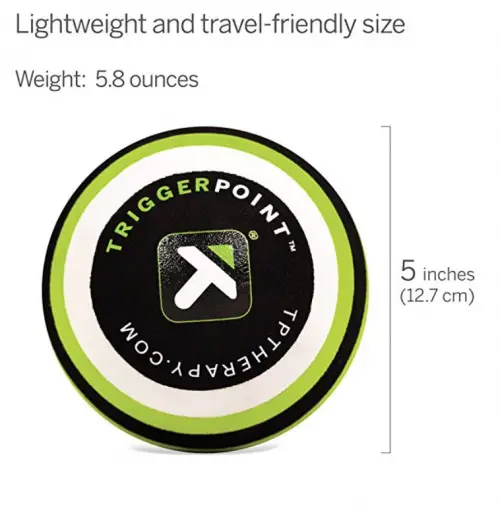 Layered Construction
Easy to Clean Surface
1-Year Manufacturers Warranty
Trigger Point Performance has been featured on previous lists, most notably a compilation of the best foam rollers currently on the market. Their repeat appearance isn't a shock to anyone who takes a scroll through their inventory, however. All of their products are designed to help ease pain and discomfort through the use of trigger point therapy, as their name implies. Their products are all well-received and they offer so many massage options that it was hard to narrow their offerings to the two that ultimately made this list. Their foam ball came out on top, however, due to its durable layered construction, easy to clean surface and one-year manufacturer's warranty. Some users find this particular massage ball too soft, but the company offers several variations so that everyone can find the product that best suits their needs.
Read more
Layered Construction
The layered construction of this massage ball sets it well apart from others currently on the market. Most companies prefer to produce single-piece or solid-construction products because they are often the most durable. They are also denser which can make them too uncomfortable for some consumers to use.
1-Year Manufacturer Waranty
Massage therapy balls are at a high risk for falling apart. They treat trigger points through the pressure users apply to them but the same pressure can cause them to deteriorate faster than many other pieces of athletic equipment. Trigger Point Performance has a reputation for supporting their customers and this 1-year manufacturer's warranty is one method the company uses to ensure that their customers truly get their money's worth.
Cost and Value
Trigger Point Performance's prices fall close to the center line for this list's price range. Some consumers might think that their prices are too high for a single massage ball, but the price is more than reasonable when the company's dedication to their product and customers is taken into account. This ball was designed with multiple layers so it is softer during use, as well as an easy-to-clean surface. It is backed up by a one-year warranty and integrates beautifully with all of Trigger Point Performance's other products.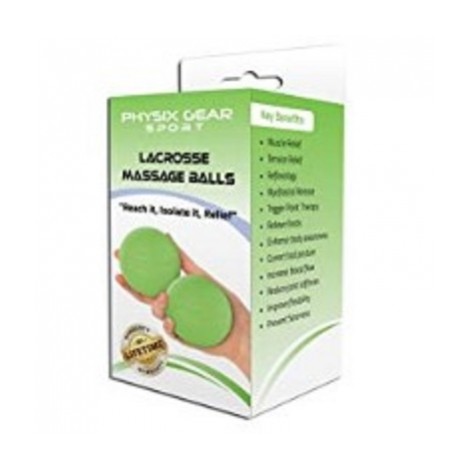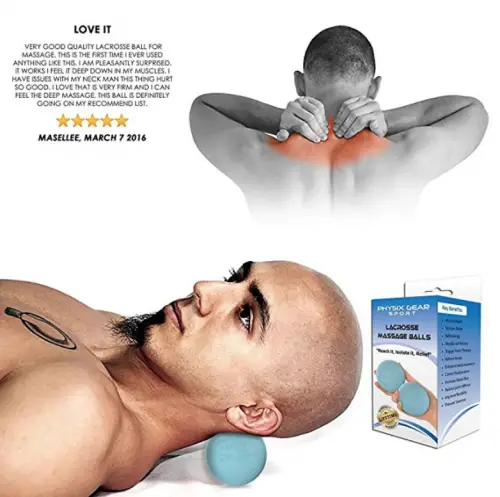 Lifetime Warranty
No Chemical Odor
Includes eGuide
Physix Gear Sport is a somewhat rare company in that it has a rather large inventory but every single item is on-brand and caters to a very specific goal. This goal seems to be to provide their customers with everything they might need to encourage blood flow and muscle health during and after their workouts.
Compression socks, kinesiology tape, and orthotic insoles are just a few of the niche markets they cover. They also offer a wide range of massage balls that is so well-received by their customers that it was hard to choose just one particular kind. Their lacrosse-style massage balls ultimately came out on top, propelled there by their lack of any chemical odor, their lifetime warranty, and the included e-guide.
Read more
No Chemical Odor
One of the most common complaints among massage ball enthusiasts is that many products on the market come out of the box with a strong chemical or rubber-like odor. This is an unfortunate side effect of the materials most commonly used to make these massage balls since the materials that hold up best to the wear and tear placed on a massage ball are also likely to be those with a strong rubber odor. Physix Gear Sport is one of the few companies currently using a material that strikes a balance between the necessary durability to give the product a long lifespan without burdening their customers with a long-lasting and unpleasant odor.
Lifetime Warranty
A reputation like Physix Gear Sport's requires dedication not only to their products but to their customers as well. This kind of reputation requires that the company produce quality products while also putting fail-safes in place to take care of any less-than-ideal products that manage to make it off the line and into the hands of consumers. In Physix Gear Sports' case, they chose to put a lifetime warranty on all of their products.
Cost and Value
Physix Gear Sports is one of the most affordable companies on this list. Not only are their massage balls made with an eye on quality and backed by lifetime guarantees, but they are some of the most affordable on the market, hands-down. Their lacrosse-style balls come in a range of densities which gives consumers the ability to choose the density that is right for them, even if it takes some customers a few tries.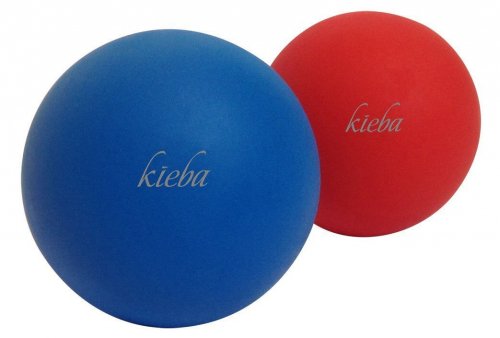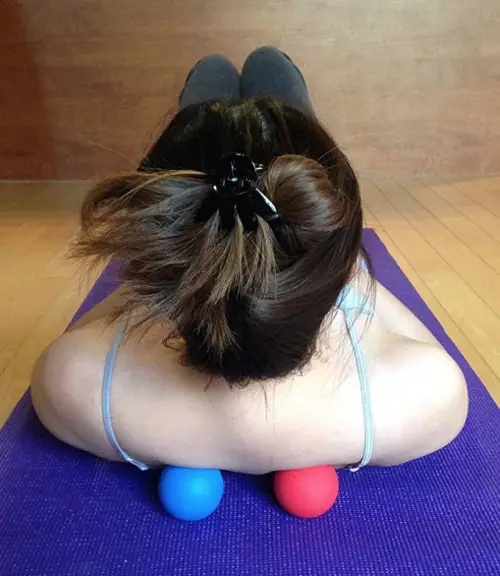 Durable
100% Money-Back Guarantee
Easy to Use
Moderate Density
Kieba is a small company whose focused inventory is built around one idea: to provide comfort and pain relief. They term their small collection of products a "wellness system" and, when used properly, it is easy to see how these products would support wellness. Their firm lacrosse-style massage balls are only part of this system but they are a stand-out product even when taken on their own merits. They are durable and easy to use with a smooth exterior that means they are easy to clean. There is an unfortunate rubber odor that comes along with this product but if it is too much to bear, Kieba offers a 100% money-back guarantee.
Read more
Durable and Easy to Use
Durability is key for massage balls like these. Since most trigger point therapy methods involve pressing the massage ball between the afflicted area and a hard surface, there is a higher risk for tears and cracking if the ball is not durably made. Kieba's product has a firm reputation to affirm that it can and will hold up to the wear and tear of extended use.
100% Money-Back Guarantee
Kieba's products have a good reputation and that is not something that the company takes any chances with. They offer a 100% money-back guarantee if their customers are not satisfied with a product. Some people have returned the items due to the density not being to their liking or because of the rubber smell that comes with the materials this product was made from. In either case, the company is known to honor their guarantee to ensure that the right product gets to the right person with as little frustration as possible.
Cost and Value
This product took the top spot for a reason. Most customers report finding these balls to be the perfect density regardless of where the afflicted area was. Even customers unhappy with the scent of the product were able to find good things to relate to their reviews. This positive reputation can be hard enough to achieve but Kieba takes their commitment to excellent one step further and offers their products at some of the lowest prices on this list and, accounting for quality, on the market. They are an excellent purchase in both value and quality.
Criteria Used for Evaluation
Durability
Durability is the primary criteria on which these products have been judged. Most of them are used by either laying on them or pressing them between the target location and a hard surface. Products lacking durability will easily split or break under that kind of use which not only wastes the consumer's money but also leaves them frustrated and in pain. The products on this list have a track record of standing up to intense and prolonged use which will hopefully translate into consumers finding products that will see them through years of massage-based knot relief. It bears mentioning that there is always the risk of receiving a defective product, but nearly every company on this list is more than happy to address that situation should it arise in order to leave their customers with products that properly reflect the quality of the brand.
Style
Trigger point massage therapy usually relies on one of two traits when it employs these sorts of products. The ball in question must either be dense enough to apply a consistent and far-reaching amount of pressure to the injured area or it must have a textured surface that digs into the knot much like a masseur's fingers would. While different people prefer different density levels and surface textures, products with heavy densities and more reliable surface textures were rated more favorably for this list than softer massage therapy balls or products with surface textures that seemed to have no additional benefit.
Ease of Use
This criteria mainly centers on the type of material the product's exterior is made of as well as the ease with which the exterior can be cleaned. Some massage therapy balls are made of a somewhat sticky rubber while others have spiky or textured exteriors that require a little bit of extra cleaning so that debris and sweat do not build upon the product's surface. These products were given a very slightly lower level of consideration that products with non-stick surfaces or surface textures that would be easy to clean, with or without texture.
hese sorts of products come in a wide variety of sizes and weights. For the purposes of this list, however, products that were lightweight and relatively small were ranked higher than those that were either too large or too heavy to fit in the average gym bag. Portability has become more and more important in recent years due to the increased hours most people have to work while still fitting in family time, personal time, and meeting their healthcare needs. Injury treatment and pain reduction should never be too difficult to find time for, thus the importance of portable massage therapy tools.
Value
Warranties and guarantees are becoming more common in the sports and fitness markets but they are still relatively rare. Companies that protect their products – and their consumers – with warranties and guarantees were given higher consideration than those products that did not. This is mainly for the protection of the consumer, to protect against faulty products. It is also a mark of the company's dedication to quality since warranties and guarantees are an indication that they stand by their reputation and are willing to lose money on a purchase in order to protect the integrity of their product and their brand
Expert Interviews & Opinions
Most Important Criteria
(According to our experts opinion)
Experts Opinion
Editors Opinion
Users Opinion
By Default
Speak with your doctor
Speak with your physician if you have any concerning health issues, before using.
Additional Items With Message Balls
Products that come packaged with additional items were given a higher priority than those that come alone. This is due to the additional value that items such as mesh storage bags, additional massage tools, and instruction pamphlets provide.
Other Factors to Consider
Bottom Line
It is, unfortunately, also uncomfortable enough to keep some people out of the gym and off their feet for days or weeks at a time. Not only can this set someone back from reaching a fitness or training goal, but it can also cause them to develop bad habits or lose their exercise habit altogether.
Massage is currently the best treatment option for muscle knots and this is one suggestion for where the term "trigger point" comes from. If a muscle knot is pressed and massaged long enough, it can "trigger" a cascade of relief. It's hard to know for certain where the term came from, as is the case with many phrases in the English language. What is certain, however, is the relief that massage therapy can bring. Some people favor traditional hand massages and some favor the more recent massaging tools such as hooks and s-curves. The tool gaining the most popularity, however, is the massage ball. They allow those suffering from muscle knots to treat them without the help of another person and they are more compact than the larger devices that are meant to reach around the body and massage hard-to-reach places such as the lower or center back.
Frequently Asked Questions
q:

How do I use massage balls?

a:

Most of the products on this list are used by putting the item between a hard surface and whatever area of the body has a muscle knot. Many people lean against walls to treat back issues, sit on the floor to massage their legs, and use tables to treat knots in their arms. Sites like YouTube have a wide range of how-to videos as well as videos on alternate uses for these products that can help prevent sore muscles and other such issues.
q:

Can massage balls be used anywhere?

a:

A doctor should always be consulted before using these products, particularly near sensitive areas like the spine and neck. Areas like the arms, legs, and torso can all be massaged with slightly less risk, as can hands and feet if muscle cramps develop in those areas.
q:

What is a trigger point?

a:

A trigger point is the same thing as a muscle knot. It is a central point from which pain and discomfort can cascade into larger mobility issues. The exact cause and reason for them are still being researched by the current leading hypothesis is that muscle knots are the sites of small muscular injuries and the spreading pain is due to the muscle tensing to try and avoid further damage to the afflicted spot.
Subscribe to our Newsletter