Best Muay Thai Punching Bags Tested and Compared
last updated:
Feb 03, 2020
With so many Muay Thai punching bags on the market, finding the one that is right for you can be a real challenge. If you have already started to look around, you have probably noticed you can buy Muay Thai punching bags in a variety of sizes, materials, and weights. You even have the choice of buying them filled or unfilled.
In a Hurry? The test winner after 4 hrs of research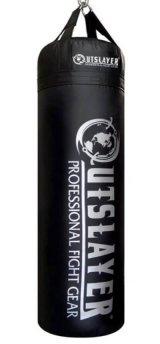 Outslayer MMA Heavy Bag
Why is it better?
Adjustable to Any Weight Up to 300 Lbs

No Charge for Customization

Comes With Protective Outer Bag For Storage

Filling More Forgiving Than Sand

Quieter Due to Straps Instead of Chains

No Settling or Lumpiness Issues
In a
Hurry? Editors choice: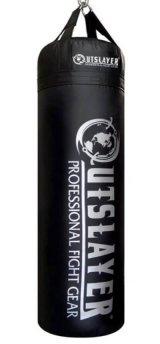 Test Winner: Outslayer MMA Heavy Bag
Adjustability
Materials
Shock Absorption
By Default
Top 10 Picks
1

. Outslayer MMA Heavy Bag
Adjustable to Any Weight Up to 300 Lbs

No Charge for Customization

Comes With Protective Outer Bag For Storage

Filling More Forgiving Than Sand

Quieter Due to Straps Instead of Chains

No Settling or Lumpiness Issues
Not Compatible with One Hook Stands
Outslayer Professional Fight Gear, offers today's boxer, mixed martial artist, and gym rats high quality equipment for a high quality work out. Based in California, this manufacturer believes in great customer service and products that won't let you down. All of their products come with a 10 year warranty, which helps ease the burden of the cost of a high quality Muay Thai punching bag. Coming in number one in our guide for a reason, the Outslayer MMA Heavy Bag, offers 100 pounds of high quality, durable construction that will take your fighting to the next level. Excellent for a variety of training needs you are sure to love the Outslayer MMA Heavy Bag.
Read more
Adjustable Capacity
Purchasing Muay Thai punching bags requires knowing what weight you will need. Purchasing one that is too light can send it flying through the air after an aggressive, hard hit or kick. You will typically want to choose a bag that is about half your body weight. The adjustable capacity of this Muay Thai punching bag, is delivered to you weighing about 100 pounds. As you and your ability grow, you may find you need to add weight to keep your bag moving naturally. The Outslayer MMA Heavy Bag allows you to add up to 200 pounds, maxing out at 300 pounds.
Sewn In Heavy Duty Straps + Optional D Ring
No chains required for this Muay Thai punching bag. The use of chains can wear your punching bag out. The Outslayer MMA Heavy Bag, uses sturdy straps that are sewn into the bag, this will help keep your bag in great condition for years to come. In addition to sewn in straps, you also get the option of adding a D Ring to the bottom of your bag. Doing this allows you to secure it to a sandbag or the floor. If training in a small space this can be a huge advantage.
Cost and Value
Buying Muay Thai punching bags can be a serious burden on your budget. Outslayer provides this awesome bag at a reasonable price. One of the most affordable in our guide, the Outslayer MMA Heavy Bag is durable and guaranteed for 10 years of use. Making an investment in a Muay Thai punching bag doesn't have to be a hard hit and you don't have to accept less than the best just to make it work in the numbers.
2

. Century Original Wavemaster
Will Hold Up to Daily Punishment

Easily Adjustable

Simple to Clean

Foam Filled Bag = Easy Adjustment and Great Durability

Won't Swing or Ruin Your Ceiling
May Not Stay Up for Seriously Heavy Striking

May Move During Use
With more than 40 years of experience, Century has been offering top quality martial arts gear that will help to improve not only your ability but also your life. One of the largest suppliers of martial arts, boxing, yoga, and physical fitness equipment, Century stands above the rest in reliability, innovation, and trust. The Original Wavemaster Heavy Bag will become your most trusted partner during training. Freestanding and made of vinyl and plastic, you will master the art of kicking and punching all while improving your coordination, balance, and stamina.
Read more
Rounded Base
Relocating your heavy bag can be a real challenge considering the weight of them. The rounded base of the Century Original Wavemaster makes moving it easier than most and it also makes rolling away easier to practice and perfect. You can fill the base with sand or water, whichever you prefer and know it will stay where you put it, even if you move it every day. If you find you are unable to put in a permanent fixture for your Muay Thai punching bag this heavy bag may be a perfect solution to your problem.
7 Height Adjustments
This feature is one that we truly love and can not be found in many Muay Thai punching bags. Adjust the Century Original Wavemaster between 47 and 68 inches for practice at all levels. Training can be quite a bit different than your next big match up and the height of your opponent can require some adjustment in your form. With the ability to practice at different levels you will be able to handle a fight against any opponent without worrying if your kick will be high enough or if you will find the right point of contact.
Cost and Value
Falling into the middle of the pack when it comes to price, the Century Original Wavemaster is anything but mediocre. Decades of experience and high quality craftsmanship is what you will get when you invest in this Muay Thai Punching Bag. Easier than most to move around and excellent rebound time are two of the many reasons you will love this bag. Exceptional durability helps ease a bit of the cost and you can rest assured it will hang with you through the heaviest training sessions.
3

. Outslayer Muay Thai Heavy
Excellent for Conditioning Hands, Wrists, and Shins

Maintains Shape and Condition Through Daily Abuse

Optional D Ring for Bottom Anchoring

Durable Construction and Material

Extra 6 Inches in Length When Straps are Extended

Perfect Hardness
Fabric Scuffs From Striking

Some Find Difficulty in Adding More Weight
As with all Outslayer products, you will receive a 10 year warranty, experience, and truly great craftsmanship when you buy one of their Muay Thai punching bags. The Outslayer Muay Thai Heavy Punching Bag weighs in at 130 pounds and whether looking to improve your kicks, punches, or entire body workout, this bag will exceed your needs. 6 feet in length you will find kicking lower to be a cinch and an improved lower body workout. Durable construction, easy to clean vinyl, and a fill that you won't have to worry about denting or hollow spots are some of the other features we love in the Outslayer Muay Thai Heavy Punching bag.
Read more
Machine Compressed Fabric Filling
If you are new to the world of Muay Thai training, you may not know how painful and difficult heavy bags filled with sand can be. Sand, after use, starts to pit and settle. This can cause exceptionally hard areas that can damage your hands or wrists during a fierce training session. If you are more experienced you may already know this, you may also know what a pain it can be to unmount your bag, throw it on the ground, and try to redistribute sand evenly. Outslayers use of machine compressed fabric filling provides consistent density and reliable use for your training. Muay Thai punching bags come with many fill options, we find the less pitting and hardened areas the better and Outslayer gives us a bag that never lets us down in this area.
6 Foot Height
Sometimes working your lower body and perfecting your kicks can become difficult due to Muay Thai punching bags that are too short. The 6-foot height of the Outslayer muay Thai Heavy Punching bag will allow you to get a greater lower body workout and improve your kicking skills at all levels. When training in any martial art, you will find it easier to work on low strikes when your bag isn't short. Many fighters find this to be a common problem with a simple solution, buy a longer bag to begin with and save yourself the future investment.
Cost and Value
Outslayer has proven themselves time and again when we ask who makes the best products for all of our martial arts needs. A bit costlier than most on our list, you may need to adjust the budget to purchase this heavy Muay Thai punching bag. If you do decide this is the bag for you, rest assured you will be getting a durable, easy to install, easy to clean, made for feral hits and kicks bag, that will last you through years of training.
No Water or Sand Required
Superior for Beginners
Easy to Set Up
Stellar Price
Excellent Gift Idea
Seriously Improves Hand Eye Coordination 
May Not Stand Up to Older Kids or Heavy Hitters
Most of our guide consists of heavy bags used for serious muscle building and training practice. The Eyewalk Punching Ball is made for beginners and will not only help learn correct punching technique but will also help increase speed and strike accuracy. Muay Thai punching bags come in many shapes and sizes, this punching ball will bounce back, at a variety of heights, making the increase of your fighter's speed and skill a cinch. Whether, looking to improve hand-eye coordination, specific martial arts skills, or just looking to get the heart beating quickly while doing something fun, the Eyewalk Punching Ball is an excellent choice.
Read more
Spring Mounted Metal Stand
Making sure the bag you decide to punch stays in place is imperative to not only learning and technique but also safety. Overreaching due to a sliding base can cause your new fighter to lose their balance and trip which could lead to injury. The spring-mounted metal stand is sturdy and allows the ball to bounce back towards the person striking. The wide plate can be stood upon which improves its ability to stay in place.
Adjustable Height
With the ability to adjust the Eyewalk Punching Ball between 31 and 47 inches, you will have room for it to grow with your fighter. When learning how to punch, form and repetition are important. The adjustable height lets you start young and continue to work to perfection as you get taller. Investing in quality products that will adjust with the growth of a young martial artist is awesome and not only save you money but also save you time.
Cost and Value
The best value in our guide goes to the Eyewalk Punching Ball. Giving your child an entertaining way to exercise, play, and increase their skill is what you will find with this Muay Thai punching bag. Not your traditional heavy bag, with a slightly different type of training, this can be the perfect start or addition to your gym equipment. Made of durable materials and filled with air you don't have to worry about replacing it frequently and your child is sure to enjoy their time spent punching this bag.
5

. Century Wavemaster XXL
Simple Set Up

Big Enough to Work Out with Partner on Same Bag

Very Difficult to Knock Over

Exceptionally Durable = Years of Daily Abuse

No Mounting = No Damage to Your Home

Filling is Easier on Hands Than Most
Cost

May Slide if Filled with Water
Weighing in at roughly 270 pounds and an 18-inch diameter, the Century Wavemaster XXL, is built for the biggest contenders and heaviest hitters. Century is a powerhouse in the industry of Muay Thai Punching Bags and the Wavemaster XXL is the perfect reason why. The low profile base makes it exceptionally sturdy, which will help it stay put during your training sessions. If you are looking for the largest kicking and punching surface on the market, the Century Wavemaster XXL Muay Thai punching bag may be right for you.
Read more
Low Profile Base
We commonly hear complaints about movement while striking in Muay Thai punching bags that are freestanding. The low profile base on the Century Wavemaster XXL provides excellent weight distribution and the oversized opening makes it easy to fill. You can fill the base with sand or water and breathe easy knowing the base will hold your bag steady during your fiercest sessions.
69 Inch Height + Large Punching and Kicking Area
Taller and bigger than most Muay Thai punching bags on the market, the Century Wavemaster XXL, can accommodate the tallest and heaviest hitting martial artists out there. When you want to practice hitting different strike zones and a variety of levels this bag will meet your needs. If you have been struggling to find something that can meet the needs of a big contender, and that can truly stand up to a hard hit or kick, this punching bag is made for you.
Cost and Value
This Muay Thai punching bag made for heavy hitters does come with a heavy price tag. Superior construction that is built to last blow after blow will take a piece of your budget and may require some savings to acquire it. Finding a bag with enough height and hitting surface to make your bag perfect will cost more but you will get a product made for you and that will stand up to the abuse it will take for years to come.
6

. Ringside Powerhide Heavy Bag
No Tags or Patches = No Scratched Knuckles

Easy to Add Filling if More Weight is Needed

Dense Enough for Heavy Kicks and Strikes

Gym Quality at Home

Breaks In Nicely
A Bit Unforgiving in the Beginning
With over thirty years in the fighting equipment industry, Ringside uses their knowledge and expertise to provide us with truly exceptional Muay Thai punching bags. The Powerhide Heavy bag is 100 pounds and ready to take substantial abuse in your home gym. Loved my beginners to advanced, trainers and gym owners alike, the use of this Muay Thai punching bag will elevate your skills, footwork, force, and accuracy. Find a superior hitting surface and solid stitching when you choose the Ringside Powerhide Heavy Bag.
Read more
2 Inch Foam Layer
The Ringside Powerhide Heavy Bag is lined with two inches of foam liner making for an exquisite punching and kicking surface. If you are hitting a bag full of sand, we are sure you know how painful it can be. Annoying, brick hard, lumps form and if you strike these you could be looking at injuries, including broken bones. The two-inch foam liner used in this Muay Thai punching bag absorbs shock and distributes it evenly, keeping the pressure off you, your muscles, and bones. Reducing shock will keep you training longer and harder which in turn will increase your overall skill and physical condition.
Powerhide Construction
A synthetic blend that feels like real leather will stand up to the toughest trainers and is simple to clean and maintain. Durable stitching and superior material make this Muay Thai punching bag ready to take daily abuse. From amateur to professional you will see how the powerhide construction in the Ringside Powerhide Heavy Bag will endure primal beatings day after day. If you need a heavy punching bag that will prove itself with the test of time, take a chance on this excellent bag from Ringside.
Cost and Value
Leading the pack in durability and supreme hitting surface, the Ringside Powerhide Heavy Bag is also one of the leaders in cost. Muay Thai punching bags come in many shapes and sizes, they also come with a variety of prices. If you are looking for a versatile bag that is easy to set up, durable, offers great shock distribution, and is made by a company trusted by millions then making room in your budget for this bag may be well worth it.
7

. Everlast MMA Heavy Bag
Excellent Beginner's Bag

Versatile Hanging Options

Great Introduction to MMA and Boxing

Sturdy Build for Continuous Use

Easy to Install

Superior Price
Settling Sand = Hard Bottom

Zipper Durability Issues
You get a one of a kind purchase when you buy the Everlast MMA Heavy Bag as it usually comes in a kit that includes a 70-pound bag, kickboxing gloves, wraps, and a bungee cord for added resistance. While the extras are nice, we are here to talk about the bag. We love the Everlast MMA Heavy Bag because of its adjustability and awesome size for beginning fighters. The outside of this Muay Thai punching bag is made of easy to clean vinyl that will stand up to a serious beating. Easy to hang from a beam or a stand, who knew Muay Thai punching bags could be so easy to make fit into your small space.
Read more
Height Adjustability
Controlling the height of your Muay Thai punching bag is crucial to learning proper technique and being able to train in punching as well as kicking. As far as Muay Thai punching bags go, this one is quite small and built with early starters in mind. Excellent for small hands the Everlast MMA Heavy Bag will grow with your fighter and give them years of training before needing a new one.
Synthetic and Natural Fill Fibers
Supremely resilient and excellent at absorbing shock the synthetic and natural fibers used to fill the Everlast MMA Heavy Bag will allow you to give this bag a beating daily. Excellent at absorbing and redistributing shock, when it comes to Muay Thai punching bags, Everlast has provided one that will keep your muscles and joints feeling better for longer. This will allow you to train longer and harder without feeling it for days after.
Cost and Value
The Everlast MMA Heavy Bag won't take a chunk out of your bank account. One of the most affordable Muay Thai Punching Bags in our guide, this one proves you can find great quality for a reasonable price. If you find your child is taking an interest in the world of martial arts or boxing and you want to let them try it to see if it's their real passion, this bag will allow that to happen without causing any financial burden.
8

. Century Body Opponent Bag
Holds Up to Elbow, Hand, Knee, and Shin Strikes

Practice on Specific Strike Zones

Adjustable Height = Specific Targeted Strikes

Realistic Training

Excellent for Technical Martial Artists
Durability Issues in Bolting System

May Need Assistance when Filling Base
Often referred to as the Century BOB punching bag, when you use Muay Thai punching bags like this you will be able to hone in on strike zones and improve your hand-eye coordination. The anatomically correct punching bag allows you to train against a form that you will surely be facing in real life. Adjustable height and a slim base make this bag feel customized with that real-life fighting feel.
Read more
High Density Foam Construction
Striking an opponent never felt so good. The Century BOB punching bag is made of a high-density foam that is forgiving and offers great impact absorption. Adjustable between 60 and 78 inches, you will be ready to practice against opponents at varying heights and ensure you are making the most impact in their sensitive strike zones. In addition to all of this, the high-density foam will stand up through years of abuse, ensuring you receive the best bang for your buck.
Low Profile Base
When using free-standing Muay Thai punching bags, it can be difficult to practice footwork due to bulky bases. The low profile base in the Century Body Opponent Bag will allow you to move easily around the bag and maintain footwork and correct positioning. It is important to note you can fill the base with sand or water. Sand does a better job at keeping your Century BOB punching bag stationary where water may give it additional movement.
Cost and Value
This anatomically correct Muay Thai punching bag will cost you more than most in our guide. While not the most expensive, it is close. If you want to guarantee correct striking spots at a variety of heights then an investment in this type of Muay Thai Punching bags may be just for you. Built with durable foam and experienced craftsmanship you will have a long-lasting bag that helps you train to the highest levels.
Easy to Set Up

Comes With Added Equipment Perks

Great Indoors and Out

Superior Craftsmanship

Excellent Feel When Striking

Stellar Price
Durability Issues with Bottom D Ring
RDX gives you everything you need to get your home gym started. If you or someone you love has recently entered the gym and fallen for Muay Thai, eventually training will need to happen at home. Muay Thai punching bags are expensive enough by themselves, add to that the need for hanging equipment and gear and what you have is a wish that may or may not come true. RDX keeps it real and gives you everything you need to get started. While added items are great perks let's look at the bag and the reasons it has made it into our guide of the Best Muay Thai Punching Bags.
Read more
Waterproof
RDX uses Maya Hide Leather that makes water slide right off. More often than not you find Muay Thai punching bags in your local or home gym. The ability to take your training outside may help increase your want to get out there and do it. Training in fresh air can not only keep your training interesting but allow you to soak up vitamin D which all of us need. Take some of those long sessions outside and don't worry about ruining your bag when you try the RDX Punching Bag. It is important to note, the Maya Hide Leather is also exceptionally durable, add to that double stitching and you have Muay Thai Punching Bags that are made to last.
Twin Layering + Textile Filler
Double layering the shell and filling it with shock absorbing textile fibers and what you get is a punching bag made to keep you feeling great. Maya Hide Leather is awesome at absorbing shock on its own and when doubled, gives you added protection from the repeated impact your muscles, bones, and joints take. In addition, the textile filler is more forgiving and is less likely to have overly hard or pitted areas from settling. Continuing after years of abuse to offer great shock absorption and distribution is part of why we love the RDX Punching Bag.
Cost and Value
One of the best values in our guide, the RDX Punching Bag is built to last and is great for someone just starting their Muay Thai adventure. Versatility, style, and consistent reliability are what you will get when you try one of these Muay Thai Punching Bags. RDX knows not everyone can afford a huge investment and they want everyone to enjoy their chosen martial art with quality equipment at great prices.
10

. Ringside Body Snatcher
Offers a Different Heavy Bag Workout

Great for Jab and Uppercut Practice

Solid Construction

Superior for Limited Space

Practice Footwork With Ease
Some May Not Find It Firm Enough
Different than the other Muay Thai heavy punching bags in our guide, the Ringside Body Snatcher is a soft filled 65-pound punching bag. If you need to work on punching, this teardrop-shaped heavy bag will help your precision with devastating blows. Built to handle even the heaviest hitters the Powerhide technology will stand up to serious abuse. Want it a little heavier? No problem, you can fill this bag up to 80 pounds, which is a feature we love in Muay Thai Punching Bags.
Read more
Teardrop Shape
Form is so important in the world of boxing and martial arts alike. When you punch, if you want the maximum efficiency then you must have impeccable form. With proper form also comes speed and accuracy in your blows. Building your strength, speed, and stamina is simple with the awesome teardrop design in the Ringside Body Snatcher Muay Thai punching bag.
Adjustable Weight
Many of the Muay Thai Punching Bags in our guide offers the option of adding or removing weight. This is because as you progress in your training you will start to hit harder and your punching bag will react differently depending on its weight. Adding weight to the Ringside Body Snatcher will keep it in your home gym for years allowing for increased weight as you get stronger. We think longevity is important and when a brand offers a great product with room to grow with us, it is essential that we let you know about it!
Cost and Value
The price of the Ringside Body Snatcher falls in the middle of our guide. Allowing you to hone your precision in striking and lasting through your toughest training sessions are two factors that help us to understand the slightly higher cost of this Muay Thai punching bag. If you need a bag that will help your speed and accuracy with a moderate price tag, this may be the perfect addition to your Muay Thai Punching Bags.
Criteria Used for Evaluation
Adjustability
While there are pros and cons for both free standing and hanging Muay Thai punching bags, we have found that it really comes down to preference. It is important to note, depending on what area you need to work on, you may find one bag type superior. Hanging bags may be better for leg and lower body work. Whereas, an anatomically correct figure can help you with precision blows. Take some time and think about what you want to focus on before deciding which is right for you.
Materials
Sand Best Muay Thai Punching Bags
Sand has been used to fill Muay Thai punching bags for centuries. It is easy to add, remove, pack down and is relatively affordable. In addition, sand is also very dense and with some work can be redistributed inside your punching bag for prolonged use.
Common problems with sand are settling and pitting. When pitting begins you will find your Muay Thai punching bag becoming lumpy. Upon striking those lumpy areas, it is like hitting a brick wall. When they pair textiles and sand, the sand has a tendency to settle. This can give a completely different feel when striking. Every part of the bag could all have different densities. The outcome could be increasing your chances of injury. It's important to take the time to redistribute the sand.
Shock Absorption
High-Density Foam is being used more and more in today's market. Not only is it durable but it is affordable and offers superior shock absorption and distribution. When you strike foam you don't have to worry about injury. You may, however, end up lacking a bit in the real feel of a heavier filler.
Many freestanding Muay Thai Punching Bags use foam in their design. A heavy base filled with water or sand will keep your bag in place while a lightweight upper is easy to attach and adjust to your preferred height. The foam may not stand up to long-term abuse like a more traditional sand-filled bag but the ease of use and simple transportability make it the perfect fit for your home gym.
Expert Interviews & Opinions
Most Important Criteria
(According to our experts opinion)
Experts Opinion
Editors Opinion
Users Opinion
By Default
Is heavier better?
With the Muay Thai bags, the heavier the bag, the stronger your hits will be. When shopping for one of these punching bags, keep in mind how hard you want your hit to be. With the heavier bags, you are training your hits to be harder.
Other Factors to Consider
Advanced Features
When we first started looking into the best Muay Thai Punching Bags, we found that some people really prefer freestanding bags while others lean towards hanging bags. We asked ourselves what the real difference is and what are the pros and cons of each.
Frequently Asked Questions
q:

I feel more comfortable working out at home. Is it safe for me to start Muay Thai training at home instead of at the gym?

a:

Ultimately you can choose to do what makes you feel comfortable but having all the facts will lead you to the best choice. Working at a gym with a trainer when entering the world of Muay Thai certainly has its benefits. While working at home is appealing, your performance could really suffer. If you aren't careful you may even sustain injuries.

Finding a non-judgmental gym is usually pretty easy because people tend to support fitness ventures and are on them themselves. Another great way to combat those nerves is to get a friend to go with you. You will see what a great workout you get and how much fun you can have beating a bag silly.

Once you find a great place to train, getting to know your trainer will help you exceed your goals. Participate in classes and hone your skills to master levels. We aren't saying you can't get a great martial arts sweat fest on at home, but if you want to master the skills it takes to pull off tricky Muay Thai combinations a trainer is the way to go.

It is important to note, if you are going to start training at home, do the research. Watch videos of proper punching technique and don't hit with full force until you know what you are doing. Proper technique throughout all boxing and martial arts ventures is important to your enjoyment and safety.
q:

How much should Muay Thai Punching Bags weigh?

a:

The weight of your Muay Thai punching bag honestly depends on your weight. Most often you want your bag to weigh roughly half of what you weigh. This will allow it to move naturally but stay put when you are really going to town on it. If half your weight is in between commonly found heavy bag poundage, you will want to go up five to ten pounds. A little too heavy is better than a little too light.

As your skill and strength increases so will your punch and kick power. Looking for Muay Thai punching bags that you can add weight to will save you time and money. Keep your bag working for you for years to come by making sure this is one of its features.
q:

Do I have to mount my Muay Thai Punching Bag to the beam in my ceiling?

a:

No, there are alternatives to mounting Muay Thai punching bags to the beam of a ceiling. While many homeowners choose this method in their home gym and it is often preferred, if you rent your place you may not have this option. Other's prefer not to put holes in beams period. Finding there are some great alternatives to get around this.

One option is to buy a Muay Thai punching bag that is free standing. Not only are free standing bags easy to set up they are easy to put away and store. Freestanding bags can be put anywhere. With adjustable base weights, you can firmly plant it where you want it or let it move a little. No holes and easy to deal with, a lot of renters have found this to be the perfect alternative to hanging their heavy bag.

Another option is to buy a premade bag stand for your Muay Thai punching bag. There are a variety of manufacturers and they are not all created equal. However, if you buy a top-quality stand with added weights for stability you won't be disappointed. Typically, they are easy to install and maintain while helping you save space and still have great training sessions.
q:

Do I really need to wear gloves for training with my Heavy Muay Thai punching Bag?

a:

Yes, keeping your hands protected from the constant impact of striking is key to joint and bone health. Not only will a great pair of Muay Thai gloves or MMA gloves keep away bruising but they also keep you protected from breaks. These types of injuries can put your training to a stop for a long time. Especially important at the beginning of your venture into Muay Thai, is hand protection. When you are learning the correct form of punching, you need to protect your hands. If you strike too hard and improperly you could sustain serious and painful injuries.

In addition to your hands, it is important to note there is other gear you will want to consider when jumping into Muay Thai. Headgear, mouth guards, and shin guards are some perfect examples and depending on the class you may need other pieces. It's an excellent idea to talk with your trainer about what gear you will need to ensure you are protected correctly and ready to train every day.
Subscribe to our Newsletter