Best Punch Counters To Improve Your Speed Reviewed
last updated:
Jan 20, 2020
In order to improve anything about technique and speed you first need to know what your shortcomings are. The first step to being better is to admit and recognize what you have been doing wrong. With these devices, you can do all that easily and quickly. There are different punch counters, but they all basically do the same thing: count how many punches you are able to throw in a period of time.
There is everything from mechanic counters to those that have apps so they can provide you with thorough feedback. They are all very easy to use although in different ways. They are very helpful for your improvement since you can always see exactly how good or bad you are and what you need to improve on. You can be your own boss, coach, and trainer and not have to depend on anyone else to teach you.
This is the best product on our list that is currently in stock: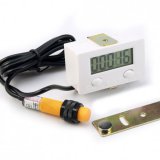 GERI
Why is it better?
Light
Easy to use
20 times per second
Battery powered
LCD screen
Affordable
In a
Hurry? Editors choice: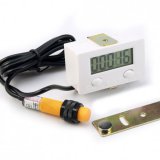 Test Winner: GERI
5
Researched Sources
7896
Reviews Considered
6
Hours Researching
10
Products Evaluated
Accuracy
Advanced Features
Durability
Ease of Use
Water Resistance
By Default
Top 10 Picks for Best Punch Counters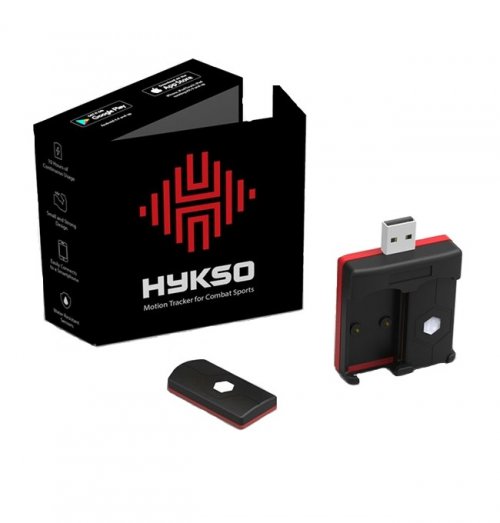 Easy to use
Compact
High accuracy
Sweatproof
Live screen
If you are interested in how many punches you can throw in a single session so that you can improve your speed, agility, and technique in the future, then we have a treat for you! These awesome punch counters are small and compact and can easily fit under the wraps of your boxing gloves. The sensors are also easy to charge by simply putting them into their adapter and plugging it into any USB port. They are small, they are light, and you will even forget that they are there. You can track your progress by connecting them to an app on your phone and always know exactly what you need to improve on.
Read more
There are so many features to this product. Most importantly, it can track your punch count so that you know exactly how many punches you can throw and in what time frame. It is able to track your punch velocity and inform you when your hands slow down so that you can push yourself to work harder. Finally, it tracks your intensity score, which measures your physical output and helps you get ready for combat and lets you know exactly how ready and fit you are at any given moment.
The features do not end there. The sensor is waterproof which is perfect because you are bound to sweat a lot during training and it would not last for even one session if it was not resistant to liquids. They offer high accuracy like no other tracker on the market. It provides a whopping 6000 data points per punch and is able to provide you with the best quality data.
The counters are durable and comfortable. So small that you will not even notice them, they are perfect for hiding and securing under the velcro wraps of your gloves so that you can get the optimal results. You can see and monitor exactly what you are doing on the live screen. It will tell you your average speed and intensity score at any given moment. You will also be able to share your data and compare yourself with other fighters to see what you need to improve and what you are already great at.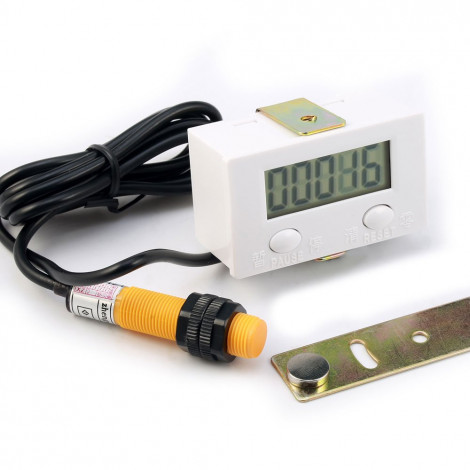 Light
Easy to use
20 times per second
Battery powered
LCD screen
Affordable
No instructions included
Plastic
Do you need something that is simple and straightforward to use, that does not require an external energy source? None of us want to have to be near an outlet while training, but we do want to track our progress and see in real time how many punches we can throw exactly in a given amount of time. That is why we have selected this product. It is convenient, works on batteries, and does exactly what it is supposed to, nothing more and nothing less.
Read more
The device has a five digit LCD screen so that you are not restricted by not having enough digits to count your fast punches. It does not require an external power supply. Since it works on batteries it will not have to be charged. The batteries should last for a long time before having to replace them. Your training will not be influenced by it and you will not have to worry about its batteries running out at an inconvenient moment. Changing the batteries is really easy, it just requires a small screwdriver and a tiny bit of patience.
It has two buttons, pause and reset so that you can pause it at any time and then continue right where you left off, or reset the numbers and start from scratch. Its counting speed is 20 times per second which is more than enough for anyone. It provides an accurate and reliable count and uses an ordinary contact signal. The casing is made from plastic which makes it really light to hold and carry with you. The price is amazingly affordable, and the product does exactly what it is made to do.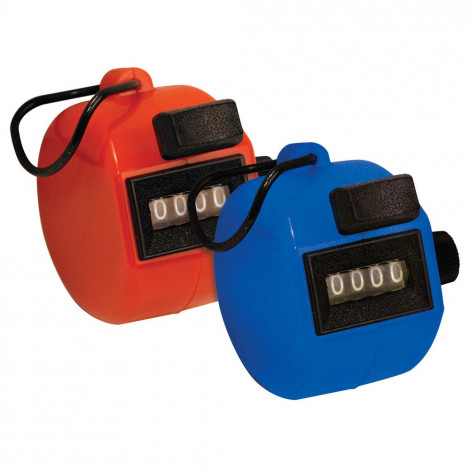 Compact
Easy to use
Bright colors
This is a very straightforward and simple product. A counter is all that it is. Made in two colors, red and blue in order to match the corresponding corner, it is as convenient and easy to use as possible. It can be put around the finger for safe and comfortable holding and there are two buttons on it, each of which can be pressed using only your thumb and index finger, which leaves your other hand free and your eyes on the match.
Read more
This product has four digits and two sturdy and easily pressed buttons. It is made from light plastic and the colors are very vibrant. The counting depends on the speed of your finger that you use to press the button. This simple device does not pretend to be anything more than it is. A simple counter, but a very easy one to use. It is light, compact and comfortable to hold in the palm of your hand.
The body of these devices is made of sturdy plastic and it will be hard to break them even if it is accidentally dropped. The four digits that it has are more than enough for a single sparring session, after which there is a button to reset it and start from the beginning. It is light and compact and can be easily carried anywhere in your pocket. The price is affordable and it will certainly make a difference in your training.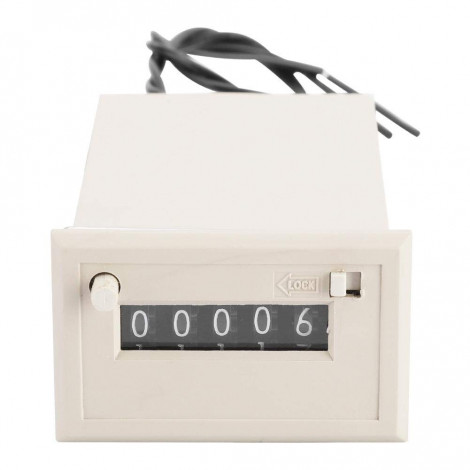 Old-school
Shockproof
Accurate count
Large numbers
Five digits
This Keenso product is really old-school. It looks retro which some of you may find great. It has five digits and this allows you to punch those numbers as much as you like without losing space for more. When you are done there is a reset button so that you can start fresh the next day.
Read more
This product has wide applicability. It was not originally made for this purpose, but can certainly be used for it. There is nothing stopping us. It can be used in textile, printing, mining and many other industries. Seemingly it is a very simple thing, and who would have thought that it could have so many applications.
For our needs, we will be focusing on its ability to count, because let's face it, that is the only purpose that we really have for it. What is important for us is that the numbers are large and easy to read. The entire device is shockproof, so you do not have to worry about dropping it, your numbers will still be there. It is mechanical and very easy to use.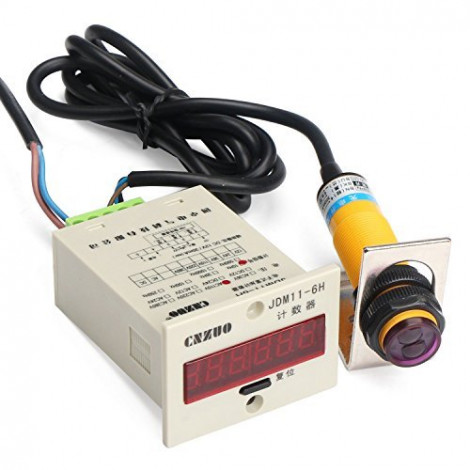 Auto storage function
Easy to read
LED display
Six digits
This awesome little gadget also has many applications. It can be used any time there is something to count, which is perfect for your needs. It has a digital display that is red colored so that your eyes will not hurt while staring at it. It has six digits, which is more than enough for what you will need it for. It also has a wide counting range, so you can go crazy and punch to your heart's desire.
Read more
This electronic counter has two counting modes, voltage input, and no voltage input mode so that it can be used for various purposes. It is easily portable, has a long life span and long detecting distance, up to 30 centimeters.
It features an auto data storage function. Your data will be stored when the device is turned off and it is able to keep it for up to ten years. You can now easily and comfortably follow your yearly performance and see how much you have improved.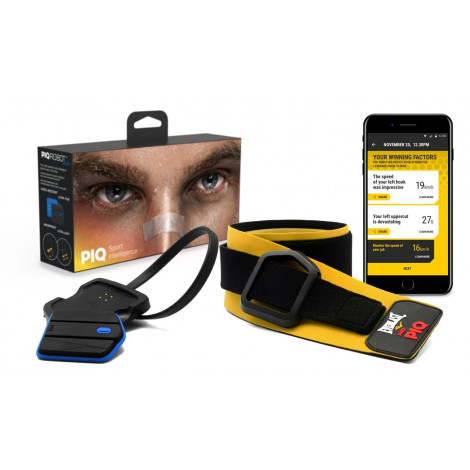 Easy to use
Waterproof
Shock resistant
Tracks burned calories
Detailed analysis
Expensive
Useless without the app
To bring you this awesome product, this company has teamed up with Everlast, one of the leading brands for boxing, MMA and fitness equipment and they have been on the market for 75 years. They have evolved with the times and created a very modern and useful product. It is a tiny sensor that can monitor, count and track your punches so that you can check in your phone app how you did and what you can improve.
Read more
This great product offers everything that you need in order to improve your boxing skills. It tracks any kind of punches and provides you with detailed feedback. It can show your speed, impact and reaction time. Able to track calories burned during a cardio workout, it is not only limited to boxing.
Along with the sensor, you will also receive a charger and a band to put around your hand with the sensor tucked inside so that it can give you a proper and detailed reading. It can work on either hand and you can even get two of them for each one to make sure that they are in sync.
You can learn even more about your technique with the robot's winning factors. In the app, you can instantly see your performance, progress and ways to improve. The tiny sensor is nearly indestructible. It is shock resistant, waterproof and lightweight. You may even forget that it is there which is great since you will want to focus solely on your punches.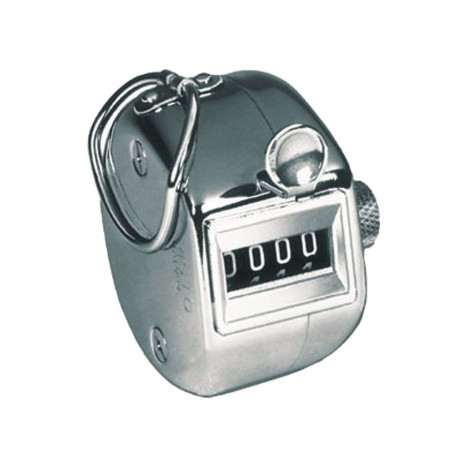 Completely mechanical
Fits into your palm
Accurate
Basic design
Only four digits
This tiny device is so conveniently small that it can fit into the palm of your hand. You can have your friend or trainer count your punches for you, or you can do it yourself if not wearing any gloves. It has a clip on the top which makes it easy to put around your finger so that you do not accidentally drop it. It has four digits and two buttons, and that it all that you really need.
Read more
In order to improve your game, you must first know what may be wrong with it. That is why these devices are so useful. By using them you can know for sure how many punches you are able to throw in a given time frame and take the time to improve on that aspect every day.
The device is really simple to use. It has two buttons, one for resetting to start from the beginning, and the other one for counting. It is entirely mechanical which means that there are not many things to be broken and it will not just stop working one day. It is able to last for a long time and track your improvement.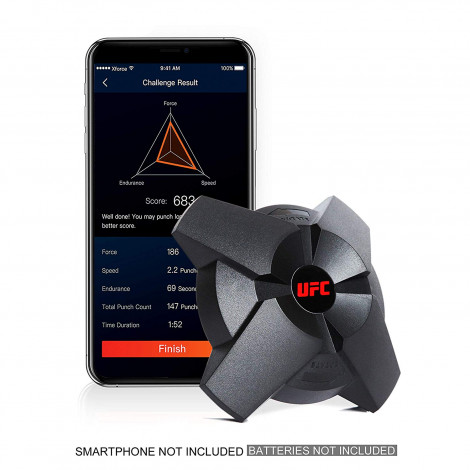 Non-wearable
Easy to use
Thorough feedback
For various martial arts
This device is a bit different than all the others that we have on our list. It is used by placing it under your best punching bags and it detects every punch that you throw at it and counts them. Not only made for boxing, but it can also be used for a variety of martial arts. It stores the last ten results for easier progress tracking.
Read more
The device is able to evaluate your impact from all angles so that you do not even have to think or pay attention to where you placed it. You can stay solely focused on the techniques that you are using and check your progress at the end of your session.
Since it is not designed to be worn, it leaves your hand free for more ease of movement and you do not have to worry about damaging it or falling off in the process. It will store your last ten results which you can check to see if you improved. It is one of the smartest trackers on the market and will provide you with helpful feedback.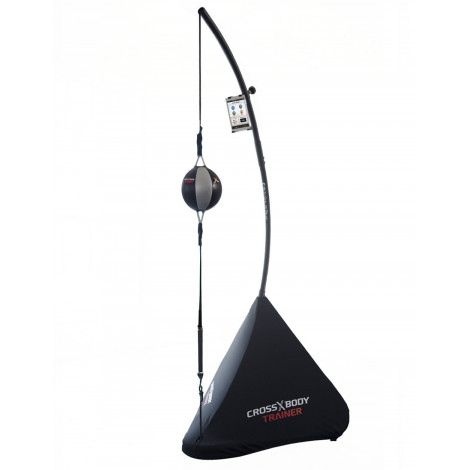 Innovative
Easy to use
Various techniques
Accurate tracking
Expensive
Ball deflates quickly
We offer you a great deal with this very helpful device. It stands on the floor and there is a ball in the middle that is just waiting to take a few punches from you. It has an app from which you can track your performance every day and it can help you become better each time that you use it. With it, you will not even need a sparring partner, just a pair of gloves and a will for improvement.
Read more
This trainer will provide you with a full body workout and you will certainly break a sweat while using it. Through the app, you will be able to learn proper striking techniques without ever going to the gym or needing a coach or a personal trainer. It offers more than ten thousand high-intensity workouts and during all this, it also counts your strikes and cardio moves so that you can have a reference and know what you need to improve on.
There is a wireless sensor in the bag which syncs with your phone or tablet, which can be placed in a holder that is in your eye level and easy and convenient to see and follow the instructions from. The app detects strikes and key performance metrics such as accuracy, speed, power and strike combinations. Be your own best trainer with this great and innovative device and just watch as you become better every day.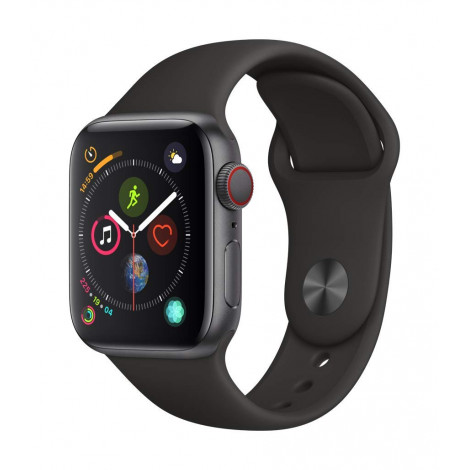 Tracks all activity
Easy to use
Large display
Set your own goals
Expensive
Not specific to boxing
This sleek and beautiful apple watch has all the features that you need and even more. It can be worn as a fashion statement during the night and used for fitness tracking during the day. It has many tracking features and options, along with the ability to pair it with your phone and always being in touch with the world and with yourself.
Read more
The ability to track and measure your heart rate is a great feature to have on any device. You will be able to check how fast your heart is pumping blood and continue or stop your activity accordingly. This device will help you get up from your chair and improve your health every day. It will remind you to move if it detects a lack of activity for some time.
You can wear it even during your training, measure your heart rate and store your workout data using a third party app with this option so that you can always go back and check your progress. It also shows how many calories you have burned and at the end of the day, its data will represent your total movement during that day and not only during a workout. You will also be able to set your own goals and move at your own pace.
Criteria Used for Evaluation
Accuracy
With these devices, it is extremely important that they are as accurate as they can be in order to count and measure your progress and provide you with good and helpful feedback. The more accurate it is the more you can improve every day because you will always know what you are doing wrong and how to improve your speed and your technique.
Usually, the devices that have sensors that you can place on your hands will be the most accurate and will provide you with the best and most thorough feedback possible, but the manual ones are not bad as well. The person holding it just has to be fast enough to record the right number of punches that you threw. They are a bit harder to use because that person will have to concentrate hard to make sure that they do not make a mistake in counting.
For these reasons, we believe that the most accurate ones will be those that have sensors so that you or nobody else has to think about counting and only focus on being the best that you could be at that moment. You will not need a sparring partner and you can do everything yourself.
Advanced Features
What exactly are advanced features? Well, they are the ones that not every device has, that is unique, and whose features allow for the best feedback and make it easier to use. Some of them have apps that store all your data and help you compare the progress that you are making. Others use magnets and magnetic fields to count how many times you threw a punch, with no other features, and some have no features whatsoever, they just have two buttons and a digit screen. They are the simplest of them all but sometimes that is all that you need.
Durability
As far as the durability is concerned, it is expected that those devices that are completely mechanical will be able to last much longer than sensors. That does not have to be a rule, but it is to be expected since the sensors and other more complex devices have many more parts that can be broken over time, where the mechanical ones may get damages simply due to poor use and neglect.
This is not meant to discourage anyone from getting a good device, they are after all made to not break easily with the best technology available today. You do not have to sacrifice all the great and helpful features of these devices for something that may only last longer. If you take good care of whatever you have, it will certainly be worth it in the long run.
Ease of Use
How easy or difficult it is to use something like this is very important since it can make you stop using it if it is too complicated, waste your money and not be able to track your progress. The ease of use means that the device is straightforward and does not require much thought. The mechanical counters will be the easiest ones to use since they only have two buttons, one for resetting and the other one for counting.
The ones with the sensors are not difficult either. There is an app for your phone that lets you know exactly what you are doing and helps you set it up. The problem may lie with those that measure electromagnetic pulses since they do not usually come with an instruction manual. You will have to search the internet for some explanation.
In the end, if you are really keen on tracking your progress and improving, you will find an easy way to use any of these devices. None of them is so difficult that you will give up after only one try.
Water Resistance
When we say water resistance, we actually mean sweat resistance. For something that you will wear on your hands, it is crucial that it is resistant to sweat and liquids so that it does not get broken the first time that you use it. You do not want to have to think about that while exercising and trying to focus on your speed, technique, and posture.
Expert Interviews & Opinions
Most Important Criteria
(According to our experts opinion)
Experts Opinion
Editors Opinion
Users Opinion
By Default
Use your device every day!
For the very best results make sure that you track your punch count daily, or if you do not work out every day, then every time that you do. This way you will know exactly how much progress you have made since you started using it and how it reflected on your overall technique. Do not skip or be lazy to use them since they will be extremely helpful after some time.
Do not push yourself too hard!
You have nothing to prove to your device. Just keep on doing what you have been before in order to get correct feedback. If you try to be faster and better only to get a higher count, then it will not be true to your abilities and you will have a tough time improving on things.
Other Factors to Consider
Bottom Line
These kinds of devices have been in use for a long time. At first, there were only the manual ones that your coach would have and press a button every time that you threw a punch. With technology becoming better, we have managed to develop smarter devices that will leave your hands free to do what really matters, and eliminate the need for having someone there with you in order to count for you. It will also be easier on your mind since you will be free to concentrate only on what you are doing at the moment and not worry about counting and keeping track.
Those devices that have apps for your phone offer a lot of different techniques and tutorials to help you become the fighter that you want to be. They store all your data so you can check your daily, monthly and yearly progress. They do not only have to be used for boxing, though it is their intended purpose. If you practice any form of martial art that requires punching and kicking, you can use one of these devices. They can also make great boxing gifts for a boxing fan that you know.
Frequently Asked Questions
q:

Do the sensors work if you are shadow boxing?

a:

They do! You do not need to actually hit something for it to register a punch, you just have to make a similar movement even when not hitting anything. The only one that can not be used this way is the UFC tracker that has to be placed on your bag in order to register anything.
q:

Can one sensor be used by different people?

a:

There is no reason why not. The only thing that you would have to do is install the app on different phones so that you can both have your own progress tracked. Other than that there are no restrictions and you can share it with as many people as you like.
q:

Will they get damaged during sparring?

a:

No, they will certainly not be damaged, so you can be free to do that easily and safely. The sensors are places snuggly into the wrap on your gloves or in their own belt so there is no danger of it being damaged or receiving much impact.
q:

How comfortable are they under the gloves?

a:

Since they are supposed to be placed under the wraps of your glove, you will not even feel that they are there. They are very small and light and as long as they are secured in place you should have no problems with them. They will not restrict your movement in any way.
q:

Will they work on both hands?

a:

Yes, they will! It does not really matter which hand you place it on, or whether you place two of them on either hand. It will measure everything as it should regardless.
q:

What should I do if the item does not have instructions included?

a:

If there are no instructions try finding them online. There is bound to be at least a video on how to use it. Do not worry, as none of these devices are so difficult to use that you will not be able to figure it out for yourself. You can even contact the seller and ask them to provide you with some instructions.
q:

Are they able to count calories?

a:

Most of them do not have the option to count calories, but the ones with the most advanced features do. If this is something that is important for you to have, read carefully all the features of the product and see if it has everything that you want.
q:

Can I wear them on my legs?

a:

None of these devices currently have the option to count your kicks. They can, but they will not be as accurate. The companies are working on implementing new features such as this one so keep your eyes open for any new releases.
Subscribe to our Newsletter