Best Smelling Salts Reviewed
last updated:
Dec 04, 2019
If you need an easy and quick way to boost your energy levels, smelling salts are a great way to go. They are portable, easy to use and, what is best of all, they work instantly. They are able to clear your pathways, increase blood pressure and provide clarity of mind in order to help you focus better on the task at hand.
They can be used by anyone that feels the need for some extra energy but are the best for powerlifters, weightlifters, strongmen, and anyone who needs a lot of energy and concentration. Just one sniff before a workout or competition will be enough to make you feel refreshed and energetic. There are a lot of similar products on the market, and we did our best to pick ten of the best ones.
This is the best product on our list that is currently in stock: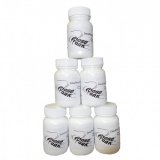 Crains Nose Tork
Why is it better?
Very potent
Instant boost
Longlasting effect
Highly affordable
In a
Hurry? Editors choice: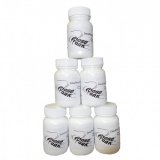 Test Winner: Crains Nose Tork
12
Researched Sources
8754
Reviews Considered
4
Hours Researching
10
Products Evaluated
Potency
Effectiveness
Ease of Use
Durability
Portability
By Default
Top 10 Picks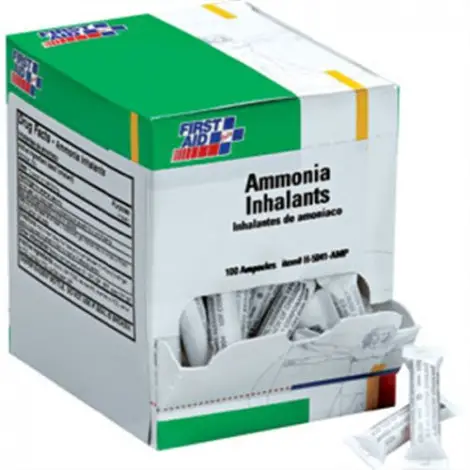 Works instantly
Large quantity
Reasonable price
Easy to use
First Aid Only is a company that has been around for over 30 years. They specialize in making first aid kits, be it for athletes, industrial, or for the red cross. Their aim was to make it much better than those that were on the market, and whichever product you need, they probably have it. Their smelling salts come in a large package and contain 100 ampules. It is excellent if you need that much, but if not, we recommend getting a smaller one from the same company as they do not have a long shelf life.
Read more
Either way, this package is a great way to get a lot of smelling salts for a very reasonable price. Other than preventing fainting, they will give you a boost of energy, much needed for your training. It is probably the best, easiest and quickest way to increase your energy levels without having to eat or drink anything. They are very easy to use. The substance inside the ampule is in a powder form that turns into liquid once the ampule is broken, and releases all those smells that make you more energized.
Thanks to the compact size of the ampules, they can be kept anywhere where you might need them. Such as in your bag, purse, car or pockets, so that you can always have them handy, just in case.
Smelling salts work whether you are a weight lifter, runner, boxer, practice martial arts or any other sport. They're just what you need for that quick pick-me-up and a burst of energy. This product has your back. It works instantly and you will be amazed at the results.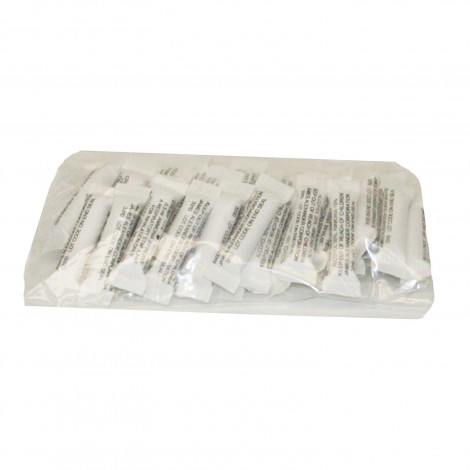 Waste-reducing package
Convenient for travel
Instant energy boost
There is not much that we can say about these smelling salts that you do not already know. It is used to prevent lightheadedness, give you a boost of energy when you are feeling too tired to continue and make you able to do all that you want to without resorting to chugging energy drinks. This product is completely healthy, much healthier than the alternative, like energy drinks, that are so high in sugar that you will soon crash after a sugar rush. These keep you alert for a while after inhalation and you will be able to finish your day or your training to the best of your abilities.
Read more
This product comes in an environmentally-friendly package that promotes as little waste as possible. No fancy boxes that are going to end up in the trash, only a resealable pouch that you can carry anywhere with you. The package contains 30 ampules, which is more than enough to last you for a while but not too many so that they go bad before you even had a chance to use them.
The smelling salts inside the ampules are potent enough to boost your energy instantly with very little effort. Simply open one and inhale. Nothing has ever been so simple yet so powerful. Other than using them for sports activities, they can be used in any other scenario, while driving for a long time, or when you need something strong to wake up in the morning.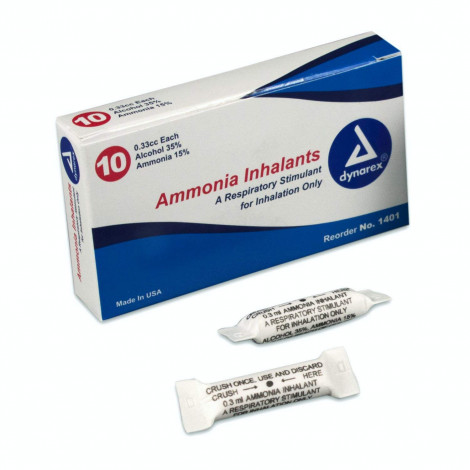 Pack of 10
Easy to use
Crushable
Powerful
Immediate effects
If you are often feeling lightheaded or just tired at the gym or during your training, these smelling salts are one of the best ones to use to bring your energy levels up. The box comes with ten ampules that are easy to use. Just crush the middle with your thumb and inhale. They are small and easy to carry with you anywhere and will not go bad even if they are left in hot places, like your car in the summer. That way you can always have them close by for those times when you are not feeling like you can do anything.
Read more
The easy-to-open ampules and their contents will provide you with that extra energy that you need. It will improve your alertness and you will be able to concentrate better on what you are doing, as well as having more stamina and endurance. Dynarex is a leading American and worldwide healthcare brand that has been around since 1967, so you know that what you are using is properly tested and healthy
These smelling salts can be used for anything that you need it for, from lifting weights to simply waking up in the morning. It is a great source of energy for athletes who just do not have time to take a nap, eat, or drink something that can give them a boost. This product can be used with only one hand and on the go. There is no need to miss your training again due to exhaustion thanks to these amazing smelling salts.
Easy to use
Individual ampules
Potent
Works instantly
This product comes in small, convenient ampules that are placed in a plastic bottle that can easily be resealed for safekeeping, and to carry with you wherever you go. It is perfect for athletes and those who feel like one. They give an instant boost of energy and clarity of mind. The smelling salts are perfectly safe but may cause headaches if they are used improperly.
Read more
This product uses ammonia-based chemical compounds that are used for promoting alertness and levels of energy. Thanks to their convenient package they can easily fit into your purse, gym bag, glove compartment in your car or anywhere else that you may need them. Smelling salts are widely used by professional athletes when they just can not seem to break that wall that we all know all too well. The bottle comes with 20 ampules. They are easy to use and work instantly. The effects are long lasting and can even get you through an entire game.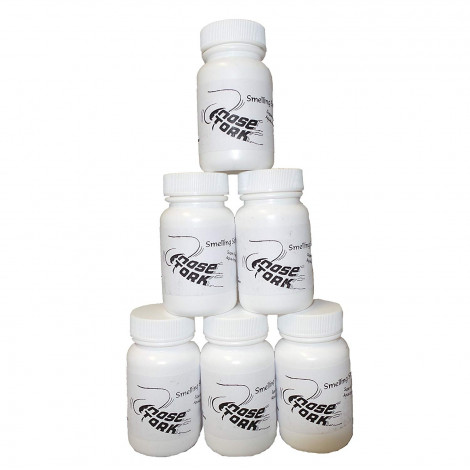 Very potent
Instant boost
Longlasting effect
Highly affordable
These smelling salts are different from the others due to the packaging. Instead of being in ampules, the salts are placed directly in the bottle. This makes them the easiest ones to use since there is no need for breaking anything, just open, sniff, and close the lid again. It is amazingly strong and potent, able to energize even the most tired of people. The ammonia nudges your nervous system into a state of alertness that helps you be more concentrated and have more energy.
Read more
Whether you are a powerlifter, boxer, marathon runner, or practice any sport or do any physical activity, chances are that you are sometimes going to feel lightheaded and tired, even exhausted. This can severely impact your ability to continue with the training and can seriously impede your progress. To make sure that you are the best that you can be, try these smelling salts out and see the amazing effects first-hand.
The bottle should be kept in cool and dark places and not exposed to drastic temperature changes in order to keep the gas stable inside. Inhale once every time you need to and feel your mind becoming clearer and your body having more energy instantly. For an amazing price, you can get an even more amazing product that works so well that you will start wondering how you have ever gone without it.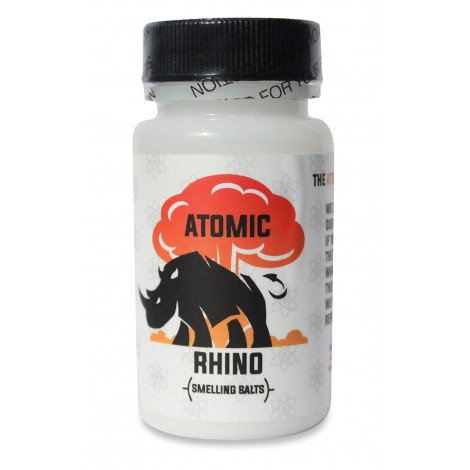 Super strong
Pure ammonia
Easy to use
Money-back-guarantee
May be too strong for some
The name of this product really does say it all. If you are looking for something strong and potent with the ability to jilt you instantly into a state of great clarity and energy, then look no more. Atomic Rhino made sure that you will get all the energy boost that you need to finish your training the right way without feeling tired and knackered the whole time. Only one sniff is enough to make you feel like you are on top of the world.
Read more
This awesome product does not come in ampules. Instead, it is loose in the bottle, requiring only a small amount of water to activate the ammonia solution. After adding water it should be resealed to let all the fumes fill the container, and when you open and sniff it, you will instantly be ready to go. Whatever activity, mental or physical, awaits you, Atomic Rhino smelling salts will be there for you the entire time. Only a small sniff is required for it to work since it is very powerful and if you overdo it you can get a headache, so be careful.
The company is so certain in their product that they offer a full refund if you are not satisfied with it for any reason. These smelling salts are perfect for those who practice any kind of heavy lifting, high-intensity workouts or the ones that require a lot of stamina. The boost of energy it will give you is certainly something that you have not experienced before. Once you start using them, you will wonder how you have ever gone on without them.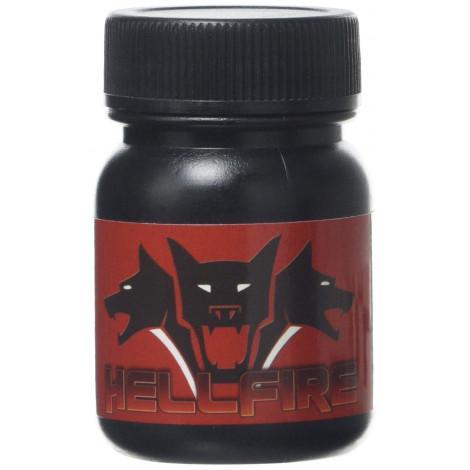 Easy to use
Resealable bottle
Not too strong
No leakage
No adding water
Highly affordable
Another product with an awesome name. It is different from many similar products on the market because, like them, it is not water-based so there is no chance of it ever leaking in your gym bag. These are Ammonium Carbonate based so there is no need for adding anything in order for them to work. They release a perfect amount of ammonia gas that will not cause your eyes to well up or give you a runny nose, but they are powerful enough to give you that extra kick that you so need without causing serious or annoying side effects.
Read more
These Hellfire smelling salts work by elevating your blood pressure, heart rate, and brain activity by activating the sympathetic nervous system, giving you clarity and focus as well as a lot of instant energy. They are amazingly easy to use since they come in a resealable bottle that prevents the gas from escaping. No more messy gym bags. Now you can safely transport them anywhere without the fear that the bottle will leak, and you can have your product ready in seconds whenever you need it.
For an amazing and affordable price, you can get an awesome product that will certainly help you any time that you feel tired, exhausted or sleepy. It is great especially if you practice a sport that requires the clarity of mind and a lot of strength, like powerlifting, weightlifting, and similar ones. By using it you will make sure that your body and mind are in the optimal conditions to do what is required of you the best that you can, and always be happy and satisfied with your performance.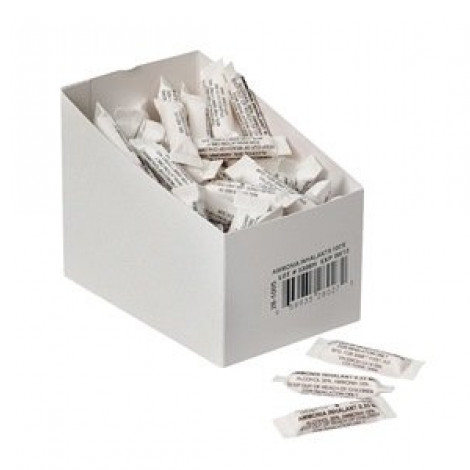 Individually packaged
Easy to use
Affordable
Swift is a classic ammonia inhalant that comes in individually packaged ampules that are easy to carry since they are so small and compact. One package contains a hundred smelling salts, which makes it great if you plan on using them regularly or share them with your friends. They are made in the United States and contain 35% of alcohol and 65% of ammonia. They can be carried in your purse or gym bag at all times so that you can always have one handy in case you need it.
Read more
These ampules, besides being conveniently small, are very easy and straightforward to use. They only need to be broken with your finger and inhaled. It is as easy as that. What you will get from them is an instant boost of energy and clarity of mind which will help you stay focused and excel in anything that you are doing. Forget about being tired and sleepy in the most inconvenient times with these amazing smelling salts.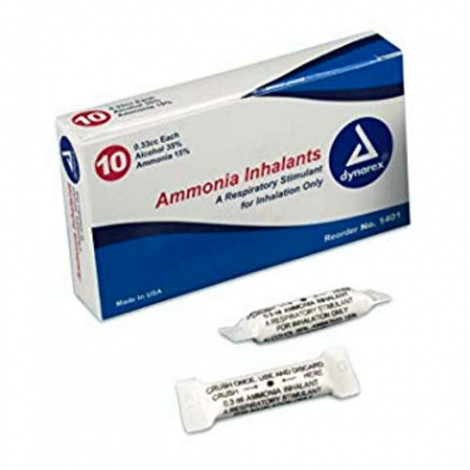 Ampule form
Highly affordable
Instant energy boost
Clarity of mind
Easily portable
There is nothing fancy or radical about this product. It is a simple ammonia inhalant that works exactly as advertised. It comes in individually packed ampules, which are perfect for any kind of transport. Their compact size allows you to have one or a few with you at all times just in case that you or someone around you needs to use it. They work great at preventing fainting and lightheadedness as well as boosting your energy instantly at times when something difficult is required from you to do, and you just do not have enough strength.
Read more
These smelling salts work by elevating your heart rate and blood pressure, giving your body an extra boost of energy that it needs, as well as the clarity of mind to help you concentrate on your current activity. It may not have a fancy name or a great-looking package. The important thing is that it works as it should and has minimal or no side-effects. One ampule has a perfect amount of ammonia that you need to get some extra energy, but not too much so that it gives you a headache.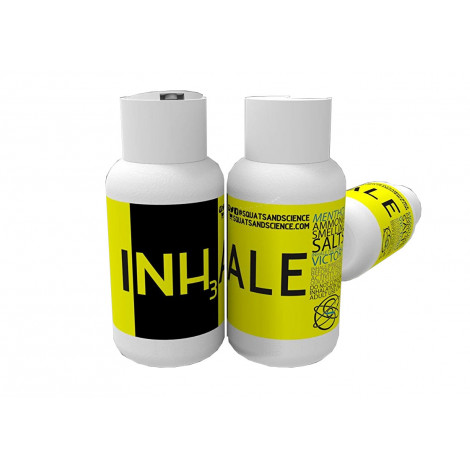 Flip top cap
No leaking
Menthol flavored
Squeezable bottle
Lasting effect
These smelling salts are a bit different from all the others on our list thanks to its great packaging. It comes in a bottle that opens up just a bit, and it is easily squeezable, which prevents a lot of the gas from coming out at one time and giving you a headache. This way you can easily inhale the right dose for you without wasting any of the product.
Read more
The product is very potent but it does not have that nasty industrial smell. It is flavored with menthol which makes it much easier to inhale and leaves you refreshed as well as energized. There is much more ammonia in this product than in many other ones, which makes it stand out on the market, not to mention that the effects last longer than those of your average inhalant.
The package is extremely convenient and easy to use. It has a flip top cap that is easy to open and close safely, which ensures that there will be no accidental leakage and waste of the product. It is safe to carry in your purse or gym bag every day. If you can not stand that potent smell of ammonia, this may be the perfect product for you.
Criteria Used for Evaluation
Potency
What is great about these smelling salts are that they are potent enough to boost your energy levels instantly. However, some of them can be too potent and powerful for someone who may be sensitive to strong smells. Ammonia inherently does have a very strong and unpleasant smell and can cause a headache if the product is too strong. This is something to keep in mind when choosing the right one for you.
On the other hand, the fact that they have a strong smell is exactly why they work so well. It shocks your body and mind and gives you an instant dose of much-needed energy. There are various products of different potency levels on the market, so if you are sensitive to strong smells you will be able to find something a bit more gentle that will work great for you.
Effectiveness
The effectiveness of a product such as smelling salts may just be one of the most important aspects. It depends on the product's potency and its purity. If your product has an effect on you or not, you will know instantly, as soon as you smell it for the first time. They are so strong that you will feel energized immediately and they will leave no room for second-guessing.
Of course, all of us have different bodies and different needs. That is why one product may not have the same effect on different people. Through trial and error, you will be able to find the one that is just perfect for you and you will not be able to stop using it once you feel that burst of energy and clarity come your way.
Ease of Use
How easy it is to use a product can make or break your decision to continue using it. That is why the companies that make them do their best to make them as easy to use as possible. Different smelling salts come in different shapes and sizes, but the most common ones are ampules. They are small, easy to carry in a purse or a gym bag, and pretty easy and straightforward to use. They work by squeezing and breaking them with your fingers and inhaling the gas that they release.
Other products may come only in a bottle that requires you to add some water in order to activate the ammonia. It is easy to use because all you have to do is pop the lid and inhale, but the trouble is that you may end up inhaling a lot and getting a headache, or it can spill in your bag, and the smell can be hard to get rid of. Even with some advantages, these kinds of packages are certainly the most difficult ones to use.
Other smelling salts come in a squeezable bottle, and in our opinion are the easiest ones on the market. The ampules may cut your finger, the bottle may leak, but the squeezable bottles are by far the best because they let you choose and control how much gas comes out. There is no chance of spilling either, because the smelling salts are not liquid, and you can feel safe while carrying it around in your bag.
Durability
The durability concerns the ability of the smelling salts to stay fresh and usable. Since these products are essentially gas, they do not inherently have a long shelf life, and this is something that you should keep in mind when purchasing them. It is always better to get smaller quantities at a time to ensure that you will not waste your money and that you will be able to use all of them before they lose their potency.
The worst ones as far as the durability is concerned are those that come in a bottle and require it to be opened every time you want to use the product. That way a lot of the gas escapes and is essentially wasted. The ampules and the squeezable bottles are the best way to go and the easiest ones to use, and will certainly last much longer than the ones that come in a bottle.
Portability
The portability may not be the main concern for everyone, but it is certainly important. You will want to have the ability to carry your product with you if the need arises, and if you are unable to it may pose a problem. That is why you should pay attention to this aspect also before making a purchase, just in case. The best ones for transport are salts that come packaged in individual ampules, which makes them compact and easy to carry in a purse or a gym bag.
The products that come in a bottle are much less portable since water is required to activate the ammonia gas and there is always a risk of leakage. If you still get one of these, make sure to carry them in a plastic bag, just in case something happens.
Expert Interviews & Opinions
Most Important Criteria
(According to our experts opinion)
Experts Opinion
Editors Opinion
Users Opinion
By Default
One sniff is enough
There is no need to inhale more than once in order for these salts to work. They are very potent and one sniff is enough to get you energized instantly. If you overdo it you can develop a headache and undermine all the benefits that they could provide for you.
Invest in a quality product
Do not be scared to invest a bit more money in a product of great quality. It will pay off in the long run since you will not need to buy another one. More expensive products usually have better and longer lasting effects and longer shelf life than your average smelling salt.
Other Factors to Consider
Side Effects
Usually, smelling salts are very safe to use in small doses and should not cause any side effects. However, if they are too potent they can cause headaches for those who are sensitive to strong smells. If that is the case, there are other scented options out there that will be more convenient for you to use. Another side effect that you should pay attention to is burning your nostrils. Since the insides of our nostrils are really sensitive, not much is needed to irritate them. Ammonia gas is very powerful and if the container is held too close to the nose during inhalation it can burn the inside of your nostrils. The suggested distance is 10 to 15 centimeters.
Other than that, it should be completely safe to use, but make sure that you do not use them very often and keep them handy for when you really need an energy boost.
Bottom Line
Smelling salts have been used since Roman times. Of course, over time they have evolved to better suit our needs and to have a much better and quicker effect, but the principle and the idea have stayed the same. Back then they were used by athletes, similar to how we use them now. There is evidence that they have been used in the 13th century by alchemists. They were commonly dissolved using perfumes to mask the unpleasant smell of ammonia.
Frequently Asked Questions
q:

Would these help for running?

a:

The effects of these products are not intended to last for a long time, but they can provide short bursts of energy that can certainly help in the short run.
q:

What kind of container should these be kept in?

a:

You can really keep them in anything that you want. If you are thinking about the ampules, the best containers would be metal ones or any other that is hard so that you would eliminate the probability of them breaking accidentally.
q:

How long does the effect last?

a:

The primary use of these salts is to jolt you awake and to provide an instant boost of energy. How long the effects will last really depends on the person and the level of exhaustion, but in the first five minutes you should not feel tired at all.
q:

Can I fail a doping test if using these?

a:

There is no chance that the ingredients in these salts will be able to be detected by doping tests since they are not ingested but inhaled. As long as you do not go overboard, you should be safe.
q:

Are the ampules flushable after use?

a:

We would not recommend flushing the ampules since they contain glass or plastic. The safest way to dispose of them is to throw them in the trash.
q:

Will I have any problems at the airport?

a:

No, you should not have any problems carrying smelling salts in your bag. These products are completely legal, and unless you use the ones that require water, you should be fine.
Subscribe to our Newsletter