Best Weightlifting Belts Reviewed & Rated
last updated:
Dec 03, 2019
Weightlifting usually isn't considered to be a showy sport. It's a bit like swimming in that it is intense for the person taking part and for any onlookers who understand the depth of what the athletes are going through. For general audiences, however, it is rarely a thrilling show. In spite of this apparent lack of excitement, however, there is one piece of weightlifting equipment that has become an icon of weightlifters around the world despite the fact that it is not as commonly used as it once was. It is a piece of equipment so easily recognized that wearing it by itself is enough to broadcast a very specific image to the point that it is often used in movies to "show, not tell" the audience what kind of character is being introduced. They are, of course, weightlifting belts.
In a Hurry? The test winner after 14 hrs of research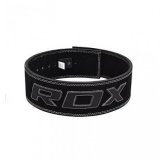 RDX Powerlifting
Why is it better?
Made of Nubuck Leather
10 mm Thickness
4-Inch Width
Ergonomic Design
In a
Hurry? Editors choice: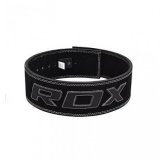 Test Winner: RDX Powerlifting
40
Researched Sources
5400
Reviews Considered
14
Hours Researching
50
Products Evaluated
Materials
Style
Features
Brand
By Default
Top 10 Picks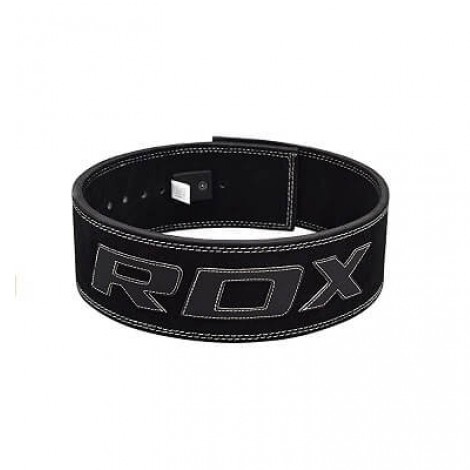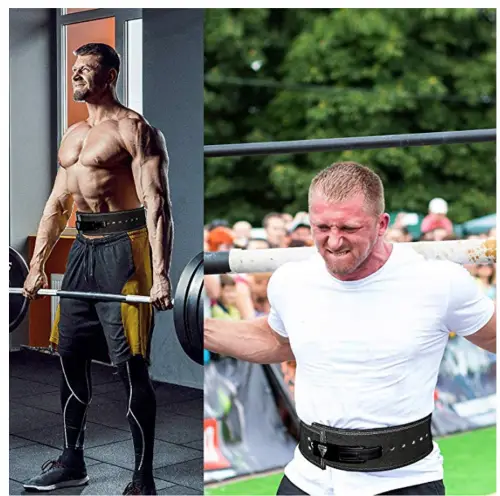 Made of Nubuck Leather
10 mm Thickness
4-Inch Width
Ergonomic Design
RDX makes frequent appearances on these sorts of lists. They are a company that wants to help people get up and moving. Their products touch on nearly every fitness and martial arts branch there is and their powerlifting belt is a prime example of the quality they put into every piece. Their 10mm-thick belt is made of nubuck leather and its 4-inch width was cut with an ergonomic design to make it more effective for users of all sizes and shapes. They're one of the more expensive companies on this list but their price tag comes with the RDX reputation and that is a reputation of quality.
Read more
Made of Nubuck Leather
Nubuck leather is top-grain leather that has been sanded or buffed to make it more velvety to the touch. It is not everyone's cup of tea but it does make for a slightly more pleasant experience when worn against the skin and can actually help prevent belt slippage while the wearer is engaged in a lift.
Ergonomic Design
This belt was designed with ergonomics in mind. No two bodies are built the exact same but there are some factors that hold true, particularly when people are performing the same practiced movements. RDX's design gives wearers the maximum possible range of motion without sacrificing protection or stability for the abs and spine.
Cost and Value
RDX is almost never the most affordable company on any list and this list is no exception. They are, in fact, one of the most expensive companies on this list. Their price tags are almost always worth it, however. This belt is the only offering to use soft-to-the-touch nubuck leather or to take ergonomics into consideration when the product was being designed. It's not an inexpensive piece but it is certainly a quality piece that is worth the investment.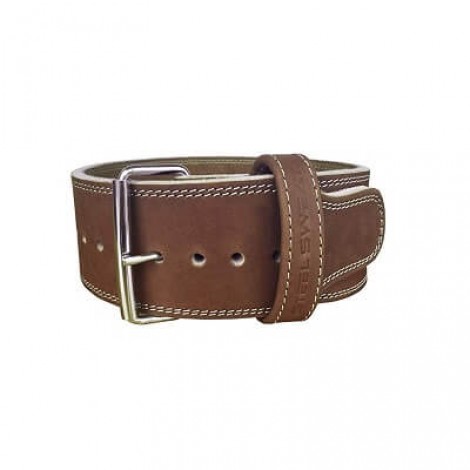 100% Genuine Cowhide Leather
Single-Prong Roller Buckle is Easy to Adjust
10mm Thickness/ USAPL Compliant
Rivets are Sometimes Loose
Steel Sweat is another company that likes to switch up their inventory. They offer products for powerlifting, Crossfit, and general outdoor adventures. Their products are well-received no matter what category they fall in, however, and one of the best-received is their 4-inch wide, 10mm thick powerlifting belt. It is USAPL compliant, though the IPF is not mentioned, and it is constructed from 100% genuine cowhide leather.
Read more
100% Genuine Cowhide Leather
Though the company does not specify what grade of leather is used, they are very specific when they say that this product is made with 100& genuine cowhide leather. That is a strong assurance in and of itself since it assures buyers that they are getting the real deal when they buy a Steel Sweat product. The leather will require some extra maintenance but it will pay its user back tenfold with longevity and durability.
USAPL-Compliant
This is the third and final belt on this list to feature approval from either the USAPL or the IPF. Steel Sweat does not say whether or not the belt is certified by the IPF, but the USAPL has cleared it for use in their competitions and that is no small feat.
Cost and Value
This is one of the more expensive belts on the list but it might well be worth the cost based on the quality of the leather alone. The single-prong roller buckle is another great design feature that will ensure the belt stays securely fastened while in use without being overly difficult to remove when the wearer is done lifting. It is a quality product at a price that is absolutely reasonable given the materials and construction quality.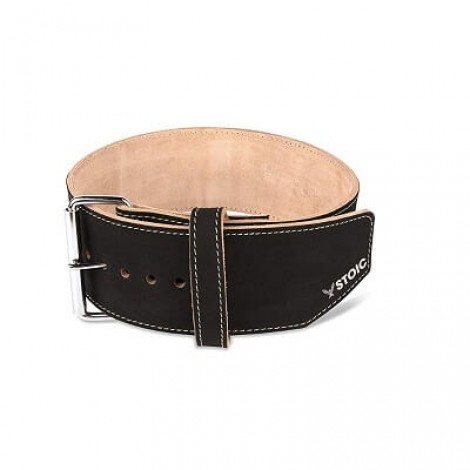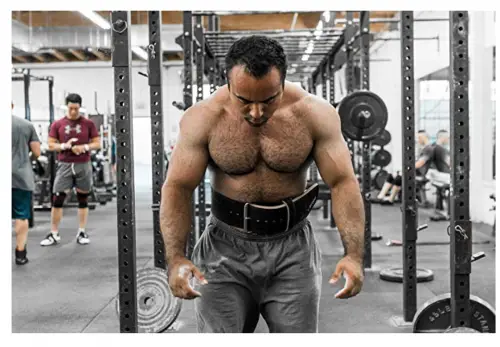 4-Inch Width
6 mm Thick
Full-Grain Leather
100% Satisfaction Guarantee
Stoic marks this list's return to companies that have their eyes solely on powerlifting. Every single product in their inventory is made for powerlifters whether the product in question is a knee brace, a weight stop, or the powerlifting belt listed here. The product is offered in multiple thicknesses, all of them featuring a single-prong closure system. Their products are made with full-grain leather and the company offers a 100% satisfaction guarantee.
Read more
Full-Grain Leather
Full-grain leather is considered some of the best leather on the market. The term is applied to leathers that have not been sanded, buffed, or in some other way "corrected". Full-grain leather shows the grain patterning of the animal from which it was taken and is usually one of the most durable leathers on the market. Stoic's use of the material increases their price point a little but the elevation is more than worth it.
100% Satisfaction Guaranteed
As stated before, not many companies offer a full satisfaction guarantee. Stoic, however, is not most companies. Their focus is powerlifting and they stand by the quality of their products through thick and thin. Most buyers are happy with the product but the company's customer service team is always on standby to help anyone who is less than perfectly satisfied.
Cost and Value
Stoic's price tags come in just a little higher than average but they are well worth the cost. Most companies would charge absolutely top dollar for full-grain leather goods but Stoic is as much about their customers as they are their bottom line. The belt might be a little pricey for some budgets but it is well worth the investment. The belt is very rigid, which some users don't like, and will require more care than a cheaper leather or a synthetic material would. But fans of rigid support belts will absolutely adore this product.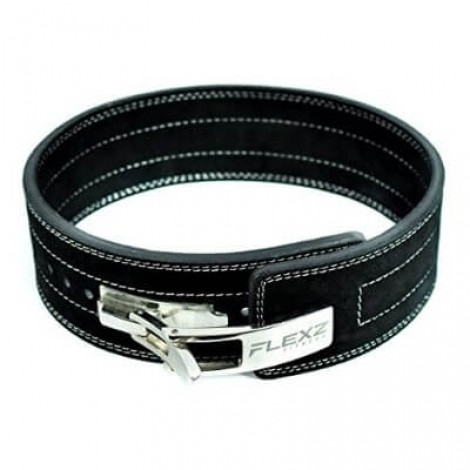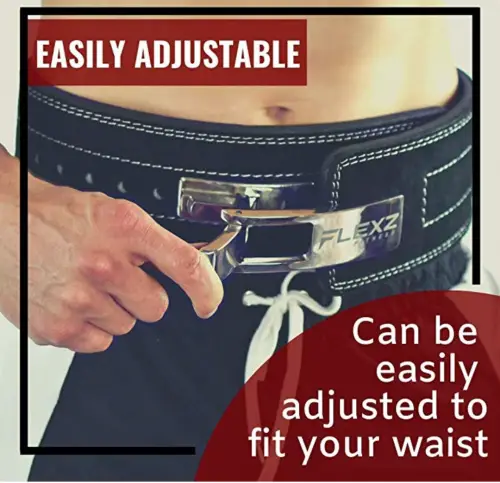 Lifetime Guarantee
10 MM Belts are USAPL and IPF Approved
Double Stitched
Flexz Fitness has a wider variety of products in their inventory than most companies on this list but that has not stopped them from producing a quality weightlifting belt. Their Lever offering is so named because of the lever-style closure. The belt comes with double-stitched seams and a lifetime guarantee that the company honors diligently. Their belts are also approved by both the USAPL and the IPF, which is a feat only achieved by one or two other products on this list.
Read more
Lifetime Guarantee
Flexz offers one of the rarest forms of buyer protection to those who give their weightlifting belt a try. They offer a lifetime guarantee on their products. This means that anyone who purchases a Flexz product and is not satisfied with it will receive a replacement or refund via the company's excellent customer service.
USAPL and IPF Approved
Although the products on this list are all wonderful, few have achieved what Flexz has. The company is not solely a powerlifting company, yet their belt is in compliance with both the IPF and the USAPL organizational standard. This means that it can be worn in any of their events without fear of the competitor being disqualified.
Cost and Value
The worst that can be said about this belt is that the edges are a little rough. That issue pales in comparison to the positive aspects of this product. This product is so well-designed and so widely approved of that it earned itself the title of "Best Value" despite not being the least expensive item on this list. The best is approved by two of the largest powerlifting organizations in the world, carries a lifetime guarantee, and was constructed with double-stitched seams. It will outlast its competitors and take the buyer further than less expensive belts would be able to, making its value skyrocket.
5

. ProFitness Genuine Leather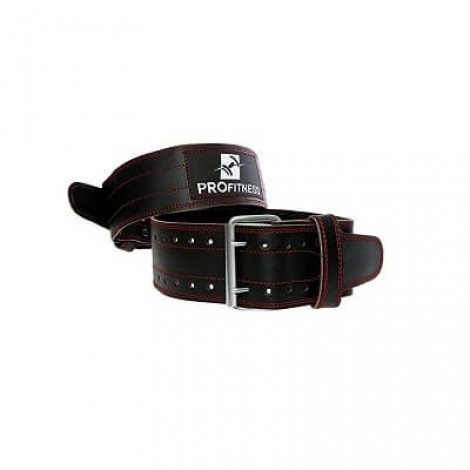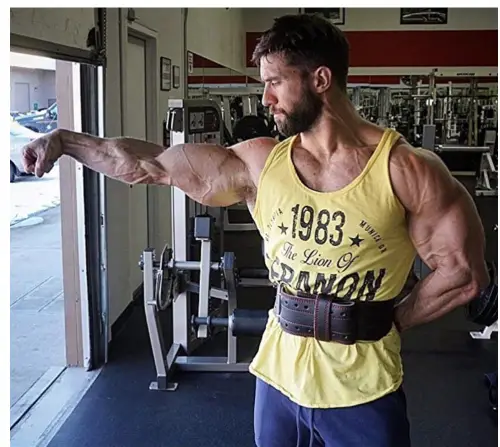 Genuine Leather
4-Inch Wide Bel
Full 60-Day Refund
Genuine Leather Requires More Care
ProFitness carries just about everything a person might need to start powerlifting but their products don't stop there. Most martial artists or gym-goers could find utility in these products even if they don't power lift and that is part of what makes ProFitness so great. Their products receive consistently high ratings whether they're versatile products such as their cross-training gloves or sport-specific products such as their genuine leather weightlifting belt.
Read more
Genuine Leather
Genuine leather requires more care than synthetic materials but this trade-off in time and effort is more than worth it. Real leather outlasts most synthetics by years, especially when it is well-cared-for. Leather products also have a tendency to become distinctive to their owners which adds a layer of personalization onto an otherwise mass-produced product. Lifting equipment made from leather will last for years and hold up to some of the toughest pressures so long as it is treated right, making each piece a fantastic investment.
Full 60-Day Refund
ProFitness is another one of the rare companies that offer refunds on their sports equipment. Their refund guarantee is limited, however. Products can only be returned for a full refund within the first 60 days of receiving the product. After that window, the company offers no exchanges or refunds.
Cost and Value
ProFitness'price tag comes in just below the average cost of items on this list. They are an affordable company in spite of the fact that they use genuine leather and offer a 60-day refund window. Their products will require more care than their synthetic alternatives but the extra time investment is more than worth it, given how long genuine leather products last.
6

. Nylon Weightlifting Belt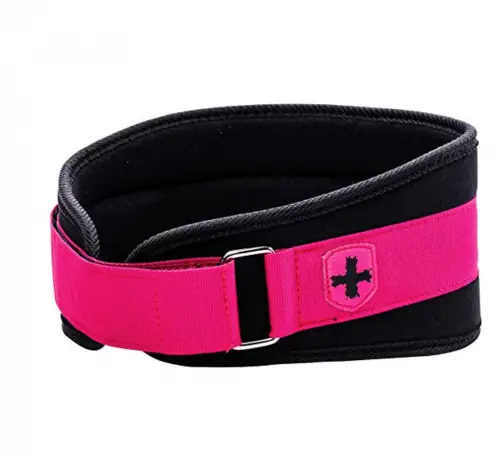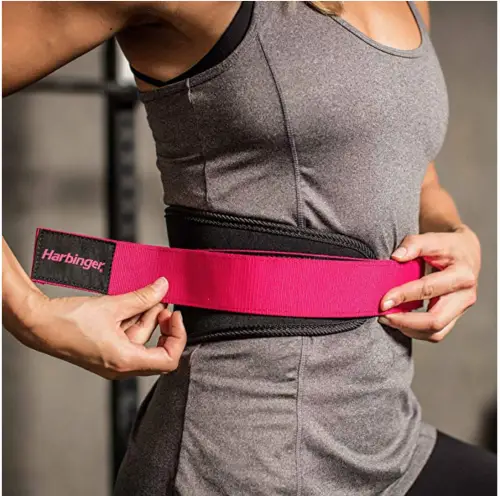 5-Inch Wide Belt
2-Inch Long Closure Strap
Adjustable Velcro Closure
Full Refund Offered
Will be Too Light for Some Users
This s exactly the kind of company that its name suggests. It is a company that creates fitness equipment for women or, more generally, anyone with a curvy or slight frame. Their products are built for both comfort and durability and their prices are close to the most affordable on this list. Their Classic is a 5-inch wide belt with a 2-inch long closure strap. Its closure is adjustable Velcro and, should the customers be unsatisfied in any way, they offer a complete refund.
Read more
Adjustable Velcro Closure
Not everyone is a fan of the Velcro closure but it is hard to deny its utility. Traditional belt closures are relatively limited by the location and spacing of the post holes in the tongue of the belt. Velcro closures, however, allow the wearer to get the perfect fit every time whether they've gained or lost weight, tightened their abs, or just eaten.
Full Refund Offered
Most sports equipment comes with, at best, an exchange policy. It is far more common for a piece of equipment to come with no guarantee at all. FITGIRL, however, offers a full refund if their customers are dissatisfied with the quality of their products.
Cost and Value
FITGIRL is one of the most affordable companies on this list. Some buyers will shy away from their marketing or the pink on their products or even the lack of leather in their products' construction. But this is a company providing affordable quality and their belt is worth every dollar that the buyer puts into it.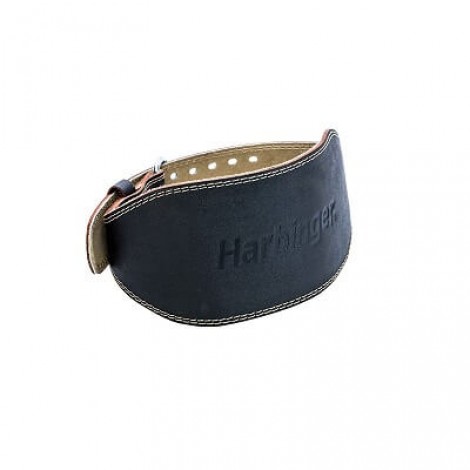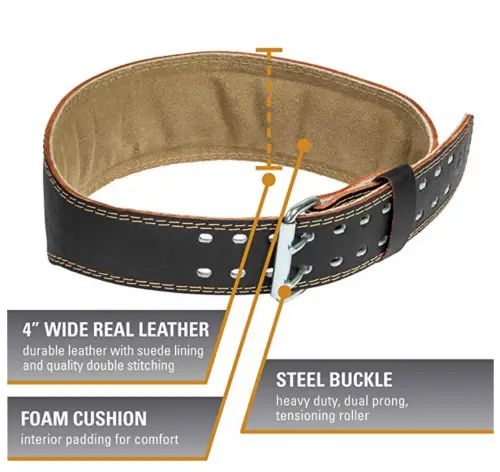 Interior Foam Cushioning
Double Stitched Seams
Dual-Pronged Roller Buckle
No Refunds or Replacements Offered
It is rare for a company to take two consecutive spots on a list like this but Harbinger truly earned both mentions. Their first belt was a lightweight nylon option but their second offering is a padded leather belt that is fully intended for intense powerlifters. The product was clearly designed for comfort as well as durability with its interior foam cushioning and double-stitched seams. There is no replacement or refund policy in place for this company which may turn some buyers away. But those willing to take the risk have so far been overwhelmingly pleased with their purchase.
Read more
Double Stitched Seams
Seams are the first place that sports equipment gives out. The pressures of use wear out seam stitches faster than it wears out the actual material a piece of equipment is made from. Harbinger showcases their dedication to quality by double-stitching the seams of their product. This additional step adds longevity and durability to their product that a single line of stitching does not offer.
Interior Foam Cushioning
Harbinger also sets themselves apart by adding interior padding to their belt. Most product designs either rely on contoured material cuts or a rigid contact point to give the wearer a comfortable level of protection without impacting their range of motion. Harbinger chose to include cushioning between the layers of their belt which will help prevent some of the skin-level discomforts that wearing this type of equipment can cause.
Cost and Value
Harbinger's second offering on this list is actually available at several price points. It is one of the most affordable belts on this list. At the high end, however, the price points soar well beyond any other comparable product on the market. So long as buyers can get a product from the lower end of the price spectrum, it is well worth the cost. There are better options for less once you get towards the higher end, however.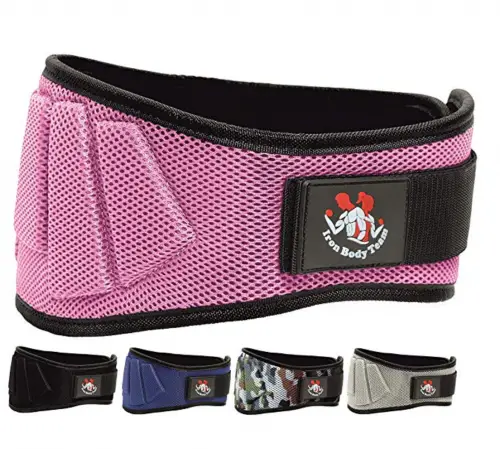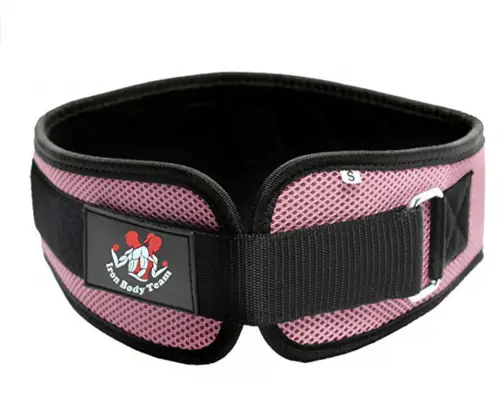 Intended for Lightweight Use
5-Inch Wide Support Panel
Tensioning Buckle For a Custom Fit
Too Lightweight for Some Buyers
This is a company whose sole focus seems to be helping people become stronger. They promote strength training as a means of fighting doubt and inner weakness, which is a belief that has attracted countless people to the art of powerlifting. Their products are firmly in the "affordable quality" category and are some of the most affordable products on this list. Their Nylon belt is intended for lightweight use and features a 5-inch wide support panel as well as a tensioning closure buckle for a custom fit for every user, every time.
Read more
5-Inch Wide Support Panel
The relatively wide support panel on this belt provides additional protection for the wearer's lower back. Not only does it give the wearer a wider point of contact with the equipment but it also spreads out the pressure generated by powerlifting to better handle its impact.
Tensioning Buckle for Custom Fit
Harbinger offers a unique closure style in the form of a ratcheting closure. This allows wearers to get a more custom fit for their particular frame, rather than having to choose which point along a "post and hole" closure system is close enough.
Cost and Value
Their products didn't quite snag the "Best Value" title for this list but they came close. They are priced around the low end of average and every dollar is packed with value thanks to the customizable and supportive fit of this belt. It is not suited for users who intend to do intense powerlifting and is specifically marketed as a lightweight belt. But for users in that category, it is absolutely a steal in terms of quality and value.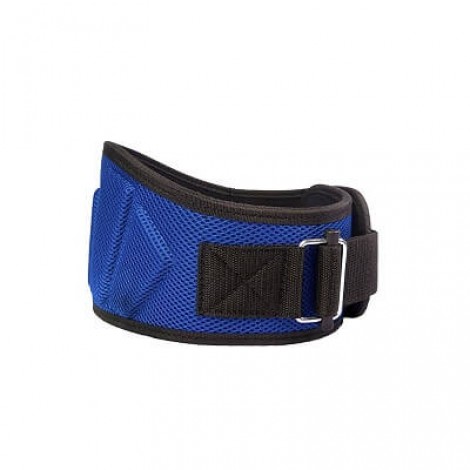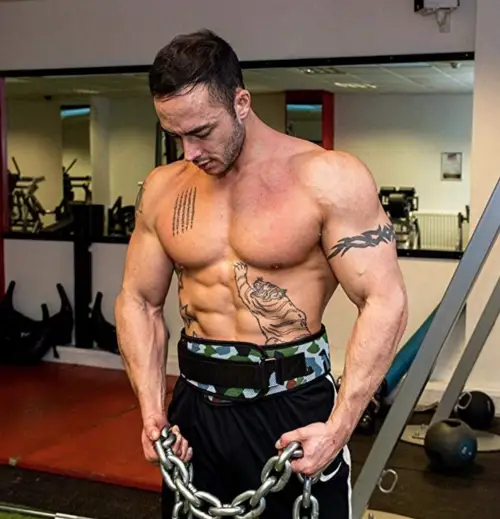 Lightweight and Contoured
Available in a Range of Styles
Abdominal and Lower Back Support
Some Users Dislike Velcro Closures
Fire Team Fit is a self-described "U.S. Veteran-Owned company". They are a small company that does their absolute best to keep their customers happy through quality products and quality customer service while giving back to other U.S. veterans. Their products are all tested prior to hitting the market and they take pride in knowing that they offer affordable quality to their customers. It is this quality that secured them the second-place spot on this list. Their offering is lightweight and contoured, available in a range of sizes and styles, and offers both abdominal and lower back support.
Read more
Lightweight and Contoured
Equipment like this is supposed to support your abs and spine against the pressure that powerlifting can cause. That is harder to do when the equipment is adding its own strain to the areas most in need of its protection or when the belt forces the wearer's muscles into an uncomfortable position. Fire Team Fit chose to go with lightweight synthetic materials that contour to the user's shape while the product is in use rather than a rigid and impersonal design.
Abdominal and Lower Back Support
Many people use these belts strictly as support for their lower back but Fire Team Fit wanted their product to do more. They designed it to support the user's abdominal muscles as well as their back. This allows their customers to feel more confident when lifting, giving them peace of mind that their core is fully protected.
Cost and Value
Fire Team Fit is not an overly expensive company but they're not the most affordable either. Their price is a little bit lower than Dark Iron's prices, but some people feel that the price tag is too hefty for a non-leather product. Some users have also voiced issue with the belt's Velcro closure although others have spoken up in favor of it, stating that it lets them get a more personal and effective fit. The true value of this belt boils down to personal preference but there are many, many happy customers who are pleased with their Fire Team Fit product.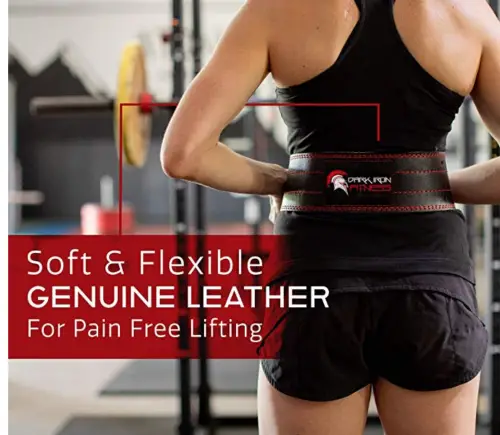 Genuine Leather
Very Adjustable
IPF and USAPL Approved
Lift Over 500 lbs
Genuine Leather Requires More Care
Dark Iron Fitness is a company with one thing on its mind: powerlifting. Every single one of their products is designed and produced to help powerlifters achieve their goals effectively and safely. They take first place on this list for several reasons, not least of which being that their product is approved by both the USAPL and the IPF. There are only one or two other products on this list that achieves certifications from both organizations which places Dark Iron Fitness well ahead of their competitors. Their products are also made with genuine leather and are made to be widely adjustable which allows them to benefit multiple body types.
Read more
Genuine Leather
Most sports equipment on the market can trace their origins back to leather goods that have been around for hundred if not thousands of years. These belts are no different and Dark Iron Fitness kept that in mind when designing their products. The company assures their customers that their products do not break, tear, or wear out like "inferior products" made of other materials will and they back that statement up with a guarantee.
USAPL and IPF Approved
USA Powerlifting and the International Powerlifting Federation are the two largest powerlifting organizations in the world. Their competitions are benchmarks for excellence in multiple forms of lifting and their standards are strictly enforced to uphold this reputation. Dark Iron Fitness' belt is approved by both organizations for use in their competitions which makes it an immensely valuable training tool for anyone who intends to compete in their events.
Cost and Value
This product's price tag is another reason it took the top spot on this list. It comes right around the center mark of this list's price range while still offering amazing versatility and quality. It packs a lot of power into every dollar the customer invests and the company offers a replacement guarantee should anything happen to the belt. Buyers must be aware, however, that genuine leather requires more care than synthetic materials. So long as they care for the belt properly, however, the extra time investment is well worth it.
Criteria Used for Evaluation
Materials
Most of the products on this list are made with genuine leather, though the type varies from company to company. This list is careful to note what kind of leather is used whenever the information is available because leather types vary so wildly in quality and longevity. Care was also taken to point out when a belt is not made of leather as that sets it into an almost entirely separate category. Leather weightlifting belts are more traditional and are typically stiffer which some people feel is better for protecting the spine. They also require more care and are more expensive, which is where nylon and cloth belts with padding and bracing panels come in handy.
Style
Traditional "tongue and post" closures are still the most common the weightlifting world but other closure types are slowly making an appearance. Other options now include ratcheting closures which allow for a greater degree of tightening as well as a more custom fit and Velcro closures that are a little weaker but allow for a greater degree of control when the user is sealing the belt. Every closure style has its pros and cons, most of which center around how well it holds up to the strain of keeping a user's belt in place.
Features
Seams are the weakest point on any garment or product. If something is going to break it is most likely going to break along a point where two sections are joined together rather than breaking in the middle of a single panel or piece. These products are no different with the exception of how strain is applied to the material. Most sports equipment has to withstand blunt forces striking it while sportswear is pulled side to side These weightlifting belts, on the other hand, typically end up being folded when a wearer bends over. Their seams are pulled up and down which is hard on seams that typically run side to side, any reinforcing adds immense value to the product since it will extend its lifetime by a fair margin.
Brand
Weightlifting belts are not just for Strong Men and circus performers any more. Companies make them for people of all shapes and sizes to aid in the lifting of weights both light and heavy. Not everyone will want this equipment, but everyone should at least look into them for the sake of their spinal health. These belts are designed to prevent severe back damage whether the lifter is just starting out or has been in the sport for decades. It is never too late to try and mitigate spinal damage and to prevent any further damage from taking place. Weight lifting isn't easy. If it were, it wouldn't be as fun. But it doesn't have to be dangerous to be rewarding.
Expert Interviews & Opinions
Most Important Criteria
(According to our experts opinion)
Experts Opinion
Editors Opinion
Users Opinion
By Default
Requirement
It's not required unless a gym or competition requires shirts. Anyone purchasing a genuine leather belt may want to wear a shirt, however, strictly out of comfort.
Safe
When worn correctly, they should be. There are conflicting studies on the topic with some saying the weightlifting belts help reduce spine compression while others say that the belts either do nothing or pose risks. It is really up to each lifter.
Other Factors to Consider
Bottom Line
Just mentioning the words "weightlifting belt" will cause most people to conjure up images of broad-shouldered men with curling handlebar mustaches in striped bodysuits showcasing their skills under the Big Top. People more familiar with the art of weight lifting will probably envision Strong Man competitions and huge stacks of weights that seem impossible to move. The truth of the matter is a little more mundane than all of that, but the mythos around the belts persists as does some of the controversies. When used correctly, these belts can help people learn proper lifting forms, protect their spines, and aid them in lifting greater weights than they could have without it. Used incorrectly, however, and the belt can cause serious harm whether the belt itself is the cause or it inspires the lifter to over-confidence that spells disaster. Either way, it is important to make sure that any and all weight lifting equipment is worn and used properly, preferably through the instruction of a certified trainer.
Frequently Asked Questions
q:

Are weightlifting belts necessary?

a:

It depends on what a person is lifting and how they're lifting it. Many of these belts are rated for the major weightlifting organizations in America which means the weightlifting belts are either necessary or, generally speaking, a good idea.
q:

How do I find the right size for weightlifting belts?

a:

Each company has its own size chart and suggestions on how to find the best belt for each person's specific frame and lifting style.
q:

Where can I find someone to help me put my belt on the right way?

a:

Most gyms have at least one certified trainer on staff. They can often help users get the weightlifting belts on in the right way. If they cannot, they can often suggest someone who will know-how. There are also YouTube videos on the topic but it is best to only use trusted sources if anyone goes the YouTube route
q:

How much more weight can I lift with weightlifting belts?

a:

This depends solely on the person and their lifting style. It is important to note that these weightlifting belts will not make you stronger, they will simply help with form and protection.
Subscribe to our Newsletter