The last UFC event of the year was devoid of crippling drama and delivered great action from top to bottom.
High-stakes clashes at featherweight, lightweight, and middleweight defined the main card. That wasn't lost on the fighters as the night was full of gutsy performances and big moments. The winners will move on to bigger things in 2023, but the losers are no worse for wear in defeat.
It was a great night of action that left a better impression on what the sport is all about following the myriad of controversies from UFC 282 the weekend before. 
Let's take a look at what happened and what we learned from UFC Fight Night 216 in Las Vegas.
Full Card Results
Jared Cannonier defeats Sean Strickland by split decision (49-46, 46-49, 49-46)
Arman Tsarukyan defeats Damir Ismagulov by unanimous decision (30-27, 30-27, 30-27)
Amir Albazi defeats Alessandro Costa by KO (uppercut) at 2:13 of Round 3
Alex Caceres defeats Julian Erosa by TKO (left high kick) at 3:04 of Round 1
Drew Dober defeats Bobby Green by KO (left hand) at 2:45 of Round 2
Michal Oleksiejczuk defeats Cody Brundage by TKO (strikes) at 3:16 of Round 1
Cory McKenna defeats Cheyanne Vlismas by unanimous decision (29-28, 29-28, 29-28)
Matthew Semelsberger defeats Jake Matthews by unanimous decision (30-27, 29-28, 29-28)
Said Nurmagomedov defeats Saidyokub Kahkramonov by submission (modified guillotine choke) at 3:50 of Round 2
Rafa Garcia defeats Maheshate by unanimous decision (30-27, 30-27, 30-27)
Rinat Fakhretdinov defeats Bryan Battle by unanimous decision (30-25, 30-25, 30-27)
Manel Kape defeats David Dvorak by unanimous decision (30-27, 30-27, 29-28)
Sergey Morozov defeats Journey Newson by unanimous decision (30-27, 29-28, 29-28)
Jared Cannonier's unclear future at middleweight
Jared Cannonier and Sean Strickland are two of the best middleweights in the UFC. With both men coming off defeats, victory was imperative in this final main event of UFC Fight Night for 2022.
Cannonier dropped a lopsided decision to Israel Adesanya at UFC 279 and Strickland saw his five-fight winning streak snapped by the vicious strikes of current champion Alex Pereira on the same card.
Many expected a high-level striking contest between the two, but what unfolded was a dull, disinteresting chess match. Cannonier's heavier, more accurate blows were enough to outpoint Strickland and keep his #3 ranking intact.
It wasn't particularly entertaining, but Cannonier abandoning his conservative output worked wonders for him against a woefully passive Strickland. Strickland, on the first losing streak of his career, directed his post fight ire to the judges scoring the bout.
"Hats off to Jared. But again, you have judges that don't know how to f****** do their job. You actually look at the scorecards and you look at the significant strikes and you look at how many times I wobbled him, and you know, you have people — experts in the field — come up to me and say, 'Yeah man, I don't know how you lost that on."
Cannonier's win keeps him on the cusp of another title fight, but the 38-year-old might be on the sidelines for a while.
With one-sided losses to both Adesanya and Robert Whittaker and the likelihood that Pereira will face either Adesanya in a rematch or Whittaker shortly, Cannonier might be on the sidelines. The Canadian is going to be in the mix for Pereira but might have to take a fight in the interim to preserve his ranking.
That might come against the winner of Marvin Vettori vs. Roman Dolidze. Another potential option–and a far better one for fan service– would be against the brash Paulo Costa in a pairing of the heaviest hitters the division has to offer.
Armen Tsarukyan is ready for the spotlight
Armen Tsarukyan was one fight away from the big time when he faced off against the surging Mateusz Gamrot. In a tightly contested bout that went down to the wire, Tsarukyan saw Gamrot's hand raised and went back to the drawing board. In his return bout, Tsarukyan left no doubt that he's ready for a major fight at lightweight in a dominant win over Damir Ismagulov in the co-main event. 
Tsarukyan imposed his will on Ismagulov in a 50/50 fight on paper that turned into a wipeout. It was the kind of win that highlights what makes Tsarukyan so good and is now, unavoidable by the top lightweights.
Gamrot used the win over Tsarukyan to go right into a fight with Beneil Dariush in a losing effort. That might be the kind of fight Tsarukyan has to take, particularly as he might be too risky and not notable enough for the likes of Justin Gaethje or Dustin Poirier. 
Tsarukyan has not wasted any time since the win, calling out Dariush and former champion Charles Oliveira. Oliveira has been inactive since his loss to Islam Makhachev at UFC 280, so why not? 
Does Tsarukyan have the makings of a future top-tier threat at lightweight? We'll know soon enough. He'll be getting a big shot sooner rather than later. He's clearly graduated out of the Fight Night tier and ready for the big time.
Alex Caceres and Drew Dober show out
Alex Caceres and Drew Dober were two peas in a pod Saturday night.
Both fighters are reliable performers but were at a crossroads in their fights with Julian Erosa and Bobby Green. A win wouldn't shoot them up the rankings, but a loss would have hurt their chances of getting significant bouts at this stage of their careers.
They took the memo and delivered it hugely. Betting underdog Caceres kicked the lights out of Erosa with a beautiful headshot in the first round. Dober used his touch of sleep power to end the Green fight just as it was getting away from him.
We know what to expect from Caceres at this point. He's a smart fighter with good instincts and still challenging to beat. Dober is so strong that any lapse in defense could be catastrophic, and he's willing to get lit up himself to land that big shot.
If nothing else, they've guaranteed themselves another prime spot on a future UFC Fight Night card.
Rafa Garcia's bloody show
Sometimes, a picture says a thousand words. Even so, the image of Rafa Garcia losing about 20% of his blood is something that'll stick around for a while.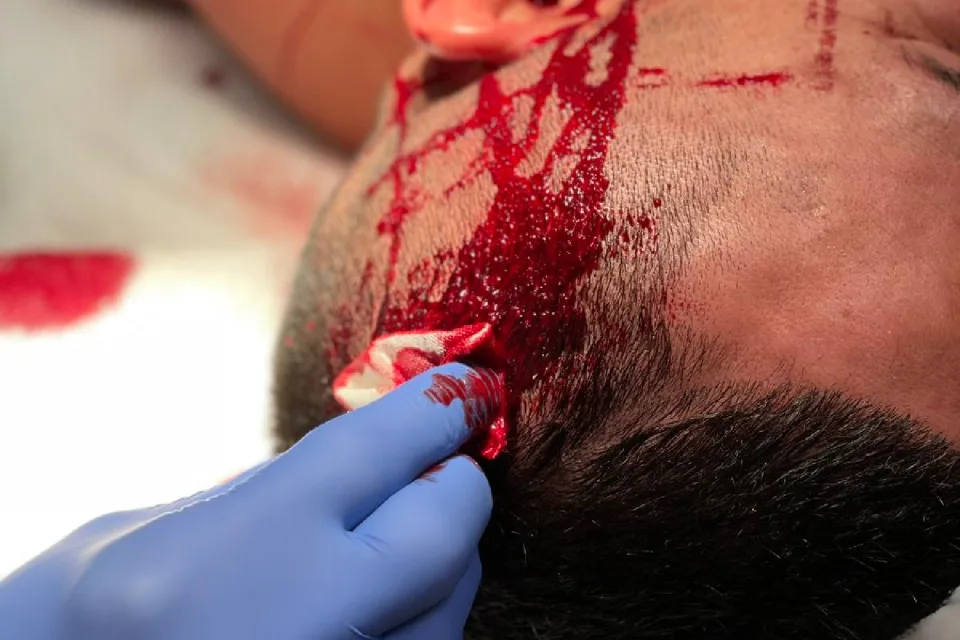 Garcia suffered a gruesome cut in his victory over Maheshate Hayisaer and required 15 stitches to close up the exposed artery. If Dana White won't give him a bonus for his performance, then a cookie and some orange juice might just do the trick.